8 Children's clothing stores in Delft that you want to visit during a visit
I enjoy writing these articles for my readers, you guys. I don't accept payment for writing reviews, my opinion on products is my own, but if you find my recommendations helpful and you end up buying something through one of the links I may be able to receive a commission on that.
Further information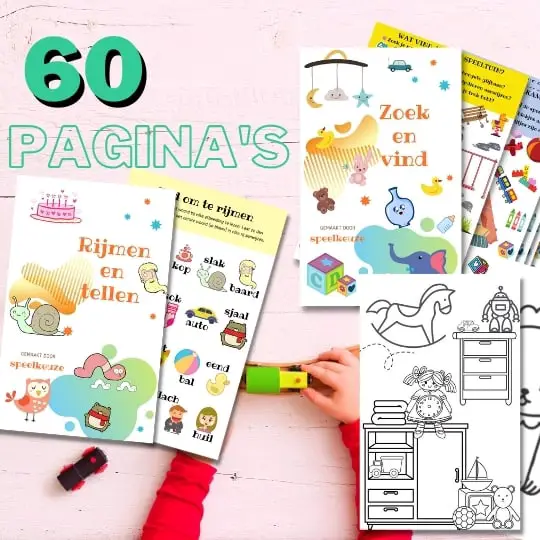 Always something to do for the holidays or rainy day?
Play Choice now has the ultimate activity book collection, with over 60 pages of fun coloring pages and educational puzzles.
In Delft you can enjoy a historic city center. You can enjoy shopping along fairytale canals, and it is easily in between The Hague en Rotterdam.
Around it you will find the picturesque streets with numerous hotspots, trendy boutiques and specialty shops, including a large number of toy stores that have an original collection with a view to sustainability and the development of your child.
Or you can choose to shop in the De Hoven Passage shopping center, which is located just south of the center.
After your visit to all these nice shops, you can still enjoy one of the catering establishments on the Brabantse Turfmarkt or De Markt.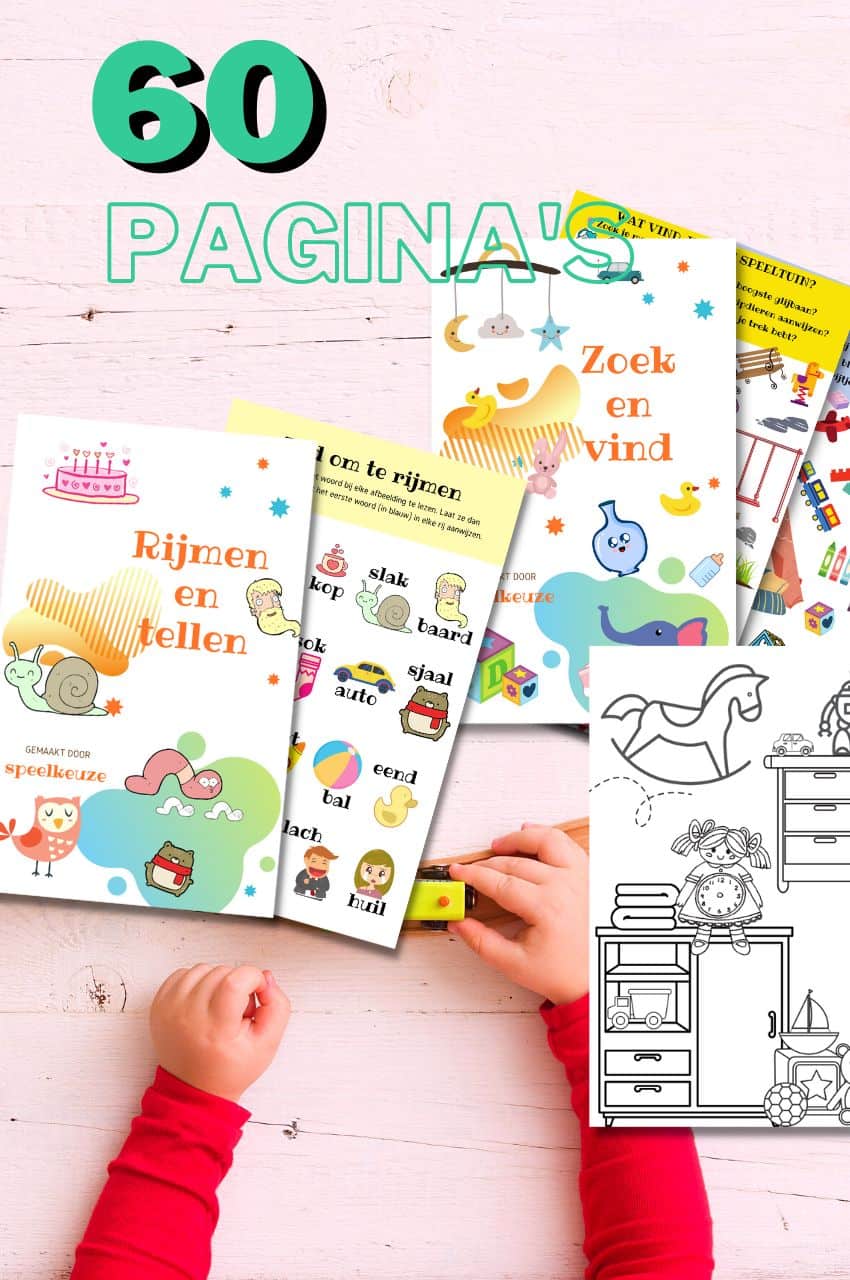 A play theme in your mailbox every month?
Fun play tips, activity books and more, with the first email being our free mini-guide "educational toys"
We will only use your email address for this newsletter and respect your privacy
Children's clothing stores on the map of Delft:
8 best children's clothing stores in Delft
Thumb Land Special
The children's clothing store, known in the Delft region as a specialty store for babies and toddlers, is located opposite the shopping center
De Hoven and is easily accessible by both public transport and car - you can park in front of the door.
The family business has been around since 1964 and has built up a fantastic collection and knowledge over the years.
In this case you can go for everything related to the child and the pregnant woman.
Of course they also sell children's clothing, including the nice new brand KMDB (Kleren Maken De Baby).
Other popular brands like Feetje, Z8, Tumble 'N Dry and Quapic also belong to the collection - a collection that changes with the seasons.
Are you a parent and looking for nice things or clothing for your child or are you looking for a nice gift for a little one, then you are certainly at the right place at Duimeland Special!
Duimeland Special you can visit the Papsouwselaan 139, 2624 AK Delft.
peak boo
Right in the center of Delft is children's clothing store Piekaaboe - the shops for pregnant women and children.
Here you will find children's clothing from the brands: noppies, Feetje, Name-It, LMTD, Sturdy, Jubel and Skurk.
In addition to the collections that are usually available in stores, Piekaboo also has a very nice collection of party clothing from size 50 to 176.
Dresses, skirts, glitter tops, festive tights, waistcoats, blouses, bows, ties and much more.
The large collection of children's clothing also includes jeans for every occasion, outerwear for all seasons - winter jackets, snowsuits, rainwear and summer jackets, as well as a huge range of wool products that can be worn all year round.
Peekaboo is on Women's Law 6, 2611 KK Delft.
Also read: child-friendly products from Chicco
Mint kids concept store
Mint kids concept store, with a heart on the i. And that heart, that says a lot about the passion of the owners.
Brother and sister once dreamed about creating a store, a concept store, where you can drink a nice cup of coffee, your child can have a good time in the play corner and you have a wide choice of quality products, aimed at children.
They are happy to sell children's and baby clothes - including from the brands Imps & Elfs (baby) and Mingo - but if you are looking for other items, such as children's backpacks, lifestyle products, accessories and nice gifts, then you can also succeed perfectly at Mint.
Visit it when you are in Delft and especially take your child with you.
There are also (healthy) children's dishes served, in addition to that tasty cup of coffee for yourself, and so you can make a visit to the shop a fun outing for both child and parent.
You can find Mint Conceptstore at the Voldersgracht 12, 2611 ET Delft.
As in almost all Dutch cities, you will also find a selection of (inter) national clothing retail chains in Delft.
Below we give a brief overview of these shops in Delft.
Seeking boys clothes with funny text? Then view our post
AC
C&A has such a long history in the Netherlands that in principle the store no longer needs an introduction.
But if you still have doubts about what they offer, read on.
The store excels in offering varied, fun and playful clothing for children of good quality for a very decent price.
You will find many different types of clothing, from sporty to chic, from underwear to jackets and shoes. Actually, you can get a full look here.
Baby sizes start at size 50 and continue up to size 92. Children's clothing starts from size 92.
C&A is on the Paradise Gate 15, 2611 MA Delft.
H&M
At H&M you can find the most adorable clothes for your baby, but also clothes for toddlers and teenagers.
There is a very extensive collection with which you can combine endlessly.
You can actually go there for clothes for children of all ages and you can perhaps also grab something nice for yourself!
The collections of the H&M also change with the seasons and there is so much choice that it is always worthwhile to step inside to see if you can find something new.
With clothing from H&M you can also be sure that the fashion trends are going well.
You can safely dress your child with these clothes and your son or daughter will look trendy and well-groomed again.
You can find H&M on it Bastiaansplein 1, 2611 DC Delft.
Hema
At Hema you will find an extensive collection of girls and boys clothing.
Qualitative, comfortable and super fun clothing that is specifically designed and made for Hema.
The latest fashion trends are taken into account when designing the clothing.
The collections for children offer a huge choice and color combinations. The clothing is beautiful and comfortable.
At Hema you will find beautiful clothing for affordable prices, but made of good materials. Children's clothing is available at Hema up to size 176.
Hema has two branches in Delft: one in the De Hoven shopping center on the Troelstralaan 71a, 2624 ET Delft and the other in the city center on the Molslaan 33, 2611 RJ Delft.
shoeby
Shoeby is a chain full of hip, cheerful and trendy clothing and is located in the De Hoven Passage shopping center.
The store has two brands of its own, Jill for girls and Mitch for boys.
In addition to their own brand, Shoeby also sells other Dutch brands such as Tumble 'n Dry and Cakewalk.
The store therefore has trendy clothing and still maintains a competitive price. It is definitely worth a visit if you are shopping in Delft for a day!
Shoeby is on the Troelstralaan 25, 2624 ET Delft.
WE Fashion
WE Fashion offers children's clothing from size 92, but some items from size 98/104.
In any case, the collections are hip, are comfortable, are of good quality and have a competitive price.
You can go here for clothing for various occasions. Sportswear, sweaters, cardigans or blazers, glitter skirts, leggings or cardigans, you will find it all here.
And because WE also sell accessories, you can find a nice and complete outfit together.
We Fashion is on the Gate of Paradise 26-30, 2611 MB Delft.
Opening hours office
The city is easily accessible by public transport and car. From The Hague and Rotterdam you drive via the A13 to Delft.
On the A13. From Amsterdam you travel on the A4 towards The Hague. At the Rijswijk exit, turn onto the A13 in the direction of Rotterdam.
Take exit 9 (Delft) and follow the signs 'Centrum'.
By train: Delft has two train stations; Delft South and Delft Center. From Delft Centrum station you can walk to the city center within a few minutes. Two HTM tram lines operate in Delft. A fun and fast way to get to the shopping center.
By car: It is important to know that the center of Delft is closed to motorized traffic, unless there is an exemption for that vehicle. So look for one of the four parking garages - the cheapest and easiest way to park in Delft - from which you can reach the center with a short walk.
De Hoven Passage shopping center has entrances at Troelstralaan, Papsouwselaan and Martinus Nijhofflaan and has private parking.
You can park your car in the parking garage with the entrance on Papsouwselaan or on the parking deck with the entrance on Martinus Nijhofflaan.
For a wonderful shopping experience in Delft, there are a few streets that should not be missing from a shopping tour of Delft.
Start around the Markt in the streets Oude Delft, Choorstraat, Voldersgracht, Wijnhaven, Hippolytusbuurt and Vrouw Juttenland.
We have tried to give as complete and accurate as possible a picture of children's clothing stores in Delft, but cannot guarantee that we have not overlooked anything.
Also nice nearby:
Children's clothing stores in Naaldwijk | the 13 best
A day of shopping in Naaldwijk is highly recommended. Especially if you are looking for fun and unique clothes for your kids!
Naaldwijk is located in the heart of Westland. Only 10km away from The Hague (where of course also fantastic shopping is for children's clothing) Naaldwijk is easily accessible.
In the shopping center of Naaldwijk you can spend hours carefree shopping in more than 150 stores, from the well-known chains to fine local boutiques.
Take a look at the De Tuinen shopping center, Rembrandtstraat and all the other streets around it.
Afterwards you can have a nice lunch and dinner in the attractive restaurants and terraces.
There is also a shopping Sunday every last Sunday of the month and there are often fun events for young and old.
Children's clothing stores on the map of Naaldwijk:
BO Lifestyle
After a warm welcome, they are more than happy to assist you at BO Lifestyle with advice and service for choosing the best clothes for your kids.
They have the best brands there, like Quapic, noppies, jumping on the couch, Name IT, Z8 and Tumble 'n Dry.
From pants, leggings and jeans to beautiful tops, dresses and skirts, you will find everything for your children.
You can even go there for swimwear, jackets and handy accessories such as caps, socks, slippers and hats.
Do you have a new little one coming up, or are you looking for a beautiful gift for a baby?
Then you will quickly find what you are looking for at BO Lifestyle, with special newborn collections from all the good brands that are constantly being supplemented.
This nice children's clothing store in Naaldwijk is definitely worth a visit.
BO Lifestyle: Rembrandtstraat 14, 2671 GD Naaldwijk
Irma Kids
Once you have bought the clothes, you can still dress them up with the trendy shoe collection, cool bags, sturdy belts and cheerful jewelery.
Irma Kids has a wide range of different children's brands. Think of the cool brand NIK & NIK, the cool brand Vingino and the hip brand Indian Blue.
At Irma Kids, personal attention and customer-friendliness are of paramount importance.
You can therefore assume that the store employees will provide you with good advice.
The Irma Kids stylists are happy to give advice tailored to your age and of course style.
Also read: the best toy keyboards with a microphone to make nice music
Irma Kids: Wilhelminaplein 10, 2671 GR Naaldwijk
Beebie Westland
In terms of clothing, they offer the most beautiful baby clothes from Feetje, a very good and fine brand.
The name says it all, at Beebie they have the most beautiful outfits especially for babies. Such as cute pajama suits in the sweetest colors.
In addition to clothing, BeeBie also offers prams, toys, bed textiles and high chairs.
Very handy if you are looking for other accessories for your child in addition to clothing.
You can't think of it that crazy or they have it at Beebie, van car seats to baby monitors, from baby carriers and bags to bedside lamps.
Beebie Westland: Koningstraat 3, 2671 JS Naaldwijk
Rumah concept store
For children you will find the most unique pieces. For example, they have the nice Dutch brand Sproet en Sprout.
This clothing has a very good quality, very original designs and is made to last.
You will also find sweet baby outfits from Little Indians and the beautiful brand Little Lo.
Due to the careful selection of unique products with a story, you will certainly walk out the door with something special.
Something that you may not be able to find anywhere else and that not every other child walks around in.
In addition to shopping in the store, you can also enjoy various types of coffee and tea, cakes and bars from Sprinkles Bakery and the sugar, gluten and lactose-free bites from SUE at Rumah.
Fun & Hip
Leuk & Hip can be found in the pleasant center of Naaldwijk. At Leuk & Hip you will find brands, among other things Name IT, Dirkje, Blue Seven, 3Pommes and UBS2.
Look forward to the nice long and short sleeve jumpers, blouses, pants, shorts and much more. In different colors, models and sizes.
Fun & Hip: Herenstraat 41, 2671 HZ Naaldwijk
Bristol
You can go there for new comfortable sneakers or beautiful ballerinas for your girl.
To combine with trendy skirts, nice shirts and timeless jeans. Complete the outfit with the must-have accessories.
You will also find affordable boys' fashion at Bristol. Nice-fitting basics with fun print t-shirts so that everything can be combined well.
Can your kids play outside without much fuss, well and comfortably dressed?
Bristol: De Tuinen 63, 2671 NX Naaldwijk
Cool Cat
CoolCat makes the latest fashion accessible to everyone. The collection that hangs in the shops at CoolCat is largely designed in-house.
This is designed by a young team at the head office in Amsterdam.
At CoolCat you can choose from cool styles in different colors and prints. But you can also shop the basic items at CoolCat.
The fashion basics are supplemented weekly with the latest trends.
All boys and girls collect, because at CoolCat you will find the cool items that you want to be seen with in the schoolyard.
CoolCat: De Tuinen 11, 2671 NX Naaldwijk
HEMA
Is your little one growing out of his or her clothes? Then HEMA is ready for the next phase.
There is also an extensive collection of practical and trendy clothing for both boys and girls for older children.
You will find children's clothing from size 86/92 to 158/164. Hema children's clothing is made from fine fabrics, such as organic cotton and elastane.
This ensures that it breathes and stretches.
As a result, it is not too hot in summer and not too cold in winter. This way your child will not only look nice, but you can also be sure that she feels comfortable in her clothes.
HEMA: Herenstraat 18-20, 2671 JA Naaldwijk
H&M
For the babies you will find everything for the wardrobe of your baby from 0-9 months.
For example, look out for the handy multipacks with rompers made of super soft organic cotton.
After the baby phase, H&M grows with your kids until one day they go shopping at Hennes themselves.
For girls you have those nice leggings, sweet dresses and nice tops. For boys you will find sturdy pants, warm sweaters and beautiful blouses.
Comfortable, practical and with vibrant colors and charming prints. At H&M they have clothing and accessories for every need of your daughter or son.
Soft fabrics and functional designs provide plenty of freedom to walk, jump and play.
H&M: The gardens 78, 2671 NX Naaldwijk
Jeans Center
For the girls there are many nice skirts and dresses, but there are also cool jeans.
The boys can enjoy themselves in a cool outfit with denim and a nice hoodie.
Go for comfortable children's clothing that your child can enjoy playing in.
Jeans Centre's children's fashion is made of comfortable and sturdy materials. This way, the children's clothes last a long time and they remain beautiful.
Jeans Center: Herenstraat 45, 2671 HZ Naaldwijk
Shoeby Kids
For the smaller sizes 92 to 122, they have a very unique collection.
The boys and girls collection with sizes 128 to 176 surprise them time and again with the coolest and most trendy fashion.
The clothing is not only super fashionable but also incredibly comfortable.
In addition, kids at Shoeby receive their own Private Pass that offers access to awesome games, promotions and surprises.
Shoeby Kids has a fun desk in the store, with game consoles, TVs and there is even a listening column where you can listen to good music!
In short, Shoeby Kids is the place for Fashion & Fun!
Shoeby Kids: WC de Tuinen 37, 2671 NX Naaldwijk
Wibra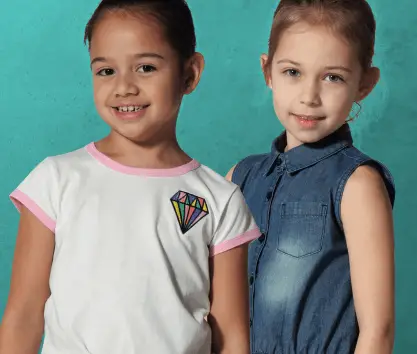 For Wibra it is important that the clothing is made of good quality and also remains affordable.
Wibra is truly a Dutch brand and offers top quality and excellent service.
For boys and girls you will find nice dresses, sweatshirts, jeans, T-shirts, skirts, pants, jogging trousers and leggings in various colors, beautiful and cool prints at Wibra.
You will find clothing according to the latest fashion trends. The children can move freely and happily in Wibra clothing.
Wibra: Prof. Julianastraat 12, 2671 EJ Naaldwijk
Sailor
Boys and girls love to play. That is why Zeeman has affordable children's clothing that is sturdy and comfortable, in cheerful colors and prints.
Then children love to wear them. The design is also kept as simple as possible by Zeeman, so that the clothing remains beautiful and affordable.
You will find pants, T-shirts, dresses and playsuits in different colors and prints. This way you can easily combine.
De Zeeman is definitely worth a visit, especially if you are looking for fun children's clothing.
Sailor: Molenstraat 21, 2671 EW Naaldwijk
Accessibility Naaldwijk
Naaldwijk is located right in the Westland region and is easily accessible.
By car
You can reach the Westland and Naaldwijk region via the A20 from Rotterdam towards Naaldwijk / Hoek van Holland.
And via the A4 from The Hague you take the exit Naaldwijk / Wateringen.
Parking
Parking is free in almost all places!
This is very nice, you can easily leave your car close to the center and easily reach all shops for hours of comfortable shopping pleasure.
By public transport
From Rotterdam Central you take the train to Schiedam Centrum. From Schiedam Centrum, bus 36 leaves for the center of Naaldwijk, bus station Verdilaan.
From The Hague HS, take the train to Rijswijk Station. In Rijswijk, bus 30 leaves via Wateringen and Kwintsheul to the center of Naaldwijk, bus station Verdilaan.
From Delft Station, bus 32 runs via Den Hoorn and the Lier to the center of Naaldwijk, bus station Verdilaan.
From bus station Verdilaan all shops are easily accessible on foot.
We have tried to give as good and complete as possible a picture of children's clothing stores in Naaldwijk, but cannot guarantee that we have not overlooked anything.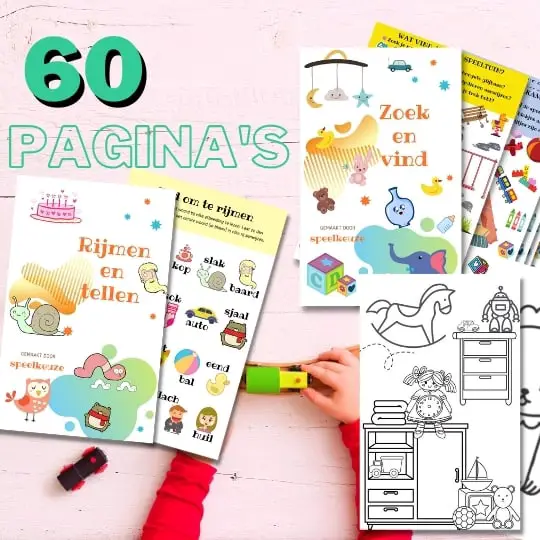 Always something to do for the holidays or rainy day?
Play Choice now has the ultimate activity book collection, with over 60 pages of fun coloring pages and educational puzzles.
Joost Nusselder, the founder of Speelkeuze.nl is a content marketer, father and loves trying out new toys. As a child he came into contact with everything related to games when his mother started the Tinnen Soldaat in Ede. Now he and his team create helpful blog articles to help loyal readers with fun play ideas.