These are the 21 best children's clothing stores in Eindhoven and surroundings
I enjoy writing these articles for my readers, you guys. I don't accept payment for writing reviews, my opinion on products is my own, but if you find my recommendations helpful and you end up buying something through one of the links I may be able to receive a commission on that.
Further information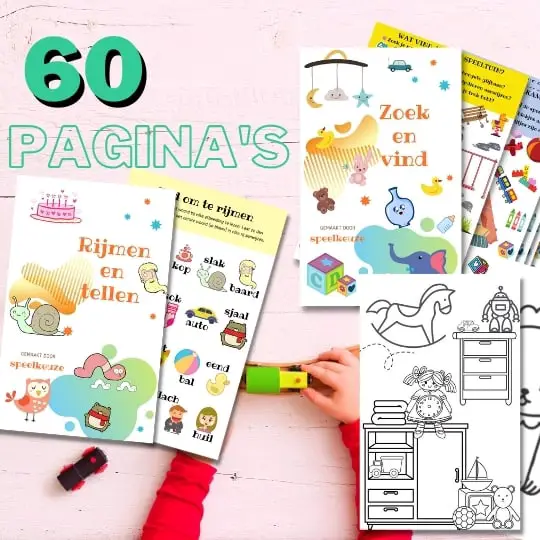 Always something to do for the holidays or rainy day?
Play Choice now has the ultimate activity book collection, with over 60 pages of fun coloring pages and educational puzzles.
Here are some of the best children's clothing stores in Eindhoven. A nice day of shopping with your son or daughter has never been so much fun.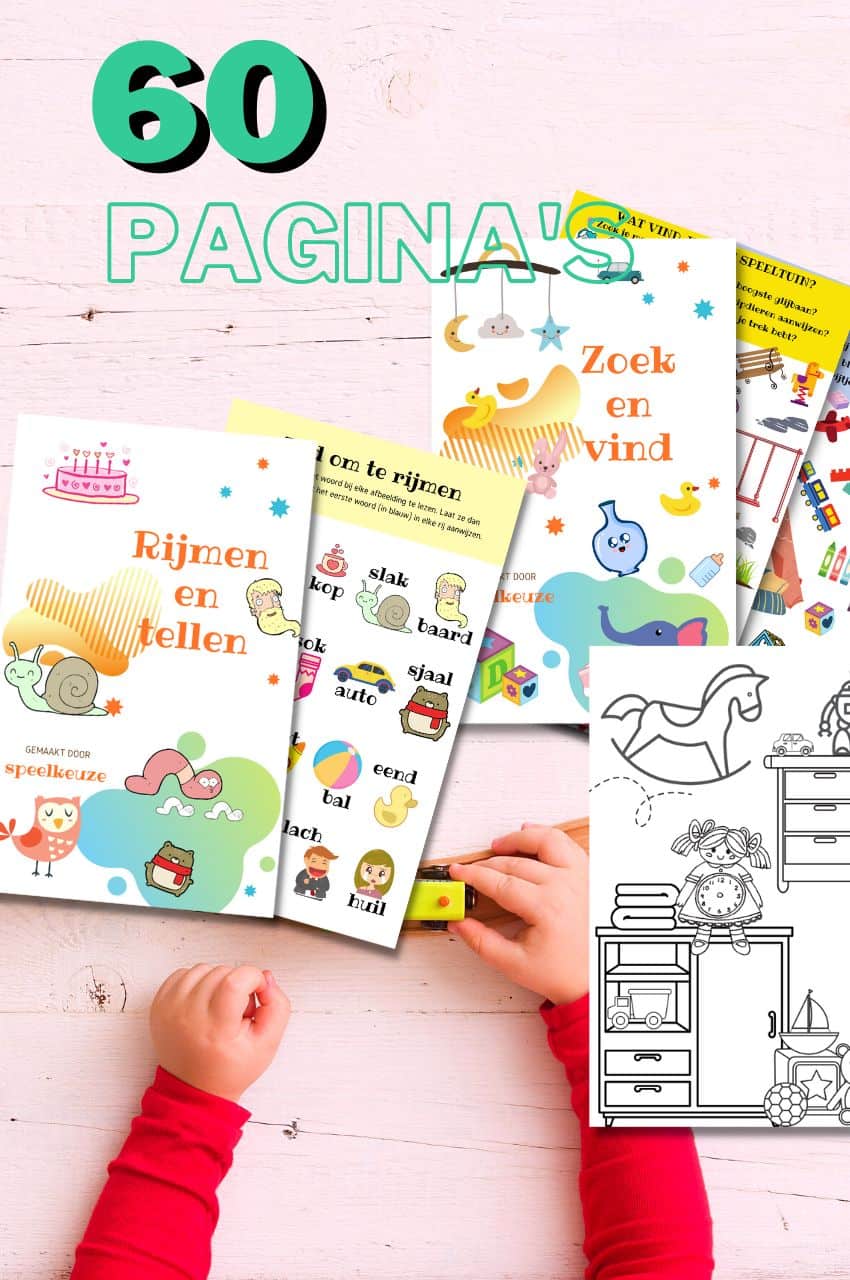 A play theme in your mailbox every month?
Fun play tips, activity books and more, with the first email being our free mini-guide "educational toys"
We will only use your email address for this newsletter and respect your privacy
children's clothing stores on the map of Eindhoven:
21 best shops in Eindhoven rated
4funkyflavours Kids Store - Leidingstraat 23
Started with relatively little experience in fashion, but a lot of knowledge and love for kids and how they view the world!
Really different clothing, both qualitative and creative. And with a lot of color!
Exciting and surprising collections, and also take your social responsibility seriously. That's 4funkyflavours!
The clothing is produced sustainably and as responsibly as possible. They are proud of those with whom they work.
You can feel the passion in this beautiful store at Strijp S! 4funkyflavours Kids Store is located at Leidingstraat 23,5617 AJ Eindhoven.
Kleine Duimpjes & Apenkopje - Edisonstraat 141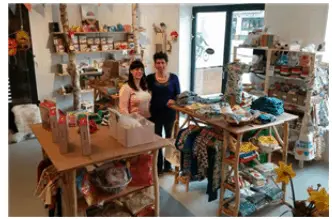 You will find here wooden toy, bio plastic toys, sustainable children's clothing, books, fair care products, slings and ergonomic carriers.
In addition, there are a number of entrepreneurs who rent a shelf in this store. You can find the entrepreneurs and their products on the store's website.
There are two babywearing consultants who work alternately.
Open Tuesday to Saturday 10:00 a.m. - 17:00 p.m. Kleine Duimpjes & Apenkopje is located at Edisonstraat 141,5621 HM Eindhoven
Lolly Pop Children's Fashion - Vrijstraat 25
Unique collection of children's, party and communion clothing. Beautiful outfits for a special day!
At Lolly Pop you can go for an extensive collection to make your child look radiant on a special day.
Very nice clothes for a communion or a baptism, but also for bridal boys and bridesmaids!
Exclusive brands are available such as Armani, Burberry and Gucci, but the smaller stock market has also been thought of.
You can also go here for children's shoes, swimwear and ski clothing. New in the collection is designer dog clothing for your four-legged friend.
Lolly Pop Kindermode is located at Vrijstraat 25,5611, XNUMX AT Eindhoven
SPRUIT Kids Conceptstore - Stationsstraat 5 (Deurne)
At Spruit you will find children's clothing, accessories and the best gadgets for the nursery.
For those who are looking for clothing or a gift for kids, Spruit is the right place.
You will find cute and cool shoes, tops, rompers, pants, jackets, pajamas and even swimwear!
You can also come here for handy accessories, such as changing bags, SAM that teaches you to read your clock or night lights that help with sleep training.
You can finish the nursery with a nice poster, letter banner or music mobile.
Looking for a present? Take a look at the beautiful picture books, puzzles and cuddly toys. Spruit kids concept store is located at Stationsstraat 5,5751 HA Deurne
Sissy Boy - Nieuwe Emmasingel 2
Life designed with Sissy-Boy. Beautiful Kids and Homeland collection! Sissy-Boy is a unique fashion and lifestyle brand with more than 40 stores in the Benelux.
Sissy-Boy is a brand with Dutch roots and a brand with a story.
In Eindhoven, in De Admirant, there is a very nice business with two floors, the second floor is accessible by escalator.
We are a fan of the Kids and Homeland collection. The kids collection includes Tumble 'n Dry, Mini Rodini and Soft Gallery. Very hip!
The Homeland collection is also beautiful with items for the home or to style the room of your kids.
Children's toys are also available, so if you're looking for a present, feel free to drop by. Sissy-Boy is located at the Nieuwe Emmasingel 2,5611 AM Eindhoven.
In their online store they sometimes have more articles than per individual location so you could also take a look there.
Party shop 't Snabbeltje - Grote Berg 123
On the Grote Berg in Eindhoven you will find the Feestwinkel 't Snabbeltje! Looking for a cool outfit for the carnival?
At 't Snabbeltje they have a lot of nice outfits: Do you want to be a wizard, pirate, cheerleader, knight, police or become a clown.
They all have this. Even for the smallest they have a lovely warm body warmer koala. Cute right!
Party shop 't Snabbeltje is located at Grote Berg 123,5611 KJ Eindhoven
De Feestneus - Julianastraat 5A (Uden)
In Uden you have a very nice party & gift shop. The Party Animal! There is a lot of choice at De Feestneus in Uden.
Whether you are looking for party items, carnival clothing, accessories, gifts or theme items, you are at the right place at the Feestneus Feest en Kado.
In addition, De Feestneus is also very well known for its beautiful balloon decorations for weddings, anniversaries, birthdays and events.
Uden is a short drive from Eindhoven. De Feestneus is located at Julianastraat 5a, 5401 HC Uden.
So Small - Nieuwstraat 26B (Best)
Zo Klein is a trendy baby and children's store! Super nice hip Baby and children's clothing. For children from 0 to 12 years old.
The clothing must look beautiful, but also be comfortable and offer quality.
Brands of, among others [email protected], Ninni Vi, MortenZ, Tumble'n Dry you must see once. In addition to clothing, Zo Klein also sells trendy shoes.
You can also go here for fun accessories and gifts from Hippe Skippy's to large fairy tale books.
A visit to Zo Klein in Best is truly an experience! Zo Klein is located at Nieuwstraat 26b, 5683 KC Best.
Kids cartel – Edisonstraat 150
Kidskartel is not just a children's store. It is a meeting place for the whole family. Where kids are not only allowed to watch with their eyes, but can also play nicely.
While the kids are having fun playing at the cool train table, you can shop relaxed between all the beautiful second-hand and new designer clothes for kids from 0 to 16 years old, which are replenished almost daily.
Kidscartel can be found at Edisonstraat 150 in Eindhoven.
Restyle Kids - Nieuwstraat 20A (Son en Breugel)
Nice shop with baby and children's clothing for cool kids! Restyle has clothing in baby sizes up to and including size 176.
You will find this nice store in the heart of Son en Breugel. You can park the car for free in front of the door in the blue zone, or behind the shop in the large parking lot.
They have Return here, noppiesIndian Blue Jeans, Vingino and more. Love it! Restyle Kids is located at Nieuwstraat 20a, 5691 AC Son en Breugel
Children's Outlet Store - Lardinoisstraat 11
Come shopping in this little paradise with beautiful brands and great prices!
On the other side of the Piazza, on the other side of the tunnel, you will find this very nice shop with discounted, well-known brands!
These are sample collections and collections from previous years. And always at least 40% discount!
Everything is super convenient to size, downstairs for the little ones, upstairs for the bigger kids. In season they always have an extra sale.
Think of winter coats, swimwear in the summer and also during communion time you can go here for chic outfits!
You will find VinRose, ducky beau, kidscase and Imps & Elfs. Are you looking for something special or do you want advice?
The friendly ladies are more than happy to help you! Kinder Outlet Store is located at Lr. Lardinoisstraat 11,5611, XNUMX ZZ Eindhoven.
Simone children's boutique - 114 Den Hof (Aalst-Waalre)
Trendy children's clothing both in the store in Waalre and in the webshop!
This cozy shop is a trendy baby and children's shop for children aged 0-18 years, both for boys and girls.
In addition to clothing, you can also go here for tights, socks and underwear, for example. Shop the latest trends here!
Simone sells various brands such as: Be a diva, Geisha, Airforce, Blue Pepper and Petrol.
You can come and look around without obligation, but they are happy to help you for advice about the right size.
Simone Kinderboetiek is located at Den Hof 114,5582 JZ Aalst-Waalre.
Dudes & Diva's - Standaardplein 3 (Oirschot)
Children's shoes, children's clothing and accessories for competitive prices! Near the center you will find this outlet with many famous brands for very nice prices!
They are not dependent on collections here, so beautiful and fun items are added all year round.
There is a standard 50% discount and they organize super sales for even more discount! So shop till you drop. Dudes & Diva's is located at Standaardplein 3,5688 BK Oirschot.
Siki Children's Shop - Torenallee 60-02
Beautiful clothing, hip brands and lesser known labels at Strijp S!
Strijp S is located a bit outside the center of Eindhoven, but really worth an afternoon stroll around.
It is really becoming the creative and cultural heart of Eindhoven and more and more people are discovering the nice places here.
You can find Siki in the Urbanshopper. A shopping center with 20 shops on Strijp S. They sell Kidscase here, Claesen's and Levi's.
But you can also find less known, but super nice brands here. Siki Kinderwinkel is located at Torenallee 60-02, Eindhoven.
Ot and Sien - Langstraat 5-7 (Geldrop)
Ot en Sien has been a super nice shop in Geldrop for 38 years! Ot en Sien in Geldrop is the shop for baby, children's and teen clothing.
It is a pleasant store where you will be helped by an honest and friendly team.
They have super cool brands at Ot and Sien: Drystone, Vingino, Blue Rebel. And for the smaller kids they have Feetje, noppies, Z8.
The children can enjoy themselves on the pinball machine, the bead table or in the ball pit. Ideal for quiet shopping.
Come and enjoy shopping at Ot and Sien and be surprised by their great collections. Ot en Sien in Geldrop is located at Langstraat 5-7,5664, XNUMX GE Geldrop.
Name It Eindhoven - Hermanus Boexstraat 10
Trendy and cool children's clothing for kids from 0-16 years! Name it has moved to 10 Hermanus Boexstraat, opposite Primark, next to the Intertoys.
Name it kids have their own opinion about style. It meets high standards both functionally and in quality, it is portable and durable.
The collection exists of:
Newborn 0-9 months. This is soft, comfortable clothing for the little ones. You can dress your baby in style here.
Mini 1-3 years: With Name it Mini you can dress your toddler completely according to the latest trends. It is playful clothing with fun details for children who are ready to discover the world themselves.
Kids 4-12 years: This is cool clothes for kids with endless energy and a clear opinion about style - kids who need to be able to move freely, but also want to decide for themselves what they wear.
There is also a cool LMTD collection for teens aged 10 - 16.
Name it is located at Hermanus Boexstraat 10,5611 DK Eindhoven.
Kim & Co - Hooghuisstraat 2
You will find very beautiful, trendy brands at the nice ladies of Kim & Co! A household name for years: Kim & Co is the store par excellence if you are looking for something in the higher segment.
Beautiful brands, good quality and everything from size 56. Sizes up to and including 176, so up to teenagers of 14 years. For boys and girls, there is so much!
And last but not least, you will always receive friendly help and you can always ask for advice. Nice!
A selection from the collection: Airforce, Diesel, Kenzo, Liu Jo, Nik and Nik, Osaka hockey, Stone Island, Woolrich and Zadig and Voltaire.
Really worth a visit this cozy shop in Hooghuisstraat 2, 5611 GT Eindhoven.
Studio Mini Me - Hooghbeemd 8 (Waalre)
Have fun with your mini-me! Matching clothes for you and your mini me. For mothers & daughters, fathers & sons and of course vice versa!
Sparkling new Dutch brand that wants to promote quality time between you and your mini-me. Nice is not it?
Cool sweaters, fine t-shirts, but also trendy accessories, such as sunglasses and warm hats for the winter.
Everything is made of delicious material and always with a catchy text! Studio Mini-Me is located at Hooghbeemd 8 in Waalre.
Mazzel Kidzz - Squares 255 (Veldhoven)
Mazzel Kidzz Wear beautiful and cool children's clothing and accessories! At Mazzel Kidzz you can find children's clothing from size 44 (premature) to size 164.
From brands such as dj dutch jeans, z8, bits, funky xs and so much more can be found at Mazzel Kidzz.
But Mazzel Kidzz has many more Banz sunglasses, Sophie the Giraffe, Puckababy, first running shoes, Kik * Kid caps, lunch boxes and cups, bikinis, Rock shirts and bibs and so much more.
Mazzel Kidzz is located at Pleintjes 255, 5501 EJ Veldhoven
De Bijenkorf - Piazza 1
Who doesn't know this department store? And great fun to go to with your child! Every visit to this large department store is an experience.
There is a lot to see, lots of escalators from one to the other floor.
The shop and the shop window are furnished and decorated according to the season and for every holiday. That is why it is so much fun for kids!
On the second floor you will find everything for children; children's clothing and children's shoes, but also nice things for the baby or children's room.
In the children's clothing you will find brands such as Kenzo, Scotch & Soda, Vingino, Benetton and Petit Bateau.
De Bijenkorf is located at Piazza 1,5611 AE Eindhoven.
Hello You - Eindhovenseweg 53 (Valkenswaard)
Hello You is located in the heart of Valkenswaard! They offer you a broad overview of their collections on more than 100 m2.
Children's clothing from size 50 to size 176. With great brands! The friendly staff will help you find nice, cool clothes that suit you.
Hello You is located at Eindhovenseweg 53,5554 AB Valkenswaard.
How do you get to the Eindhoven shopping center?
Public transport in Eindhoven mainly consists of the Intercity and Sprinter trains of the Dutch Railways and the city and regional buses of Hermes and Arriva, which operate under the name Bravo.
When traveling to Woensel Eindhoven Shopping Center, you can use Moovit's Live Directions feature to know how far to walk, how long to wait for the next line and how many stops are left.
Moovit will notify you when you need to get off - so you don't have to constantly check to see if you've already arrived at your stop.
Also nice nearby:
The 11 best children's clothing stores in Valkenswaard
In Valkenswaard you can shop to your heart's content, especially for the kids! In the center you will come across several shopping centers.
Some are covered and car-free, where retail chains and unique small shops alternate.
Stroll through the shopping streets, on the hunt for the best bargains for the whole family.
Valkenswaard is of course close to Eindhoven. It is therefore easy to reach and you can also do fantastic in Eindhoven for children's clothing shopping.
Make it a real day out by combining both cities and putting your kids in a whole new outfit!
Children's clothing stores on the map of Valkenswaard:
hello you
The friendly staff will help you to find nice, cool clothes that suit your child.
You will find super nice clothes in a nicely decorated store and good service. The clothing is of course of good quality.
You will find beautiful boys' polos and nice dresses, colored blouses and nice-fitting sweaters. But also jeans, shorts and pants.
Some brands that you can find at Hello You are: Rumble, Tifossi, Blueseven, Monney, Babysonly, DJ, Dirkje, KMDB and many others.
At Hello You they have fun promotions all year round and service is very important to them.
Come along to browse for new baby and children's clothing from the best brands.
Hello You: Eindhovenseweg 58B, 5554 AB Valkenswaard
LUSH & LUBA
In this colorful store you can find trendy fashion accessories, home decoration, gift items and everything for kids.
As long as it is special and colorful: beads, children's clothing, maternity gifts, bags and retro toys.
The shop is a true experience for children. You will find beautiful hair accessories, crazy cuddly toys, but also decoration for children's rooms.
For example mushroom lamps, mirrors, baskets, blankets and sheets.
The brands they sell include: Bam Bam, Cotton Baby, Dushi, Engel, Gelukswolkje, Global Affairs, Wu & Wu and Zebra Trends. LUSH & LUBA is a shop with good quality stuff where there is always something to find.
You will also receive friendly help!
LUSH & LUBA: Eindhovenseweg 53A, 5554 AB Valkenswaard
Bobo Valkenswaard
At Bobo, customers are pampered. Children always receive a breadstick during the fitting and can then choose a present from the grab bag.
There is always a nice cup of coffee ready for the parents, grandfathers and grandmothers. At Bobo they wrap gifts in an original way with confetti.
You can always expect very good advice through the personal contact with visitors. Good service is of paramount importance at Bobo.
They have an extensive range of brands with a lot of choice. If something is not in stock, they would like to order it for you!
In addition, exchanging is no problem with them, with an extra service. If you return something at Bobo you will always get your money back.
You will find the brands: Tumble 'n Dry, Frankie & Liberty, Nik & Nik, Sproet, Small Rags and Dress like Flo.
You will find nice dresses, pants, blouses, sweaters in different colors and sizes for boys and girls.
Bobo: Eindhovenseweg 65, 5554AB, Valkenswaard
Still Hip - Children's Clothing
You will find clothing from the new collections of good children's clothing brands, but also the slightly older collections.
The older collections are sold for a slightly lower price.
You have the best children's clothing brands, such as Blue Seven, TYGO & Vito and B.nosy.
Nog Steeds Hip offers beautiful and colorful dresses, skirts, shirts and leggings for the girls and jeans, t-shirts, sweaters and shorts for the boys.
You can also go there for baby clothes and you can often score great bargains because Tamar buys the clothes from the older collections just a little bit cheaper.
And are you looking for fun accessories for children? Then also visit Nog Steeds Hip.
From applications to hair clips and hair bands, in the nicest colors and prints.
Still Hip - Children's clothing: Karel Mollenstraat Zuid 50, 5554 CH Valkenswaard
De Babykraam - Babywinkel
For babies from 8 to 12 months you will find, for example, very nice I'll eat you up sets with pants and T-shirt and cool baby suits and jumpsuits from noppies.
From the brand Jollein you will find nice and colorful salopes made of organic cotton in different sizes.
You will also find nice Teddy Fleece dresses for the sweet girls, nice striped leggings made of soft material with a good fit.
Also look out for the training pants in different colors with fun figures from the Zoocchini brand.
You also have baby leggings with crawling knees and loose socks from the same brand.
De Babykraam - Babyshop: Maastrichterweg 263, 5556 VB Valkenswaard
Tinkerbell Children's fashion
The friendly team is happy to help you with advice when shopping for children's clothing and accessories.
You notice that their passion lies with children's clothing and they are happy to help you choose cute and cool children's outfits for your little ones.
Tinkerbell Kindermode: Passage 14, 5554 AH Valkenswaard
Leff! Children's clothing (Bergeyk)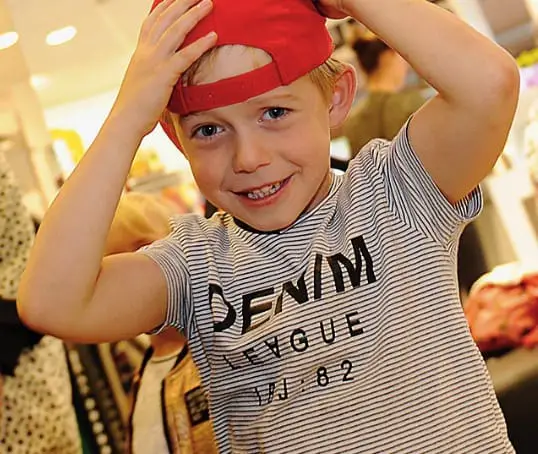 You will also find baby clothes there. Leff! Children's clothing even has the widest new born range in the Kempen.
The owner of Leff! is always on top of the latest trends and the latest developments in children's fashion.
She especially makes sure that the items from the collections in her store can all be nicely combined with each other.
As a result, you often get slightly more unusual combinations and sets that not everyone has.
You will find the nicest and best brands of children's clothing. For example Amme Hoela, Name IT, geisha, noppies and Your Wishes.
The sizes run from newborn (44-48) and baby (68-92) to fun kids fashion (92-140) and beautiful for the (almost) teenagers (128-176).
Leff! Children's clothing: Hof 88a, 5571 CC Bergeijk
AC
The children have a choice of clothing in different colors, models and sizes.
Because children grow quickly, C&A offers an extensive range of children's clothing for all ages.
C&A clothing is also completely tailored to the latest fashion. This ensures that the children are always hip and cool.
For the young ladies you will find clothing in sizes 92 to 176 and for the boys you will find children's clothing in sizes 92 to 182.
At C&A they also have their own Clockhouse brand with trendy teenage fashion for girls and boys.
C&A: De Kerverij 10, 5554 CM Valkenswaard
Sailor
The Zeeman baby and children's collection looks very nice and is of good quality.
Parents are certainly happy with the beautiful, hip and trendy clothing that they can find at Zeeman for their children.
At Zeeman, the children's collection is a very important part of their range.
According to Zeeman, children can make their own choice and wear whatever they want.
That is why you also have a lot of unisex clothing that can be worn by boys and girls.
Of course you also have an extensive collection of children's clothing especially for boys and girls.
Seaman: Handwerkstraat 8, 5554 HP Valkenswaard
Takko fashion
At Takko Fashion they have developed a special line called: "My favorites from Takko Fashion".
This concerns clothing that mainly meets high quality requirements and is certified by the OEKO-TEX® Standard 100 or GOTS.
With this you know right away that you are making a good choice.
At Takko you can choose from cute baby sets that meet special quality standards.
Also look out for the collection of fun and cool sweaters, dresses, skirts, hoodies, shirts and much more for the boys and girls.
Takko Fashion also has a professional team ready to advise and assist you as a customer.
TAKKO FASHION: Eindhovenseweg 9, 5554 AA Valkenswaard
Wibra
At Wibra they take responsibility, not only for the world, but also for the next generations.
In 2010, for example, Wibra started the campaign 'Conscious living and sustainable entrepreneurship'.
And to help prevent overuse of plastic, we sell our own grocery bag that you can use more often.
At Wibra you look forward to nice Dresses, sweatshirts, jeans, T-shirts, skirts, pants, jogging trousers and leggings.
Different colors, beautiful and cool prints. Clothing according to the latest fashion trends.
Wibra: Handwerkstraat 19, 5554 HP Valkenswaard
Accessibility Valkenswaard
Planning a day of shopping in Valkenswaard will certainly be rewarded. The nice shopping town is also easily accessible.
By car from the direction of Tilburg
Via the A58 motorway you will reach the Batadorp junction. Here you go to the A2 via the Randweg Eindhoven - Veldhoven - Maastricht - Venlo.
At junction De Hogt to A2 / A67. after 3,8 kilometers you leave the motorway at the exit Waalre (exit 33).
At the end of the exit, turn right towards Waalre, the N69. via Aalst-Waalre follow the N69 in the direction of Valkenswaard (Eindhovenseweg).
By car from the direction of Den Bosch
Via the A2 motorway you will reach the Ekkersweijer junction. Go in the direction of Randweg Eindhoven - Maastricht - Venlo - Tilburg to the A58 / A2.
After 2 kilometers at the Batadorp junction via the Randweg Eindhoven - Veldhoven - Maastricht - Venlo to the A2.
At junction De Hogt to A2 / A67. after 3,8 kilometers you leave the motorway at the exit Waalre (exit 33).
At the end of the exit, turn right towards Waalre, the N69. via Aalst-Waalre follow the N69 towards Valkenswaard.
Parking
You can park for free at: Carillionplein, Carolusdreef, Dommelseweg, Emmalaan, Kerkhofstraat, Kloosterplein and Valkenierstraat.
We have tried to provide the best and complete possible picture of children's clothing stores in Valkenswaard, but cannot guarantee that we have not overlooked anything.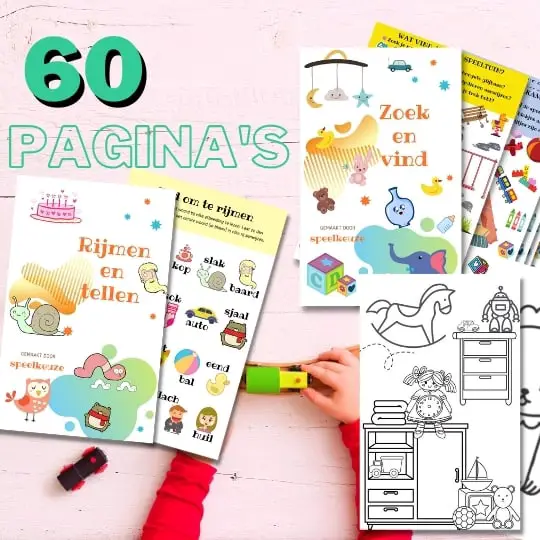 Always something to do for the holidays or rainy day?
Play Choice now has the ultimate activity book collection, with over 60 pages of fun coloring pages and educational puzzles.
Joost Nusselder, the founder of Speelkeuze.nl is a content marketer, father and loves trying out new toys. As a child he came into contact with everything related to games when his mother started the Tinnen Soldaat in Ede. Now he and his team create helpful blog articles to help loyal readers with fun play ideas.