Apeldoorn: nice to spend a day shopping at these 6 children's clothing stores
I enjoy writing these articles for my readers, you guys. I don't accept payment for writing reviews, my opinion on products is my own, but if you find my recommendations helpful and you end up buying something through one of the links I may be able to receive a commission on that.
Further information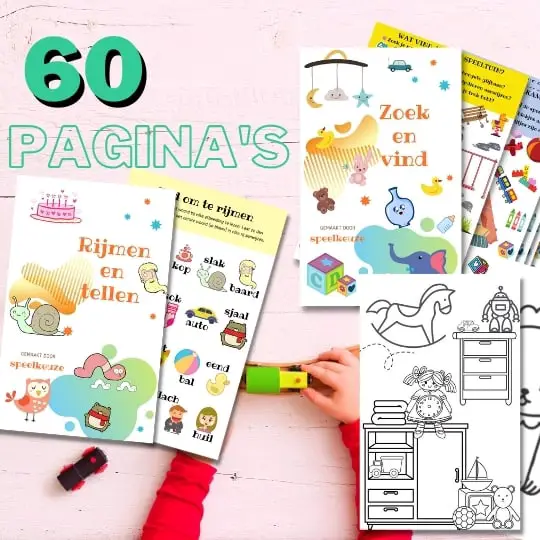 Always something to do for the holidays or rainy day?
Play Choice now has the ultimate activity book collection, with over 60 pages of fun coloring pages and educational puzzles.
For example, are you familiar with the children's clothing stores in Deventer and if you like to discover another city, think about shopping in Apeldoorn.
Below you will find an overview of the children's clothing stores located in Apeldoorn.
All nice children's stores clearly arranged in a list with all kinds of information about children's clothing and accessories.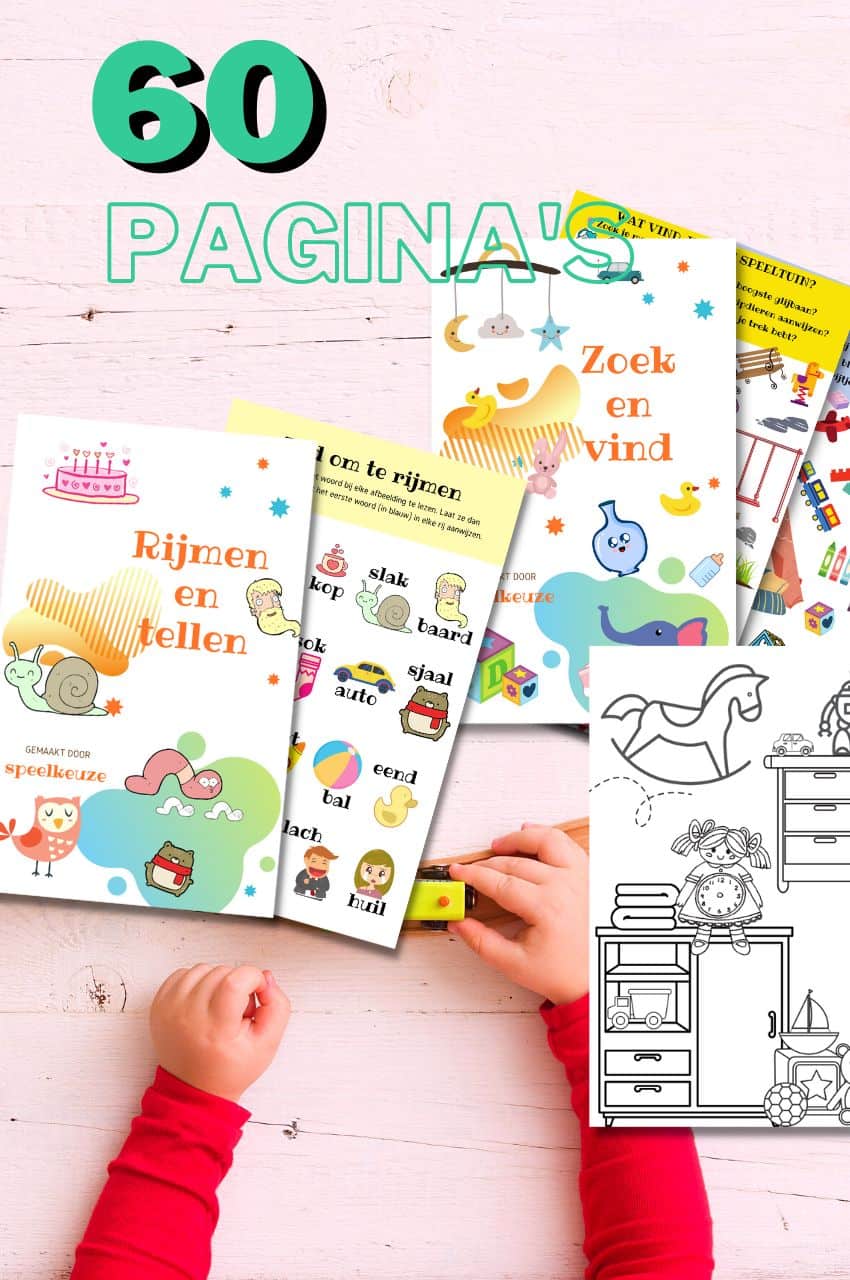 A play theme in your mailbox every month?
Fun play tips, activity books and more, with the first email being our free mini-guide "educational toys"
We will only use your email address for this newsletter and respect your privacy
These are the children's clothing stores on the map of Apeldoorn:
buzz kids
At Zoemkids you will find fashion trends for fall and winter. Zoemkids pays a lot of attention to teenage clothing with lots of cool combinations.
The hottest trend this season is certainly the Colorful Streetwear. This brings out the warm autumn colors well.
Just think of green, burgundy and aubergine, alternated with interesting yellow tones such as caramel and saffron and neutral colors such as gray and white.
The neutral colors such as gray and white are also used to create the vintage color combinations and surprising color blocking effects.
This means the retro looks aren't over yet. This winter is going to be very colorful. There are also beautiful fake fur coats in almost all colors of the rainbow.
So plenty of choice to get a nice fur coat.
A number of top brands have also been added to the range, such as Calvin Klein, Tommy Hilfiger, Lyle & Scott, Lacoste, DNKY and Iceberg.
Visit the store or site regularly, because there are more new hip trends coming along. They also have fun fashion trends for the little ones.
You will really find nice hip and trendy boys and girls clothing at Zoemkids. In addition, they also offer the option of shopping outside opening hours.
Select a beautiful new collection with the whole family in peace and quiet with personal advice and attention in a peaceful setting.
With an eye for fun clothes and a nose for trendy children's fashion, Zoemkids always remains at the forefront of fashion.
Address: Korenstraat 13, 7311 LL Apeldoorn.
Tom-Du Children's clothing
Boys and girls clothes from the unique clothing brand Tom-Du are sold here.
It is not just any clothing store where they sell clothing, the design and production process is also done in-house.
They also organize clothing parties to sell the clothing. Tom-Du has been in the children's clothing industry for over 25 years and is a real Dutch family business.
Are your children going to play or have you planned to go to a party?
It doesn't matter what you are going to do: at Tom-Du you will find the right clothing for every occasion.
The brand has grown from a small company over the years into a successful and hip brand.
Find Tom-Du at: Labor Street 24, 7311 CT Apeldoorn.
Name IT
NAME IT has been designing contemporary and affordable children's clothing for more than thirty years.
Clothes for teens and tweens. Attention is drawn to the personal look based on the latest fashion trends. They have four sub-brands, namely: baby, mini, kids and LMTD.
In addition, there is NAME IT worked with organic cotton.
You will find the latest fashion trends and designs in this store.
The different types of build of the child are also taken into account, so you can choose from skinny fit, (x-) slim fit, regular fit or baggy fit jeans.
Social responsibility and the environment are two important topics for this Name IT. In this way Name It takes good care of you but also your environment.
Visit Name It at the Orangery 168, 7311 WD Apeldoorn.
Dount
At Tuunte you can find affordable clothing for young and old.
They think it is important that you are comfortable and the employees in the store are ready to assist you if you need them for some advice.
There is also a Tuunte online store or you can choose to reserve the clothes in advance and try them on in the store when it suits you.
Tuunte's clothing is trendy, cool and certainly contemporary.
For babies there are the brands Just Small and Bakkaboe, nice clothes that young mothers really want to see their child in.
The bigger girls can really enjoy themselves in the brands Persival and D-zine and the boys feel cool in Unlocked or Ravagio.
Tuunte is on it Korianderplein 39-41, 7322 NB Apeldoorn.
Emma & Sam Children's Shop
In 2011, the current owner started this children's clothing store, where, in addition to clothing, you can also find many other fun and colorful children's items.
There is a wide range from clothing to books and from toys to small suitcases for children and much more.
You can go there for nice children's gifts, but of course the mothers are not forgotten either!
The store focuses mainly on children from 0 to 8 years old. The store is located next to the Albert Heijn on 't Fort and is easily accessible by car.
Visit Emma & Sam children's store at the Line 185, 7325 DR Apeldoorn.
shoeby
At Shoeby you will find nice cool and trendy clothes for boys and girls. The most important thing at Shoeby is that clothing must be comfortable and comfortable.
Children must be able to move freely.
The clothing from Shoeby is made of high-quality fabrics, so that you can be sure that the clothing will come off unscathed, even after a long game.
Even after many washes, they still look completely fine, even clothes with multiple colors such as animal prints!
They have their own brand Jill for girls and the brand Mitch for boys.
They also sell Dutch children's brands such as Tumble 'n Dry and Cakewalk. J
You can also find Shoeby online, but it is of course more fun to visit the store during a day in Apeldoorn!
You will find Shoeby De Eglantier 118, 7329 DC Apeldoorn.
The shops mentioned above are all easily accessible, but not all are close to each other.
If you choose to come to Apeldoorn by public transport, it is about a ten-minute walk to the part of the city where the first three shops from our list can be found.
The leftmost arrow on the map is the location of Tom-Du children's clothing. From there you can easily walk towards Korenstraat 13 where you will find Zoemkids.
You can walk through the Vosselmanstraat, where you have a large parking garage in case you are by car, or you can take the busier Asselsestraat where you will find some more shops.
From the Korenstraat you can walk within a few minutes to the location of Name It, where there is also a large Q-Park.
Tuunte and Emma & Sam clothing store are a bit further away from Central Station, but are easy to reach by car, because these locations offer plenty of parking.
They are both located in a shopping center, respectively shopping center De Mheen and 't Fort, so you can also easily go there for other shopping.
Shoeby is located a bit further south in Apeldoorn and is located in the De Eglantier shopping center.
Also read: these are the best toy microphones with recording function
Also nice nearby:
8 Children's clothing stores in Zutphen that are worth a detour
Zutphen, situated on the Berkel and the IJssel, is a Hanseatic city and has a beautiful historic center.
Every paving stone exudes culture, fantastic events are organized throughout the year and, last but not least, the city has unique and fun shops!
The small streets, mysterious vaults, medieval cobbled alleys with cobbles contribute to the feeling that Zutphen is a great monument.
There are even specialist shops in the old merchant houses.
Unique shops that are great fun too visits from Apeldoorn.
The city center of Zutphen is small, cozy and surprising.
Besides shopping, you can also enjoy a delicious lunch, dinner or just a cup of coffee at one of the many nice restaurants, coffee shops or lunchrooms.
The kids can also enjoy themselves in Zutphen with fun children's attractions.
Below we have set up the children's clothing stores in Zutphen for you.
In these stores you will certainly succeed in purchasing nice clothes for your daughter or son.
Children's clothing stores on the map of Zutphen:
8 best children's clothing stores in Zutphen
Su & ​​Jill
Who doesn't enjoy shopping in a store that was born from a passion of the owner? In this case two owners.
Two women who were inspired by the arrival of their own children to design and make their own children's clothing.
And they have done so with success. They started in 2010 and have now reached the point where they have been able to realize their first real children's clothing store in Zutphen.
The baby and children's clothing that is offered is sustainable and organic.
Natural materials, such as wool and cotton, but also toys, accessories and care products are available in this store, and of course all selected and offered with the same care.
You will find brands that observe the same basis: Mini Rodini, CarlijnQ, Smafolk, Engel, Little Hedonist, Bergstein, Gosoaky, Joha, Easy Peasy and many others.
You can also go here for beautiful handmade gifts. The slogan of this store is not without reason: natural, happy and handmade products.
Su & ​​Jill is on the Houtmarkt 73, 7201 KL Zutphen.
Also read: You can use these swivel car seats forwards and backwards
Bengel Children's fashion
This children's clothing store in the heart of Zutphen offers baby clothing from size 50 to 92 and children's clothing from size 92 to 176.
And we are sure that you will find something fun for your child!
They sell a wide selection of brands: Blue Rebel, BOOF, INDIAN BLUE, Jake Fischer, Nik & Nik, Osaka, Retour and Vingino.
And recently also the KMDB brand that excels in fun prints on sweaters and sweatshirts. Consider, for example, cool texts such as: "Patser" or "Eindbaas".
These are of course texts that you don't often see when you look into a baby crib ...
You can safely call this children's clothing store in a beautiful stately building one of the unique shops of Zutphen.
This is also evident from the reactions of their customers on social media. The collections always look neat and tidy and are adapted throughout the seasons.
It is truly a popular store in the city to score a cool outfit for your children.
Address Bengel Kindermode: Sprongstraat 3, 7201 KS Zutphen.
Also watch: the best children's clothing stores in Deventer
Obilot Natural textiles
In the city center of Zutphen you will find, also in a beautiful building, Obilot Natuurtextiel. A company with its own identity.
What the name of the store suggests, here you will find beautiful and unique clothing made from organic materials: virgin wool, natural silk, organic cotton, linen or hemp.
The clothing is 100% natural and that is nice for nature, but also for the wearer of the clothing.
In addition, Obilot also pays attention to a social responsibility, for example, the products are purchased from companies that provide good and responsible conditions for employees.
Obilot's clothing has also not been chemically treated. Organic cotton is used.
Organic cotton is hand-picked and comes from small-scale projects without using fertilizers or pesticides.
You can therefore go to this store for baby and children's clothing that has been well thought out and that is also great.
Obilot Natural Textiles is on the Groenmarkt 1, 7201 HW Zutphen.
As in many Dutch cities, the national and international children's clothing stores are also located in Zutphen. Below you will find a brief overview.
Bristol
At Bristol you will find cheap fashion for the whole family. You will not only find clothing from sizes 98 to 176, but also shoes, accessories and sports equipment.
For cool girls you will find nice shirts, trendy shorts and skirts and wonderfully comfortable pants at affordable prices.
You will also find cute dresses, cool jumpsuits, hip sweaters and nice warm coats.
And for boys there is also an extensive collection. They can look hip and trendy with Bristol clothing.
You will find cool T-shirts with funny prints, trendy checkered shirts, cool (jeans) pants, warm jackets, sporty sweaters and hooded cardigans.
Boys can romp, play or play football in these clothes. Trendy clothes really don't have to be expensive and Bristol is the right place.
Bristol: Wrist pants 83, 7201 BX Zutphen.
Also read: how does the clothing of these well-known Dutch children's clothing brands fall?
AC
C&A in Zutphen is a stone's throw from central station.
C&A has such a long history in the Netherlands that in principle the store no longer needs an introduction.
But if you still have doubts about what they offer, read on.
The store excels in offering varied, fun and playful clothing for children of good quality for a very decent price.
You will find many different types of clothing, from sporty to chic, from underwear to jackets and shoes. Actually, you can get a full look here.
Baby sizes start at size 50 and continue up to size 92. Children's clothing starts from size 92.
C&A: Overwelling 14, 7201 LT Zutphen.
Hema
At Hema you will find an extensive collection of girls and boys clothing.
Qualitative, comfortable and super fun clothing that is specifically designed and made for Hema.
The latest fashion trends are taken into account when designing the clothing.
The collections for children offer a huge choice and color combinations. The clothing is beautiful and comfortable.
At Hema you will find beautiful clothing for affordable prices, but made of good materials. Children's clothing is available at Hema up to size 176.
hema: Beukerstraat 14, 7201 LE Zutphen.
Also read: is a play pen good for your child?
H&M
At H&M you can find the most adorable clothes for your baby, but also clothes for toddlers and teenagers.
There is a very extensive collection with which you can combine endlessly.
You can actually go there for clothes for children of all ages and you can perhaps also grab something nice for yourself!
The collections of the H&M also change with the seasons and there is so much choice that it is always worthwhile to step inside to see if you can find something new.
With clothing from H&M you can also be sure that the fashion trends are going well.
You can safely dress your child with these clothes and your son or daughter will look trendy and well-groomed again.
H&M: Shovel chair 12, 7201 CZ Zutphen.
scapino
At Scapino, the latest fashion trends are closely monitored.
The Scapino collection is therefore always 'up to date' in the field of clothing, shoes and accessories.
Children grow quickly so you will have to change clothes often. In addition, it is often nice that the clothing is affordable.
The Scapino collection lends itself precisely to this. Affordable clothes for every age in stock.
Well-known brands at Scapino are Ai-girl or Oiboi. These collections are so extensive that you will have trouble making the right choice.
For the tough guys and girls who like to be outside, there is the Mountain Peak brand.
Scapino: Gasthuisstraat 16, 7201 MN Zutphen.
Also looking to funny girl clothes? Check out our post.
Accessibility Zutphen
By train: Zutphen's central station can be reached by train.
The train from Utrecht takes you to Zutphen in just over an hour, where you have to change trains in Arnhem.
The city center is a few hundred meters from the station, so that's perfect.
This way you don't have to think about parking spaces and you can sit back on the train at the end of a long shopping day.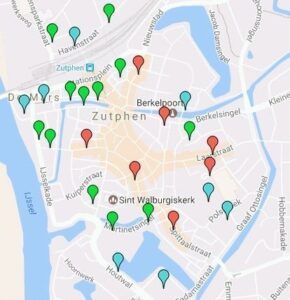 By car: if you still want to go by car, Zutphen from Utrecht can be reached in over an hour via the A1.
Parking in Zutphen is possible at various places, which is shown schematically on the map to the right.
Parking fees must be paid from Monday to Saturday from 8.00:18.00 to 21.00:XNUMX and on Friday evening (late night shopping) until XNUMX:XNUMX pm.
Long-term parking (all day) costs € 1,30 per hour or € 7,80 per day;
medium-term parking (maximum 4 hours) costs € 1,70 per hour;
short-term parking (maximum 2 hours) costs € 2,10 per hour.
Also nice to travel the other way and once to visit the clothing stores in Arnhem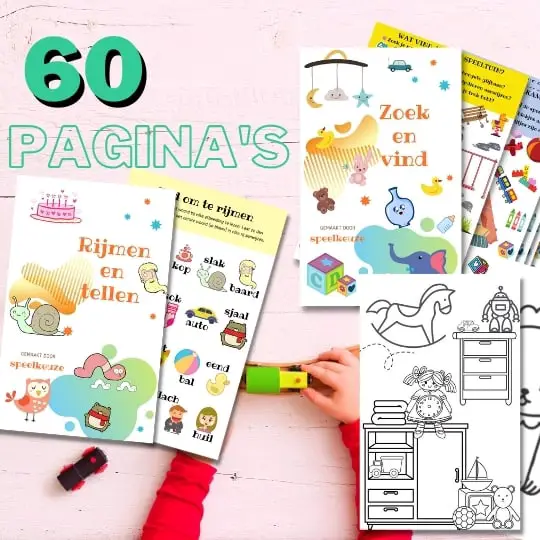 Always something to do for the holidays or rainy day?
Play Choice now has the ultimate activity book collection, with over 60 pages of fun coloring pages and educational puzzles.
Joost Nusselder, the founder of Speelkeuze.nl is a content marketer, father and loves trying out new toys. As a child he came into contact with everything related to games when his mother started the Tinnen Soldaat in Ede. Now he and his team create helpful blog articles to help loyal readers with fun play ideas.