Day shopping with the kids | these are the 8 children's clothing stores in Zaandam
I enjoy writing these articles for my readers, you guys. I don't accept payment for writing reviews, my opinion on products is my own, but if you find my recommendations helpful and you end up buying something through one of the links I may be able to receive a commission on that.
Further information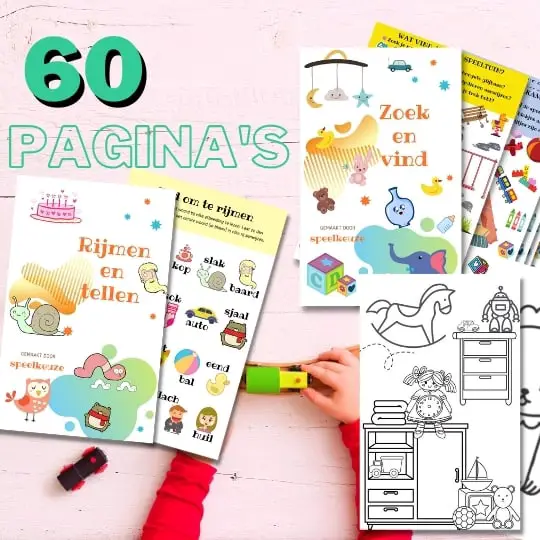 Always something to do for the holidays or rainy day?
Play Choice now has the ultimate activity book collection, with over 60 pages of fun coloring pages and educational puzzles.
How about a day of shopping in Zaandam? In this fantastic town you will find a diversity of cozy shops '' where you can shop till you drop ''.
While shopping, you and your children will certainly find beautiful, cool and hip clothes.
When you are finally ready, you can relax in one of the nice restaurants.
Relaxing and shopping together with the kids, that's what you do in Zaandam!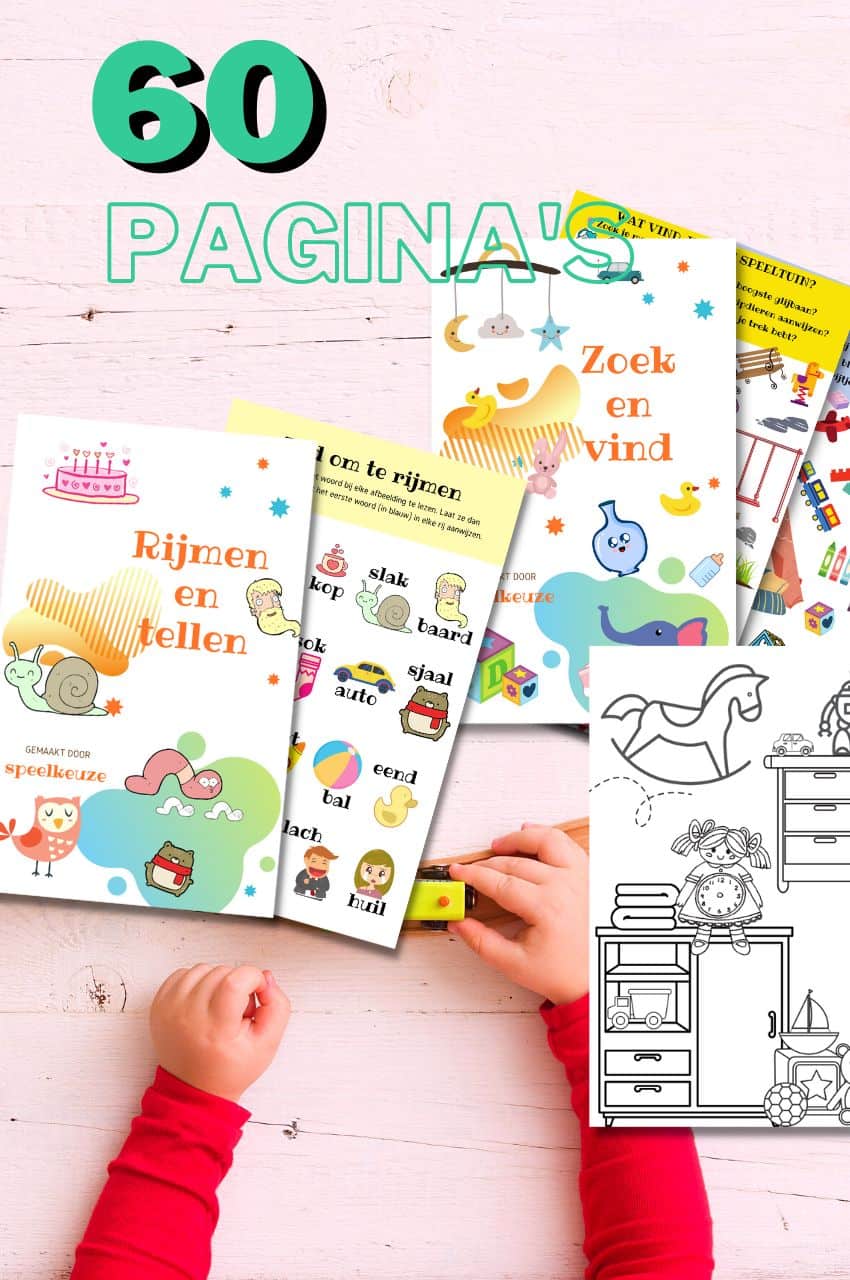 A play theme in your mailbox every month?
Fun play tips, activity books and more, with the first email being our free mini-guide "educational toys"
We will only use your email address for this newsletter and respect your privacy
These are the children's clothing stores on the map of Zaandam:
The 8 best children's clothing stores in Zaandam
Petit Lou Baby and Kinder Fashion
In the lovely Petit Lou shop you will undoubtedly find a wonderful collection of clothing for children in the age categories from 0 to 16 years.
You can also find this collection in the shop in the webshop.
Once in the store, you will be helped by nice employees while enjoying a cup of coffee.
There is also plenty to do for the kids while you can view beautiful and fun outfits.
At Petit Lou Fashion they sell several top brands: Vinino: Vingino is a brand that is popular with the youth especially when it comes to jeans and underwear.
You can easily wear the jeans in combination with the hip and trendy blouses and shirts.
Vingino also has beautiful tunics, skirts, dresses and training jackets in the collection. You will find them in sizes 62 to 176.
Return: this brand focuses on Jeans children's clothing with unique prints that fit well and comfortably.
The girls have a choice of trendy blouses, skirts and nice shirts. Z8: you pronounce this brand as 'soft'.
It is a fairly young brand that focuses more on quality, flexibility and making different combinations.
This dynamic young brand brings a whole new collection to the market every six months. You will find clothes in sizes 92 to 128.
Baker Bridge: it is a new player in the market when it comes to quality clothing for girls from 2 to 16 years old.
Baker Bridge provides a new supply of clothing twice a year.
Baker Bridge makes extensive use of striking colors in the collection and dark blue is also common.
Also the Nickelson Junior collection can be ordered at Petit Lou Fashion.
The brand has existed for over 25 years and is known for the popular winter jackets / ski jackets for children in sizes 104 (4 years) to 164 (14 years).
Petit Lou Kinder Fashion is located at the AF de Savornin Lohmanstraat 8, 1501 NH Zaandam.
More nearby? Also check out these children's shops in Amsterdam
Prenatal
You are pregnant. Congratulations! Time to purchase the most beautiful packages for your little one! There are clothes in striking colors and cute designs.
In the store you will find dresses of the brand Tumble 'n dry, pants of the brand noppies and also Babyface jumpsuit.
The clothes are of course made of quality fabrics, which are soft and comfortable to the touch and that will not tear or break easily.
All clothing can also be nicely combined with each other so that your little boy or girl always looks good looking.
The clothes can be found in sizes 56 to 104.
Prénatal is at the Stormhoek 6, 1506 SW Zaandam.
H&M
At H&M you can find the most adorable clothes for your baby, but also for toddlers and teenagers.
At H&M you will find a very extensive collection with which you can combine endlessly. H&M sells very beautiful and cute baby clothes for little ones from 0 to 9 months.
You will find multipacks of all-in-ones made from very soft organic cotton. You will find the clothing in sizes 50 to 74.
At H&M you will also find a collection for girls and boys up to the age of 10.
The collection consists of colorful prints from flowers to butterflies, stripes and Disney figures.
The slightly older girls between 8 and 14 years have a different collection they can go to and they can choose from supple jersey dresses, slim-fit jeans and airy tops.
The boys also get their money's worth.
The young men between 8 and 14 years old have plenty of choice from urban, surfwear looks, T-shirts with fun and cool designs, jogging pants and snap-back caps.
Plenty of choice to make very nice combinations. You have the right clothing for every day at school and for every adventure.
You can find H&M at the Gedempte Gracht 49a, 1506 CB Zaandam.
Also read: Car seats from baby to toddler and toddler, which one should you buy?
Sailor
Do you know that you can find quality clothing at Zeeman? Believe it. Beautiful and practical clothing for a very affordable price.
At Zeeman you will find clothes for your baby. Nice cute rompers in beautiful colors and made in a functional way, so that you can easily put them on and take them off.
The rompers are made of very soft organic cotton that is wonderful and comfortable.
For the newborns you will find nice pants, shirts, dresses and playsuits in various fun colors and print motifs.
With this collection you can make very nice combinations. The clothing is available in sizes 68 to 128. You can expect a new collection every season.
You can count on baby leggings and singlets for the summer holidays, jackets for the cold months and shirts that can be worn all year round.
Zeeman also sells wonderfully fitting pajamas for boys and girls. Pajamas with beautiful colors and beautiful designs.
Zeeman is located at Westside 17, 1506 AE Zaandam.
Also read: the 13 best trampolines rated for home and garden
Hema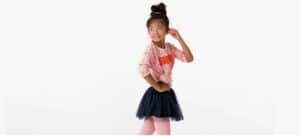 At Hema you will find an extensive collection of girls and boys clothing.
Quality, comfortable and super fun clothing that you will most likely not find anywhere else.
When designing the clothing by Hema, the latest fashion trends are taken into account. The girls' collection offers a huge choice and color combinations.
They are nice and comfortable and even after a few washes they still look like new. You can find the right outfit for every occasion at Hema.
Hema clothing is so special because they make it themselves. The price is therefore always advantageous and you can combine endlessly.
So you can look different every day. The clothes are made of high quality materials. Children's clothing goes up to size 140 at Hema.
Hema is located on the Gedempte Gracht 57, 1506 CC Zaandam.
Cool Cat
CoolCat has an extensive collection of boys and girls clothing. CoolCat has a cool clothing line in which you would like to be seen.
Whether that is at school or that one special party where all your friends will be present. Every week, CoolCat ensures that the collection is supplemented.
So you never get bored. Coolcat clothing has its own style and separate designs. They have quality clothing with cool prints and separate designs.
Clothing in which they can feel super nice and comfortable and they can fully enjoy themselves. That's exactly those clothes with cheerful sequins.
Cozy playing with their friends, whether outside or inside. The clothing is made of reliable material and can really take a beating.
Even after a number of washes, the clothes still look like new.
The clothing line is so diverse. You have countless colors, prints and designs, so combining is no problem.
Whatever season it is, you will find matching trendy clothing at CoolCat.
CoolCat is located at Gedempte Gracht 69, 1506 CC Zaandam.
Jeans Center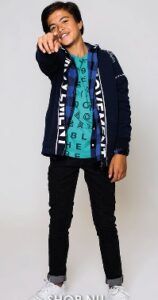 Jeans Center has more than 42 years of experience when it comes to children's clothing for all ages. You will find cool, fun and hip clothes for boys and girls.
They can truly call themselves the Jeans specialist. At Jeans Center you will find all the clothing to dress your children in a hip, new style.
In addition to cool and cool items of clothing such as jeans combined with cool t-shirts, boys can also get neater outfits.
There is a diverse range at Jeans Center, so combining is no problem.
The store sells cool boys' clothing from well-known brands such as: Cars, Chief, Garcia Jeans en Petrol.
The girls can also go to this shop for their clothes. The perfect girls' collection is on display for them.
They can choose from a cool pair of jeans, but also a slightly more adorable style. Exactly what makes your daughter feel good.
Just think of the beautiful dresses, skirts, shirts and girls jeans.
Within the girls' collection you can also combine endlessly, so that she always appears in a new trendy style.
Are you stuck? In the store there are helpful employees who assist you with professional advice.
Jeans Center has its store on the Gedempte Gracht 97, 1506 CD Zaandam.
Also read: Haarlem a unique city to visit and to shop for children
scapino
At Scapino you will find clothing from the latest fashion trends. Children grow quickly so you will often have to buy new clothes.
It is important in this process that the clothing meets the latest children's fashion, but is not too expensive.
That is why you will find an extensive range of children's clothing in different sizes and brands and for different occasions in the Scapino store.
You will find clothes from the brands Ai girl of Oiboic. You will certainly be surprised by the diversity of the clothing collection.
The brands Ai-girl or Oiboi make it easy to choose a lot of hip, fun, cool and comfortable clothing.
They are according to the latest fashion trend, they are also affordable and you will find clothes for every season. At Scapino you also come across the brand mountain peak against.
This is really intended for kids who love the outdoors. Choose from the many fleece jackets, rain suits, thermal socks, ski clothing, hiking boots and backpacks.
With these clothes you can really take on the world. Best quality clothing at the best price.
Scapino is on the Rozengracht 39, 1506 SC Zaandam.
Accessibility city center of Zaandam
The city center of Zaandam is becoming more fun and fun to shop.
You will also find the town hall, the Inntel hotel, a cinema, the Zaantheater, the Czaar Peterhuisje and the Monet route.
The many shops in Zaandam really invite you to take a look and you will certainly find beautiful trendy and hip clothes for you and your children.
Zaandam is easily accessible by car via both the west and the east side.
In and around the city center of Zaandam you can park your car in parking garages, on parking lots and in separate parking spaces.
You can also go there by bike. There are more than 4.000 bicycle parking spaces in the city center.
You can also get there by public transport.
You take the train to Zaandam and if you walk out of the station on the east side via the town hall square, you walk straight into the new city center!
You can also enjoy a pleasant walk in the city and you can walk from one store to another within a few minutes. Most shops are within walking distance of each other.
You can walk from Scapino to Petit Lou in 9 minutes and you are from Scapino in Jeans Center within 2 minutes.
That is, if you don't stop along the way to enter other nice shops or take a break in one of the nice restaurants!
Also read: this way you know whether Noppies clothing fits well
16 children's clothing stores in Purmerend you want to visit
Purmerend is a city where you can go shopping. The center, with the Koemarkt as its center, has a village feel.
A nice change from the children's clothing stores in Amsterdam.
Around the large shopping center Eggert you will find various shopping streets in the city center such as the Dubbel Buurt, Breedstraat, Peperstraat and Nieuwstraat where you can enjoy shopping.
In addition to nice fashion shops with original clothing and accessories, you will find various gift shops, flower shops, furniture shops and delicatessens.
Reason enough to take a day off to go shopping with the whole family in Purmerend.
Children's clothing stores on the map of Purmerend:
Me & Mommy
Whether you have kids who do not like to fit, are looking for a nice maternity gift or want advice about well-fitting maternity clothes, Ikke & Mama is very happy to help you make the right choice.
Great is the children's play corner in the store, where your kids can play while you pick out beautiful outfits.
When it is time to try on, the girls in the store will be happy to help you keep your kids in line!
Nice brands that you can find at Ikke & Mama Name it, Quapic, Z8, noppies, Tumble 'n Dry, Jubel, Sturdy, O'Chill, Little Miss Juliette, Blue Seven, Jumping The Couch and B'Chill.
Ikke & Mama: Padjedijk 9, 1441 AX Purmerend
OUTFIT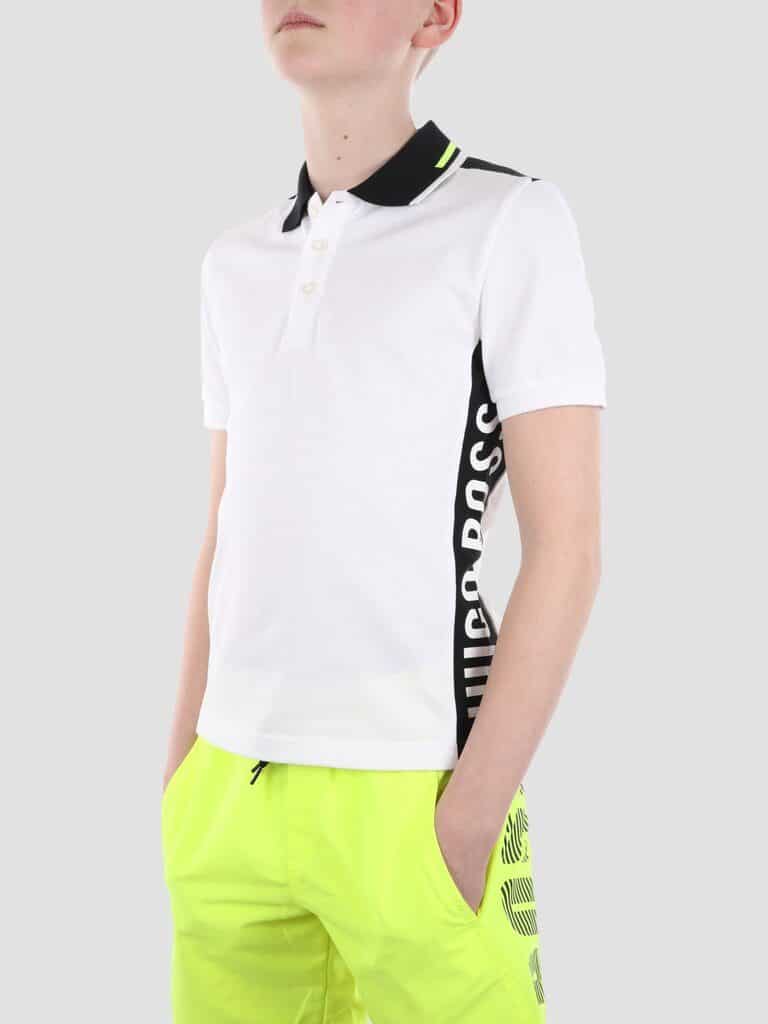 For the girls you will find the Kappa & Tommy Jeans. Sit very well and comfortably. The Kappa clothing is unisex and you will find sweaters, pants, shirts and vests.
At Outfit you will find good quality clothing that will last a long time and in which your children can be seen.
In the store you will also receive friendly assistance from professional store staff. A cozy shop where you will find the right clothes for the whole family.
OUTFIT: Double Neighborhood 9, 1441 CT Purmerend
High5 Fashion
At High5 Fashion you are at the right place for fun and cool clothes for boys and girls of different ages.
For example, you will find the fun Inez skirts that should not be missing in your daughter's wardrobe.
Go for a cool look by combining the skirt with a pair of biker boots, a black T-shirt and the Eda Coat.
They also have nice leggings from the brand B.Nosy in different colors and prints.
Also look out for the nice dresses Vingino from size 74.
For the boys you will find the Funky XS J. collection. Nice long and short sleeve shirts in different colors and also nice pants and shorts.
Also nice is the extensive collection of children's accessories, such as backpacks, slippers and hats, underpants and even skateboards!
And if your child does use a haircut, you can also go to the children's hairdresser at High5 Fashion.
A very nice children's clothing store in Purmerend and definitely worth a visit.
High5 Fashion: Padjedijk 7, 1441 AX Purmerend
Cool children's fashion
The clothing store has a new collection of cool children's clothing every fortnight.
The latest collections are brought in from Paris, which means that Gaaf Kindermode can offer a constantly changing range.
At Gaaf Kindermode, the department store effect is prevented, because only one series is purchased from each collection.
As a result, you will never see the entire school wearing the same cool clothes. In the store you will find a separate section for boys and a separate section for girls.
The store's appearance is luxurious, but the prices are low.
Cool Cat
Look forward to the fun T-shirts and dresses with sequins and studs. At CoolCat you will find the right children's clothing in which the kids can feel free and happy.
And perhaps the great thing is that you can combine endlessly within the CoolCat collection. So your kids can leave the house in a nice combination almost every day.
CoolCat: Willem Eggertstraat 29, 1441 CH Purmerend
terStal Family fashion
At terStal you will find various fashion items for the little ones to the bigger kids.
Children's sizes that you will encounter are Newborn in sizes 50-68 and baby clothes in sizes 68-86.
For the toddlers you will find nice clothing in sizes 92-128, for the slightly older kids there is an extensive collection of clothing in sizes 134-176.
At terStal you will find clothing according to different fashion trends, hip and trendy colors.
With terStal clothing you can make an incredible number of combinations so that your boy and girl always looks hip, cool and trendy.
terStal Family fashion: John F. Kennedyplein 1, 1443 EA Purmerend
Sailor
De Zeeman's clothes are of solid quality and last a very long time. Even after the many washes, the clothes still look very good.
At De Zeeman you will find colorful shirts, dresses, pants, shorts, skirts, blouses and baby clothing in various colors, patterns and prints.
There is something to be found at De Zeeman for every child with their own taste. Also look out for the well-fitting underwear and sleepwear.
All made of safe and soft fabrics. All clothing at Zeeman is made in a responsible manner, so you can be sure that they are safe for your children.
Sailor: Overlanderstraat 622, 1445 CW Purmerend
AC
Their collections are completely tailored to families who like to look fashionable in an affordable way.
Children of five have a different taste than when they are sixteen.
The C&A collections therefore grow with age, so children can go through life fashionably and inexpensively dressed throughout their childhood.
C&A also offers children's fashion for school days, days off, parties and holidays.
You can combine the clothing from the C&A collection in your own way. Cool girls like to choose a T-shirt and jeans.
Does your daughter like girly clothes? Then she would rather replace those jeans with a colorful skirt and leggings.
Our fashionable and affordable fashion gives your child the opportunity to develop their own style.
In addition, the clothing is made in such a way that small children can wear it safely.
For example, the collection does not contain zippers for the little ones. The whole family can go to C&A.
C&A: Burgemeester D. Kooimanweg 16, 1442 BZ Purmerend
Jeans Center
But you will also find all kinds of other nice clothes for children. For the girls there are very nice dresses and cute skirts with nice blouses and beautiful tops or shorts.
There is also a very cool boys collection on display with cool pants, shirts, polos, vests, jackets and much more.
The Jeans Center clothing is not only fashionable, but also very comfortable and has a good fit.
For example, look out for the classic sweater and sweatpants combination, which is always a success.
Your children will enjoy these clothes for a long time and will walk around the schoolyard in a hip fashion.
Jeans Center: Willem Eggertstraat 17, 1441 CH Purmerend
H&M
It is also nice that H&M is working on sustainability. They ensure that their clothes last a long time, which is of course nice when it comes to children's clothing.
What your kids run around in must of course be able to take a beating and be washed well and often.
You can also hand in old children's clothing to H&M, so that it does not end up in the waste.
At H&M you will find really beautiful and soft baby clothes from 0 to 9 months old, such as handy multipacks of organic cotton rompers.
There is also plenty to find for the older kids, from toddler to teenager.
From the basics such as plain leggings and fine shirts to those cool items that really make your child shine.
H&M: Willem Eggertstraat 45, 1441 CH Purmerend
Action sports
Sports often starts from childhood. That is why they have put together a nice sports collection at Aktiesport for young sports enthusiasts.
It is packed with innovative and attractive sportswear, shoes and accessories. This is also the right place for casual gear.
How about a cool T-shirt with camouflage print, cool casual shoes or a hip school backpack?
Action sports: Hoogstraat 9, 1441 BB Purmerend
shoeby
Also look out for the own in house brand Jill. You have nice dresses, skirts, shorts and long pants, tops and blouses in various fresh colors and prints.
The boys can choose from cool T-shirts, boys' shirts, sweaters, cardigans and, last but not least, the extremely strong jeans.
In the store you will also receive very friendly help from the friendly staff.
Shoeby: Willem Eggertstraat 115, 1441 CH Purmerend
HEMA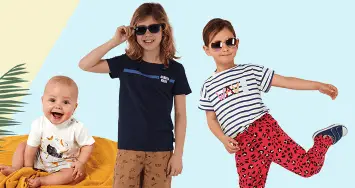 At HEMA they develop their own clothing that meets very high quality standards.
You can always find an extensive collection of fine soft and comfortable basic pieces. Such as shirts and leggings, t-shirts and underwear.
In addition, the latest fashion trends are also closely followed at HEMA.
Because children develop their own taste very early on, HEMA has an extensive collection of dresses, skirts, blouses, tops, shirts, cardigans and shirts in various sizes and fresh colors.
Clothing for boys and girls can be found in sizes 86/92 to size 152/164.
And because children grow out of their clothing very quickly, the clothing at Hema is also affordable and that makes parents happy too.
HEMA: Orphanage Steeg 19, 1441 CS Purmerend
Wibra
You are also at Wibra for wonderful soft sleepwear with different patterns, not to mention solid underwear.
At Wibra you are really in the right place for quality clothing for the whole family.
Wibra: Wormerplein 68, 1442 CC Purmerend
WE Fashion Store
WE Fashion specializes in quality clothing for the whole family. Especially the children are well catered for here.
For both the Boys and Girls collection you can go to WE Fashion in Purmerend.
You will find an extensive collection of children's clothing for boys and girls of all ages.
For the girls you will find very cute tops, blouses, skirts and dresses in fresh colors and fun designs with cool prints.
The clothing lasts a very long time, has a good fit and is of course also comfortable.
The children can play and have fun.
Within the WE Fashion collection you can also combine endlessly, so every time you can make the best combinations for your boy or girl and they always look hip and trendy.
WE Fashion store: Willem Eggertstraat 15, 1441 CH Purmerend
scapino
Whether it concerns children's accessories, shoes or clothing, at Scapino they always have good and inexpensive products in stock for you.
Thanks to brands such as Ai-girl and Oiboi, there is a lot to choose from in this area. Trendy, affordable and for all seasons.
You will find jackets, pants, sportswear, dresses, skirts, cardigans and much more in various fresh colors and designs.
The collection at Scapino is regularly updated and you will find the right clothing for every season.
Scapino: Westerstraat 13, 1441 AR Purmerend
Accessibility Purmerend
To Purmerend by public transport
The shopping center and the center of Purmerend are easily accessible by public transport.
Take a bus from Amsterdam or Alkmaar or one of the regional buses.
The Eggert shopping center, where most of the children's clothing stores are located, can be reached on foot from the bus station.
At the shopping center you can park your bicycle for free in the guarded parking facility on Plantsoenstraat.
To Purmerend by car & parking
You can park your car very cheaply in the parking garage of Q-Park at the Eggert shopping center.
The garage is the cheapest option for parking in Purmerend center.
We have tried to give the best and complete possible picture of children's clothing stores in Purmerend, but cannot guarantee that we have not overlooked anything.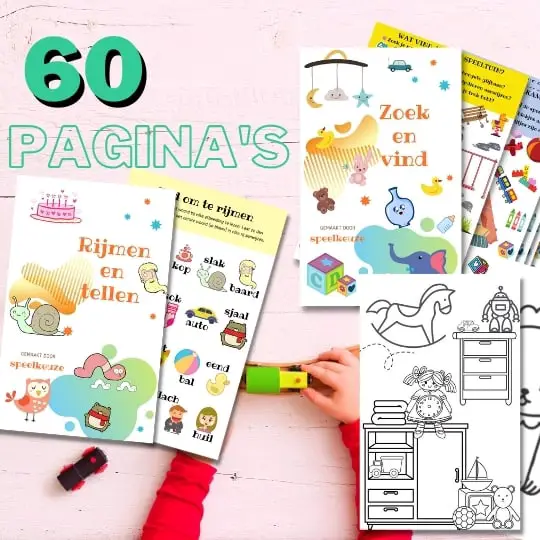 Always something to do for the holidays or rainy day?
Play Choice now has the ultimate activity book collection, with over 60 pages of fun coloring pages and educational puzzles.
Joost Nusselder, the founder of Speelkeuze.nl is a content marketer, father and loves trying out new toys. As a child he came into contact with everything related to games when his mother started the Tinnen Soldaat in Ede. Now he and his team create helpful blog articles to help loyal readers with fun play ideas.