These are the 11 best children's clothing stores in Utrecht and surroundings
I enjoy writing these articles for my readers, you guys. I don't accept payment for writing reviews, my opinion on products is my own, but if you find my recommendations helpful and you end up buying something through one of the links I may be able to receive a commission on that.
Further information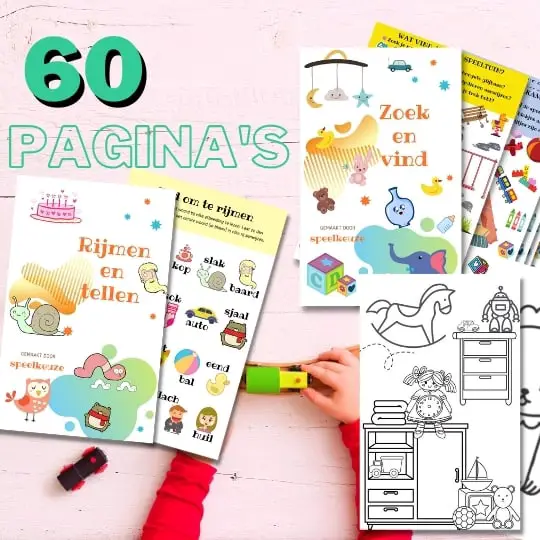 Always something to do for the holidays or rainy day?
Play Choice now has the ultimate activity book collection, with over 60 pages of fun coloring pages and educational puzzles.
In Utrecht there are many nice children's clothing stores where you can go for the best and quality clothing.
A nice day out with the kids and maybe even succeed for a nice piece of clothing.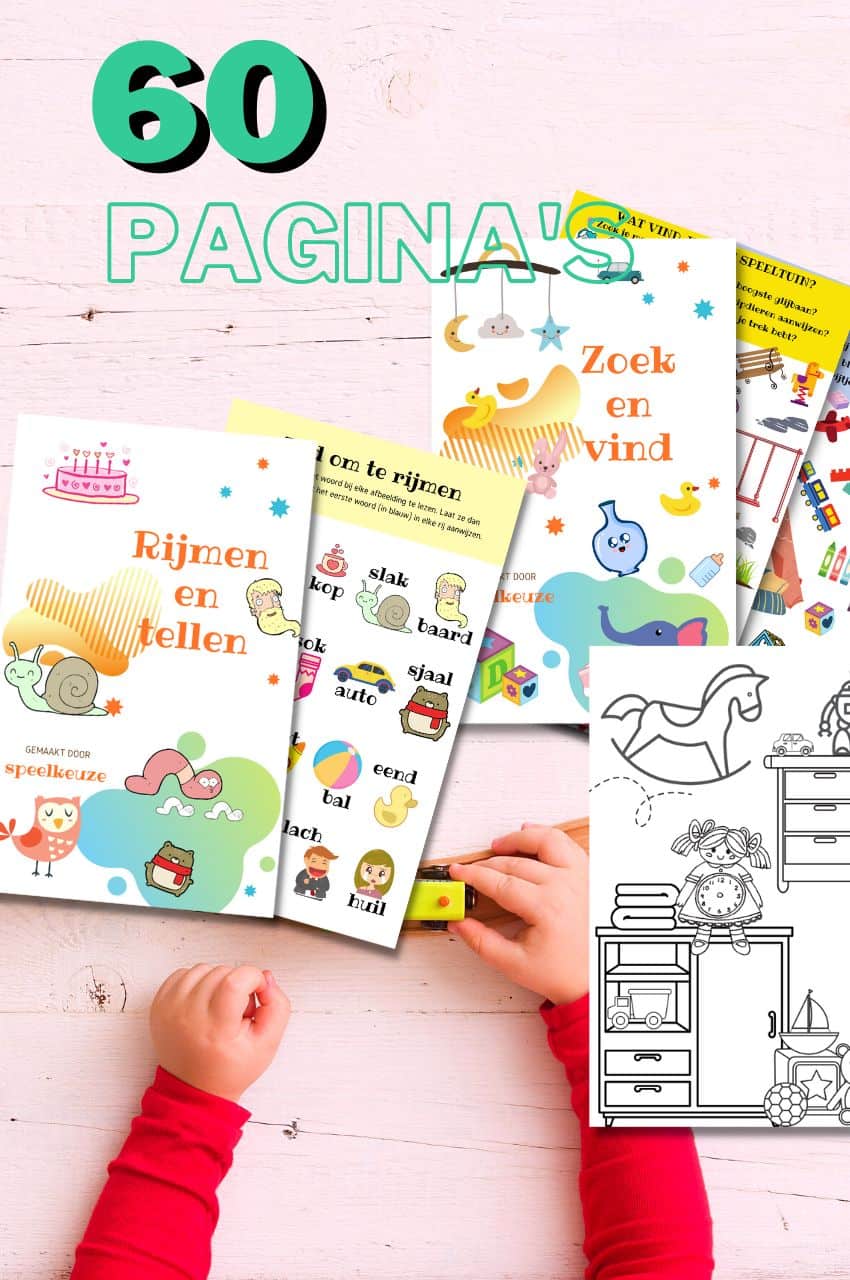 A play theme in your mailbox every month?
Fun play tips, activity books and more, with the first email being our free mini-guide "educational toys"
We will only use your email address for this newsletter and respect your privacy
These are the shops on the map:
11 best children's clothing stores in Utrecht
Copine - Hessenweg 181B Utrecht
At Copine you will find beautiful clothes from both Dutch and foreign designers.
In this constantly innovative and attractive store you will find clothes, toys and fun accessories such as jewelry and belts.
A selection of the children's clothing brands that you can find here: Tumble'N Dry, Claesen's, Flo, Nice Things and Someone.
The collection changes regularly so that every visit is different.
The shop is easily accessible and you can park for free in front of the door with the blue parking disc.
Copine Concept Store Children's Clothing is located at Hessenweg 181B 3731 JH De Bilt.
Tumble 'n dry - Lijnmarkt 19 Utrecht
Tumble'NDry Utrecht is a great store full of cool clothes for cool kids from 0-12 years!
You can find this store on one of the nicer shopping streets of Utrecht; the Lijnmarkt.
The clothing is conveniently divided into a boys and girls corner for 2-8 year olds, for 8-14 year olds and for babies. That makes shopping nice and clear!
Tumble'N Dry is originally a Dutch brand for active and cool kids.
Tumble'N Dry Utrecht is located at Lijnmarkt 19, 1135 KE in Utrecht
By the way, you can also shop online and pay with Klarna
An Apple a Day - Nachtegaalstraat 29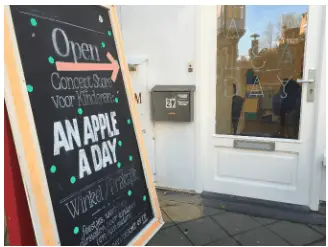 How about a visit to An Apple A Day. A children's store for all children who want to play and exercise! The store is aimed at children from 0-16 years.
The range is aimed at everything around a child, from baby products to children's clothing, to play equipment, to children's rooms.
An Apple A Day is located at Nachtegaalstraat 29, 3581AB in Utrecht.
Sparxx - Slotlaan 260 (Zeist)
We also visit the Sparxx children's shop. There you will find children's clothing for kids from 0 to 12 years old.
At Sparxx in Zeist you will find beautiful children's clothing from premature up to size 164.
A selection of the brands that you can buy here: Sawasi, ColorKids, Dirkje, dotjes, Absorba and much more.
In addition to children's clothing, Sparxx also sells trendy children's shoes, toys, books and bags. For an original gift you've come to the right place!
Sparxx children's shop is located at Slotlaan 260, 3701 GW in Zeist
't Kevertje - Springweg 15
Then we ended up at 't Kevertje children's clothing. Lots of children's clothing from beautiful brands for babies to teenagers.
Also a nice collection of shoes.In this beautiful shop on the Springweg you have a wide choice of beautiful and popular brands of children's clothing.
Here you can succeed for all children in the family, ideal! A selection of the brands that you can find here:
Scotch Shrunk, Scotch R'belle, Converse, Antony Morato, Diesel, Jacky Luxury and Moscow
't Kevertje is located at Springweg 15, 3511 VH in Utrecht
The kids republic - Vinkenlaan 33 (Bilthoven)
And so we end up at the children's store The KidsRepublic. That is a mega store of more than 1.000 m2 in the center of Bilthoven for kids from small to large!
Great for all people who like to feel and try on clothes before they buy something.
Useful; in this children's clothing store you can also order items via the order kiosks.
The KidsRepublic sells beautiful brands such as; VESPER, Return, Vingino, NinniVi, Z8, LOOXS, FLO and Bellerose.
And all kids can go here because there is clothing for newborn to teenagers (from size 52 to size 188).
You can find The KidsRepublic children's shop at Vinkenlaan 33 in Bilthoven. Ideal, you can park in front of the door for free!
Prinses en Erwtje - Oudegracht 220
Also pay a visit to the children's clothing store Prinses en Erwtje
Here you will find a beautiful collection that is slightly different from the rest.
Children's clothing from the brands Kidscase and Kik Kid in sizes 98 to 128 can be found.
The shoes are from brands such as My SweetShoe, Bisgaard and Zecchinod'oro and run up to size 39.
This store is located in a beautiful, atmospheric building at Oudegracht 220,3511, XNUMX NT in Utrecht
De Deugniet - Amsterdamsestraatweg 571
At the Deugniet children's clothing store you will find beautiful second-hand designer clothes. In this children's store in Utrecht they sell cheap second-hand designer clothes.
Think of brands like Vingino, Burberry, Kik-Kid and other popular premium brands.
They also have nice baby clothes, gifts, toys, bags, jewelry, shoes and boots.
De Deugniet Kinderkleding is located at Amsterdamsestraatweg 571, 3553 EH in Utrecht
Jipperkids - Mereveldplein 30 (De Meern)
In Utrecht you will also find the children's clothing store JipperKids. You can find many beautiful designer clothes at this cozy children's clothing shop in De Meern!
Here you will find many nice children's clothing in sizes 56 to 164 from brands such as: Vingino, Reset Z8, Return, Claessens, Geisha, Gsus, Garcia, Jubel, Sturdy, Barts, Name IT, FunkyXS, RubberDuck, Bonnie Doon, Beebies, Diva and Mijn en Feetje.
Besides clothing, you will also find beautiful accessories such as children's belts here. You know what is very ideal is that you can park for free at JipperKids and in front of the door!
JipperKidsstaat at Mereveldplein 30, 3454 CK in De Meern
Bengels - Voorheuvel 59 (Zeist)
We go a little further to the children's clothing store Bengels.
Here you will find good second-hand clothing for children from 1 year old.In this neat second-hand clothing store in Zeist you will find an extensive range.
The children's clothing runs from size 80 to 164 and varies from hip to classic!
Every week there are other brands in circulation such as: Tommy Hilfiger, Vingino, Replay, Oilily and many other popular brands.
The clothing is neatly tailored so that you can easily search. Of course you can also bring your own clothing. Come by when the store is open.
Bengels is located at Voorheuvel 59, 3701 JC in Zeist.
Kortjakket - Twijnstraat 56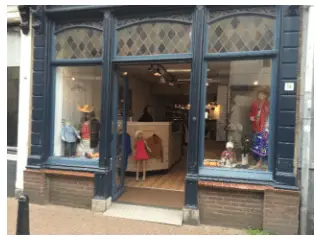 A very nice children's store is Kortjakket.
It is a cozy shop where you can buy beautiful second hand clothing from various brands. Also sportswear.
At Kortjakket you are in the right place for second hand clothing of good quality. The clothing is clearly sorted by size and type.
The range varies from expensive designer clothing to clothing such as van de Hema and changes daily.
In addition to clothing, you will also find shoes and boots and a large collection of sports clothing such as horse riding clothing, football boots, judo suits and winter sports clothing.
Kortjakken also has an extensive range of fancy dress and carnival outfits all year round.
Accessibility of the shops in Utrecht
The city center of Utrecht is optimally accessible by public transport. Regional buses come to Utrecht from all directions.
Residents of Nieuwegein and IJsselstein can use the express tram that runs regularly.
An extensive network of city buses ensures that every district is easily accessible.
Parking in the center of Utrecht is, as in many cities with a historic city center, very limited and expensive.
If you come to Utrecht, park in a parking garage. They are safer than the street and you are also cheaper. Happy Shopping !!
Also nice nearby:
Children's clothing stores in IJsselstein
The historic city center of IJsselstein is a pleasant place to shop. Even when you are looking for fun children's clothing.
You will find attractive boutiques and specialty shops for children's clothing, but the well-known chains are also represented.
In the slightly less well-known stores you get the chance to discover brands that cannot be found in large retail chains.
We have listed the best children's clothing shop addresses in IJsselstein here for you.
Children's clothing stores on the map of IJsselstein
My Kids Store
My Kids Store is a very sweet and trendy children's store in the center of IJsselstein and definitely worth a visit.
Here you will find fun and quality children's clothing in sizes 40 to 164.
You will find nice suits, pants, dresses, blouses, leggings and much more beautiful things for boys and girls.
In addition to fun children's clothing, you can also find very nice maternity gifts.
In the store you will always receive very friendly help from the staff who will assist you with very good advice.
My Kids Store: Kerkstraat 31, 3401 CM IJsselstein
shoeby
At Shoeby in IJsselstein you are in the right place for beautiful and cool boys and girls clothing.
You will find the best collections every season with clothing for children of all ages.
Shoeby clothing is intended for cool, curious and inquisitive kids.
You will find T-shirts, pants, sweaters, leggings and cardigans with a hip and colorful vibe.
All children's clothing from Shoeby is comfortable and of good quality. This ensures that your tough child comes off unscathed.
For them it is important that the clothing is good and comfortable. Most clothing is therefore also made of a flexible cotton or polyester.
Also read: an evening indoors with one of these good jigsaw puzzles
Shoeby: Benschopperstraat 6, 3401 CR IJsselstein
terStal Family fashion
The children's clothing collection at terStal is cool, hip and trendy. The clothing is made of good quality fabrics and is comfortable.
The boys and girls clothing is made of cotton and elastane, which ensures that clothing stretches nicely and children will love to wear it.
At terStal you will find clothing for the little ones and also for the slightly older children.
From the newborn size 50 to size 176 for the somewhat larger teenagers, and of course everything in between.
The collection at terStal is composed of various diverse trends, so there will always be something for your child.
The collections use a lot of beautiful hip and bright colors such as various green and yellow tones, in addition, red is an important accent color.
Prints and designs always play an important role in the children's clothing collection. Various combinations are possible and nothing is too crazy.
terStal: Schuttersgracht 14A, 3401 DD IJsselstein
Jola Fashion
At Jola Mode you are at the right place for great clothes for young and old, at an affordable price!
For Jola Mode it is important that you have a good time when you come shopping for your kids. Jola Mode's clothing is cool, sporty, cheerful and very diverse.
From cool baby clothes from Bakkaboe and Just Small to cool jeans and sweaters from Cars, unlocked and Ravagio.
For the girls you are there for fun and cute tops & shirts, cardigans, dresses and leggings. All clothing is made of reliable material and has a good fit.
Jola Fashion: Utrechtsestraat 66, 3401 CT IJsselstein
HEMA
Shopping at the Hema is always fun, especially with the kids. In IJsselstein you will also find an extensive children's department tailored to the trendy boys and girls of today.
HEMA has noticed that there is a growing demand for tougher girls' clothing. HEMA therefore also wants to add more variation to the collection.
Lovers of girly clothes need not despair because you will always find the fun and cute dresses.
Tougher girls' clothing will be added to the collection.
It is important that the children's clothing that you buy at HEMA fits well and lasts a long time.
Whether your little one is a princess or little tomboy, it is nice when they feel good in the clothes they wear.
The collection is always tailored to the latest fashion trends and there is a nice outfit for every taste.
HEMA: Utrechtsestraat 45, 3401 CA IJsselstein
Sailor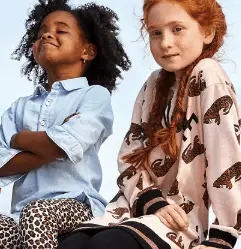 You can also drop by Zeeman in IJsselstein. De Zeeman knows that children love to play, run and romp.
That is why De Zeeman has affordable, good quality girls' clothing that is comfortable to wear. Children's clothing in cheerful colors and prints.
At Zeeman the designs are kept nice, beautiful and simple. In this way, prices are also deliberately kept low.
This is also a great help for parents.
Children just grow very quickly, so purchasing fun and playful children's clothing at De Zeeman is always a good solution.
You will find an extensive children's clothing collection in different models, colors, prints and designs such as: T-shirts, pants, shorts, sweaters and vests, but also socks, underwear and accessories.
Zeeman's clothing is made in a responsible manner, taking the environment into account.
Sailor: De Clinckhoeff 11, 3402 GA IJsselstein
Accessibility of children's clothing stores in IJsselstein
IJsselstein is easy to reach, by car and also by public transport.
Via the express tram connection with nice shopping city Utrecht and Nieuwegein or by bus from Rotterdam, Schoonhoven, Lopik, Benschop, Oudewater and Woerden.
From the bus station (Binnenstad stop) and the Binnenstad light rail stop you can easily reach the historic center of the town, where you will find many shops and attractions within walking distance of each other.
We have tried to give the best and complete possible picture of children's clothing stores in IJsselstein, but cannot guarantee that we have not overlooked anything.
Also read: can a baby or toddler miss someone?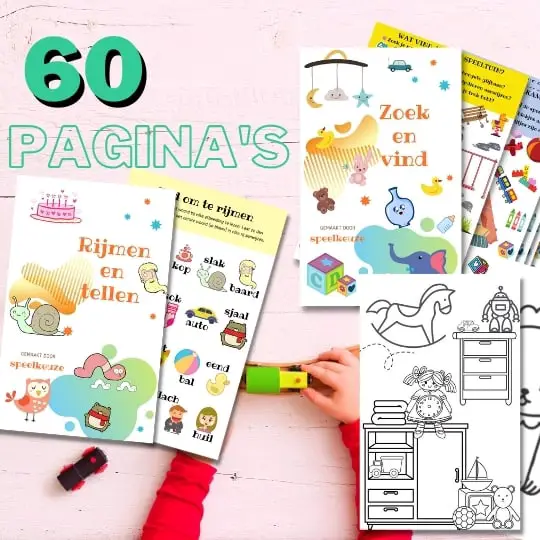 Always something to do for the holidays or rainy day?
Play Choice now has the ultimate activity book collection, with over 60 pages of fun coloring pages and educational puzzles.
Joost Nusselder, the founder of Speelkeuze.nl is a content marketer, father and loves trying out new toys. As a child he came into contact with everything related to games when his mother started the Tinnen Soldaat in Ede. Now he and his team create helpful blog articles to help loyal readers with fun play ideas.