Children's clothing with funny text or Emojis | 14 fun outfits
I enjoy writing these articles for my readers, you guys. I don't accept payment for writing reviews, my opinion on products is my own, but if you find my recommendations helpful and you end up buying something through one of the links I may be able to receive a commission on that.
Further information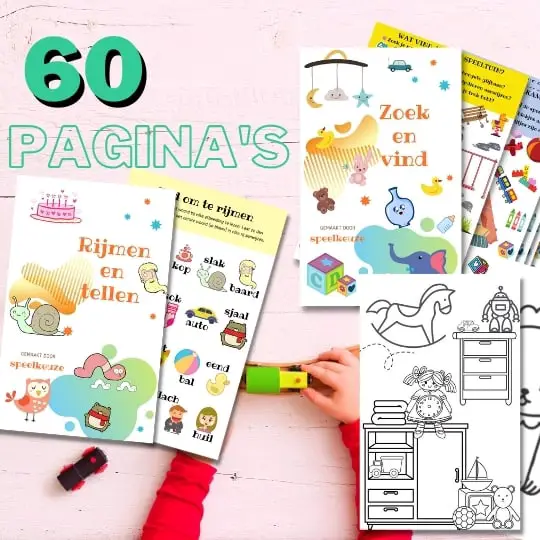 Always something to do for the holidays or rainy day?
Play Choice now has the ultimate activity book collection, with over 60 pages of fun coloring pages and educational puzzles.
Sometimes you come across a t-shirt or a sweater with a super funny text on it.
You might see a Pin on Pinterest, or you might see a nice shirt on the street and don't know where it's from.
Of course we can't help you with every piece of clothing with funny texts on it, but we have a lot of inspiration for you here.
Plus where you can find it.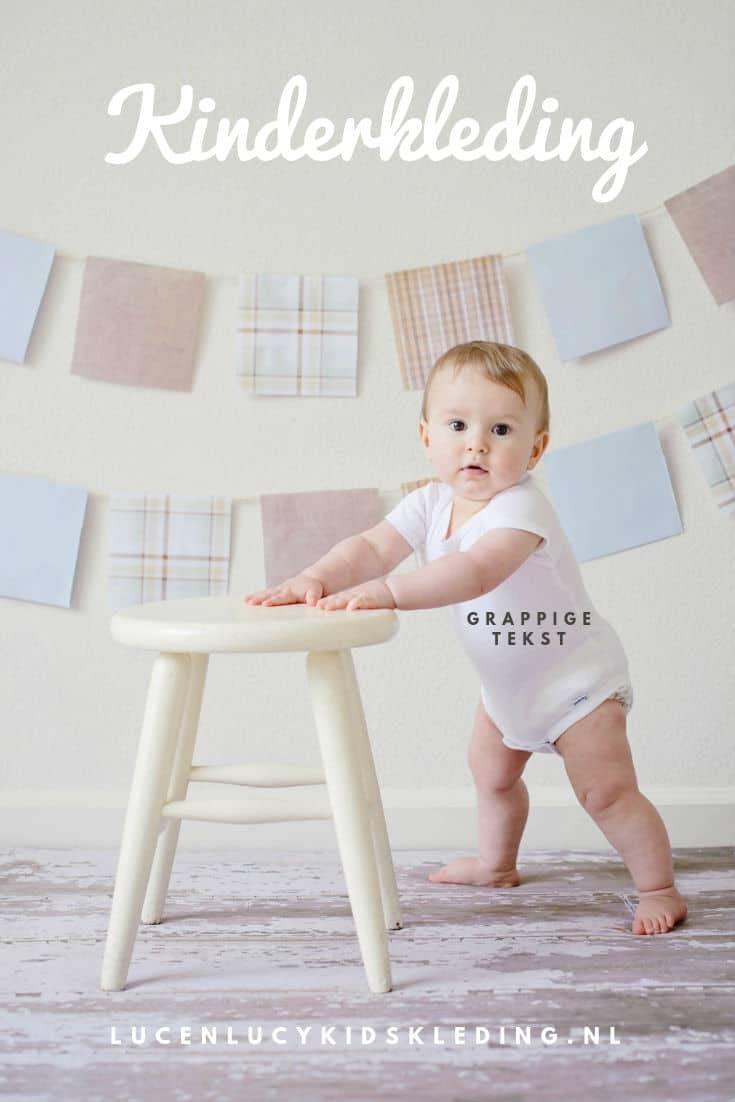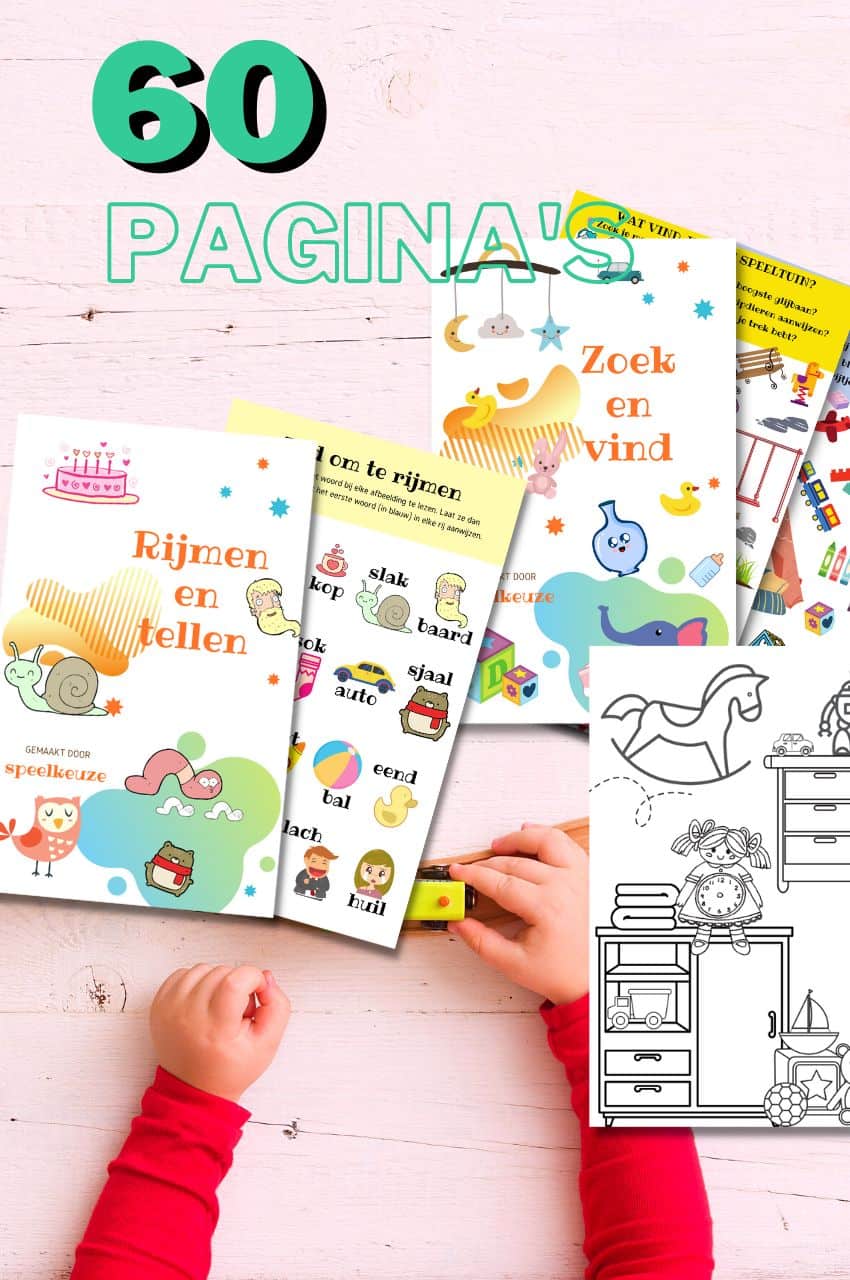 A play theme in your mailbox every month?
Fun play tips, activity books and more, with the first email being our free mini-guide "educational toys"
We will only use your email address for this newsletter and respect your privacy
Funny texts on boys' clothes
Let's start right away with some nice clothes for boys.
Nice text for when you are on the road a lot, or if your son always wants to wear a cap ...
Of course nobody looks fresh right away, so if you are still wearing your pajamas, the text will certainly be correct.
Girls' clothing with funny print
so cute.
Don't hope your daughter is going to apply this literally. Your life will be a nightmare!
Baby clothes with funny text
Also for babies and actually also especially for babies there are nice clothes with funny texts. Below are a few of my favorites.
Probably very true, That little one goes everywhere and for a day of shopping she is the perfect accessory.
Probably more frustrating than funny, because it is usually very true.
If you still arrived on time before, the little one is now finished. But you know what they say: "it's funny 'cause it's true"
Children's clothing with Emojis, the 5 best outfits
Emojis are immensely popular and everyone uses them. It is therefore not surprising that they can also often be found on clothing.
And who wouldn't want to see such a smiling face under the smiling face of their child? :)
You see these Emojis, or also Emoticons everywhere.
We've found some fun Emoji children's garments here for you to check out: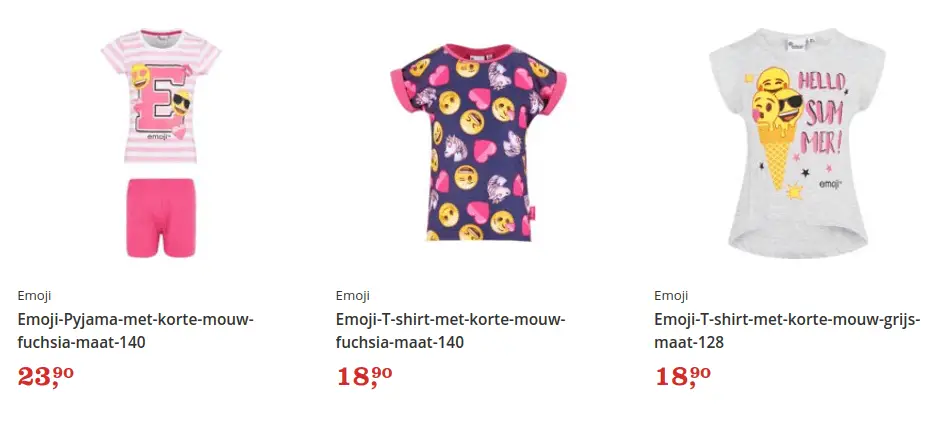 But here there are of course many more at bol.com and here another couple at Wehkamp.
And of course there are many more fun emoji articles to be found, such as this great Emoji headphones with interchangeable plates:
We also made this post as a video on youtube. Watch it here:
Or read on in this post for all information and tips.
Why do we use Emojis?
Sometimes our words could use some help from the addition of images.
This is also how it works with Emojis.
They reinforce the message, and in the case of clothing, the cuteness of your child.
Emojis are those little icons or smiley faces, winks, hearts of all shapes, sizes and colors that we use in WhatsApp messages, emails and social media.
You see them everywhere these days, because they improve the precision and nuance of our often super short messages.
With such short messages you often cannot convey your message well and sometimes a picture really says more than a thousand words.
Emojis are not labeled, so they have no fixed meaning in themselves. This means that you interpret them yourself, you as the sender but also the recipient!
But because they often convey an easily recognizable thought or feeling, they are usually understood in the right context as they were intended.
They help us to convey the correct tone of a message.
Emojis can be used in an infinite number of ways, but I think these are some of the most common:
To lighten the mood by introducing sarcasm or humor into your message
To soften a slap in a negative message
To find a more comfortable way to express yourself
To communicate when words fail, with extreme joy or extreme sadness
Well, a child's outfit can certainly use some of these examples I thought! For example sarcasm or humor, always cute.
And how about a way to express yourself as a child?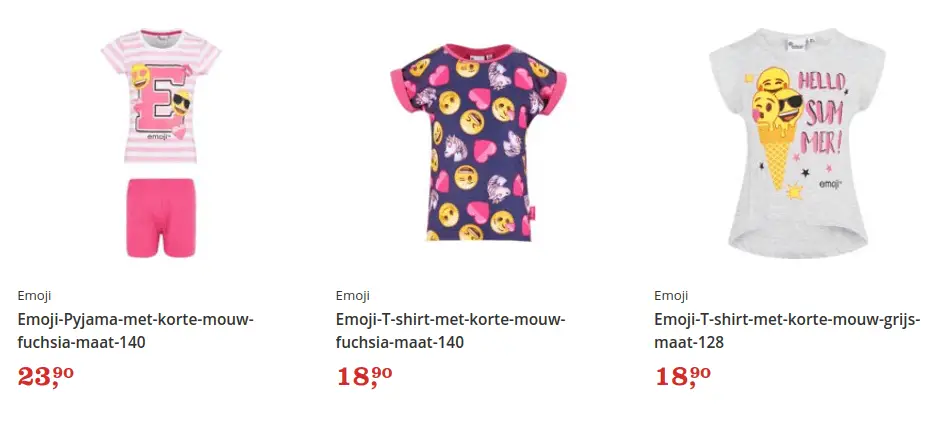 Also read: educational toys for different ages
Why do we use Emoticons and Emojis? Science Based Facts
Before emojis, there were emoticons, facial expressions made with punctuation marks.
The first use of an emoticon online dates back to 1982. Scott Elliott Fahlman, a computer scientist at Carnegie Mellon University, suggested using ") as a joke marker in a message.
Nowadays, emoticons are very widely used and do not need too much explanation.
With the growth of social media, these pictorial representations of feelings have already earned their spurs.
However, the first emoticons appeared a year earlier, in 1981, in one of the issues of Puck magazine.
Four faces were published in the magazine, which were intended to convey surprise, joy, indifference and melancholy.
They were called 'typographic art'.
The Emojis: Smiley Faces, Hearts and Winks were created in 1998 by Shigetaka Kurita, an engineer at the Japanese telephone company NTT Docomo.
His job was to provide a way for customers to interact with icons.
His efforts resulted in the creation of 176 icons, which he called "emojis".
The name is derived from 2 Japanese words "e" (photo) and "moji" (character): photo character.
Today, more than 1.800 emojis exist. Emojis have evolved into characters.
You can find them in any modern means of communication, for example in apps for mobile messaging such as WhatsApp.
Reasons why we communicate with emojis and emoticons
There are cases when a picture means more than a thousand words. Emojis don't usually have labels, so their meaning is up to those who use them.
However, they often convey an easily recognizable thought or feeling so that you can understand them in context without any difficulty.
It is interesting to know that from 2015:
4% of mobile users use an emoji multiple times a day
5% use them several times a week
9% use them several times a month
5% use them several times a year
6% use them once a year or less
So what do they do?
1. Increase popularity on social media
Based on an analysis of more than 31 million tweets and half a million Facebook posts, positive emoticons and emojis can act as social media status markers.
2. People respond to them like a real human face
Scientific studies reveal that when people look at a smiley face online, the same parts of the brain are activated as when looking at a real human face.
3. Can be used in business settings
Based on a study at the University of Missouri, St. Louis, the smiley faces in both work and social emails make the recipient and sender more open and they feel that the sender likes them more.
4. Softer criticism
Studies on the way people communicate in a workplace show that when negative feedback from a boss is accompanied by positive emoticons, employees don't feel very bad about the message.
5. Increase kindness and competence
A study in the field found that health and film experts looked friendlier and more capable when they communicated using emoticons.
6. Help people remember easily what they read easily
The study mentioned in point 5 also revealed that people remember what they read thanks to the help emoticons.
7. Make a workplace happier
According to a study, 152 professionals were required to read email messages with and without emoticons.
The results showed that emoticons reduced the negative impact of the messages related to the company.
8. There is a correlation between emoticons and true happiness
Based on a study, those who use emoticons experience a positive effect on personal interaction, pleasure, perceived utility and perceived information enrichment.
Now you know how important emoticons and emojis can be in reality. It is fun to watch and can also stimulate your child!
Now you probably no longer have doubts about the purchase of that shirt with an emoticon on it.
Lees meer: the best children's clothing stores where you can pay afterwards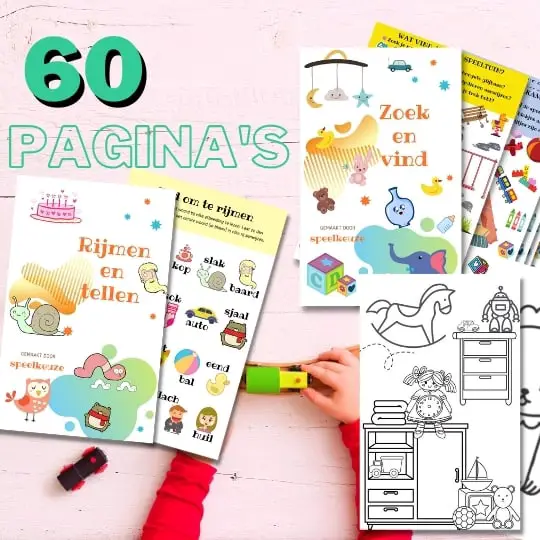 Always something to do for the holidays or rainy day?
Play Choice now has the ultimate activity book collection, with over 60 pages of fun coloring pages and educational puzzles.
Joost Nusselder, the founder of Speelkeuze.nl is a content marketer, father and loves trying out new toys. As a child he came into contact with everything related to games when his mother started the Tinnen Soldaat in Ede. Now he and his team create helpful blog articles to help loyal readers with fun play ideas.