35 Children's clothing with print inspiration: boys, girls, baby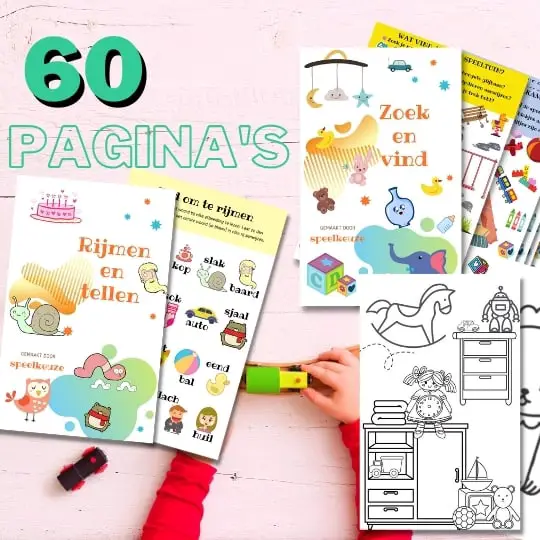 Always something to do for the holidays or rainy day?
Play Choice now has the ultimate activity book collection, with over 60 pages of fun coloring pages and educational puzzles.
The right print can complete a garment. It can add a cute twist to your child's outfit or give it a cool look.
In this post I want to show you some of the nicest children's clothes with print.
Because so many different articles are available for girls, boys and babies, I have divided them into these three groups, click on the link to go directly to the correct group:
Girls' clothing with print
There are, of course, a ton of different types of clothing that you could choose for your girl.
I would advise not to always choose a print on it, but to use it as an accent in either the top of the outfit, or the bottom.
Girls t-shirts
Here are some of the best printed girls' t-shirts.
A T-shirt with "Love" in big letters on it is of course always cute.
This one with long sleeves is dark and therefore has a good contrast with the red (the color of Love) and yellow letters. You want your child to walk around like this, don't you? :)
Bam! This cat print is very in your face. Cool by coolcat (how could it be otherwise with this print) and a bit hip and funny.
You definitely stand out wearing this shirt and we included it in our post about children's clothes with animal prints!
Ok, I also had to have a really cool print. How could it be otherwise than showing all kinds for your girl.
This one has a cool print with the statement "make some noise", but is also very girly due to the bottom. The best of both worlds!
Girls trousers with print
Also nice printed pants can really make the outfit stand out. Let's see what fun options there are.
Dark pants can go with almost everything and with the small contrast of the pattern, it is not very striking, but certainly present.
Cute skinny jeans with stars on them. Maybe your child has one of those glow in the dark stars on the ceiling, and then she might like to wear stars to school too.
Cute cat print always works well. Especially with pink pants that are girly anyway!
Girls jackets
Coats, or jackets, can also be found in many forms and some have a very nice print which gives it just that little bit more than a boring dark winter coat.
You have to spice it up a bit, right?
A nice jacket with a flower pattern. Dark, but still gives it a nice flair because of the cheerful flowers.
Tough jacket "she is fierce". Yes, you can say that yes with such a cool biker jacket for girls. Yet with the pink letters it also gives something endearing while they walk around tough.
Jumpsuits for girls
A one-piece garment: the jumpsuit. You can also decorate this completely with a print.
Leopard print and the print "Trouble". That cannot be good. If your girl is a little naughty then this one is appropriate.
Pink is the color girls like to wear, but that doesn't mean everything has to be completely pink.
With this jumpsuit you break the whole thing a bit by the many colorful prints with flowers and more.
Dresses with print
There are also dresses with a cute print. Not every girl will want a dress, but there are some who swear by it!
Even if your girl doesn't like to wear it, a cool print might change her mind. Here are some fun printed dresses.
Let's start right away with this dress, but not: the sweat dress.
If your girl doesn't like to dress in dresses, this will be a nice entry. And what a cool print!
A lot of girls love to dance, so why not show it to the world with this dress? The imprint reads: "Never miss a chance to dance".
We couldn't finish the section on printed dresses without showing this cute one with a cat from s.Oliver. So cute!
Girls shoes with print
Maybe you hadn't even thought of this (I almost forgot to include it in this article), but you can also find nice shoes with print.
Here we have a few.
Mim-Pi's shoes are so sturdy, you can be sure they'll last as long as your girl doesn't grow out.
And even after that for her younger sister she was allowed to have one (or nieces!). It is pink, but also cool and of course with a print of stars.
You can of course also go for the cheaper sports shoe with a smaller budget.
This one has a super cute cat print that any girl would love to wear!
The sweaters for girls
To conclude, a set of nice sweaters with different prints. Tough and cute, there is something for everyone.
Again, we cannot make a list without taking a garment with stars. These always work well.
Is it the color contrast or the large font? This one just really stood out for me.
Also something else, a real fire truck on it.
Maybe not for every girl, but because of the sketch-like print I think it's a lot of fun for my daughter.
Boys clothing with print
Ok, then on to the nice boys' clothes. We will mainly see a lot of cool prints, but we have a lot more so read on!
Boys t-shirts
When you talk about clothing with print, the first thing that comes to mind is nice cool t-shirts.
That is why we also set off here with a bunch of fun inspiration t-shirts for your son.
Luckily there are still a lot of guys who like to play outside, especially skating.
Sometimes you might wish they could take it a bit easier, but yes, outside is outside.
With this shirt with a skate print, they can show their friends exactly where their interest lies: skating.
Then the counterpart: the t-shirt with game print. For the guys who prefer to sit indoors.
Maybe they also like skating, but more in their games where they can all do sick tricks and earn points.
There are so many boys I know who love dinosaurs. Why not a nice shirt with one on it?
Boys pants
We also found a super nice boy's pants with print:
Very affordable and with a nice bear on it. These pants will do well with any tough man!
Boys jacket with print
Of course your son also needs a jacket. Here are some fun with print.
A nice jacket with flying saucers on it. Boys often love and are fascinated by sci-fi. Now they can walk around with it.
If your boy likes winter sports and snowboarding then this jacket is a super fun with a print of mountains on it.
Nice and warm to wear and shows exactly what he loves.
Sweaters for boys
A nice sweater with print, that's what you immediately see because it is worn as outerwear (unless you have a jacket over it that you have closed).
An excellent opportunity to show what you stand for with a print that suits you!
With a print you can show what you like, although it is sometimes more difficult can be combined as, for example, plain children's clothing, with a well-chosen sweater, you can perfectly coordinate with children's printed pants and jackets.
This cool sweater has a cool tiger on it and I can imagine that your son would like to be seen like that.
As a second example I have actually chosen a very simple one. A simple text balloon but very specific and just looks very sleek.
Sometimes it doesn't have to be too difficult.
Then this last sweater with crazy Small Rags bunny print. Is it some kind of hug? I don't know very well. In any case, catches the eye :)
41 Children's clothing with animal print outfits: depicted animal or motif
Animal print, it can look so cute. Or actually cool, but that's so cute!
Your little girl with some animal print.
Still, many of the questions we get about it are also about different animals, so more with the animals depicted on them. Then it is of course also possible for boys.
In this article we look at everything about children's clothing with animal print.
That is why we actually distinguish two categories:
prints with animals on it
clothing with animal print like the skin of the animal
Prints with animal images
First some examples of prints with different animals depicted on it. Usually the print will be on something where you can see it, so the outerwear.
Or for babies also on a romper at the top. Usually T-shirts, sweaters and cardigans.
In each category we will give some examples for boys, for girls and for babies so that there is always something for you.
Plus information on where to buy it.
For example, Elise Joane found some fun animal print here:
Children's clothes with cats
A little kitten, what could be cuter? Nothing right?
Well, maybe the combination with your child. That's why we start the list here with children's clothes with kittens on it.
Here are a few ideas for girls and babies and you can always click the more button for even more pieces:
Children's clothing with dogs
Dog print is also fun to buy, especially if you are a real dog family rather than a feline family.
Here are two great tips:
Children's clothing with elephants
Elephants, one of the most loved animals among children. Fortunately, we were able to find some for your baby:
Children's clothing with horses
Your little girl will probably fond of horses (toys).
The majestic animals are a great attraction for children and especially if they also want to take riding lessons:
Children's clothing with flamingos
Flamingos are just wonderfully colorful and often attract attention at the zoo. Does your child also love these animals? Try these clothes:
Children's clothes with foxes
I recently saw a couple of baby arctic foxes on YouTube. Really too cute. But ordinary foxes are also allowed to be there.
Here are some nice pieces of clothing with foxes on it:
Children's clothing with a tiger on it
Grrrr. The tiger is tough and strong. Both girls and boys want to be tough and strong and probably enjoy wearing this beast on their clothes:
Children's clothes with panthers
We will soon also have children's clothing with leopard print, but now it's the turn of the real animals. Here a nice shirt with panthers on it:
Children's clothing with swans
Swans are so beautiful and especially graceful. If your child is in ballet (or likes to feed outside the animals) she probably loves swans too:
Children's clothes with sheep
Clothing often comes from a sheep, and it's cute on the clothes too:
Children's clothing with deer
Deer are such beautiful animals too. Strong and stately. Here's a nice one on a long sleeve shirt:
Children's clothing with a Walrus
If you've been to the zoo recently, you may have seen the walrus show too. Just very funny, and also nice on your clothes:
Children's clothing with a rabbit
Bunnies are the favorite animals of many children. But you may not want to buy one because it is a lot of work.
A print on their favorite sweater or backpack might be an alternative:
Clothing with animal prints
Above we mainly talked about clothing with an animal print.
But there are also a lot of alternatives with animal print, made for their skin color and patterns.
Children's clothing with leopard print
Panther print may be the most common animal print you can find. Here are some fun examples for girls:
Children's clothing with Zebra print
The zebra is still a long way from the fashion scene. And here for children a few nice pieces of clothing:
Children's pajamas with animal print
If your child has to go to sleep, you often read to him or her about animals, right? Why not nice pajamas with animals on it!
Animal print psychology, why do we like this?
The animal print look is a somewhat amusing but increasingly popular psychosocial fashion trend with (mostly female) members of our species adorning themselves and the objects around them with jungle patterns from leopards, cheetahs, tigers and jaguars, to snake, zebra and even giraffe.
Animal print can be seen as hemmed, wrapped, draped and tied on bodies of all types and ages, including children.
It graces the streets of every city and seems to be allowed in almost all cultures on our beautiful planet.
But why?
When something gets picked up as an idea or trend, when campaign results go through the roof, or a viral video joins the multimillion-dollar club, etc., it happens because of a cluster of influences.
A 'perfect storm', a series (usually 2-4) of mutually contributing factors that lead to super sales increases.
Unlocking and explaining how exactly something becomes "in demand" and embraced by a population isn't as difficult as human science can give you the answer.
Animal print explained
It is interesting to think of a consumer, not just as a person who is, say, 30 years old, buying something for their child.
Think of the individual as multiple experiences in their DNA, many of which were instilled much longer ago than in those mere 30 years.
Much of our comings and goings come from long ago times when we lived outside and had to survive.
In essence, animal print obeys multiple homo-sapiens instincts and passion points and is likely to remain popular now and in the future.
You don't have to know everything about the human wetenschap and about our motives, but still interesting to look at it that way.
So what we have with animal print clothing is an attempt by the wearer to increase their attractiveness through unconscious and conscious manipulation of others as well as themselves.
Anxiety receptors
When a human sees the pattern of a predator, eg leopard spots, a considerable amount of subconscious instinctual fear is activated in the center of the brain.
Especially in the amygdala.
While the hippocampus is also involved (because it transmits information to and from the amygdala), recent research supports the amygdala as the primary location where anxiety occurs.
It's a snapshot of software stored (and activated faster than any conscious response could ever take place) in the prehistoric part of our hard drive.
It remains in our minds as a part of the human being in us that is several hundred thousand years old.
The pattern can still activate us.
Simply put, the caveman in us immediately finds a leopard-print child scared, or in this case, rather tough or powerful, because of a lingering, age-old instinct designed to avoid being eaten.
We see animal prints and we are immediately automatically activated unconsciously with a version of the classic 'fight or flight' response.
At least, with the same substances in the brain.
Why are only girls in animal print?
Anxiety is a form of excitement. We subconsciously translate that into attraction.
So an instinctual fear is pre-sorted in the center of the brain, and that subconscious fear increases the excitement attributed to the conscious mind as due to the attractiveness of the object being viewed.
You actually misinterpret these anxiety feelings of arousal as arousal feelings for the person.
Then why is it only female animal print that works on men?
Could this misinterpretation work in reverse, from heterosexual male to female?
Not really.
Animal print works best when passed from woman to man, boys don't wear animal print to attract girls.
Almost all women would eventually feel anxious, if not outright frightened by mister leopard, as their brains would translate this directly from subconscious fear to a conscious cognitive label of fear.
The majority of females, at least evolutionarily, would rather not see males in animal print, sorry guys.
Furthermore, more than likely, other men who see mister leopard would attribute the excitement they experience in terms of threat, and so likewise plague this animal print-wearing man with masculine scorn.
In the minds of most males who see females in animal print, the 'attack response' is not literally translated to a conscious threat label because females are not a physical threat.
However, the center of a male's brain forces them to keep an eye out for animal prints, and they are likely to blame this on increased attractiveness as well.
This is why we find it appropriate for women but not men.
And we often design children's clothing in this way, dresses and skirts for girls but not for boys, this also happens with the prints.
The status of the animal print
Let's take a look at one of the other people in all of us, in this case the 300-year-old.
During the recent centuries of social development, we have hunted, killed, skinned and displayed our most feared and revered creatures in our homes as status symbols.
Undoubtedly, the wealthy believed that predator pelts increased the attractiveness of their habitat.
The 300-year-old human in us speaks to our minds through the social sectors of our brain, carried by culture, assisted by archived images from books and media, and it says that an animal skin is valuable, is a sign of status, and represents a trophy of great value that is the envy of others.
It is a symbol of intelligence and achievement.
The skin of an elusive and ubiquitously feared killer is a decorative icon that has become quite closely intertwined with our collective consciousness in recent history.
It makes the owner feel like a 'conqueror', as if they are more valuable and of course they feel just a bit more alive, not to mention cheeky.
It's a status symbol.
Animal print and self-image
The third factor that rounds out most of the animal print 'perfect storm' is the way the wearer perceives their own appearance.
As we know, it will be self image and respect projected by the self as much as it is estimated by others.
If you see yourself in the mirror when wearing animal print, you will get the same arousal effects as discussed above in the wearer itself about themselves.
They feel more confident as a result of an alleged increase in their own abilities.
Conclusion
Whenever you see animal prints, remember the principles discussed here and consider whether you can make your child look tough while also giving them confidence.
Clothes with sequins
Ditch those disco throwbacks, remove any notion of 'normcore,' designers this season put caution aside, bringing back the glitz and glamor of party girl sequins.
And this is also fully reflected in fun children's clothing.
In this article I take a look at the best children's clothing styles with sequins.
What clothing is in
In response to the everyday clothes of previous seasons, a new ideal was introduced: wear.
But we also got influences from the fabulous sequins that were scattered over the catwalks.
It's not hard to see the appeal of sequins.
The fashion houses proved their worth, be it casual wear or evening wear, the glitz reigned supreme.
Sequins for girls
Here we have some examples of a nice outfit for your little girl:
Sequins for boys
And also a couple for your boy.
Yes, because of the new influences of the sequins that you can turn over with your hands, it is also completely in for boys.
They also call it "magical sequins", super cute! (oh, no cool! how dare I?!?) :)
Sequins for your baby
And here some nice sequins for your baby:
Let's dive in further, how does it get so popular?
Sequins at the designers
In the lead of the pack was Rick Owens, whose gilded girls wrapped in uniforms with high neck tunics adorned with glitter ball motifs.
Riccardo Tisci's victoriana aesthetic took place on Givenchy, playing in highly embellished looks that sparkled during the shows.
Riffing on luxury separates from Dries van Noten, whose sequined updo sweatshirts provide ample excuse for a wardrobe update.
Thanks to Guillaume Henrry's design debut at Nina Ricci, sequins immediately got a new sportswear overhaul in t-shirt-proportioned dresses.
The sequins come and go on red carpets and have had the chance to shine in the spotlight several times.
Ever since Emma Stone wore Raf Simons' Esprit Dior 2015 midnight blue sequin attire, celebrities have taken up the bizarre glamor of the all-round sequin looks.
Take Cate Blanchett's Gustav Klimt inspired Givenchy dress, with sequins on the back in gilded shades of gold.
The popularity of the sequin
So there is no doubt that it is all the way back.
How do you best add sequins to the children's wardrobe? There is so much choice from so many different brands, check out this entire collection there!
There is of course the option to wear head-to-toe sequins without a worry in sight, but for those who lean on the practicality, especially with your kids, there is an easy way to make the trend work for them.
In translating the shine, it is important to remember that one shimmery garment is more than enough for a child's glamor.
Combine with a soft wool sweater, or with casual denim jeans.
An evolutionary theory for why you like little shiny things
People's taste for shiny stuff can be rooted in a very basic instinct.
Evidence that people are attracted to shiny things is all around us, from the pages of lifestyle magazines to our streetscape.
Shine like wealth and luxury
A logical explanation for this cultural affection is that we have come to associate shine with wealth and luxury.
However, if the story ended there, we wouldn't expect very young kids to enjoy shiny things as much, nor would we expect remote tribes like Australia's Yolngu to take as much interest in glittering aesthetics.
There is clearly a little more to glitter than gold.
An evolutionary appeal for shiny objects
Recently, a group of marketing scholars considered the question from an evolutionary angle.
They were intrigued by some previous research showing that children being shown shiny objects were more likely to lick.
In that work, published a few years ago, infants from seven to XNUMX months old laid their mouths much more on shiny plates than on dull ones.
Perhaps the connection between drinking and shiny design was an evolutionary artifact - a sign that our crush on glossy is rooted in a primitive desire for water as an essential resource.
So they designed a series of six experiments to test that idea. First, they had to show that the preference for shine is a natural reaction rather than a learned association with the good life.
That was not too difficult.
Two simple surveys found that both adults (via flyers) and XNUMX- to XNUMX-year-old children (via images of Santa) preferred shiny to matte finishes.
The kids were too young to appreciate marketing efforts linking bling to wealth; to some extent their preferences had to be innate.
Our crush on shine can be rooted in a primitive craving for water.
The appeal of glossy may not be entirely linked to prosperity, but it can still be a basic enjoyment of beautiful things.
Shine like higher quality and status
To study that possibility, the researchers folded 46 test participants blindfolded and gave them a piece of paper.
Half received a glossy sheet, half a matte sheet.
Participants who had the gloss sheet rated it higher quality and more attractive than those in the matte group, even without looking at it.
The tests suggested there's more to brilliance than cultural connection or visual appeal.
Those findings alone did not indicate that a biological urge for water played a role, but the researchers did gather some clues to that effect.
As a final experiment, the researchers divided 126 test participants into three groups:
One group ate a bunch of crackers without water
Another ate the crackers but also drank some water
A third did neither
Afterwards, each group looked at eight photos, half on glossy paper and half on matte.
All three groups preferred the glossy pictures, but the more thirsty participants preferred gloss the greater their water cravings.
Taking all of their findings together, the researchers argue in an upcoming issue of the Journal of Consumer Psychology that an instinct for water may indeed play a role in the love of glossy.
First and foremost, this article shows that our preference for shiny and therefore sequins is deeply rooted and very human.
It is humble to recognize that despite our sophistication and advancement as a species, we are still drawn to things that serve our innate needs, in this case the need for water.
The thirsty participants became, the more they preferred glossy photos.
There is much too much fun about this study. The researchers carefully edited their experiments, tried to eliminate alternative explanations, and presented a theory for other scientists to investigate further.
At the same time, there is much to doubt. People may associate shiny things with wealth, for example, but they also associate water with wealth.
To say how much of the connection to the shining water has been socialized and how much can be instinctive is a major challenge that no study will be able to overcome on its own.
Additionally, any explanation for why we prefer glossy to moderate should also explain why we don't always prefer glossy to matte.
Sometimes glossy interferes with legibility (for example, a sign that reflects bright light).
Sometimes the wrong message is delivered (for example, a shiny food ad that conjures up thoughts of fat).
And sometimes it is enough and we want something different. Evolution can generate certain preferences, but it can also evolve preferences.
Where can you find nice children's clothing with army print?
Whether in chameleon colors or on fashionable patterns, camouflage is a popular menswear trend for the coming season.
So choose an urban look for your son (or daughter) that will stand out.
Of course, fashion has the answer: a huge variety of new clothes that play with that most masculine, tough and ready-for-duty print.
Camouflage, it gives a cool look to your little one.
Nice camouflage clothing for boy, girl or baby
Before I tell you about why camouflage clothing and why it is back in fashion, here are a few of the nicest pieces I've found:
Now for some more background information:
Army print or camouflage is back
The camo trend kicked off, as they usually did in Paris, last June, where brands like Valentino, Kenzo and Dries Van Noten worked the pattern into a plethora of weird and wonderful varieties.
And this is why the camouflage comeback has broken out, and isn't just a lazy 90s re-hash (although those are definitely on-trend again too).
The difference with camouflage this season versus the way it has been worn in the past is that designers have experimented with many variations in color, moving away from just the traditional black and green.
There has been pink and blue on blue, and this moves it far from military influence.
Of course, in a fashion context, camo is essentially quite a long way from the barracks anyway. In fashion, the pattern is always the opposite of its designed purpose.
It makes the wearer stand out instead of masking them, as in the field.
Army print in moderation
You could dress your kids in an abundance of camo, any garment with a different color or slightly different print, but you should definitely not do this.
If you treat camouflage like any other print, you can better apply it right away.
There are lots of combinations if you want a camouflage garment like one of these combines in a subtle way.
It should be an outfit highlight or 'pop' to team up with classic items - the subversive nature of camouflage adds impact to a classic look.
Other tips and army tricks?
Try to choose individual colors from a camouflage print, as Dries Van Noten did during one of his fashion shows and coordinate with a plain shirt or jacket.
The 5 types of people who wear Camo
You may recognize yourself in these types of people wearing camo, and that's why you want to dress your child in this army print.
Or you may recognize it a little in your child when he keeps pointing out that army print in the store.
These are the 5 types of people who wear army print.
Whether for fashion or function, camo is never completely off-trend. And right now in the style of men, it is as relevant as ever.
Streetwear has been using the print since the beginning. Hip-hop style took hold in the 90s and hasn't let go since.
Menswear is now on the line and camo-ties and chinos are just as common as streetwear and hoodies.
There have never been more ways to show off your favorite military-inspired print.
Who are all these guys that camo? How can you tell who is a hypebeast and who is an old hip hop head.
You might see it in their kids' outfit :)
The OG
Your favorite era of hip hop was the '90s and you still wish everyone would dress like that.
If the pants are slim, you let your child move with the times and you look back on that era with nostalgia.
If you pick a bit of a baggy model, you think the rap game has only gone downhill since Diplomatic Immunity 2 and can never get back like that.
The camo peacock
You work in a boring job, but spent most of your trip there and away scrolling through menswear blogs and sites trying to find ways to engage with middle-aged men.
Most of your clothing comes from brands such as Esprit and We. At the office you wear clothes that may not quite fit in that atmosphere, a bit of a rebel.
You dress your child cool.
The #Menswear follower
You first started diving into this # menswear thing with a pair of raw denim and flipped cuffs.
When Dockers relaunched their Alpha Khaki with a fresh camouflage color, you went crazy when you finally found a pair of pants that you could wear anywhere in your "timeless wardrobe": suede shoes for the office and casual boat shoes in the summer.
Your child is neatly dressed and the camo is a fashion statement!
The Downplayed Cool Guy
The # menswear guys ruined camo for you, but you'll still love some of the lightweight shirt jackets and vintage gear you picked up on your last trip to Paris.
You come up with new ways to wear it and show that you know what you're doing.
Any style neophyte sees what you rock and goes "where did you get that ?!" to which you answer "Oh, got it somewhere", of course as nonchalantly as possible.
Your child has alternated clothes from cheap brands with that article that you can hardly find in the Netherlands.
The "I Got It First" Guy
You are always the first person to be "up" on the latest trends, especially the high-end things that no one else can get.
So when Louis Vuitton showed up with monogrammed camo suitcases, you didn't just jump on board, you embraced it right away.
Chances are, your legacy will fund your relentless pursuit of cool (or your rap career).
Your kids have the latest brands and mini versions of designer clothes.
And do you recognize yourself in one of these guys? Is that why you dress your son in the newest, or oldest, army print clothing?
Boys' shoes with print
You can also make your shoes very personal with a nice print. Check out these examples.
Your son will certainly find this cool. A beautiful majestic beast adorns these sturdy shoes.
These are walkers that will take you everywhere, the wild bear looks great and they are real walking shoes for boys.
Baby clothes with print
Then finally nice clothes for your baby. I wanted to mention this as a separate category as it concerns small clothes and they have their own range.
Here they come.
baby t shirts
We start with some cute shirts.
Some things are funny because they are so true. Now that you have a baby, arriving on time has suddenly become a lot more challenging!
This nice shirt with print shows exactly what it is on.
What could be cuter than a longsleeve Miffy shirt like this one?
Then as a last shirt example, this tough lion. I also wanted to add a cool shirt
Rompers with print
Often they are wearing a bodysuit with nothing over it so you can see that cute print.
That's why I always enjoy dressing my little boy in a nice romper. Here are some examples.
A composite print that all added together lead to a cute mouse. How cute!
Awh, I just had to add these with penguins.
Plus I really like asymmetrical so those penguins that suddenly appear everywhere and nowhere appeal to me twice!
Okay, the very last one, I promise. This Miffy with Giraffe print. Looks so nice and who doesn't love Miffy?
Completion
So, they all were. Our inspiration articles for fun children's clothing with print.
Have you found any nice ones, let us know in the comments and maybe we can also include them in the list!