Children's tablet with keyboard rated | these are the 5 best options
I enjoy writing these articles for my readers, you guys. I don't accept payment for writing reviews, my opinion on products is my own, but if you find my recommendations helpful and you end up buying something through one of the links I may be able to receive a commission on that.
More information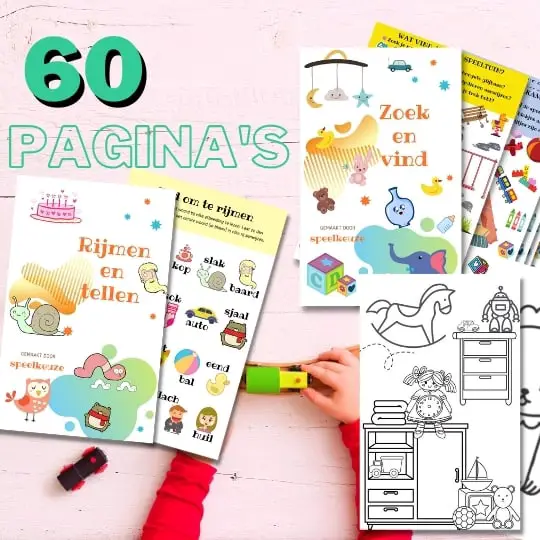 Always something to do for the holidays or rainy day?
Play Choice now has the ultimate activity book collection, with over 60 pages of fun coloring pages and educational puzzles.
Nowadays everything is going digital. Children are also participating in this trend earlier and earlier.
Over time, ordinary computers are increasingly being replaced by tablets.
The more time you spend on a tablet, the more you can use a tablet keyboard every now and then.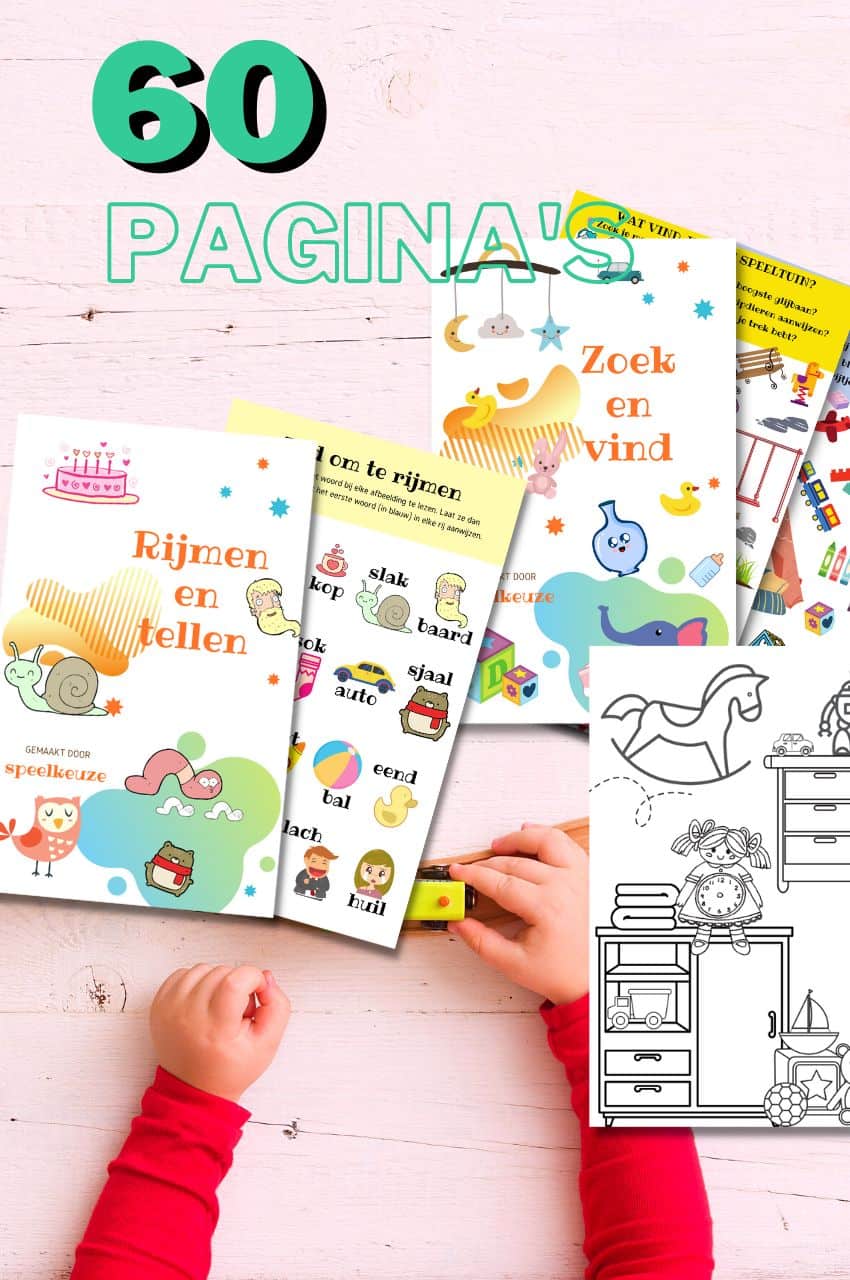 A play theme in your mailbox every month?
Fun play tips, activity books and more, with the first email being our free mini-guide "educational toys"
We will only use your email address for this newsletter and respect your privacy
Several options when it comes to keyboards
In the world of tablets and smart devices, it is sometimes difficult to see the forest for the trees.
If you would like your child to have a keyboard available when using her or his tablet, there are several options.
Tablet with keyboard
The most obvious option is to buy a tablet that already includes the keyboard.
These devices are an intermediate form between a laptop and a tablet, also called a 2 in 1 laptop computer.
you can see them like a laptop with touchscreen or a tablet with keyboard.
For the kids, our favorite in this category is the Kurio Smart Tablet.
This is a very powerful device with no less than 32GB of storage space and an easy-to-connect keyboard. It is the ideal homework aid for your child.
It can be used as a tablet with a touchscreen for browsing, playing games and watching videos.
However, with the keyboard attached, it is almost a full laptop why a child can type entire reports or a sweet letter to grandma.
Separate keyboard for the tablet
However, if you already have a tablet at home, perhaps a special one for your children, you can also purchase a separate keyboard for the tablet you already have.
Connect via Bluetooth
Today's separate keyboards can be connected to a tablet in various ways.
The first way is wireless, where a connection is made between the keyboard and the tablet via Bluetooth (often with a USB dongle).
This is a useful option, especially for children, because they do not have to deal with cables.
Or connect with a cable
The other method is with a cable, whereby the keyboard is connected to a USB port on the tablet.
With both methods, it is therefore important that the tablet has a USB port if you want to be able to connect a keyboard to it.
So take that into account if necessary when purchasing a (children's) tablet, so that you can always consider purchasing a keyboard at a later stage.
Tablet cover with keyboard
In addition to separate keyboards, there are also tablet covers with an integrated keyboard.
In such a case, with one purchase you immediately have a protective cover for your tablet and a keyboard.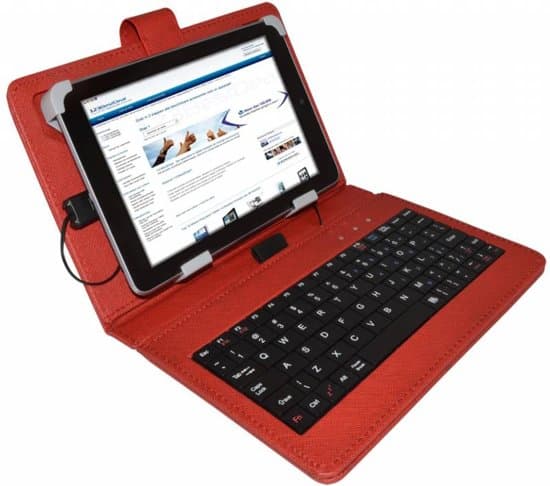 (view more images)
A good example of such a sturdy tablet cover including keyboard is the 7 Inch Universal Keyboard Case (see our number three in the table below).
This sturdy tablet cover has a beautiful red color and the keyboard is connected to the tablet via a cable.
The tablet can be securely fastened using the handy holders on the inside of the cover.
It is recommended to protect each tablet with a bumper or cover, especially when used by children.
So do you have a (children's) tablet at home that does not yet have a good or beautiful cover and where you would like to purchase a keyboard at the same time?
Then this is a great and cheap choice.
Various options and solutions
So it depends entirely on your own preferences and financial sources whether it is better to buy a special children's tablet for a child, or just buy an extra keyboard (with or without tablet cover) with the tablet you already have at home and which suitable for children.
For example when the family shares an iPad and it is also used as a children's tablet.
This is a great option that everyone will enjoy for a long time. Provided, of course, each family member can use their own accessories.
And also very important, when you make your 'regular' tablet available to your children.
Then make sure that it is set properly so that it is safe for children to use. The consumer association explains how best to do this.
By making a good consideration, a lot of money can be saved in this way!
Which tablet keyboard are you going for?
Now that we know how important a keyboard can be in a children's tablet and which variants you can look forward to, the question is of course: which children's tablets with a keyboard are recommended?
And which separate keyboards can you choose for the tablet you already have at home?
We've looked at the options and listed the best ones for you.
Take a look at the table below with the most attractive products and the related information.
Kurio smart kids tablet with keyboard
This tablet has Windows 10, an 8.9 inch screen, 32 GB memory and a 2-year manufacturer's warranty. The tablet has a front and back camera.
The product is a laptop and tablet in one because of the keyboard. The tablet can therefore be used with or without a keyboard.
Our favorite kids tablet that comes with a keyboard is this Kurio Smart Tablet.
With this tablet you have all the comfort of a computer combined with the flexibility of a tablet.
It's your best friend for virtually any situation: en route, at home and at school!
Why the Kurio Smart Tablet in particular?
With the help of the Parental Control function, parents can have a grip on what concerns children on the tablet.
They can manage apps and possibly block apps with harmful content.
Children can also enjoy the exciting games for hours.
The tablet also has Body Motion Gaming, where players can communicate with the system through body movements.
The Kurio Smart is a super fast tablet that children will enjoy for years to come.
The Kurio Smart tablet is there for you in every situation and is essentially a laptop and tablet in one! This tablet is our favorite children's tablet that comes with a keyboard.
Laptop and tablet in one
We are happy to explain in detail why we think this tablet is so cool. Kuro brings fun when you want to play endless games and watch movies.
This tablet is also there for you when it is time to do homework.
Because the tablet comes with a keyboard, you can choose whether you connect this keyboard or not.
Of course that also depends on what the child will be doing on the tablet. A keyboard is a handy option for homework assignments.
Very nice and practical to use
Because this tablet is so incredibly light, it is easy to take with you wherever you go.
And when you buy this beautiful protection sleeve, the tablet can also be safely transported.
As a parent, are you considering purchasing a tablet for your child, but are you afraid that your son or daughter will no longer be able to keep the tablet away?
That is understandable, but something you do not have to worry about with this tablet.
As a parent, you can set a time limit and determine exactly how much time your child can use the tablet.
We also believe that 'not digital' are busy and play outside are just as important to a child!
Protect your child from harmful content
There is also the option to block access to certain apps, and you can also enter internet filters.
In this way, as a parent, you can rest assured that your child can safely use the tablet, and that you do not always have to sit there.
Read here about Attune's securely setting up the YouTube app on a children's tablet
Another advantage of this tablet is that the keyboard has a top edge where the tablet can be clicked into for a stable whole.
This way you can use the tablet perfectly on your lap or at the table.
The tablet is incredibly fast and handy and the screen quality is perfect.
Opening websites, games, apps, etc. is easy and the keyboard is pleasant to use.
Tablet especially for children
Today, some even exist tablets especially for children, also called children's tablets. These are tablets adapted to children in terms of use, content and software.
It often has dozens of educational games pre-installed and children are protected from harmful web content.
These tablets are aimed at introducing children to the digital world, for example by letting them play fun and educational games and watch movies at their leisure.
These types of tablets can also be used by children to do homework or to find extra exercises that make the subject matter easier to understand at school.
Thanks to the protected software, mom and dad don't have to constantly monitor what keeps the kids busy on the tablet.
Separate tablet keyboard: Keyboard Wireless Universal Wireless Bluetooth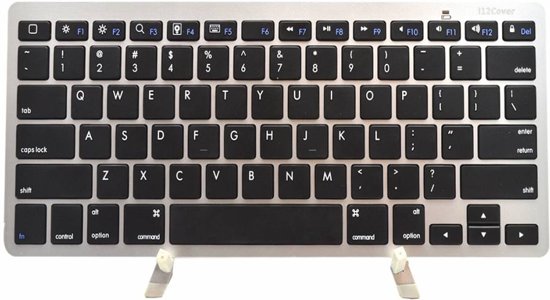 This universal separate keyboard is suitable for virtually all tablets with Bluetooth support.
The keyboard has an on and off button so that the battery can be saved.
Thanks to the rubber caps under the keyboard, it does not slide away during use.
View the most current prices here
Tablet cover with keyboard: 7 Inch Universal Keyboard Case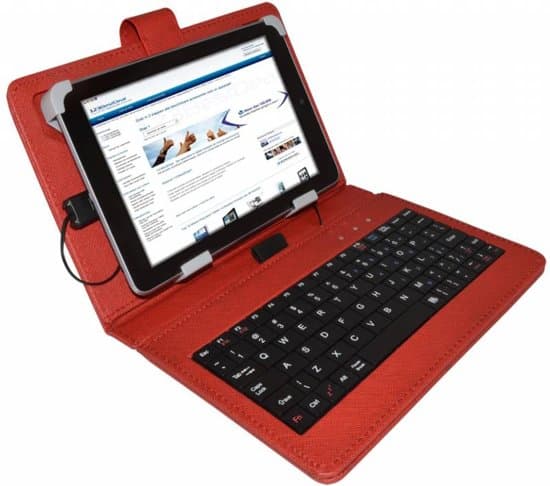 Universal keyboard cover for a 7 inch (children's) tablet. The cover is made of red durable PU leather and has a built-in keyboard.
With this cover you protect your tablet in style. The tablet cover has a magnetic closure.
Check prices and availability here
A keyboard for the children's tablet is highly recommended
In addition to 'normal' children's tablets, there are also children's tablets that come with a keyboard. Why is that so useful?
Better posture during tablet use
A tablet with keyboard ensures that your child can also work and play with the tablet at the table.
This way they are in a productive and comfortable position.
Hanging on the couch with a tablet is indeed sometimes nice, but it does not promote a correct sitting posture.
Especially if a child is busy with homework or some other serious task, it is better to sit at the table and work with a keyboard.
By working on a tablet without a keyboard, muscle complaints can arise.
Especially in combination with a tablet holder
If you purchase a keyboard for the tablet, it is most convenient that the tablet can be placed in a holder, so that it stands upright.
A tablet can function fine without a keyboard when playing videos on it, playing games on it or when reading on it.
In the case of homework and typing documents, a keyboard is no superfluous luxury.
What do you think about when buying a keyboard for a tablet?
In case you already own a tablet for your child and are convinced that a keyboard is certainly a good addition, it is of course important not to just buy the first one. What do you pay attention to?
Touch of the keys
For example, there are people who prefer a light touch, other people want to feel more resistance on the keys.
Ergonomics of the keyboard
In addition, not only the tests play a role. After all, ergonomics must also be considered: a flat keyboard is not good for the upper body.
That's why curved keyboards can be found today that are better for the arms, back and shoulders.
With these types of keyboards, the left and right sides slope downwards towards the center.
Legibility of the characters
It is also useful for children to take into account the readability of the keyboard.
For example, you could choose to purchase one that has large punctuation marks.
If the legibility of the inscriptions is clear, the eyes are also less tired and a child can work more comfortably on a tablet.
Possibly also with a separate mouse
In addition to an external keyboard, you can of course also think of a separate mouse (for example this one).
Everything to allow your child to use a tablet in the healthiest possible way!
Additional keyboard tips as a parent
If you simply have a nice keyboard at home for the tablet, with or without a protective cover, there are a number of tips that we can give you.
Keep the tablet keyboard clean
It is sometimes said that a keyboard contains more bacteria than a toilet! Therefore keep it clean especially in the case of children.
Children like to sit with their hands on everything and often forget to wash their hands when necessary.
It often happens that dirt builds up between the keys, making the device unsanitary and preventing it from working better.
To prevent this, it is best to agree with your child not to eat or drink over the keyboard.
To ensure that there is no dirt between the keys, you can use a spray can of compressed air to spray away dust particles.
Responsible tablet use
How can you, as a parent, contribute to the proper development of a child at the computer or tablet?
Today's children grow up with computers and tablets.
As a parent, it is important to stay up to date and keep up to date with the latest developments.
For example, you can occasionally watch your son or daughter when he or she is working on the tablet.
Show an interest in your child's activities, who will then be tempted to explain what they are doing.
Play fun educational games together. In this way, parents and children can learn a lot from each other.
Here you read more about responsible tablet use
Parents often like it when the computer is in the living room or in another common room so that someone can always see what the child is doing.
The fear of parents that their children will end up on the wrong websites and be exposed to harmful images is of course only logical.
Parents can check a child through the history of the internet browsers, which shows which pages have been visited recently.
Fortunately, these concerns of parents disappear completely when you choose a children's tablet and you can let a child play alone in his room with the tablet.
The Libelle provides extra useful tips about how to choose a suitable children's tablet now.
Safe Internet browsing
When a child gets a little older, it should also know and understand how to use the internet.
A child should know that they should not just give out personal information on pages or to strangers.
A child should also be aware that chat rooms can create dangerous situations and that they should avoid these types of pages.
In addition, attention must be paid to the posting of photos and videos. Something that is simply posted online will be found forever.
As a parent, you have the responsibility to make these things clear to your child in order to avoid unpleasant situations and to teach them how to use the good and positive sides of computers and the internet.
Developing a critical view
It is also important that a child learns what influence media can have.
Always teach your child to take a critical stance when surfing the net.
A child should know that not everything they read is the truth or can be considered normal.
In the long run, children also learn that there are viruses that can destroy your tablet or computer, and that you should therefore not just click on anything that attracts attention.
Don't sit on the tablet all the time!
As a parent, make sure that a child does not spend all day with a computer or tablet and also spends enough time outside with friends.
Spending a lot of time with the tablet automatically ensures that a child moves less.
As a parent you can set an example in this.
A good measure could be, for example, that there is at least one day a week during which the use of the tablet is prohibited.
Physical complaints can also occur when too much use is made of the tablet and the eyes can deteriorate.
There are also tablets, such as the Kurio Smart tablet we discussed above, that aim to encourage exercise by offering games where the tablet is controlled by movement.
Nevertheless, it is wise to let a child move and play outside and to spend enough time of his life in 'real' life.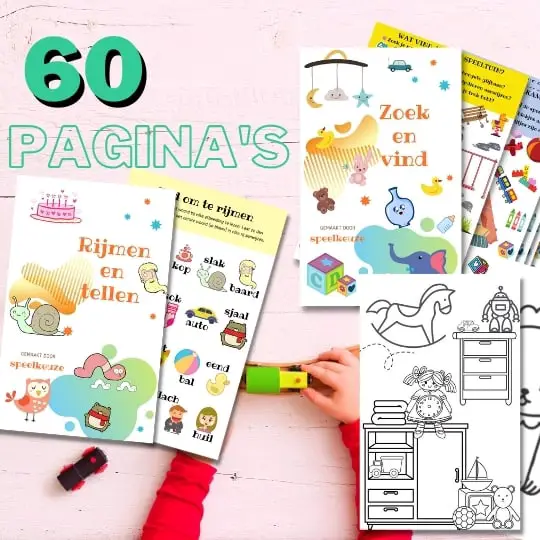 Always something to do for the holidays or rainy day?
Play Choice now has the ultimate activity book collection, with over 60 pages of fun coloring pages and educational puzzles.
Joost Nusselder, the founder of Speelkeuze.nl is a content marketer, father and loves trying out new toys. As a child he came into contact with everything related to games when his mother started the Tinnen Soldaat in Ede. Now he and his team create helpful blog articles to help loyal readers with fun play ideas.