4 [almost] magical ways to clean plastic building blocks
I enjoy writing these articles for my readers, you guys. I don't accept payment for writing reviews, my opinion on products is my own, but if you find my recommendations helpful and you end up buying something through one of the links I may be able to receive a commission on that.
More information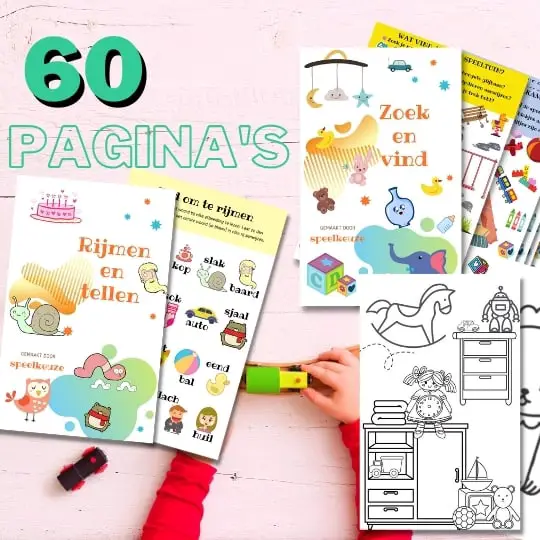 Always something to do for the holidays or rainy day?
Play Choice now has the ultimate activity book collection, with over 60 pages of fun coloring pages and educational puzzles.
Does your child's toys also desperately need a cleaning?
You probably know it; LEGO stones or other building blocks that look dirty, have turned yellowish or even feel sticky.
building blocks to clean you can do in different ways. By hand is of course always an option, but you can also choose to put the stones in the dishwasher, or even in the washing machine! Treat discolored stones with hydrogen peroxide, or else with baking soda, Steradent, chlorine, or lemon juice.
In this article, I will explain exactly how you can clean plastic building blocks.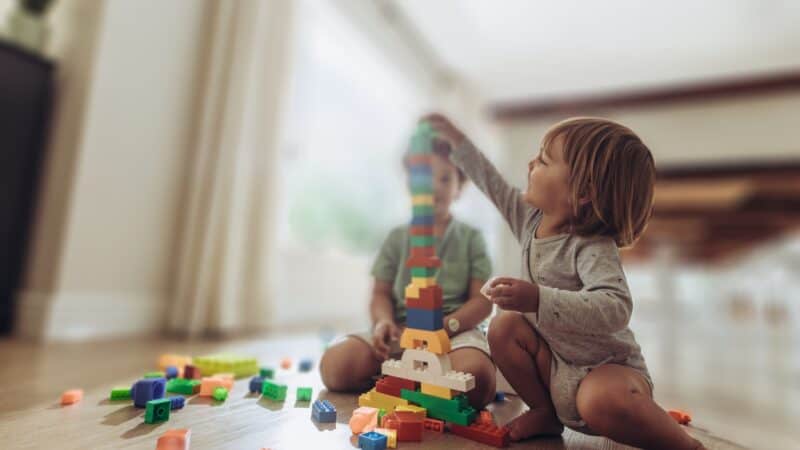 Cleaning building blocks is really such a job that you as a parent can really dread! So here I have the 4 most important tips.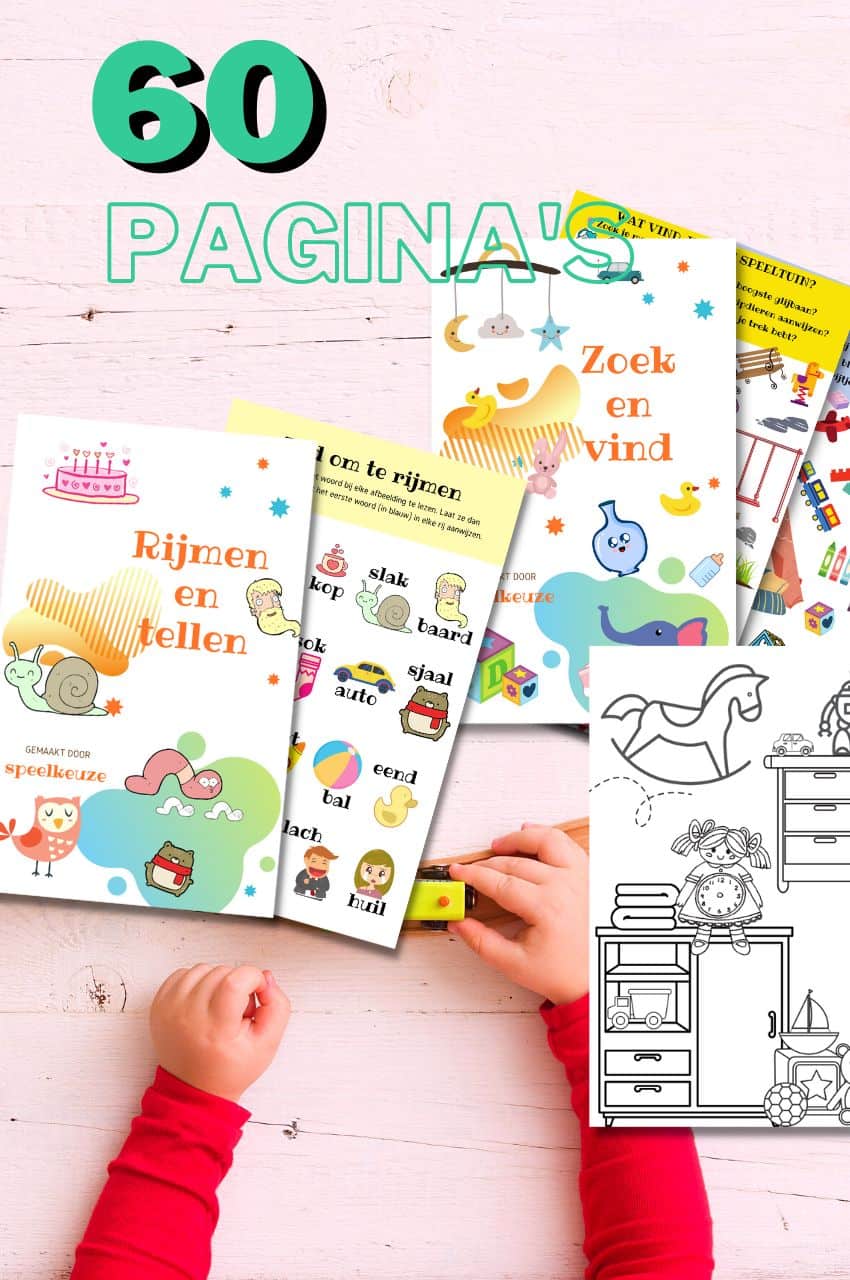 A play theme in your mailbox every month?
Fun play tips, activity books and more, with the first email being our free mini-guide "educational toys"
We will only use your email address for this newsletter and respect your privacy
Best 4 ways to clean your plastic building blocks
Clean by hand
If you find it easy, you can always wash building blocks by hand.
By the way, LEGO itself recommends cleaning LEGO blocks by hand, and preferably with water that is not warmer than 40 degrees.
You can use an old toothbrush for those tricky spots.
Soak the cubes in soapy water and washing-up liquid or other disinfectant soap (for example Dettol). Then rinse everything well and let the toys dry on a towel.
If you would like to properly disinfect the stones, use a mild bleach. Also rinse thoroughly afterwards.
If you (accidentally) wash the blocks hotter than 40 degrees, there is a good chance that you will damage the parts.
It also goes without saying that you do not wash electrical parts, such as battery compartments and cables with water. You can clean these if necessary with a cloth dipped in alcohol.
You then let the LEGO air dry. It is certainly recommended to wash blocks with print by hand!
There are also other ways to clean building blocks, such as throwing them in the washing machine or in the dishwasher.
LEGO is of course extremely careful when giving tips, but research has shown that LEGO can also be washed in the washing machine or dishwasher. More about this immediately.
Looking for the ultimate gift for a small construction fanatic? Find the top 4 best toy construction sites reviewed here!
Machine wash
Plastic toys, such as LEGO and DUPLO building blocks and K'nex, you can wash in the washing machine without any problems.
It is best to put the cubes in two pillowcases (use an extra one in case the pillowcase tears or opens during washing).
Tie the pillowcases tightly, for example with a slip and then run a short program at 30 degrees.
Add a little detergent (fabric softener is unnecessary), preferably as neutral as possible, and do not let the machine spin.
However, it is wise to wash the animals and dolls with paintings separately, as I also indicated above, or else to put them in a washing bag in the dishwasher.
Because a washing machine spins naturally, this can cause scratches and faces or other imprints can disappear.
The cubes can air dry after washing or you can dry them by hand.
In the dishwasher
Besides in the washing machine, you can also wash building blocks in the dishwasher.
Again applies here; wash the cubes at 30 degrees or a temperature that is preferably not higher than 40 degrees. Otherwise you have the chance that the blocks will scratch, melt and deform.
I recommend that you wash the building blocks in the top drawer or in the cutlery basket.
You can also buy a toy box in some stores; a basket specially designed for washing plastic toys in the dishwasher.
How you wash your child's building blocks is completely up to you. It is now just what you find most useful.
Get discolored building blocks white again
Does your child have building blocks that are years old and are therefore discolored?
There are several reasons why building blocks can discolour; sunlight, wear and tear and chemical processes, as can happen with anything made of plastic.
Fortunately, yellowed LEGO blocks can easily be turned white again with hydrogen peroxide, baking soda and possibly other products.
With hydrogen peroxide
Once you've soaked the cubes in hydrogen peroxide, all you have to do is rinse, dry and you're done!
Hydrogen peroxide does not affect the cubes and the process is very simple. For many this method is probably more effective than, for example, washing the cubes in a dishwasher or washing machine.
Here you can see the process explained, if you still want to see it:
Hydrogen peroxide is available in various concentrations. The lowest is hydrogen peroxide 3%, which can also be safely used undiluted.
If this is not enough to make the cubes nice and white again, you can also go for 12%. Incidentally, this is the maximum concentration that may still be sold to private individuals.
With baking soda
You can also treat your cubes with baking soda (the ones from the kitchen, not the ones for cleaning purposes).
You should then repeat the process above until you get the desired result. You can also put the cubes in the washing machine or dishwasher afterwards.
Some more options
In addition to baking soda, there are also people who use Steradent, chlorine, or lemon juice to make yellowed cubes white again.
The intention is to soak the stones in it for an hour and then wash them again in the washing machine at 40 degrees.
Also read: 20x construction toys reviewed | Building toys 1 to 7 years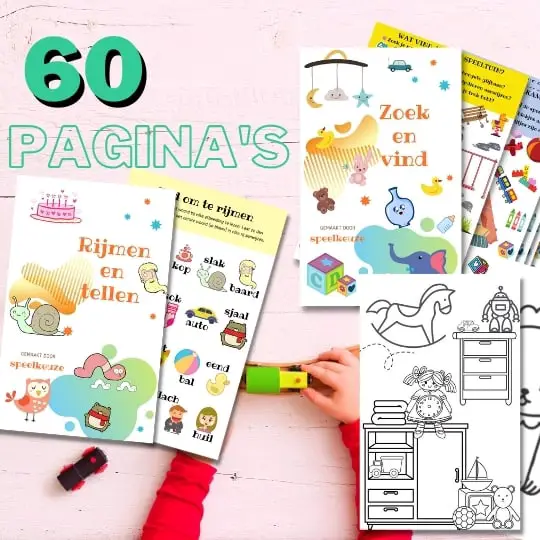 Always something to do for the holidays or rainy day?
Play Choice now has the ultimate activity book collection, with over 60 pages of fun coloring pages and educational puzzles.
Joost Nusselder, the founder of Speelkeuze.nl is a content marketer, father and loves trying out new toys. As a child he came into contact with everything related to games when his mother started the Tinnen Soldaat in Ede. Now he and his team create helpful blog articles to help loyal readers with fun play ideas.