Coding for kids: from toddlers to preschoolers, all the way up to age 14
I enjoy writing these articles for my readers, you guys. I don't accept payment for writing reviews, my opinion on products is my own, but if you find my recommendations helpful and you end up buying something through one of the links I may be able to receive a commission on that.
More information
Computer coding is an innovative skill that has slowly trickled down to the younger generations.
Whether you want to teach your child how to become a computer programmer, or just want to expand their knowledge, learning encode has a huge number of benefits that can help how the brain learns, remembers and even processes new information.
In this article, useful games and tools to help your child of all ages learn to code.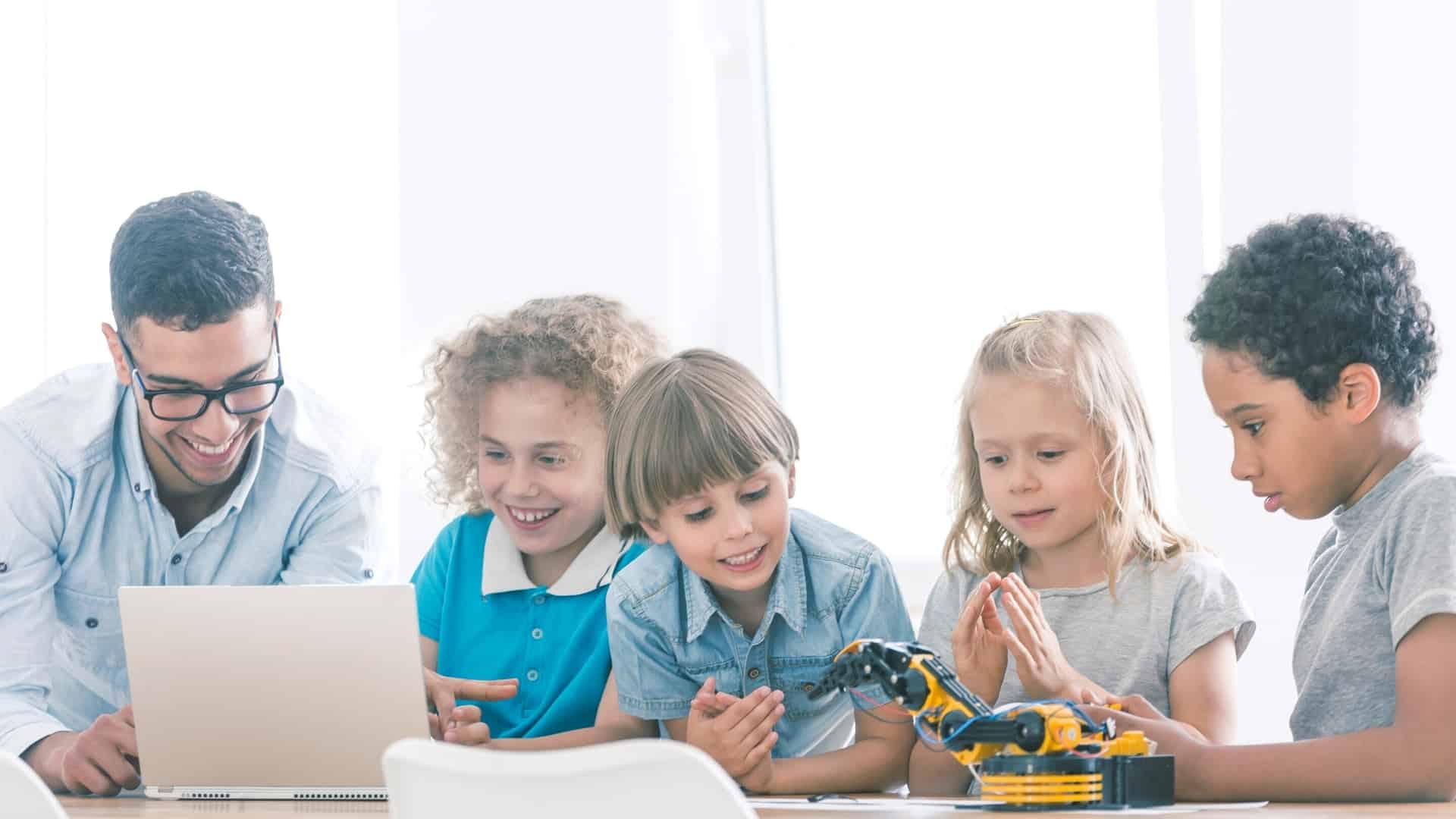 While the benefits of coding are exciting, it sometimes seems like more of a task for children to learn what is possible than you can help figure out and encourage it.
We've put together a highly studied list of the best coding games for kids that teach coding skills while having fun at the same time.
I think the best "robot" to start coding this Fisher-Price Code-a-Pillar, specifically aimed at preschoolers to learn the basics of sequences.
But of course there are many more options.
I have classified the games by level and age so that your little ones are sure to find a game that suits them perfectly.
There are a number of apps and free online resources that are fun, I mentioned them left and right in the article, but I also want to dwell on fun games, robots and more products.
These are the nicest ones I have found, I will also go into this further in the article: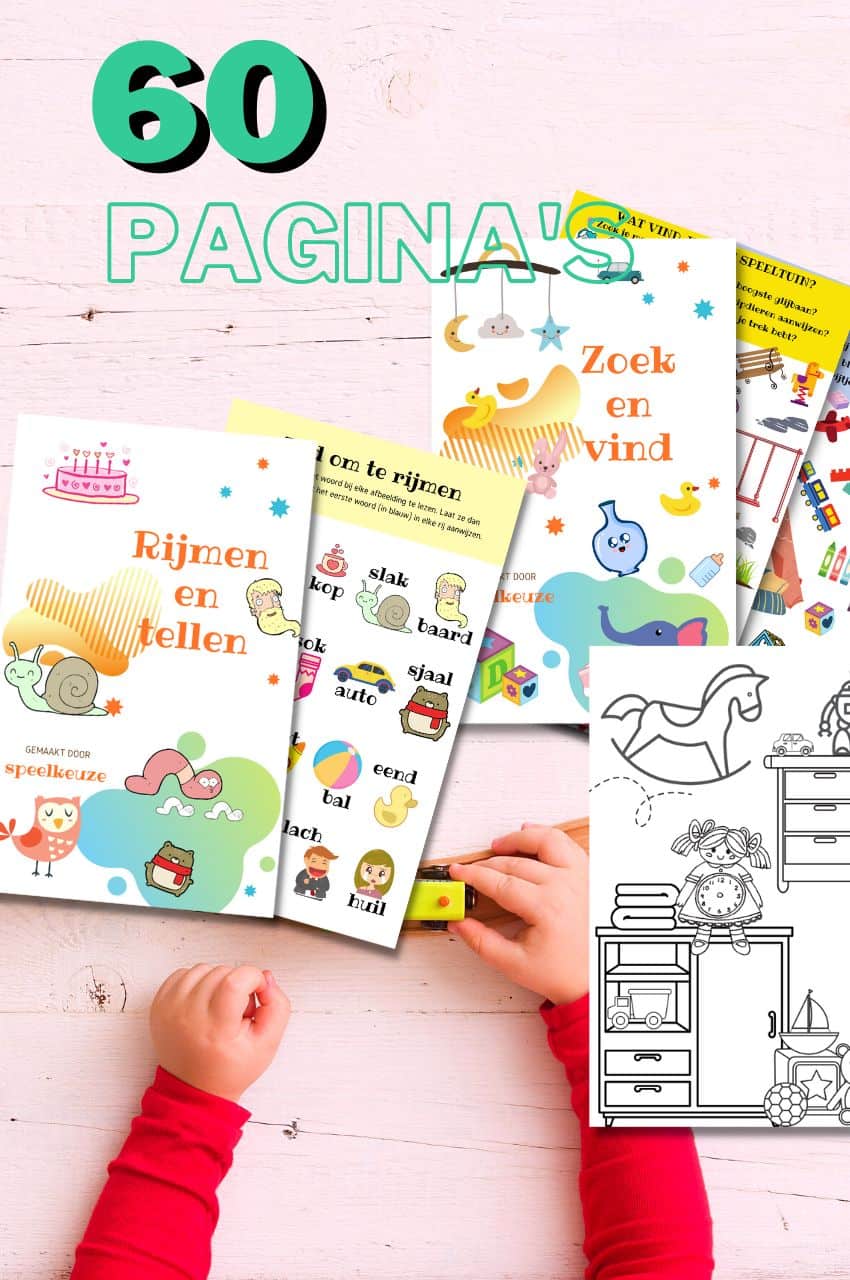 A play theme in your mailbox every month?
Fun play tips, activity books and more, with the first email being our free mini-guide "educational toys"
We will only use your email address for this newsletter and respect your privacy
Learning to code for toddlers
Here are some of the best games to help toddlers learn to code:
Karts Code
Code Karts introduces coding concepts to young children through the use of logic puzzles in the form of a fun racing track.
With more than 70 different levels and two different game modes, kids have no shortage of entertainment or variety when it comes to this app.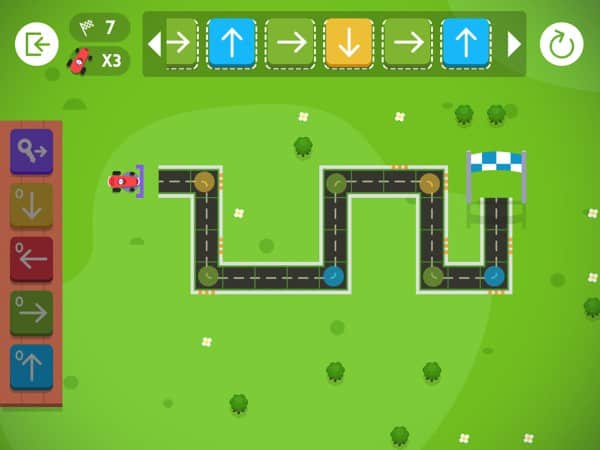 The object of the game is to use directional stones to get their race car to the finish line, providing a stimulating coding environment.
Code Karts also comes in more than 20 different languages, bringing the fun to a wide audience, and young children will easily learn code fundamentals as well as directions and logic.
Most fun coding card game for toddlers: LittleCodr
Designed for even the youngest programmer, LittleCodr stands out from other coding games because it is a simple card game with gross motor skills and fun.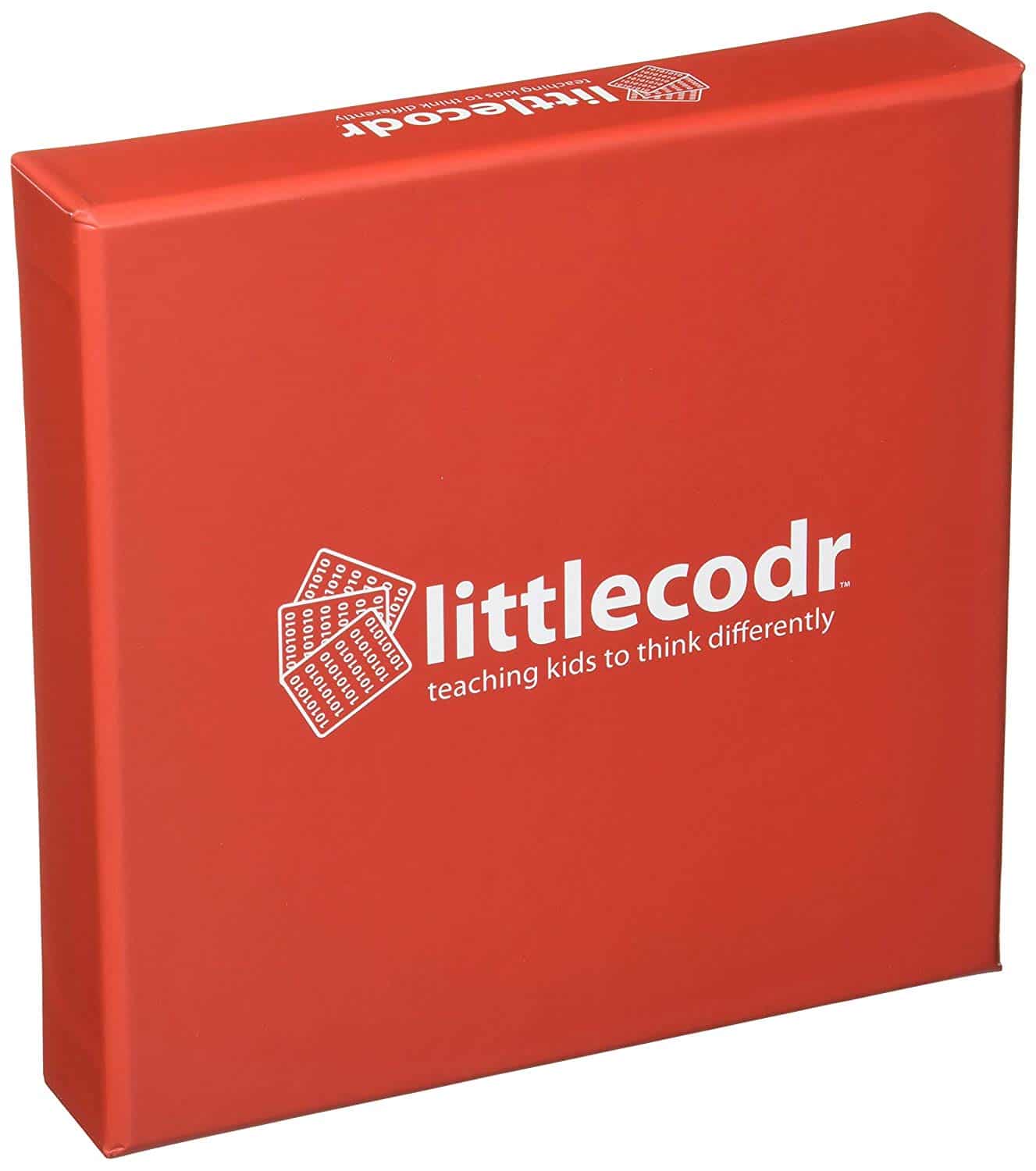 Originally cranked up on Kickstarter, LittleCodr saw huge demand for its interactive fun, lack of screen time, and compelling methods of teaching programming to students.
Using simple action cards, kids can program their parents or friends to make dumb moves while learning skills like linear thinking, sequencing, prototyping, debugging, and coding.
It's from 4 years, so may not be suitable until your child is preschool (just like this toy here), but it can certainly also be fun at the end of toddler age.
Unless they were raised completely bilingual you will have to help them because the game is in English, but you can read the assignments and use the big action cards pictures.
Here's how a parent uses LittleCodr cards when plotting a pattern for a programmable robot:
Check prices and availability here
Read also our article about the best robot toys for even more ideas for coding with robots and teaching your child the basics
Best coding robot for toddlers: Cubetto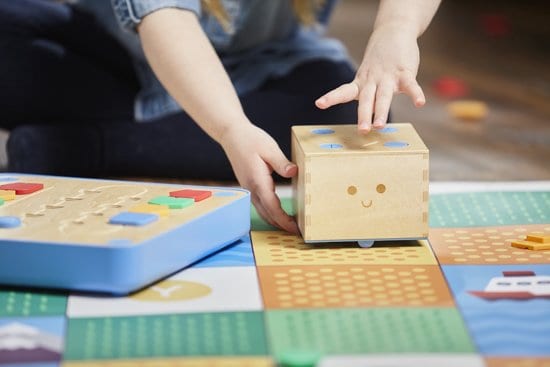 In a world full of technology and screens, finding a game that is free from these and yet teaches your child about the basics of coding seems like an impossible task.
That's where Cubetto stands out.
Cubetto is a friendly wooden robot that teaches children the basics of computer programs through a realistic, tangible object.
DadDoes has made a very extensive video about the possibilities of the Cubetto:
Through adventure and hands-on play, Cubetto lets kids manipulate and touch their blocks to tell the robot where to go.
It can also be used with specialty books and maps, providing a positive and comprehensive experience without the need for an app or device.
This robot is fun for toddlers, but it is one of the few devices that is also suitable from the age of 3.
Check prices and availability here
Also read: educational toys for all ages
Learning to code for preschoolers aged 4 to 6
As toddlers they can work a little more independently and these toys stimulate that ability to explore.
Cutest code robot for toddlers: Fisher Price Code-a-pillar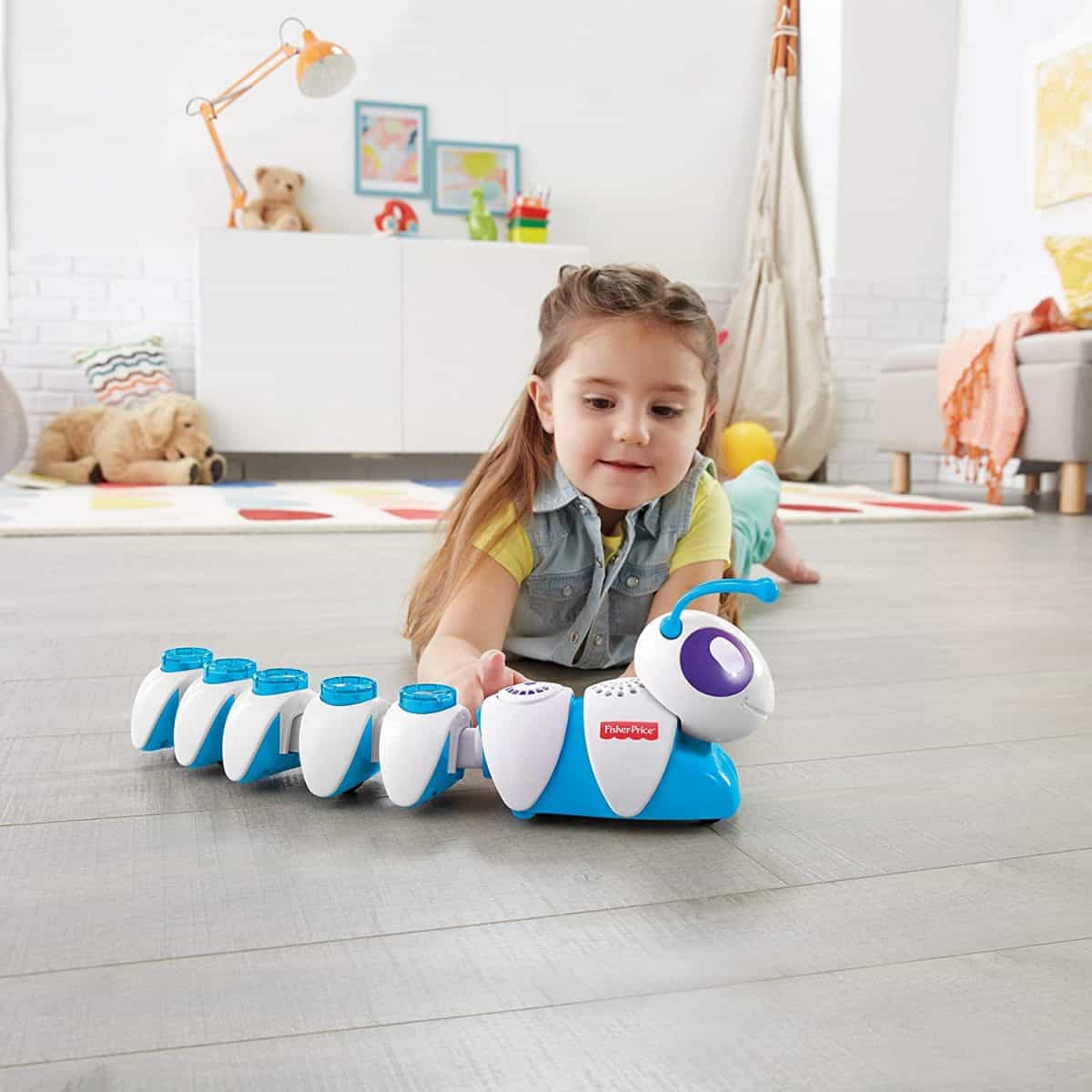 Created by education giant Fisher-Price, Think & Learn Code-a-pillar is an interactive game designed for young children to discover and explore the world of coding.
With a cute and irresistible caterpillar as the guide of this game, kids can help it eat, play and get through various obstacles while expanding their logic and sequencing skills, as well as their number recognition and problem solving skills.
Linda from mom love had made a nice video of it:
What's even more exciting for parents is that the more your child plays, the more they learn! Each level increases in complexity as the game progresses.
Check prices and availability here
Most Fun Coding Game For Preschool Children: Learning Resources Robot Mouse Activity Set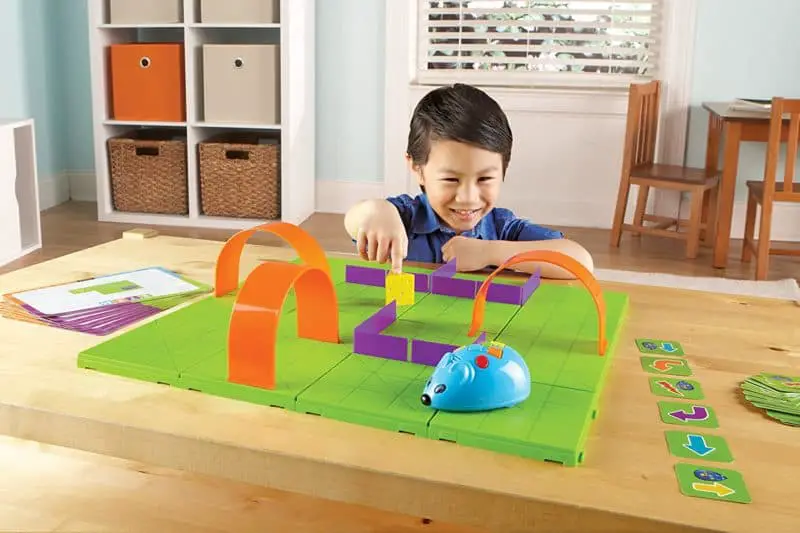 Code & Go Robot Mouse Activity Set is a screen-free way to teach even the youngest programmers basic coding skills.
Includes double-sided coding cards, a programmable robotic mouse, cheese wedge and a special activity guide, Code & Go, that allows kids to create endless target paths for their mouse.
Great fun for preschoolers and often used in classrooms in America:
After their specific maze is created, users set up the coding maps to teach their mouse where to go.
The mouse can even light up, make sounds and it has two different speeds, keeping the game interactive and engaging.
Check the latest prices here
Funniest coding robot for preschoolers: Bee-Bot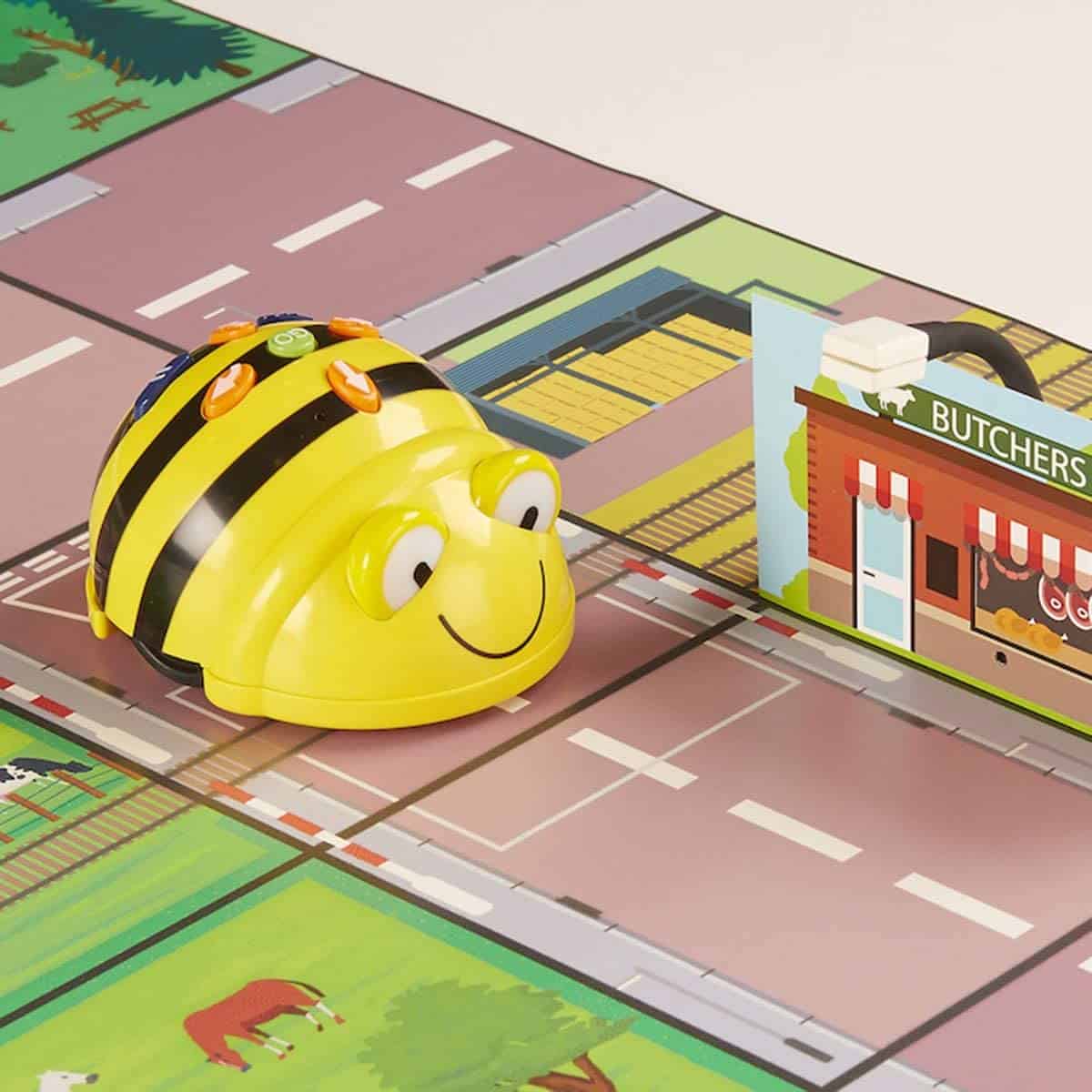 The Bee Bot robot is specially designed to help young children increase their programming and sequencing skills through the use of a fun and interactive game.
Based on the lovable floor robot, the app has 12 different levels that get more and more difficult as the user progresses.
Each level is timed and provides exciting rewards, providing incentives for even the youngest of programmers.
Bee Bot is also widely used in schools to provide coding and logical thinking:
Kids can also improve their directional language as Bee Bot moves forward, backward, left and right.
Set in a relaxing garden setting, this is the perfect game for ages 4 and up.
Check out the latest prices here
Best musical sequence for preschoolers: Osmo coding jam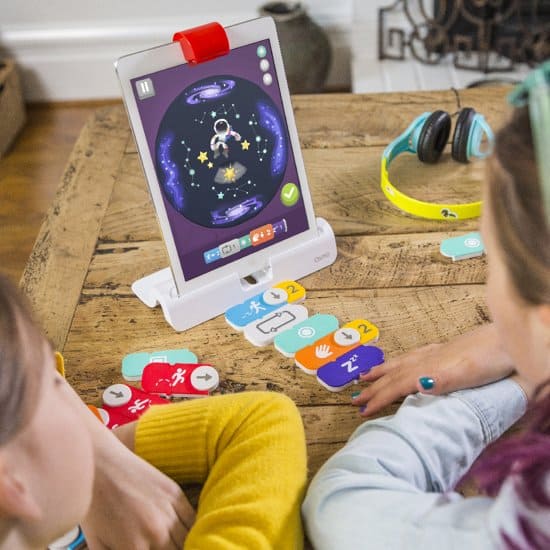 There is no shortage of research proving that music is useful for a child's development, so when you combine that with the benefits of programming, you can be sure to have a unique and positive play.
Osmo Coding Jam is an engaging board game that connects to an iOS app and allows kids to create their own music with practical coding blocks.
By being able to physically change the coding blocks in the board game, even the youngest programmers learn how to solve sequences and problems.
Using music, children can also develop rhythm, melody and harmony.
Check availability here
Learn to code for 5 to 7 years
Then fun games to learn to code for children from 6 to 7 years old:
Code Spark Academy
More information: Play Store
CodeSpark Academy is an award-winning app that has introduced the concepts of coding to more than 20 million children in more than 200 different countries.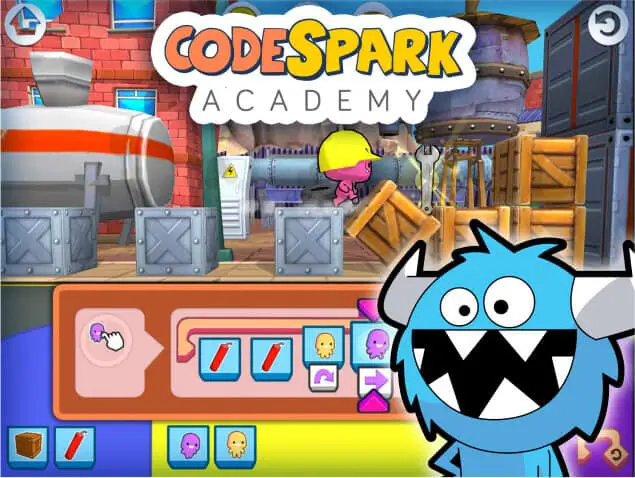 Using a 'no words' interface, this app teaches all the basics of computer programming for kids through puzzles, games, printables and even projects, bringing the fun of the screen to life.
With personalized daily activities based on your child's progress, an engaging curriculum developed through research from MIT, Princeton and Carnegie Mellon, and new content from a subscription app every month, your child will have a hard time giving up.
Kodable
More information: Website
Kodable is an online resource used by parents and educators around the world.
With over 70 different lessons that combine both on-screen and on-screen components, Kodable breaks down computer science topics into basic concepts that kids can use for life.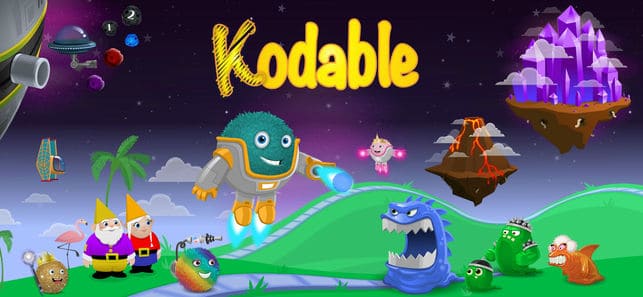 All materials for each lesson are included, and the skills they learn from coding transfer to other areas, enhancing their critical thinking, communication, collaboration, and creativity.
Through interactive games, your child can foster a love of learning that will last a lifetime.
Thanks to carefully constructed standards, you can ensure that their enjoyment helps them prepare for higher educational concepts.
It also connects to an app that unlocks different avatars as kids progress, providing engagement and incentives.
Best coding game for school kids: ThinkFun Robot Turtles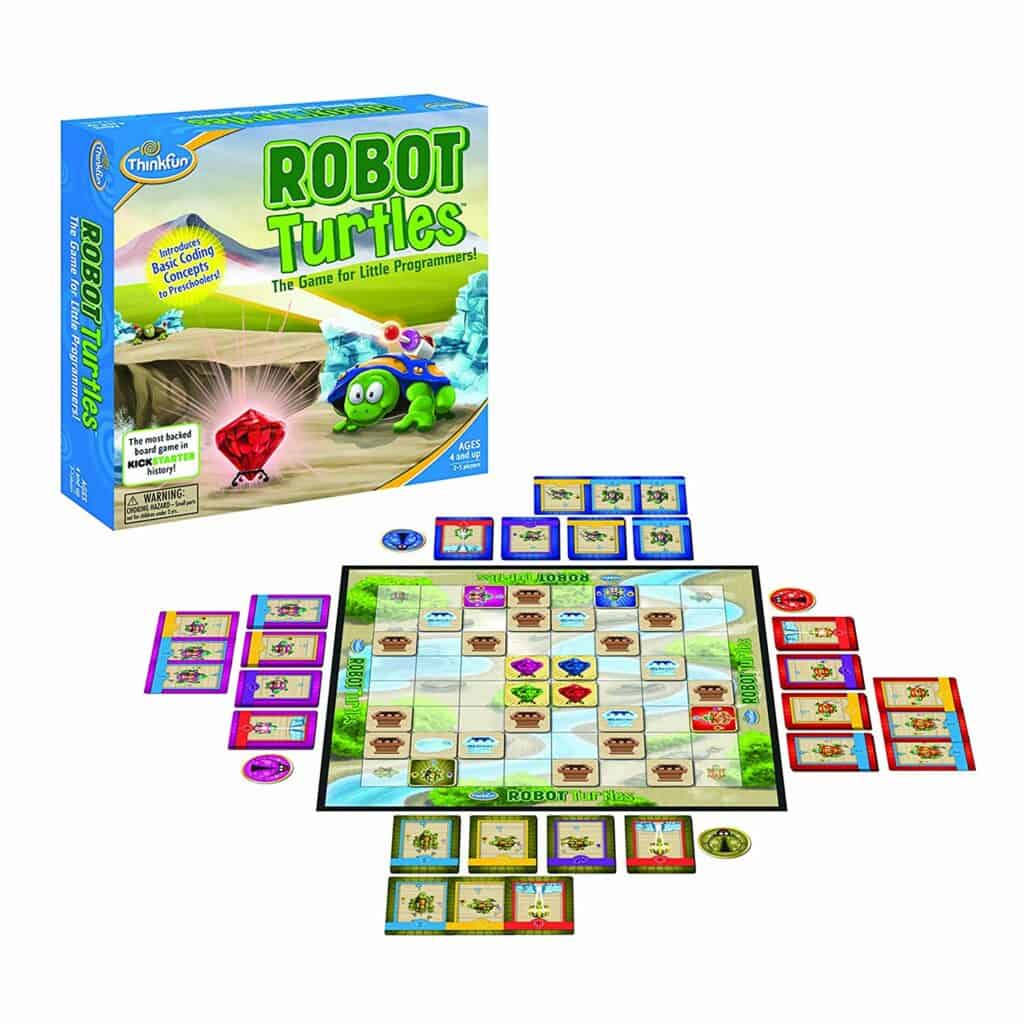 Robot Turtles is the next generation of board games.
While they provide a fun and engaging hands-on game for them, your kids will be in control while learning all the basic concepts of programming.
Through simple commands used to program the Robot Turtle, your little one will learn what it means to write code, debug and use basic functions.
As they play, they unlock new challenges, give new life to the game, and grow with it.
Here's ThinkFun's explanation of how it works:
The best part about these robotic turtles? It's a time for all the family to be together and play together, and spend meaningful time off the screen.
Check prices and availability here
Best mini robot for school kids: Ozobot Bit 2.0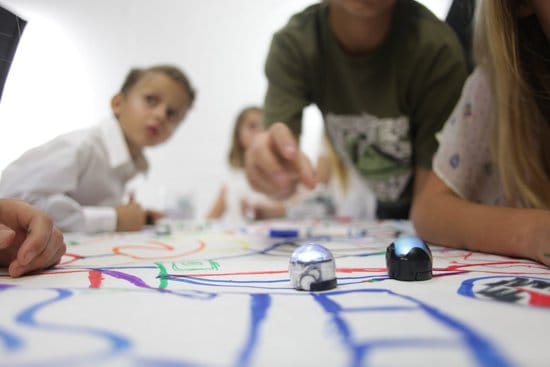 If you are looking for a coding robot specially designed for younger kids, look no further than Ozobot Bit.
Ranked among one of the best smart toys for kids, Bit comes with a STEAM starter kit of DIY stickers, color code markers, an OzoDice game, and 25 different activities.
In this video of Ozobot himself you can see how he follows lines and that you are really only limited by your own imagination in creating jobs and functions for the robot:
By drawing lines or color codes, Bit will follow the path your child designs, be it a map, a maze or even a huge cityscape.
Bit is an excellent way for children to interact with a programming robot without using screens or the Internet.
Check prices and availability here
Scratch, Jr.
More information: iTunes
Scratch, Jr. teaches young children (ages 5-7) important new skills as they begin to program their own interactive games and stories.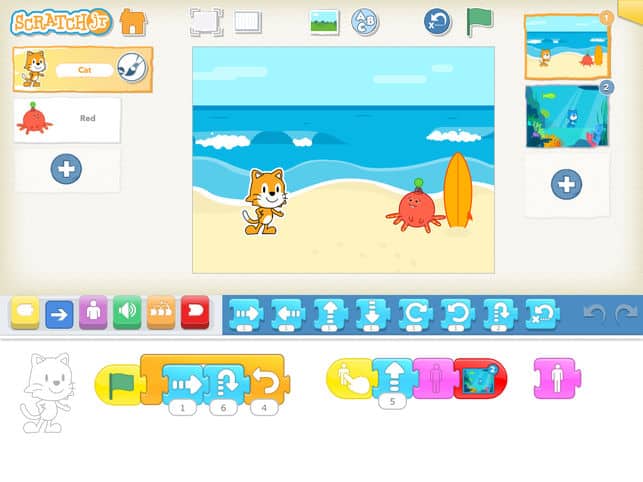 Inspired by the popular Scratch programming language that millions of people around the world use, this more novice version lets kids cut programming blocks together to make their characters move, jump, sing and dance.
It also exposes the user to math and language concepts, supporting literacy and numeracy in early childhood.
This app has been designed by leading experts to better fit the cognitive, personal, social and emotional development of younger children, so you can be sure it is right for your little one.
Most comprehensive coding robot for school children: Wonder Workshop Dash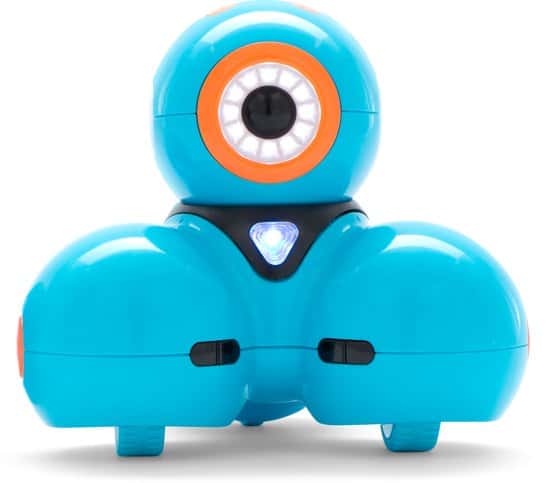 Dash Robot is a real robot charged and ready to play right away.
Using a connected app, your child can help Dash perform new behaviors, such as dancing and singing, as well as navigating and navigating around objects.
What sets Dash apart from other games is that there are multiple apps available to suit different age groups, learning levels and playstyles and it is also one of the best robot toys we've reviewed.
Each program allows you to tailor the program to the needs of your particular child so that they have fun that is made for them.
Dash also comes with a wide variety of add-on accessories for your child to personalize and create.
Check the latest prices here
Learn to code for ages 8 to 10
When your children are a little older, it will only be more fun and more fun to learn to use code. These are the best coding games for kids ages 8 to 10.
Minecraft
Platforms: Linux, Mac, Nintendo Switch, Nintendo Wii U, PlayStation 3, PlayStation 4, PlayStation Vita, Windows, Xbox 360, Xbox One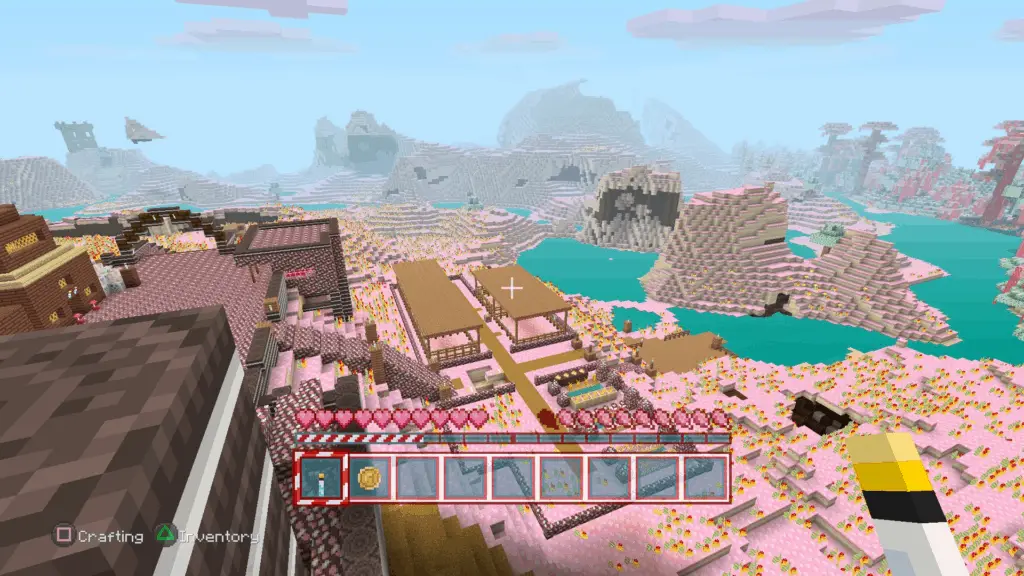 Minecraft is one of the most popular kids programming games out there, with over 100 million registered users currently.
At its core, Minecraft is a game about placing blocks to create objects and go on an adventure. But in reality it is so much more than that.
While the game's graphics may look old-fashioned to adults, kids are drawn to its simple design and unique graphics.
The beauty of Minecraft is that it really gives kids the freedom to create and explore limitlessly, all while being given missions and goals while inspiring their problem-solving skills, creativity and logical thinking.
Tynker
More information: iTunes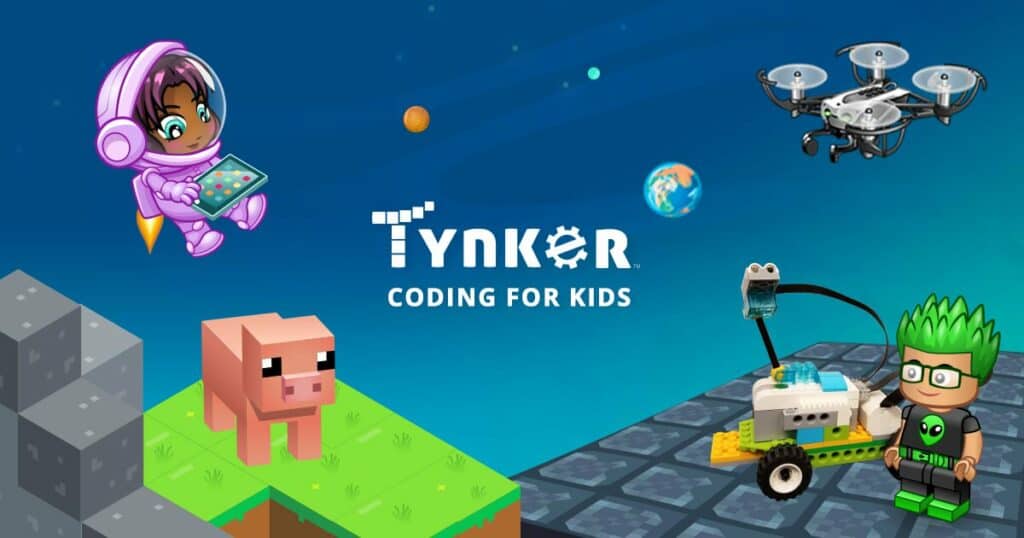 Winner of a wide variety of awards, including the 'Parents' Choice Gold Award for coding games for kids, Tynker is an interactive game that makes programming accessible and fun for kids regardless of their previous programming experience.
Using intuitive visual blocks to create games, kids can also write interactive stories, customize Minecraft, program drones, and explore other STEM topics.
Tynker can also be played offline without an internet connection, and with your permission, your child can share their creations with the Tynker community and research other children's projects.
BitsBox
Platforms: subscription box
Prices: € 19,95 per month or € 14,95 per month for an annual subscription
More information: squla.nl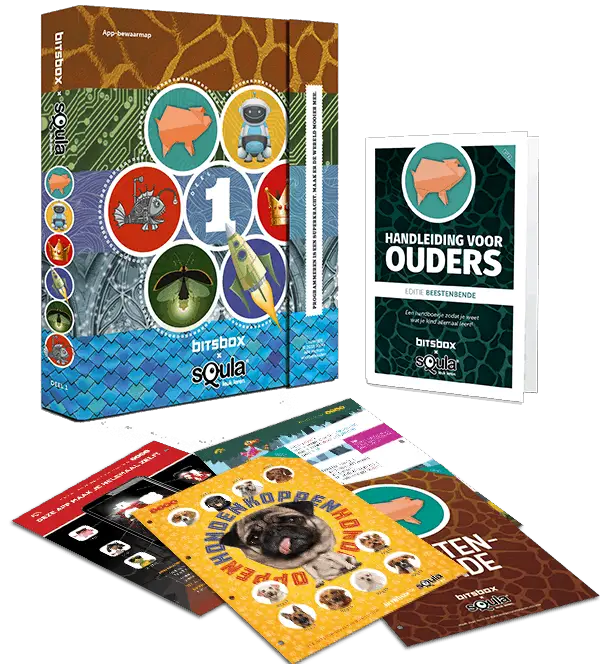 BitsBox stands out from the other games on the list in that it is a monthly subscription box with unique materials on various computer science topics.
Each month your child will receive a box of different coding projects, from basic to advanced.
With the material, they type the given code into the connected app and rework it to make it their own.
The apps and materials change every month, so there is always something new and exciting. BitsBox works on any computer, phone or tablet with a web browser.
Scratch
Platforms: browser
Prices: Free
More information: Website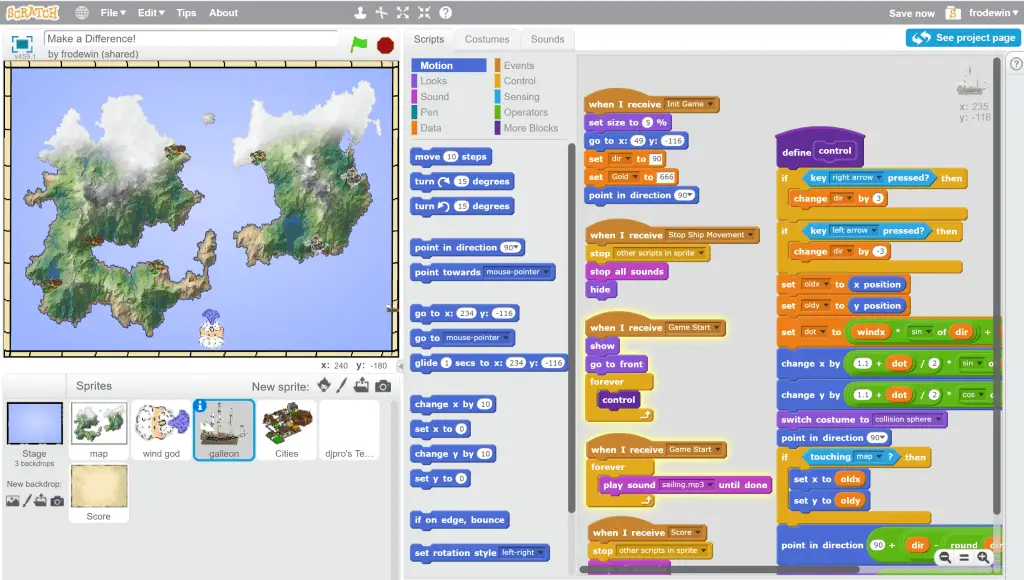 Designed by educators at MIT, Scratch is based on a programming language and online community where kids can learn the basics of coding and move on to more advanced topics and concepts.
Through the use of interactive games, stories and animations, children can not only improve their programming skills, but also enhance their creativity, reasoning skills and learn how to successfully collaborate on projects - all essential skills for 21st century workers.
Best coding robot from 8 years old: Botley the coding robot activity set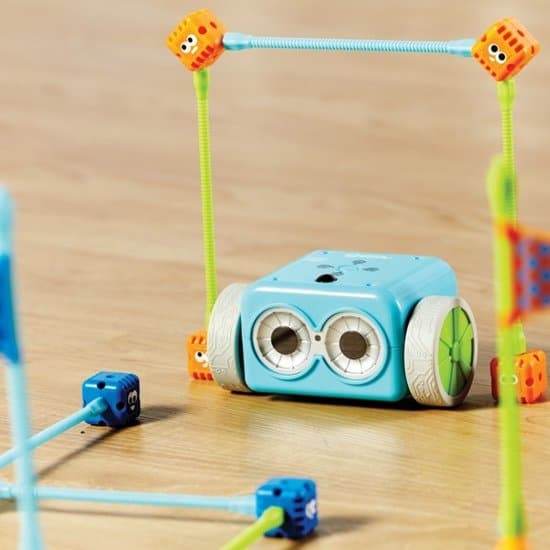 Botley is an interactive robot that educational leader in Learning Resources.
He introduces coding to young children in a friendly, simple and fun way.
Without using a computer or tablet, kids can program Botley for up to 80 steps, including more advanced programming commands such as looping.
The Engineering Family has a nice video about it:
With advanced features and steps, Botley can also grow with your child, while becoming more and more challenging.
Botley also includes black line tracing mode, where users can draw a line with any type of pen or stylus and it follows the path.
Check the latest prices here
Best coding board game from 8 years old: Thinkfun Code Master
Code Master is a programming game that teaches kids the basics of coding - all without a computer!
In the game, the player is given an avatar that they must navigate around the board.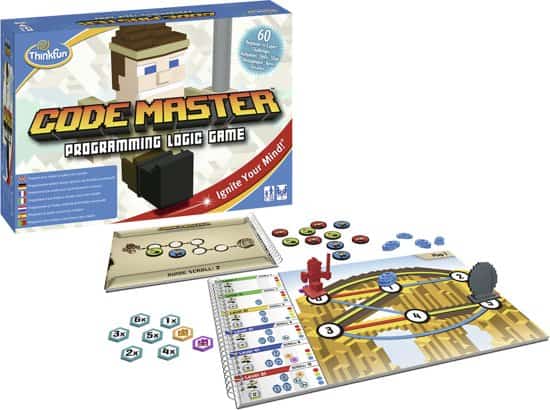 The aim of the game is to help the Avatar travel the exotic world in search of Power Crystals, collecting them all and landing them on the Portal.
Code Master features 60 different levels, so the fun is never the same!
It teaches programming fundamentals as well as planning, sequential reasoning, and problem solving skills.
View the prices here
CodeMonkey Programming with real code
More information: Website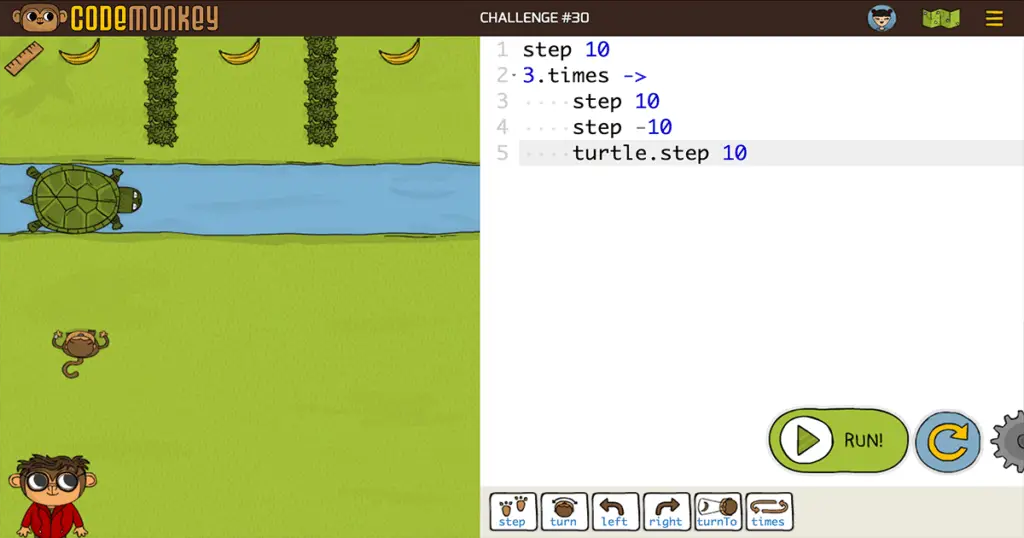 CodeMonkey was originally designed as a classroom for teachers, but has expanded beyond the school walls and is available to anyone who wants to learn some coding skills. It's great fun, but unfortunately only available in English.
While you may be using it at home, CodeMonkey offers you several insights that can help you track your child's progress and assess their learning, even if you are completely unfamiliar with computer science.
Another advantage? Learning to code not only teaches kids about IT, but it also nurtures logic, critical thinking, creativity and problem-solving skills necessary to be successful now and in the future.
Best brain teaser from 8 years old: Thinkfun CODE On The Brink
On the Brink is part of a series of games designed to help kids build all the skills needed to become successful coders and to see through even more advanced programming concepts.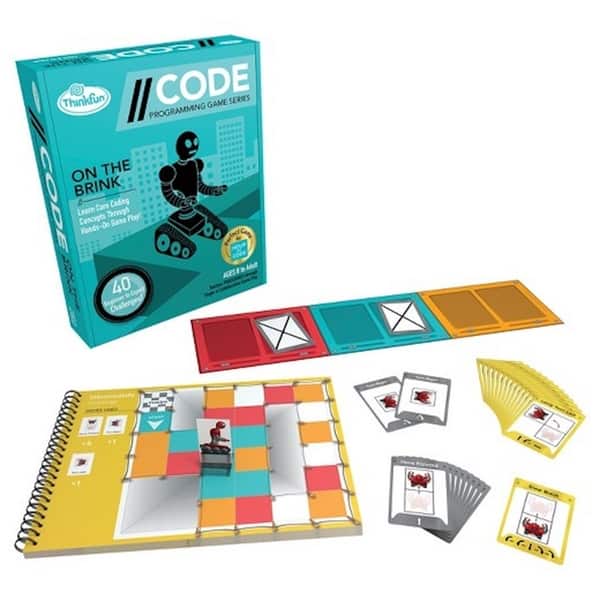 Without the use of a screen, children can guide their robot through a path from start to finish, programming 'procedures' to help follow colored paths.
There are 40 different challenges that children will encounter, and their goal is to find the correct sequence of moves for each colored path.
The board game teaches a variety of skills, including sequencing, problem solving, and planning.
Check prices and availability here
Goldieblox: Adventures in Coding
More information: iTunes
Recognized as the Toy Industry Association's Toy Player of the Year and Apple's App of the Year awards, Goldieblox is shaking up the industry and challenging gender stereotypes featuring the world's first girl engineer character.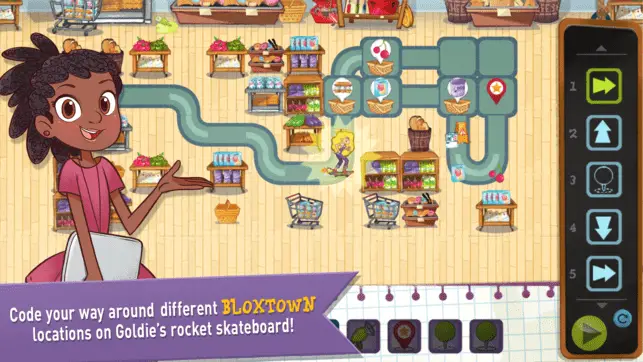 In this game Goldie and her friend Ruby try to deliver cupcakes, but they need help looking for clues on where to go.
Kids will love programming the characters around town and will learn all the basics of coding.
This game is inspiring for girls and shows that they can really be anything they dream of.
Best LEGO coding robot: Mindstorms EV3 31313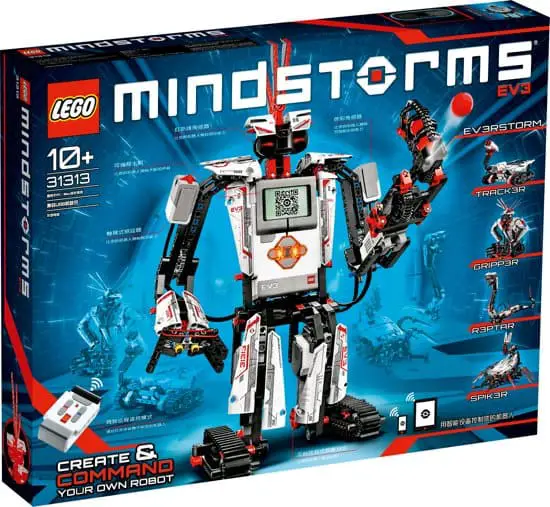 LEGO Mindstorms, the entertainment and toy giant: Fix the Factory is an opportunity to build your own robots, encouraging children to improve their logical thinking skills, spatial intelligence and their robotic skills.
In this video one of them is put together:
Faced with the task of making a robot work its way through obstacles you put down, your child will learn all the basics of how programming works while trying to beat the clock.
There are also incentives to complete the mission with the highest score, making it an exciting game that is more than an educational tool.
Check the latest prices here
Learning to code for kids ages 11 to 14
When your children get older they can understand a lot more about the logic behind programming and coding.
Whether they've come across it before or not, these are fun games for them to learn about coding:
Swift Playgrounds
More information: iTunes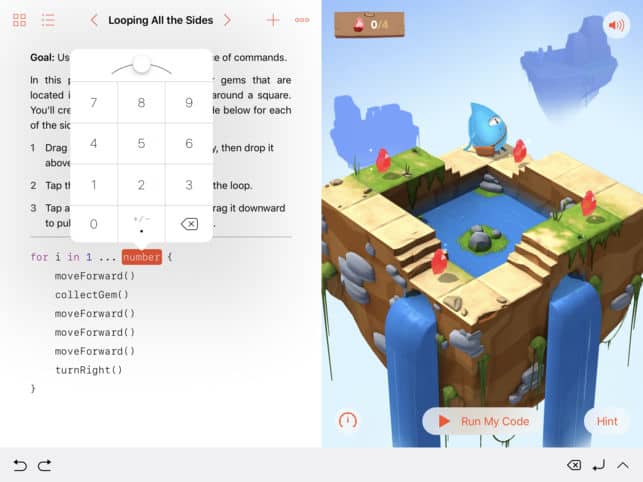 Swift Playgrounds is an innovative game for the iPad that helps children learn and experiment with code through interactive puzzles.
Based on the powerful programming language created by Apple and used by most professionals to create mobile applications, Swift Playgrounds provides a platform for experimentation and creativity while learning the basic definitions, terms, functions and directions of coding.
Players can use their own photos, images, sounds and files within the program to make it unique to them, while new coding challenges are released regularly to evolve and change it.
Hopscotch
More information: iTunes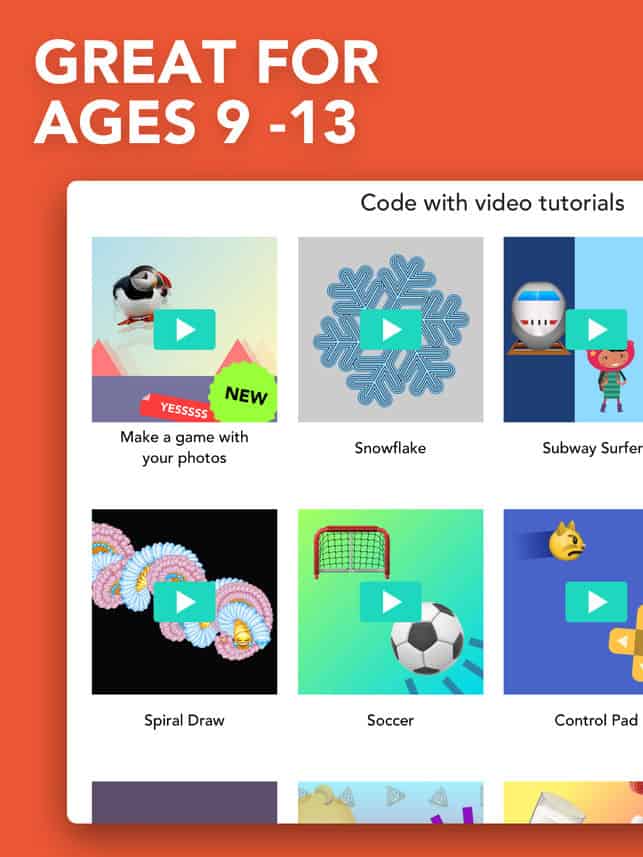 With over 10 million downloads and over 26 million games created and counted, Hopscotch is a platform for kids to explore projects and learn to code and create their own games.
Users also have the option to view and play, tweak or remix other people's projects, providing inspiration and collaboration through Hopscotch's fully moderated community.
The app also has detailed video tutorials where they learn how to make popular games, which get more and more difficult as they become a better programmer.
Move the Turtle
More information: iTunes
Move The Turtle is an educational app for the iPhone and iPad that teaches kids the basics of creating computer programs using a friendly Turtle.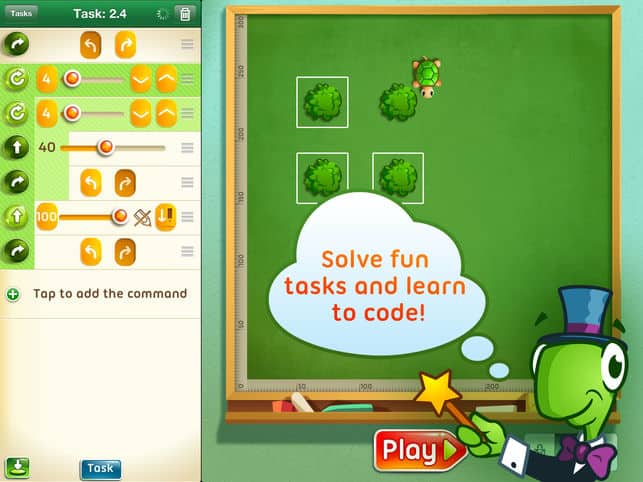 By completing tasks, your child learns to plan complex activities made from simple elements, how to reuse previously completed work, and how to use graphics and sound in programming.
Your child will also become familiar with the concepts of loops, procedures, variables and conditional instructions while playing an engaging and interactive game.
Mimo
More information: iTunes
Mimo is a useful platform that offers bite-sized coding lessons, projects and challenges in an engaging and interesting way.
With Mimo, your child can learn to code, build websites, automate tasks, create apps and more.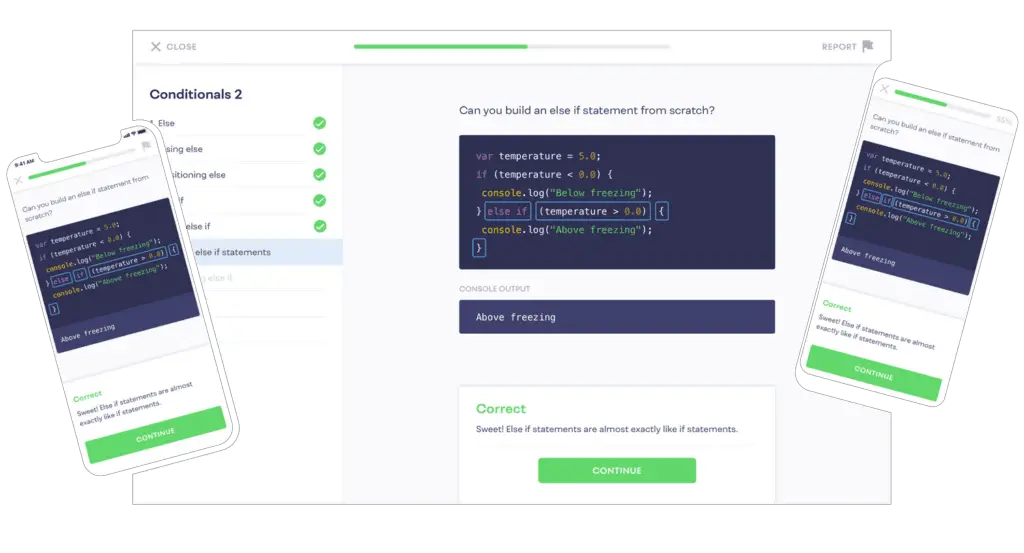 With daily goals, streaks, and achievement badges, kids feel like they're playing a game more than an educational lesson.
Mimo also features ongoing extensions and updates, giving it a fresh look as your child progresses.
lightbot
More information: Website
Featured by Apple in over 100 countries and winner of multiple awards, Lightbot is an exciting game that will get kids addicted to coding in minutes.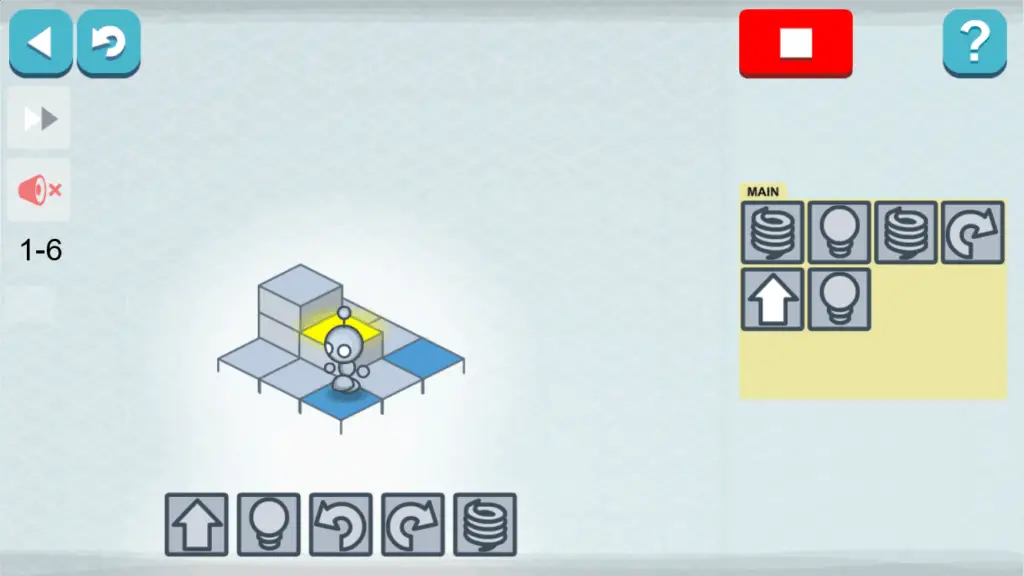 Categorized as a programming puzzle game, Lightbot requires the user to lead a robot to lift tiles and solve different levels using commands while cultivating a real understanding of basic programming concepts such as procedures, loops and conditionals.
With 50 levels and 20 challenging stars to collect, kids will have a blast learning and competing in this game.
High school and above
Then there are these games for children who are really getting older and who want to understand more about coding, perhaps want to base their study choice on it.
Codea
More information: iTunes
Codea is a code editor that allows you to create games and give incentives, turning your thoughts into interactive creations.
Designed for older students, Codea is a visual code editor that allows you to actually touch the code to modify or edit it.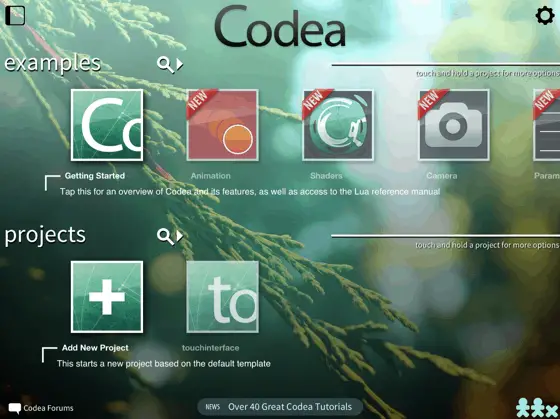 Built on the Lua programming language, kids can type in their code, hit play to watch it and then interact with it to see what's happening, including changing the colors, adding pictures and tweaking the sounds.
With Codea you can also share in the community, so that they can view the projects of other children and get inspired by them.
Code Combat
More information: Website
Built for high school students, CodeCombat is a platform for students to learn computer science and programming skills as they play through a stimulating and real game.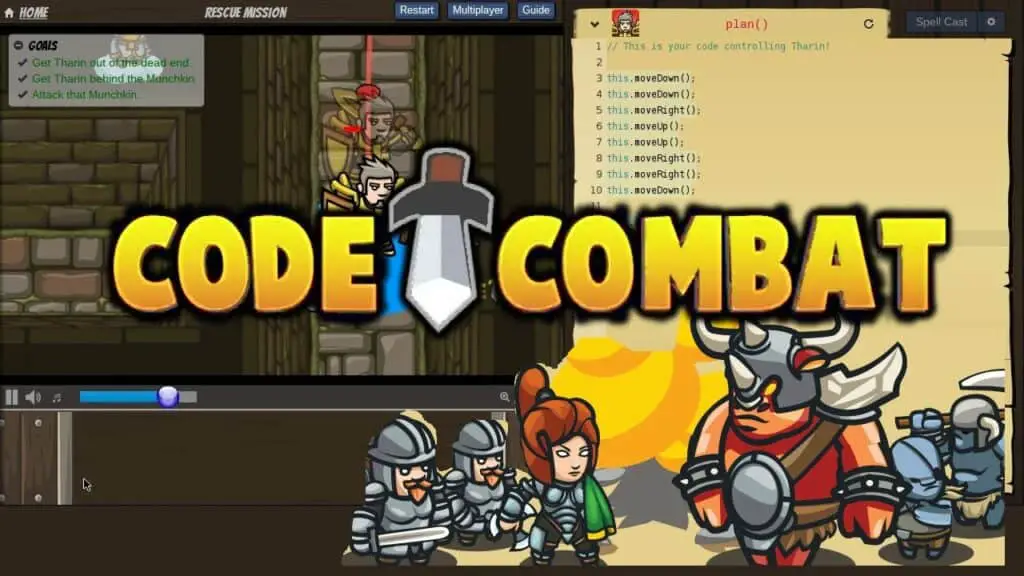 The way children learn computer science, CodeCombat is an excellent resource for both children and parents who have little to no coding experience and who provide a medium that rewards a productive struggle that results in successful learning.
Set out as a play challenge that encourages interaction, discovery and trial and error so that kids are sure to have hours of fun figuring this out.
DevKit
More information: iTunes
DevKit is labeled as the only mobile app in the world that allows users to design, code, test and export their own apps from their device.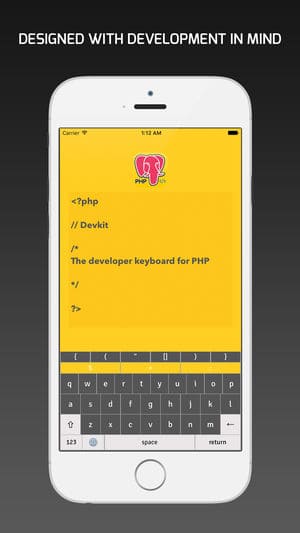 Voted Best Educational App by the Best Mobile App Awards, DevKit provides kids with a way to quickly design each of their pages in a simple drag and drop interface.
The end result? A fully functional and app store ready app they can actually upload.
With free curriculum content such as video tutorials, eBooks, in-app assessments and PowerPoints, your child can learn everything they need to know within the app.
Roblox
More information: Website
Recognized as one of the best computer programming games for kids on the market, Roblox is a game creation site that allows users to design and upload their own games.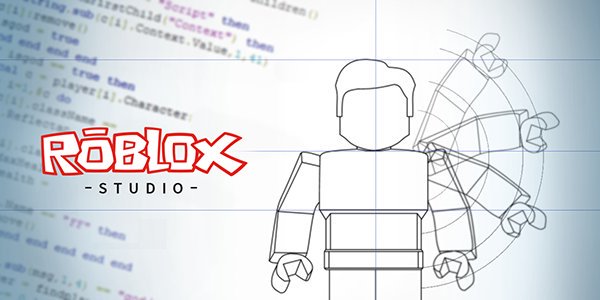 The site offers scripting tips and design elements to help early designers create and contribute to games, but also gives them the opportunity to design themselves.
As some gameplay is advanced and many games include weapons, it is recommended that only children over 13 play the game.
Conclusion
Regardless of your child or student's age, coding is a skill that will benefit them for the rest of their lives.
By introducing and practicing the concept in entertaining games, they will definitely see learning as a treat rather than homework.
With our list of top coding games for kids, your young engineer is on the way to lifelong learning.
Joost Nusselder, the founder of Speelkeuze.nl is a content marketer, father and loves trying out new toys. As a child he came into contact with everything related to games when his mother started the Tinnen Soldaat in Ede. Now he and his team create helpful blog articles to help loyal readers with fun play ideas.