14 best baby dolls reviewed: from interactive to cuddly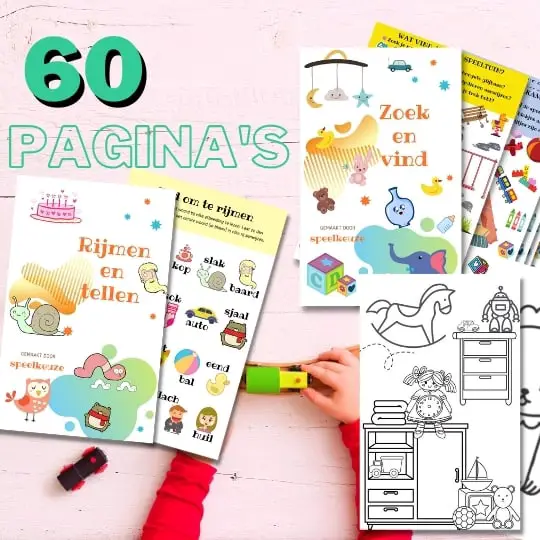 Always something to do for the holidays or rainy day?
Play Choice now has the ultimate activity book collection, with over 60 pages of fun coloring pages and educational puzzles.
So many kids love to play with dolls! They love to mimic their parents and take care of baby doll, take them for walks and feed them.
The overall best doll is this Zapf creation Baby Annabell. I think it's hard to go into a house with a girl who hasn't had baby Annabell or seen her. Very nice with accessories to care for and just decent quality.
There are many different dolls in circulation and it is difficult to know what is for sale. That's why I've put together this guide to the best baby doll toys for your kid.
I've reviewed all the top baby doll brands so you don't have to, with information about each toy that will help you make an informed decision when buying one for your little girl or boy.
Let's take a quick look at them, then I'll dive deeper into each of these choices:
Top 14 Baby Dolls Reviewed
Hello beautiful Baby Annabell, you look so sweet!
Annabell is like a real baby; She reacts when your little one touches her and she can actually cry. As a comfort, giving her the pacifier helps.
If your child Annabell rocks back and forth in her bed, her eyes will close. She even snores a little! After the nap, your little her can give the bottle, she loves that.
The cute Annabell can drink, cry and sleep too. Your little one can take great care of her! The doll comes with pink accessories such as a bib and bottle and is suitable for children from three years.
She drinks just like a real baby. When you stroke Baby Annabell's cheek, she will make noises. Annabell can actually urinate.
This doll stimulates the development of a sense of responsibility and empathy in your little one. Annabell comes with accessories such as a romper, a pacifier and a medallion.
The Reborn baby doll is a great doll! It's like looking at a real newborn baby. Especially because of the realistic size of the doll, the face is also beautiful and hand-painted.
The doll stimulates children to take care of her in a playful way. The high-quality materials are carefully chosen, environmentally friendly and without toxic substances.
This beautiful baby comes with cute clothes. The head, arms and legs feel 'real' and the cotton body also feels wonderfully soft.
Ideal as a gift for your child but also as a collector's item for doll collectors!
Reborn vs Baby Annabell
The Reborn baby doll is clearly aimed at a different market. Where Annabell is mainly made to be cute and really a toy, the Reborn is mainly aimed at appearing lifelike.
Reborn is also a lot more expensive than Annabell, and the high playability factor makes the Zapf Creations doll my favorite for most families.
If your child is a bit tired of toy dolls and more on their way to caring, or even saving and displaying, then Reborn may be the perfect option.
The cheerful Paola Reina dolls with hair smell very good! Like all Paola Reina dolls, this one also smells of vanilla. They come in many varieties such as with beautiful brown, Asian eyes and jet black hair.
Your little one will immediately love them! It is a cute, but also safe doll; The "Made 100% in Spain" certification guarantees compliance with the strictest European regulations.
This doll is suitable for kids from three years, because it doesn't hurt if your little one puts the doll in the mouth! A great doll!
This nice Pop Nenuco soft with 3 functions pink 25 cm can talk! If your child presses on the hands of this only doll, she will have a nice chat. The doll has a soft body and wears a trendy pink outfit with dots.
Suitable for children from the age of four.
Cheap baby doll Nenuco soft vs Baby Annabell
I understand that a more expensive doll like Baby Annabell may not be for everyone, which is why I also put this budget baby doll from Nenuco on the list.
Baby Annabell is just over 43 cm tall and has all the hallmarks of a real baby. Along with mouth movements, she makes realistic sounds like "ba-ba" or howling when her pacifier falls out.
Nenuco also has the latter, but that is the only sound function.
Nenuco is also 30cm tall, although your child may not care at all.
Let your little one take a nice bath with this cute Falca baby doll Mini Baby with bathtub 28 cm pink doll! After bathing, the doll has a light blue bathrobe to put on.
Your child will experience a lot of splashing fun with this new friend. The doll is 28 centimeters and suitable for children from three years.
This unique African Berjuan baby doll Newborn girl doll would like to become your best friend! She has a beautiful, medium skin tone and beautiful brown eyes.
Her pink romper makes it complete. Your child will immediately love this doll! The length of the doll is thirty centimeters and the doll is suitable for toddlers from the age of four.
A very nice doll for a not too high price; Recommended!
The Berbesa large doll sweetly 62 cm 8034 doll is very large! The size of a real baby. She has a soft body and beautiful blonde tails with bows.
The doll has a teat in her mouth and if your little one removes it she will cry. Her pink dress has a heart print and she has elegant shoes with lace.
The white cardigan with a bear on it and her scarf with pompoms finish it off.
The doll is not suitable for kids under 3 years old and works on batteries.
Give your child a new boyfriend. This Bayer baby doll Piccolina Real Tears purple 46 cm 13-piece can really cry! When your little one gives the baby doll the bottle, this Piccolina starts to laugh.
When she's drunk enough, she wants to burp. The doll has real tears running down her cheeks when she cries. Piccolina comes with, among other things, a bottle, a pacifier and a carrying bag, where your child can put all his things in.
Here's the video from Bayer:
The doll also has a beautiful purple velvet outfit. Piccolina works on batteries and is suitable for children from the age of three.
The beautiful Lissi Pop 24 Cm Deluxe With 8 Accessories and can make some sounds.
She comes with eight accessories with everything for a real doctor visit. A super doll for your child, if older than three years.
The Magic Girl from Baby Born comes with an extensive care set. Your little one can give her food and drink. After drinking, the doll can be put on the potty and she will pee.
The doll comes with clothes, a potty and is suitable for children from three years and older.
A talkative doll the Bayer My First Words Baby Doll. This baby doll from Bayer says her first words. She can also laugh, cry and make other noises.
She has a soft body, wears beautiful lilac clothes with matching soft shoes and a cap. Your child can give her the bottle or a pacifier!
Very nice, the Baby Alive interactive baby doll. This beautiful looking baby doll cries real tears and can also laugh with the most lifelike expressions you will ever see in a doll.
This sweet doll Nenuco 35 cm with bed - Baby doll sleeps in a crib that your little one can attach to her or his own bed! How nice is it for your child to fall asleep with the baby doll.
The doll sucks on her thumb or pacifier and also likes a bottle of milk. The doll can be covered with the blankets.
The included music mobile puts your little one to sleep. Suitable for children from two years old.
The Berenguer baby doll Newborn soft body is nice and soft all over its body!
A challenge for your little one to make the doll better again! JC Toys has even more baby dolls with fabric bodies in many different versions.
What's so good about playing with dolls?
By playing with a doll, a child can act out gripping events in its own way and then process them. If your child is startled by something, he or she can act out the situation with a doll.
Your child learns to put things into perspective by telling the doll about the unpleasant experience and reassuring them. Furthermore, your little one also learns to take care of the doll, the doll sometimes wants to eat, sleep or pee and needs help with that!
Conclusion
You have read which cool baby dolls are all available for your child! If he or she likes to walk with the doll, it is nice to have a buggy with you.
Does your child like to play mother? Then it is probably a good idea to buy a doll with a care set.
If your child likes dressing and undressing the doll, it may be good to buy a doll with an additional clothing set.
You will probably figure it out now, good luck making your choice!