I enjoy writing these articles for my readers, you guys. I don't accept payment for writing reviews, my opinion on products is my own, but if you find my recommendations helpful and you end up buying something through one of the links I may be able to receive a commission on that.
More information
Are you looking for a fun baby gym for your own baby or for someone else's? And do you find it difficult to choose from all those different baby gyms on the internet? You are not alone!
I wrote this article because there are many people, like you, who cannot see the forest for the trees.
Or who simply do not have much time to choose the best baby gym.
I did the preliminary work for you! Read below which baby gyms I like best.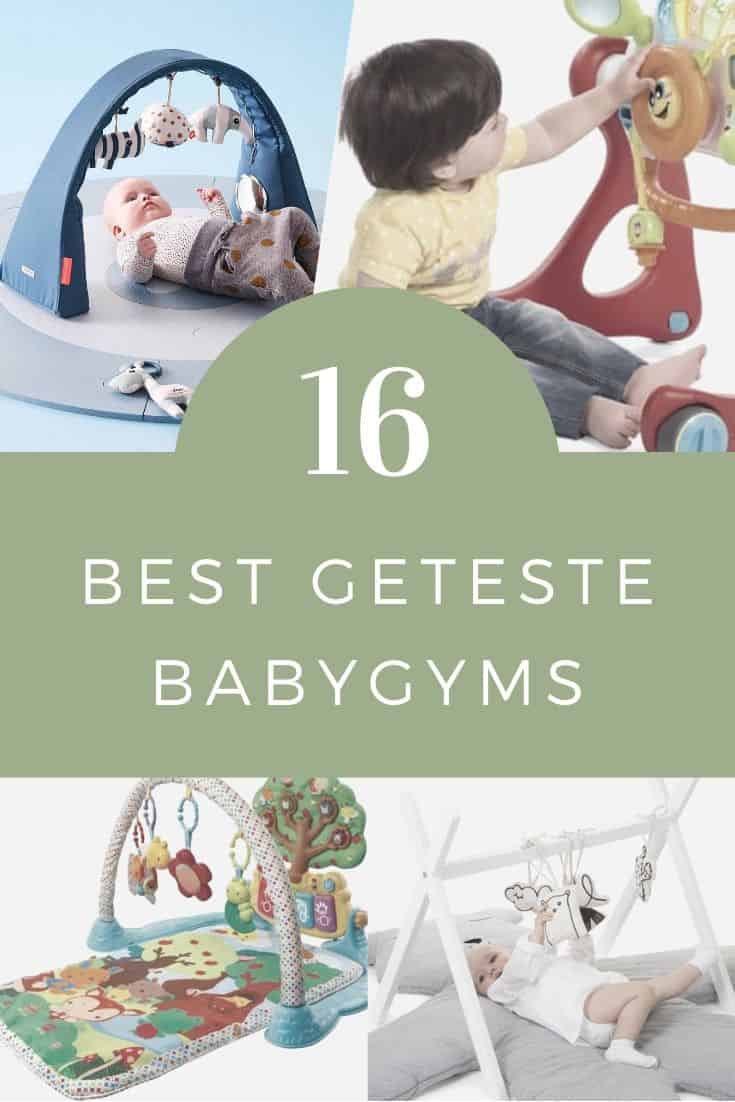 (Incidentally, in this article I refer to babies with "he" or "his", but the baby gyms are of course suitable for both boys and girls).
What you need to know about baby gyms
Baby gym safety
First of all, it is important to mention that all baby gyms described below are safe to use, as long as you use the gym in the way it is intended for.
This means that if a baby gym is designed to lie underneath, it is important that the baby gym is removed once your child can sit or walk.
Baby gym equipment
In addition, keep in mind that the material used can affect safety.
Wood is a great material, but considering that a baby might be able to outline a baby gym while lying underneath, it may not be the ideal choice.
Still, I decided to add wooden baby gyms to my list because I know there is a preference for wooden gyms.
I paid extra attention to the stability of the baby gym.
What is a baby gym actually?
A baby gym can come in all kinds of different shapes and sizes. In general, it is an arch for the baby to lie under.
The arch can be made of wood, plastic or can be covered with cloth and sometimes a cloth is attached to it.
Visual stimulation of the baby
The baby then receives visual stimulation because, for example, certain shapes are attached to the arch, colors are used or certain things move.
Some baby gyms run on batteries and can also provide audio stimulation to a baby in addition to visual stimulation.
As a parent, you can, for example, determine whether music is played or whether a certain action of the baby causes a sound.
There are also baby gyms where a baby can look at or touch certain things on his stomach.
Or baby gyms where the baby can kick with his feet.
Stability of the baby gym
In general, baby gym arches are flexible.
A common complaint is that parents would like the bows to be stiffer and not that easy to pull.
Or that they come up again after the outline. I have also taken this into account as much as possible.
As you can imagine, so many wishes, so many baby gyms. Which baby gym is fun to give? I give that overview below in the article.
From what age do you use a baby gym?
You can generally use a baby gym from three months.
Make sure that you do not put a baby under a baby gym for too long. It causes quite a few impulses in that little head.
In some babies, impulses arrive more intensely than in other babies.
And if the baby clearly does not like it, then he is simply not ready for it or he needs to rest from all the stimuli.
And in the first three months, a baby is really too small to handle a baby gym in any way.
The vision of a child is then not very well developed and putting a baby under a baby gym will not make much sense.
You will see that the description of many baby gyms states that it can be used from birth, but it really does not help the child.
But that of course does not mean that you cannot give this gift yet!
As mentioned, from about three months the baby's vision is already so well developed that the baby wants to follow certain moving parts with his eyes.
The baby will not be able to touch it himself, but he will find moving, swinging objects very interesting.
Until what age do you use a baby gym?
Until what age you use a baby gym depends on the type of gym.
Some can be converted and expanded so far that they even want to play with them when they are three years old.
So it is really comparing and looking and one child is not the other.
In general you can say that once the children can sit upright, it is impossible for them to be placed flat on their back under a gym.
It is normal for a child to try to sit around seven months. This is, of course, an average taken.
Some children are already at the point at five months to try to sit up and some are at that point at eleven months.
Do you want to be able to use a baby gym longer?
Then find a gym that you can set up in different ways so that your baby still likes to play with it when he is sitting upright.
So, as I mentioned before, keep an eye on user safety!
If the baby gym isn't made to be used when a child can sit, then don't.
Top 11 Best Baby Gyms Reviewed
Best Twin Baby Gym: Hess Trapeze
If you don't have one but two babies, it is difficult to put them under the baby gym at the same time. They are not made for that and that does not promote safety.
So you will have to look for an extra wide baby gym, like this one wooden baby gym.
This gym has more hangers and is wider, so you can put two children under it.
But if you ask me it is better to either let the children play alternately with a gym or to simply buy two.
And if you buy two different ones, they also have a nice variety. There are plenty of options below!
Best baby gym with sound: Chicco Grow & Walk
I have chosen the Chicco baby gym, which you can use in four possible ways, as the best and most fun baby gym.
I chose this baby gym because a child will enjoy it for a long time. The four positions in which you can put the baby gym will ensure that.
This baby gym is made of plastic, has a very stable base and cannot be easily moved.
It is a baby gym with music and sound
You put these for the little ones Chicco baby gym so that they can lie underneath and see and hear the lights and sounds.
If your child is in a bouncer, you can tilt the baby gym so that they can also easily reach it from a bouncer.
There are parts to which your child will be able to reach. Pulling it results in a sound.
This way your child will learn that effort to touch something is rewarded. This is very good for hand-eye coordination.
Also fun to play with for a sitting or even walking baby
When your child has grown a bit, you can tilt the top of the baby gym further and your child can play with the baby gym while sitting.
And once your child is ready to walk, the first steps can easily be taken behind this gym thanks to the wheels that are present at the bottom of the gym.
In our opinion, a gym that your child will enjoy for a long time and that has everything you would want to use a gym for.
So, now you know my first choice in terms of baby gym, but that does not mean that there are not other very nice baby gyms out there.
Below I will mention other baby gyms.
I have tried to find out the common denominators of many of the baby gyms on the market and create categories for them.
Check prices and availability here
Cutest baby gym with foot pedals: Vtech Lil 'Critters
In addition to an arch with hangers, this Vtech baby gym also has foot pedals for the active baby.
Lots of babies get their feet on their feet out of enthusiasm and effort.
It is of course great to encourage them to use their whole body and to give them a reward (in the form of sounds and lights) when they have done well.
This gym has an arch with four hangers with fun shapes, which are also easy to remove and can be attached to something else, such as a MaxiCosi.
The gym has a colorful dress and therefore also foot pedals.
The part with the foot pedals can be tilted, so that the baby can play on his stomach with the pedals as he grows up.
And when your child has grown even bigger, you tilt the pedals one more turn and he can play with it as if it were a piano.
Check prices and availability here
Best baby gym for in the box: Childhome teepee
The baby gyms that I have mentioned above can be used for a long time and in several ways, but are perhaps less suitable for a playpen because of the size.
Below I have made a nice mix of baby gyms for the playpen.
This baby gym from Childhome is basic, light and simple.
I assume that you still have other toys in the playpen, so it is nice if you choose a baby gym that is neutral.
You also don't want your baby to be over-stimulated by all the colors and sounds around them.
The name 'teepee' owes this baby gym to the shape of the uprights, which protrude at the top and cross each other. Just like a tipi.
You can buy the hangers for the baby gym separately and fill it in according to your own wishes.
Below I have a separate piece about the individual accessories that you can buy for baby gyms.
Best baby gym foldable: Playgro Fold & Go
A collapsible baby gym is of course ideal for in the playpen.
If you want to give your child a little more rest or if your child wants to play with something else, then you clap this fun plastic baby gym from Playgro easy in.
You can store it right next to or under the box. That way you don't accidentally trip over it!
In addition to being easy to fold and store, this baby gym is also a really nice baby gym.
You can change the location of the hangers and they even have teethers.
When your child is teething, he likes to put his teeth in something now and then.
As a parent, you can easily detach the rings and your child can massage his sensitive gums with the teethers.
When your child is a bit older, he can play with the separate parts, such as with the ball that hangs from one of the rings.
In other words, this baby gym is a really good option if you are looking for a fun collapsible baby gym.
Cutest baby gym made of fabric: Done by Deer
Of course you have a play mat in a playpen, so you can choose a baby gym without a play mat attached.
This baby gym from Done by Deer is super stylish and very nice for in the box.
The beautiful Scandinavian design is not only beautiful for the parents, your child will not get tired of it either.
The baby gym is adjustable in height and width and can therefore be placed in any playpen and even in a crib.
The baby gym is covered with a beautiful fabric and you can choose from different colors.
It has three parts and in the mirror at the base of the gym your baby will get to know his own face!
Cutest baby gym with play mat: TafToys 4-in-1 Play Mat
My preference if you are looking for a baby gym with play mat has this baby gym from TafToys.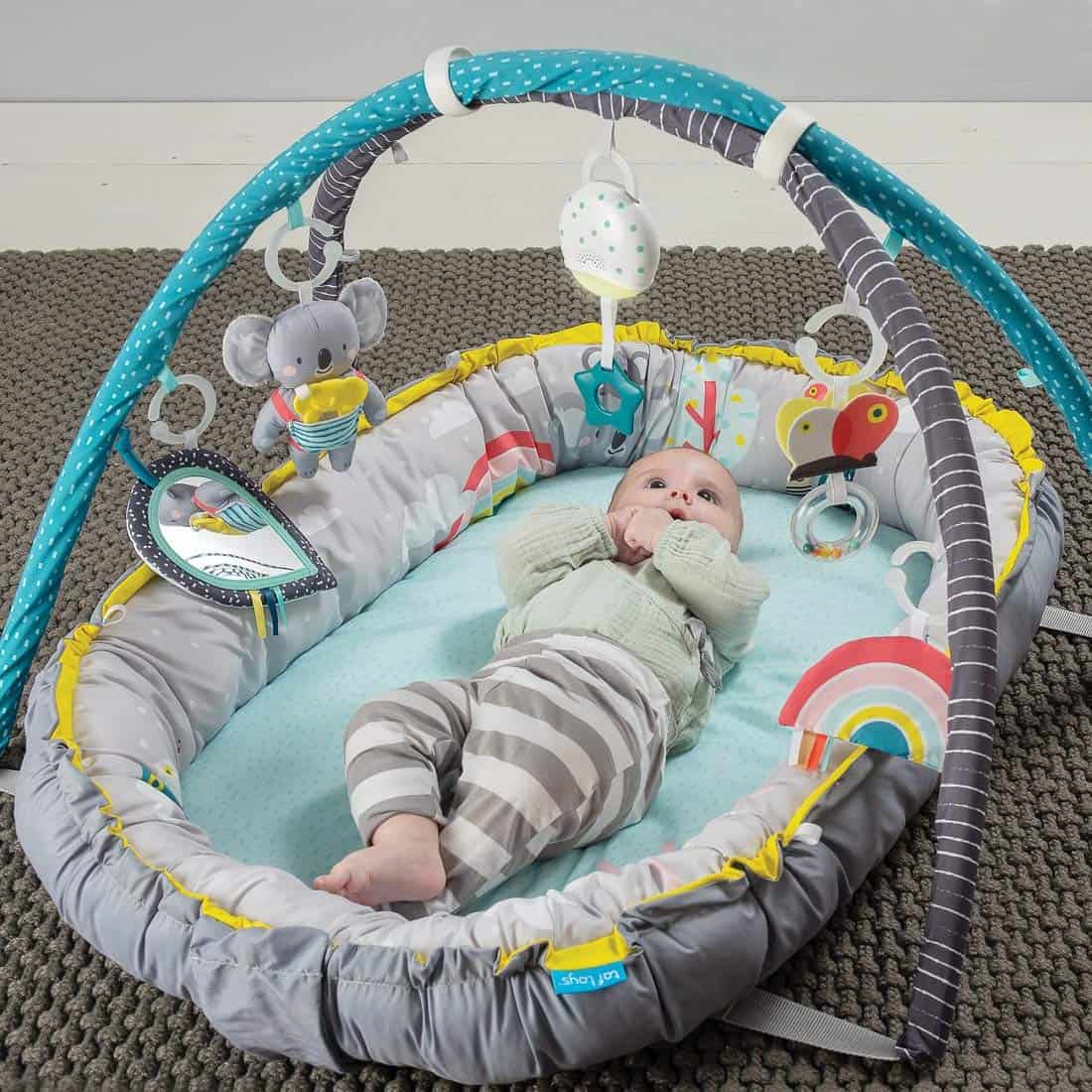 The reason I chose this baby gym is the soft version, but also the fact that this is a baby gym that can be attached to the rug.
Because the arches are attached, it becomes a lot more difficult for your child to slide the arch away.
The sliding of a baby gym can be accompanied by a lot of frustration for the child (and the parents!).
So a gym that is well secured and where your child keeps everything in place by its own weight is ideal.
This baby gym has various pendants, including a music ball, which you can easily change through the open rings.
You can also hang the rings around the bow of a pram, for example.
There is a mirror on the play mat and once your child can turn on his stomach, she can play on the mat, get to know herself and play with the toys.
Check prices and availability here
You can of course a nice play mat and combine it with a baby gym. If the baby is too big for the baby gym, you can simply use the play mat separately.
Best baby gym with gray tones: Sebra
Do you want to keep a certain style or colors for the nursery? Do you like that everything fits together nicely? I have also thought of that.
Below I have selected a number of modern and calm colors that I know are popular.
A very stylish baby gym in gray this gym from Sebra.
(view more images)
Really beautifully designed and very stable due to the four legs. The gym is made of wood and painted gray. In addition, the gym is easy to set up.
Because the shapes that hang on it are also beautifully designed and do not have bright colors, it all looks a bit calmer.
An alternative to a gray baby gym
Another beautiful gray baby gym is the baby gym from Done By Deer; a brand we have already mentioned.
This baby gym is different in shape than the baby gym that we have mentioned as a good choice for in a playpen, but this baby gym is also beautiful and very calm due to the colors used.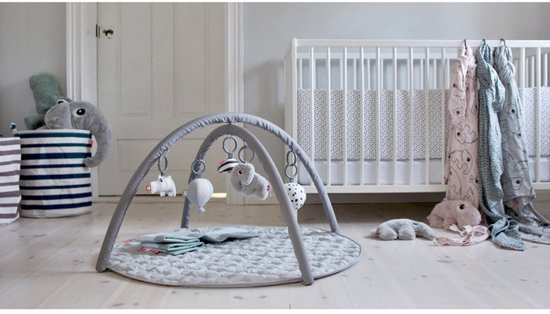 Pink, mint or light blue baby gym
Little Dutch, as many parents know, really excels at designing cute and pastel colored toys.
They also managed to achieve this with the baby gyms. Van Little Dutch is for example this pink baby gym to obtain.
But if light pink is not your favorite, then the baby gym is also available in mint or light blue.
All colors have the same model and are made of wood, where it seems as if the uprights have been dipped in the paint for a while.
Best baby gym black and white: Frank & Fischer
What I think is a very nice and unique baby gym is this baby gym, which is actually an ideal device if you want to go beyond the standard.
This baby gym from Franck & Fischer namely has no more than three black round arches with holes.
The three arches are very easy to turn in and out of each other and are very stable due to the design.
When you don't use the gym, it hardly takes up any space.
With separate accessories you can complete this baby gym yourself and make it unique.
See below at loose accessories for baby gyms various options for dressing this baby gym.
Best wooden baby gym: Ingenuity Cozy Spot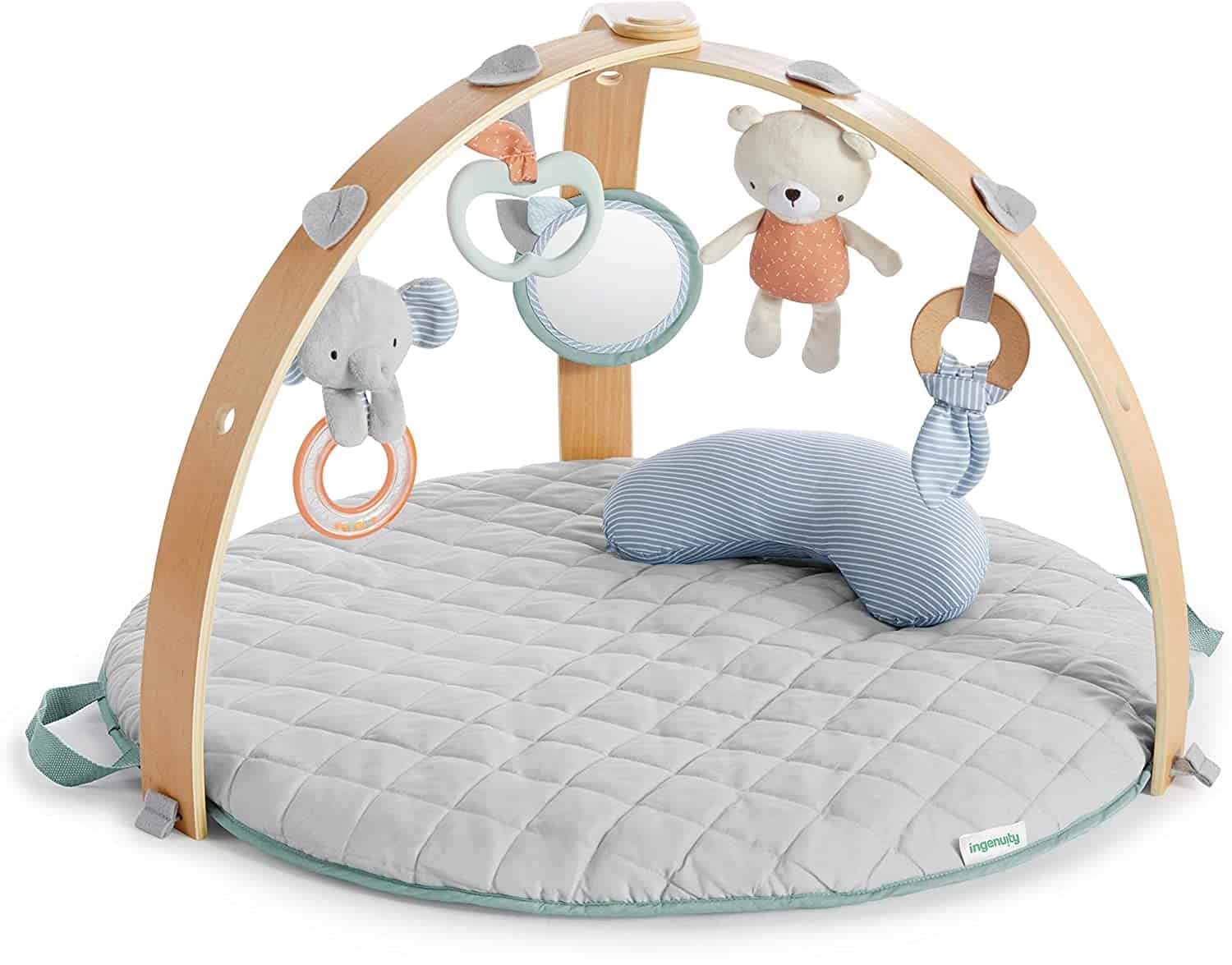 Many parents do not like the busy colors, music and lights of the plastic baby gyms.
And not only parents, by the way, some children are also too much stimulated by the bright colors and sounds.
You can therefore opt for a simpler model made of wood. The models already described above are good examples of this.
This wooden baby gym from Ingenuity has not been mentioned before and has primary colors.
But I did like to mention this one, because I find this wooden baby gym very practical.
The toys hang on soft straps and the color scheme is just great.
Check the latest prices here
Cutest baby gym animals: Skip Hop Treetop friends
Just as colors can influence your choice, some themes are also very popular with parents.
In recent years we have seen an increase in animal and jungle themes for children's rooms, children's clothing and the baby gyms have also evolved.
When you think of themed baby gyms, such as animals, you might think it's getting garish. Well, this is absolutely not the case with the Skip Hop play mat.
This play mat with soft colors, a soft play mat and soft, crackling toys, such as birds and a squirrel, child and parent can enjoy the baby gym.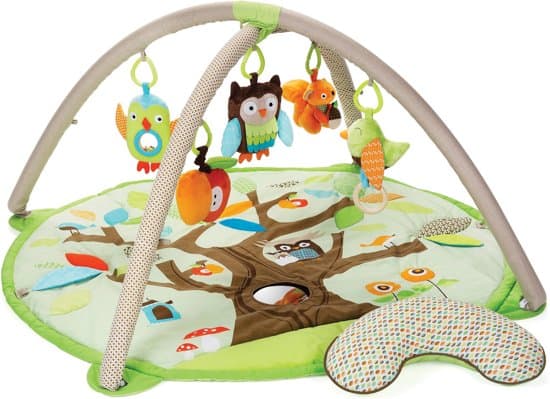 The rug is also very suitable for the time when your child is lying on his stomach and with the help of a cushion lying on the stomach can be practiced.
Not a helping hand, but a helping hand!
Check the latest prices here
Read also: the best play mats from foam to city map
Best jungle baby gym: Fisher-Price Rainforest Play Blanket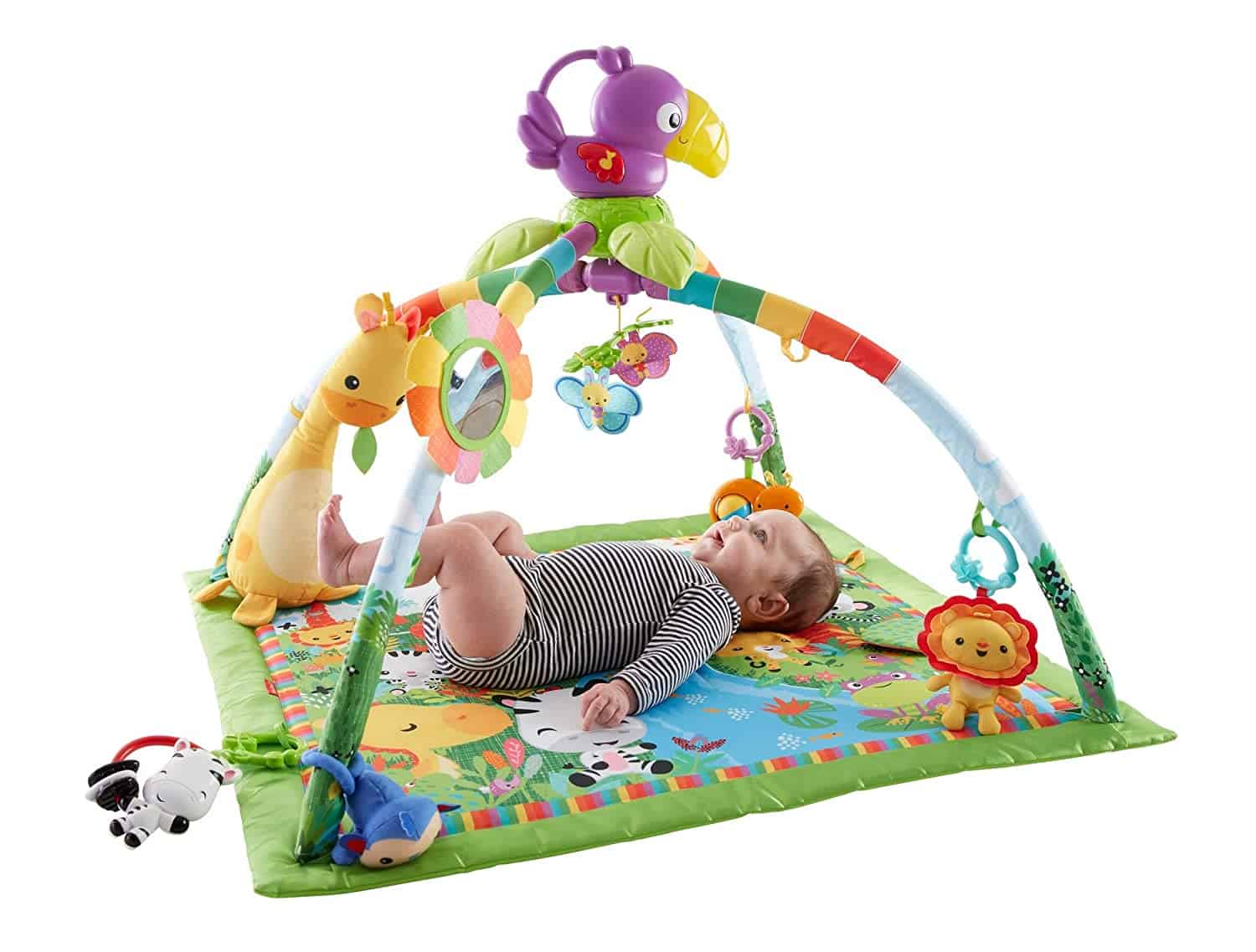 If you do have a jungle theme, then it might also be nice if you choose a baby gym that your child will enjoy for a long time.
This baby gym from Fisher-Price is really different from the standard baby gym.
This gym is packed with sounds and up to 20 minutes of music to keep them busy.
In addition, you can also take the toucan on top with you if, for example, you are going to take a ride in the car so that there is a familiar sound (and face) with it.
Check availability here
Separate accessories for baby gyms
Before you order individual accessories, make sure you keep a close eye on which baby gym you buy the accessories for.
Some hard rings may not fit every baby gym.
Of course it becomes a lot easier if the toys have to be tied with ribbons or strings.
Make a baby gym yourself
Making your own baby gym and hanging accessories is of course also super fun.
You can use your own creativity and put together a unique baby gym for your child in this way.
This video provides inspirations on how to make your own baby gym:
Read also: strollers, what do you pay attention to and which ones are good to buy?
Joost Nusselder, the founder of Speelkeuze.nl is a content marketer, father and loves trying out new toys. As a child, he came into contact with everything around games when his mother started the Tin Soldier in Ede. Since 2016, he and his team have been creating helpful blog articles to help loyal readers with fun play ideas.