29 most fun & durable baby toys for your baby or gift
I enjoy writing these articles for my readers, you guys. I don't accept payment for writing reviews, my opinion on products is my own, but if you find my recommendations helpful and you end up buying something through one of the links I may be able to receive a commission on that.
Further information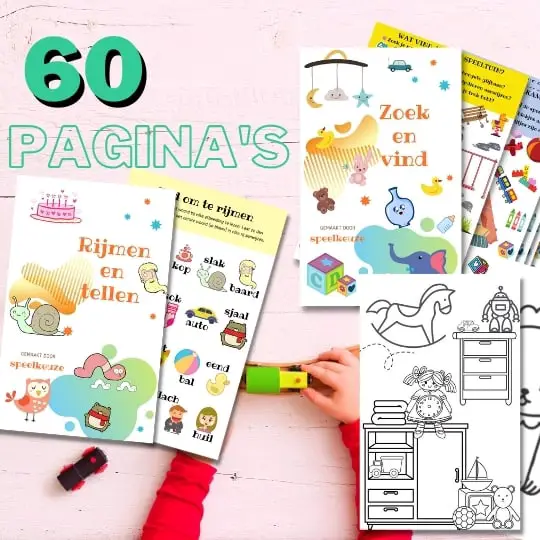 Always something to do for the holidays or rainy day?
Play Choice now has the ultimate activity book collection, with over 60 pages of fun coloring pages and educational puzzles.
Playing together with your little one, what a nice and precious moments they are! Moments to remember ..
Do you remember what used to be your favorite toys used to be? Probably!
It is of course very important to choose safe toys for your little one. That is why I have looked at it extensively in this article with a number of very nice and sustainable recommendations.
At the same time, we also want toys to be educational for our child and good for his or her motor and mental development.
And what do you actually think about sustainable toys, so that the environment is less polluted?
Or do you prefer plastic toys because they are often lighter than wood and easier to clean? Are you looking for an original and cool gift for your little one, or perhaps as a maternity or birthday present?
Pay attention; Below we give you the best version of as many different baby toys as possible! Where possible, we have opted for sustainable and responsible toys.
Here are the best 5 in my video, or read on for buying tips, safety tips and a detailed description of all 29 toys: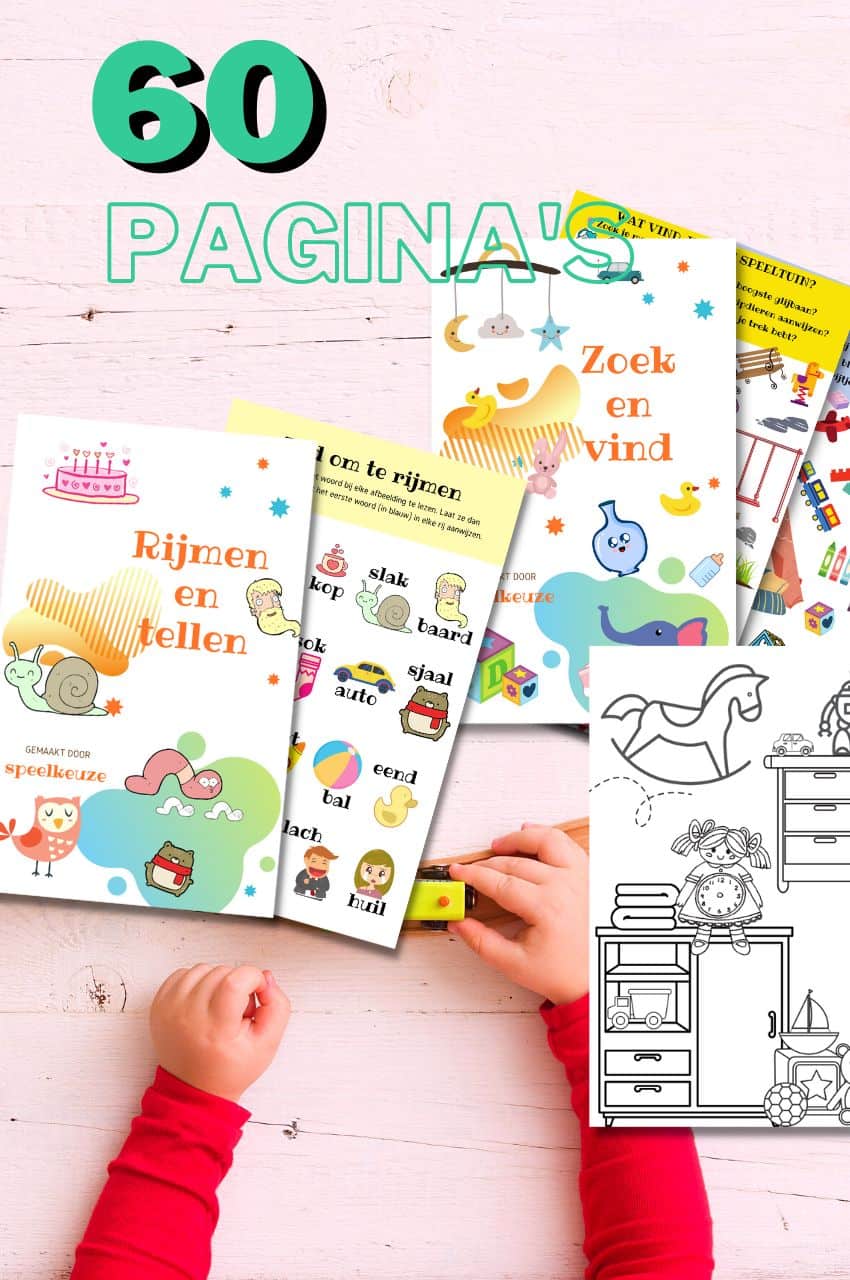 A play theme in your mailbox every month?
Fun play tips, activity books and more, with the first email being our free mini-guide "educational toys"
We will only use your email address for this newsletter and respect your privacy
Things to watch out for when buying toys for your baby
Going through the toy aisle of a store or browsing online can cause a panic attack, there are so many fun stuff, pastel stuff, colorful stuff!
Worst of all, every toy insists that it is the best for your child. But what to believe? What should you choose?
Here are seven things to keep in mind when buying toys for your baby:
Is the age range right for your baby?
This is the first thing to pay attention to. You don't want to find the perfect toy and only then realize that it is another year beyond your baby's comprehension.
This is also important to note when buying gifts for others' children.
Even giving a gift that is meant for too young children can even be an insult to the person you're buying a gift for, so be sure to check the correct age range.
You don't want to be that aunt or uncle who has no idea :)
Is It Safe For Your Baby?
You would think that every toy on the shelf is safe for babies these days, but that's not true.
For the most part, toys are safe, but much of this can be personal to you and what you want for your child. There are quite a lot of different opinions about material and safety and apparently it is not an exact science, but there is also opinion involved.
Weird
Fortunately, a lot of this comes into play when you find toys that are appropriate for your baby's age: toys with small parts are unsafe for infants, but on the other hand, they should be marked for an older age range.
Do look at the parts of the toy and see how it is made.
Does it seem safe for your child?
Are there any small screws that can come loose?
Would the paint flake off the wood if your baby drooled on it?
How do you know if baby toys are safe?
When checking out a toy for a baby or toddler, make sure that it is unbreakable and strong enough to withstand chewing. Also make sure it doesn't have sharp ends or small parts like eyes, wheels or buttons that can be pulled loose. So no small ends that can reach the back of the mouth.
How small are toys for babies too small?
Toys should be large enough at least 3 inches in diameter and 6 inches long so that they cannot be swallowed or get stuck in the windpipe. Manufacturers and agencies test this with a small parts tester or choke tube to determine if a toy is too small.
What size object can your baby stitch in?
Any toy that is small enough to fit through a 3-inch circle or that is less than 6 inches long is unsafe for children under 4 years old and could choke your baby. That is also why these dimensions are recommended for baby toys.
Are Rubber Toys Safe For Babies?
Rubber ducks are great ... unless they're the kind that's full of chemicals called phthalates. These plasticizers can use up to 20-50% of the plastic toys your child likes to put in their mouth. The problem is, these chemicals are unhealthy to ingest and don't stay in the plastic of the toys.
If you buy rubber toys for babies who still put it in their mouth, look to sustainable brands such as Rubbabu and make sure that these substances are not in the toy.
Does it encourage creativity?
Toys that do everything for a child are no fun. Children like to use their imaginations, so give them toys that encourage this!
Once you get to know your baby's specific interests it can be tempting to only buy toys that cater to your child's specific interests, which can be great at times, but also stay away from them a bit and make sure you get them. gives the opportunity to discover new kind of toys.
Does it promote physical activity?
There is plenty of time for your child to participate in video games once he or she is older. Why not start with more physical toys while they are so young?
There are toys that involve more action than just playing on the floor, such as toys that require the child to walk and push before it lights up.
Toys like this don't have to be the latest and greatest, think of all the classic toys you may have played with and today there are still plenty of those kinds of durable toys out there.
Does it grow with your child?
Raising a child is expensive. Guess what? Children's toys are expensive too! Don't throw all your money away on toys that will keep your child entertained for just a few months.
Take the time to research and find toys that will grow with your child.
There are a wide range of toys that start at one level for your baby and then easily transform into something different and more challenging as your child gets older.
For example, we were given building blocks when our son was born. He couldn't use it DIRECT directly yet, of course
after a few months he already went to pack,
another month and he went there crawl all over the roomhe always had a block in his hand,
a few more months and he was going to try and fail at stacking
and before you knew it he was already making a small turret.
It can be that simple.
Does it provide a multi-sensory experience?
Look for toys for your baby that do more than one thing. Toys that light up, make sounds and have different textures will appeal to your child more than toys that just light up.
These types of toys have been proven to help children, especially those with special needs, reduce stress and provide a different type of stimulation.
Does it encourage learning?
Toys that light up or make noise can be fun, but make sure it stimulates your child's mind.
They are so young that they can pick up things and learn quickly, so take advantage of this time!
Invest in toys that ask the child to solve problems or think critically for play or construction.
From what age is a teether good for a baby?
Baby teethers are used to soothe babies' gums when their teeth start to come in, around the age of 3 to 7 months.
A teether is nice on its own for a baby to suck on to soothe the gums, but toys that you can also put in the freezer can provide useful extra relief for your little one.
Are wooden toys safe for my baby?
If you're a parent, you are probably wondering why wooden toys have become more and more popular over the past decade. Quite simply, wooden toys are safe for your baby, offer endless possibilities for open-ended play, and will last for years.
Yes! Wooden toys can certainly be safer for your baby. You may have heard of BPA (this toy is definitely free of it) and PVC, two chemicals that are both common in plastics.
BPA is short for bisphenol A, a chemical that has received a lot of attention since 2010 when the Food and Drug Administration reported that it can be dangerous to both fetuses and children.
PVC (polyvinyl chloride) is another chemical found in plastics that has a huge impact on the environment from manufacturing to disposal.
These toxic chemicals have been linked to a variety of harmful effects, including changes in hormone levels.
There is no BPA, PVC or phthalates in wooden toys, making them a great choice for parents who want to avoid chemicals.
With wooden toys, pay particular attention to the paint used to make sure it is 100% safe.
There are many reasons why wooden toys are better, not only for your child, but also for the environment.
They are more durable (generate less waste than their plastic counterparts), are biodegradable and can even be made from sustainable wood.
Best 29 baby toys rated
Best wooden baby toys: Saro star teething toy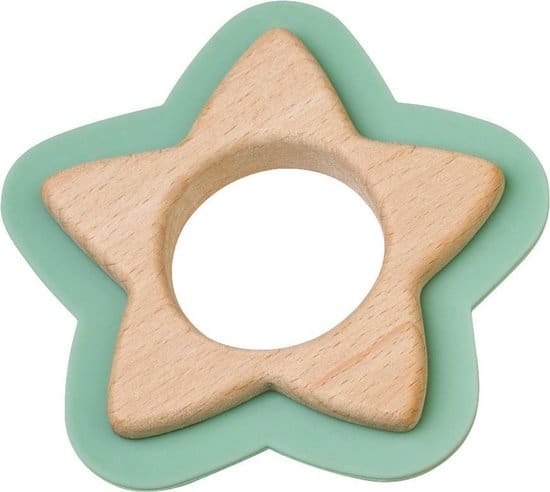 The bite toy star wood and silicone from Saro is simple but beautiful! This lovely star-shaped toy has very soft shapes.
It is also free of harmful substances, so we can call the star eco-friendly! This toy is made of solid beech wood and silicone and is super safe for your baby.
A unique and very useful maternity gift!
View all color variations here
Cutest baby book: Baby Ziet Kijkboek with mirror
Baby Ziet… is a viewing book with mirror and suitable for 0-6 months, a unique booklet that is part of the series "Baby sees…"!
This series of booklets has already become somewhat of a classic. The booklet contains simple patterns in black and white, sometimes supplemented with a bright color here and there.
The patterns are completely adapted to the perception of a baby. The book also contains a mini mirror for your little one. It is a simple but very cool and stimulating toy that your baby will certainly find interesting.
Best crochet baby toys: Spiegelburg pull animal Dino
How about those crocheted toys for babies? Also this green dinosaur (more top options here) is a cute crochet toy on wooden wheels and perfect for a slightly older baby who wants something to follow when crawling or maybe already taking careful first steps.
It is fun to put in the nursery anyway until your little one is ready because it is super cute!
You can buy this dino ready-made, but there are also a lot of crochet kits of nice animals to make at home! Maybe that is something for you?
Cutest baby toys with sound: Janod toy telephone
So much fun, this one Janod toy phone with sound! Just a baby and already on the mobile! But then a sustainable and responsible one.
There are seven buttons on this cell phone and sounds can be heard when your child presses them. The 'baby mobile' comes in a silicone cover and comes with a battery.
Best baby toy car: Rubbabu The Wholedout Car
The Rubbabu - The Wholedout Car (Red) is an only toy for your baby! Your little one will certainly enjoy toys that can drive.
The car is specially made for very young children and is even safe for babies.
It is made of natural rubber foam and has a soft velvet coating; Very easy to clean with a damp cloth.
Here's how the company operates and why it is such a sustainable product:
The toy is made in a bright red color that little ones love of course. Rubbabu toys challenge your sprout to play, move and stimulate his or her fantasy.
Every toy is made by hand and it is also important that this car is eco friendly and 100% biodegradable.
Rubbabu stands for soft, environmentally friendly and beautiful toys. This toy car is suitable for babies from zero months. A great and responsible gift!
Check the most current prices and availability here
Cutest baby toys with name: Small Ukkie Teether
Very nice to give or receive as a maternity gift, this Small Ukkie - Teether with name! A maximum of six letters can be attached to the teether, in connection with baby's safety.
The teether is often recommended as the best solution for teething and additional irritation to your child's gums.
When the teeth start to come through, your little one constantly has a great need to chew and bite.
You often see that the gums in this place are thicker and redder and sometimes you can even see the tooth coming through the gums a bit.
When your baby chews the ring, the pressure on the gums is slightly relieved; The silicone beads of this teether massage your little one's gums.
He or she can choose what feels best at that moment: The soft silicone beads or the wooden ring. The teether is suitable for baby's little hands.
The ring also acts as a rattle as the rings around the large teether make a noise when they touch each other.
All materials used for this teether are naturally free from harmful substances: The silicone beads are 100% BPA-free and meet the international requirements for toys.
The beads even have antibacterial properties.
A beautiful and useful toy, the nicest detail is that you can have the name of the baby attached to the ring with beads. A winner!
Best baby toys for the bath: Little Dutch Bath book zoo
Looking for a not too expensive, but still responsible gift? The cheerful bath toy, Little Dutch Bath Book Zoo is perfect!
Also great to distract your little one while you bathe him or her! Your little one will enjoy it and look and splash with it.
The Little Dutch brand makes fun toys of high quality, all toys have cool colors and illustrations.
Their products all comply with European directives and, very importantly, are child labor free and socially responsible produced!
The bath book is suitable for babies from six months. A cute book for a small price!
Best baby play mat: Elodie Play mat Powder Pink Fringe
A beautiful addition to your living room, the stylish and trendy designed Elodie Play Carpet Powder Pink Fringe!
The luxurious play mat with fringes from Elodie Details protects your baby from rolling over and moving.
This beautiful old pink rug has a wonderfully soft foam filling, the fabric is made of 100% organic cotton that can be washed at a maximum of 40 degrees.
You can choose the old pink side of the dress or the creamy white side with old pink dots; Both beautiful!
Cutest baby toys for the pram: Badabulle Play Bow Universal Montagne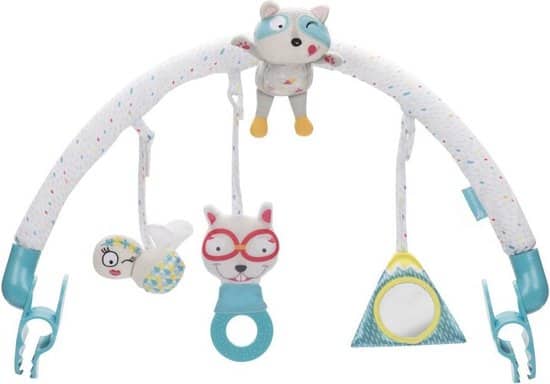 Fun for the pram with the Badabulle Play Arch Universal Montagne! This universal activity play arch can be easily attached to the pram or buggy.
The bow really stimulates all your little one's senses! There are four sweet cuddly toys, one with a mirror and one with a teether. Already suitable for the little ones!
Check the most current prices and availability here
Best plush baby toys: ABC Phone Plush with Sound
This ABC Phone Plush with Sound from Simba-Dickie is a soft, cute baby phone.
Your little one from three months can play with it by pressing the soft velvet 'buttons' so that the brightly colored telephone makes sounds. A funny toy for your child!
Best baby toy keys: PlanToys Keyring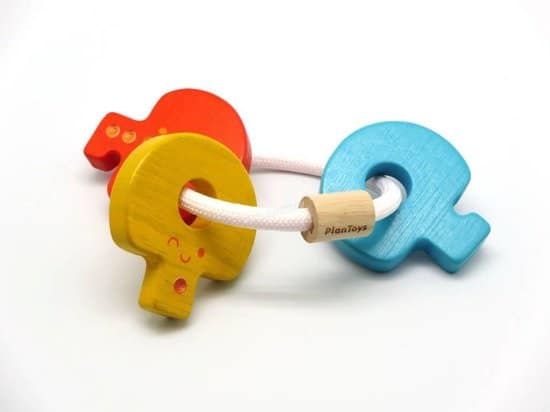 Does your baby also love your big bunch of keys? Then give your little one one PlanToys Baby Keys Gift!
They are great rattle, bite and play keys, especially if your little one is suffering from teething, chewing on these keys will bring relief.
Tip: If you put the bunch of keys in the fridge before playing, it feels wonderfully cooling when your child starts chewing it.
An always welcome gift for our bitters!
Most sustainable baby toys: Imaginarium Wooden Mobile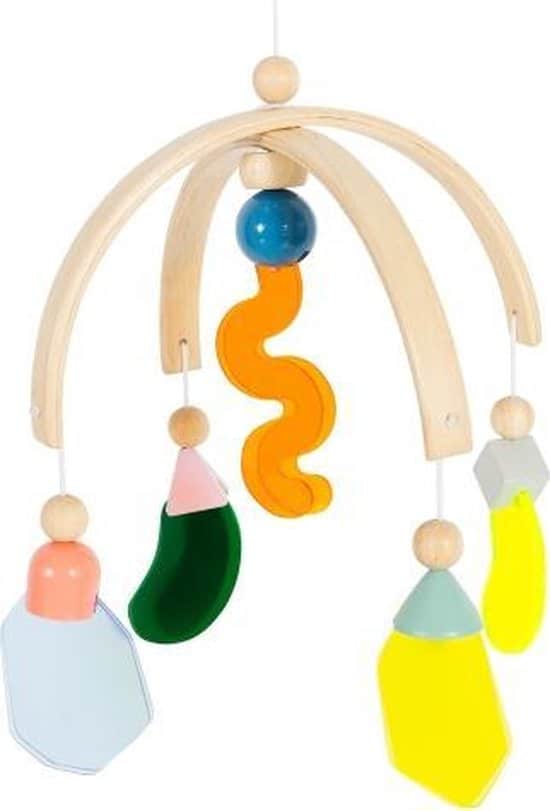 The Wooden Mobile for Baby from Imaginarium is a colorful mobile for above your baby's crib.
It has translucent colored pendants that create a magical environment with very special lighting effects. Your baby will be very relaxed and will fall asleep faster.
This unique mobile is inspired by the kinetic art of Alexander Calder, a talented contemporary sculptor.
All details such as the wood, the rope, the shapes and the vivid colors of the pendants are just as beautiful! If the baby is bigger, it can be placed in a different place in the room.
A true work of art and highly recommended for babies!
Cutest baby toy elephant: Fisher-Price Activities Elephant
A sympathetic and versatile toy, the Fisher-Price Activities Elephant! The animal is full of fun games for the little ones.
The specially selected materials stimulate the sense of touch and the klingel ball makes a cheerful sound. The teether is ideal for the painful phase of teething.
This soft, fabric elephant with its sweet face is easy to hold for your child. It will make a great friend at home and on the go.
The toy is already suitable for children from birth.
Check prices and availability here
Cutest black and white baby toy: Baby's Only giraffe hug Sun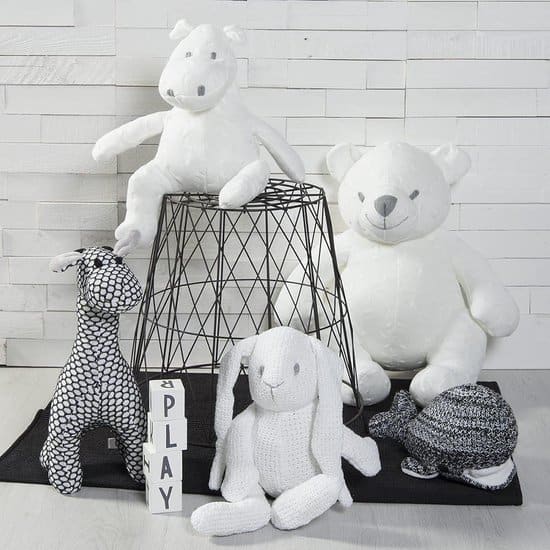 The Baby's Only giraffe cuddly toy Sun white / black can stand firmly on its legs and is, besides being a beautiful toy, also beautiful as decoration in the nursery!
Its funny face and tail give the giraffe a unique look. Your baby will love this 40 centimeter high cuddly toy!
The super soft giraffe will also be appreciated as a gift by baby's mom and dad.
The Baby's Only brand also has matching black and white sheets and baby cot bumpers in their so-called 'Sun-Line'. A winner!
Cutest baby toy mirror: Done by Deer Powder
In this beautifully designed Done by Deer Mirror Powder your child can view and admire itself! The mirror remains firm by itself and is therefore also a nice toy for in the box and on the play mat.
On the side of the mirror there are several soft cuddly cushions that will also interest your baby!
Done by Deer is a Danish brand with ditto design and distinguishes itself from the other toy brands.
Their philosophy is simple; As they themselves state, they combine safety with an innovative design and bold colors. And that makes every item from their collection excellent!
Best baby toys with light: SnuzCloud Sleeping Stuffed Toy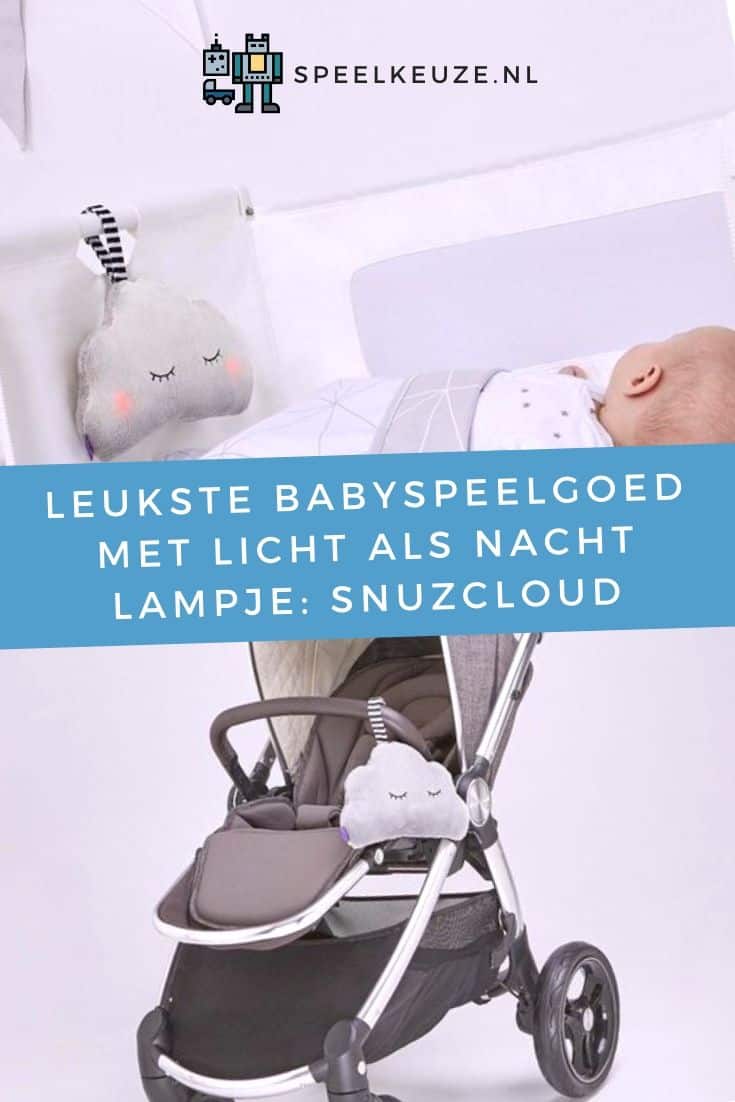 You can hang this sweet SnuzCloud Sleeping cuddly toy with light and 4 sounds on your baby's crib or on the stroller!
This trendy cuddly toy cloud has a nice night light, so that baby's room is not pitch dark at night, and is made of super soft material.
Various melodies can be played to comfort and calm your little one when needed. A nice toy for in baby's bed!
Cutest baby toy rattle: Little Dutch Seahorse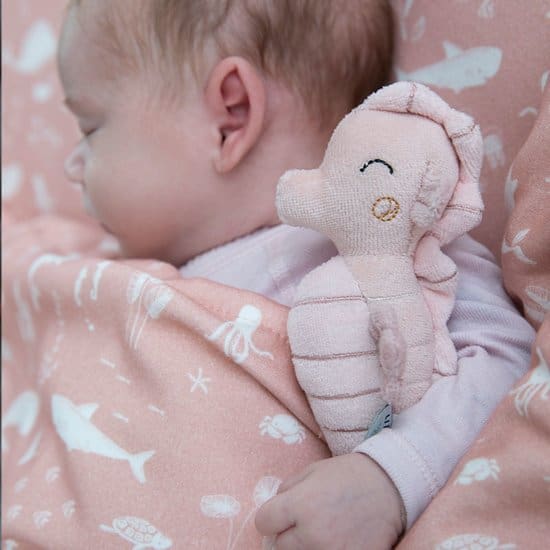 This cheerful Little Dutch Rattle Seahorse Ocean pink would like to be your child's friend. When your baby plays with the sweet seahorse, he makes a nice sound.
The rattle stimulates the hand and eye coordination of your child and is made of super soft fabric. Due to its shape, the seahorse can easily be grasped by small baby hands.
The Little Dutch brand makes timeless toys of excellent quality, always in trendy colors and beautiful materials.
This toy is child labor free and produced in a socially responsible way. A nice rattle for a nice price!
Best baby toys for the playpen: Funflex Kikker Baby Mirror
The Funflex Frog Baby Mirror for the playpen is a great toy and a must have for your child! Did you know that Funflex was the winner of the Baby Innovation Award 2017 in the Toys & Gifts category?
This sympathetic frog has a universal click system and can therefore be attached to the box as well as the bouncer, buggy or crib.
The frog has soft legs and is suitable for the little ones among us. Your child can learn to recognize itself in the mirror. A funny toy!
Check the most current prices and availability here
Best interactive baby toys: VTech Baby Adventure Table
The various games on the cheerful VTech Baby Adventure Table introduce your little one to the wonderful world of animals, shapes, colors and numbers.
Your child is stimulated in his play by cheerful phrases, crazy sounds, nice songs and nice melodies.
You can also remove the legs of this plastic table so that your baby can sit on the floor to play with it. an exciting gaming table (as well as these top picks here) for your always curious baby!
Cutest baby tumble toy: Sophie the Giraffe Roly-Poly
This Sophie the Giraffe Roly-Poly tumbler set is a set with no less than three cute tumblers: Sophie the Giraffe, the dancing mouse Josephine and Lazarus the Cat!
Each tumbler contains fun, colored balls that move with you. These bottlenose dolphins can never fall over completely and always return to upright position after rocking.
After all, they have a weighted bottom. Nice to put on the top of the high chair so that your child can enjoy themselves while you have a bite to eat!
This set is suitable for children from six months.
Baby toys for the pool: Baby Float Inflatable Unicorn
Yippie! It's almost vacation and time for the pool! With the Baby Float Inflatable Unicorn your baby will float safely on the water.
It's great that this inflatable unicorn is now also available for the little ones! Let your baby float around in the baby seat.
This baby swimming pool (here we have reviewed more) is very comfortable for your little one! The tire is also available in an inflatable flamingo or swan.
You can use the band in a pool as well as in the sea. Never leave your little one alone in the water, even if it is very shallow. A nice summer gift!
Check the most current prices and availability here
Best baby toys for fine motor skills: Little Dutch Pure & Nature Wooden Stacking Tower
The Little Dutch Pure & Nature Wooden Stacking Tower definitely improves the motor skills of your child! The wooden rings must be stacked in the correct order.
This stacking tower comes from the Pure & Nature Collection of the Little Dutch brand.
This wooden toy stimulates the hand-eye coordination of your little one while playing and ensures that he or she can optimally develop fine motor skills.
De Little Dutch stacking tower is made of FSC-certified wood and suitable for children from twelve months.
Cutest baby beaded toys: Sengento Pacifier cord
Never lose your little one's favorite pacifier again! This 'top rated' baby pacifier cord is a beautiful wooden cord to attach your baby's pacifier to!
It is, of course, made from non-toxic materials. A great gift for babies with a pacifier and two for the price of one!
Cutest baby toy plane: Global Affairs crochet rattle fair trade
The Global Affairs rattle Airplane Crochet Aqua – fair trade is really great! This fair trade airplane (more options here) rattle is a classic from the Global Affairs collection and a popular baby shower gift.
The rattle is available in four beautiful colors and suitable for children from zero months. It is made of 100% cotton and filled with recycled polyester.
The toy can be washed in the washing machine at 30 degrees.
Check out this fun crochet toy here
Best baby toys with remote control: Taf Toys Car Activity Center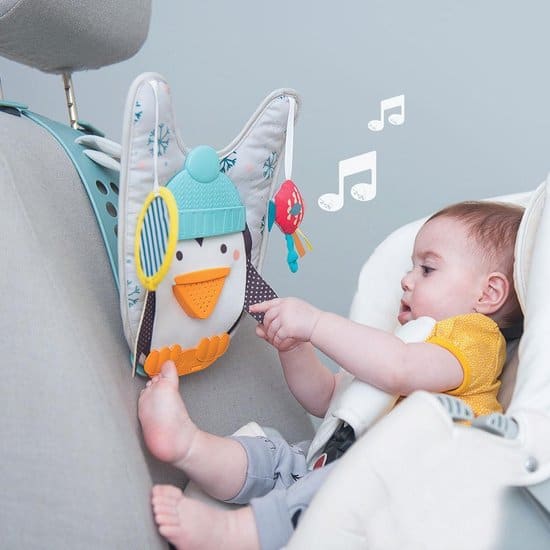 The Taf Toys Activity Center for in the car with remote control is shaped like a happy penguin! Wonderful children's toys for the car.
When your little one takes the toy, the music and the eyes of the penguin are activated. You can choose between two different types of melodies:
A soothing music for when your little one wants to sleep and a more active music for when your child is fit and wants to play.
With the supplied remote control you can also switch the lights and music on and off yourself.
This nice penguin is easy to attach to the car seat and height adjustable. Guaranteed lots of fun for your little one during the car ride!
Cutest baby toys with buttons: Janod camera with sound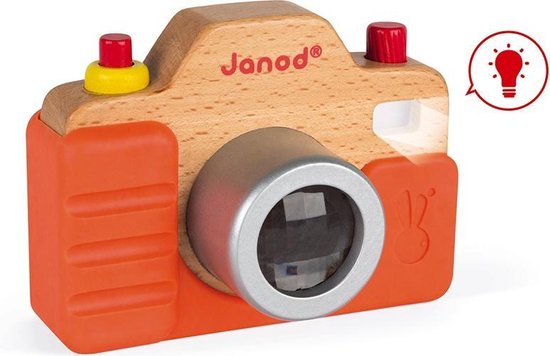 De wooden camera from Janod camera with sound is provided with a silicone holder. With the push of one of the two buttons, your child activates the flash light or the sound.
If your little one looks through the kaleidoscope, he sees beautiful shapes and colors. The camera works on three batteries, which are included.
The wooden camera stimulates curiosity and your baby's fine motor skills. Suitable for children from ten months. A very nice toy with buttons!
Cutest eco baby toy: Eco hug Susie Sunshine
The endearing Eco hug - Susie Sunshine is a wonderfully soft toy from the quality brand Apple Park. The doll belongs to the series 'Organic Farm Buddies' and bears the name Susie Sunshine.
There is a soft bell hidden in Susie, nice for your baby to cuddle with this doll.
That way your little one will get through the nights! Susie Sunshine is super cute and will definitely conquer every child's heart. It is also 100% free from harmful substances.
All materials meet international organic characteristics and are made from 100% organic cotton.
The filling is made of durable hypoallergenic corn fiber. Susie Sunshine is wrapped in recycled paper printed with soy inks.
If this isn't an eco-friendly doll ...
Best baby building toys: Korxx Baby 10 natural cork blocks
The Korxx Baby cork block set is a real baby building set!
The ten blocks have rounded edges and a polished surface. Korxx blocks are made of natural cork and are very suitable for young children!
The size of the blocks fits well in very small children's hands and they are lightweight.
The set comes in a cotton bag and consists of: Two large round blocks (this is what they learn from it), two rectangles, two triangles and four squares.
The cubes are allergy-proof, it won't hurt if your child puts them in the mouth. Suitable for children from twelve months. An original block package!
Best baby gym toy: Infantino Twist and Fold
What a great Infantino - Twist and Fold - Play Mat - Activity Center baby gym! Your child will not get bored! This large play mat can be taken anywhere with ease and is easy to set up.
De baby gym (here are some nice ones) comes with a large mirror and with a soft play mat that gives your baby the support.
The wind-up mobile with music hangs in the middle of the arches and there are other soft cuddly toys hanging next to it, including one with a teether.
Nice for your baby to be able to observe, feel and move on the play mat. The gym is specially designed for babies who cannot stand or walk yet.
If your child starts crawling, remove the arches. The mat should only be cleaned on the outside with a damp cloth and always let it air dry.
Lots of fun for your baby with this activity gym!
Read here's all about what makes Infantino such a fun toy brand
How should you clean baby toys?
Get baby toys. as you will know, a lot to endure when it comes to dirt. How often does a cuddly toy or car not fall to the floor, or your little one picks up a toy with his sticky hands!
It is therefore important to clean toys often and thoroughly, because your baby explores everything with his mouth.
Therefore, use absolutely no aggressive cleaning agents, but preferably natural products such as bicarbonate, vinegar or organic (green) soap.
These products clean very well and are also not expensive.
How do you wash your child's different toys?
Cleaning baby toys by hand
Cleaning toys with batteries should of course be done away from water with a damp cloth and soapy water with mild, preferably biological detergent. The cloth should be slightly damp and not wet!
Untreated wooden toys can be cleaned well with a damp and not too wet cloth. To get stains out of a wooden toy, you can sprinkle some salt on the stain and dab it later with a cloth. Vinegar is also good for cleaning wood, and it is also a natural disinfectant. It kills over 99% of bacteria and over 80% of fungi and germs! Make a 'soap solution' of one part vinegar with two parts water, add a few drops of essential lavender or lemon oil if necessary for a nice scent and you have the perfect cleaning agent for your child's wooden toys.
Can baby toys in the washing machine?
You put plastic toys in a pillowcase and wash at 40 degrees. Spin is not necessary!
Cuddly toys and other toys made of fabric can be washed at 30 degrees if there are stains on them, preferably with an organic detergent. Otherwise, the freezer is also a good alternative; Put them in the freezer for a few hours, then put them in the dryer or let them dry in the open air and they are completely fresh and bacteria-free again.
Do you choose eco-friendly and conscious toys?
We hope you found this article helpful! You now know at least which educational, safe and cool toys you can buy for your baby.
You have seen that there are many ecologically sound and sustainable toys on the market and that they do not necessarily have to be expensive.
There are also toys that manufacturers assure are made 'child labor free'. These are all important points to consider when purchasing toys.
You have probably also had fun ideas to give as a maternity gift or at a baby shower!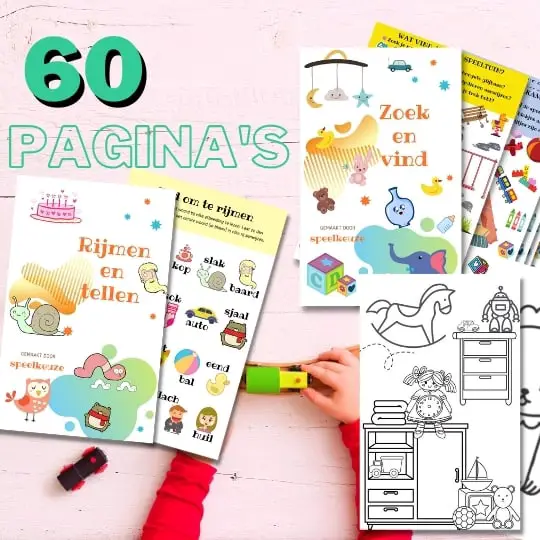 Always something to do for the holidays or rainy day?
Play Choice now has the ultimate activity book collection, with over 60 pages of fun coloring pages and educational puzzles.
Joost Nusselder, the founder of Speelkeuze.nl is a content marketer, father and loves trying out new toys. As a child he came into contact with everything related to games when his mother started the Tinnen Soldaat in Ede. Now he and his team create helpful blog articles to help loyal readers with fun play ideas.