I enjoy writing these articles for my readers, you guys. I don't accept payment for writing reviews, my opinion on products is my own, but if you find my recommendations helpful and you end up buying something through one of the links I may be able to receive a commission on that.
More information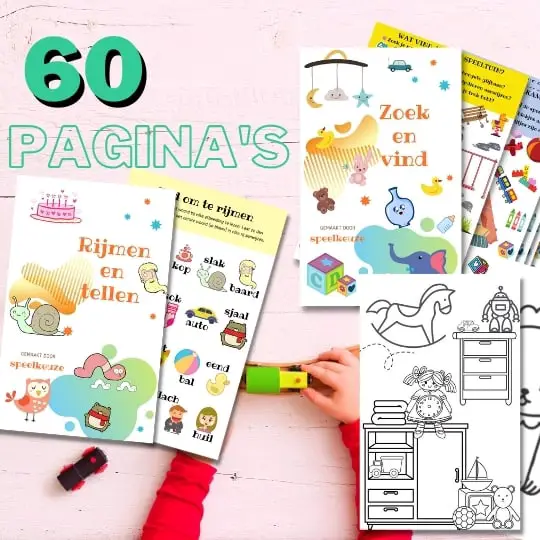 Always something to do for the holidays or rainy day?
Play Choice now has the ultimate activity book collection, with over 60 pages of fun coloring pages and educational puzzles.
Playing with blocks is really educational for your little one! Your child learns to distinguish shapes and different sizes.
It is great for fine motor development and for practicing construction skills.
In this article I'll go through everything about playing with blocks, from the best block sets to buy, to some play tips and educational purposes, so read on.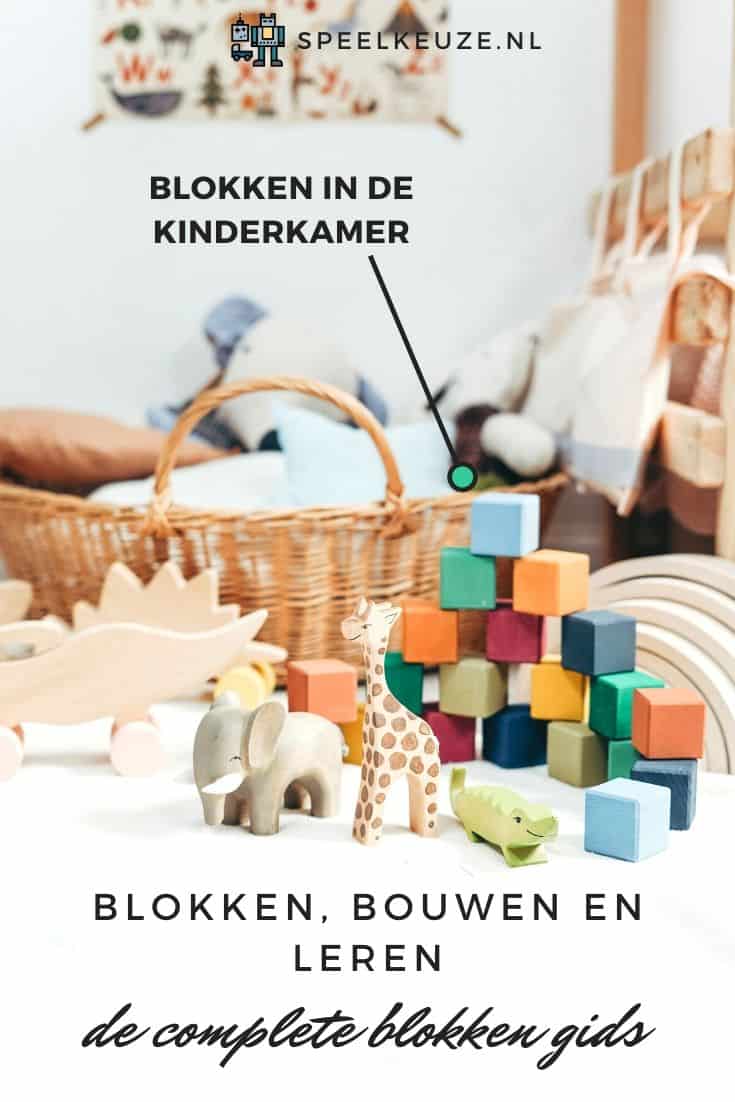 The muscle development in the hands and arms of your little one is strengthened and the hand-eye coordination develops better.
It is also a great way to work with other children and it is very conducive to your child's creativity and imagination.
We enjoyed taking a closer look at a number of block games for you, see below what we have chosen for you!
From what age can my baby play with blocks?
Babies can pick up and research blocks as early as six months, so it's actually fun for kids from that age.
My son also loved grabbing them and slowly turning them around a bit and inspecting them.
Then he grabbed them and went with them crawling (this is how they learn), the orange cubes were always his favorite one way or another.
But holding it and putting it in your mouth a little is about all you can expect at this age. Learning how to stack blocks will take a few more months.
By the time your baby is 12 months old, he should be able to stack one block on top of another, and he will also enjoy banging them together and hearing what happens.
Blocks are a great way to stimulate your child's creativity, teach her to organize, balance, and stack.
Building structures from blocks is a great workout for your child's growing body and brain, as it requires both physical dexterity and planning.
Another plus: blocks remain fun for a long time. Many children will enjoy playing with blocks from childhood through toddlerhood and beyond where they get more and more creative.
When your baby first starts playing with blocks, show them some fun activities, such as dropping the blocks into a plastic bowl or container and then pouring them out.
He will also get a kick out of seeing how to make a tower out of blocks and then knock them down himself.
Ultimately, he will try his own construction projects. When your child is about 18 months old, he will begin to understand how to sort blocks by color, size, images, etc.
What do children learn from stacking with blocks?
Playing with blocks is not just a fun pastime for your child. It is also very educational.
Below we will give some examples of what playing with blocks is not good for:
Gross motor skills
For example, your child will build a tower with blocks. In order to do this, a stable starting position will be required;
Your child is sitting on the floor or perhaps on a chair. Building will never succeed with a wobbly hull.
The child will always have to adjust his posture while playing with the blocks; At the place where the blocks are and also at the height of the tower.
This stimulates your little one's gross motor skills.
Eye-hand coordination
Your child looks at what his or her hands are doing, which is important for eye-hand coordination.
The development of the muscles: Your little one must always adapt his grip to the size, shape and weight of the blocks.
When grabbing, your child exercises his shoulder muscles and hand and finger muscles.
Fine motor skills
The blocks must also be released at the right time and sometimes the other hand must also be used; This stimulates fine motor skills.
Sensory
A wooden block feels different than a block made of soft fabric or plastic, for example. This can play a role in stacking.
Your little one learns the characteristics of certain materials.
Knowledge
Your little one develops his thinking ability; For example, to build a tower, the surface must be flat, because a leaning tower will fall over!
And putting a large block on a small block is more difficult than the other way around!
Concentration ability
Your little one's ability to concentrate is put to the test; After all, the tower can fall over if he or she is not paying attention.
patience
Your child will have to develop patience if building doesn't work all at once and he or she has to start over a few times.
Why you should let your child play with blocks
Blocks may be the most basic of toys, but they are anything but boring.
Blocks are universally entertaining, but as your little one discovers the joys of building and stacking, they also learn a lot.
Besides improving motor skills, playing with blocks also improves problem solving skills.
This is a toy that has been around for ages and it is definitely something your child must have in their toy box.
Advantages of blocks
Even the simplest set of blocks contains the seeds of imagination, creation and destruction.
Your toddler will love to stack a tower of blocks as high as possible and then watch what happens when they knock them over.
This is a way toddlers develop fine motor skills and explore concepts such as early math, geometry, problem solving, and cause and effect.
After they figure out the blocks' properties - size, weight, shape, and level of stability - it doesn't take them long to build cities complete with roads and bridges.
Types of blocks game
Weight and gravity: A 2-year-old may not yet have the ability to build impressive architectural structures, but they can create block stacks and move blocks, which teaches them about weight and balance. Little ones quickly learn the concept of gravity by knocking over a stack of blocks.
Stacking and rows: Your child starts consciously stacking blocks around the age of three. The simple structures your little one builds are actually patterns, which involve a bit of introductory math, such as fractions: Two square blocks next to each other are the same size and shape as a larger, rectangular block.
Bridging: This is the stage where your preschool-aged child starts building their own structures by placing two blocks on the ground and bridging the other. Like the earlier stages, it learns balance. It also introduces symmetry and organization.
Choosing the right blocks for every age
The best blocks to start with are open rather than those in sets to be used to construct a specific object.
There are many different types of blocks; we have seen the somewhat lighter plastic blocks and blocks of fabric, often suitable for the very little ones.
Large soft foam blocks of various shapes, sizes and colors are the safest for young toddlers learning to throw things.
Older toddlers will love a set of wooden blocks. Cardboard variants are also always a hit and you can make your own.
The wooden blocks are often a bit heavier, but there are also blocks of cardboard or ply wood that weigh a little less.
The slightly larger kids can often start with wooden blocks in different shapes, such as a block train or truck.
It is also good if there are letters and numbers on the blocks so that you can form words together with your toddler.
As your child grows, consider more complex sets like Duplo, but remember, these can be limiting and frustrating like beginner sets.
From what age can your child play with Duplo blocks?
DUPLO is a toy for children from 18 months to 5 years, but the most fun between 2 and 4 years. As your child gets older, they will understand more of what you can do with the blocks. It's an easy way for kids between these age groups to learn how to build without getting overwhelmed and confused by more complicated toys like LEGO.
DUPLO has been a favorite of kids for decades.
Both boys and girls love to build their little worlds with the colorful blocks, stack them on top of each other to make towers or use them in other creative ways such as portraying different scenarios.
The only downside is that they can be difficult to cleanSo pay attention to parents!
Blocks are such an integral part of children's development – ​​it's impossible not to play with LEGO at some point as children get older.
Storing blocks
Blocks can be thrown into a large container or stacked neatly on a shelf.
If you have blocks of different shapes or from different sets, you can make a small building instruction out of paper and put it in the block bin to help your child stack while cleaning up.
Keep cars, dolls and other toys nearby and you have the perfect setting to encourage your toddler to play dramatically as soon as they get back to it.
Set rules for blocks
Your toddler's large foam blocks quickly become Lego and become a plague to parents' soles. The problem with blocks is that there are so many.
Help your child clean up early on and insist that blocks are put away according to your house rules, whether that rule is to clear them up before they pick up another toy (I would definitely recommend that!) Or together with all the toys at the end of the day.
An exception to this rule, however, could be if your toddler is in the middle of an ongoing project or struggles to abort a creation.
In that case, leave the work so that they can continue to manipulate and admire it. Don't worry: they will get bored quickly, move on and the blocks can be put away.
You may also want to establish a rule not to allow your toddler to stack blocks higher than his head.
They may be tempted to stand on a chair to stack the blocks even higher, or be injured if heavier blocks fall on them.
You can relax the rules as your child gets better at stacking and know how to stay away from falling blocks.
Other tips:
Discourage your toddler and toddler from throwing blocks (even if they still have the soft ones so that they learn it)
Make sure your toddler does not climb on potentially unstable block structures.
Do not discourage your child from overthrowing their own creations. It's part of the learning process, but make sure they learn to respect the creations of others.
Here is Gerard Hoff showing on Youtube how much fun it is to knock over blocks:
15 nicest blocks of toys
Cutest big block box: Goki 200-piece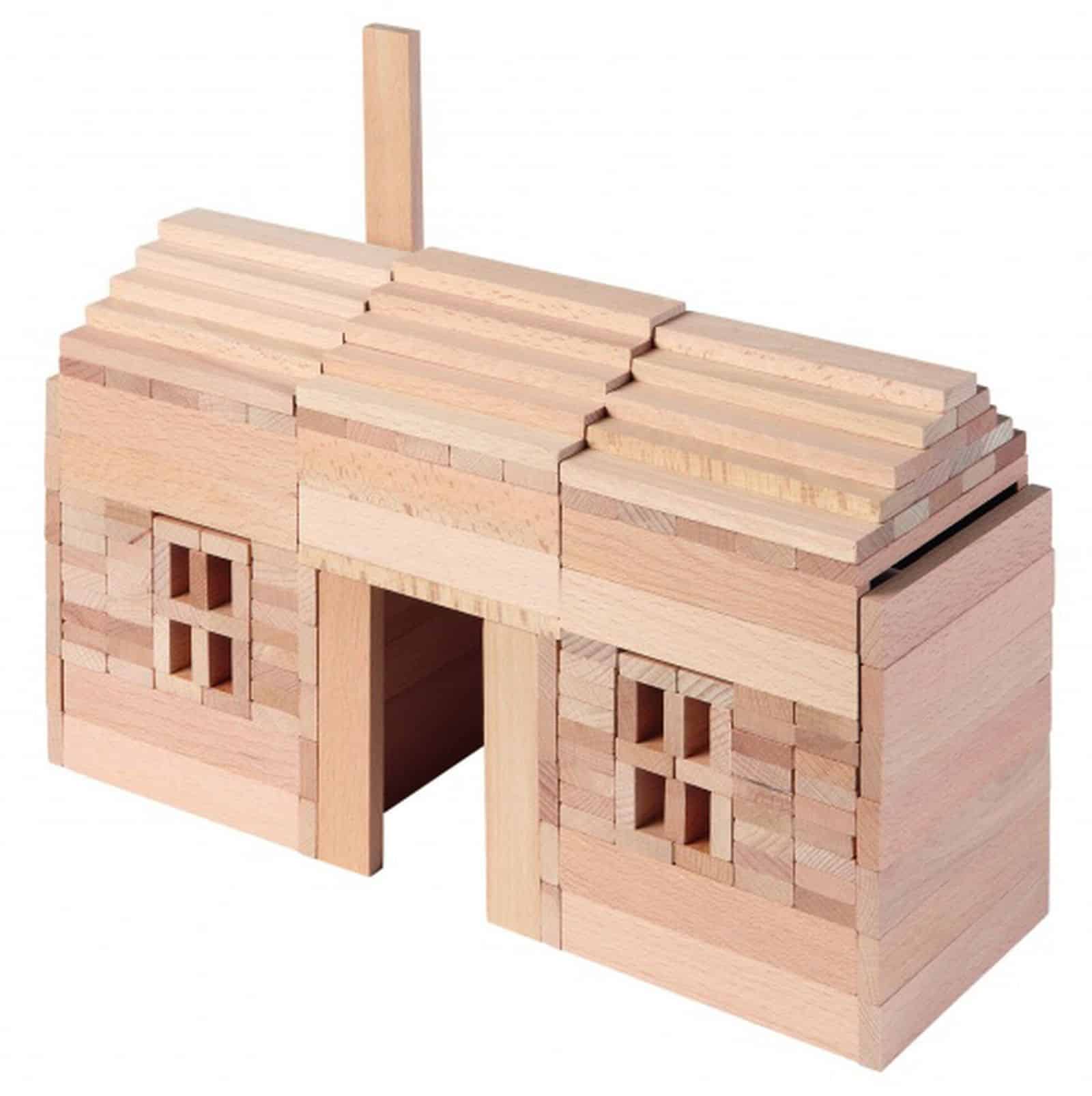 Your child can actually build a real house with the Blokkendoos van Goki building blocks! This super fun set contains no less than 200 blocks in different shapes.
There are, among other things, blocks in the form of roofs and windows. Let your little one use his or her creativity to make diverse creations.
The set is made of blank wood and suitable for children from three years old. A beautiful and solid gift!
Best block cart: Small Foot Company Rupsje Nooitgenoeg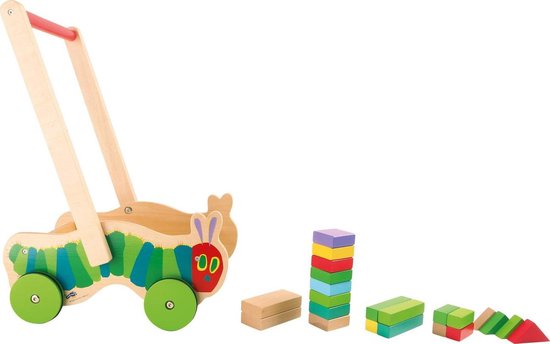 This one is really fun! The Rupsje Nooitgenoeg block cart with 22 colorful wooden blocks from the Small foot company brand. Which child does not know Caterpillar Nooitgenoeg now?
The caterpillar that always wanted to eat more to become a butterfly! This block walker is always a hit with the little ones.
In addition to building with the blocks, they can also learn to walk well with this cart. The cart contains 22 colorful blocks of wood.
Recommended for children from one year. Maybe something for your little one?
Finest soft blocks: Johntoy Happy World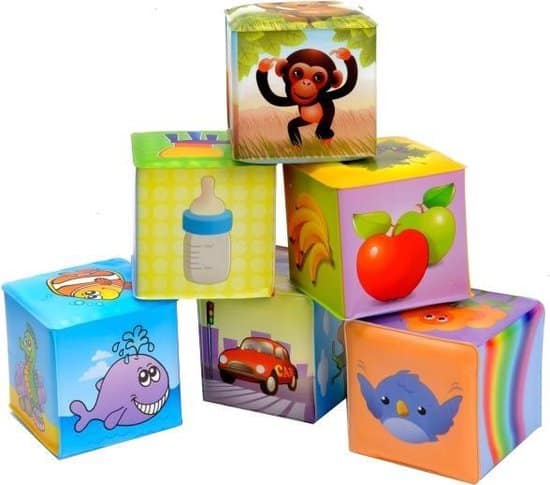 The Johntoy soft blocks Happy World 6 pieces are super suitable for babies and toddlers. The blocks are wonderfully soft and therefore very safe to play with.
There are different images on all sides of the blocks, including some nice animals.
Your little one can stack them and learn words at the same time by naming the pictures! The soft blocks are made of fabric and feel comfortable in the small children's hands.
Check the most current prices and availability here
Best Chariot: Melissa & Doug Classic ABC / 123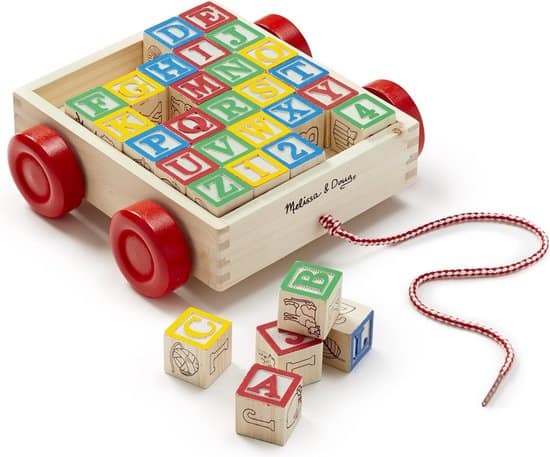 The Melissa & Doug Classic ABC / 123 Chariot can be pulled by your little one with a rope!
This sturdy wooden chariot contains thirty blocks with letters, numbers and other images.
Your child learns to stack, recognize colors and can thus learn the first letters and numbers! That will be hours of fun!
The colorful, wooden blocks are suitable for children from the age of two.
Best block tower: Fisher-Price pile and leather

Nice this stacking and learning blocks from Fisher-Price. Is your baby ready for a new challenge?
Teach him or her to think logically by stacking the blocks from large to small with this colorful block set.
The five blocks all have a different size and color and there is something different on each side.
There are animals, familiar objects and dots to count on. The plastic blocks are suitable for babies from six months.
Best wooden block set: Melissa & Doug building blocks 100 pcs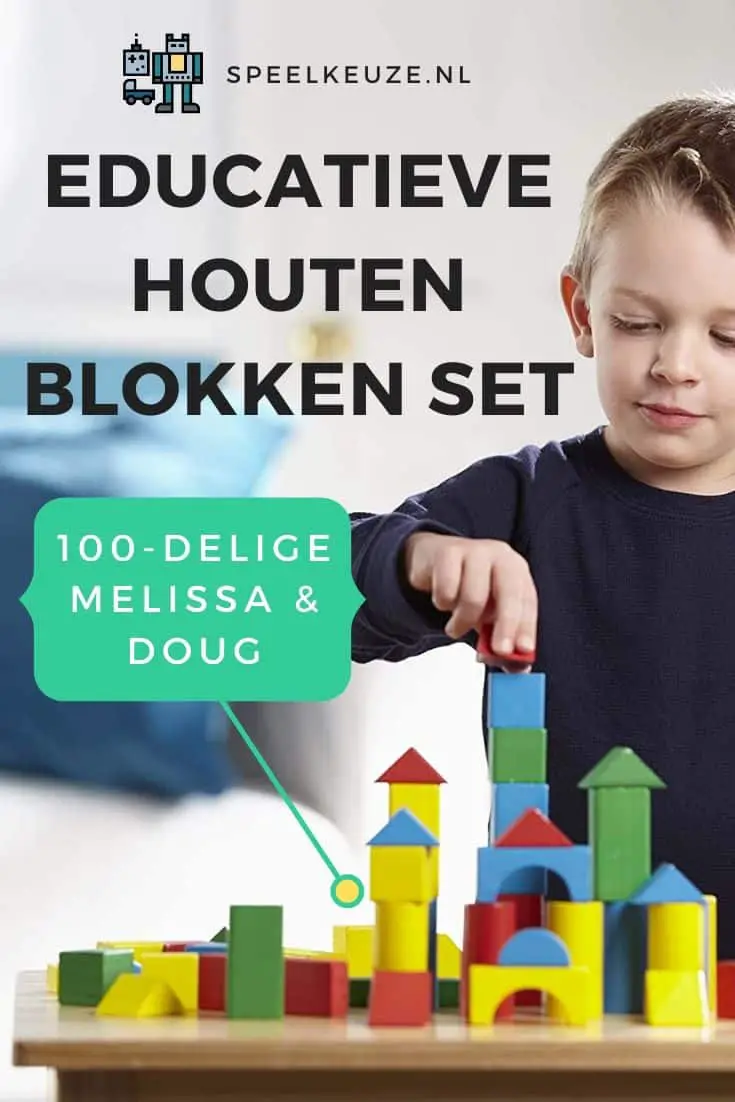 With Melissa & Doug wooden blocks you can build small things. A beautiful house or perhaps a beautiful castle, a fast train or a large car!
Let your little one use his or her imagination. The colorful, wooden blocks come in all shapes and colors.
The set is suitable for children from 18 months.
Check out this set here at Amazon
Best blocks with letters: Jollein forest friends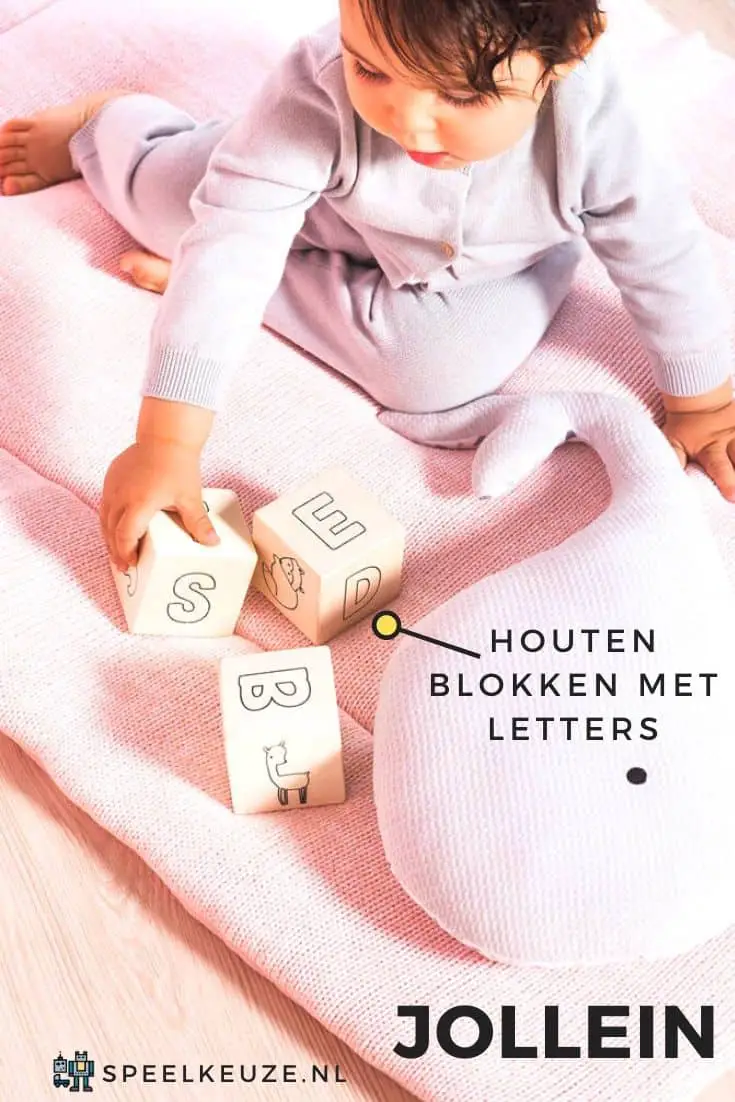 The cheerful looking Jollein forest friends wooden block set is made of 100% plywood, so the blocks feel nice and light.
The package contains ten wooden blocks with prints of letters and animals. They can be cleaned with a damp cloth if you want to clean them.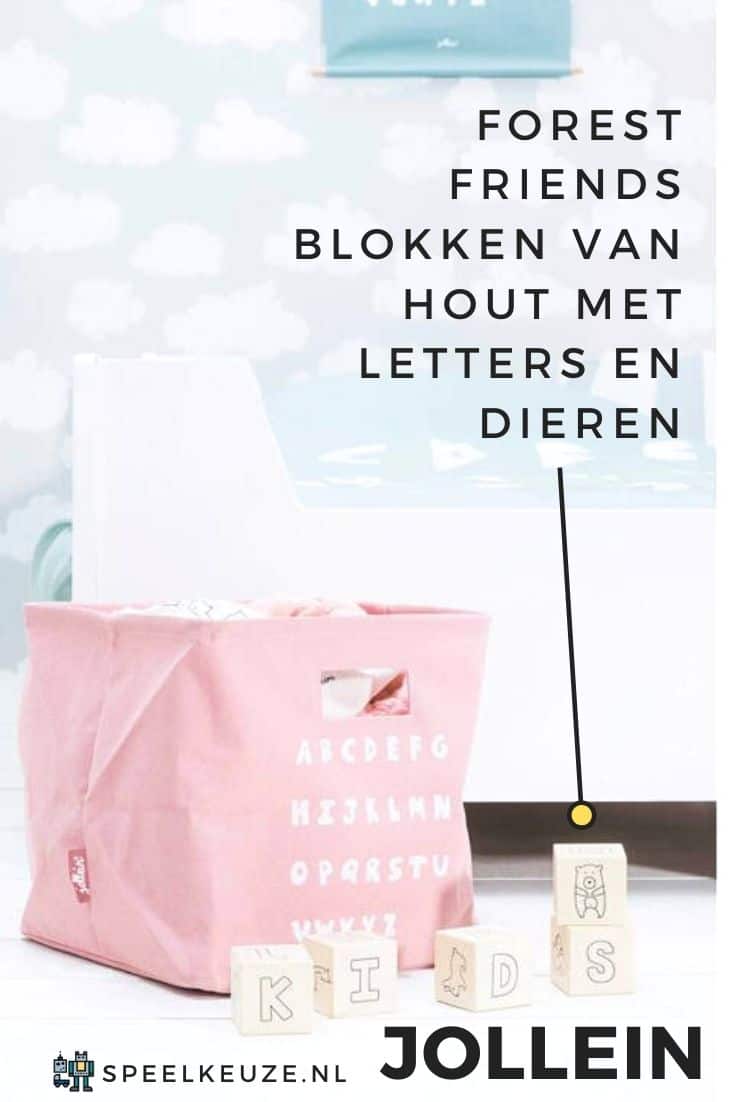 Jollein products look very cute and are designed and produced with the best care and love. They are suitable for the little ones among us!
Best block puzzle: Miffy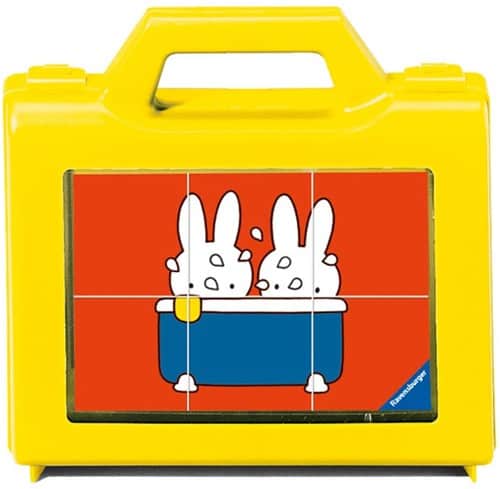 The sympathetic Miffy Block Puzzle consists of six pieces. On each side is a different picture of Nijn.
Everyone loves her; Young and old are familiar with this sweet little rabbit. You may have played with her yourself when you were a kid!
Fun for your little one to puzzle and stack with; Up to six different puzzles can be made! Hours of fun!
The puzzle comes in a briefcase, which is nice to take with you.
Stacking the best blocks: Jabadabado stacking tower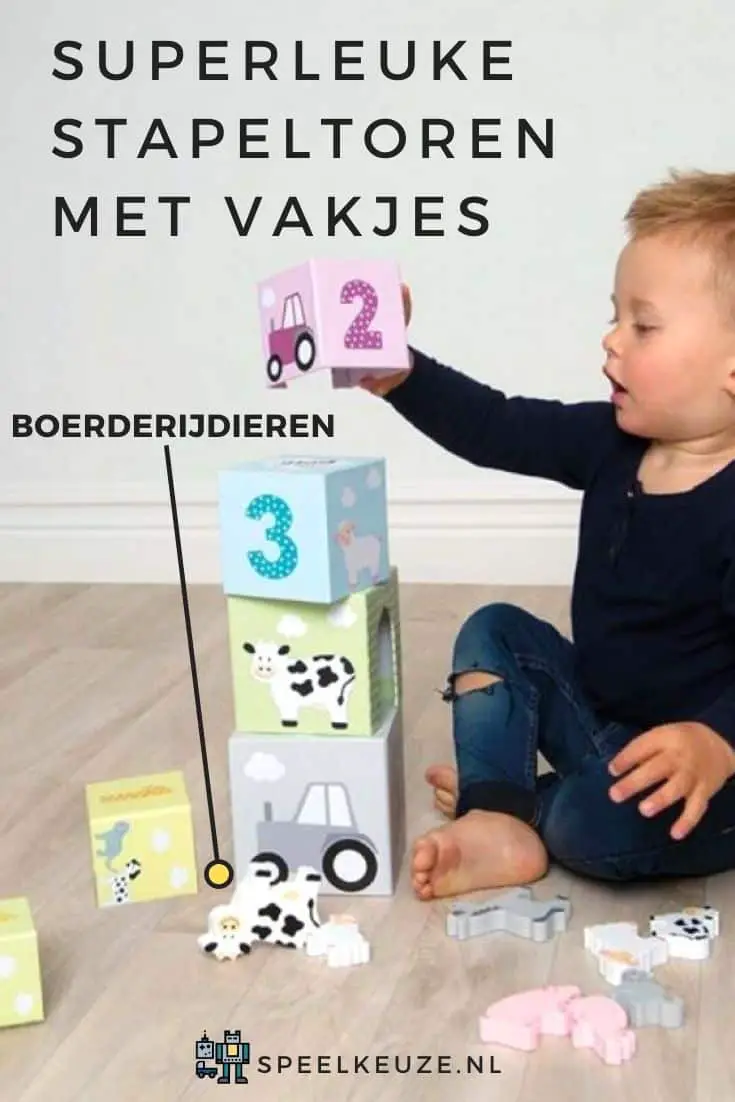 The pastel colored stacking tower is a feast for the eyes! The set consists of five stackable blocks with the numbers one to five printed on it.
This way you can learn to count and recognize numbers. Each block is a house and nice animals live in it!
The largest cube with number five is the house for the horses and number four, the second largest, is for the cows. Let your child discover where all the animals live!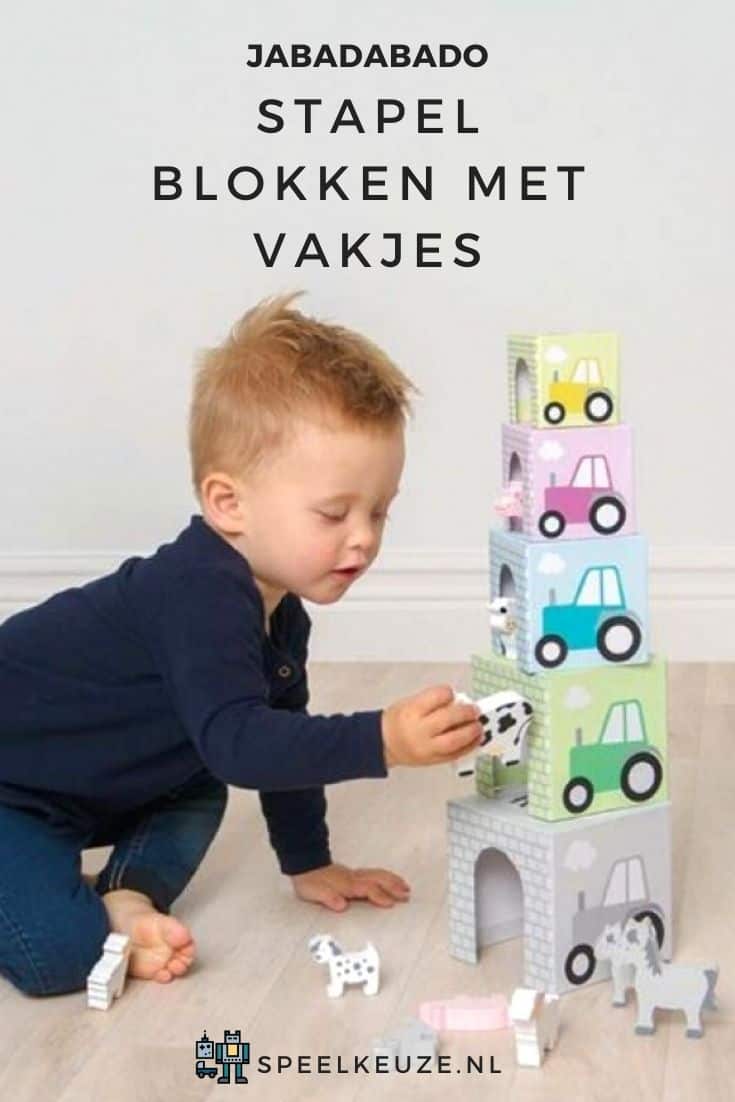 A simple and educational way to learn to count and remember the names of the different animals.
The block set comes with two cows, two horses, two pigs, two sheep, a dog and a cat.
The set is made of wood and cardboard and the blocks feel light in the children's hands. Suitable for children from two years old.
Best block train: Little Dutch Adventure Blue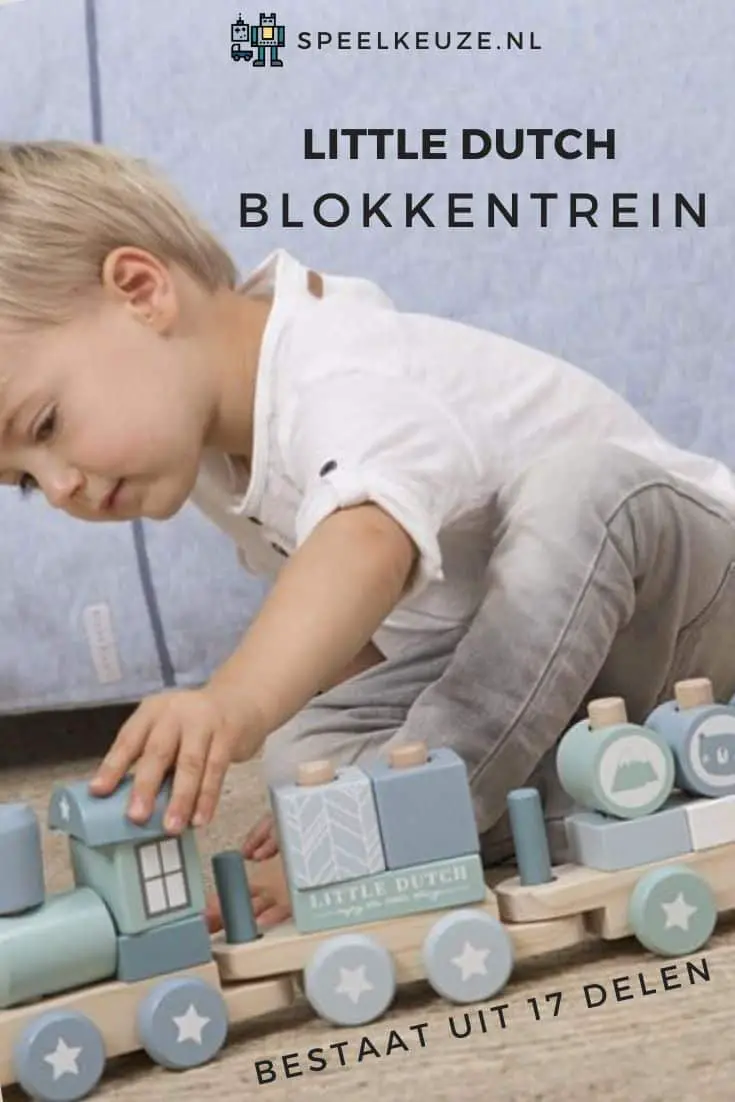 Nice say, this block train set! The Little Dutch Block train is a very cheerful train made of wood that your little one can put together in a different way every time.
The sturdy wood makes it a good toy that will last a very long time. The set is ideal for the fine motor development of your child.
The train consists of 17 parts in total and provides hours of fun.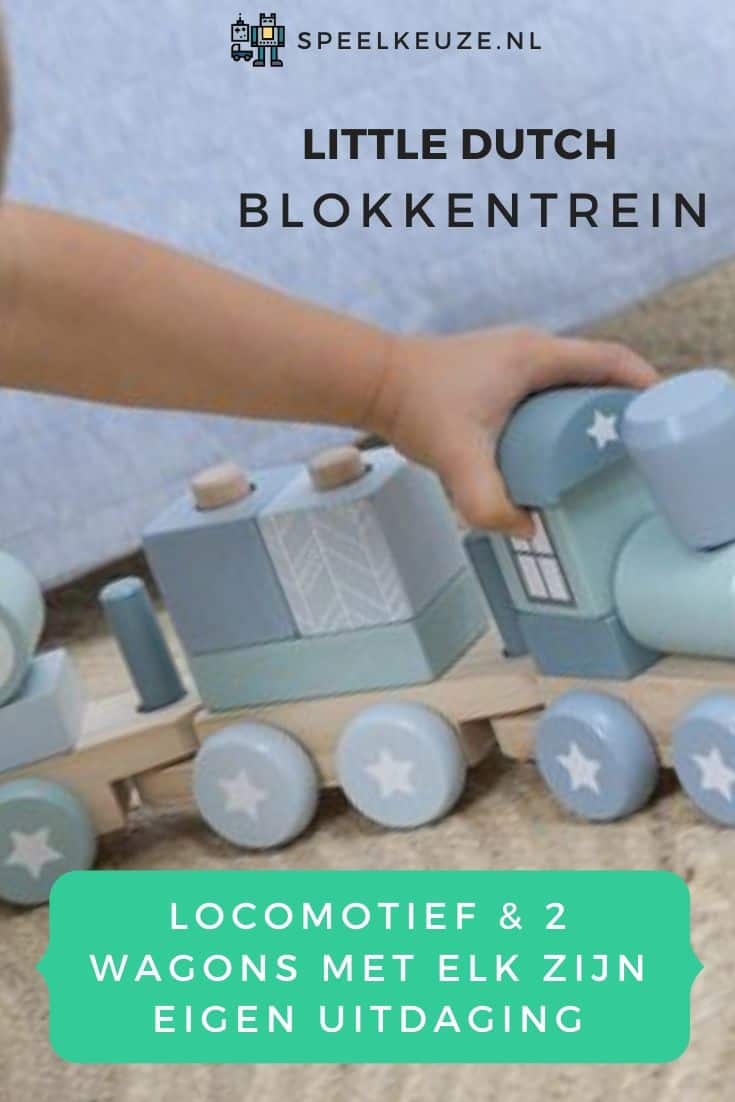 The blocks of this cheerful train all have a different shape, so each wagon presents a new challenge for your little one. Recommended!
Check the most current prices and availability here
Sturdy blocks of walker: Studio circus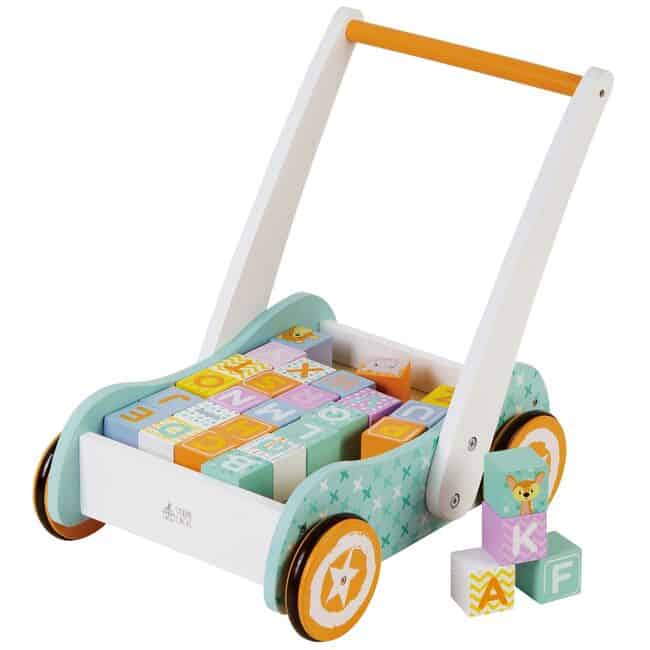 A cozy looking Studio circus walker (check out these top picks too!) to push forward! Cheerfully colored in mint green, white and yellow. There are letters and cute animals on the blocks.
The car is filled with wooden blocks and made of sustainable FSC wood.
Besides learning how to stack and recognize letters and colors, the walker ensures that your little one can take his first steps!
Suitable for children from one year.
Exclusively available here at Prénatal.
Nice blocks of truck: Happy2Play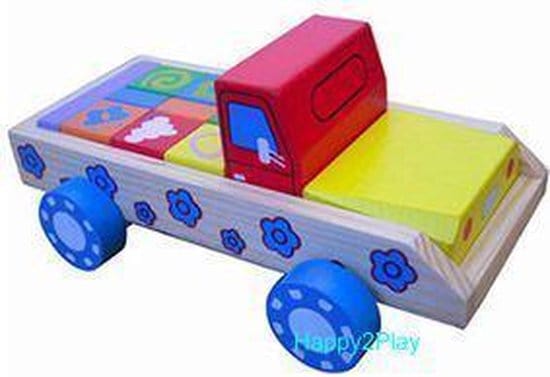 The Block Truck with Blocks is a robust wooden truck. There are cheerful blue flowers painted on the sides of this car.
Your little one can unload, reload and drive the blocks! There are twelve differently shaped blocks in it, all beautifully brightly colored.
It is quite a challenge to rebuild the car properly after unloading. The truck is suitable for children from the age of three.
A very original and durable toy!
Best block game for outside: Clementoni plastic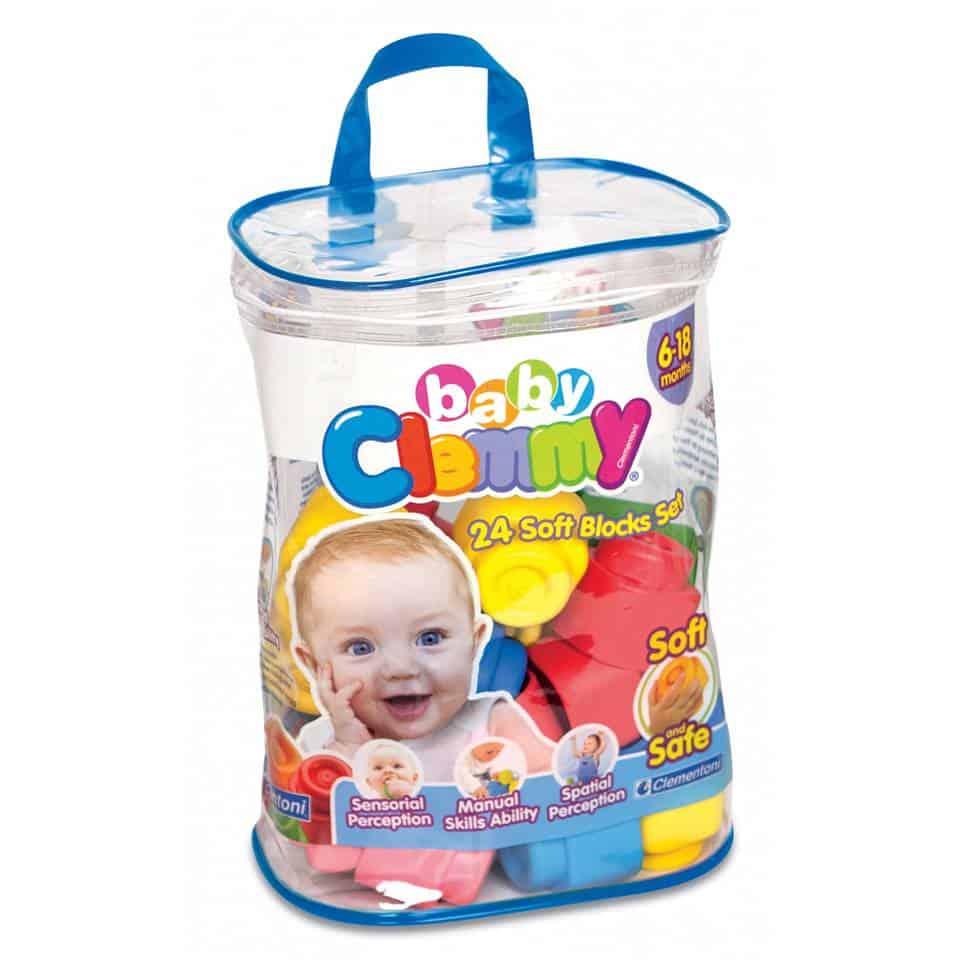 With Clementoni plastic blocks junior 24 pieces, your child will certainly make the most beautiful creations!
The blocks have a round shape and fit well in children's hands. Your little one can build beautiful towers with these colored blocks!
The plastic material of the blocks is washable, non-toxic and lightly scented.
They come in a handy transparent bag, where you can tidy them up after use. Suitable for children from six months to two years.
Best blocks with sound: Vigatoys Baby Blocks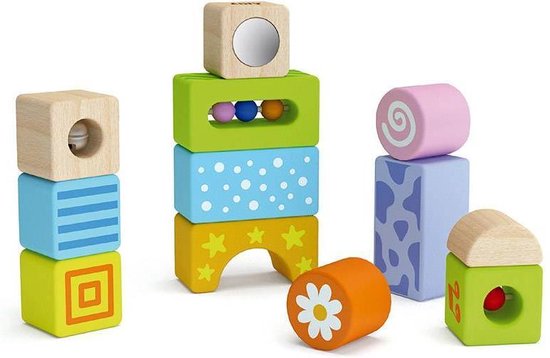 The Vigatoys Baby Blocks with Sound Set is great for your little one! Each block has a different sound.
The wooden block set has a unique look; Original shapes with beautiful colors and beautiful motifs. All corners and sides of the blocks are neatly rounded.
This set with twelve blocks will certainly stimulate the creativity of your little one and guarantees hours of fun!
A beautiful gift that will be received with enthusiasm by your child. Suitable for kids from nine months.
Check the most current prices and availability here
Best Castle Blocks: Tooky Toy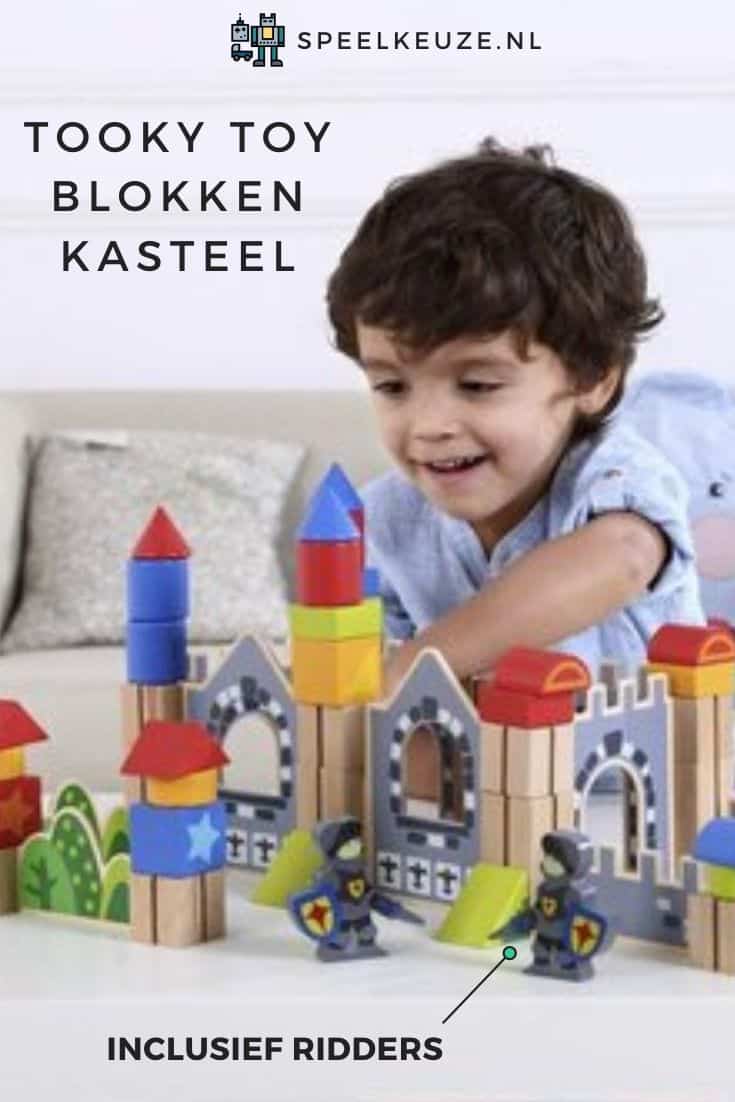 The wooden block castle from Tooky Toy is a very original block set! The shapes are whimsical and different from the standard blocks, but that makes them even more fun!
Your child can let his or her imagination run wild by playing with these blocks. The castle can be built in many different ways.
In addition to the blocks, the set also has wooden knights (always fun for kids!) and a dragon and is suitable for children from two years.
Best blocks game: Haba rainbow tower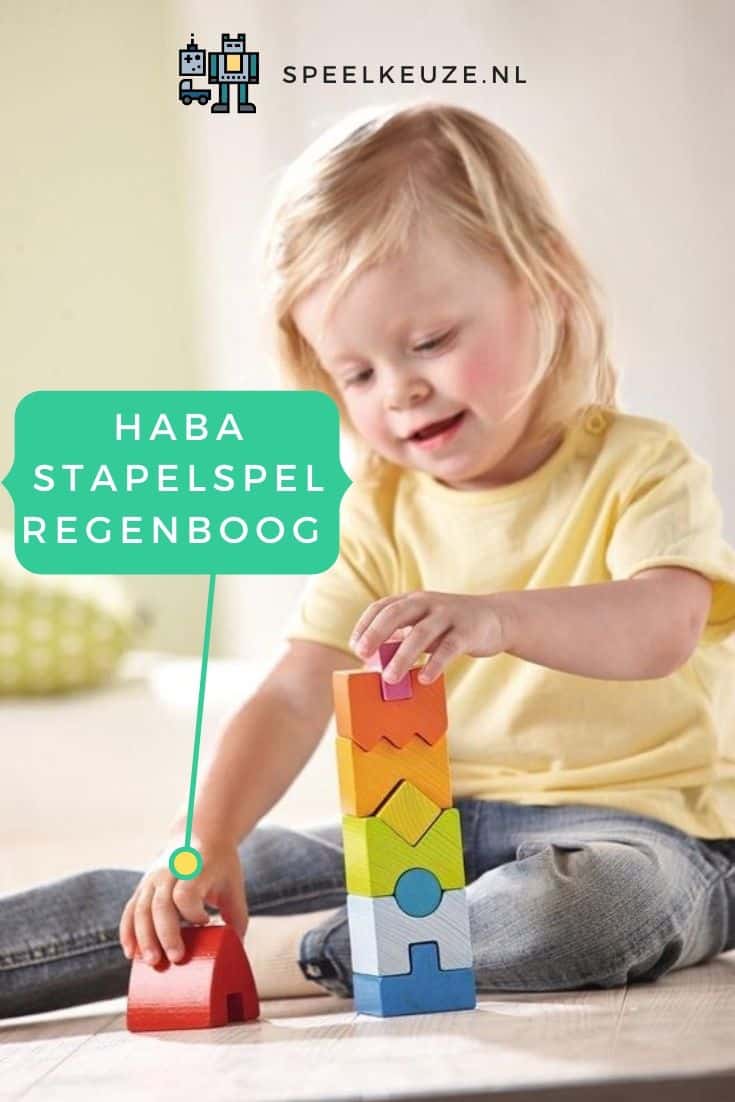 If you are looking for something more challenging for your child, this stacking game is from Heat certainly a nice option. The tower must be built in the correct order to remain standing, so it can be a fun addition to other block toys.
Conclusion
Playing is very important for the general development of your child. Your little one will become more capable and learn so much about himself, but also about others and from the world around him.
Every child plays for fun. Small children playfully explore the world and the people around them.
They do this by moving, looking, feeling, listening, thinking, and playing while playing imitate and communicate.
So let your kids play as much as they can, the smarter they get!
Let your child play with blocks!
We have read in this article how important playing is for children.
We have also especially seen the importance of playing with blocks and what that means for the overall development of your child.
The moral of this story is; Support the development of your child optimally by purchasing a nice set of blocks!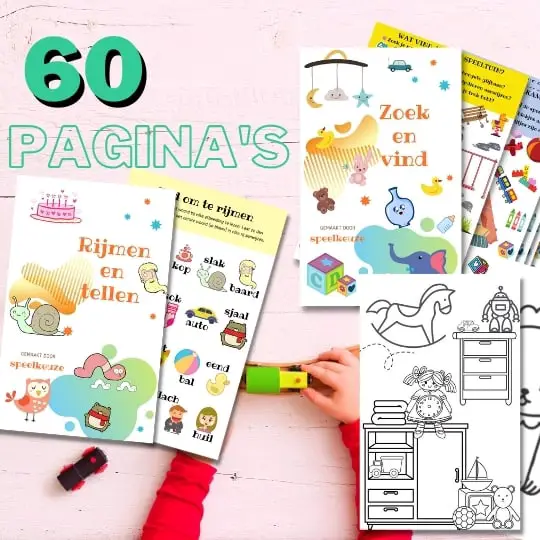 Always something to do for the holidays or rainy day?
Play Choice now has the ultimate activity book collection, with over 60 pages of fun coloring pages and educational puzzles.
Joost Nusselder, the founder of Speelkeuze.nl is a content marketer, father and loves trying out new toys. As a child he came into contact with everything related to games when his mother started the Tinnen Soldaat in Ede. Now he and his team create helpful blog articles to help loyal readers with fun play ideas.