Cutest doctor toys: 7 playsets, dolls & clothes
I enjoy writing these articles for my readers, you guys. I don't accept payment for writing reviews, my opinion on products is my own, but if you find my recommendations helpful and you end up buying something through one of the links I may be able to receive a commission on that.
More information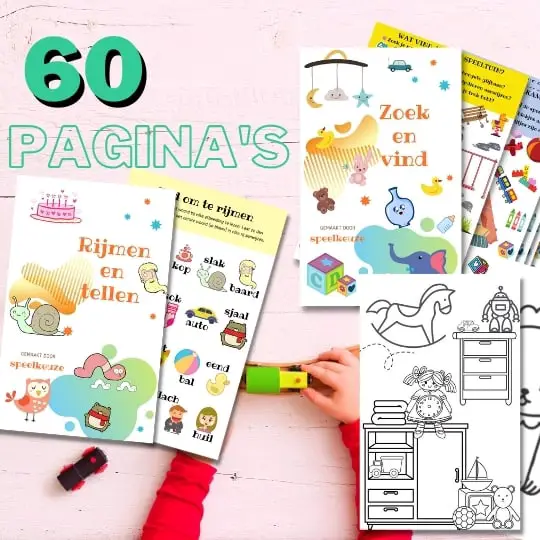 Always something to do for the holidays or rainy day?
Play Choice now has the ultimate activity book collection, with over 60 pages of fun coloring pages and educational puzzles.
Does your child also enjoy playing doctor?
Children often enjoy role-playing games, where they can pretend to be someone else and fully empathize with a particular character or profession.
Little men play tough policemen or firefighters, while sweet girls like to transform themselves into princesses.
But the most popular role-play among young children has to be playing a doctor.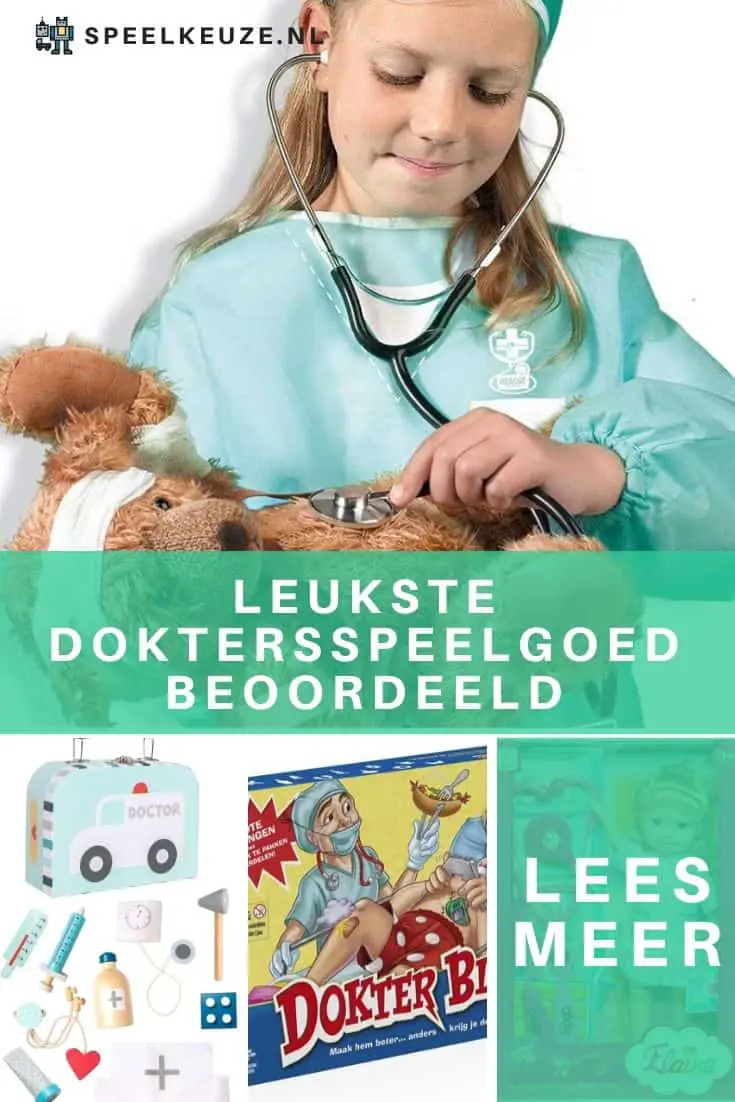 Through this role play, children learn to discover their own body and that of another child. Children are curious, and they learn a lot through experimentation.
We have selected a number of nice doctor toy sets for you. You can find them in the table below.
Best Stethoscope: SES Doctor's Stethoscope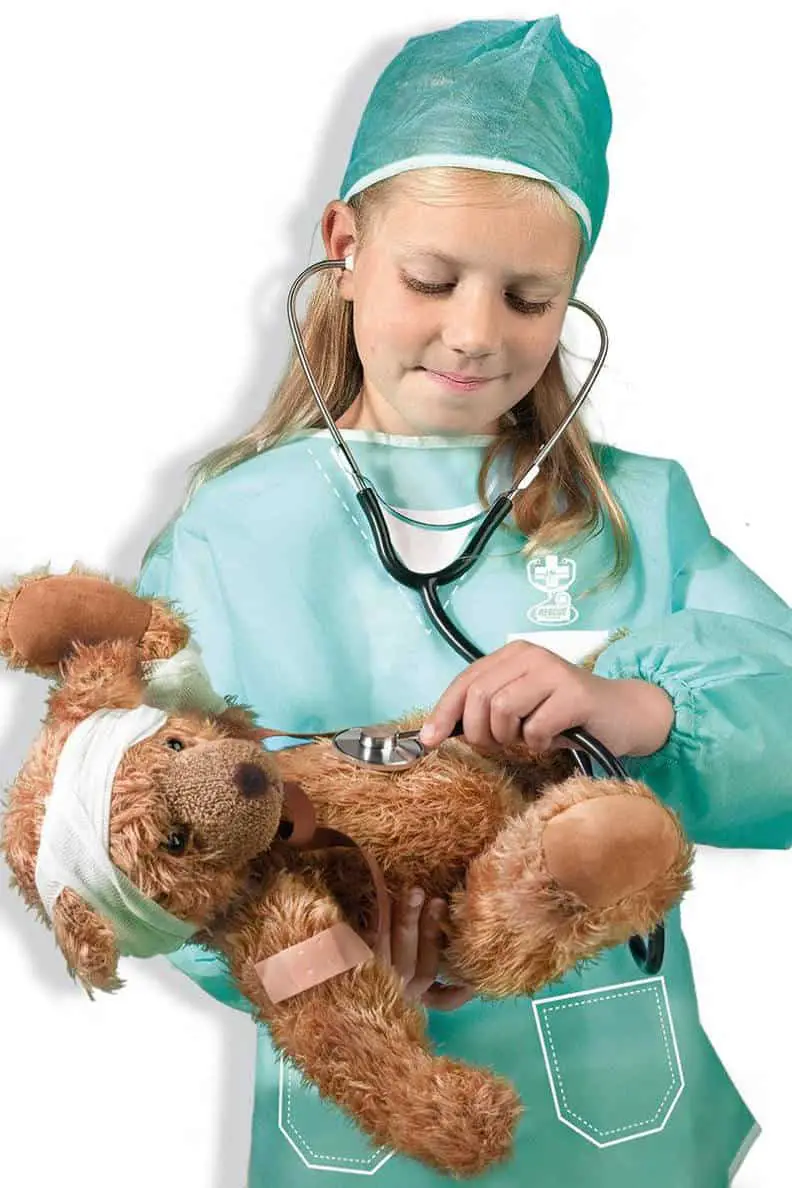 A doctor is generally recognized by his white doctor's coat and the stethoscope dangling from his neck. This SES doctor's stethoscope really works!
The toy meets all safety regulations and is almost indistinguishable from a real doctor's stethoscope. This makes role play for children very realistic!
Children love to listen to the heartbeat of a boyfriend or girlfriend. The stethoscope is suitable for children from 5 years old.
As an adult, it is recommended to always supervise the use of the toy.
Cutest doctor costume set: Clowny Rescue world surgeon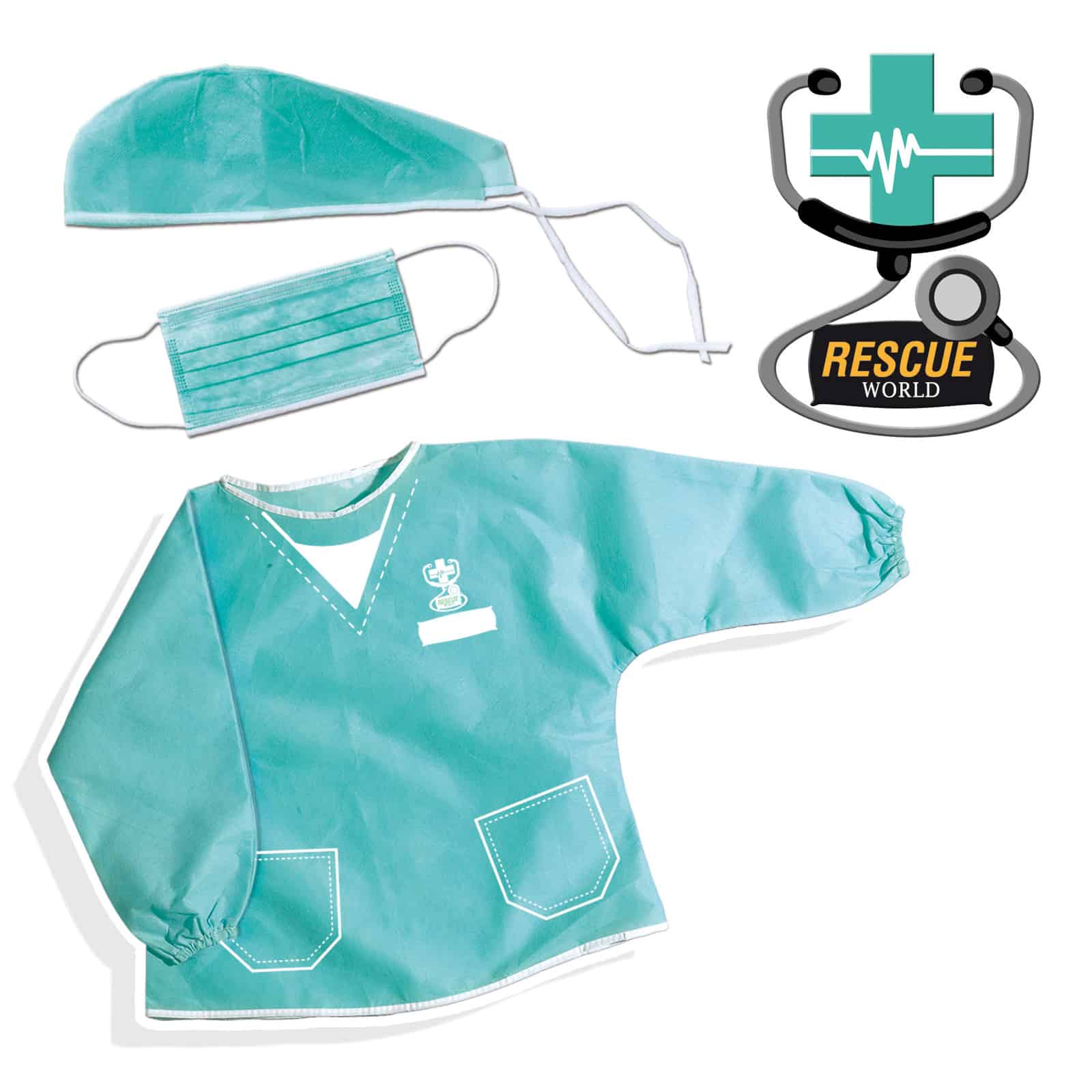 Playing doctor is of course not complete without a real doctor's outfit. Doctors wear special clothing to receive their patients.
This Clowny Rescue world 3-piece surgeon costume set consists of a doctor's coat, a mouth mask and a head cap in the color green.
The material of the outfit is textile and the clothing is suitable for children from 4 years old. With this outfit your child is ready to fully empathize with his role as a doctor!
Best doctor's case: Theo Klein doctor's case deluxe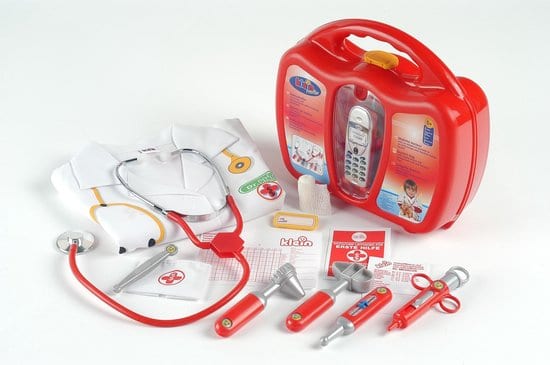 A doctor has many different things to help his patients. That is why he often carries a large suitcase with him in which he can store all his accessories.
This Doctor's Case deluxe contains absolutely everything a doctor needs to help people with their ailments.
The case includes a stethoscope, cell phone, doctor's coat, syringe, ophthalmoscope, thermometer and many more accessories!
The toy is suitable for children from 1 month old to about 4 years old.
View the Deluxe and more versions here
Best dokerset doll: LG-Imports teen doll doctor Elaine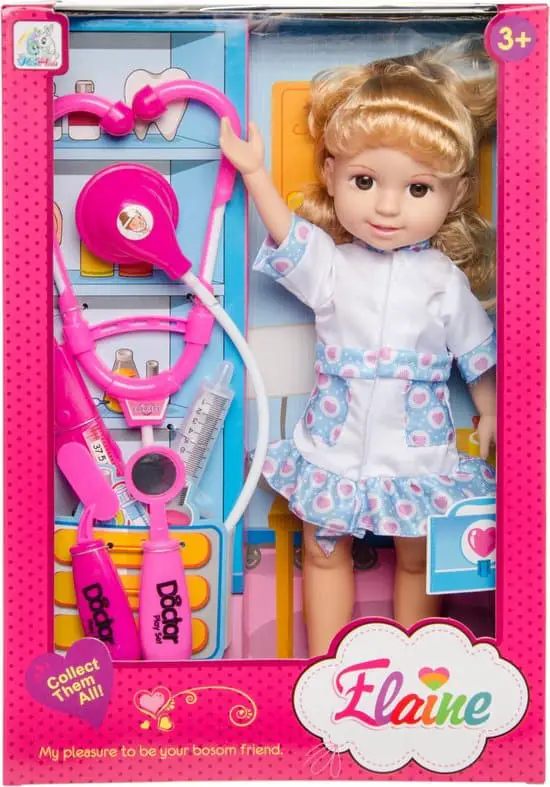 With the LG-Imports teen doll doctor Elaine you can play doctor with the help of the supplied doll Elaine. You could play the doctor yourself and treat the doll.
Or you help doll Elaine make all your other dolls better! The set also comes with a syringe, a spoon, tweezers and a stethoscope.
This doctor toy with doll will provide hours of fun. The toy is suitable for children from 3 years old.
Check the most current prices and availability here
Does your child enjoy taking care of dolls? Then check it out these 25 cutest baby dolls from soft body to real crying reactions
Nicest wooden doctor's case: Jabadabado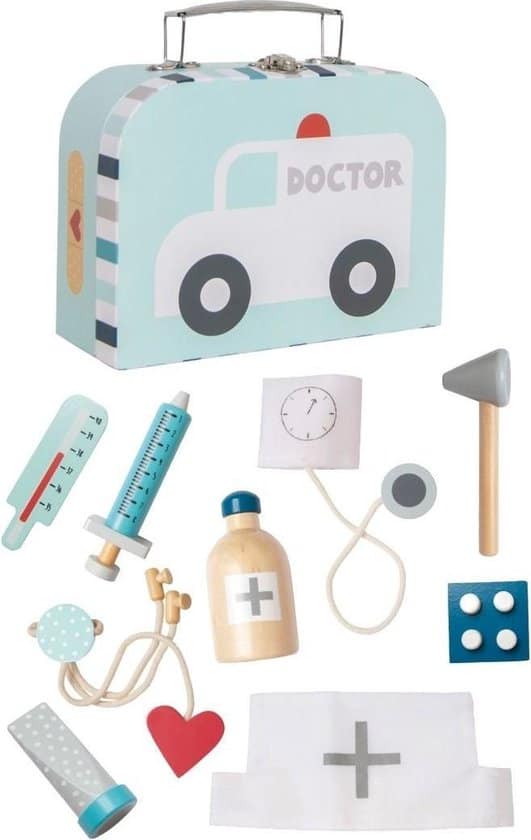 For a cute doctor's case made of wood you can go for the Jabadabado Toy Doctor's case.
This doctor's case contains everything your doctor-to-be needs to make his friends better.
The case contains a thermometer, a syringe, a stethoscope, an ear and eye instrument, a blood pressure monitor, a medicine, and a nurse's cap.
The toys are made of cardboard and wood and are suitable for children from 3 years old.
Best doctor game: Hasbro Doctor Bibber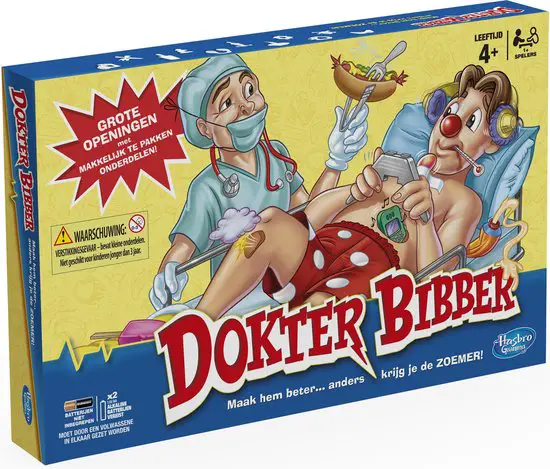 With the exciting Hasbro Game Doctor Bibber you are the doctor and you have to operate on the patient. But do this as accurately as possible, because if you shake the buzzer will sound!
Try to remove the disease with the tweezers. The set comes with doctor cards containing classic ailments. For example, you will have to remove a wishbone or broken heart.
Here Play with Me shows how it works:
This fun game is suitable for children from 6 years old.
Best cheap doctor game: Identity Games Doctor Prik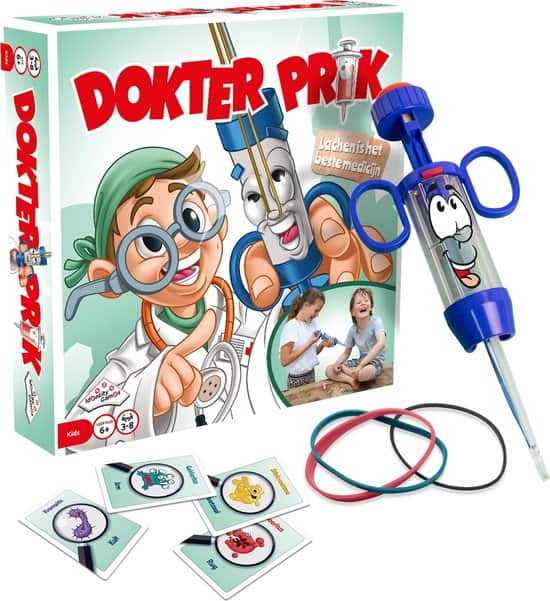 Another child's game with the doctor theme is Identity Games Doctor Prik child's play. Help Doctor Prick cure viruses!
The aim of the game is to protect your fellow players against the virus, but also make sure that you do not get stung yourself!
The playset consists of a syringe, three rubber bands, nine virus cards, a die and game rules. Children find it very exciting to be allowed to prick with the syringe!
Here's the explanation from Identity Games itself:
Doctor Prik is a fun action game that can be played with the family. It is suitable for children from 6 years old.
View the most current prices here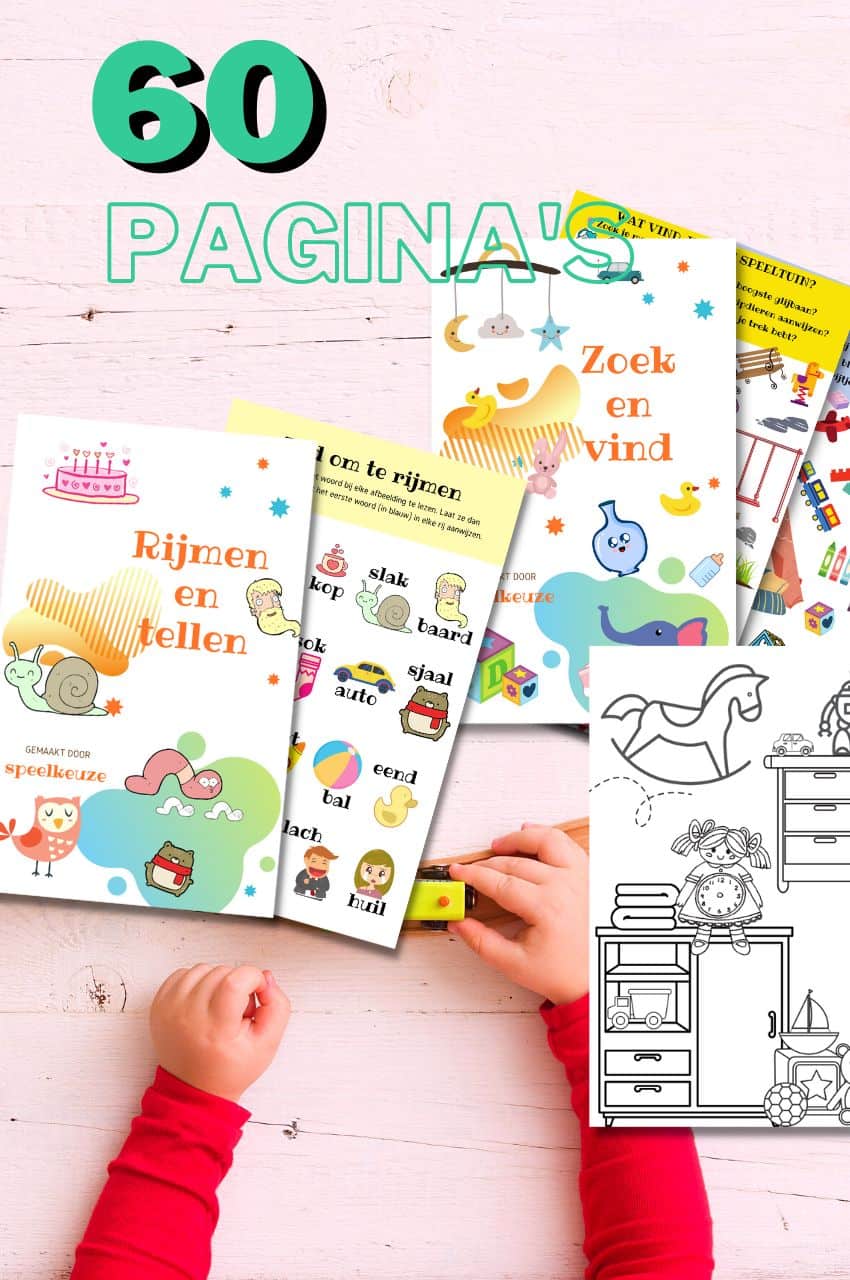 A play theme in your mailbox every month?
Fun play tips, activity books and more, with the first email being our free mini-guide "educational toys"
We will only use your email address for this newsletter and respect your privacy
Play doctor: as a parent, keep an eye on things
Playing Doctor is educational and fun, but unfortunately can also create some uncomfortable situations. It is therefore important as a parent that you ensure that the game meets certain requirements.
When children play doctor with each other, they must first agree in age. It is also important that the children participate voluntarily in the game and the actions that are performed must be beneficial to the development of the children.
But let's not forget that playing doctor should be a lot of fun! Children learn by playing, just like with other games. Only playing doctor is a slightly more sensitive game.
Play along and set boundaries
As a parent you can also participate in the game, then it is a bit easier to indicate the rules. You can then start playing with the patient, and your son or daughter will be the doctor.
For example, ask the doctor if he / she wants to look at your stomach because it hurts. You can say: 'but don't go further down, because that is only for myself'.
You could also play the doctor yourself first and then the child or children are the patients. Then you can explain well why you do something and why you do not perform certain actions.
Children often imitate the parents, so by setting the right example, children will also show correct behavior.
Every way of playing can have its drawbacks, but the great thing about playing doctor is that children can develop themselves through play.
As a parent, let the game happen, but always keep an eye out and intervene if necessary. When intervening, it is also wise to explain why certain behavior is incorrect and demonstrate how it should be done.
It's normal behavior
Playing a doctor can be seen as a sexual game, just like making pictures of genitals, tickling, and playing out sexual behavior with dolls.
It is normal for children to engage in this type of play behavior. It is also normal that you as a parent are shocked by this.
But remember that it is a way for children to discover their own body and that of others. Such a phase will also pass, do not worry about this as a parent!
Don't punish
It is important for development that children through these types of games express their curiosity for certain things, in this case sex.
Children will become aware of social norms over time, which may lead them to secretly engage in sexual games.
As a parent, it is important that you do not prohibit these types of games, otherwise sexual feelings will be associated by children with something that is prohibited.
Make it clear to the children that they are not supposed to hurt each other while playing, and that they should especially not force each other to perform certain actions.
The game must be voluntary and, above all, bring fun. Children may also try to insert objects into their genitals or anus, just as they sometimes try to insert objects into their nose.
This is also not permissible, make that clear to the children. It can have harmful consequences.
Fear of the doctor
Is your child also so afraid of the doctor? Then maybe playing doctor can help you overcome that fear!
For example, grab your child's favorite stuffed animal and doctor's accessories, such as a stethoscope, thermometer and scales. Your little one can then play the doctor, and you as a parent play the hug's mama.
Have a conversation, and say, for example, that you are concerned about the complaints of the hug, and whether the doctor can take a look at it. Your child will empathize with the role of a doctor and may explain to you that your hug is bothering.
It will ensure that the cuddly toy can go home completely healthy again. In this way, a child's fantasy world is greatly stimulated and helps a child prepare for the next doctor's visit.
Conclusion
Playing Doctor is a favorite game with kids. It is also good for development. On the other hand, it is also a sensitive game, so some parents are often a bit scared when their kids want to play doctor.
It is best to let kids experiment with playing doctor, but always stick with it to correct any wrong behavior.
If necessary, play along and set a good example! Choose one or more toy products from the table above, and playing doctor has never been so real and fun!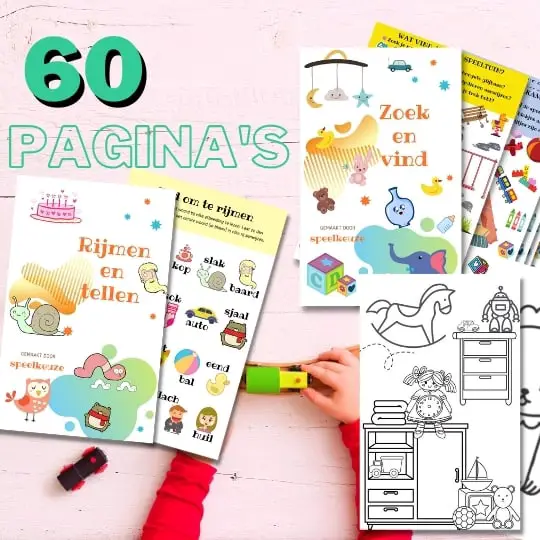 Always something to do for the holidays or rainy day?
Play Choice now has the ultimate activity book collection, with over 60 pages of fun coloring pages and educational puzzles.
Joost Nusselder, the founder of Speelkeuze.nl is a content marketer, father and loves trying out new toys. As a child he came into contact with everything related to games when his mother started the Tinnen Soldaat in Ede. Now he and his team create helpful blog articles to help loyal readers with fun play ideas.