Night lights for your child guide: Top 15 & buying tips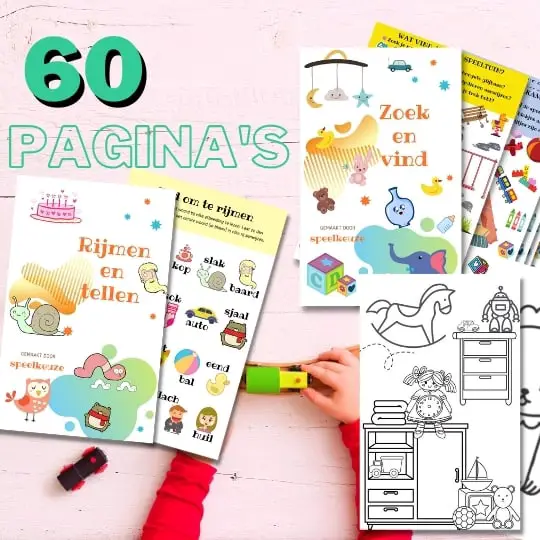 Always something to do for the holidays or rainy day?
Play Choice now has the ultimate activity book collection, with over 60 pages of fun coloring pages and educational puzzles.
A night light is in many cases a requirement for the nursery.
There is one for both the smallest babies and older children night light nice and sometimes even necessary to sleep well.
Then the room door can in many cases be closed and that is, especially if you have a small house, also nice for the other house residents ..!
The best I've tested is this musical night light Zazu Zoë. You can take it everywhere and it is packed with useful gadgets such as a timer, and of course music with lullabies.
Here is the video of Zazu, you can also see that they care about the struggles of parents:
But I have reviewed many more night lights such as the Reer BeeConnect which is also a baby monitor and a whole lot more of everything for toddlers and preschoolers.
Below I explain which different types of night lights can be found, what you can take into account and how you can use lighting in the children's room.
Incidentally, in this article I use 'he' or 'his' when it comes to babies and children, but of course the lamps are not only suitable for boys but also for girls.
Here are the cutest night lights in a quick rundown, then I'll dig deeper into each of these:
For what age are night lamps suitable?
There is no hard and fast rule to say from or until when a child can use a night light. It is very much up to the child itself.
And most parents will also recognize that it will be phased.
Sometimes your 3-year-old toddler will be able to sleep in the dark and the next day all the lights suddenly have to stay on.
There is nothing quite as changeable as the mood of a small child.
I always used one myself to read with soft light from one of the Donald Ducks (I also have a complete article about the Donald Duck, because I like it so much myself!).
In the beginning it was allowed to turn off, but at a later age it was only necessary to keep a light on.
Logically, the use of the night lamp will have a course.
It often starts with a baby monitor with lighting and music. Then maybe there will be a light with, for example, a projection of stars on the ceiling.
Then a light on a bedside table and a light that is plugged into the socket will be enough and in the end you may only need a light in the hallway.
Once kids are old enough to want a nightstand light that they can control themselves, so they can read books in bed, for example, that doesn't mean they don't want a nightlight that stays on all night.
Later in the article I also show which combinations might work well for your child.
Can a night light hurt?
It is nice for many children to have a checkpoint - both at night when they wake up in the middle of the night, but also when they fall asleep.
How old a child is at that time is actually not important.
In my opinion, the use of a night lamp certainly does not hurt.
Using a night lamp is not a problem as long as the light from the night lamp does not keep a child awake.
Is a night lamp good?
A checkpoint is already pleasant for children when they just sleep in their own bed at home and even better when they are on vacation or suddenly lie in a strange bed.
Suppose you have moved… a new house requires a new room, new sounds… it is not nothing for children.
To have something familiar with her gives her peace of mind and can really help to relieve some tension.
And one child gets used to a new situation faster than another.
I think a night lamp is really good for a child.
As said, it should not disturb sleep, but if your child is looking for a sense of security and falls asleep more peacefully with a night lamp, then that is never a bad idea.
It is important to listen carefully to the wishes of your child.
Make your child feel safe and secure
A child's wishes can vary widely. As soon as they can explain what they mean, you as a parent can take the fears of your children into account.
Taking away the fear and returning a safe, secure feeling, that's what the use of a night lamp is all about.
Some kids want a light because they are afraid of the dark - there may be monsters under the bed or in the closet.
Other children want to go to sleep with the door open and a hall light on. Maybe because otherwise they feel they are alone in the world.
In my opinion, the use of a night lamp mainly has a practical basis - giving your child a good feeling when he goes to bed - but that does not mean that you cannot give it a very nice interpretation.
15 Best Night Lights Reviewed
There is so much choice when it comes to night lights! You can find a suitable lamp for every parent and child, regardless of style.
Below I have tried to show the different types of night lamps as clearly as possible.
Baby monitors can be found in many baby rooms. Nowadays a baby monitor is more than just listening devices to ensure that you can hear your baby when he cries.
Many children benefit from hearing lullabies when trying to fall asleep.
And in many cases you can find baby monitors that both play songs, warn you when the baby is crying and have a night light that can be turned on and off.
Best Nightlight with music: Zazu Zoë the Penguin
If you don't want or need a baby monitor, there is also the option of this portable music box (reviewed more here) with lamp from Zazu.
The music box has the shape of a cute penguin and is actually a music box and night light in one.
The bluetooth connection allows you to play your own music through the penguin. You can play every conceivable playlist in the nursery. The possibilities are endless.
How nice would it be if you could sing your own lullabies and your child hears your voice while falling asleep?
And that without having to sit there every night yourself! After 20 minutes the device switches off automatically and when your baby cries it switches on again.
Check the latest prices here
Cutest night lamp stars Projector: A Little Lovely Company
If your child has already grown a bit, you can also choose to give a night lamp with more projection.
For some children, the now well-known lullabies remain favorite and they will recognize the songs by now.
Those children sleep wonderfully in it and think the little light of the baby monitor is enough.
Other children like to look at (rotating) stars on the ceiling and fall asleep peacefully.
And that's what it's all about, right ?!
These types of projector night lamps can be found in all shapes and sizes. And there are a number of ways you can distinguish them.
Some lights with stars project a static image of stars on the ceiling. In other words; nothing moves.
Examples of this are the lamps of A Little Lovely Company, the Ansmann brand tortoise or Alecto's plane are also options, although A Little Lovely Company is by far my preference.
These three lamps work on batteries.
The battery-powered lamps are not only nice to use at home, but also ideal to take with you on holiday.
And if your child has already got used to it at home, he will feel more comfortable in his holiday cot.
Best Night Light for Baby with Day & Night Sensor: Brunoko Plug-In
If you think such a starry sky is too much of a good thing anyway - whether it is static or dynamic - you can also opt for a simple star light without projection.
There are also lights in the shape of a star that you simply click into the socket and will give your child a benchmark.
I think this night lamp is very nice, which comes in 3 colors and animals, such as yellow and blue.
Check prices and availability here
Best night light for a toddler: moon on standard
This lamp in the shape of a moon is a wall lamp.
As far as I am concerned, it is better not to use this lamp as a night lamp to fall asleep with, but it is better suited as regular lighting in the nursery.
And this one 3D lamp on a wooden stand I thought it was so beautiful in the shape of a moon, really an addition to a stylish interior.
Perhaps not really suitable as a night lamp, but still worth mentioning!
Cutest night light for toddler: A Little Lovely Company big cloud
This beautiful night lamp from A Little Lovely Company gives nice soft light and you can dim or turn off the light with a touch.
You can connect the lamp to the socket or run it on batteries. After 30 minutes the lamp will turn off automatically.
There is also a night lamp in the shape of a cloud that can be placed directly in the socket and switches on when it gets dark enough in the bedroom and switches off again when it gets light.
These kinds of night lights are also good to use in the hallway.
If your child has to go to the toilet at night, the soft light of the lamp will switch on automatically and illuminate the road.
I just think this one from A Little Lovely Company is 100x more fun.
Cutest Nightlight owl
Children often like animals and usually have a favorite animal. Toys and accessories with an animal theme are therefore always quickly appreciated by little ones.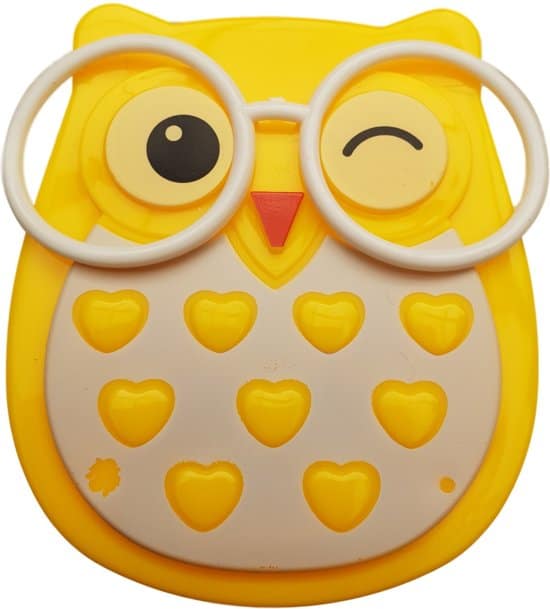 This sweet owls light is available in different colors and plugs directly into a socket.
It switches on when it gets dark and switches off again with sufficient light and is therefore extremely suitable as a night lamp.
With such a sweet animal friend, the child will be less afraid of lying in the nursery alone in the dark.
Night light animal on batteries: Panda
There are countless animal lamps, often on batteries, so that you can easily place the animal somewhere on a shelf or in a corner.
A light of a swan is a good example of this or a night light in the shape of a hippo.
This special lamp with panda bears is actually a snow globe. When the lamp is on, the glitter will continue to whirl in the sphere.
The lamp switches off after 15 minutes. That way the batteries in it are saved.
And there are even cuddly toys with a lamp in it. Such as a cute pink whale lamp from the brand Teeny & Tiny.
The brand has this lamp in several variants, such as a turtle lamp hug.
The panda attracts me the most.
You can see animal themes in many children's toys. In our article with the best play cloths in a row we also have a whole category of animal play mats!
Best night light for toddler: Mr Maria Miffy
The most famous animal in the Netherlands is Miffy. There are also many night lamps that have a Miffy theme. I have put the best ones below:
Miffy stands on a pedestal near a small lamp. It gives a nice soft light and works on batteries and switches off automatically after 12 minutes.
The lamp is also available in other colors, such as silver, pink and blue.
My favorite, however, is this one:
This lamp of Miffy is made of soft silicone, has rechargeable LED lighting, is dimmable and you can safely take it with you in bed.
Is the nursery decorated in a Miffy theme? Then you can decorate the walls with nice wall stickers from Miffy.
Do you take it more subtly? Then you can also choose to mount the silhouette of Miffy's ears on the wall. A beautiful night lamp with a subtle reference to Miffy.
Best night lamp from Paw Patrol
At some point, your son or daughter is big enough to switch to a larger bed and this moment is often used by parents to turn the nursery into a nursery.
A new children's bed, with a real bedside table and a lamp that illuminates well when your child is reading or playing books in bed.
Many children will want a light on the bedside table or on the wall above the bed that they can control themselves.
And most of those children still like to have a small light in a different place in the room that remains on all the time.
A night light that is placed directly in the socket and stays on all night offers a solution and can be combined with a lamp by the bed that does go out at night.
Most preschoolers already have a strong preference for what they like.
Get out with the pastel colors and then as a parent you can sometimes not get away from it ... a favorite cartoon or vehicle finds its entry into the nursery.
You can then process this subtly through a lamp in the shape of an airplane from the ceiling.
Or a little less subtle this lamp from Paw Patrol which you can place on a bedside table.
And if your child is suddenly no longer a fan of Paw Patrol, a night light can quickly be replaced by another.
Best Frozen lamp: Philips wall lamp
Of course there are also wall lamps for the nursery.
Again, these do not serve as well as a night lamp, but should be seen as lighting in the children's room.
And those wall lamps also have themes that are so loved by toddlers. Will your daughter or son be so happy about everything that has to do with Frozen or Superman?
You can't think of it as crazy or there is a lamp that will make your child jump in the air.
As mentioned, you may not find such a wall lamp as suitable as a night lamp.
Think of a combination with this neutral lamp for the socket, so your toddler can go to bed every evening without a murmur… right ?!
Night lamp palm tree
Don't you or your child like Disney themes or screaming colors?
Then you can of course also purchase a nice night lamp that is a bit more timeless and classic, without immediately being old-fashioned.
I think a good example this green table lamp with the design of a palm tree.
Best design night lamp: By-Boo
Do you go one step further and do you really decorate the nursery in a stylized way? Then a lamp with a little more allure might be a good choice.
This beautiful, industrial night lamp you might not immediately think of it in your nursery, but it gives beautiful light and has a really luxurious look.
Below you will find a number of design night lamps for the nursery.
Cutest Black night light for the bedside table: Benjamin Bright
Black, design, but also playful and fun for a child's room… that is this lamp in the shape of a man in a nutshell.
Due to the bendable legs and arms you can place the lamp in a different way every evening.
Put a pear in it that gives soft light and you have an ideal night light.
Still an animal, but also design? Then choose one of these animal wall lamps. Do you want a lion, a panda bear or rather a dino?
Cutest wooden night light: LED cloud
This white wooden lamp in the shape of a cloud and a white wooden lamp in the shape of a star are both from the Jabadabado brand.
The lamps have small holes through which the LED lighting shines beautifully.
The ideal wooden night light that combines design with soft light so that it can be used well as a night lamp.
Best Dimmable Night Light: Moby the Whale
This beautiful lamp in the shape of a whale is dimmable by tapping it. The lamp is for sale in different sizes and has no cord.
You can charge the battery with the supplied cord.
Best Battery-Operated Night Light:
This lamp in the shape of a pineapple is typically such a lamp that does not necessarily have to be in a children's room.
The timeless white design suits any interior and its playful character makes it certainly suitable for the nursery.
The lamp works on batteries and can therefore easily be placed anywhere.
Best Night Light with Timer: Dhink Dinosaur
This lamp in the shape of a dinosaur has a timer, as we have seen several lamps that I have mentioned above.
It switches off after a few minutes. This lamp has a touch dimming function and is rechargeable.
There are more night lamps, such as in the form of a rainbow also with a timer function and you can set it so that the lamp comes on in the morning as if the alarm clock is going off.
The Dhink dinosaur (here some prehistoric toys) is my absolute favorite.
Best Rechargeable Night Light: United Entertainment Puppy
This super cute dog has rechargeable batteries that can be charged by means of the supplied USB cable.
The strength of the light has two positions and if you select the weakest light, this lamp is certainly suitable as a night lamp.
Best night light with feed-through plug
Do you have one socket available for a night light, but do you also need another plug?
Then this is it an ideal night light for you. This night lamp has a feed-through plug, so you don't occupy a socket with the night lamp.
It also has a sensor, so the lamp switches on automatically when it is dark enough.
Standing night lamp for children's room
You can think of this for example this beautiful and stylish dimmable light with foot control, so you can turn on the lamp while holding your child.
Your child can then drink the night food without bright light in the room and be put away quietly afterwards. Hopefully you can also spend a few hours under the wool!
Are you a gadget freak then you would be for the nursery too this beautiful high-tech lamp from Trio Leuchten can consider.
You can of course place this standing floor lamp in a corner and use it as a night lamp or you can choose to only use the lamp during the night feedings.
The beautiful light of this design lamp diffusely illuminates the room and will certainly not blind or wake up your child.
You can operate the LED lamp via WiFi (ie via an app), with a remote control and even via voice, but also "old-fashioned" via a wall switch.
Where do you place a night lamp?
Now that you have seen a decent list of the best night lamps in different categories, it is wise to first think about where you have space for the lamp before you buy one.
I have mentioned a number of lamps above that you can click directly into the socket.
Of course, this makes little sense if the sockets in the nursery are all hidden or in places where your child cannot see the lamp.
The ideal place for a night light that you place directly in the socket is in a socket halfway up the wall - at eye level, actually when your child is in bed.
If you buy a wall lamp that you want to use as a night lamp, it is wise to hang it on a different wall than where the bed is located.
If the lamp hangs too close it can backfire on your child - he stays awake instead of falling asleep.
Strength of the light of a night lamp
You also have to take into account the strength of the lamp.
Most parents grew up with Watt lamps and today's LED lamps have a strength that does not match.
For a night lamp, 15 Watt (old lamp) is sufficient. If you are using an LED lamp, you will then need a lamp of approximately 1,7 W (or 136 lm).
Connect the night light safely
In any case, make sure that the lamp is connected securely. Is there an electric wire on the lamp?
Then make sure that your child cannot reach it from his bed. Certainly not when they are still very small.
With battery-powered lamps, you should always check that the battery cover remains properly closed, even if the lamp falls to the ground once.
That will certainly happen. Can the cover be closed with a small screw? Then safety is good.
Put the night light in a safe place
Do you place a lamp in the window frame? Always make sure there is enough space between the curtain and a lamp.
And make sure that a cuddly toy is not against lamps. The heat problem no longer applies to LED lighting, but you cannot be too careful.
Light in the hallway
If your child does not need light in the room, but is he already old enough to get out of bed and, for example, go to the toilet in the evening (or walk to your bed)?
Or do you prefer to keep the door of the nursery ajar?
Then a night light in the hallway might be a good idea.
There are several options.
Location a wall lamp in the hall that serves as a night lamp when you have no place to put a lamp, so that the bright ceiling lamp can be switched off at night.
Night lamp with motion sensor
There are also night lamps with a motion sensor. They are ideal for the hallway and not only for the children.
Even if you jump out of bed sleepily because a child is crying, it is very nice if a light automatically switches on in the hallway when you stumble into the hallway.
This night lamp with motion sensor can be set in different ways and switches off after 15 seconds after the last detected movement.
These lights illuminate the stairs. Ideal if one of the parents has to run downstairs to prepare a bottle.
Night lamp for in bed
In this article I have assumed that the child sleeps in his own room. But some parents have the child in their own bedroom.
If you want to have a night light on for your child that does not bother you, you can think of one of the lamps that I have mentioned above that are suitable for in bed.
I have for example this Miffy lamp called or this stuffed animal that is available in various forms.
What do you use a night light for?
In conclusion, you can say that there is a suitable night lamp for every taste and children's room and therefore for every child.
The main reason to use a night light is to give your child a rest when falling asleep.
Your child will close his eyes much easier without fear and with a safe and secure feeling.
A night lamp does not have to illuminate a room, but really serves as a reference point for your child to watch.
Something that is always there and so that he knows where he is when he wakes up at night.
The right night light for every child
With the different ages you can choose different options.
Is your child very young? Then a baby monitor with a built-in light is practical. And certainly one that switches off automatically or that switches on when your child cries.
Preschoolers and toddlers may like a star lamp or a small light in an outlet that can stay on all night.
Especially if children can get out of bed themselves, a small night light is very nice for the peace of mind of children and parents.
Older children may suffice with a lamp in the hallway or a light with a motion sensor, so that the lamp only switches on when it is really necessary.
Do you want to do a quiet activity in the evening before going to sleep, away from that blue light of screens and the busy action on TV's?
I written here again about the good old jigsaw puzzle, a real pleasure for young and old.