Suction cup toys: 4 best toys for bath, high chair & while traveling
I enjoy writing these articles for my readers, you guys. I don't accept payment for writing reviews, my opinion on products is my own, but if you find my recommendations helpful and you end up buying something through one of the links I may be able to receive a commission on that.
More information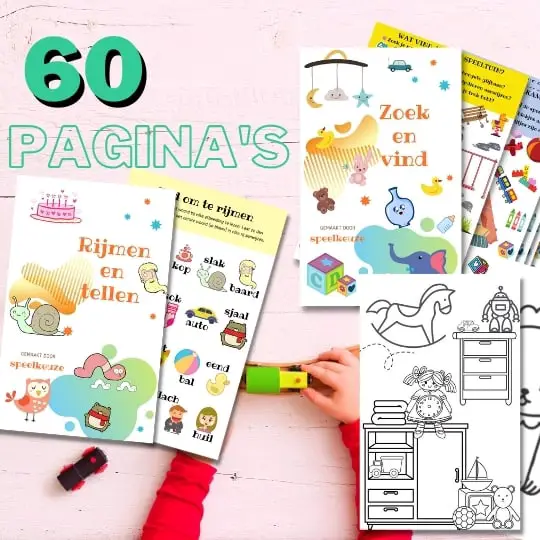 Always something to do for the holidays or rainy day?
Play Choice now has the ultimate activity book collection, with over 60 pages of fun coloring pages and educational puzzles.
All parents know how busy and hectic life with children always is. Free time is rare.
We also know how difficult it can be for a child to concentrate on something for a long time.
Unless it's something they shouldn't be doing, strangely enough they are still and focused.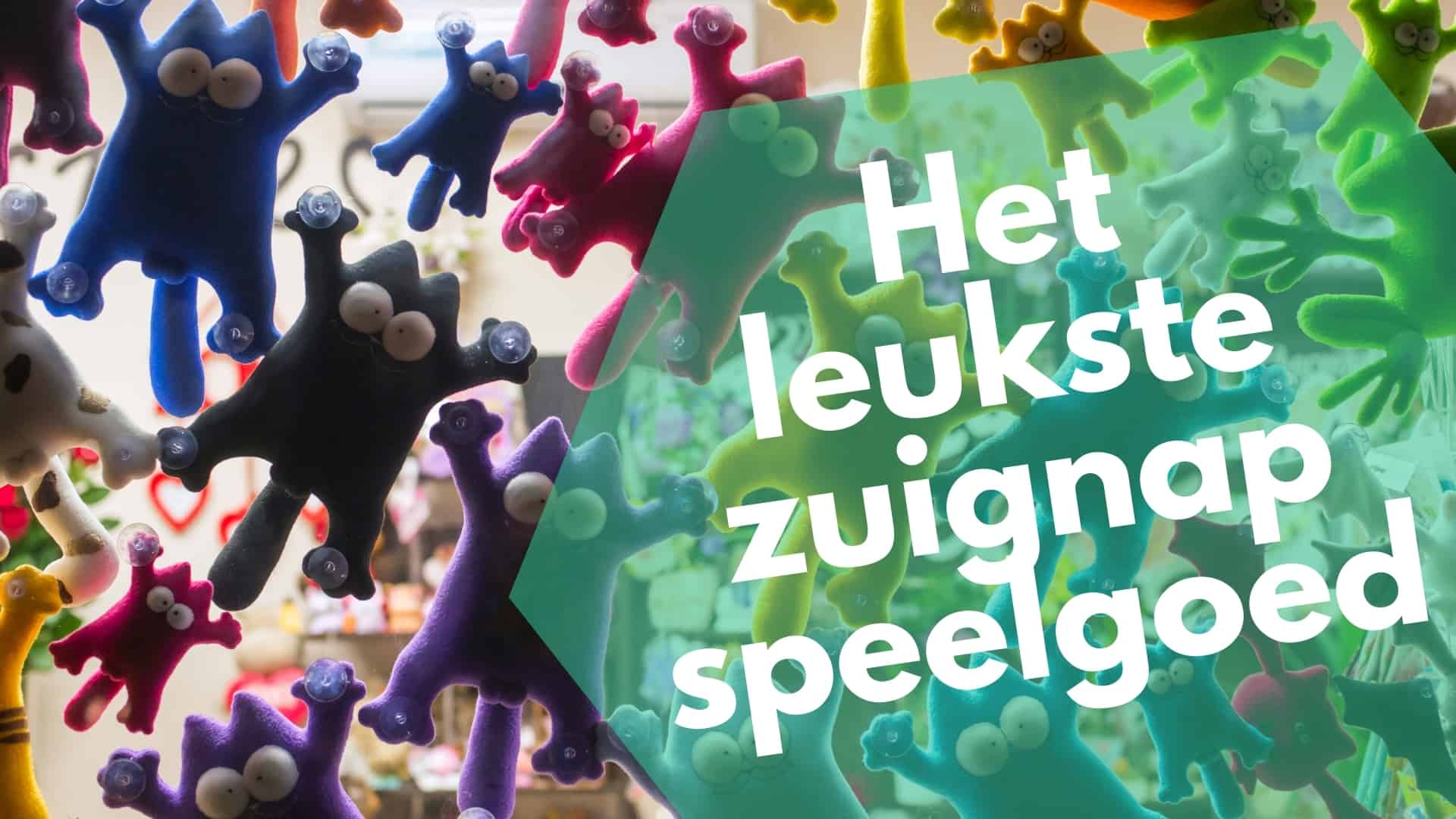 Suction cup toys are fun toys to keep your child occupied. It will immediately demand attention, and it is also an incredibly versatile toy.
Today I will show you the best suction cup toys.
If you have a baby and want to keep them going, then this toy of Sophie the giraffe one to watch because all kinds of things happen to keep them busy.
It is suitable from six months, but can grow from a playpen to a high chair (nice and sticky on the shelf), to a nice bath.
But of course there are many more options for different ages.
First, I have listed a number of fun suction cup toys for you, then I will go into each of these options in more detail: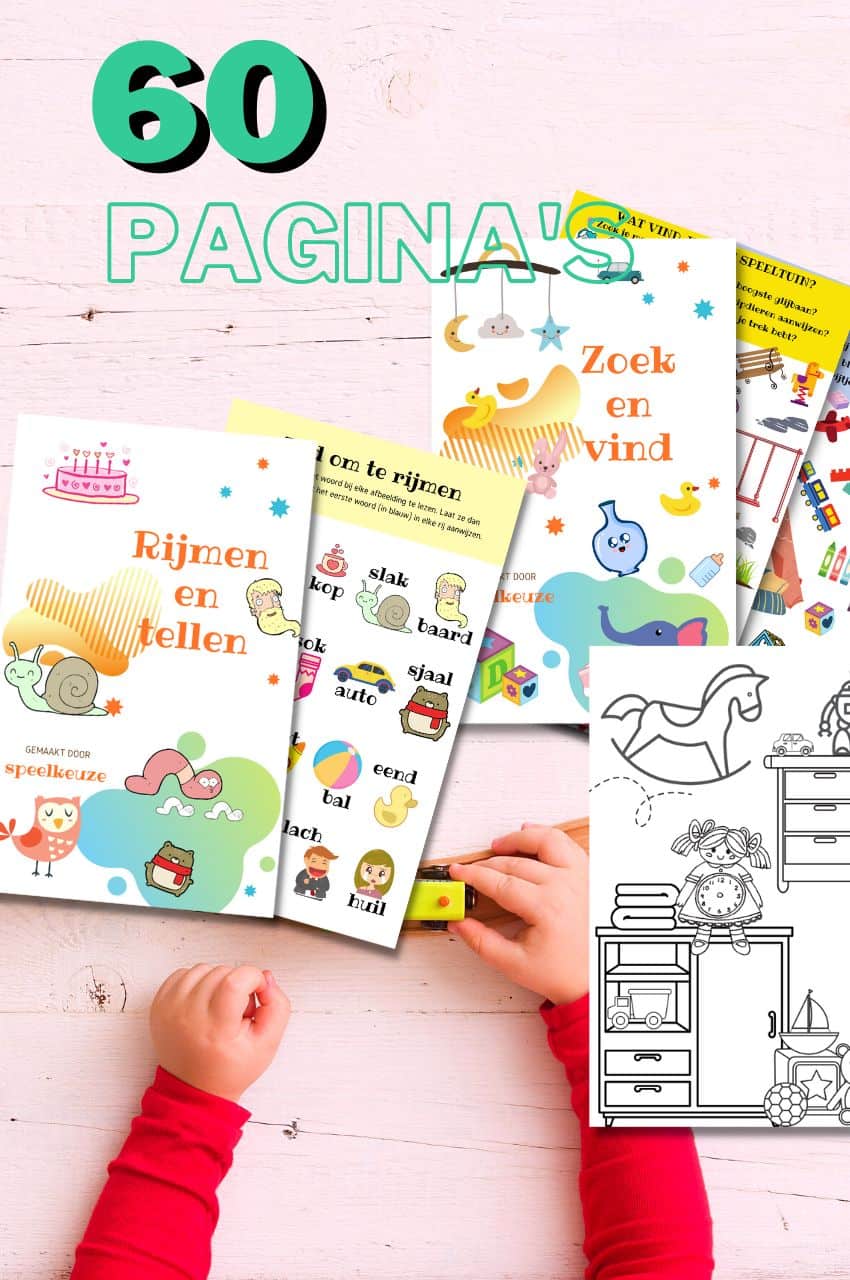 A play theme in your mailbox every month?
Fun play tips, activity books and more, with the first email being our free mini-guide "educational toys"
We will only use your email address for this newsletter and respect your privacy
What can you do with suction cup toys?
You probably have a suction cup in the bathroom to hang something, like your shampoo bottles.
Most likely you also have more than enough toys at home for the kids.
But do you already have a suction cup toy at home?
We should all know what suction cups and toys are, but their combination makes it an interesting discovery for your kids.
A suction cup ensures that you can place these toys somewhere stable, so that your child can play with them for as long as they want.
This could be on a dining chair, on the wall near a bathtub or any other place where your child is and they are ideal for water play or for traveling.
Also read: 27 cutest bath toys that can float or stick
You can easily paste it somewhere and also move it whenever you want. It is stable and your child will not get it off easily.
Although, of course that also depends on the muscles of your child ...
But in principle it remains stable and you decide when it is moved!
Are these toys that can change parents' lives and give them more peace of mind? I think so!
What kind of suction cup toys are there?
If you just look up "suction cup toys" online, you will find a lot of options.
There are many different types. As a parent you choose the best one (or you let your child do this).
Most suction cup toys look attractive to your child. Super colorful and perfect to have their attention for a long time.
It can be an animal with all kinds of things. Your child can then play and fiddle with this in all kinds of ways.
It can also make noises, which is even more interesting for your child.
For example, some suction cup toys also have something you can turn, such as a wheel. Your child can then sit on it with the little hands as much as they want.
Suction cup toys may not be known, but there are so many different options!
Does your child love a lion? Or from a boat? Then just choose a suction cup toy in the shape of a boat or lion!
Super ideal.
Cutest suction cup toys rated
We have chosen these favorites for a reason. But why is this suction cup toy so much fun?
Cutest suction cup toys for babies: Sophie the Giraffe carousel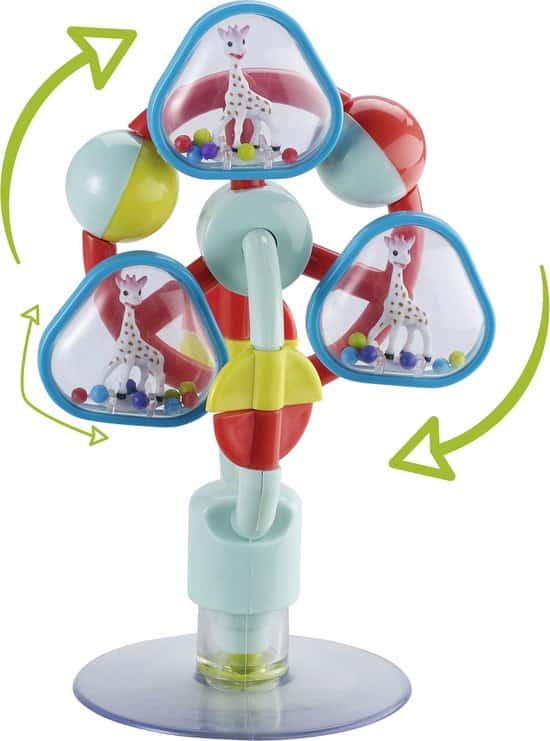 This Sophie the Giraffe suction cup toy has a nice red wheel to which everything is attached.
There are cute giraffes and colored balls that make sounds that your child is sure to love.
This can all be turned and then your child will definitely do.
Best suction cup toys with sounds: Chicco rattle Phil the caterpillar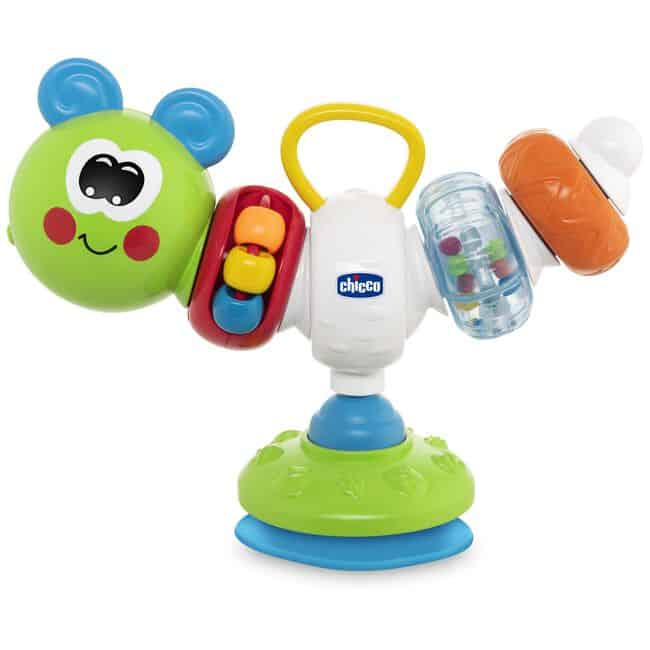 Then we have this adorable rattling Phil's caterpillar Chicco. Very colorful with a cute face.
There are all kinds of rings and things attached that your child can fiddle with endlessly!
Best suction cup toys with songs: Vtech Dance and Turn Lion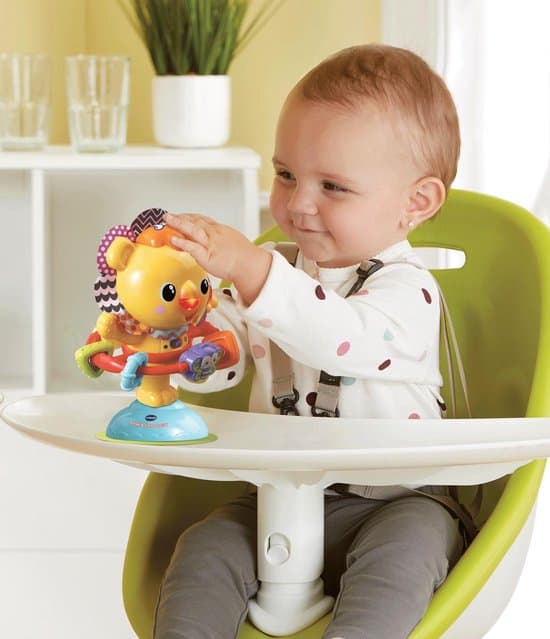 Here we have another fun one: the dance and spin lion from Vtech!
He can dance and spin for sure. The lion looks super cheerful and cute.
Your child can also make the lion dance and sit on the stars, squares, and so on. Totally awesome.
Best suction cup toys for shower and bath: Tomy Octopals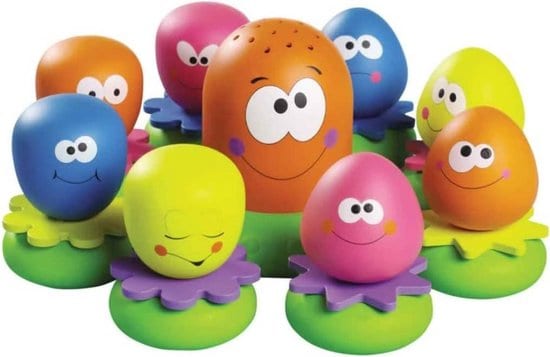 You may have seen the Octopals before on this website, or maybe on our Youtube channel:
I've discussed them before at this fun toy for in the shower where I go into it in more detail.
But what makes them so much fun is not only the suction cups with which you can stick them to the edge of the bath or shower tiles, but also that they can float and even spray water when they soak up.
My son has already had a lot of fun with it in the shower and outside in the water table, running after us and his niece who stayed stay :)
Really recommend!
Best suction cup toys with many colors: Lamaze Freddie the Firefly High Chair Toy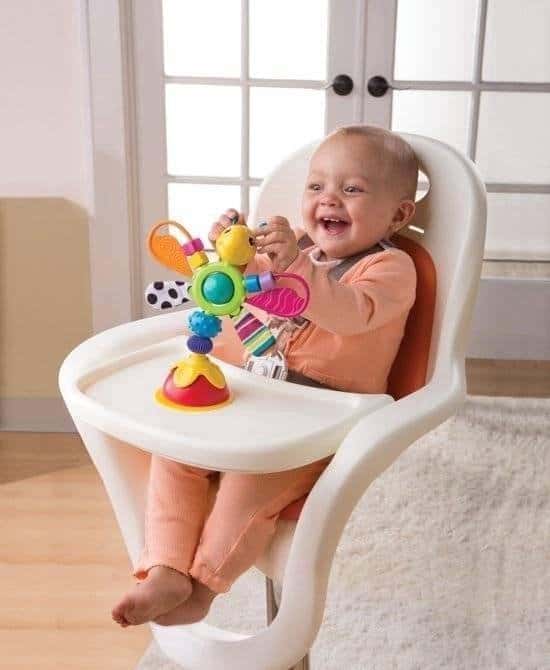 And then Lamaze's firefly!
This firefly is super beautiful. Full of stripes, dots and colors.
The firefly can swing nicely when your child plays with it and touch the colorful things that make up the body of the firefly.
Check prices and availability here
Why are suction cup toys so much fun?
You recognize it, your child who wants your attention every second of the day.
Children have a talent for always doing something that sometimes makes you wonder how the hell they got there ...
If you don't look for a moment, they have already put something in their mouth, which 9 out of 10 times is inedible and can even be dangerous.
Or they bumped themselves into something again. First you hear the slap, then the crying starts and before you know it you are comforting your child again.
When you give them a normal toy, they always find a way to get your attention back.
They throw it on the ground every few seconds, you have to pick it up for them and then this happens about 100 times.
And if you don't pick it up, they will naturally start crying again.
All this can change with a suction cup toy!
You stick these toys near your child and he or she will be sweet for a long time. Your child cannot throw these toys on the floor every second.
Children can try to analyze and figure out the toys long enough.
Suction cup toys are so much fun for them, because everything is attached to it and because the toys also stay put!
As a parent you can finally cook, work or do some other simple thing in peace, which is probably almost never possible.
Finally a little rest!
Unfortunately, I cannot promise complete rest, but with a suction cup toy you can at least get a lot more rest.
As a parent, of course, you appreciate every bit of rest you can get ... It can all be tough for a parent at times.
The most important thing is that the children are healthy and happy, but sometimes you also want a little bit of rest.
Suction cup toys can finally give you some rest and that sounds like a dream come true!
Have you ever heard of these toys before or do you have friends who already have these toys at home?
Ask around and test it out I would say.
Also read: these are the best toys for in the shower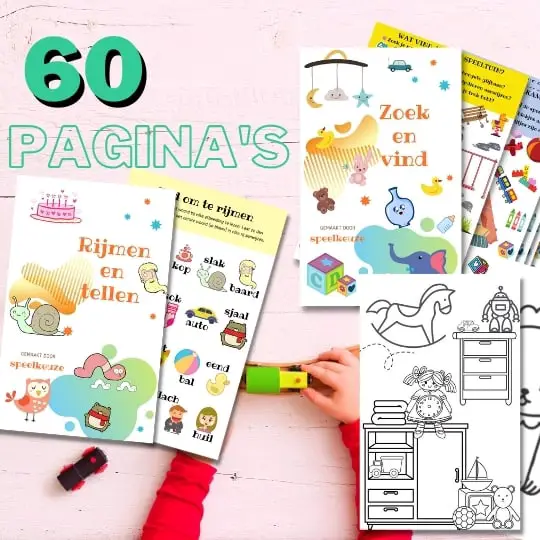 Always something to do for the holidays or rainy day?
Play Choice now has the ultimate activity book collection, with over 60 pages of fun coloring pages and educational puzzles.
Joost Nusselder, the founder of Speelkeuze.nl is a content marketer, father and loves trying out new toys. As a child he came into contact with everything related to games when his mother started the Tinnen Soldaat in Ede. Now he and his team create helpful blog articles to help loyal readers with fun play ideas.