14 Best Toy Horses Reviewed | loose, carriage, stable or trailer
I enjoy writing these articles for my readers, you guys. I don't accept payment for writing reviews, my opinion on products is my own, but if you find my recommendations helpful and you end up buying something through one of the links I may be able to receive a commission on that.
More information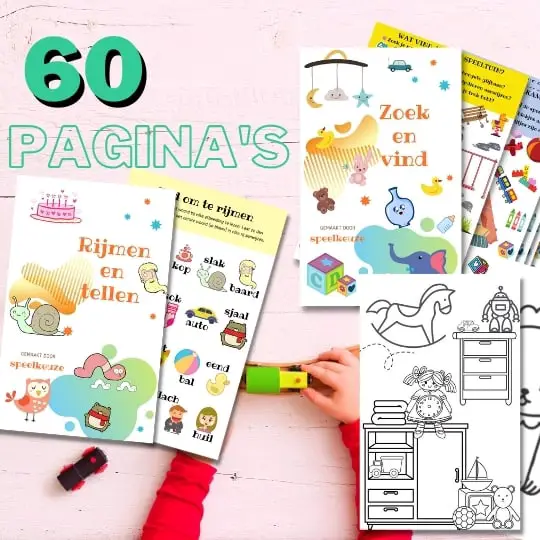 Always something to do for the holidays or rainy day?
Play Choice now has the ultimate activity book collection, with over 60 pages of fun coloring pages and educational puzzles.
Is your son or daughter, or maybe you are a big horse fan yourself? Then it is understandable that you are looking for original horse toys for your child.
But which horse item is a good choice for your child? Are you looking for a toy horse for a baby, toddler, toddler or for an older child?
We have found some nice toy horses for you, in different shapes and sizes, take a look further.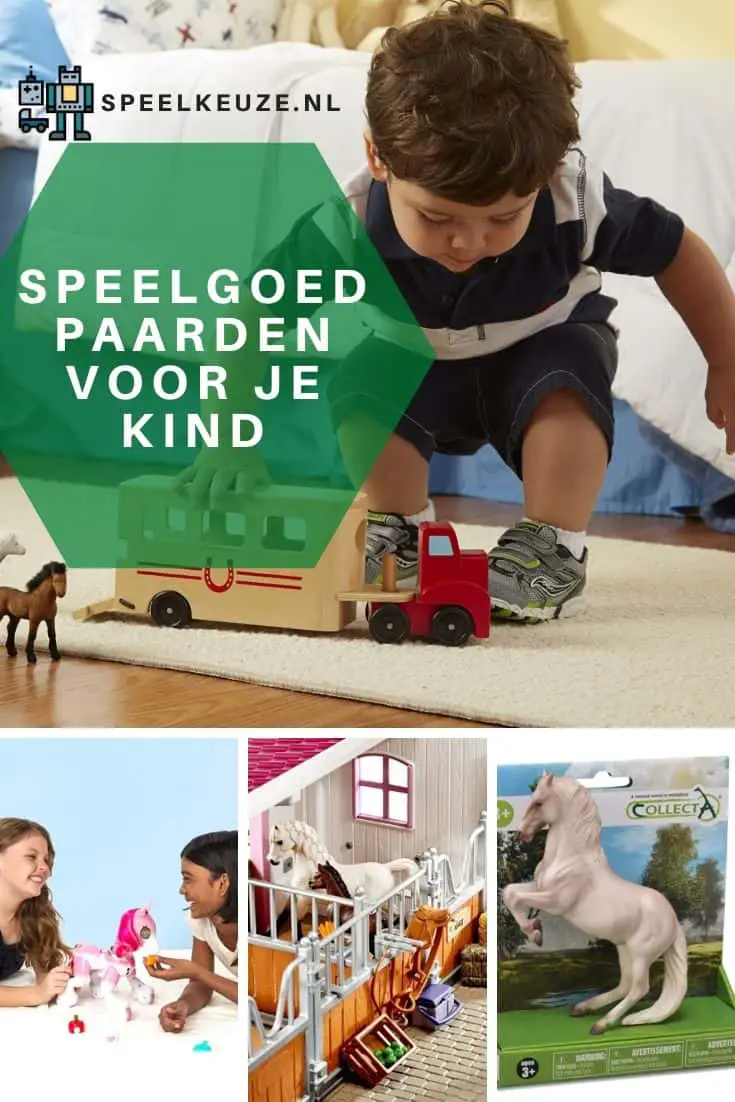 There are so many different horse items available:
plush stuffed toys,
horse quartets,
rocking horses,
horses on wheels,
robot horses,
you name it and it is for sale.
First, let's take a look at the nicest toy horses of the moment, then we'll dive into an extensive review:
Best Toy Horse Stable (5 – 8 Years)
Schleich
Lakeside Horse Farm (42551)
The Schleich Horse Club horse stable with Rider and Horses looks beautifully cared for. The red roof tiles contrast nicely with the white stable.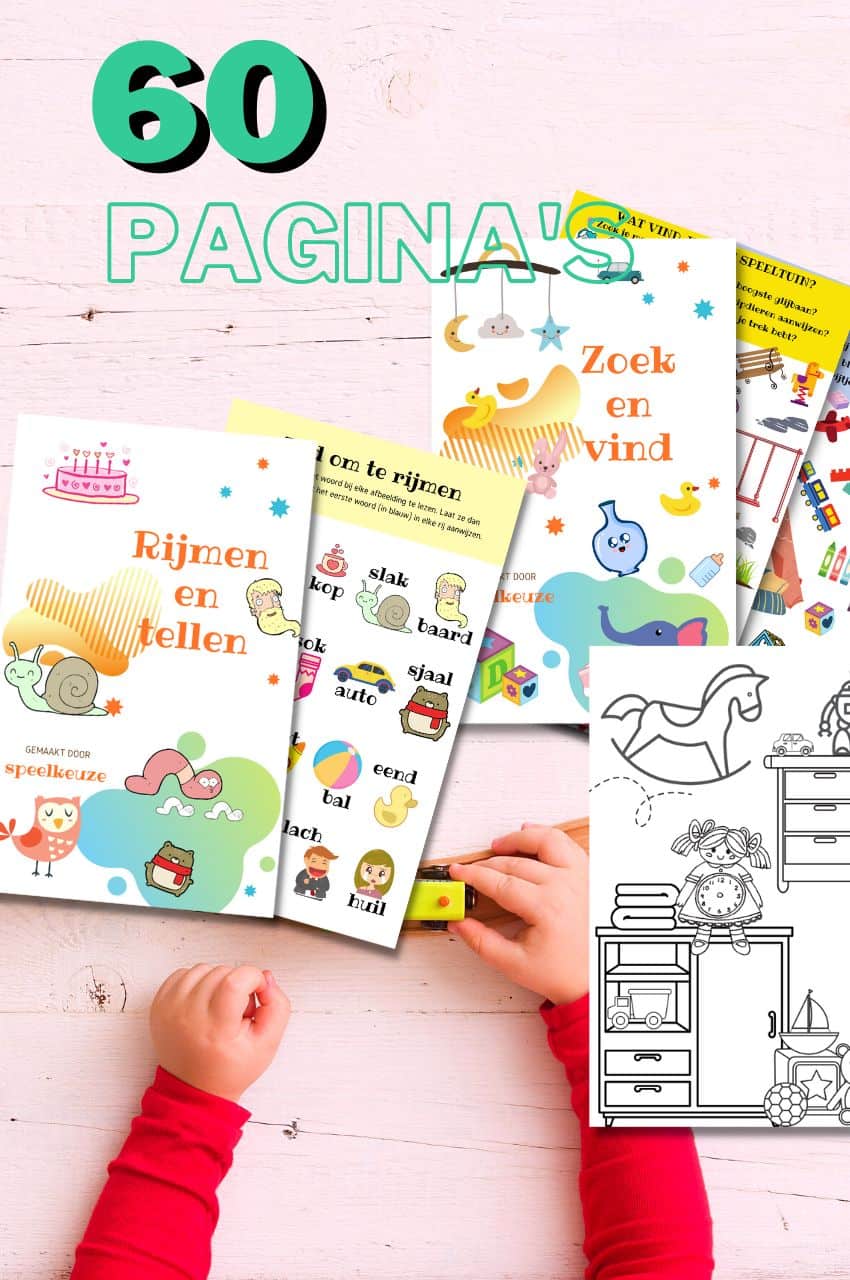 A play theme in your mailbox every month?
Fun play tips, activity books and more, with the first email being our free mini-guide "educational toys"
We will only use your email address for this newsletter and respect your privacy
Top 14 Best Toy Horses Reviewed
Best Toy Horse Stable (5 – 8 Years)
Schleich

Lakeside Horse Farm (42551)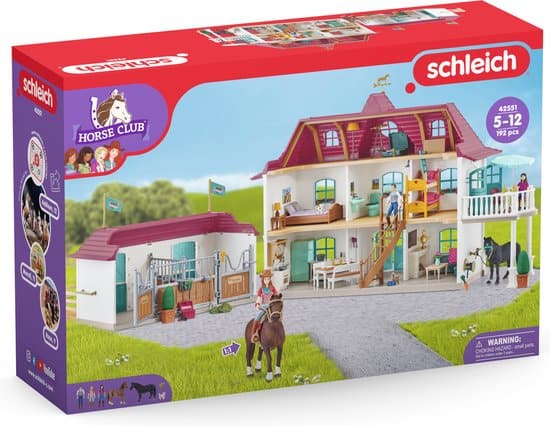 Best for
A lot of playing possibilities

Very realistic
The Schleich Horse Club horse stable with Rider and Horses looks beautifully cared for. The red roof tiles contrast nicely with the white stable.
With its green doors and pink-colored windows, the barn actually looks fantastic.
The pink and purple flowers in the trays in front of the windows add a cheerful note to the whole.
The horses are in large, luxurious boxes, the straw bales and food are also ready for these lovely animals. There is also enough space outside to house the horses.
The horse blanket is ready to prevent your horse from catching a cold. A very nice and detailed set for children between the ages of four and ten.
Best large toy horse to sit on: QHP Jumpy Horse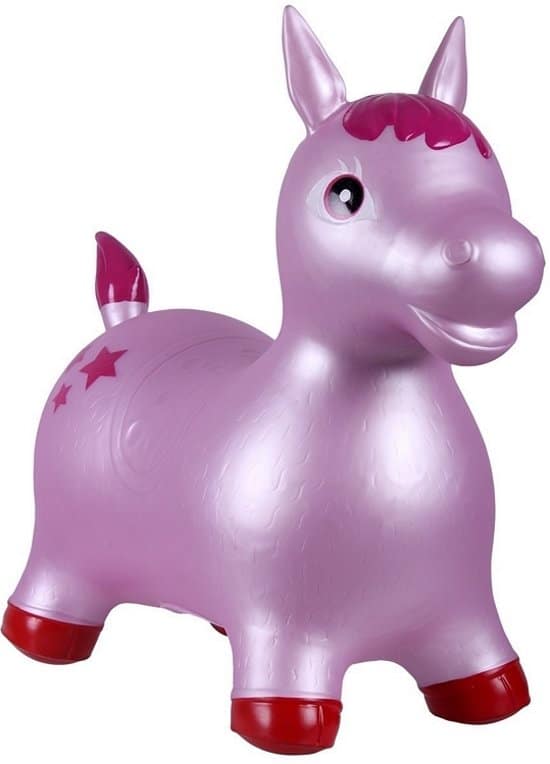 A trendy pearl-colored toy horse, this QHP Jumpy Horse Pearl - Pink. Your little one can jump around with this horse like a true cowboy!
The jumpy horse springs like a gym ball. A trolley with wheels is available separately, so that your child can not only jump with the jumpy horse, but also just ride the horse.
He has a lovely face, a red tail, a red mane and red stars on his bottom. A great gift, suitable for children from three years old.
Check the most current prices and availability here
Best toy horse trailer: Melissa & Doug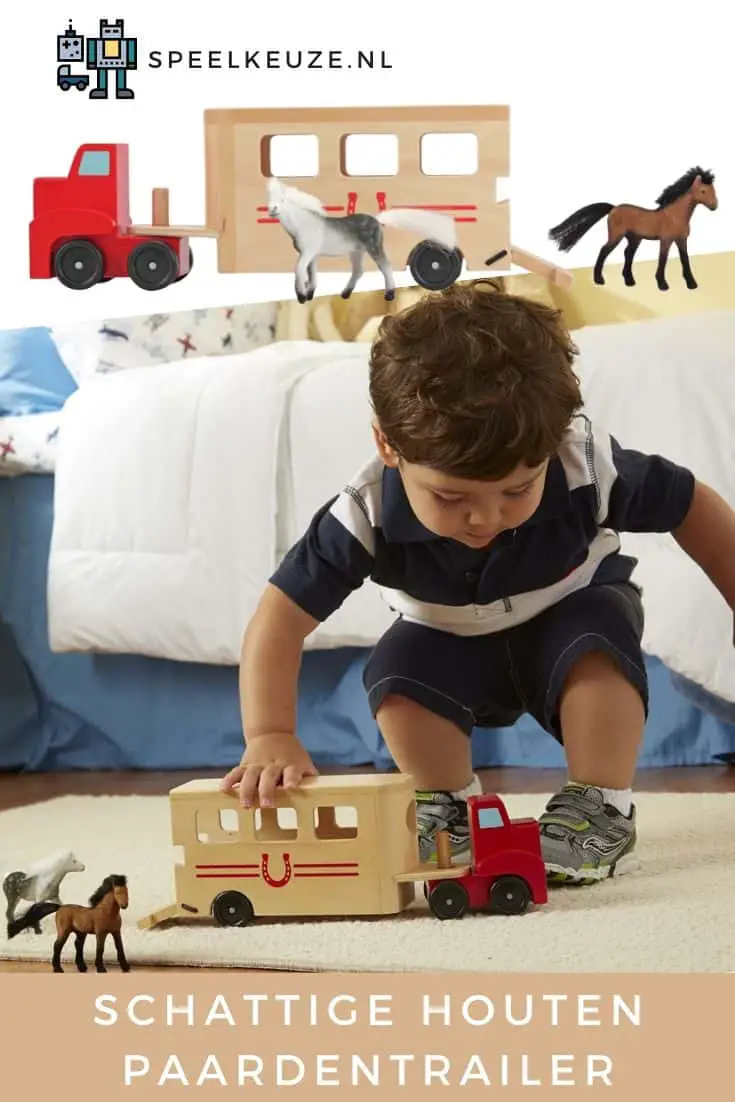 The Melissa & Doug horse trailer with horses 4-part horse carriage has a tailgate that can be lowered to serve as a gangway for the horses.
They can hop in and out of the trailer with ease. The set comes with two horses, a white horse and a brown one.
The wagon is made of wood, a beautiful toy for any child who loves horses. Nice for your little horse fan!
For sale here at Internet-Toys
Cutest plastic toy horse: Collecta Lipizzaner stallion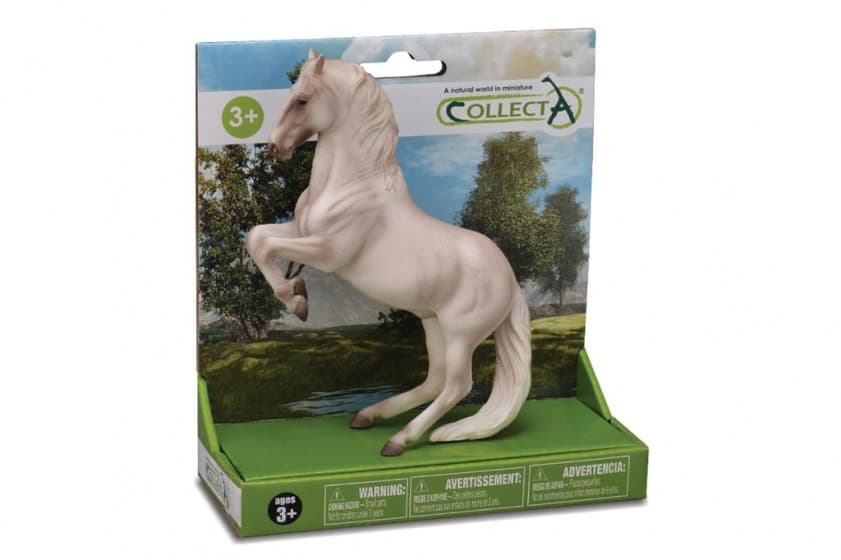 Does your son or daughter collect horses? Then take a look at these Collecta horses: Lipizzaner stallion 17 cm white.
Also suitable for just playing, your child can use his imagination to come up with a beautiful horse story.
The Lipizzan horse is a beautiful white-colored horse breed that originated in the imperial court stud farm of Habsburg.
The horse is scaled down to the smallest detail and painted by hand. A popular horse among our collectors!
Suitable for children from the age of three, but also beautiful to collect for older children and adults.
Cutest toy horse with sound: VTech Preschool Mila Interactive Cuddly Toy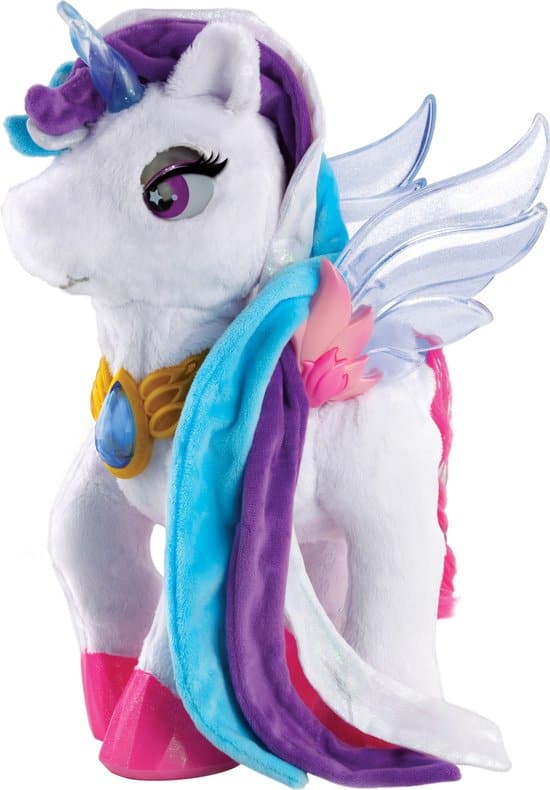 Your child can do a lot with this VTech Preschool Mila, My!
Your little one can use the magic brush and color palette to decorate the horn, eyes or wings in his or her favorite colors before the music stops! Mila can also sing.
When the microphone is held against Mila's mouth, she sings beautiful songs, when the microphone is removed, your child can sing the song to the melody only.
She lets your little one enjoy the magical light effects when she is stroked on her back. Mila can also talk and sing up to five songs!
She can move her head and blink seductively. She loves playing with colors and she can even magically predict lucky colors!
Your child can also use Mila's hair accessories for their own hair. The volume of the music is adjustable and equipped with an automatic switch-off.
Check the most current prices and availability here
Best toy rocking horse: Kidso unicorn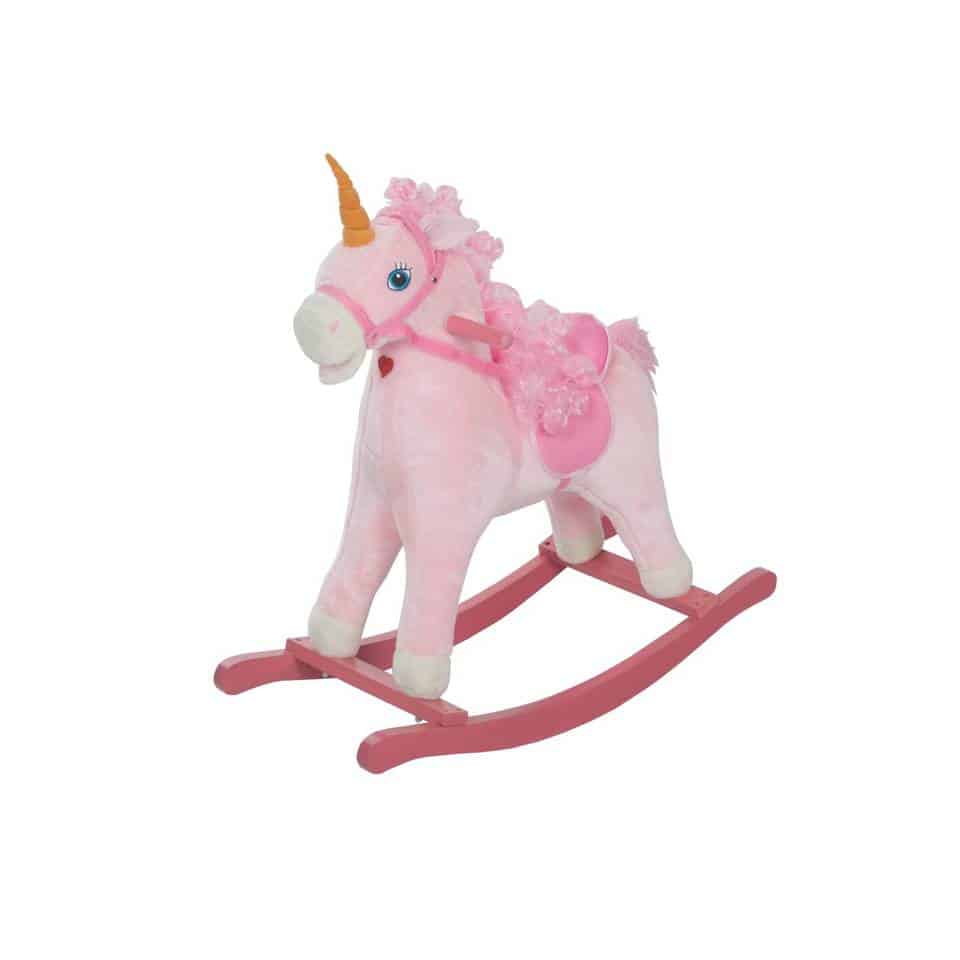 The pink Rocking horse pink Kidso unicorn makes noise and can move its mouth and tail.
The unicorn's plush fur feels wonderfully soft and children can sit on it and bounce back and forth nicely.
Your child learns how to keep his or her balance. The rocking horse has two handles that your little one can hold on to and looks great in the nursery or living room!
How endearing it is to see your child enjoy this pink unicorn.
This fairytale horse is a very nice gift to give and also great for your child to receive as a gift.
The unicorn is made of wood and has a fabric seat. It has a handy saddle and is 68 centimeters high.
Suitable for young children who can already sit independently.
Cutest toy horse with carriage: Horse and Princess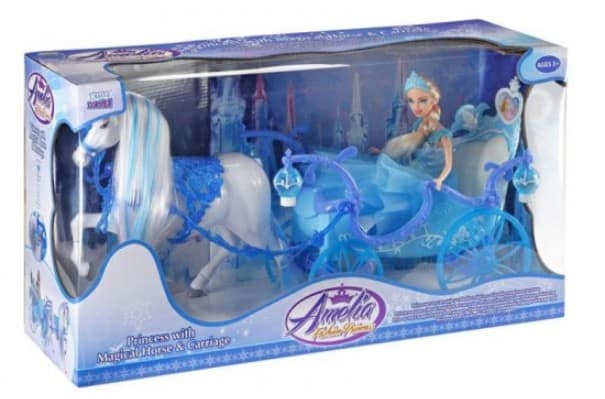 What a beautiful dream coach. Your little one will love to play with the white horse with the long mane, the horse is always on the go, pulling the blue dream carriage with the beautiful princess in it.
Where does the princess wish to be taken again today? Maybe to a big royal ball or to the castle from her friends.
She might want to visit her Prince Charming for a tea party.
She has put on a beautiful and matching blue dress especially for the trip and she feels like the most beautiful in the country today.
Her blue crown is also included! This set is suitable for children from the age of three.
View it here at the cave toy store
Cutest Charlotte toy horse: Fleur Pop horse set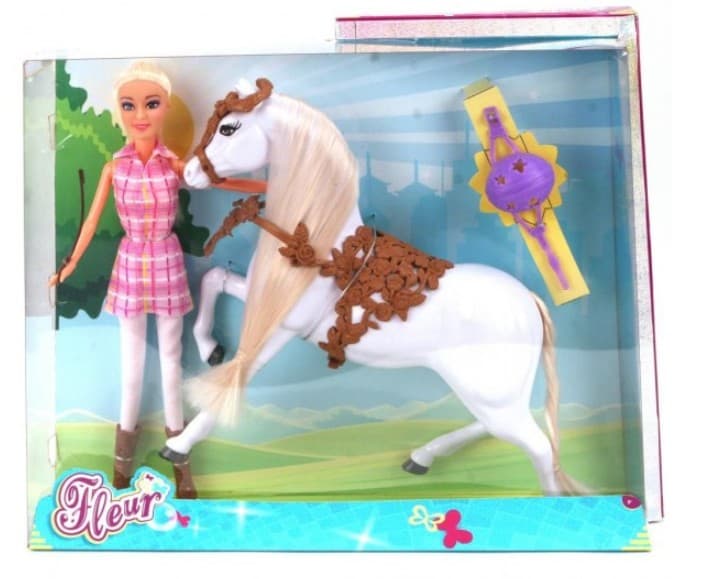 Does your child like horses just like Fleur? Charlotte has a beautiful pink dress and shiny, long blonde hair, her white horse has a beautiful white mane.
They are best friends and they have countless adventures together. Your child can saddle up the horse for Charlotte so she is ready to go for a long ride.
The horse wears a beautiful brown flowered saddle and bridle with reins. The perfect set for real horse fans! Suitable for children from the age of four.
Best toy robot horse: Zoomer Pony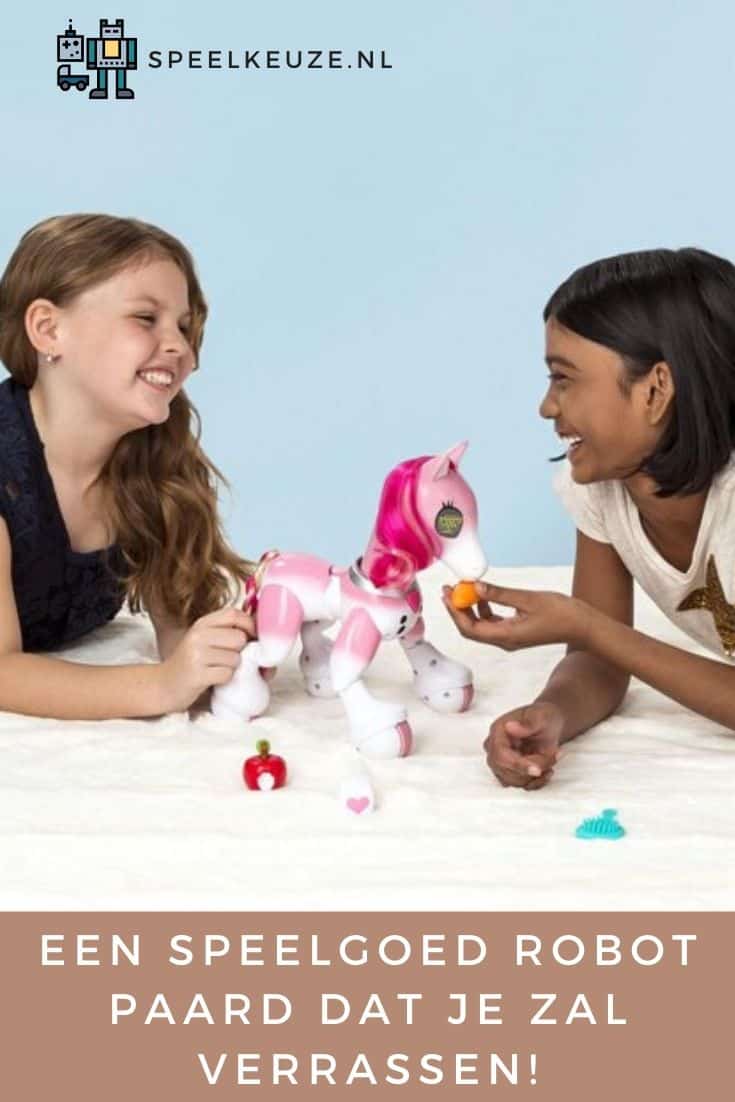 The Zoomer Pony is a contemporary and exciting interactive pony.
Your child can train her herself and learn tricks by rewarding her with, for example, an (interactive) sugar cube and then saving the learned trick.
The Zoomer pony likes to munch on a delicious apple or carrot.
She is happy when she is stroked her nose, but also her head; it makes her happy and she will whinnied that she loves you.
Her pretty eyes light up happily and your child can press Zoomer ponies to make her sing, dance, walk and do tricks!
Your little one can comb and style the long mane with the hairbrush to get Zoomer to perfection for her big horse show.
Your child can fully enjoy this friendly super horse that can do everything! The set has four interactive accessories; an apple, carrot, sugar cube and brush.
The Zoomer pony operates on four AA batteries that are not included.
Cutest toy horse with hair to take care of: Toi-Toys play set

This Toi-Toys play set horses with accessories 15 cm multicolor has no less than three horses with great long mane to take care of! A brown horse, a white and a pink!
They love to be combed and their mane braided in. Your little one can try out different hairstyles on these horses.
They love a reward when they have their mane cut down obediently! Your child must also have a well-kept stable and a large pasture for these horses where they can canter afterwards.
The horse set is suitable for children from the age of three and comes with a pitchfork, a shovel, a broom, a drinking bowl and also a brush.
Have fun with these colorful horses!
Cutest unicorn hug: Ty Beanie Fantasia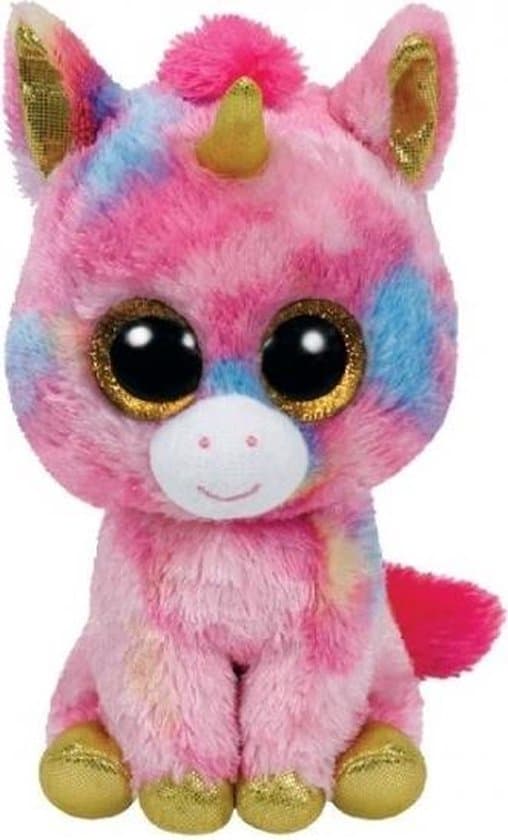 This endearing plush Unicorn Ty Beanie cuddly toy Fantasia 24 cm with a fur colored like a rainbow (just like this toy) and big eyes is known from the Ty Beanies.
He has a striking golden horn, golden ears and hooves. No cuddly toy is more pleasant to sleep with than this sweet Ty Beany boyfriend!
It has a cute appearance and there are brothers and sisters available in different colors. A very nice cuddly toy that your little one will certainly not get enough of!
Check prices and availability here
Cutest plush horse hug: Hansa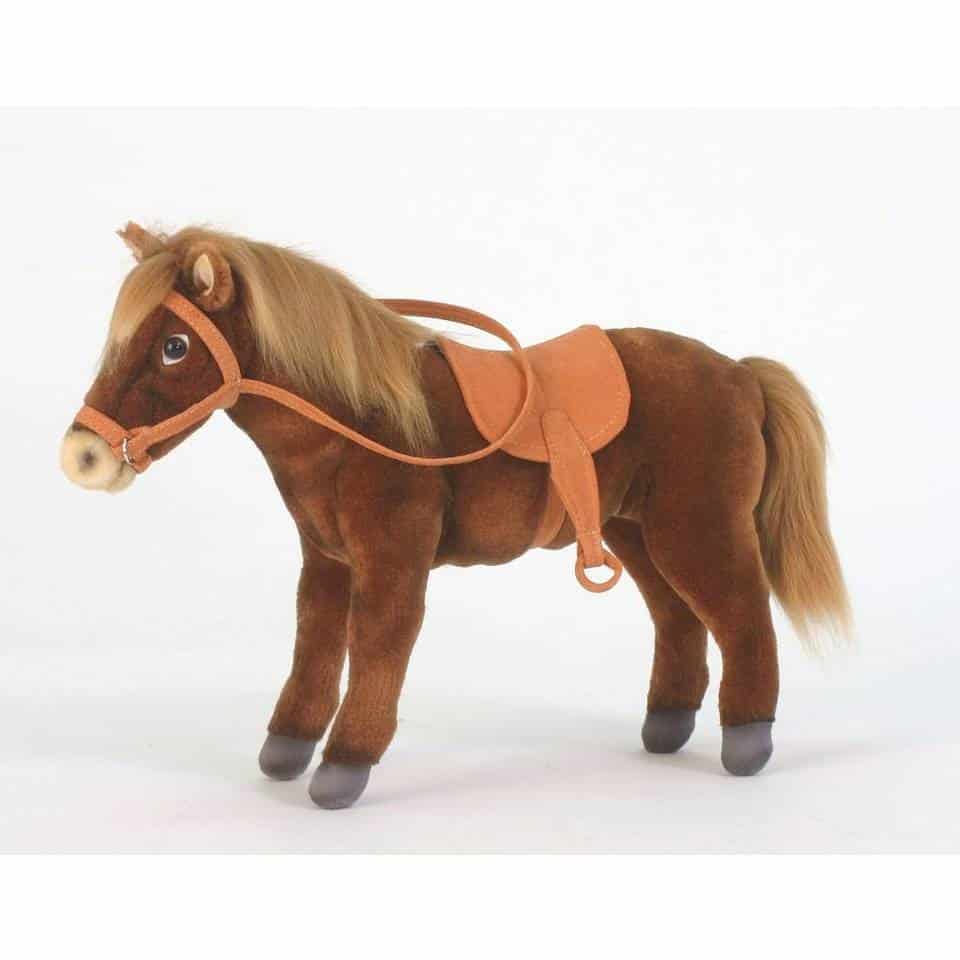 This large Brown Horse Stuffed Toy, 37 cm, Hansa is a nice brown horse with a saddle, a halter and reins. He has a beautiful blond mane and a full tail.
Very nice to cuddle and play with, your child can let his dolls ride on the back of this cuddly toy.
Maybe your little one is a big horse fan or he or she likes to ride a real horse himself; then this plush toy is a great gift to receive!
A beautiful cuddly horse, suitable for all ages.
Best Horse Bath Toy: Tikiri Bite And Bath Toy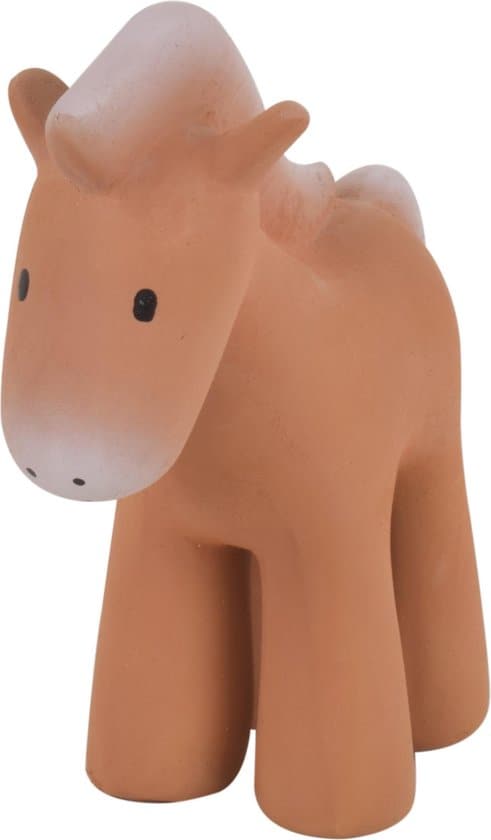 What a lovely toy for your baby or toddler to bathe with!
This sweet little horse from Tikiri is ready to take a bath with your little one. When the brown horse is rattled back and forth, the bell inside makes a sound for even more fun!
Fortunately, no water or soap residue can remain that causes mold, because there is no hole at the bottom.
The horse is made of 100% natural rubber, vegetable colored and therefore completely free of toxic substances. your little one can play safely with it and can also bite it.
VTech

Smart Friends Twinkle the Magical Unicorn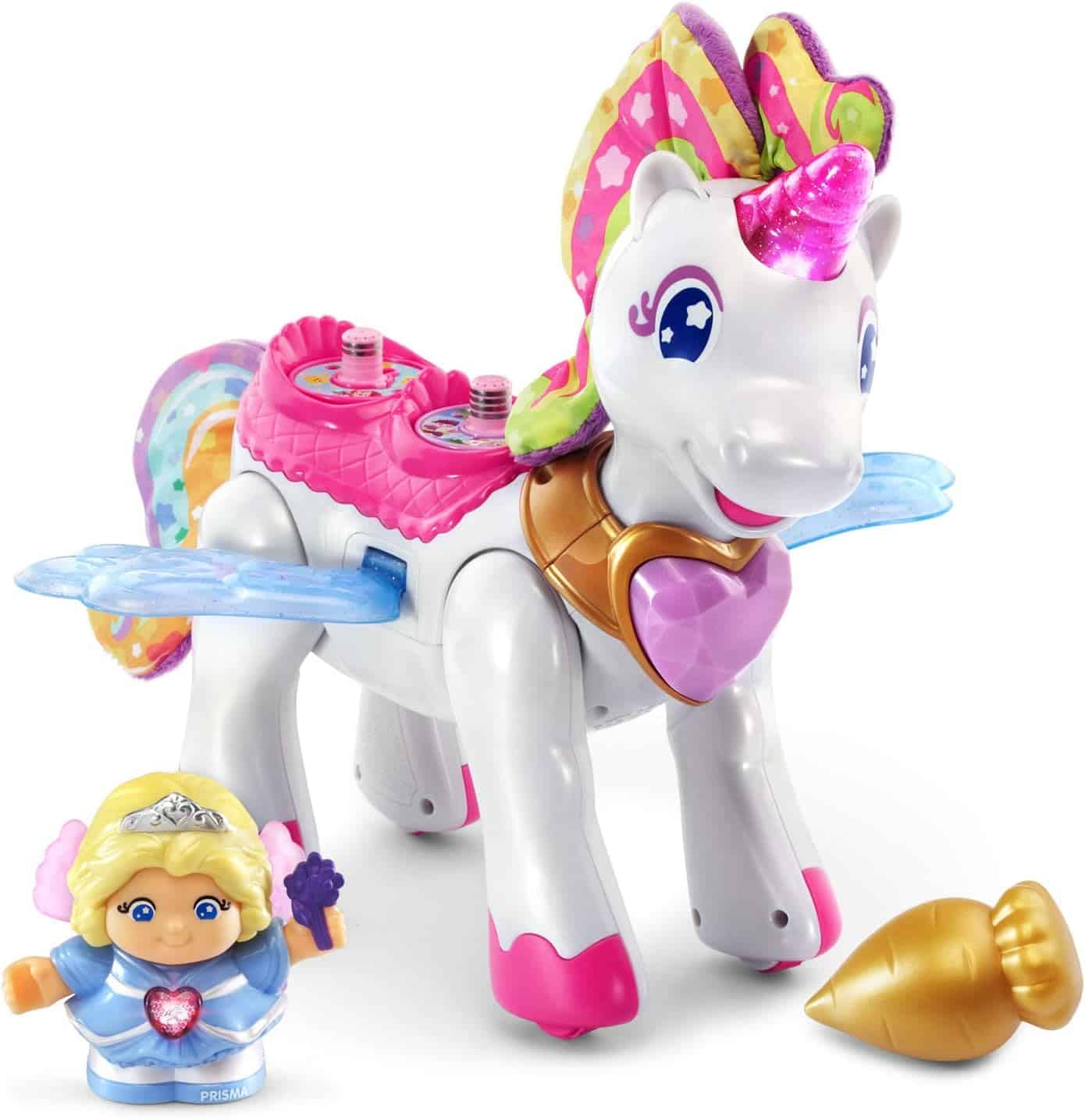 Best for
Interactive horse/unicorn with fun features

Can move and make sounds
Less good
They grow out of it pretty quickly
Have a beautiful adventure with Twinkle, VTech Happy Friends Magic Kingdom Unicorn by Femke Fee!
When Femke Fee or another friend sits on one of the two Magic Points, Twinkle suddenly starts moving her head and also walking.
Your child can communicate with Twinkle by pressing the heart button so that she makes funny sounds and nice melodies.
Twinkel's horn can flash and also change color. She knows no less than six melodies and can sing three songs.
The horse is suitable for kids from one year, this is a sturdy and durable product. The friends and Femke Fee are available separately.
A horse is a noble animal
All animals have legs, but with horses we say they have legs! The horse is a noble animal.
People have been riding horses for centuries, they were used by humans as a draft horse for the land, as a means of transport, to pull a carriage or to make war.
Today horses are mainly used in equestrian sports. Horse owners often have a close bond with their horse.
They were and have always been extremely important to humans and that is why horses are called noble.
Why are horses so loved?
Horses give us a physical and sensory sensation. They have velvety soft skin and warm muscles, they have a pleasant scent and they bring us peace.
Petting and riding a horse feels good. Why do horses have such an impact on humans?
Well, it turns out that every heart, both human and animal, emits a magnetic field.
The larger the heart, the greater this magnetic field and a horse has a very large heart. In his presence, we feel filled with empathy, which in turn connects the horse with us.
When we ride a horse, we swing with its rhythm. Our hips move and that makes our body produce oxytocin.
This substance, a happiness hormone, makes us happy and calms the nerves. How wonderful!
Playing with horses reduces stress in children
Research has shown that letting children ride or interact with horses results in much less stress.
Horses are herd and prey animals and this combination makes them very sensitive to non-verbal signals.
It therefore takes them little time to build a relationship of trust with vulnerable or insecure children. Horses don't judge, horses only feel.
In any case, animals have a beneficial effect on children: they are all unbiased and can comfort them well. But a horse has that little bit extra!
Types of horses
There are many different horse breeds. Big horses, but also smaller ones.
The largest and strongest horses used to be used to help people with heavy work, the draft horses.
Some are even so strong that they can pull boats (so also fun to play with this boat toy!). Other horse breeds are more suitable for just riding.
Small children often ride ponies or Shetland ponies. Haflingers are also popular, because they often have a sweet character.
Halflingers come from the Austrian village of Halfling and were created after a cross between a native mare and an Arabian thoroughbred in 1874.
Conclusion
After reading this article it may have become easier to understand how attractive horses are to children and why our kids love them so much.
Children are therefore often crazy about everything that has to do with horses;
Not only on horseback, but also on horse cuddly toys, Barbie Dolls with horse, horse books and also unicorns.
They love to cuddle horses or get lost in a horse story. With toy horses they can make their own story and experience wonderful adventures.
They can comb the mane and groom the coat, or clean out the stables, just like a real horse.
The toy horses that we have listed for you will help you choose the right gift for your little one or perhaps for your slightly older child.
Each item has a clear description. Enjoy reading!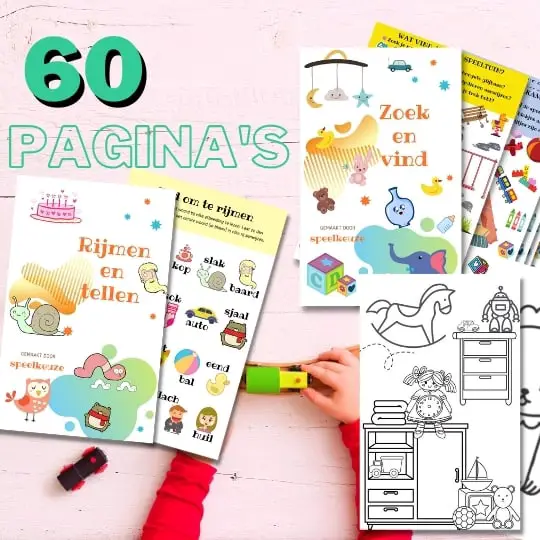 Always something to do for the holidays or rainy day?
Play Choice now has the ultimate activity book collection, with over 60 pages of fun coloring pages and educational puzzles.
Joost Nusselder, the founder of Speelkeuze.nl is a content marketer, father and loves trying out new toys. As a child he came into contact with everything related to games when his mother started the Tinnen Soldaat in Ede. Now he and his team create helpful blog articles to help loyal readers with fun play ideas.