5 best rainbows toys: learn colors together
I enjoy writing these articles for my readers, you guys. I don't accept payment for writing reviews, my opinion on products is my own, but if you find my recommendations helpful and you end up buying something through one of the links I may be able to receive a commission on that.
Further information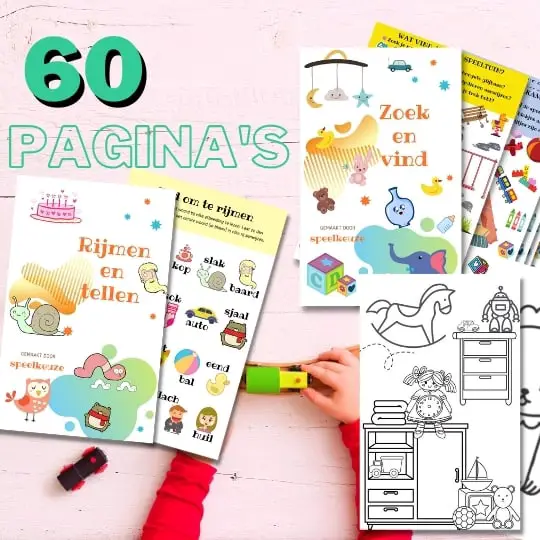 Always something to do for the holidays or rainy day?
Play Choice now has the ultimate activity book collection, with over 60 pages of fun coloring pages and educational puzzles.
As a parent you have probably noticed that almost all children's toys are very colorful and in many cases contain the colors of the rainbow.
But have you ever wondered why that is?
Perhaps a marketing trick, you might think, is to get mum and dad to buy attractive toys for their children. But that's not all.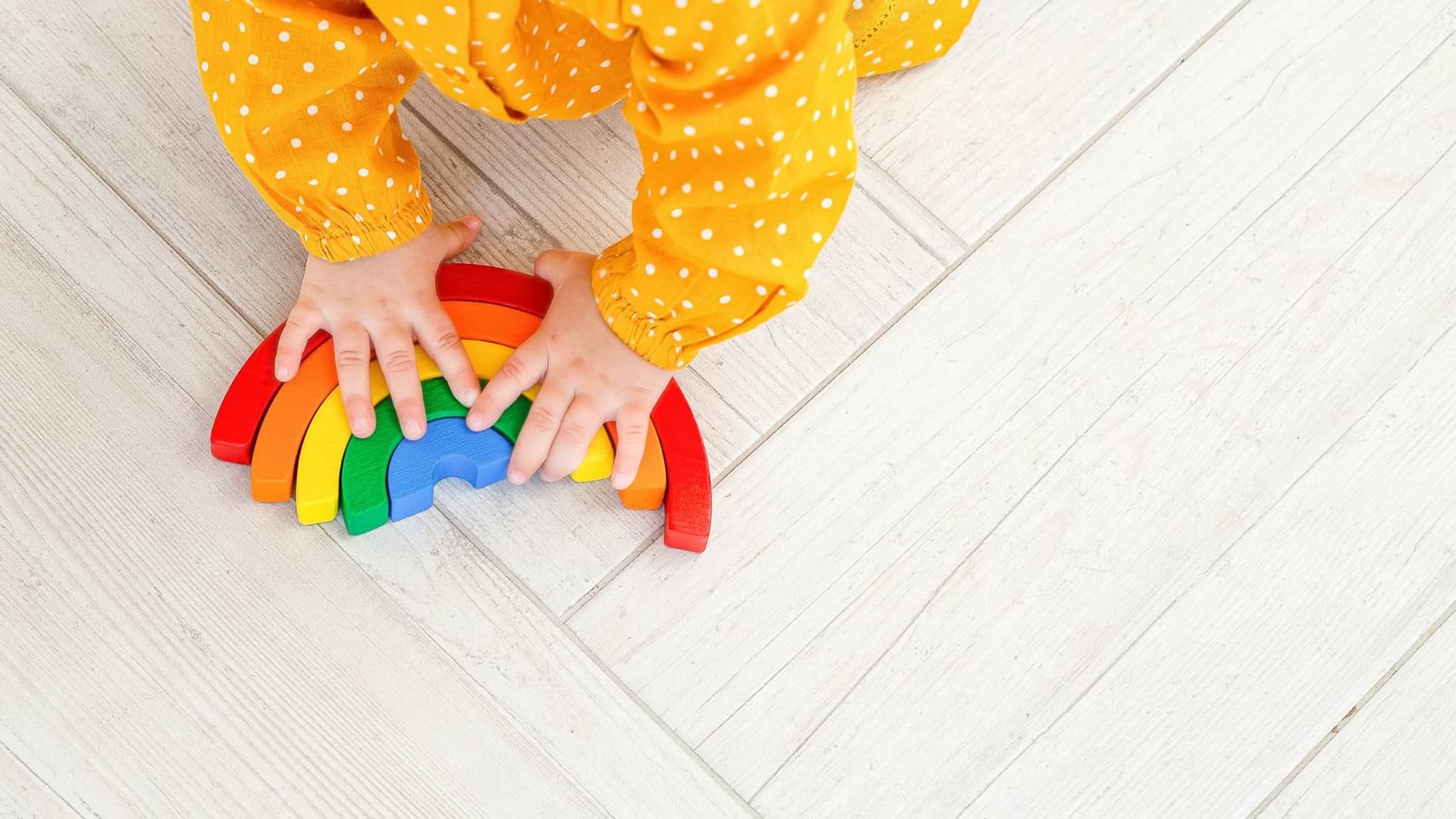 Toys with the colors of the rainbow have a positive effect on the child's mood and provide a pleasant and educational play experience, and as far as I am concerned, they are indispensable in your child's collection.
I have done extensive research and selected the best rainbow toys for you. You can find my top five in the table below.
One of the finest examples of rainbow toys is this Grimm's Rainbow. The toys are made of high-quality material (lime wood) and encourage creative play. Because the toy is made of natural material, it is immediately a bit more expensive than 'normal' toys or toys made of plastic.
More information about the Grimm's rainbow can be found below the table.
Curious which products I have included in my list? Then read on soon!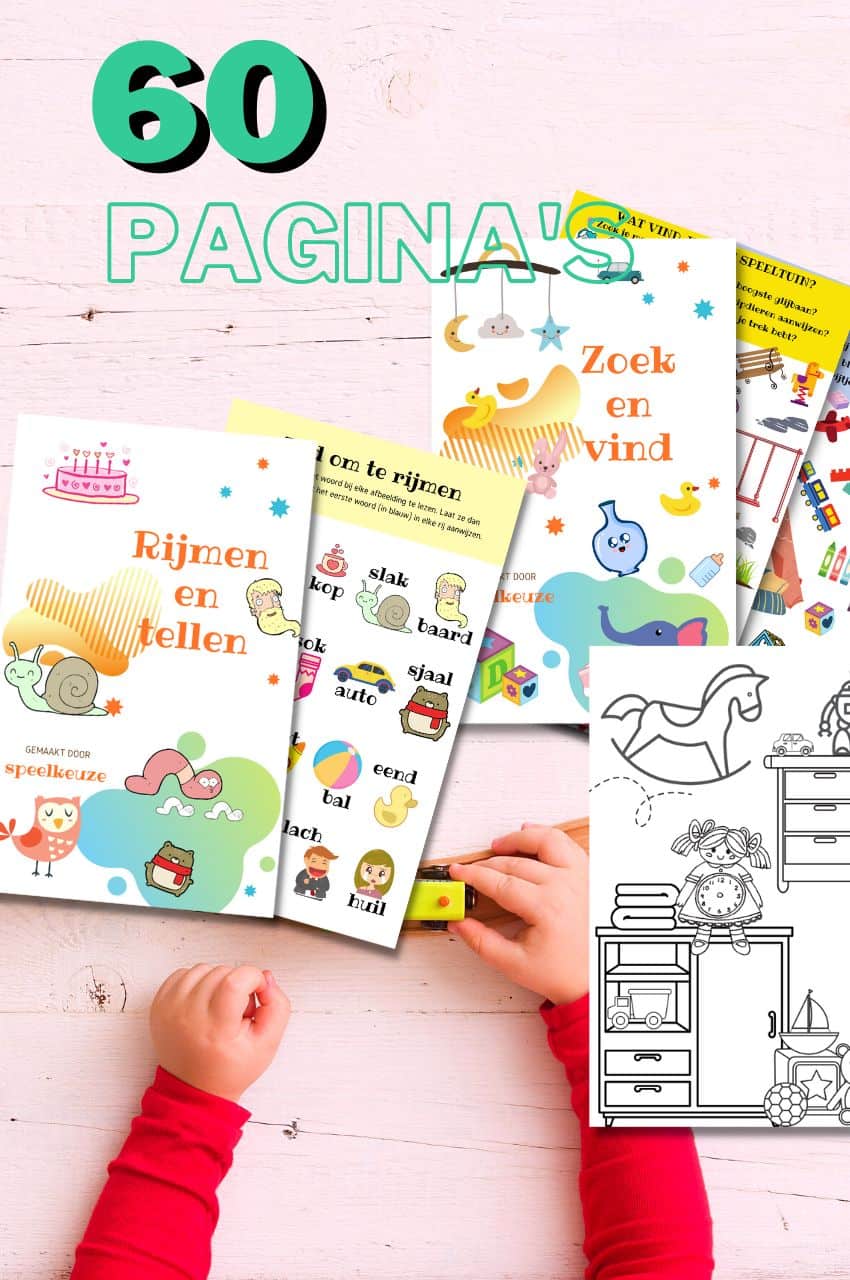 A play theme in your mailbox every month?
Fun play tips, activity books and more, with the first email being our free mini-guide "educational toys"
We will only use your email address for this newsletter and respect your privacy
Why toys with the colors of the rainbow?
Knowledge of colors
One of the simplest explanations for the use of beautiful colors on toys is of course that children can learn the different colors.
When children see the colors again and again and hear their names, they will learn color recognition faster.
So while your little one is enjoying playing, it also immediately learns something useful.
As a parent you can stimulate the learning process even more by, for example, asking your child to take the 'red block' or 'the green marker'.
You will notice that your child knows the colors in no time.
Read more about the best toys to learn colors [+ complete practice guide]
Development of the eyes
Colorful toys will also ensure a good development of your child's eyes.
By the time your child is about 3 months old, all the so-called 'cones' have developed in the eyes. Now the little one can distinguish as many colors as mom and dad (provided they are not color blind of course ..).
But there is another difference: children at that age need more contrast. The colors must therefore be more striking and brighter if your child is to be able to distinguish them completely.
Children will only be able to distinguish soft colors well around their 10th year of life. Learning and distinguishing the colors thus takes up quite a large part of the development!
The effect of bright colors
Research has also shown that when you bring at least three bright colors together, this will create a cheerful feeling.
Toys with the colors of the rainbow thus induce a pleasant feeling in your little one, stimulating them to play with the toys.
Cutest rainbow toys rated
So toys with the colors of the rainbow are great fun for your little one.
I have selected some beautiful items for you here, colorful and educational toys for different ages.
Best Wooden Rainbow Toy: Grimm's 12-Piece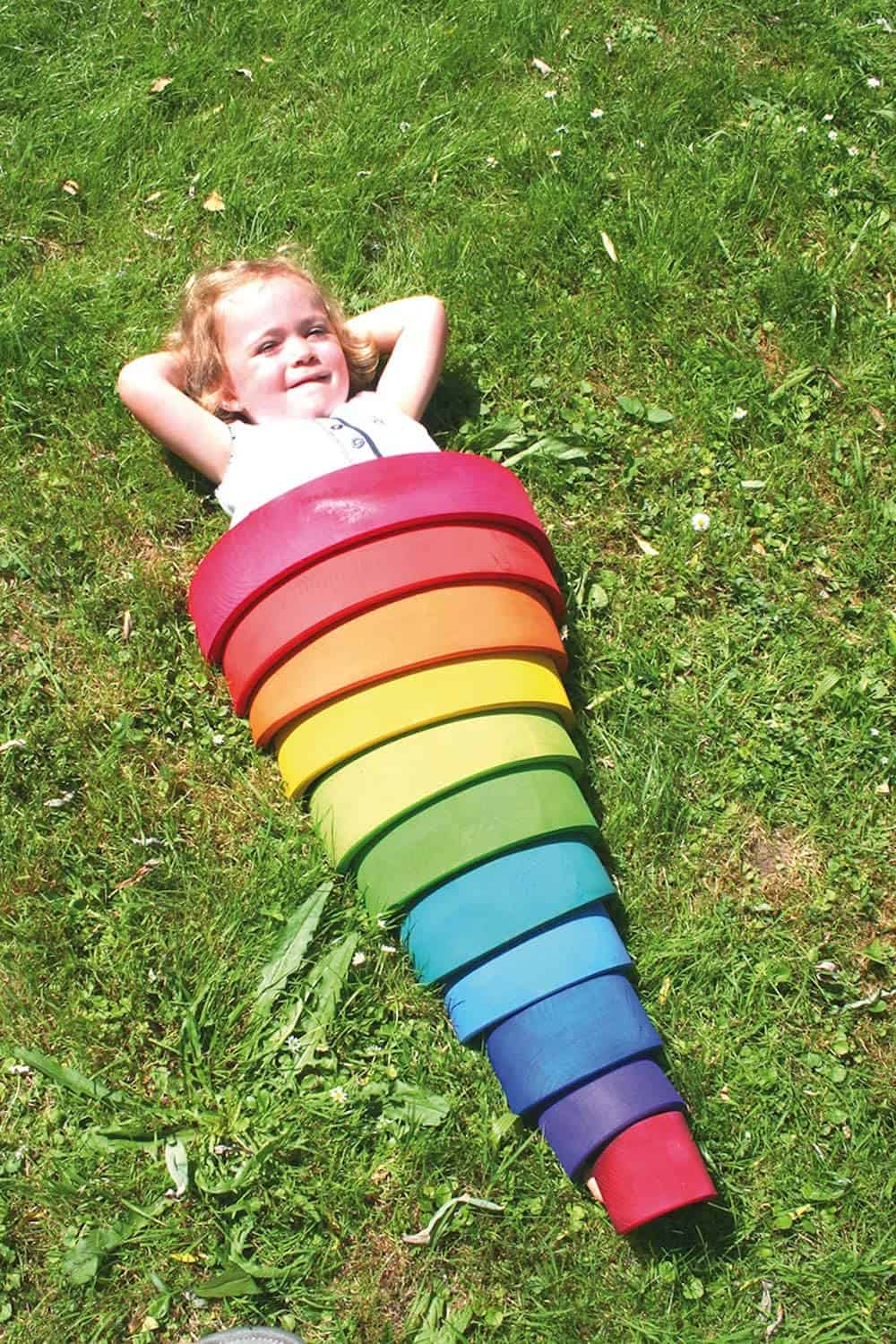 Beautiful, this wooden toy rainbow!
Wooden toys are becoming more and more popular for various reasons. In addition to being a natural material and therefore safe for your child, it is also much more environmentally friendly than plastic.
In addition, wooden toys last much longer!
The only disadvantage of wooden toys is that it is a bit more expensive than plastic toys, as you can clearly see in this Grimms's Rainbow.
But since you can enjoy it longer, that shouldn't be a problem!
This rainbow from Grimm's is made of lime wood and is then colored and lacquered. It is a very versatile toy and especially great for the little ones to play with.
I've been before written about Grimm's wonderful toys.
You can stack, sort and build with it. When the children are a bit older, they can use the rainbow to build tunnels or bridges and houses.
So the toys actually grow with your child, which is great!
Check out 100 ways to play with Grimm's rainbow here:
The toys are handmade and also very valuable from a pedagogical point of view. In addition to building, a child with rainbow toys gets to know the different colors immediately.
The rainbow will stimulate the creativity and imagination of every child at play. The toy is suitable for children from 3 years of age.
Rainbow sand: Kinetic Sand unicorn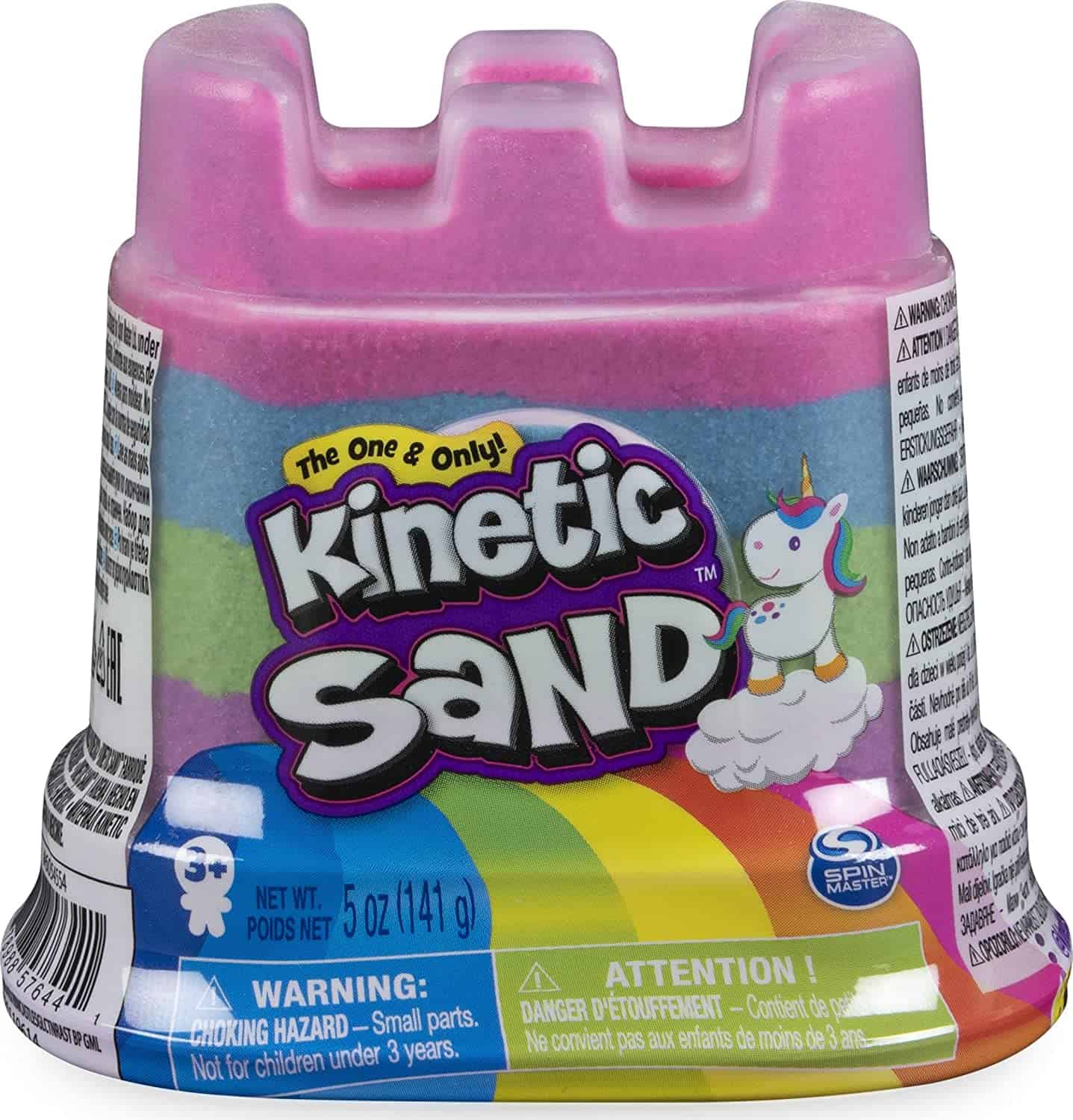 Wonderfully rooting with your hands in beautifully colored (natural) sand? We want to!
Find kids kinetic sand (like these sets) interesting because it flows magically through the hands, you can knead with it and make shapes with it. It is indeed a special experience.
This original kinetic sand comes from Sweden and is coated in four bright colors (blue, green, purple and pink) for the most beautiful effects.
The sand consists of 98% natural sand and is wheat, gluten and casein free.
Kinetic sand will not dry out and can therefore be used again and again. You can use the holder as a mold as well as for storing the sand when playtime is over.
Watch this video for play inspiration with this fascinating play sand:
You get 141 grams of sand in four colors in resealable molds. Let your imagination run wild, the possibilities are endless!
The Kinetic sand formula ensures that the sand adheres to itself and therefore forms perfectly. Fantasy and senses are stimulated with these toys.
Check the latest prices here
Rainbow scratch kit: Purple Ladybug Novelty set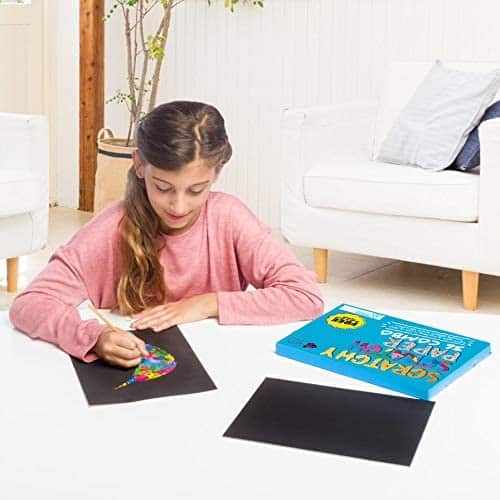 All children like to draw. And especially when it is accompanied by magic!
With this scratch painting set you will receive 36 sheets of high-quality scratch paper.
They all have a matte black surface, which includes 18 times rainbow paper, 9 times gold foil and 9 times silver hologram foil. Enough space for endless creativity!
Use the included scratch pen to scratch the surface and reveal the colorful undercoat.
The set consists of 36 sheets of scratch paper with four scratch markers and a bonus set with four templates and a free pattern pack.
To find out what to expect, watch an unboxing video of this product here:
Just be aware that the toy is not suitable for children under the age of 4 and it is always wise to let children play with it under adult supervision.
Check it out on Amazon
Make Rainbow Music: Music Hand Bells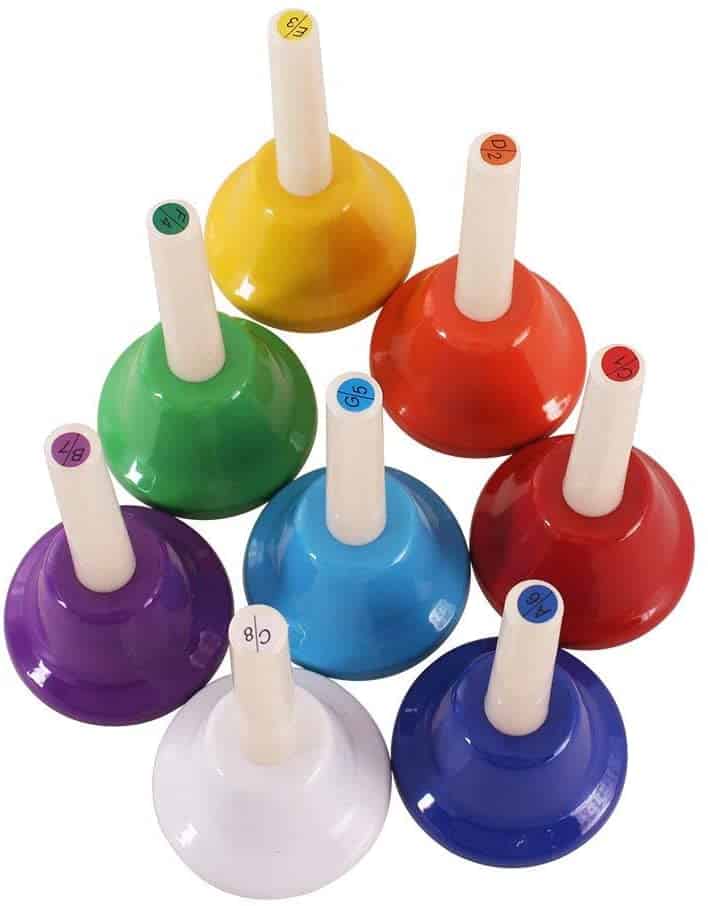 Make music undisturbed while you learn the colors (of the rainbow)? That is possible with this beautiful rainbow music hand calling!
Children are often fond of toys with sounds, but mum and dad unfortunately a little less.
Nevertheless, these types of toys help a child to learn to think, discover and make connections: when I move the bell, I hear a sound.
It is also a wonderful toy for children to develop their musicality and sense of rhythm, as well as learning the colors.
You get 8 hand clocks made of PVC, which differ in tone and color. The bubbles are brightly colored and therefore very attractive.
Watch here how a child plays 8 different songs with the handbells:
A fun game to play with these bells is the following: Ask your child if he wants to pick up the green bell and let it ring.
Then do this with the different bells, and have fun together!
You can also ring one of the bells yourself and ask your child what color the bell is.
Check prices and availability here
Rainbow Ball: Magic Rainbow Ball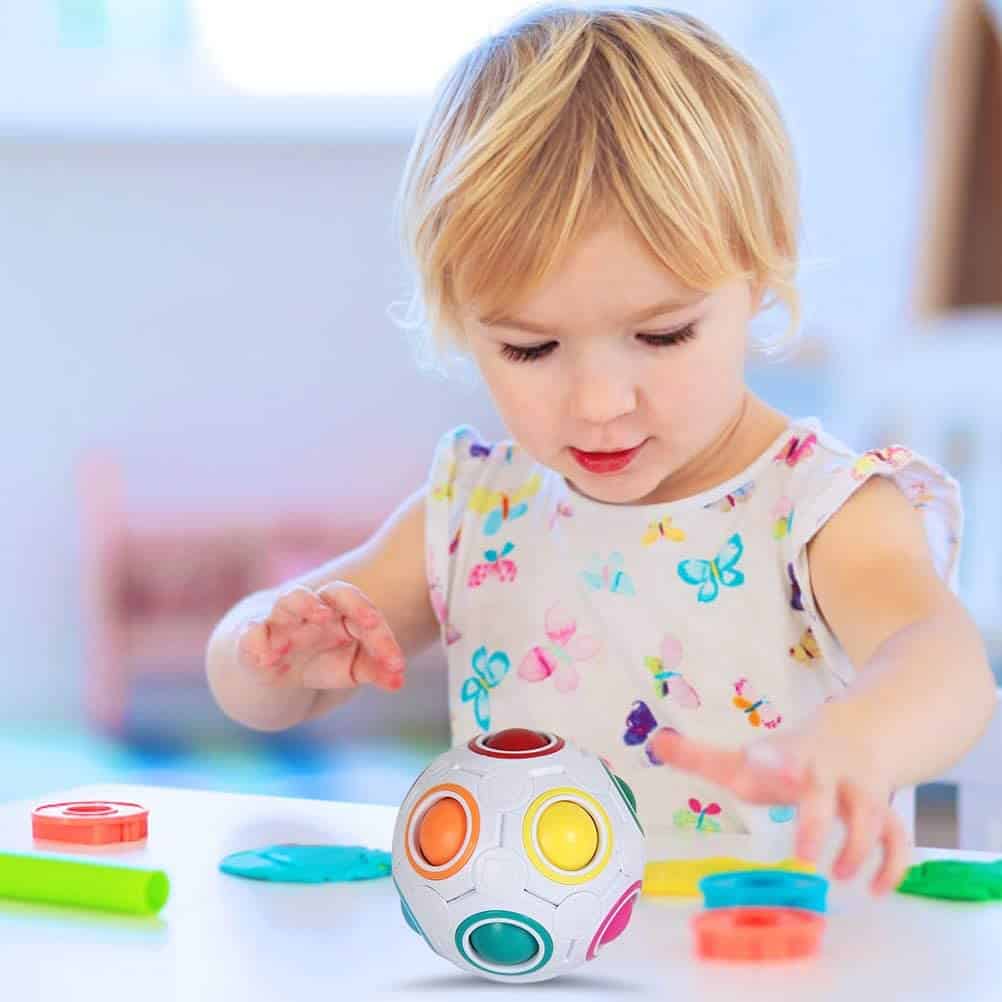 Wow, a beautiful ball with the colors of the rainbow!
The toys are suitable for early educational education to develop kids' quick thinking ability. In addition, the ball is also simply suitable for entertainment and relaxation.
The ball is made of original environmentally friendly ABS material. It is therefore non-toxic, light, reliable and harmless to health and the environment.
The rainbow ball has 12 circles and 12 balls in different colors. You are supposed to push the rainbow balls into the corresponding rainbow circles.
Check out how it works exactly:
Again, as a parent you can stimulate the learning of colors by giving your child commands, such as: Take the red ball and push it through the red circle.
View the most current prices here
Conclusion
Rainbow toys are therefore not only pleasing to the eye; it also helps a child to learn to recognize the different colors.
Furthermore, each toy item has its own functions so that a child will learn even more things while playing.
At least you now know that rainbow toys are important for the development of your child.
So what are you waiting for!?
Also read: Best music boxes: 28 options from old wood to modern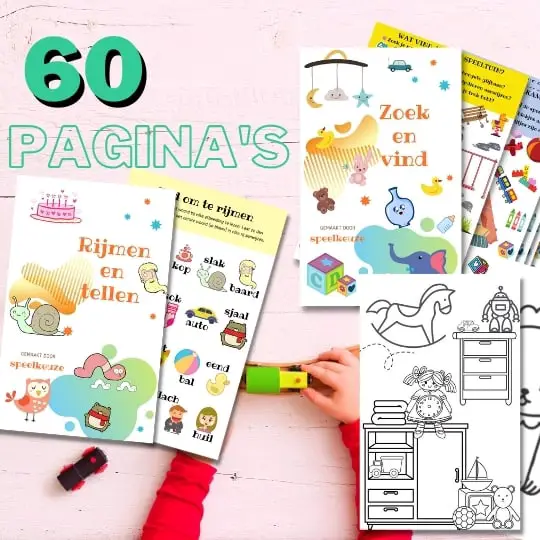 Always something to do for the holidays or rainy day?
Play Choice now has the ultimate activity book collection, with over 60 pages of fun coloring pages and educational puzzles.
Joost Nusselder, the founder of Speelkeuze.nl is a content marketer, father and loves trying out new toys. As a child he came into contact with everything related to games when his mother started the Tinnen Soldaat in Ede. Now he and his team create helpful blog articles to help loyal readers with fun play ideas.