Best toys with locks: Exciting & educational [Top 5]
I enjoy writing these articles for my readers, you guys. I don't accept payment for writing reviews, my opinion on products is my own, but if you find my recommendations helpful and you end up buying something through one of the links I may be able to receive a commission on that.
More information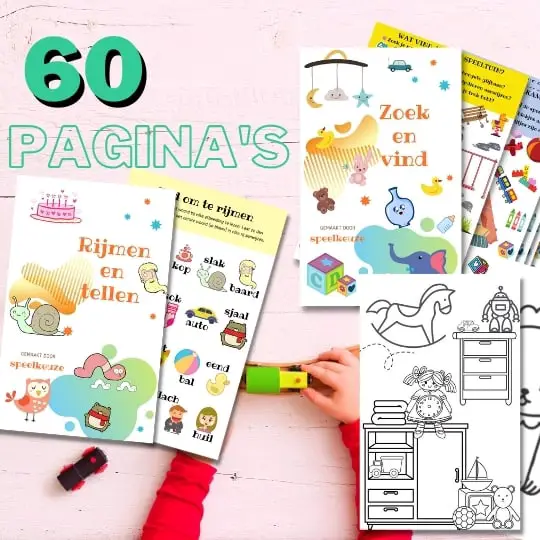 Always something to do for the holidays or rainy day?
Play Choice now has the ultimate activity book collection, with over 60 pages of fun coloring pages and educational puzzles.
It will happen to you that you have run out of play ideas or that you have run out of inspiration.
Fortunately, there is a way to keep children happy; namely letting your child play with keys and locks.
Believe it or not, toddlers absolutely love to lock and unlock things.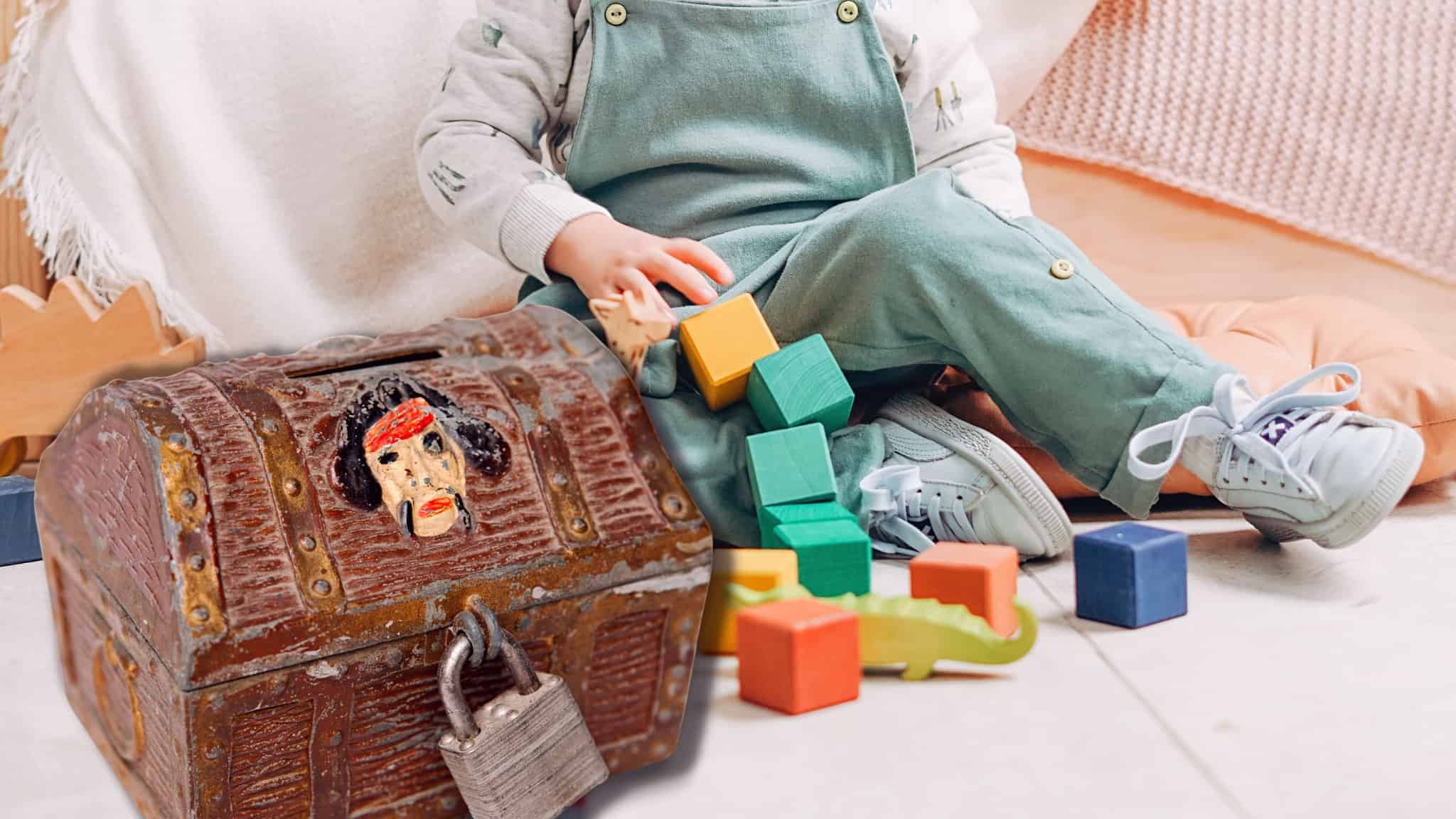 Toys with locks are also very educational. Reasons enough to give your child some fun toys with locks.
I once did extensive research and picked out the best toy products with locks.
I am sure that these toys will make your life as a parent just that little bit easier.
One of my favorite toys is products with locks this Melissa & Doug Grendelbord. With this activity board, children learn how six different locks work. Children will find wonderful surprises behind the doors and windows. In addition to locks, children also learn to discover colors, numbers, animals and more.
In addition to this fantastic locking board, I have also found four other toy products with locks that I think are definitely worth discussing.
My favorite items can be found in the table below. For more detailed information about each toy product, read further below the table.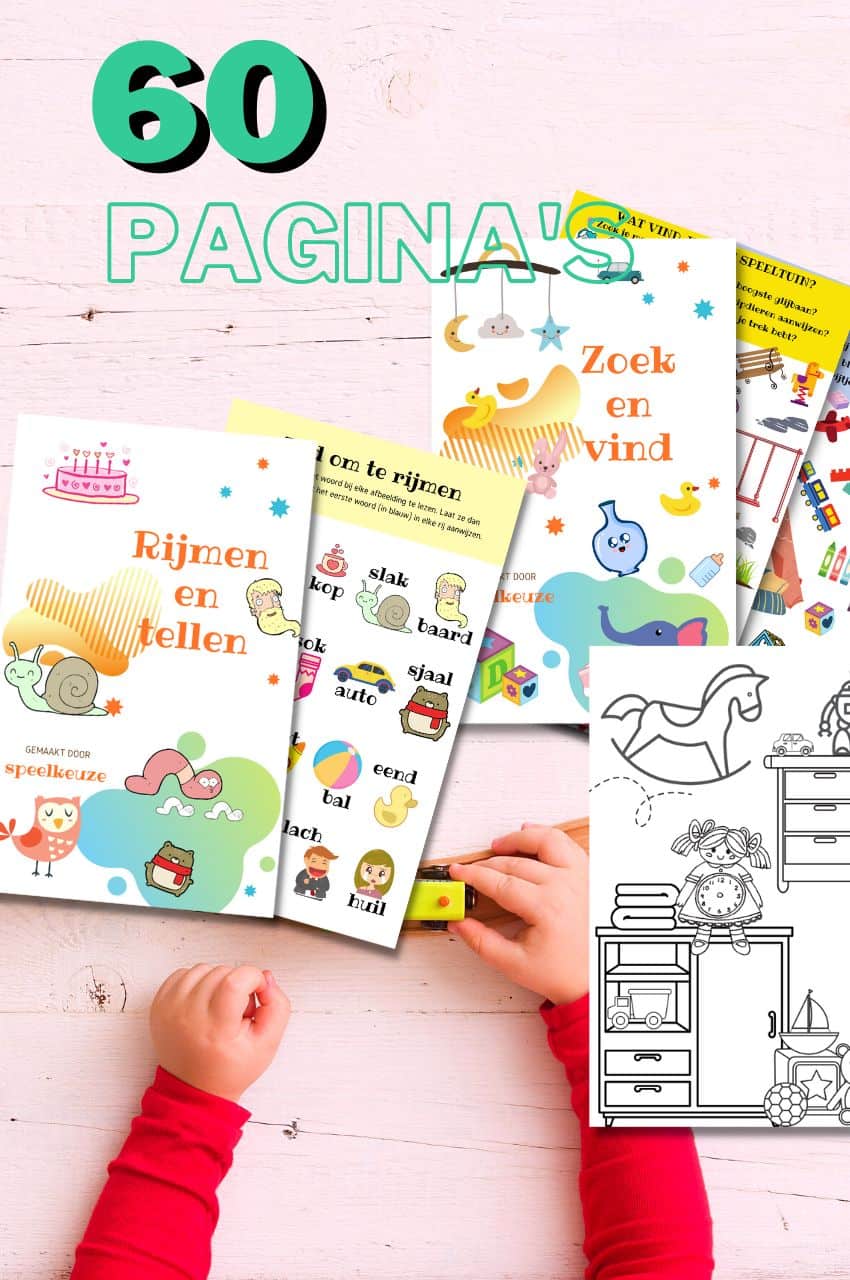 A play theme in your mailbox every month?
Fun play tips, activity books and more, with the first email being our free mini-guide "educational toys"
We will only use your email address for this newsletter and respect your privacy
What are toys with locks good for?
Opening and closing locks is not only an exciting activity for children.
When your child plays with interactive toys, such as toys with locks and keys, it will also be stimulated to further develop cognitive skills.
But that's not all! Also, children with locks toys will simultaneously learn about colors, shapes, numbers, letters and other things of value.
It often happens that when toddlers find something interesting, they are more than happy to keep repeating it over and over. This way they can keep practicing the skill in question until they master it.
Moreover This type of toy helps develop fine motor skills in young children. The better the motor skills are developed, the better the school readiness of the children.
An important reason to encourage playing with these toys as a parent!
Other benefits of toys with locks (and keys) include:
Develop problem-solving skills
Looking at cause and effect
Promote independence while learning a new skill
Thus, playing with toys that contain locks and keys helps a child develop several important developmental milestones.
Cutest toys with locks rated
Now let's take a closer look at my top 5 best toys with locks. What makes these items so much fun for an inquiring child?
Game board with locks: Melissa & Doug Grendelbord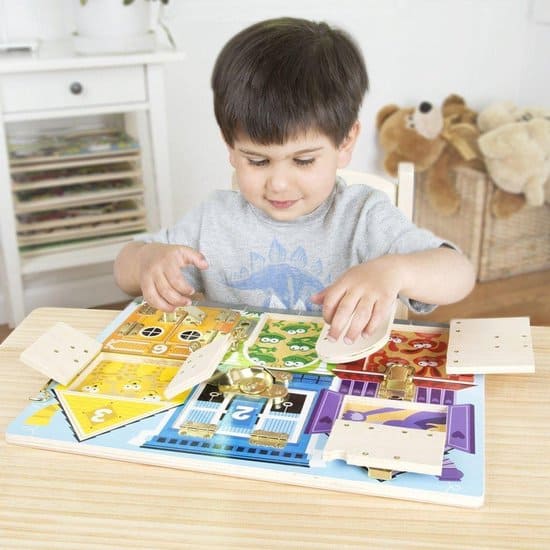 The Melissa & Doug Grendel Board is an educational wooden activity board that helps kids build dexterity while learning how six different locks work (like hook, click and slide).
Wooden toys are becoming more and more popular, because more and more people are opting for environmentally conscious. This toy from Melissa & Doug stands out from the crowd as many toys are still made of plastic.
The advantage of wooden toys is that it lasts a lot longer than plastic and it is also just more beautiful to see!
The activity board is made of smoothly sanded solid wood with nice surprises behind the patio doors and windows.
The toys are designed to help children have fun and develop gross motor skills, while also discovering colors, numbers, animals, and more.
Unlatch a lock or bolt, swing open the numbered door and the image below will be revealed.
Parents can play with their kids by inventing different games, including counting animals behind doors and windows, locating specific colors and identifying the animals.
This wooden latch board makes a great gift for slightly older children, from about 3 to 10 years old.
Check prices and availability here
Wooden toys are always a hit with kids and parents too. I have here listed the 30 best wooden toy sets for you, from real natural to educational.
Sorting toy with locks: Battat shape sorter with 6 keys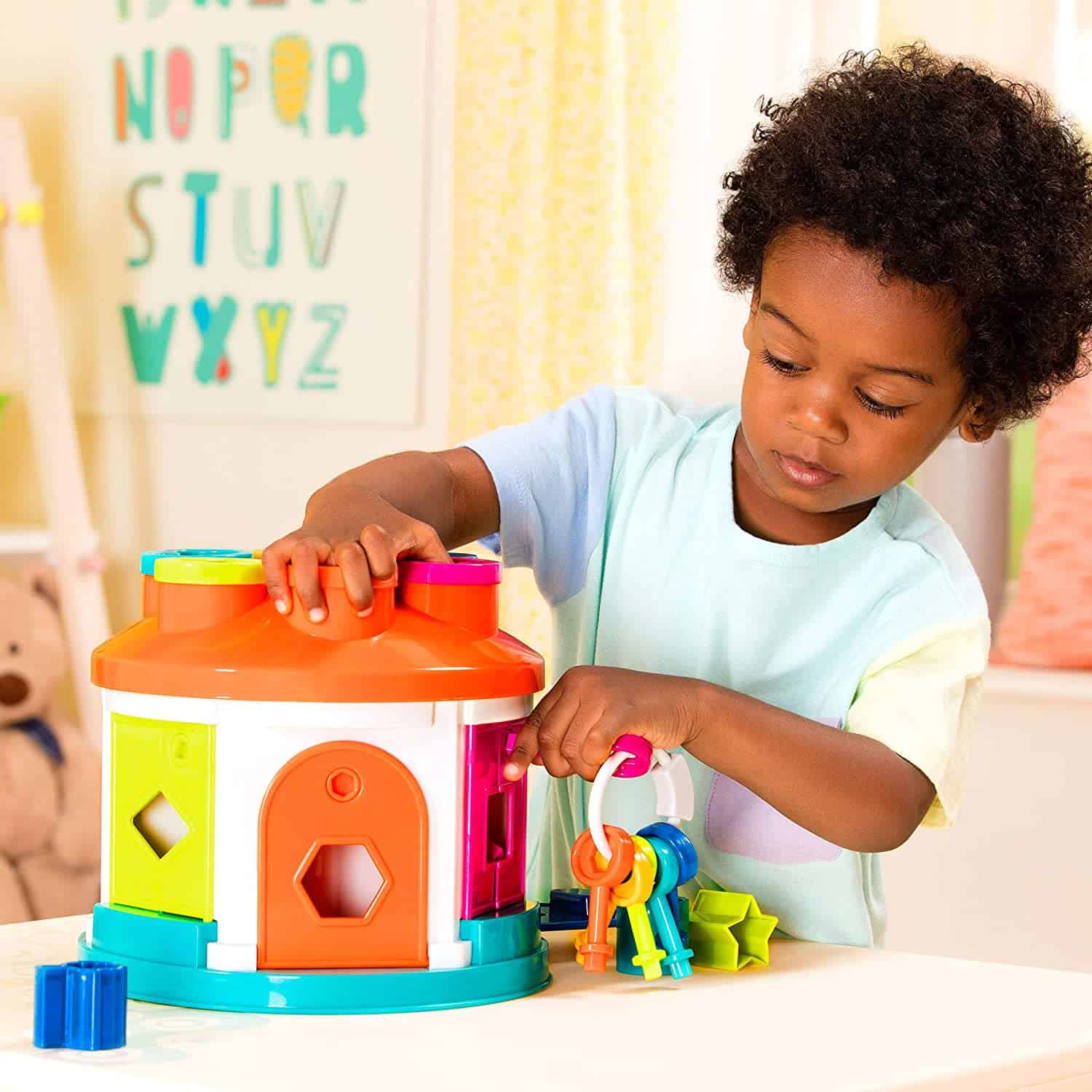 Also with these toys a child learns many important things at the same time.
A child learns colors, shapes, but also concepts such as cause and effect. In addition, it improves hand-eye coordination and fine motor skills.
The toys have beautiful rainbow colors that invite you to play. This toy is the cheapest of the list, but nevertheless you get a lot in return.
This shape sorting house differs from the other toys because of the many particles; there are 14 of them. Perfect if you want to keep your little one busy for a while!
With these toys, the intention is that you put the different shapes in the correct opening of the house. This way, the doors can be opened and closed with the correct key.
There are twelve different shapes that a child can play with, including recognizable standard shapes such as the square, circle, triangle and star. But there are also shapes such as a car, cat, key and a heart.
The toy comes with six keys, and the doors can only be opened with the correct key.
The recommended age for this toy is 2 years and up. The shape sorter can also be transported comfortably thanks to the handle.
The toy is made of sturdy and durable plastic. Because of the many particles, children will enjoy the toy for a long time.
View the product on Amazon
Read more about Fine motor skills: a complete guide to the 12 best shape stoves
Garage with vehicles and locks: Battat shape sorting toys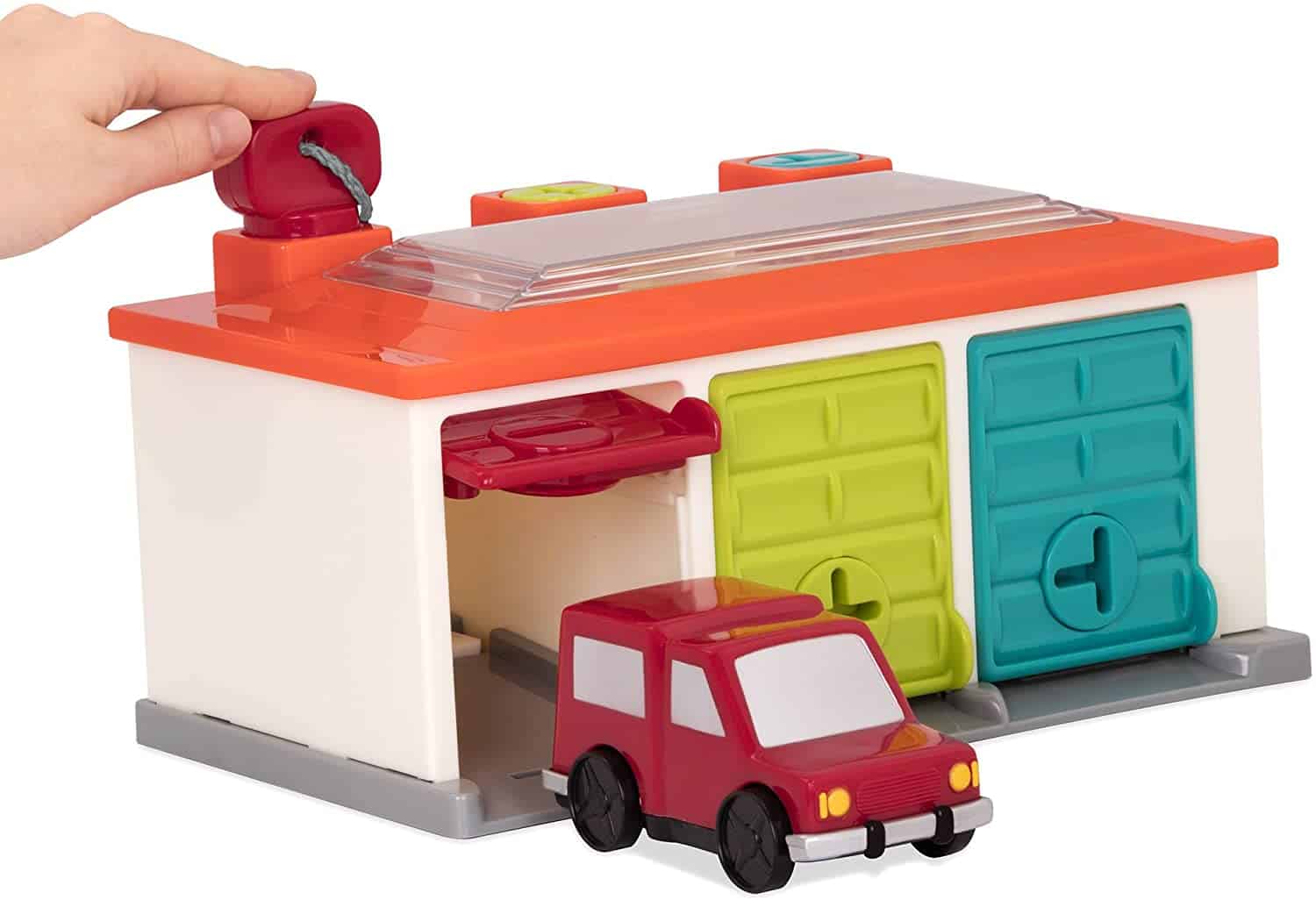 Do you have a little one at home who not only likes locks and keys, but also vehicles and garages?
Then we may have found the perfect toy product for him or her! The toys are fun and interactive.
This five-piece garage playset consists of a garage with three cars and a set of three keys. A child also learns about colors while playing: the red key opens the red garage door and a red car comes out!
A child will also learn about shapes as the correct key must be put in the correct shape to unlock the garage door. This introduces the child to the goal and effect concept.
Like the other toy products that I discuss in this article, a child often learns much more than 'just' playing with locks and keys.
Battat toys are also ideal for training motor skills.
What makes this toy very handy is that the whole is equipped with a handy handle, so that the set can be easily taken with you. Put the cars in the corresponding garages and you are ready to go (on a visit)!
The toy is made of strong and durable plastic and is suitable for children aged 12 months and older.
Check the latest prices here
Animal themed suitcase and locks: B. toys vet suitcase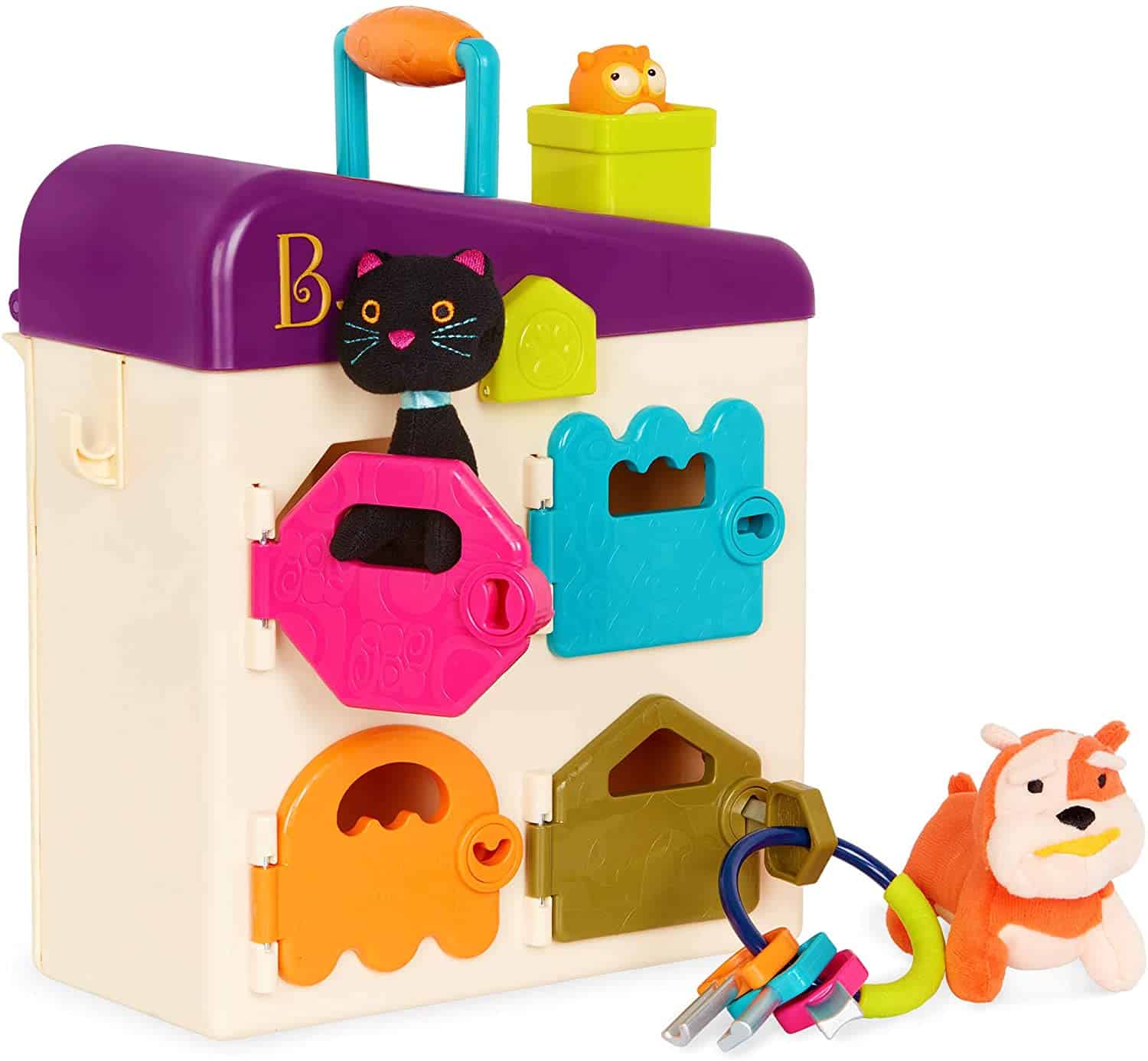 Play a vet and at the same time get fascinated by locks and keys? That is possible with this vet case from B. Toys by Battat!
So, in case you're looking for an animal themed lock and key toy for your child, this toy might be the best choice.
This vet case with doctor accessories has everything you need to make sweet sick animals well again. The set comes with four keys, each of which opens a door.
The toy is good for developing hand-eye coordination and learning colors.
You also get accessories such as a scale, a syringe, stethoscope, thermometer, X-ray images and even a cute plush dog and cat.
Because the toy has a handle, which is also the case with the Battat Sorting Toy with 6 keys and 12 shapes, the whole is easy to transport.
Very handy when you visit grandpa and grandma, or if you have to take your child to an appointment. You put all loose accessories and plush animals in the suitcase and go on the road without any problems.
The toy is suitable for children from 2 years old and made of plastic.
Check prices and availability here
Numerical locks: Number set with keys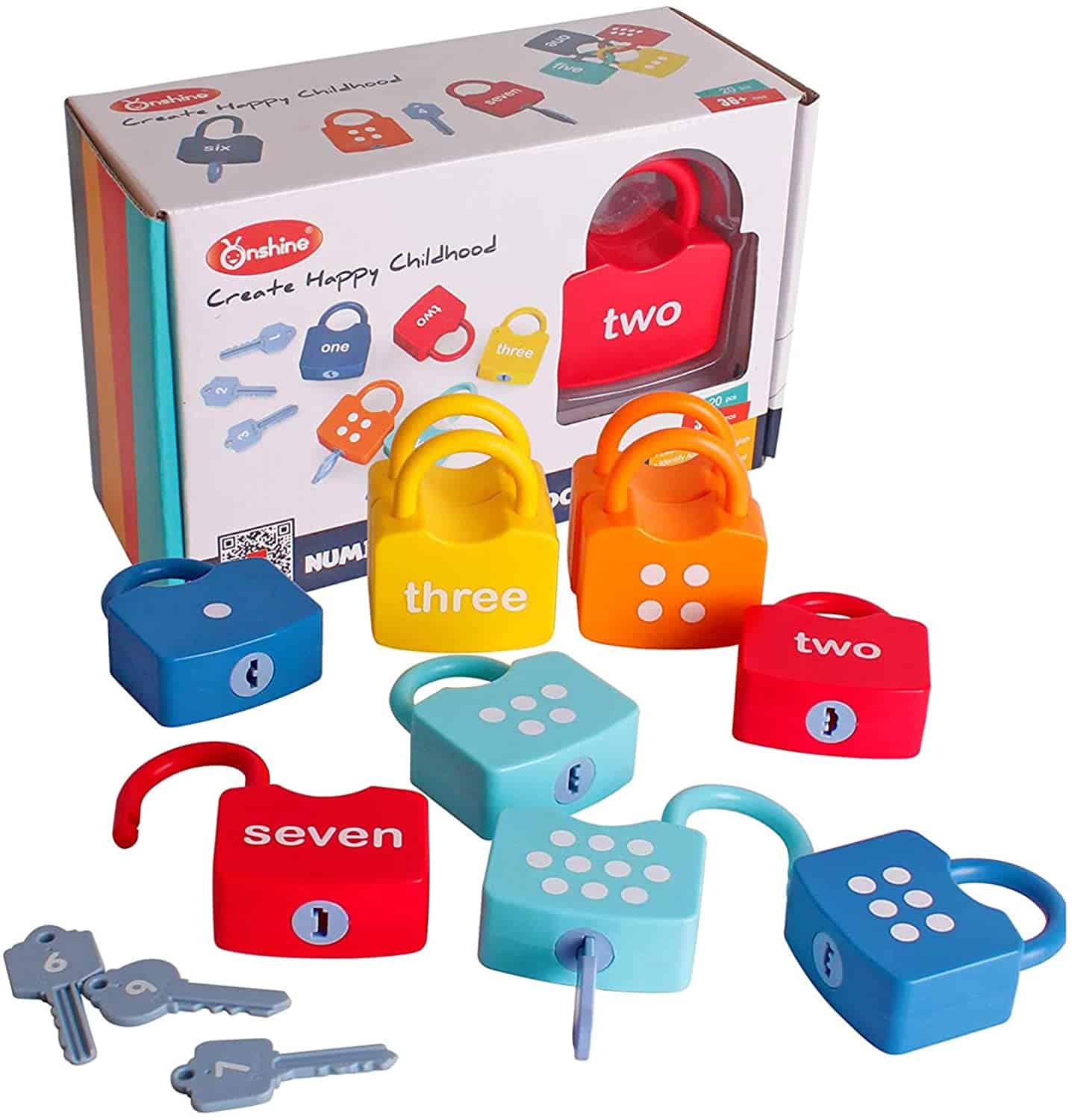 With this toy your child can get started with locks and keys!
Not only are these toys about successfully unlocking the locks by finding the matching key, kids also learn numbers.
Again, a child learns several important skills when playing with lock (and key) toys.
The clasps are made of high quality PP material, are safe, non-toxic and durable. The clasps also have a smooth surface and they have fun colors.
In addition, the locks can be used as a security tool for your child's personal belongings.
Like the Battat Sorting Toy above, this toy also consists of many pieces, namely 10 locks and 10 keys. So if you think it is important that your child has many different play options, then these toys can be a great choice.
Playing with these toys will give a child a sense of challenge, stimulate his or her cognitive skills and color perception and sorting skills improve.
With these toys, a child will also become more patient and develop thinking and learning skills. The toy has been developed for children from 3 years of age.
Check them out on Amazon
House with locks: Small Foot Company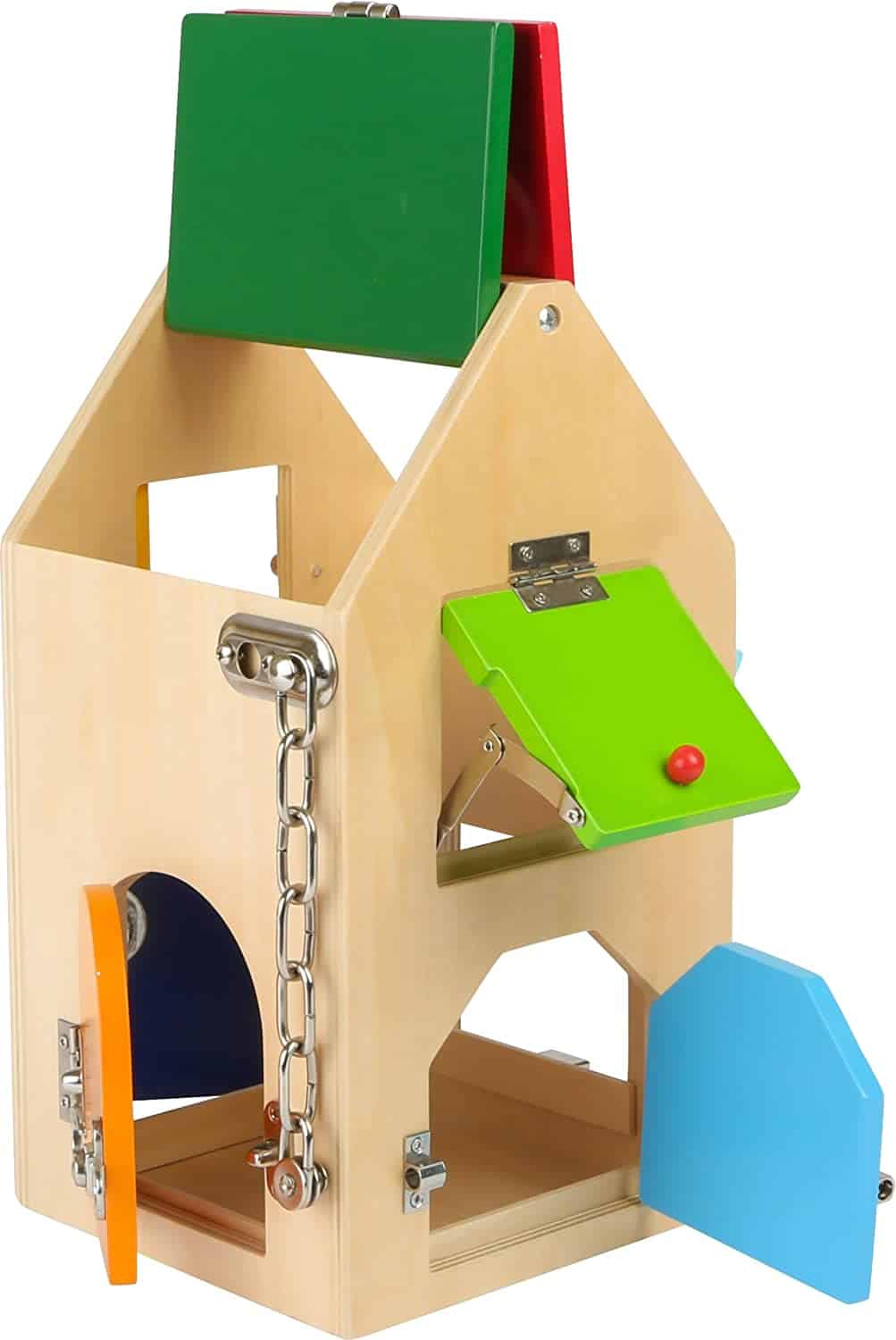 Like the Melissa & Doug latch board, these Small Foot Company toys are also made of wood.
However, this wooden house is probably more fun for younger children (3 to 4 years), where the Melissa & Doug latch board remains challenging for children up to 10 years old.
In any case, this is a wonderful toy for families who would like to live more environmentally consciously.
The only disadvantage of wooden toys is that it is often a bit more expensive than plastic toys, and that is clearly the case with this playhouse from Small Foot Company.
The toy is equipped with various latches and handles, a safety chain, and a shackle and cylinder lock.
In addition to the fact that this beautiful house will bring a lot of fun, a child also trains everyday motor skills.
Your child will not get enough!
Check prices and availability here
Toys with locks and the Montessori approach
Often these types of toys are mentioned along with the Montessori approach to learning in which the Early Childhood level, for children aged 2½ - 6 years, encourages preschoolers to explore and discover.
Montessori is also about practical life skills, and toys with locks develop these kinds of skills.
It will teach kids dexterity, let the fingers work together, and develop hand-eye coordination.
By playing with these types of toys, a child learns how to use the different locks (and latches), including tactile sensory and visual sophistication.
A child loves to be able to use their own hands and to handle objects.
Practical life skills encompass a range of activities designed to develop the child's independence and self-reliance and represent real-life work.
Related: Cutest Grimm's toys | From Rainbow to Math Friends [Top List]
Toys with locks FAQs
In addition to the nicest choices, just like me you will wonder a few more things about toys with locks.
Why do children like toys with locks so much?
Between 18 and 24 months, toddlers begin to realize that what they do has consequences. This is how toddlers start to think about cause and effect.
For adults, toys with a lock and key probably mean little. However, toddlers will have a great fascination with it.
Many children find locks and keys extremely interesting because of their cause and effect characteristics.
It's exciting to put a key in the lock and turn it, only to see it unlock something else!
A child finds these kinds of discoveries fascinating and will want to repeat them endlessly.
Figuring out what will happen will become a full-time daytime activity for your child. Also think about figuring out what happens when an adult says you shouldn't do something and do it anyway.
In this way, children will learn how to react to their behavior.
Children observe adults and want to do whatever we do. They want to grow up quickly, as it were.
They see us unlock the house and the car, they find it interesting and want to copy us.
By buying toys with locks (and keys) for your child, you also prevent your child from wanting to play with your keys and you run the risk of losing them!
How does the technique of a lock work?
Maybe also nice to know before you buy toys with locks for your child!
There are a lot of different locks on the market today, but the cylinder lock is surely the most used lock.
You only need a key to operate this lock. When the correct key is put in the lock, you can turn the key. This way you can lock or open the door.
As soon as you put the key in the lock, the following happens:
A standard cylinder lock has special pins, which are located in the iron housing of the cylinder and cannot be seen from the outside.
When an incorrect key is inserted into the cylinder lock, not all pins will fall into the slots of the key. Then the key cannot be turned. The cylinder lock then blocks.
When the correct key is inserted into the lock, the pins fall into the slots and you open or close the lock by turning the key.
Conclusion
When it comes to the best toys with locks and keys for toddlers, any toy that can combine fun and learning is a big winner for parents and kids.
The kids will love seeing what happens when they open the lock with the right key, while the parents learn to appreciate the that goes along with it.
Lock-and-key toys for kids are a great idea because they teach basic skills as well as lots of fun.
Even more children's magic, give your little one a magic box! Find the 8 best magic boxes for kids reviewed here.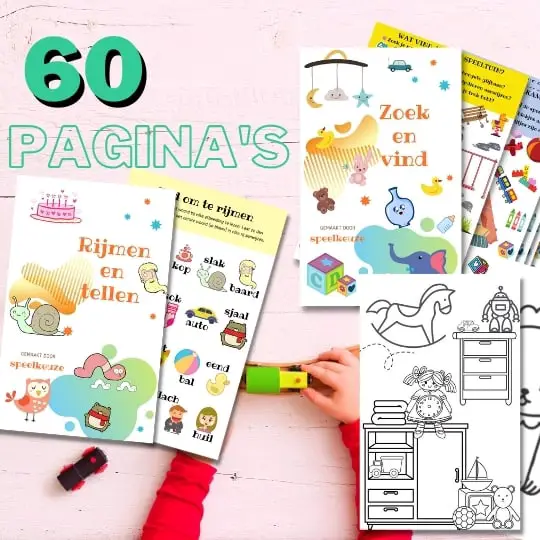 Always something to do for the holidays or rainy day?
Play Choice now has the ultimate activity book collection, with over 60 pages of fun coloring pages and educational puzzles.
Joost Nusselder, the founder of Speelkeuze.nl is a content marketer, father and loves trying out new toys. As a child he came into contact with everything related to games when his mother started the Tinnen Soldaat in Ede. Now he and his team create helpful blog articles to help loyal readers with fun play ideas.