I enjoy writing these articles for my readers, you guys. I don't accept payment for writing reviews, my opinion on products is my own, but if you find my recommendations helpful and you end up buying something through one of the links I may be able to receive a commission on that.
More information
Great STEM toys capture the imagination and keep your kids entertained.
Learning never has to be a chore. And this educational toy is sure to impress even the hardest to please kids!
Looking for the perfect STEM gift for a nine-year-old for the holidays or their birthday?
Well, we looked for educational toys and games that are STEM related and apply to what the students are learning in school.
Improve their math skills, science knowledge and challenge them with puzzles, robots and some games!
Best STEM toys for 9 and 10 years
Anki Cozmo robot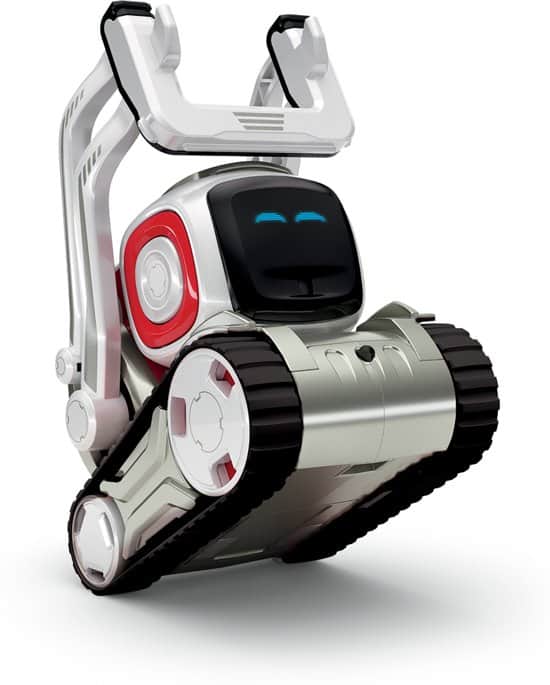 Say hello to your new favorite robot! Cozmo has personality, that's for sure.
It's also one of my top picks in our article about robot toys.
But in addition to being cute (and scaring the dog), Cozmo is great for sparking the imaginations of your young programmers.
Check out everything you can code in Cozmo Code Lab.
The possibilities are endless and only your creativity is the main limiting factor.
Check the most current prices and availability here
Focus skills: learn to code
Thinkfun Gravity Maze
Definitely a must! These toys are just what your nine-year-old needs to build on his critical thinking skills.
These towers are visually stimulating and challenge children to use their logic for the maze that carries the marble to the Target Tower.
The great thing about these toys is that you get 60 challenges with levels ranging from beginner to expert.
You can buy this bestseller buy at a reasonable price on bol.com and it is well worth the purchase.
Focus skills: logic and engineering
MudWatt educational renewable energy
A fascinating STEM kit that teaches kids about renewable energy.
You build your own living fuel cell from mud. Yep, mud!
This is perfect for kids at this age to teach them energy and microbial growth curriculum.
The best part is that children can monitor the growth of their MudWatt in the companion app for smartphones and tablets.
Focus skills: environmental sciences
SmartLab Squishy human body
This is a fun and educational toy for children of this age learning about anatomy and the human body.
Children can learn about the different organs and their functions in the body.
It comes with an educational book to learn about digestion, but kids also get a look at other body systems like the skeleton, muscles, circulatory system, etc.
Focus skills: biology
Wonder Workshop Dash Robot
Fits the 'T' in STEM! A really cool advanced little robot that you can connect to your smartphone.
This is another one for learning to code. This is a great technology toy for eight year olds to improve their coding skills and more.
And it is fun!
Design paths for Dash, watch him move and make sounds. More importantly, this is a springboard to your child's programming skills.
Focus skills: computer programming
View the most current prices and availability here
Snap Circuits Jr.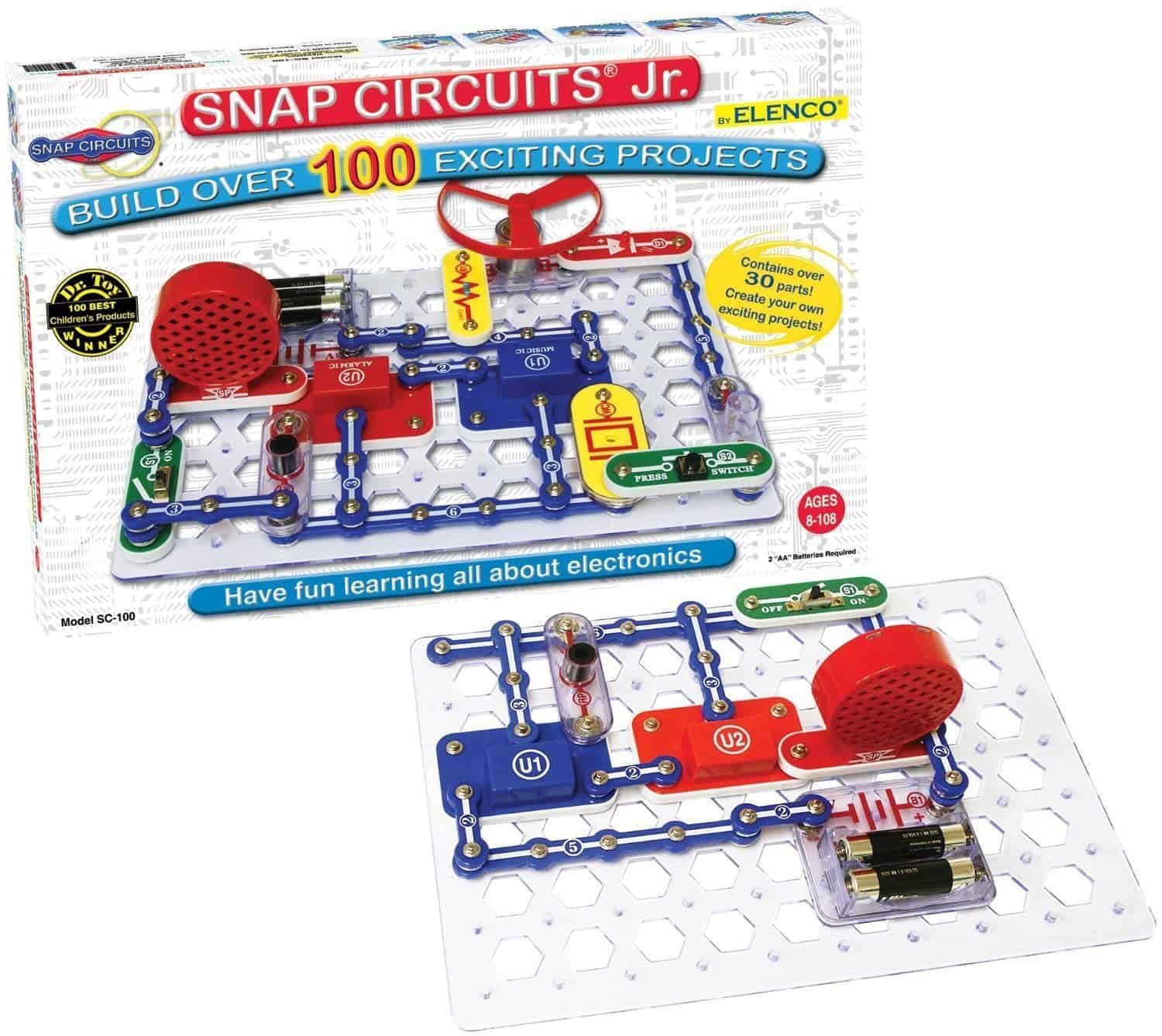 This is the best electrical engineering toys!
The Snap Circuits Jr. is a great STEM toy for young children who are starting to learn about circuits and how electricity works.
It lists 101 projects in an easy-to-read diagrammatic guide.
Starting with a simple light switch circuit, your child will love putting these projects together.
This hands-on learning experience teaches them about currents and how switches work.
Projects make fun alarm sounds, music, lights, a rotating fan and can even become a "flying saucer"!
It also includes projects that are multiplayer games, such as a racing game that uses electricity to spin a pointer.
Putting these pieces together on the board is a fun achievement for everyone!
We love this toy so much, it is also on our list for the best STEM toys for 8 year olds! It is suitable for ages 8 and up.
Focus skills: electricity and technology
Code Master Programming Logic Game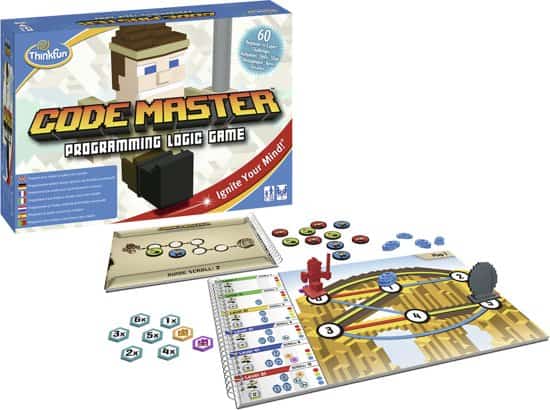 While Dash Robot is my go-to robot for learning to code, sometimes it's also important to step back from technology and just master the process and login behind programming.
This is the perfect game for kids at this age to work on their coding skills as they see a future in technology, and it is also one of the few board games in our article on learning to code.
Children have the option to play this game alone or work with others.
It's a great way to improve their logic skills by starting with the basics and building on them.
There are 10 maps with 60 levels. Get ready to be challenged!
Focus skills: coding
Green Science Weather Station Kit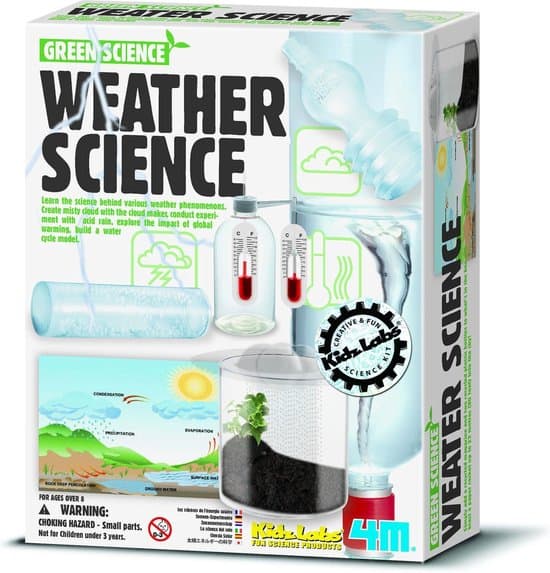 Inspire a future meteorologist with this gift. Put it in the backyard and start reporting on the weather.
Perfect also for the kids who are natural performers. What could be more fun than learning about the weather and then giving the family their evening weather forecast?
Focus skills: meteorology
Makey Makey
Activities are endless with a Makey Makey. Create your own game or turn a banana into a remote control.
The possibilities are truly endless when it comes to Makey Makey, it can be connected to just about anything as long as it can conduct a little electricity.
You can approach Makey Makey as a scientific laboratory. When using Makey Makey, half the fun is in the planning phase.
You can make the projects as big or small as you want.
Jay Silver has a nice Makey Makey demo:
Some projects can be adapted to take up an entire room, others can be done on a small table.
First, let your kids brainstorm and come up with ideas on how to go about the project.
Then let them make an example of the circuit and the game.
Finally, let them implement, test and troubleshoot their ideas as needed, improving designs along the way.
Here are some ideas to get the creative juices flowing!
The simple circuit
For those kids who are just learning the ins and outs of how electricity works, you can start with a simple circuit project.
Have students create a simple circuit using an LED connected to the Makey Makey board so they know when they have successfully completed the circuit.
You can contribute to this by creating challenges for them. See if they can complete a circuit with people included in the loop, or give them an item to use.
You can add complexity by challenging them to include parallel circuits as well. There really is no limit to this simple project!
To play the piano
This is probably the activity (followed by a viral video) that put the Makey Makey on the map!
To add some music to your playing, you can use the simple piano keys application on the website of Makey Makey here use.
Just plug in the Makey Makey with the USB cable and connect the clamps on the back of the Makey Makey board to just about anything.
You can play with
many different foods (bacon, macaroni and cheese, shrimp),
clay like Play-Doh,
foil or items wrapped in foil (popsicle sticks work fine for this).
Whack-a-mole
Bring this timeless arcade game into your home. This project is as simple as you want it to be, free software is available, so you can just download, connect and play.
Or the code can also be changed to add complexity and tailor the game to your kids to make it even more engaging.
You connect the 'moles' you're going to whack to the Makey and this could be anything that conducts electricity (bananas probably won't last that long, so potatoes are a better choice for this).
When the mole comes up on the screen, your child will try to hit it by hitting the potato or other object you have connected.
By changing the code you can essentially change every aspect of the game, and even add pictures of mom or one of the kids as 'moles' to make it even more fun.
No matter how you choose to include Makey Makey in your game, it will certainly open their eyes to the magic of electricity and expand their imaginations.
The games and activities are so much fun that they don't even know they are learning.
Focus skills: programming and creativity
[Wl_faceted_search]
Joost Nusselder, the founder of Speelkeuze.nl is a content marketer, father and loves trying out new toys. As a child, he came into contact with everything around games when his mother started the Tin Soldier in Ede. Since 2016, he and his team have been creating helpful blog articles to help loyal readers with fun play ideas.