Toddler & toddler play corner: 14 tips for living room or separate room
I enjoy writing these articles for my readers, you guys. I don't accept payment for writing reviews, my opinion on products is my own, but if you find my recommendations helpful and you end up buying something through one of the links I may be able to receive a commission on that.
More information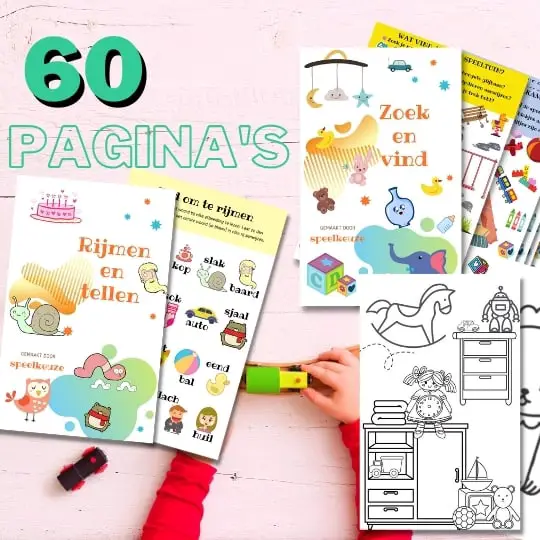 Always something to do for the holidays or rainy day?
Play Choice now has the ultimate activity book collection, with over 60 pages of fun coloring pages and educational puzzles.
If you have a toddler running around your house, then you know how safe to make it so you don't have to worry about him breaking something at home or himself.
That is why you might consider setting up a nice play corner for him so that he can play alone for a moment safely.
In this article I look at how you can set up a nice play corner for your toddler.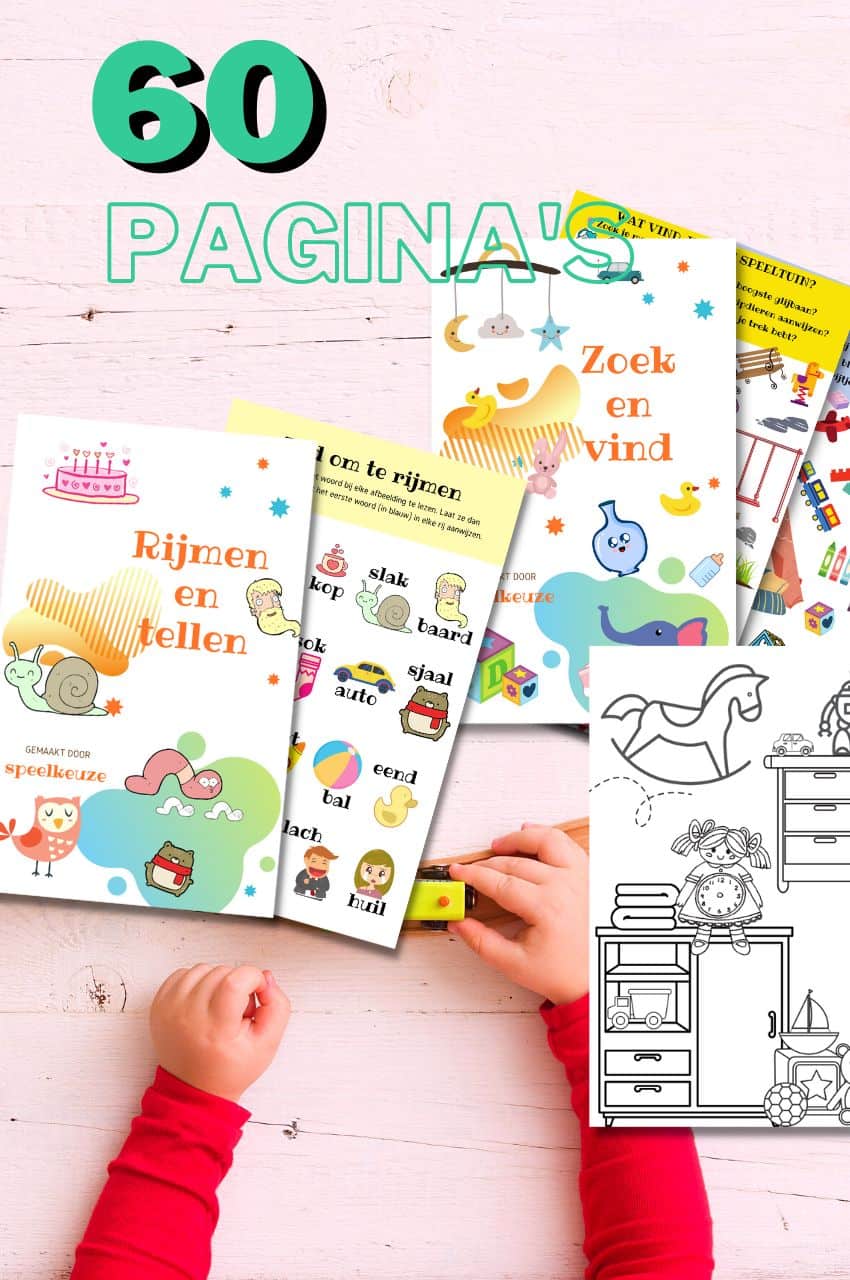 A play theme in your mailbox every month?
Fun play tips, activity books and more, with the first email being our free mini-guide "educational toys"
We will only use your email address for this newsletter and respect your privacy
A play corner in your living room
For families with young children, the living room is usually the busiest room in the house.
You use it to
lounging,
watch TV,
read a book
maybe work a little
and often as a playroom for the children.
As you might imagine, when your living room becomes your playroom, things can easily feel quite crowded and even cluttered.
It's no wonder that parents often ask for ideas on how to incorporate a children's play area in their living room.
To help, I've rounded up 6 of the best ideas for creating a kids' playroom in your living room.
Demarcate living room with a rug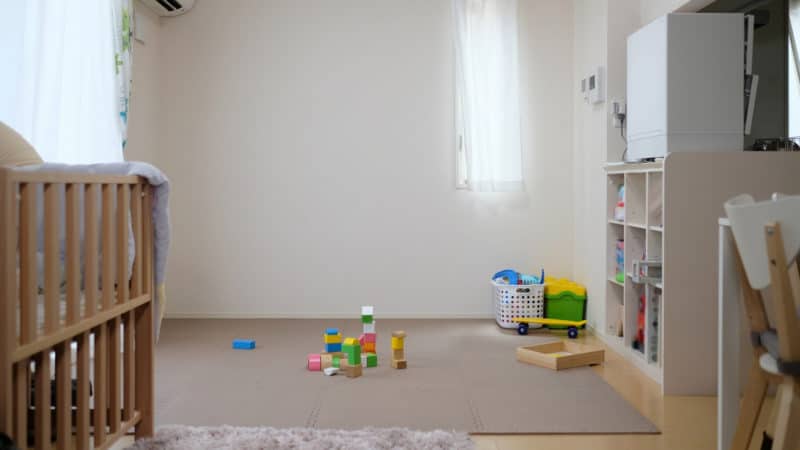 Add a colorful rug as a way to "demarcate" a child's playroom and create a visual separation from the main room.
It's a quick and easy addition that no one will actually be able to say no to.
Choose a sturdy rug that can withstand a lot of pounding children and toy cars.
You can always choose to put out a slightly larger play mat, and we have already written extensively here about the best play mats that are for sale (no fewer than 32 options!).
Create a storage place for toys
Some houses may be better suited for a play corner in the living room than a separate playroom.
If this is the case in your house, at least try to create some peace of mind by placing a storage bench in a corner that is exclusively for your children's toys.
There are so many options for nicely concealed storage spaces and such an addition makes your play corner a feast for the eyes!
It's a great way to minimize clutter and avoid clutter as everything can be stored quickly and neatly.
For an added bonus, you can reuse the sofa in a new space in your home once the kids have outgrown their toys.
Create a cozy corner
Small corners in your space, such as a difficult-shaped staircase on the side of your living room, are perfect places to set up a children's corner.
Plop down a few beanbags and poufs, along with a small table and some storage, to create a cozy playroom perfect for both storytelling and games.
Cheer up with a colorful alcove
If your living space has a recessed wall, turn it into a colorful play corner that appeals to your kids in a nice, bright way.
Furniture takes up less space because it partly uses the extra space of the alcove, and together with a charming rug you have a nice space.
This is a great way to use an awkward corner in a living space and incorporate fun colors that you won't find anywhere else in the house.
Put it away
Create a special playroom corner by pulling your sofa away from the wall and using the side or back to divide the space.
This gives the kids a designated place to play while adults can keep a close watch.
Tip for stylists: For a great multipurpose piece, try some inexpensive coffee tables instead of a kid's table. They look nice and often last longer, so you can easily reuse them when the play area is no longer needed.
Create the ultimate playroom
If you have a larger living space, consider converting one end of the room into a full play area for your kids.
This approach is all about setting it up big.
Bring a fortress, a mini kitchen and a children's table and chairs to create a space that truly is theirs.
Make sure to consider durable fabrics that can withstand a lot of romping, rolling and the occasional spillage!
Creating a quiet play area at home
Montessori children's environments have been carefully designed to encourage independence and concentration.
Even small changes in a room can have a noticeable impact on children's behavior.
Whether or not your child attends a Montessori school, setting up a Montessori-inspired play area at home is very easy and can change the way your child plays.
I just wanted to mention these ideas for a child-friendly play corner separately.
You should do this:
Simplify
Often people ask why our playroom, furnished for my 1,5 year old, is so 'minimalist'.
This totally amazed me because I had never thought about it that way.
However, when I started comparing it to more traditional children's rooms, I quickly understood what they meant.
I hadn't even thought about parenting style when decorating, but Montessori spaces use more neutral colors than the bright colors often associated with young children.
The goal is to make the space soothing, so that it promotes concentration.
They also have a lot less things in them, both on the walls and to play with.
You may find a small shelf with two or three shelves and just a few items on each shelf, with plenty of space between each toy.
It's also the biggest tip we've gotten to get kids to play with toys more, less is more (incorporated into this article about toddlers who don't play with toys that much).
If you want to make a Montessori playroom in your home, you don't necessarily have to throw away a ton of toys, but you'll probably want to store a lot of them.
Placing just a few toys at a time and rotating them regularly will help your child really focus on what's available.
Rotating toys have the added bonus of keeping your child's interest as you can release 'new' stuff on a regular basis without having to buy new toys every time.
When you offer limited options, it also becomes really clear which ones arouse your child's curiosity.
I have often found that a once loved toy has been left untouched on the shelf for a whole week.
I know then it is time to put it away and offer something else.
Give everything a place
Montessori wrote a lot about 'sensitive periods''. A sensitive period is a time when a child is particularly attracted to and can learn something.
Children have a sensitive period to order from birth through the age of five, peaking in early infancy.
You can see this in young children's love of routine and repetition (and their sometimes extreme reactions when something is done the "wrong" way or in the "wrong" order).
Young children like order in their daily lives as well as in their physical environment, but they certainly need a little help to determine this.
Montessori environments support this desire for order by giving everything a specific place where it goes.
You won't find big toy bins full of a lot of unrelated things in Montessori play areas.
Each toy has a space where it belongs on a shelf.
Multi-piece toys, such as blocks or play animals, are often organized in small baskets or trays on the shelf.
You might think this makes it more difficult for the kids to store their belongings, but it really is the opposite.
It turns out to be much more fun to put something in the perfect place where it belongs than to throw everything in a large trash can.
And my son is also really a pecker in that regard.
Always finding things in the same place is soothing because it is predictable.
Add open space
Montessori environments have plenty of work space, both on the floor and at tables, once the child is old enough to sit independently at a table.
Having open space in the room also allows for a lot of exercise, which is essential for young children.
Place things low
The furniture should be child-sized, but materials should also be kept on low shelves so that the child can access them.
For a toddler or older child you would also like to add a children's table and chair so that the child has the option of playing on the floor, or at a table for games like puzzles.
You may also want to add a high wall shelf to store all your own items, such as a cell phone or a cup of coffee.
Things you don't want your child to play with.
Involve nature in your play corner
If possible, choose a room with natural light for your play area.
Few things are more beautiful than watching a baby discover shadows by playing in the changing light from a window or watching a child enchanted by the rain.
Windows also provide endless entertainment and opportunities to talk about what your child is seeing, whether facing a busy street or a quiet backyard.
Calling out to birds is a favorite activity of my little one!
If the window is too high for your child to see out, try providing a step.
Make sure you are safe around while your child is near the window.
It's also great to include plants and animals in the play area whenever possible.
Hanging plants or herbs with edible leaves are a great option for babies in the "eat everything in sight" stage.
Indoor plants also give toddlers and older children a chance to take care of something, adding natural beauty to the room.
Babies and young children also enjoy watching fish or other pets and toddlers and older can also help feed and care for these creatures.
Make it beautiful, but for the child
So many children's rooms have beautiful works of art or photos, but at a height where children cannot see them.
Montessori spaces hang artwork at the child's level. This way, the child can really take advantage of the beautiful images you select
For babies it is great to add simple black and white images.
Work for older children
images from nature,
family pictures,
your child's previous artworks,
interesting maps
and art from different styles of painters or different cultures
Choose your toys carefully
Unless you are in home schooling, there is no need to fill your home with 'academic' work.
It is great to choose a variety of toys that allow your child to develop in different ways.
You could think of including toys like that
developed for creative play.
It's also important to include toys that offer different levels of difficulty.
You want a mix of challenging toys, like maybe
a puzzle with more pieces than your child usually works with, and
things that are easy and familiar for you to play with when he needs a mental break.
Here we have reviewed a whole selection of educational toys that matches the age of your child.
Also look for open-ended toys that are more engaging than just entertaining. In general, don't include things that light up or make noises.
Also, whenever possible, choose toys made from natural materials, such as wood (as this one we wrote about here) and metal, to give the child more real experiences.
Create a cozy space
Finally, it is great to include a cozy space, a place where your child can rest or recover from a strenuous learning moment.
This is often a large corner floor cushion for a younger child. It can be a comfortable window seat for an older child.
Conclusion
This may seem like a lot to think about, but the great thing is that you have complete freedom to choose what works for your child and your home.
It doesn't have to be all or nothing. You may decide to simplify it, but it your child's favorite electronic toy to preserve.
Or you can choose to have low, orderly shelves, as well as to keep a large container of stuffed animals.
I also don't do everything, just what makes sense to me like minimizing a bit, so bring what you want to use.
Have fun setting up your fun play corner!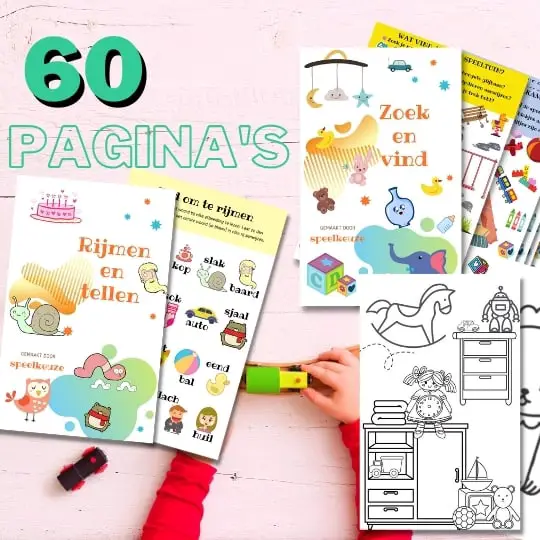 Always something to do for the holidays or rainy day?
Play Choice now has the ultimate activity book collection, with over 60 pages of fun coloring pages and educational puzzles.
Joost Nusselder, the founder of Speelkeuze.nl is a content marketer, father and loves trying out new toys. As a child he came into contact with everything related to games when his mother started the Tinnen Soldaat in Ede. Now he and his team create helpful blog articles to help loyal readers with fun play ideas.