Educational & safe toddler toys: develop important milestones from 1 year
I enjoy writing these articles for my readers, you guys. I don't accept payment for writing reviews, my opinion on products is my own, but if you find my recommendations helpful and you end up buying something through one of the links I may be able to receive a commission on that.
More information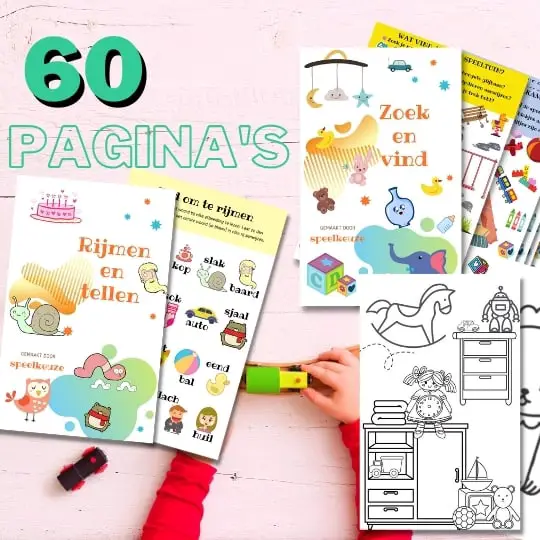 Always something to do for the holidays or rainy day?
Play Choice now has the ultimate activity book collection, with over 60 pages of fun coloring pages and educational puzzles.
When the child has turned 1 year, it is officially called a toddler. It has developed enormously in just a year.
For example, a toddler can crawl and in some cases even walk. The fine motor skills of the curious explorer have also improved considerably.
He / She learns to understand the world around him better and better. In addition, the speech skills between the 1e in 2. e years of leaps and bounds.
Even if they cannot say words yet, a toddler often already knows how to communicate with gestures.
Educational toys that is in line with the experience of a toddler, can help to develop various skills.
Because the child is discovering the world, a rattle is no longer interesting.
To give the toddler some challenge, you can choose toys that stimulate fine motor skills, such as very simple puzzles or a spiral of beads.
In addition, toys with which the child can make music are a good choice for the development of creative skills.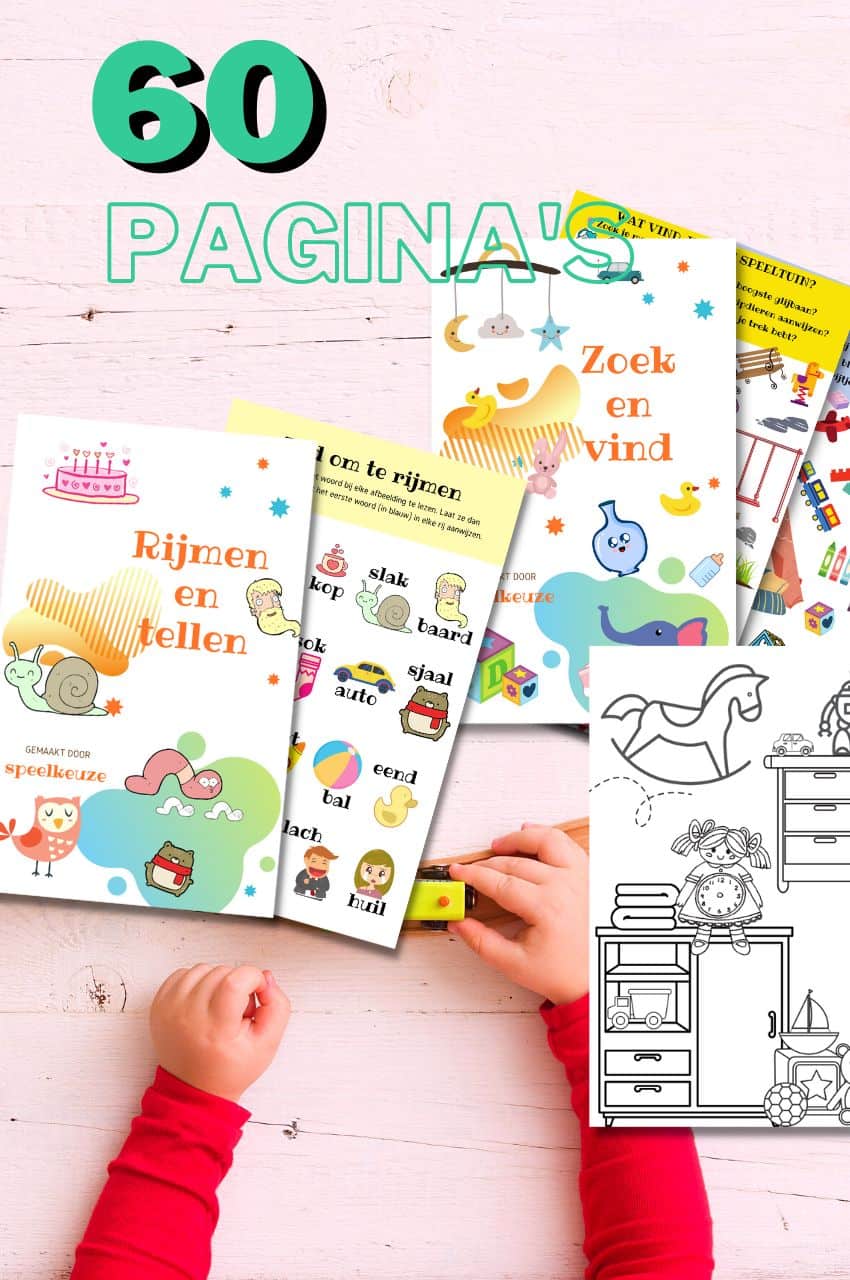 A play theme in your mailbox every month?
Fun play tips, activity books and more, with the first email being our free mini-guide "educational toys"
We will only use your email address for this newsletter and respect your privacy
Educational toy child 1 year
When they are 1 year old they will like to stand and certainly to grab nice things.
This is therefore a selection of the best educational toys for the toddler of 1 year.
Janod Chariot: ABC Buggy
What is it: a wooden walker with sliding beads on the front and blocks (instructive anyway) with 24 educational letters and numbers inside.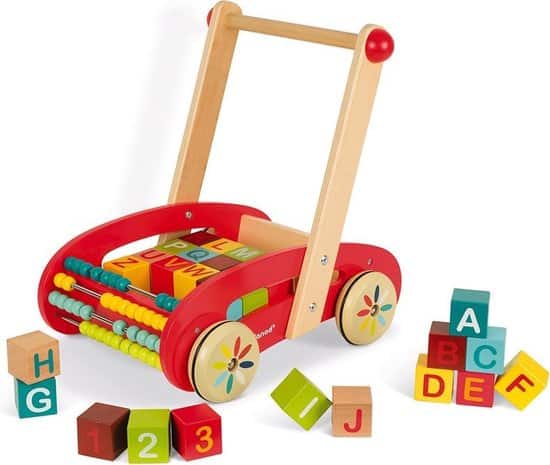 Why we love it: if toys such as draft horses are play magnets for 1-year-olds, then these types of walkers certainly are.
Maybe even a nudge in the right direction for those who are still a little unsteady on their feet.
And this colorful little walker is nice and sturdy to lean on and push and has fun 'whirly' wheels and some nice blocks that are just the right size for little hands to grab, take out and put on. to stack.
And yes, the decorations on the blocks could develop early letter and number recognition if your child happens to show an early interest in them.
Check prices and availability here
Jouéco Wildies Family Activity cube
What is it: a multi-functional cube to help babies understand shapes.
Why we love it: There are all kinds of brightly colored shapes to try out with a bead maze to grab and each side of this cube has its own activities.
An easy way to introduce your child to hand-eye coordination and shape recognition
and a toy that can grow along with their development into toddlerhood.
Check the latest prices here
PlanToys Pull figure Snail
What is it: a cute wooden snail with wheels as a snail shell that your child can pull next to or behind him.

Why we love it: It's beautifully designed - and the body wobbles up and down (kind of like a caterpillar, if that's not confusing!) when you pull it along.
It also makes a nice clicking noise as it moves, which means the faster you pull, the more click you get.
It's made from eco-friendly recycled rubber wood, so you can score quite a few Green Parent brownie points.
And yes, it does kind of remind us of the toys we used to play with. Nothing wrong with a little old-fashioned from time to time, right?
VTech Helping Heroes Fire Truck
What is it: a sturdy red fire truck with an extendable ladder and an extra mini fire truck friend.
The larger engine has an illuminated screen that activates sound effects and roaring songs.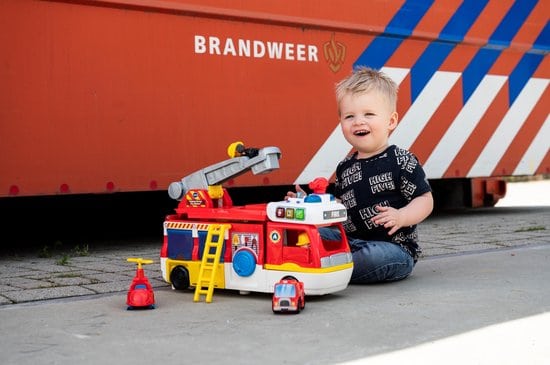 why we love it: the Toet Toet range is a big hit with most toddlers and preschoolers and this fire truck is a great first purchase for slightly smaller kids.
There's a lot for little fingers to manipulate and press and a fair bit of noisy woes that they'll love a lot.
I don't often recommend plastic toys with light and sound, but Vtech knows how to keep everything at a safe noise level and the friends of this fire brigade and later also the Toet Toet car series give fun assignments that can sometimes kick-start the creative game.
We especially love the sliding fire extinguisher and the fact that you can open the big engine and pull down a ramp to fit inside another car (or the mini fire engine).
View this fire engine here
Educational toy child of 18 months
Goki - Bubble Puzzle Vehicles with Sound
Goki is a toy brand that develops educational toys good quality. This wooden puzzle also lives up to that promise.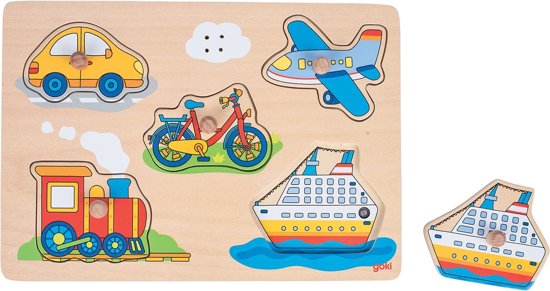 The educational wooden toys are also sustainable. This puzzle by Goki is very suitable for the inquiring toddler.
The studs on the puzzle pieces stimulate fine motor skills, while the puzzle itself gives the child the challenge it needs. By placing the piece in the right place, the toddler will hear the sound that suits the vehicle.
The stud puzzle you can find it here
Fisher-Price - Laugh & Learn Good Manners Tea Service
Toddlers learn to mimic the behavior around them.
Their speech skills are also developing, making role-playing games increasingly important to them.
The Fisher-Price tea set therefore gives the toddler the opportunity to get acquainted with the imagination game in a playful way.
In addition to fine motor skills, language development is also stimulated by the songs and sounds.
The cause-effect relationship becomes clear by the sound that comes from the teapot when they pour it.
There is also possible practice with numbers and shapes, which improves cognitive skills.
Check the latest prices and availability here
Janod Magnet Rocket
What is it: a rocket puzzle that your child can build using 6 easy-to-assemble magnetic pieces.
Why we love itIt's essentially a simple stack of toys, but the magnetic pieces join together nicely to form a rocket you can play with.
Great for developing hand-eye coordination and perfecting whooshing sounds of space travel and one of the most fun toys in the world Janod.
We love the fact that the wood is of high quality and that the (hip) paint job is non-toxic.
Beleduc rhino balance bike
What it is: a walking bike with 4 wheels and front wheel steering that provides an easy, safe and stable ride.
The bright and funky design combined with the steering wheel for easy maneuverability makes this a great set of first wheels for any toddler.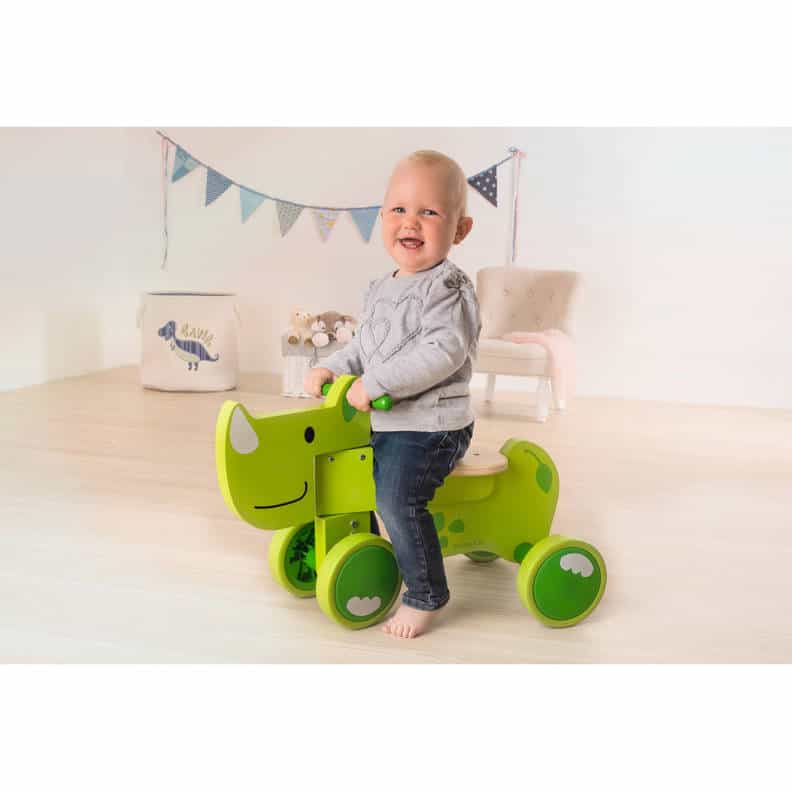 Why we love it: the bright and funky design and front wheel steering make this a great set of first wheels for any toddler.
It is great value for money, and it is also fun for your child and sturdy enough to ride around on.
How do toys and games affect children's development?
There are a lot of questions Mom asks about baby milestones, but I found there are just as many, if not more, about Toddlers' development.
But there is no need to overthink it.
Ideally, child development socially and emotionally is a natural part of a healthy family and interacting with the world through play.
An article in Psychological Science says:
Toys are an opportunity to play, explore and social interaction; educational toys that stimulate these will have a positive effect, but also a daily household object - if used correctly.
So relax, you don't have to buy expensive play and moving toys, or even toys.
A bowl and wooden spoon can have just as many positive effects as a popular educational toy.
The key here is "using it properly".
Not all toys are created equal, and not even all educational toys have the same impact on toddler development.
So what's a parent to do? Choose open-ended toys.
What are open-ended toys and why should you choose it?
Open-ended toys are an item that leaves most of the interpretation and creativity to the child.
They don't show them or tell them how to play, but rather let them have free rein.
For example, a lego can be an open-ended toy, because a child has virtually endless options to build and there is no wrong way to play.
However, a noise-making and talking full-button toy usually plays in place of the child who usually just watches.
I'm not saying you can't have some of those toys or that they muffle your kids and make them non-socialized.
What I am saying is that there are much better and easier options from an educational standpoint.
Open-ended toys can be used at different ages and ways, so you get a lot more out of them.
The best educational toys grow with your child, making them very cost effective too.
What is the best way to use educational toys
The joint play of parents - both mothers and fathers - and children can have long-term benefits for child development, according to a recent study of 1 and 2-year-old children.
That study only proves that toys on their own aren't going to do anything magical and educational.
Children, quality toys and parents must work together to stimulate language, speech and other life skills.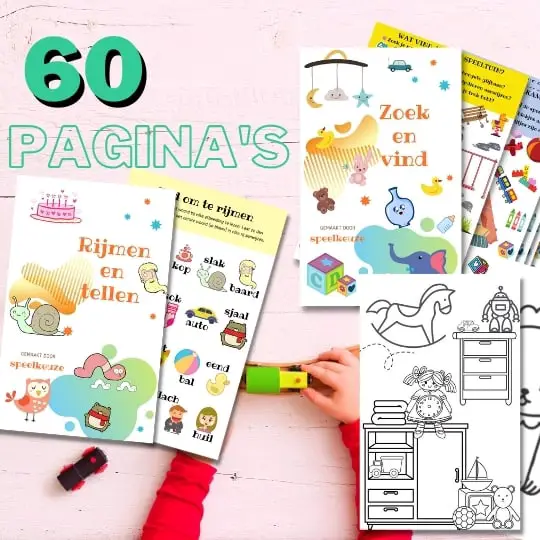 Always something to do for the holidays or rainy day?
Play Choice now has the ultimate activity book collection, with over 60 pages of fun coloring pages and educational puzzles.
Joost Nusselder, the founder of Speelkeuze.nl is a content marketer, father and loves trying out new toys. As a child he came into contact with everything related to games when his mother started the Tinnen Soldaat in Ede. Now he and his team create helpful blog articles to help loyal readers with fun play ideas.