I enjoy writing these articles for my readers, you guys. I don't accept payment for writing reviews, my opinion on products is my own, but if you find my recommendations helpful and you end up buying something through one of the links I may be able to receive a commission on that.
More information
The child has the greatest cognitive development when it is between 6 and 8 years old.
Besides language, reading and arithmetic, a school child gradually learns to think logically. The view of the world therefore changes significantly in this age group.
Are your kids a little younger? Then read this article about educational toys for preschool children
When they start reading, it becomes possible for the child to read short stories independently. This also offers many possibilities for educational toys.
Social skills are also growing. Children in grades 3 to 5 make friends, have play dates and maybe even stay together.
Playing together is becoming increasingly important and is also becoming easier for the child. Although they often still find it difficult to lose a game.
That's also why my top choice this Korbo technical building set is to stimulate playing, building and developing together while also getting some technology.
Later in this article I will discuss this set in detail, along with a few other good choices for your school-aged child.
Watch our video post here or read on for a detailed description of all tips:
When the children go to group 3, they are often 6 or 7 years old. This is also the time when the child's self-esteem develops. To get a competent feeling, the appreciation of the environment is important.
Again, this can be anticipated by educational games, which can be played together and certainly a good choice to give to your children together, for example at Christmas.
Educational apps, where children keep reaching new levels, can certainly help stimulate self-image.
Between the ages of 6 and 8, the cause-effect relationship becomes more and more clear to the child, and they learn to make connections, which makes them interested in experiments. This is a good time for educational science toys.
Here's a summary of my top picks in an overview:
Educational toy child of 6 years
The 6-year-old child really wants to understand things well and that's why I chose toys that help with this.
Best technical toys: Korbo - Engineering Gears 122-piece
Being creative with technology and ensuring that everything works together, for inquisitive children from 6 years old.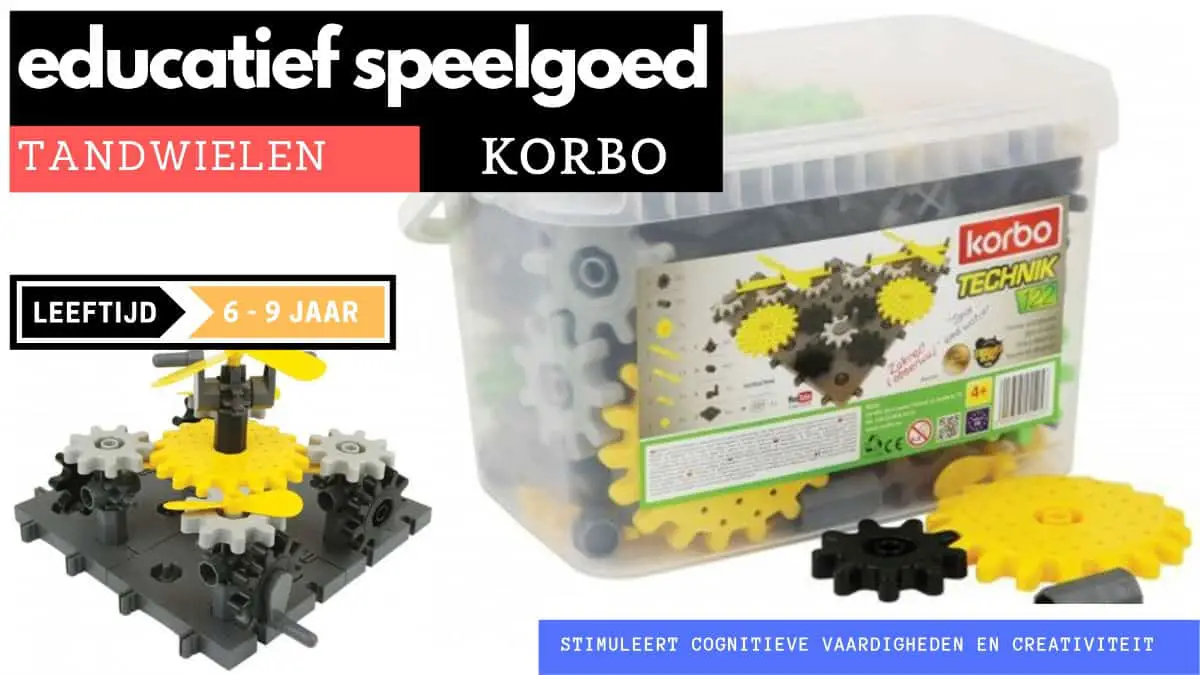 The way a child thinks begins to change in grade 3. A six-year-old child gradually learns to think logically.
They see the consequences of certain actions.
This makes them curious. Educational toys with which they can experiment therefore meet the needs of the school child.
The educational technique set from Korbo makes it possible to assemble constructions. Various structures can be set in motion with the 122 parts.
If the gears do not move, it is up to the child to determine the cause of the problem.
A good way to stimulate cognitive skills and creativity. Playing with technical educational toys also improves spatial awareness.
The development of logical thinking ensures that the child can invent and assemble constructions that work independently.
Check the most current prices here at bol.com
Best model building: Modarri model building S1 Concept Car
This toy teaches the concept of mechanics, engineering and science plus a healthy dose of reasoning skills.
Wondering why the Modarri Concept Car is first on our list.
This toy teaches the concept of mechanics, engineering and science as well as reasoning skills.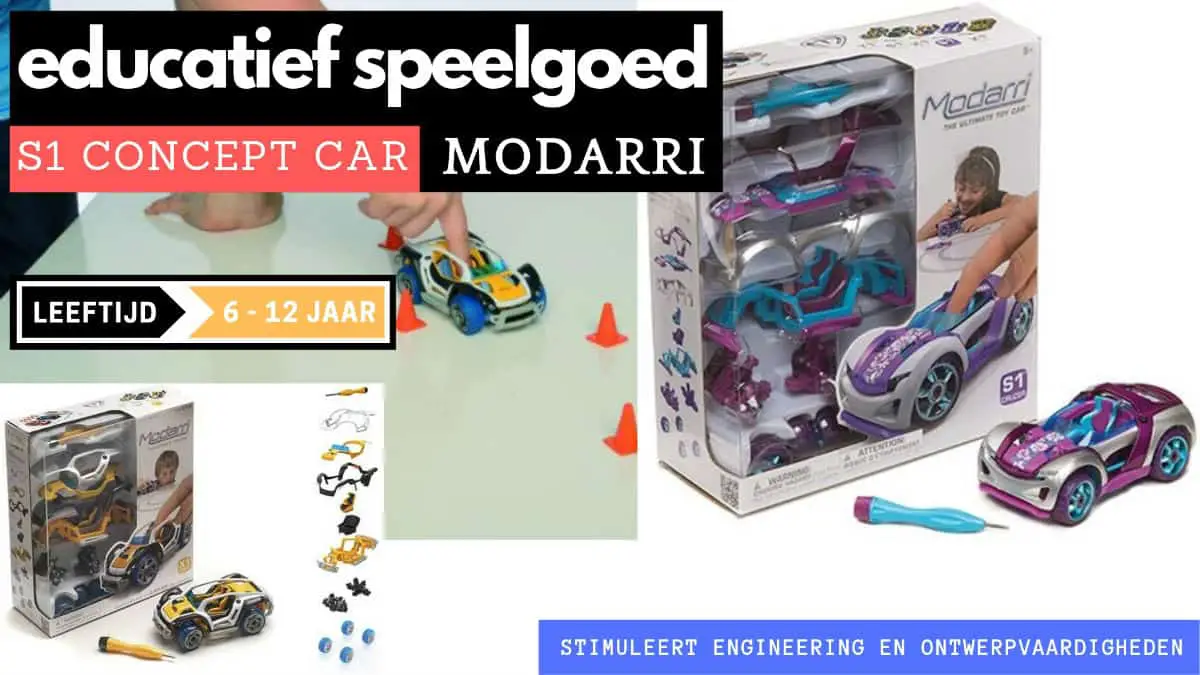 The package comes with 13 mix and match pieces, red track car hood and fenders, white concept hood and fenders, sports car frame, tracked vehicle chassis, seat, 4 wheels and 2 suspensions.
Your child will be able to build many cars while you see how creative your child is with, for example, multiple expansion sets.
Benefits:
Encourages engineering and design skills
Easy to start and expandable for much more challenge for kids
Best outdoor: Terra Kids Binoculars with storage bag
Nice for the little explorer who loves the outdoors, and maybe also nice for you together in the wilderness.
Every child loves binoculars and that is why there are different binoculars for sale!
But these Terra Kids binoculars for children are different because of their compact construction and handy and sturdy storage bag.
Also, the binoculars do not blur the image nor cause eye strain.
The perfect binoculars for your outdoor explorations, forest walks, mountain camping and more.
Great binoculars for your kids to enjoy the wonders of nature.
Benefits:
Interesting for kids to have fun
Helps stimulate interest in nature
Neck strap to provide comfort while walking and not lose it
Sturdy storage bag
Cons:
Should be handled with care
Has few other attractive functions
The binoculars from Terra Kids is available here
Cutest building toys: Play & Grow magnetic building toys
At this age of 6, they really start to understand more things and it is nice to see them get started with this magnetic building set.
What they all can't make!
Play & Grow's magnetic toys are a unique magnetic system that is different from the common magnetic toys on the market.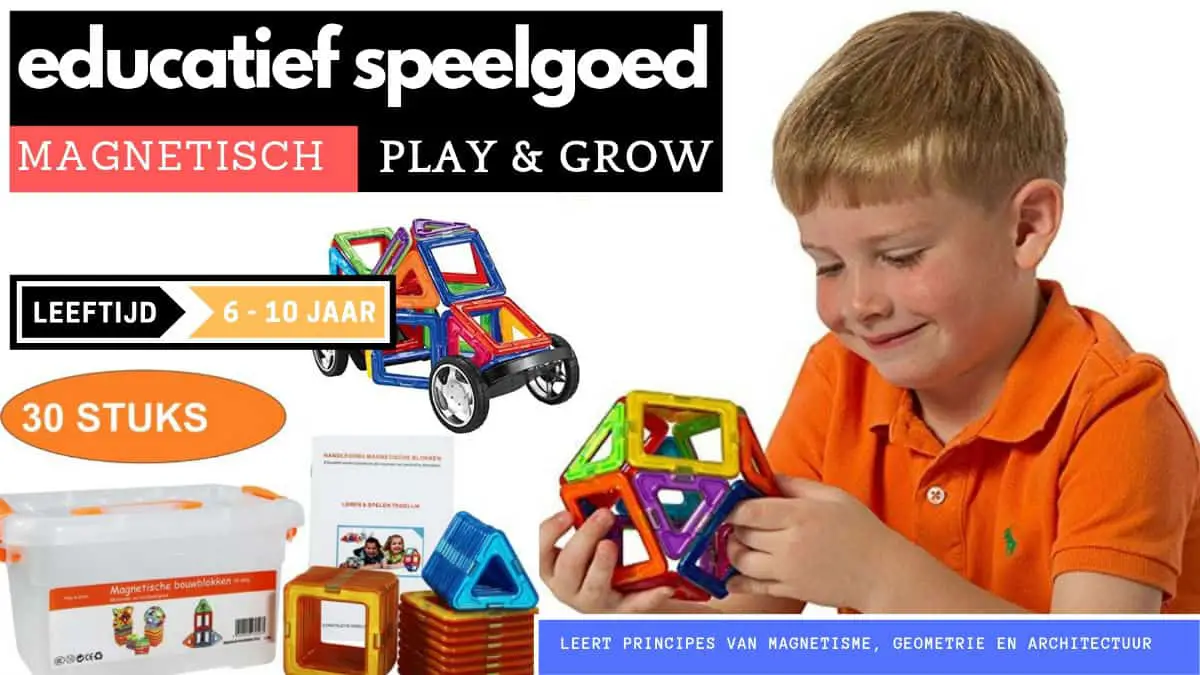 It comes with a magnetic stick and ball that can be used to create many shapes, geometric figures, cars, bridges and animals.
If you don't have any ideas, you can always refer to the manual and see lots of things to build.
This toy is fun for kids, but the toy also has educational benefits - it teaches the basics of magnetism, geometry, and architecture.
Benefits:
Improves problem solving skills
Develops imagination and math skills
View the different sets and expansion sets here
Educational toy child of 7 years
Best Robot: Ozobot - Bit 2.0 - Educational Smart Robot
The Ozobot can be set at different levels, but is certainly suitable for a child from group 3 or 4.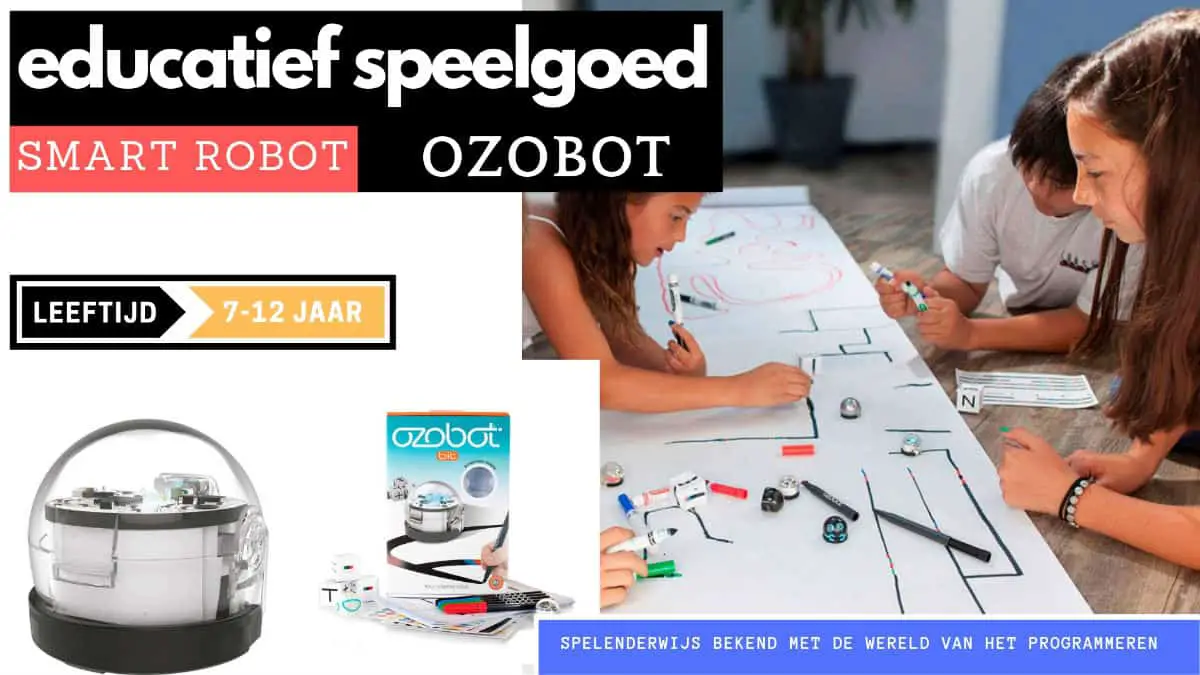 The Ozobot makes children familiar with the world of programming in a playful way.
In our digital age, this is a skill that can also bring many benefits later.
The Ozobot can be set at different levels, but is certainly suitable for a child from group 3 or 4.
The robot teaches the schoolchild basic programming language and executes commands by means of colors and lines. Many skills are put to the test.
It is also one of the top products in our list of toys for learning to code and program.
Playing with the Ozobot requires creativity, good motor skills and cognitive skills.
To make this educational toy even more interactive, the Ozobot can also be linked to tablets or smartphones.
There are many expansion options and the innovative device is therefore used in various schools.
View Ozobot and its accessories here
Best combination: Imaginarium Walkie Talkies Bio Explorer
What could be more fun to play together than to go out and chat over great distances and hiding places. Also great for fantasy play.
Charlie! Whiskey! Tango! About! Expect all this after purchasing this adventure toy for your child.
You and your child can pretend to be soldiers, police or firefighters with this real walkie-talkie, the mood in the house will be lightened.
This toy can also be used outside for nice outdoor play sessions and also suitable for older children with a range of 6 km.
The walkie-talkie can be used at a range of 6 kilometers and has 3 channels of communication, so you can reach your child while they are playing outside.
This educational toy comes with two walkie-talkies and a user manual.
The toy features good sound quality, battery saving function, battery indicator and backlit LCD display.
Benefits:
Builds communication skills
Strengthens teamwork
Wide reach
Cons:
Because these are enriched and extra extensive, they are also suitable for a slightly later age
Children are sometimes at the channel settings so that they can no longer hear each other
Best brain teaser: SmartGames IQ Puzzler Pro
Smartgames produced this special game that is really for smart brains but also really fun from the age of 7 due to the levels. 120 challenges in three play modes.
Smartgames produced this special game that is really for smart brains. This educational toy has 120 challenges in three play modes.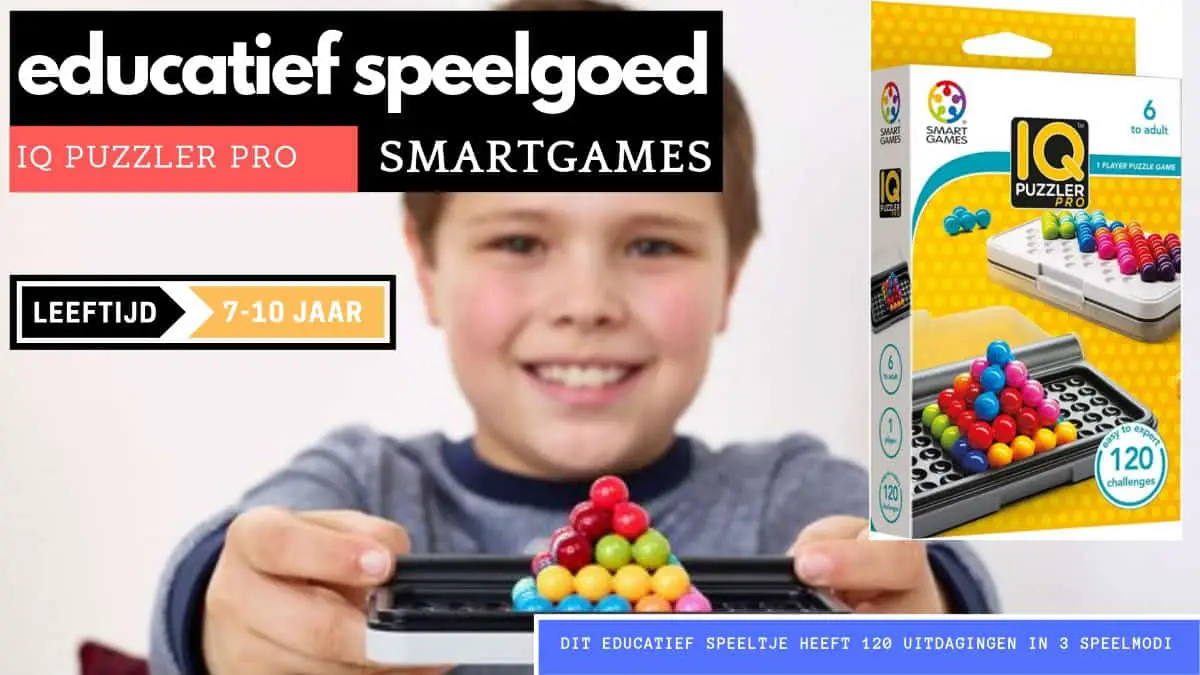 The puzzle games are notable for adults and children alike, as there are levels that require adult intervention.
However, the game has no less than five levels:
Starter
Junior
Expert
Master
and Wizard
With the IQ puzzle you can keep your children still during doctor visits, car trips or church services, because the toys come in a compact cover that can easily be taken with you.
Benefits:
Teaches patience
Improves cognitive skills
Improves concentration
Suitable from 6 years old, in our experience best for 7 year olds
This Smartgame is available here at bol.com
Child of 8 years
Children of 8 years old can already learn to understand very difficult concepts and are eager to do so. Here are great toys to support them in doing so.
Best Science: Ravensburger - ScienceX® Smartscope
Interactivity, science and collaboration with their phone. 8-year-old kids who are a bit inquisitive will love this.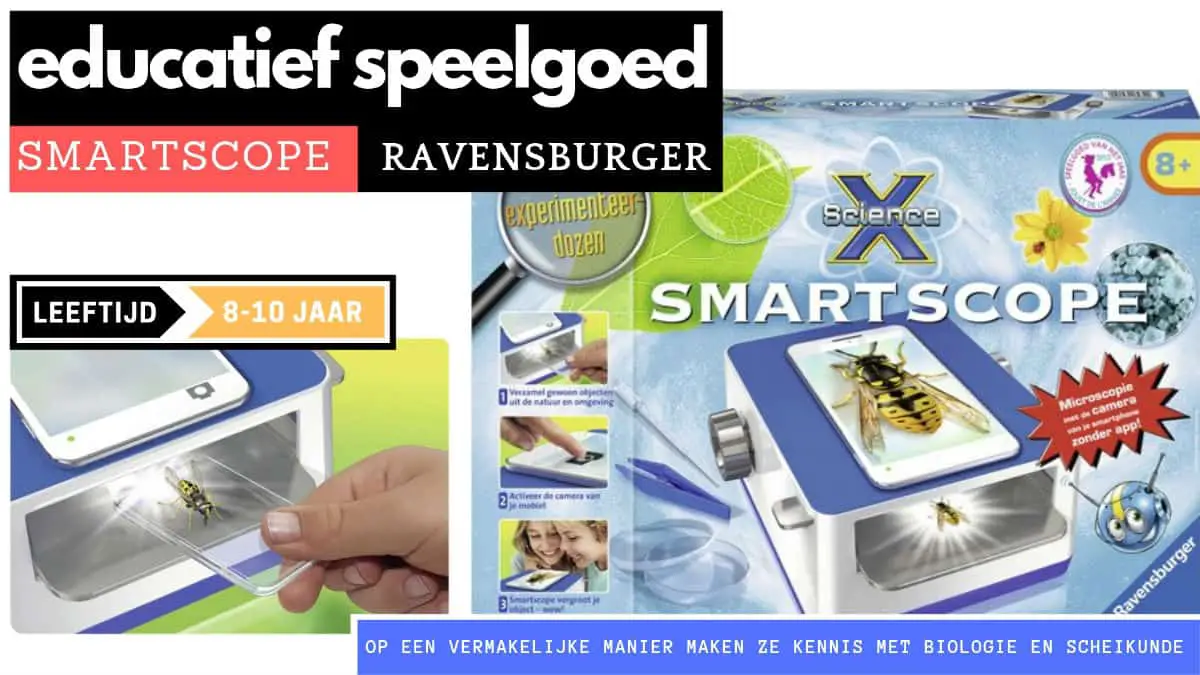 Educational toy that is sure to attract the attention of many an eight-year-old is the Smartscope from Ravensburger. Children from group 4 or 5 are already very good at perceiving and investigating things.
Their interest in experimentation only increases the commitment to these toys. The Smartscope makes it possible to view nature up close.
For example, by putting an insect under the microscope, a child can view the enlarged animal on the camera function of a phone or tablet.
With the rotary knobs of the Smartscope, the image can be focused.
When they find the perfect picture, they can easily save it on their phone.
The inquisitive mind of the 8-year-old child is certainly stimulated by using the educational Smartscope.
They are introduced to biology and chemistry in an entertaining way and even better: they have to go outside for this!
There are 16 customer reviews on bol.com to read
Best programming: Sphero SPRK + Edition
Learn to program in a playful way with this Sphero robot that can learn easy sequences with your app.
A high-tech educational toy from Sphero! The box comes with a robot and gadgets to write simple commands for your robot.
That is, you can combine simple codes such as roll, flip, rotate and change colors for your robot.
Wow good! The toy learns programming on the fly. You will see that the written code is put into effect immediately.
Put your child on the programming path from the very beginning and watch their skills grow enormously.
It is also suitable for younger children, but to get the most out of programming and make them really understand instead of just being a toy I recommend this one from 8 years old.
The robot has programmable sensors (motor encoders, gyroscope, accelerometer), water resistant, a battery life of 60 minutes and is scratch resistant.
Benefits:
Provides a beginner's love of programming
Connects via Bluetooth
Teaches the basics of coding
Cons:
Sometimes the robot does not maintain a connection with your Android device
Best fantasy game: Lego & Playmobile
Nothing is more fun than playing out adventures with a large box of Lego or a number of Playmobil figures. Let your imagination run wild.
But children of this age also have to do other things than be busy with technology and digital games all the time.
The ideal gadget, in our opinion, for children of this age is toys in the form of Lego and or an alternative thereto such as Playmobil.
In fact, you can never go wrong with this: a child can do and / or make whatever he / she wants and it is also very educational.
The prices are also reasonable and as a parent it is easy to help your child and have some quality time together. Another recommendation is a game.
Games like "Cluedo" and "Who is it?" often do very well with children of this age because the outcome is always different and the children really have to think for themselves.
Research has also shown that playing these types of games increases children's insight, so that children may have less trouble with the so-called insight situations later on.
Another advantage of games is that children learn to play together.
Children of this age are often not able to cope with their loss at this age and by playing games a child learns to deal with this better.
Enough reasons to purchase a game.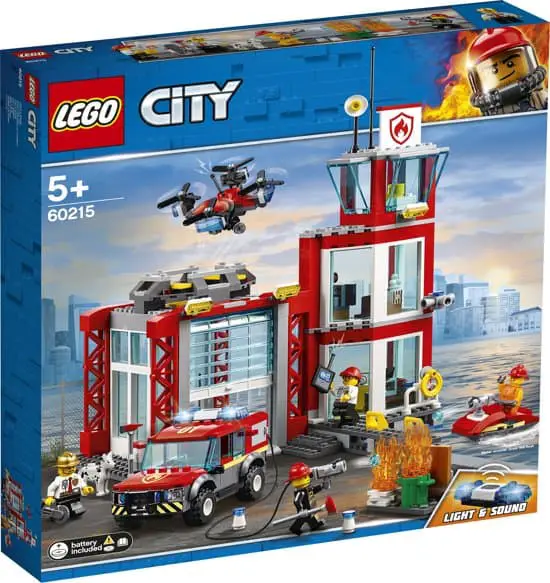 Advantages of educational toys for school children
The best educational toys for a child over 6 years old should be attractive, innovative, yet simple enough for proper exploration by the young explorer.
Appropriate toys for 6 year olds should add value to your child's personality, emotion, intellect, cognitive and social skills.
Listed in this article are imaginative toys from 6 year olds that your child will love. Examples include puzzles, vocabulary and games, toys that your children develop in science, technology, engineering, math, nature and research sets.
What requirements must educational toys meet for children from 6 years old?
It's really cool to see your child smile while learning.
Since the goal of getting these toys is not just for fun, we are also concerned about their physical development, psychological development and their hand-eye coordination.
That is why it is important to look at these criteria for educational toys to choose fun and educational toys.
Problem solving ability
A six-year-old child believes that he / she is able to find a solution to a problem no matter how difficult it is and therefore they are not easily discouraged.
Because of this mindset, we specifically choose toys that are a challenge and that will keep your child busy all day long.
When a problem-solving mindset is employed in a child, it spreads to every aspect of their life and they become a real go-getter.
Social skills
One very important skill that you don't want to miss in your child is social skills.
Today, networking cannot be emphasized enough and it all starts from childhood.
Some of the educational toys selected here were chosen to encourage interaction with other children.
Let your child enjoy playing and thinking together with other children and their knowledge will increase.
Using creativity
Creativity is not the emergence of a new product, but the ability to bring old things together and make something different.
If you sit and watch children use their building blocks, you will be amazed at what they can build.
Introducing children to games that enhance their memories gives them the opportunity to conjure up new things.
Educational toys listed here help channel your child's creativity in a positive way.
Among other things, we paid attention while choosing the right educational toy for your 6-year-old child was the strong rating and number of reviews each toy has from the parents.
We looked at toys that last no matter how hard the kids use them.
Furthermore, educational toys are intended to develop your child's love for learning.
Why do they have to memorize the first 20 elements of the periodic table when they can sing it and have fun?
When a task is difficult for a child to learn, grab a toy related to that task and your problem is solved.
Finally, these toys help to stimulate social interactions.
It would be strange if your kid's friend at school talks about LEGO and your kid looks so dumb and doesn't know what they are talking about.
Just as we adults like to be kept informed about football and political news, the children like to be kept informed about toys.
Make sure your child has an educational toy so that they can relate well to their peers in your absence.
Conclusion
Choosing an educational toy for children over 6 years old may seem impossible because you don't want to choose a toy that won't help your child develop.
In addition, you don't want you to pick something they don't like enough to play with.
Hopefully, these selections will help your choice for school-aged children aged 6, 7, or 8 years old.
Joost Nusselder, the founder of Speelkeuze.nl is a content marketer, father and loves trying out new toys. As a child, he came into contact with everything around games when his mother started the Tin Soldier in Ede. Since 2016, he and his team have been creating helpful blog articles to help loyal readers with fun play ideas.