Educational & safe baby toys: milestones for child 0-1 years
I enjoy writing these articles for my readers, you guys. I don't accept payment for writing reviews, my opinion on products is my own, but if you find my recommendations helpful and you end up buying something through one of the links I may be able to receive a commission on that.
Further information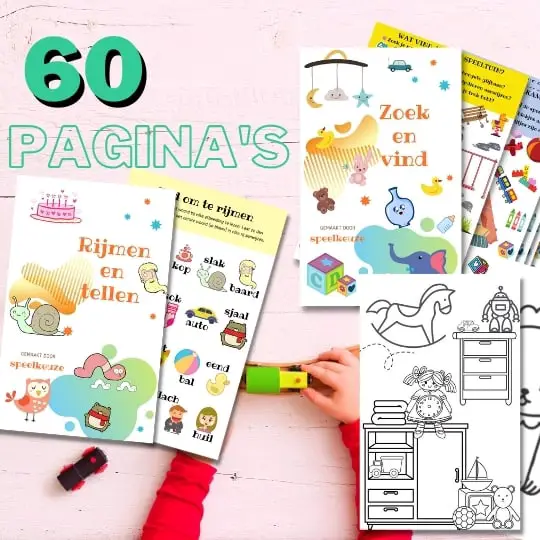 Always something to do for the holidays or rainy day?
Play Choice now has the ultimate activity book collection, with over 60 pages of fun coloring pages and educational puzzles.
Because children learn a lot in the first two years of life, playing is very important. Babies like to understand the world around them.
They often play by grabbing things or putting them in their mouths. They also love toys with bright colors and different textures.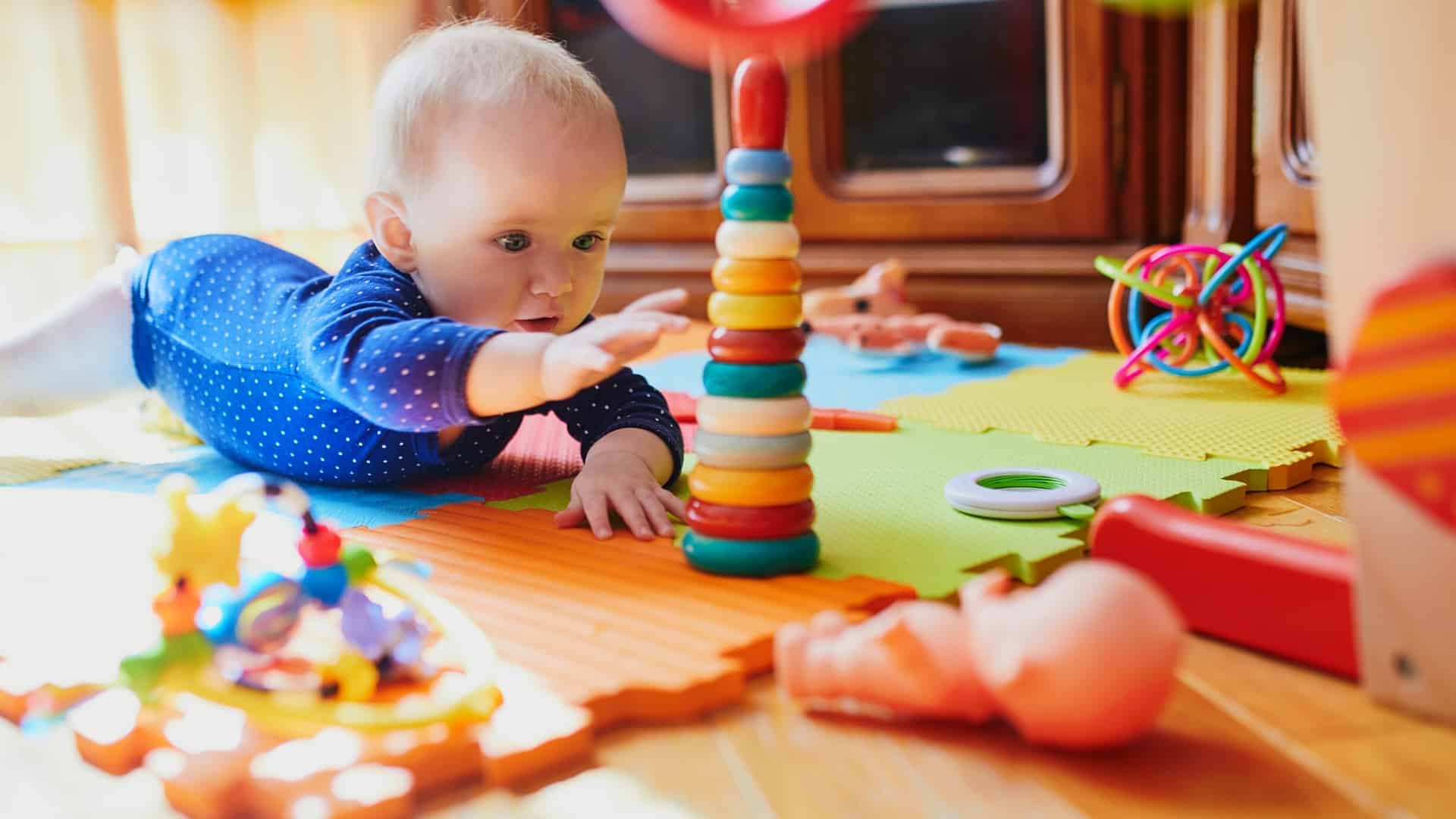 They develop very quickly. With the right educational toys you as a parent can respond to the development of the child during the different stages.
Educational toys stimulate the child's imagination and curiosity.
However, for the development of all skills, it is important that this toy is appropriate for the age of the child baby.
If you fail to do this, the child can skip steps in the learning process, with consequences.
Is your child slightly older? Then read our article about educational toys for your toddler from 1 to 2 years old
But the best toys for the little ones will remain these Fisher-Price Musical Click-Clack Keys.
Rattle and musical toys in one.
But of course there are many more ideas and in this article I want to go through some of the nicest with you.
Educational toys can help give children a good foundation. He / she will benefit from this for the rest of his / her life.
The question now is, what is the perfect educational toy for babies?
Let's take a quick look at all the options, then I'll go deeper into how they help your baby's development: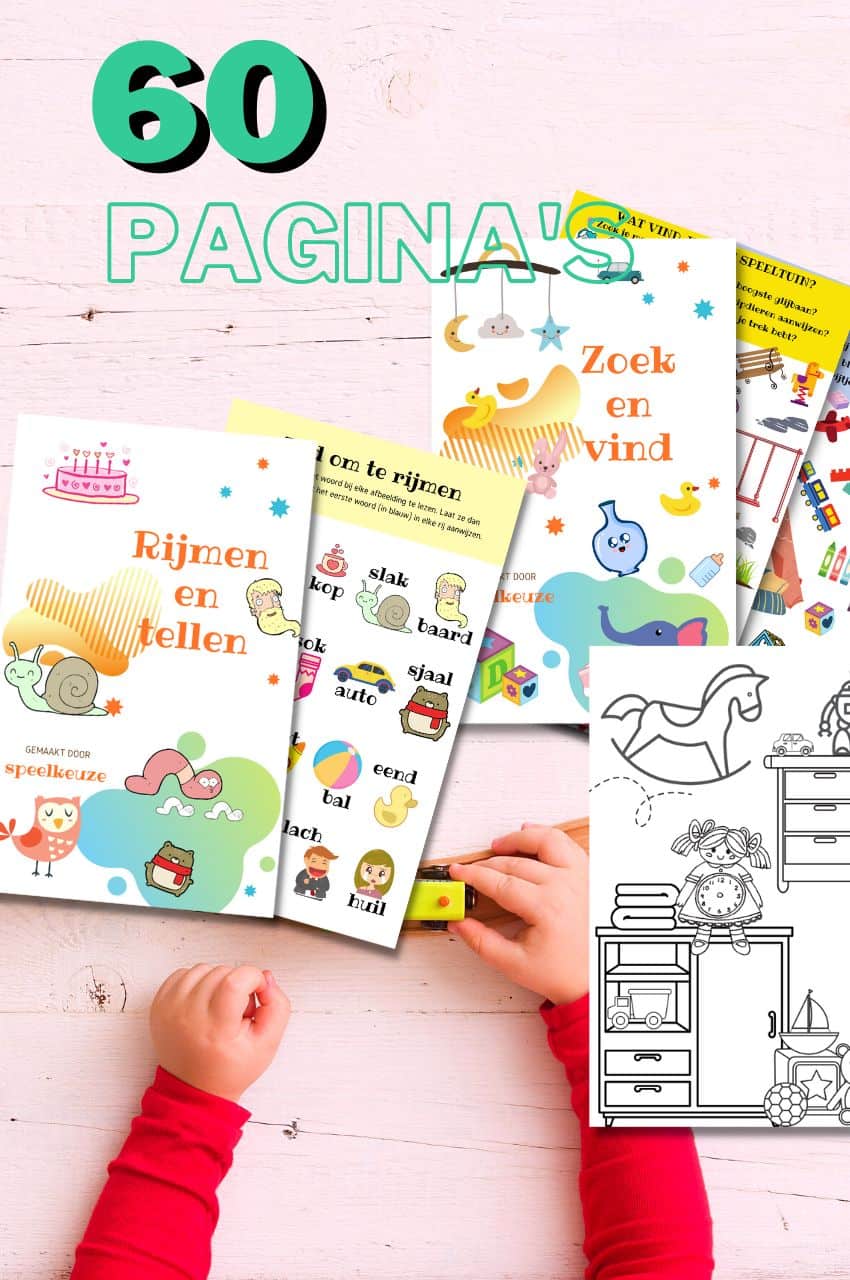 A play theme in your mailbox every month?
Fun play tips, activity books and more, with the first email being our free mini-guide "educational toys"
We will only use your email address for this newsletter and respect your privacy
Educational toys Baby from 4 to 6 months
Best for the little ones: Fisher-Price Musical Click-Clack Keys
When a baby is about three months old, he / she gradually learns to handle things.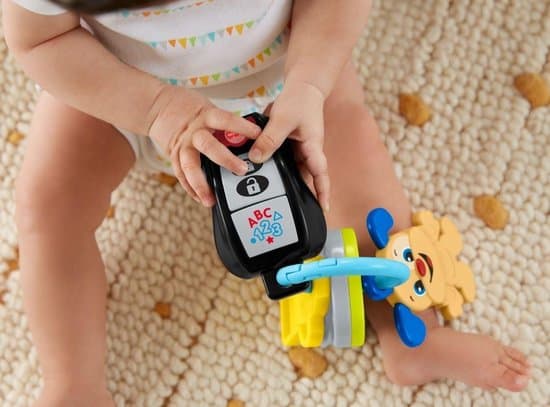 Fisher-Price Click-Click Keys are the perfect toys to practice fine motor skills.
The three different keys are attached to a thin ring that the child can easily hold. They can also safely put the toys in their mouth.
In addition, the keys are bright in color and consist of different shapes; enough to stimulate the senses.
Various buttons and cheerful sounds provide an interactive playing experience.
Finally, a start can also be made on the role play. This educational toy thus provides sufficient stimulation in various areas.
Check the latest prices here
Educational toys Baby from 6 to 7 months
Cutest tactile baby toys: VTech Cuddle & Leather ball
In the first three months, a baby does not really get around to playing. From the age of four months, however, the child learns to handle objects.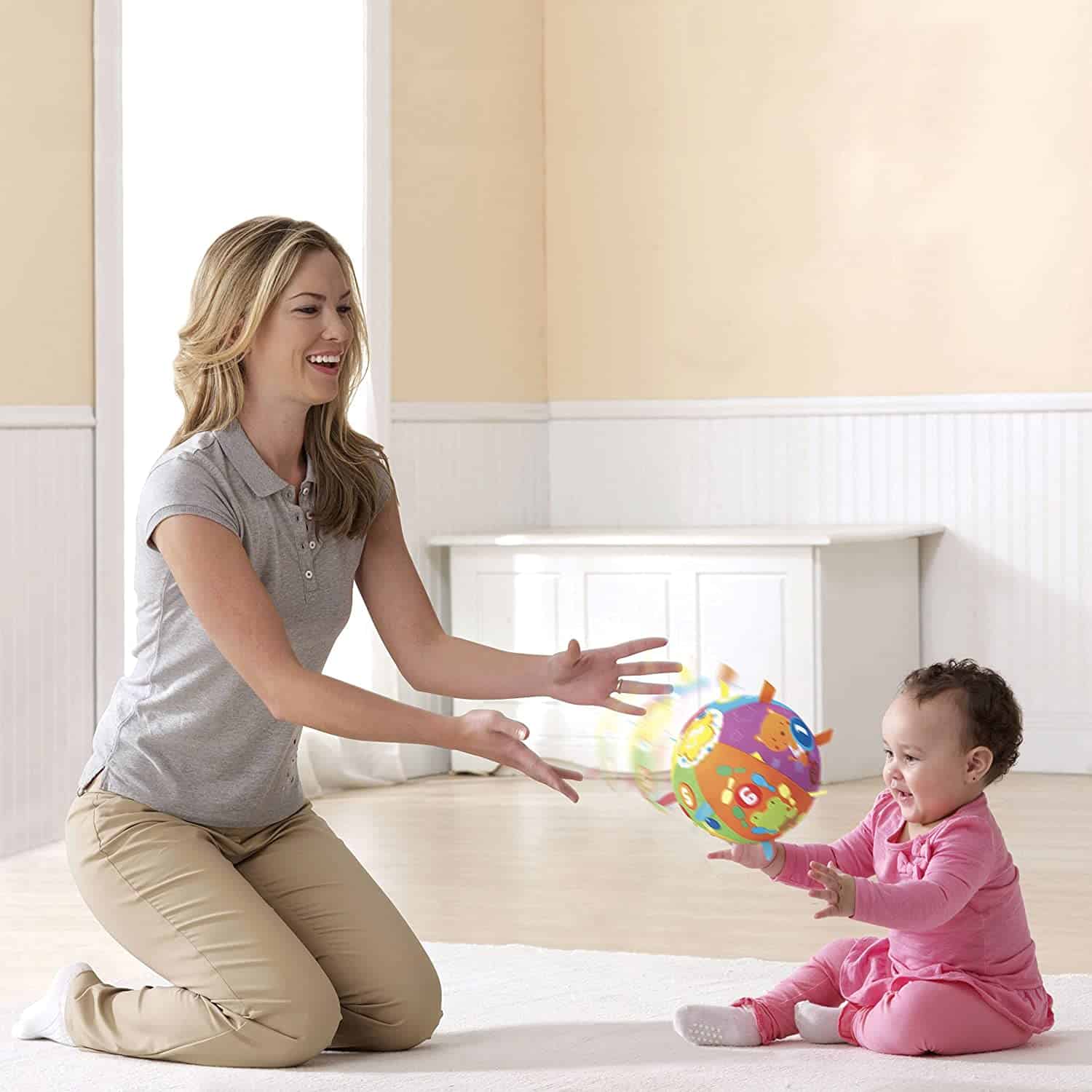 Fine motor skills are gradually developed.
With the soft play ball from VTech, different skills are stimulated and that makes this an ideal toy for children of about six months.
The ball has bright colors and different textures; something babies love. VTech is a brand that responds perfectly to the different development stages of children.
The educational toy therefore contains more than 50 songs, sounds and melodies. This stimulates the young child's language skills.
The ball is also provided with images of animals and numbers (always good to encourage!), which also benefits cognitive development.
In this way they already get to know the world a little bit.
The different textures help to practice fine motor skills.
When the child is slightly older, the gross motor skills be stimulated with the ball of VTech.
The ball can then be used to practice throwing or kicking.
Vtech has various cuddly & leather models such as these teddy bears and fire engines.
Check prices and availability here
Best eye-hand coordination: Vilac shape sorter
Skills developed:
eye-hand coordination
shape recognition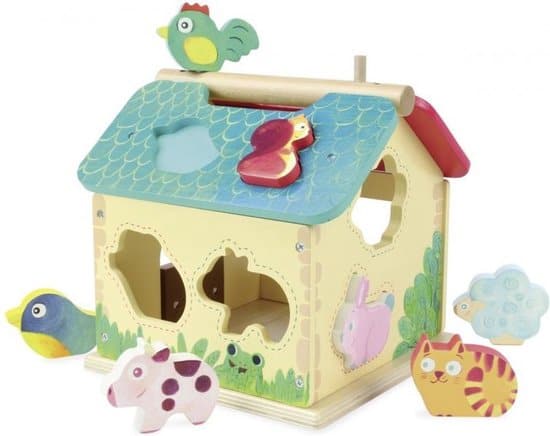 Features:
There are ten blocks of different shapes and colors, and the blocks come in a plastic box, which also serves as a challenge to properly tuck the blocks away.
One piece goes exactly into one slot making it essential for the child to memorize the shapes.
After the baby has finished playing, the blocks can be stored in the box with a handle for easy carrying.
Vivid colors of the toys are bound to make a baby to play. Made from BPA-free plastic and free from harmful toxins.
Check prices and availability here
Cutest Interactive Dog: Vtech Pull Along Puppy Pal
Skills developed:
cause and effect
gross motor skills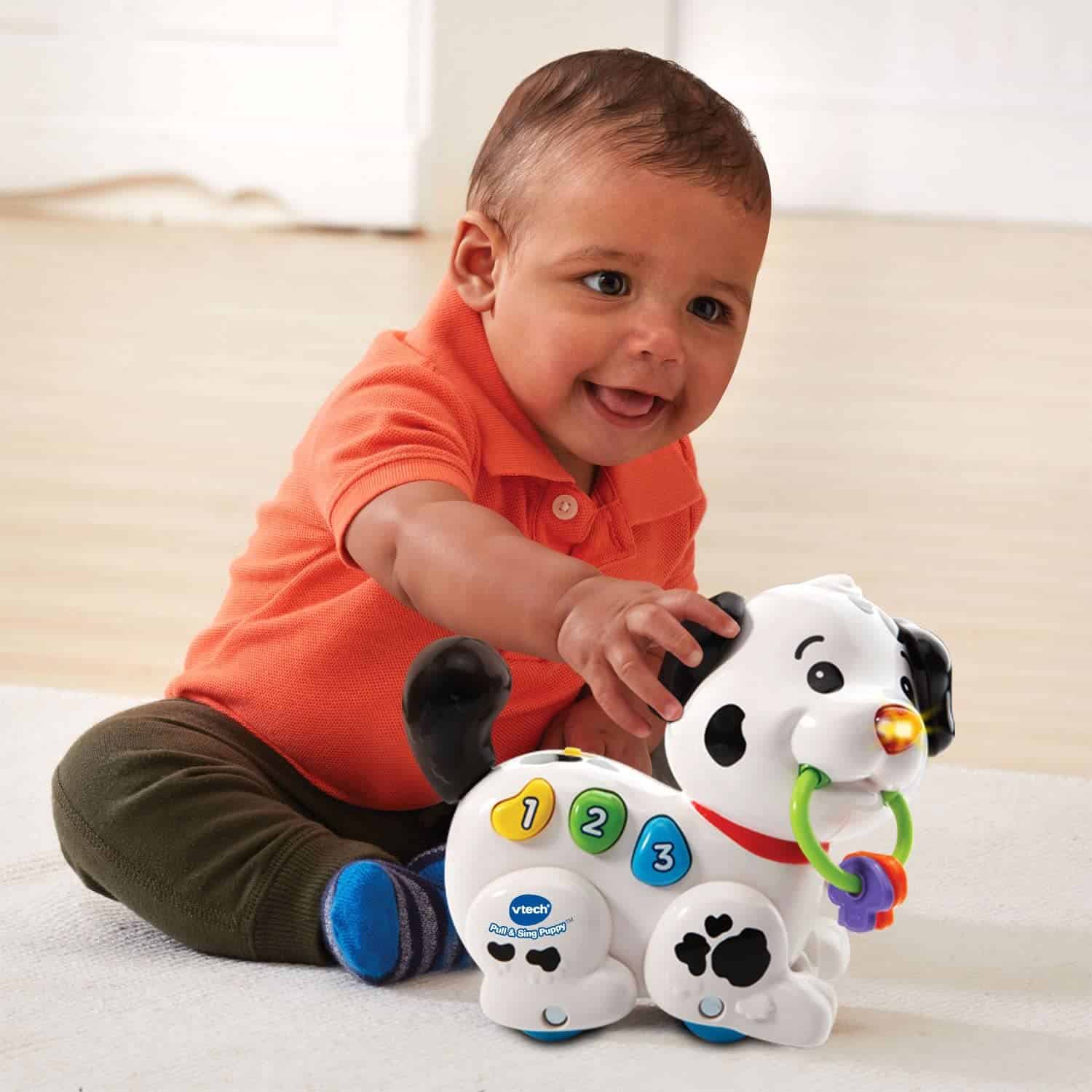 Features:
Adorable three-button toy puppy that can play over 60 sounds, songs, melodies and phrases when pressed.
the cute educational toys for the baby comes with a soft wire that can be easily pulled.
By pulling the toy or pressing a button, an LED light will illuminate in the puppy's nose.
The built-in speaker plays sounds, while the motorized tail and ears move further.
The puppy moves its motorized legs when pulled by the rope.
An ideal learning toy for older babies who are pulling to stand and taking their first steps.
Check availability and prices here
Educational toys Baby from 8 to 9 months
Cutest baby building blocks: Janod Sophie the Giraffe Stacking Tower
Although a child only learns to stack blocks on top of each other from the age of 15 months, the Janod Play & learn blocks from Sophie the Giraf suitable for the little ones.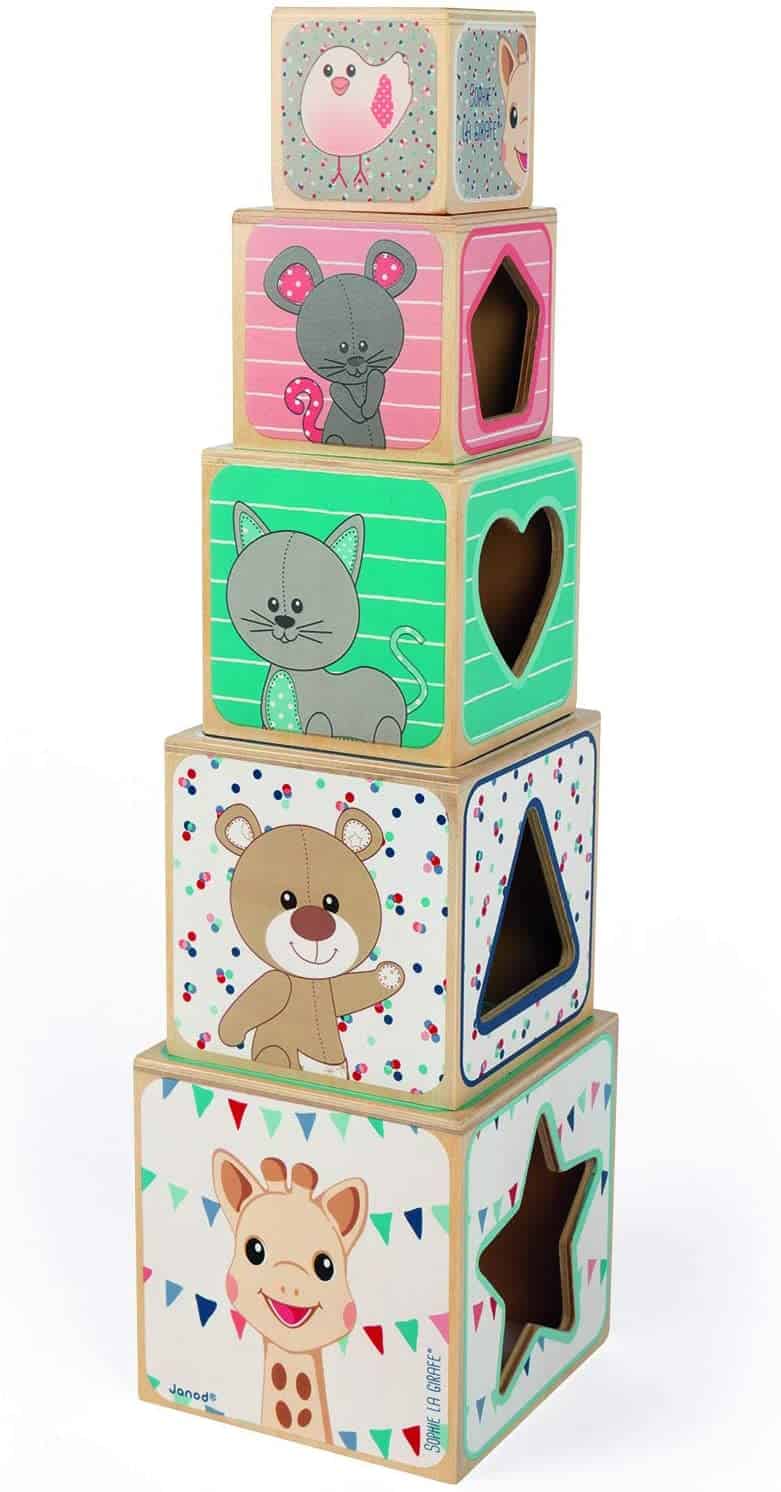 The sustainable brand uses natural materials, so you can let your child play with them with confidence.
These wooden blocks (block game is very good for them) contain the nice figures on the sides and each have shaped holes. So plenty to do!
The fine motor skills are stimulated and the senses are also stimulated by the pictures and colors.
A tower can also be formed with the four blocks. This in turn can help train cognitive skills.
Check the latest prices here
Best activities cube: VTech interactive cube
Skills developed:
understanding of the tactile feeling
general hearing skills and vision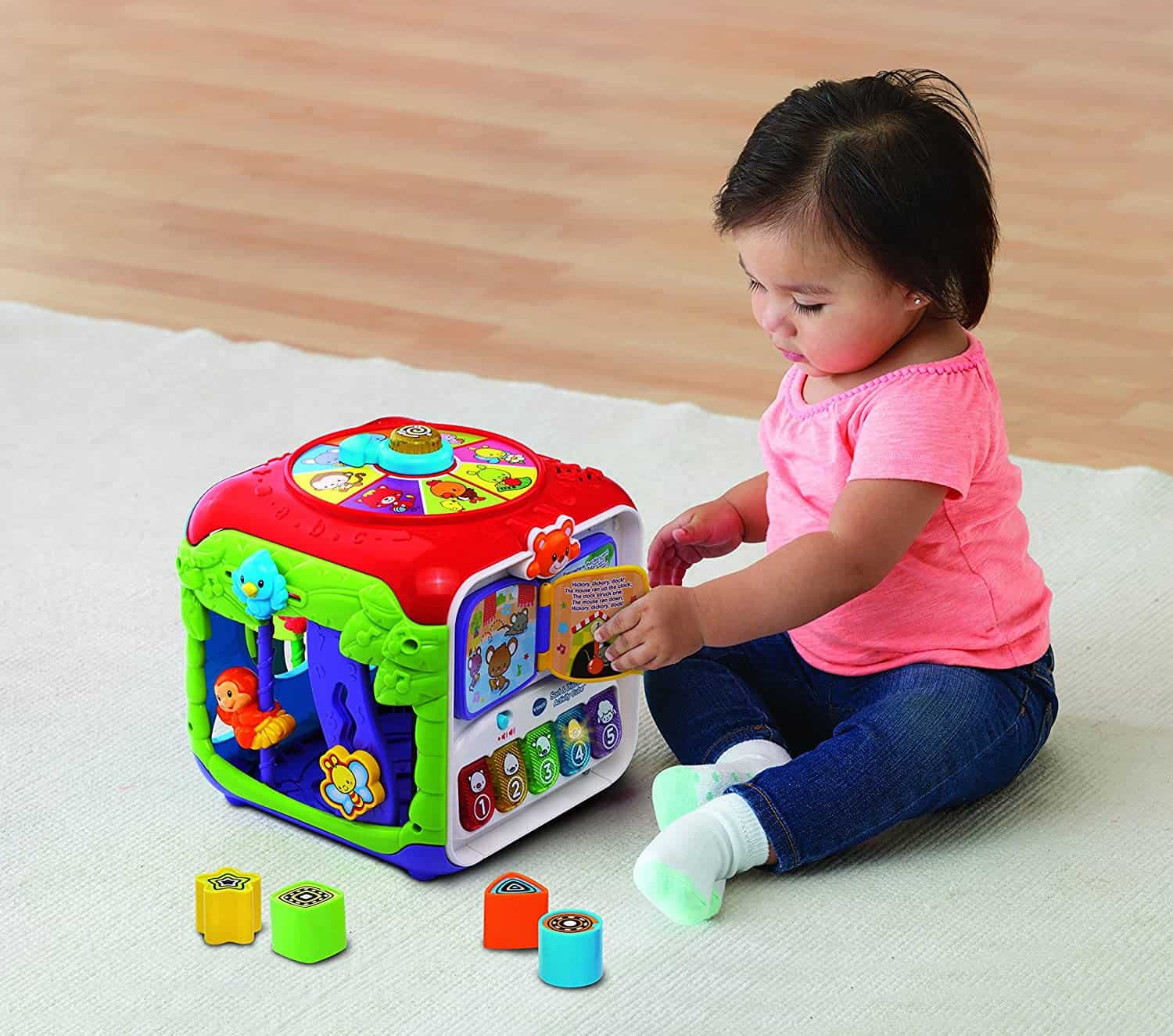 Characteristics:
The toy in the shape of a cube has a different activity on five sides, making it one of the most popular toys for babies.
The activities include a roller and buttons that light up and distribute different sounds.
A motion sensor activates different sounds depending on how the cube is moved.
There are a total of 25 sounds and melodies to keep the little one entertained.
Made from BPA-free plastic, the toy features adjustable volume and auto shut-off to conserve battery life.
Most of the cube's activities can even be used without the batteries, making it an ideal toy for children long trips in the car with the baby.
View this Vtech cube here
Best fantasy game mimic: VTech Leapfrog Baby's First Remote
Skills developed:
basic reminder of numbers
language skills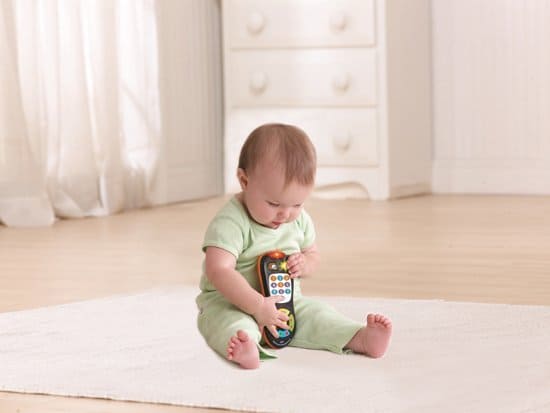 Characteristics:
The toy remote has a series of buttons, each numbered from zero to nine. The buttons are colorful and interesting for a baby.
Pressing the buttons gives the baby a good sense of touch. The toy has a total of 45 sing-along songs, melodies and other entertaining audio clips.
Teaches basic words for the toddler, such as 'Mama' and 'Papa'. There are pre-recorded audio clips on weather forecast and news that makes older toddlers pretend to play.
Volume control and power off button make it easy for parents to control the toy.
View the most current prices here
Educational toys Baby from 10 months to 12 months
Cutest baby beaded toy: Goula Sea Labyrint
Fine motor skills develop and it is getting easier for the now ten month old baby to grip things.
The wooden labyrinth of Goula is therefore a beautiful educational and durable toy for the somewhat older baby.
It is a game of skill where the child is always the winner.
The wooden fish are easy to grip and can be moved over the metal wire.
In addition, the bottom is magnetic and the game also has two stacking blocks that also contain magnets.
This gives the child new possibilities to discover the world with his / her hands.
The Sea Labyrinth of Goula here..
Cutest soft bite stack of toys: Fat Brain Toys Tobbles Neo
Skills development:
general understanding of shapes and objects
fine motor skills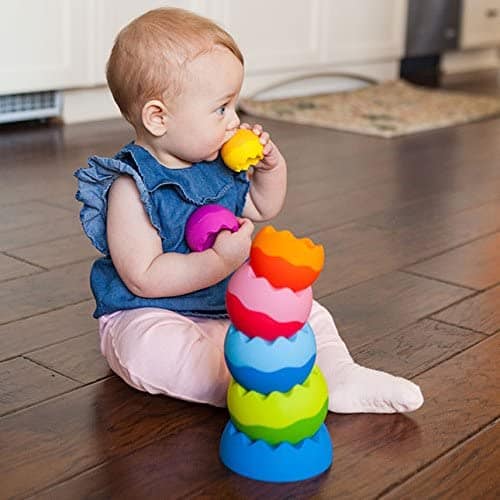 Characteristics:
Unique design with each block in the shape of a half broken egg. Each block has a two-tone combination of vibrant colors.
The blocks have a rubbery coating on the bottom half, making them easy to hold and stack for baby.
Multiple ways to play, and each block can be used to rotate or wobble or stack in any order.
The blocks at the top must be stacked carefully to prevent them from falling. It stimulates the fine motor skills of the baby.
Non-toxic safe colors used in the coloring of the blocks.
The Fat Brain Toys are available here
Best for discovering: TOMY Surprise Eggs
Skills development:
color coordination
cause and effect
geheugen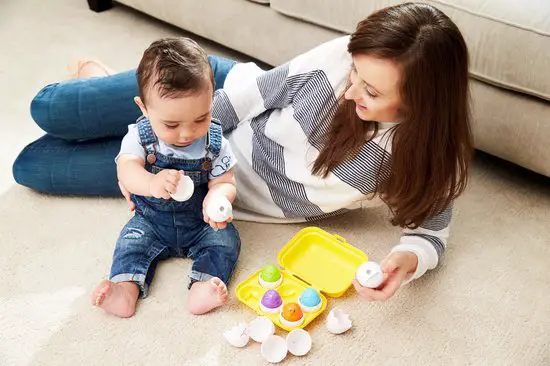 Characteristics:
Comes with six plastic eggs in a toy box, and each egg shell breaks in the middle to reveal a chick inside.
When you press the toy chick, you will get a squeaking sound.
The removable half of the shell has an image of a smiley face drawn in the same color of the chick.
The baby must match these colors before the correct shell is placed.
The crate has slots of unique shapes (circle, plus, etc.) and accepts only one egg with the exact same shape pin.
Excellent toy to keep a baby entertained on long trips or doctor's visits.
Check prices and availability here
Cutest baby toys with buttons: Playgro Pop-up Farm Animals
Skills developed:
cause and effect
flexibility of fingers
fine motor skills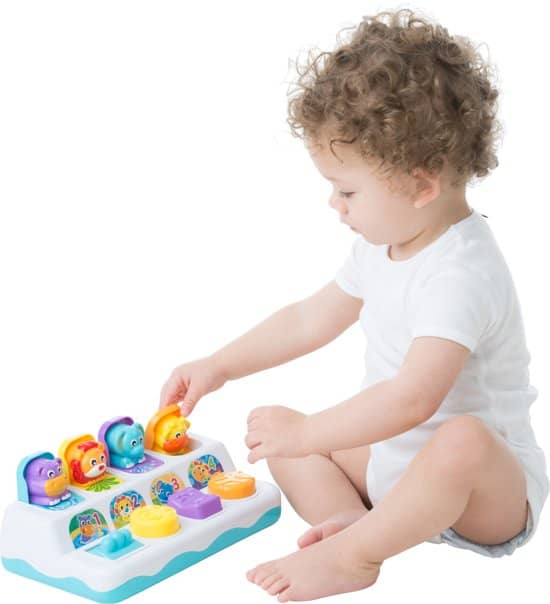 Characteristics:
A simple learning toy with four pop-up plastic characters in different colors.
Each character emerges from a lid that is controlled by a button.
But each button has a different mechanism - button, switch, slider and standard push button.
Since not all buttons work in the same way, the baby has to remember the mechanism.
The toy does not require a battery as it uses springs for all movements.
Pop-up characters can be reinserted by closing the lid, making it easier for a baby to do it themselves.
Check the prices and availability here
How can you help your baby learn through play?
Here are some tips to help your little one get the most out of their education and learning toys:
When introducing a toy, don't just place it in front of the baby and just watch. Ask the baby to use the object. Say things like "What is this thing?", "Where is this coming from?" Help words and phrases help to get the baby interested in the toy and to try it out.
It's okay if the baby doesn't understand the functions of a toy all at once. Babies take time to explore and understand things. Give the little one plenty of time to touch and examine the toy.
Keep spinning the toy to spark interest in your baby. It is visually stimulating and polishes the baby's memory skills, especially when he sees an old toy again. Babies also often get bored with toys as the Rotating Toy helps keep the interest alive.
Different babies have different ways of playing with the same toy, which is completely normal. You can always guide the little one, but if he likes to do things differently, let him do it.
Always keep the toys clean. Look for manufacturer's instructions on cleaning and maintenance. If the toy is washable, wash it in warm, soapy water. For non-washable toys, wipe them with disinfectants periodically. Inspect the toy for chipped paint or broken parts that could potentially harm the baby.
Toys are a great stimulant for the growth of a baby.
When used right away, they can even lend a hand in developing some of the essential development skills.
So get the best out of them!
If you have any more toys to add to the list, let us know in the comments below.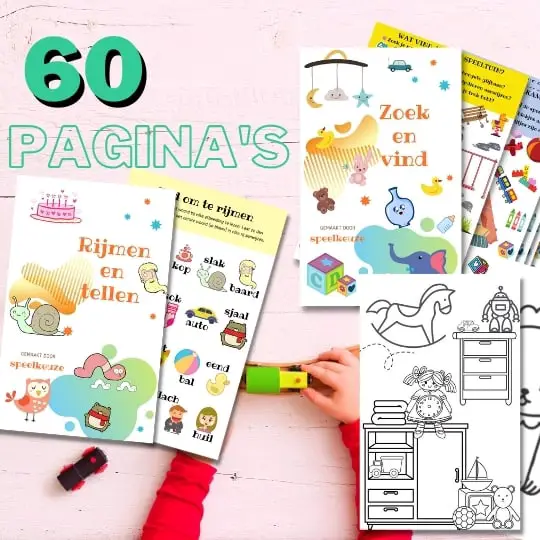 Always something to do for the holidays or rainy day?
Play Choice now has the ultimate activity book collection, with over 60 pages of fun coloring pages and educational puzzles.
Joost Nusselder, the founder of Speelkeuze.nl is a content marketer, father and loves trying out new toys. As a child he came into contact with everything related to games when his mother started the Tinnen Soldaat in Ede. Now he and his team create helpful blog articles to help loyal readers with fun play ideas.