What is educational toys for children | pay attention to these 5 things
I enjoy writing these articles for my readers, you guys. I don't accept payment for writing reviews, my opinion on products is my own, but if you find my recommendations helpful and you end up buying something through one of the links I may be able to receive a commission on that.
More information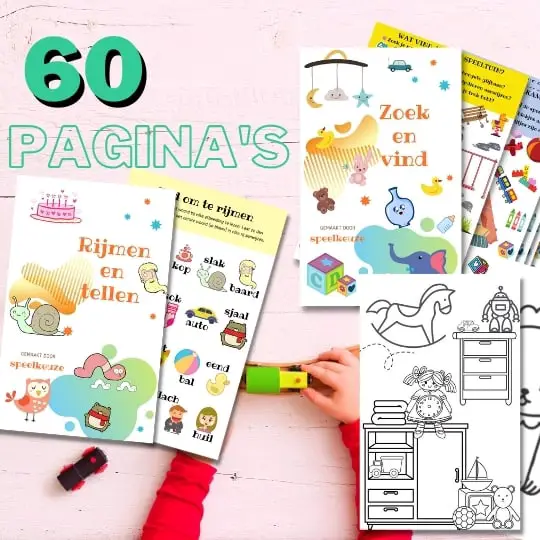 Always something to do for the holidays or rainy day?
Play Choice now has the ultimate activity book collection, with over 60 pages of fun coloring pages and educational puzzles.
It's hard to imagine kids ever having fun without it tablets and smartphones.
Yet it was not so long ago that spinning tops, hoops and marbles adorned the street scene.
Playing is therefore extremely important for the development of the child.
Both educational apps on a tablet and building a Kapla tower can teach children basic skills.
What skills are these? And what exactly do we mean by educational toys?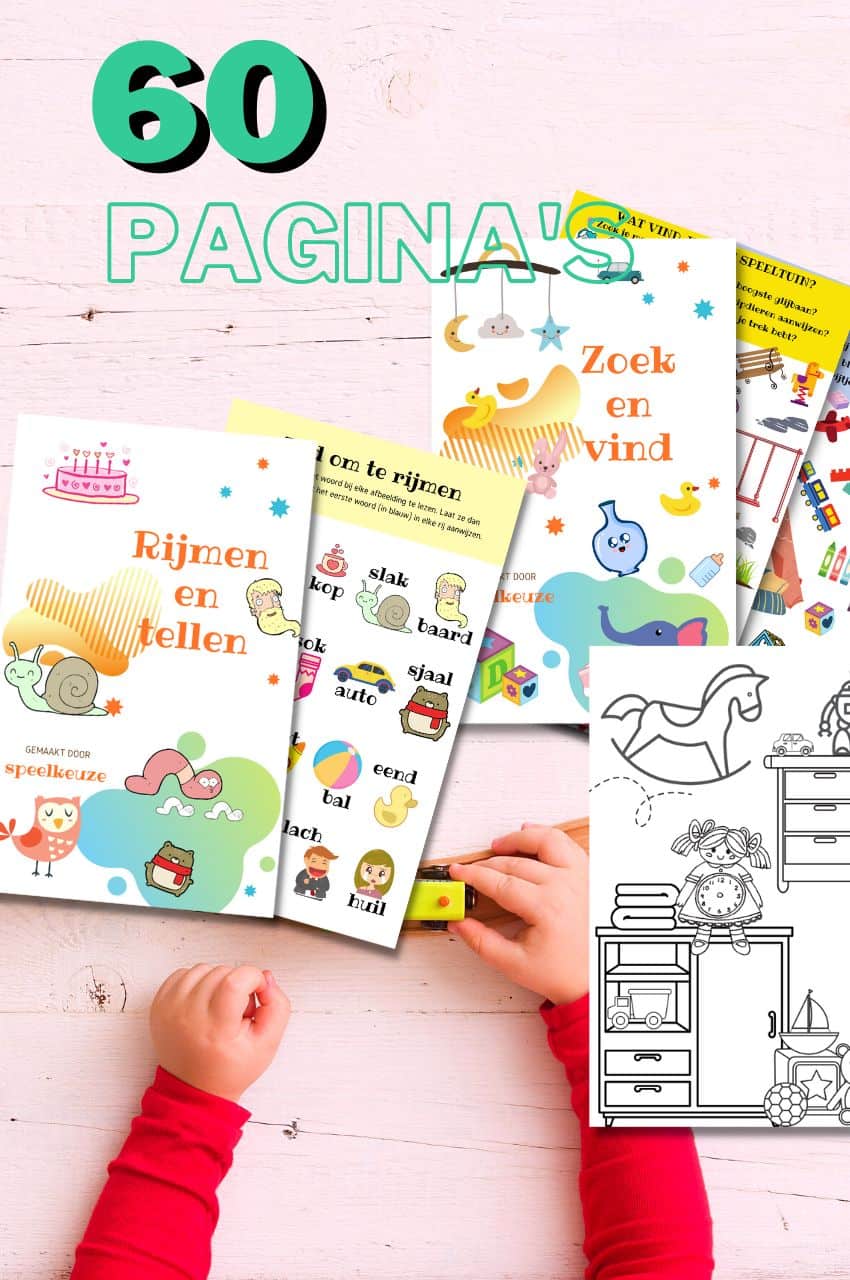 A play theme in your mailbox every month?
Fun play tips, activity books and more, with the first email being our free mini-guide "educational toys"
We will only use your email address for this newsletter and respect your privacy
Educational toys divided by age
Let's take a look at educational toys in different age categories:
We also have this post as a video:
Read on for all our tips and the best toys to choose for each stage of life.
What are Educational Toys?
From the moment a child is born, it is learning and discovering.
Playing is an important aspect here; through this the child learns different skills.
It has even been scientifically proven that learning through play is incredibly important for the development of children.
Educational toys are toys designed to stimulate development. The toys are often aimed at the age and environment of the child
It is therefore important to choose the educational toy that fits the development stage in which your son or daughter is.
In addition to stimulating the skills and intellect of children, educational games naturally provide a lot of entertainment.
Learning skills with educational toys
Educational toys are the ideal way to teach the child skills while playing.
Depending on the age of the child, the toy can help develop the following skills:
Creative thinking
Cognitive skills
Language skills
Motor skills
Socio-emotional skills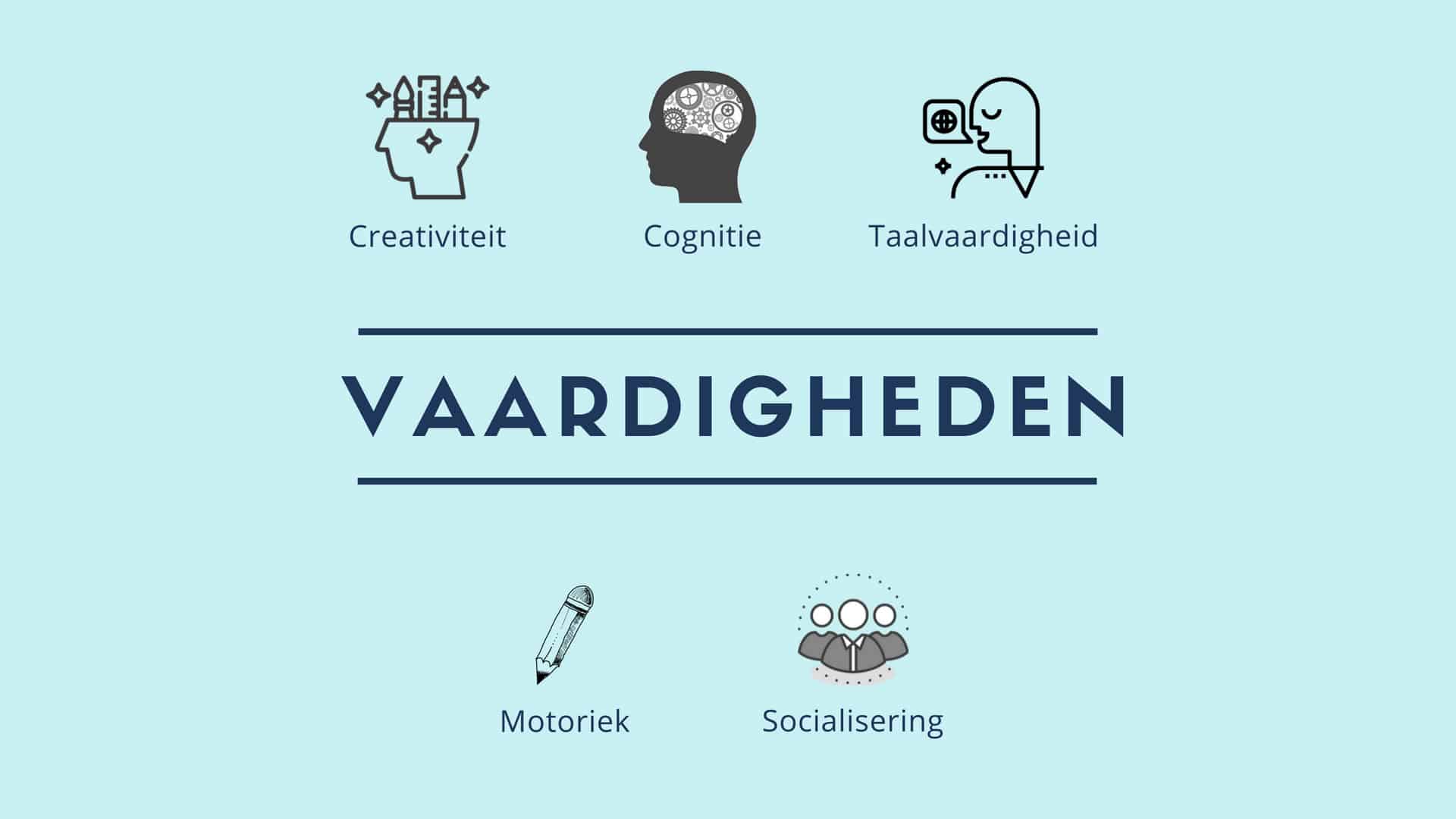 We will discuss this in more detail below:
Creative thinking
The development of it creative children's thinking skills teach them to think 'outside the box'.
They thus form new ideas for existing problems; a skill that will benefit them throughout their lives.
Fantasies is also an important part of the child's creative play.
A role play can also help to stimulate language skills, but more on that later.
Cognitive skills
Cognitive development is different for every child. The skills mainly have to do with the mind.
Games aimed at this stimulate memory and ensure that the child learns to think problem solving.
Recognizing shapes and colors also plays a role in this. Educational toys that the cognitive ability stimulates, is intended to challenge children.
In addition to puzzles or fun 'brain games', research shows that video games also have a positive effect on the cognitive development of children.
Language skills
Educational toys can make a huge contribution to children's language development. You mainly learn language by practicing it in practice.
Where it used to be thought that this development would happen automatically, the environment appears to have a major influence on this.
This way you as a parent have enough options to stimulate the language skills of your child.
Educational toys are useful even for the language development of the little ones. This development starts from the moment the child hears people talking.
In addition to reading stories, toys with music can also stimulate this skill in young children.
Motor skills
A baby's motor skills develop at great speed. Both the fine and the gross motor skills can be stimulated by educational games.
Educational toys for fine motor skills are, among other things, aimed at developing good eye-hand coordination.
This is good to start early and we have this post about fine motor toys for toddler and preschooler.
In our gross motor skills is used throughout the body. This skill can also be practiced through a fun and educational game.
As the motor skills continue to develop, it is important to choose educational games that suit the individual child.
Socio-emotional skills
The development of social skills ensures that children learn to deal with both themselves and others in a positive way.
The skills are therefore of great importance. In addition to learning how to deal with their own emotions, they help the children to make social contacts.
Educational games where you have to work together often also have a positive influence on the social-emotional skills of the child.
This can also boost self-confidence.
Although babies may not be able to fully empathize with others, they are learning how to connect with people just a few weeks after birth.
As a parent you therefore have a major role in the social development of your child. Educational games can certainly help with this.
A great book to read too this one from Bernard Lievegoed about the developmental stages of the child.
Types of educational toys
Educational toys can stimulate children in different areas.
There is a huge range of educational toys that can be divided into a number of different categories.
The categories are often aimed at stimulating the development of a particular skill. We have listed five of them for you.
Building and construction toys
There are many variations of educational building and construction toys.
Where the smallest can simply stack blocks, the older children can get started with the well-known LEGO, K'NEX or Kapla sets.
Also play sand and marble runs (like these top picks) are included in this category of educational toys.
Construction toys help children to think creatively, increase spatial awareness and help develop fine motor skills.
A marble track also helps children to understand the cause-effect relationship. In this way they learn at a young age that every action causes a certain reaction.
Puzzles
Puzzles are ideal for cognitive skills development. Puzzling also stimulates fine motor skills.
These toys come in so many shapes and sizes that there are plenty of options for every level.
There are wooden puzzles with buttons, so that children can learn to grip and feel. A puzzle alphabet can also contribute to language skills.
For the older children, for example, jigsaw or sliding puzzles are a good choice to stimulate their problem solving skills.
Creative toys
Educational toys that tap into the child's creativity and imagination can help the child to express themselves better.
Partly because of this, creative toys often have a positive effect on children with autism or a learning disability.
Also the fine motor skills are developed, because children learn to use paint, scissors, crayons and markers.
In addition to the motor skills, the spatial orientation is also increased.
When tinkering, we often work with different shapes and sizes.
Some of the aforementioned educational building games can also be seen as creative toys.
Clay and play sand are good examples of educational toys that stimulate creativity as well as help with spatial and motor development.
If the weather is not nice outside and you still want to offer very creative toys with sand, you have nowadays too this kinetic sand which you can safely use indoors without any mess.
Science and technology
By to combine toys with sciencechildren are introduced to the world in a fun way.
Scientific and technical educational toys not only stimulate motor skills, but also spatial awareness. However, the category contains a huge variety of themes.
By conducting experiments, children can learn about magnets, light and gravity.
Think of building a microscope, making slime or digging out a mammoth.
There are also a variety of educational toys that teach children all about the human body.
The well-known game, Doctor Bibber, is a good example of this.
While playing, the child learns about human anatomy, while also stimulating social skills.
Educational gadgets
Technology is playing an increasingly important role in our daily lives.
In addition to the fact that smartboards and tablets are regularly used in classrooms, there are also more and more toys that respond to this.
For the little ones, for example, there are counterfeit tablets or laptops, with which motor skills can be practiced.
This way they can get a taste of the digital world from an early age.
If we look at the educational gadgets for the older children, we see that the range is enormous.
The gadgets ensure that the child in an interactive way can practice different skills.
So they can themselves robots Materials and link it to an app on a tablet or smartphone.
This not only stimulates creative thinking, but also motor and cognitive skills.
These technological developments ensure that children are exposed to coding and programming at a young age.
There are also many applications nowadays that help children to train skills. These educational apps are not only educational, but also very nice.
It is also easy to choose an app that matches the level of the child.
There are interactive stories for toddlers and a child from group 3 can work on language development via the apps of Juf Jannie.
For the older children are there applications to practice fractions, such as the Squeebles app.
There are also educational apps that introduce children to programming in a playful way, such as the video game Lightbot.
Enough reasons, therefore, to let children play on the tablet every now and then.
It's also nice to have our post about Lego Cars, cars and Lego is still very educational for children.
Why are educational toys important?
Learning through play: why educational toys are important? From the day they are born, children are constantly learning. They learn by using their senses, observing others and playing.
Toys are a tool to teach children about themselves, their environment and to develop the skills they need in life.
Today the world of technology is bigger than ever before.
Technology can be found in (almost) every daily activity: from sports to reading and writing.
This gigantic rise and growth of technology also affects the development of children.
How often do you hear stories about the so-called 'tablet schools'? Or do you read that children have completed their 'written' exam on the computer?
Research has shown that all new technological resources that have become available to children have a positive influence on their development.
Researchers at the University of Twente have concluded that in most cases students who have practiced digitally for their tests via a tablet or computer achieve better results on these tests than children who have only learned in writing and through a book.
Enough reasons to purchase such a 'technological gadget' for your child.
However, the choice is huge: there are children's tablets, regular tablets,iPads for kids , smartphones, iPods and so on.
To help you make a choice between all these gadgets, we have written a series of articles in which you can see what the best / nicest gadgets are for the different age categories of a child.
How important are the right educational toys for development?
In fact, choosing the right educational toys for kids is important to their development in several areas.
Young children use toys to develop their gross motor skills.
Playing with toys also helps children develop hand-eye coordination, which will serve them well later on as they learn to read and write.
What is the educational value of playing with your children?
Play allows children to use their creativity while developing their imagination, dexterity and physical, cognitive and emotional strength.
Playing is important for healthy brain development. It is through the game that children are involved in the world around them at a very young age and interact with each other, as with you.
And they look up to you as a parent the most to see how something should be done.
Conclusion
Children develop from the moment they are born. Playing is very important to stimulate this development.
This is because the child is encouraged to learn.
Educational toys offer children the opportunity to practice various skills while playing.
In this way creativity, imagination and problem-solving qualities are stimulated.
From interactive stuffed animals to toy tables; there is an educational game for every budding explorer.
The range of educational toys is therefore enormous.
This makes it important for parents to choose toys that match the age and level of the child.
This allows children to develop in a playful way and to master skills that will benefit them for the rest of their lives.
Also read: have fun with these educational programmable robots for kids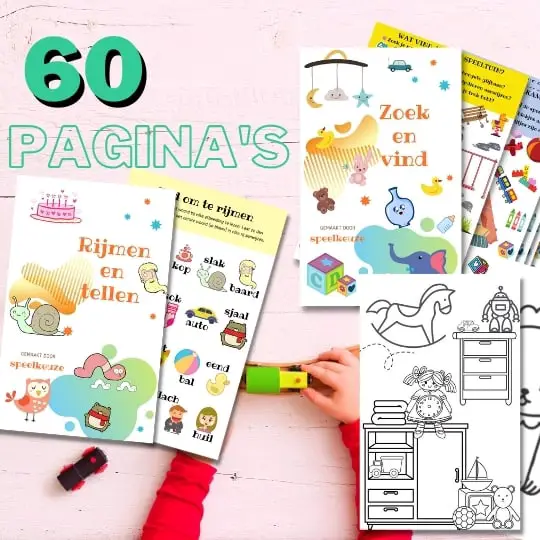 Always something to do for the holidays or rainy day?
Play Choice now has the ultimate activity book collection, with over 60 pages of fun coloring pages and educational puzzles.
Joost Nusselder, the founder of Speelkeuze.nl is a content marketer, father and loves trying out new toys. As a child he came into contact with everything related to games when his mother started the Tinnen Soldaat in Ede. Now he and his team create helpful blog articles to help loyal readers with fun play ideas.