Educational & safe toys for toddlers: child 4 or 5 years
I enjoy writing these articles for my readers, you guys. I don't accept payment for writing reviews, my opinion on products is my own, but if you find my recommendations helpful and you end up buying something through one of the links I may be able to receive a commission on that.
Further information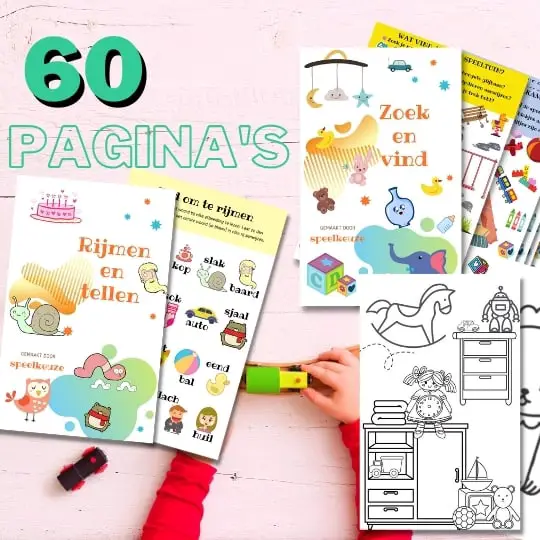 Always something to do for the holidays or rainy day?
Play Choice now has the ultimate activity book collection, with over 60 pages of fun coloring pages and educational puzzles.
A toddler is entering a whole new phase. When the child has turned 4, it goes to school. Within a short time, an awful lot is coming towards him / her.
Especially social skills will be put to the test. They have to wait their turn, share things and learn to play together with other children.
This is also the time when a lot of 'why' questions will be asked.
Interest in the world around them can certainly be stimulated by the right educational toys.
Interactive stories also help in the development of social-emotional and cognitive skills as well as language development.
My favorite is this Vtech Magibook because they can be creative and educational at the same time.
An electronic book full of fun assignments that they can play with for a long time.
They also learn a lot of new concepts and start writing and reading letters.
Both cognitive and language skills will therefore develop considerably.
This is also a good age to introduce the child to educational gadgets.
Educational apps familiarize a toddler with the digital world in a fun way.
Here in brief the top choices for 4 or 5 years, I will discuss them in detail below.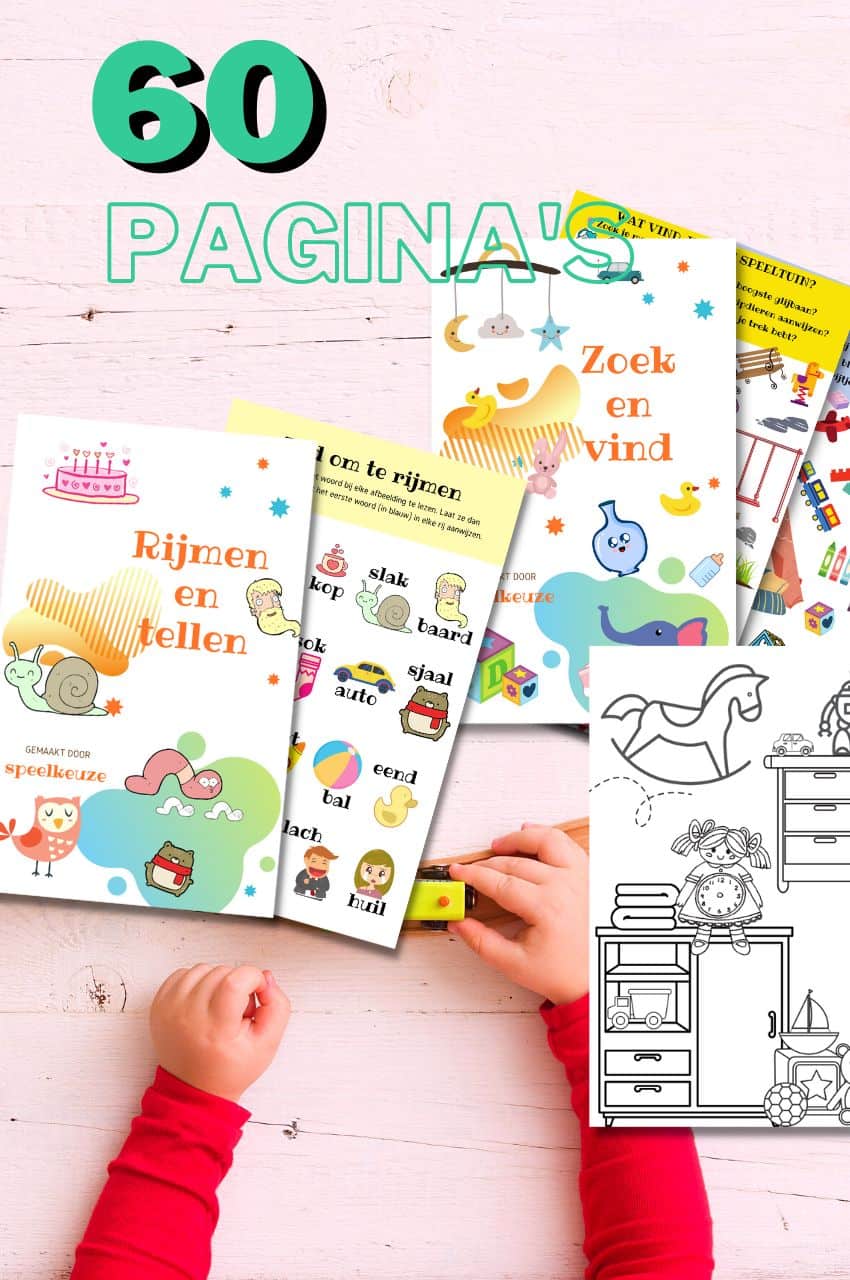 A play theme in your mailbox every month?
Fun play tips, activity books and more, with the first email being our free mini-guide "educational toys"
We will only use your email address for this newsletter and respect your privacy
Educational toy child of 4 years
Getting ready for school or a little bit of learning for the most important school skills. They are going to school now or at least almost.
These are the best educational toys for 4 year olds:
Best interactive learning system: VTech MagiBook
The best for 4-year-olds, but a little younger is also possible, according to Vtech, a interactive learning system.
Best educational toys for kids who love to learn and be challenged. It is a fully interactive learning center for children.
Features:
Interactive learning system designed to get 2-7 year olds excited about counting, learning to read and problem solving through fun, replayable activities
The magic behind Magibook is a stylus that reads invisible dots on every page, with questions, challenges, songs, jokes and more
Grow-with-me stylus is comfortable for children of all ages and promotes good writing grip
Most review activities have two levels with over 50 key skills per level for different preschool to first class subjects so kids can play and learn at the appropriate level and move on when they are ready
Includes over 400 activities in a library of over 25 books (sold separately), including two Learn to Read sets to help children develop their skills
This interactive learning system offers a variety of activities for children that include everything from problem solving to reading.
The system is designed like a book with a stylus pen for following the stories and games on the pages.
The pages have invisible dots that the pen detects for touch-and-talk games, songs, questions, jokes and more.
This system comes with a sample book with 30 review activities that improve math skills, problem solving, storytelling, music making and much more.
Vtech has a library of more than 25 additional books sold separately for this Key Concept MagiBook System.
The books each offer different levels to meet your child's readiness and help challenge them in fun and exciting ways.
The system offers endless learning opportunities that can grow with your child as they develop.
Suitable from 2 years up to 7 years, although under 4, or under 3 if they are early, is still a bit young for most games.
Check prices and availability here
Best stacking toys: Le Toy Van Stacking Animals
Fun for 4 year olds to stack up, figure out and learn animals.
From the moment the child enters group 1, a lot will change.
For the first time, the toddler has to learn to wait his / her turn and to share things with others.
Playing together often has a positive influence on the social-emotional development of the young preschooler.
Learning to stack is a game that many fathers and mothers played in childhood, but probably not in animal form!
It teaches children to recognize colors, recognize animals, play together and help them get started with good hand-eye coordination.
Different skills are therefore trained with this. Especially social contact with other children is important for a four-year-old toddler.
This gives them a good basis for the rest of their primary school time. This sustainable educational game is not only educational, but also a lot of fun.
Check prices and availability here
Best mimic toy: Little Tikes washing machine
Children like to help with what mom and dad are doing and one of the best things is having a nice fresh wash.
Super fun to role-play with mom (or dad).
This set is made to have everything you can encounter in real life on wash day.
Your toddler can thus participate in a fantasy game of whatever he or she sees you doing almost every day.
Everything is included for a real wash day:
baskets
clothes
laundry detergent
and of course the washing machine and dryer
Not only is it fun for a fantasy role-playing game, but because there is more to it than just a machine, it is also good for developing hand-eye coordination.
You can put the clothes in the machine, then turn them around with your hands, and then sort everything neatly back into the baskets.
This way your toddler has everything together to make it a successful laundry day together with you.
Check prices and availability here
Best musical education: VTech My Magical Interactive Music Table
Musical education is very important in the development and now that they can sit for some time such a table is great.
Best educational toys for kids who love music, ages 3 to 5. Lift the desktop to reveal a real chalkboard.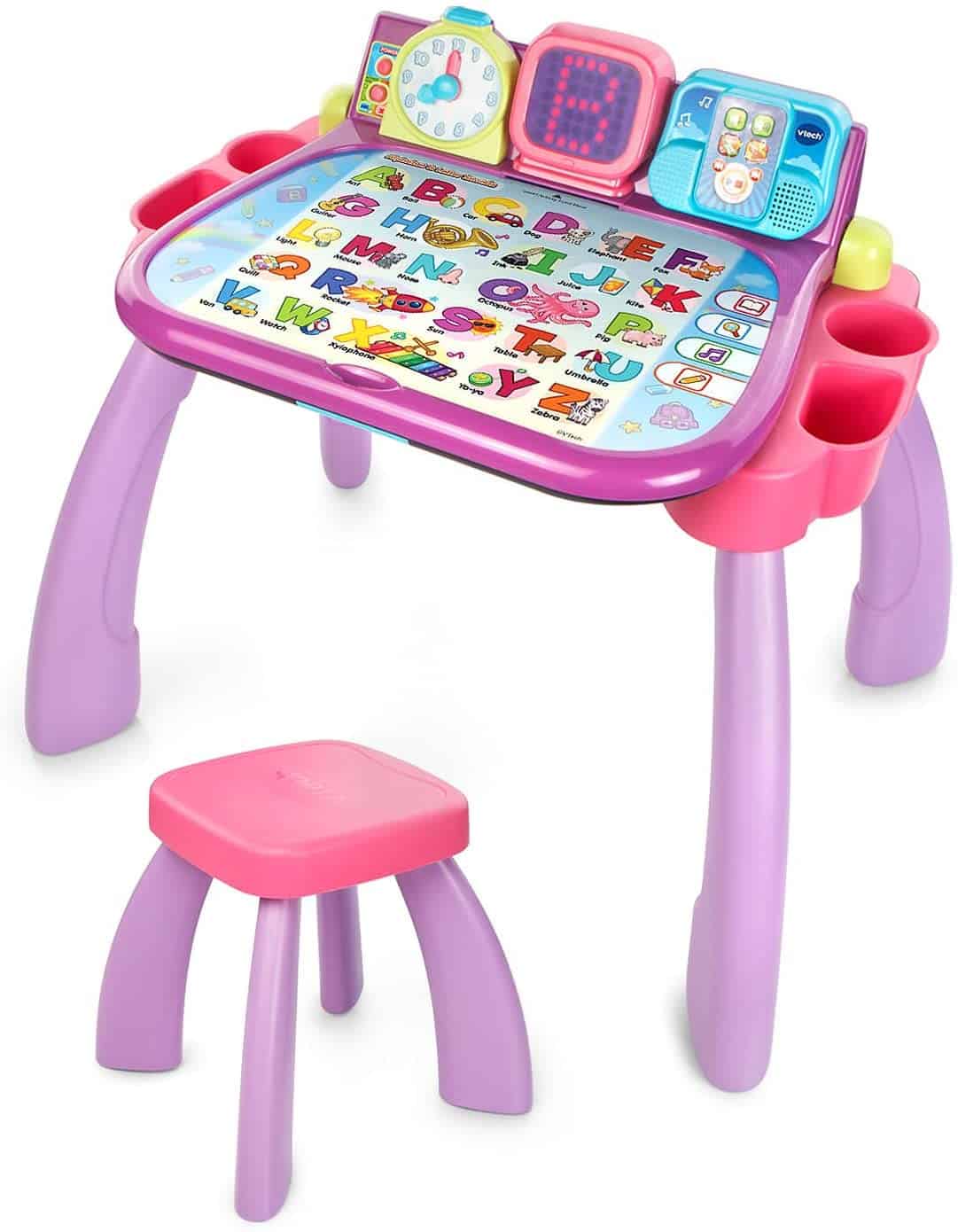 Features:
The Touch and Learn Activity Desk is an interactive music desk and features five activity pages to explore that are full of engaging content
Expand the fun with expansion packs (sold separately) with a broad curriculum; LED display illustrates the stroke order of letters and numbers and how to draw basic shapes
Transforms from a desk into an easel and chalkboard with art supplies storage to encourage play and discovery
Stool included
For more ways to play, pretend you're calling on the toy phone or listen to fun tunes on the music player
Features over 100 words, 20+ activities, and over 20 songs and melodies; requires 4 AA batteries (not included)
intended for children 2 years and older and in my view the most educational for 4-year-old children
This interactive activity table is full of surprises to engage your toddler in different learning areas.
The desk comes with 5 activity pages, each of which contains specific learning modules such as math, science, language arts and many more.
The desk can be expanded with additional pages that are sold separately to provide more challenges.
In addition to the learning pages, it also has an illuminated display that shows how letters and numbers can be written, a music player equipped with 20 melodies and a toy phone that introduces numbers and greetings.
Lift the desktop and they also have an easel chalkboard for getting creative.
The desk offers a storage space inside to store art supplies and keep cards for activities.
Check availability and current prices here
Best interactive cars: VTech Toet Toet Garage
The cars from Vtech talk to your child and with the accompanying garage they give feedback when they pass through the garage.
Best educational toys for 2 to 5 year olds, where a child of 4 years get the most out of the playset. Your kid will love the singing tow truck.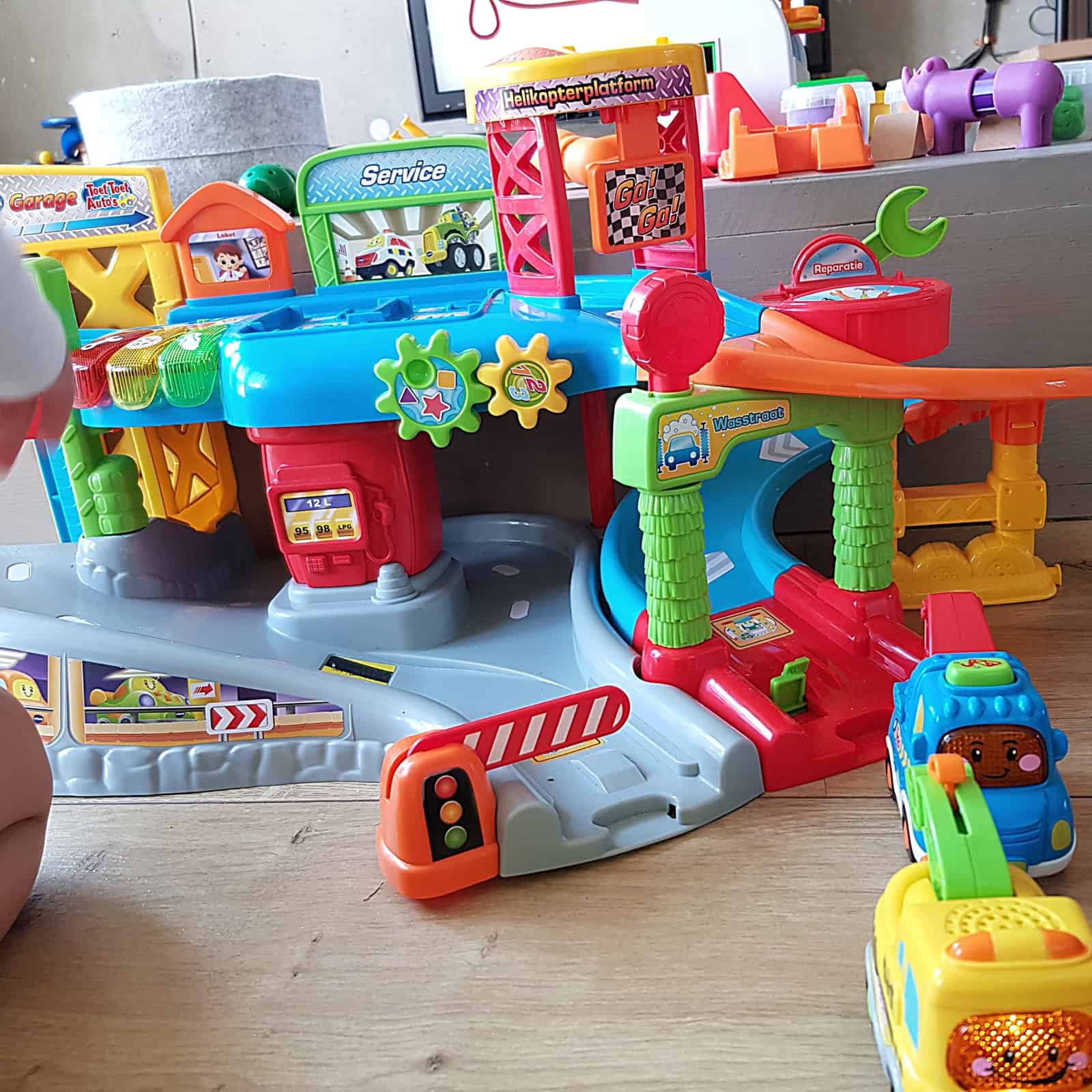 Features:
SmartPoint locations
Interchangeable track sections
3 electronic illuminated buttons
Elevator recognizes every floor with fun sounds and phrases
Learns the letter "T" and the name of the vehicle
Tow truck plays fun sounds and music when rolling over SmartPoint locations
Works with other Go! Go! Smart Wheels, Go! Go! Smart animals and some Go! Go! Smart Friends playsets (each sold separately)
Cars, trucks and tracks are very attractive for toddlers and preschoolers.
This Smart Wheels garage provides fun entertainment with many valuable elements for learning and development.
The interactive car garage comes with several track pieces for preschoolers to build and make their own garage.
It comes with a tow truck with an illuminated button to play sing-along tunes and introduces the letter 'T' for a tow truck.
The garage also has specific SmartPoint locations that say different phrases, create fun sound effects and play music.
The garage is interchangeable with other Go! Go! Smart Wheels and Smart Animals playsets to expand and explore.
Check prices and availability here
Best for numbers & colors: Melissa & Doug Houten Garage
If they are starting to discover what goes with what with regard to numbers & colors, then these small colorful garages and cars are great fun.
Cars are always fun, but they also help your child learn to count.
Features:
This wooden parking tower has a smart design to help kids count and identify their numbers from 1 to 7.
The boxes are numbered and come with 7 wooden toy cars (more top wooden brands here) with the coordinating number in the same color.
The design helps in promoting a variety of skills beyond just counting.
The different actions of stacking the boxes and their cars and stacking help to encourage fine motor skills, making this toy a fun tool for younger children too.
Learning to count with the set will be best from 4 years old, but you can give it to them at a younger age.
This set is available here
Educational toy child of 5 years
Best for math: Theo Klein Electronic Toy Cash Register
With a toy cash register you can learn to count very well, especially if you lend a hand with the fantasy game.
Nice to learn how to do groceries and money.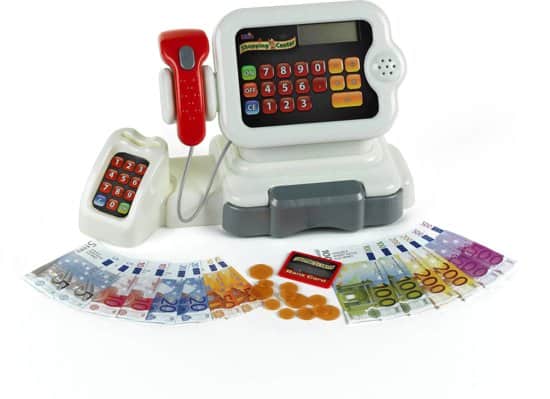 Features:
Calculator and cash register with LCD display
comprehensive set encourages kids to learn basic math and money skills with a real working cash register
Includes euro bills, credit card coins and activity guide
Cash drawer makes a "chaching" sound when opened, just like a real cash register
Ideal for children from 5 years old
This is a classic version of an educational toy that continues to excite and help children learn about number concepts.
The toy cash register has a calculator with extra large buttons and works like a real cash register.
The drawer opens and makes a 'cha-ching' sound for realistic play with compartments to hold the play money in different denominations.
It's a fun classic to help them learn simple math concepts, money skills, and encourage role play.
This toy cash register is for sale here
Best Science: Learning Resources Science kit
Playfully learn how science works, winner of several awards and ideal for children from 5 years old.
Many children enjoy learning about chemistry and how the world works. With these Learning Resources kits they can tackle this in a playful way.
Features:
Promotion of curiosity for science by conducting real hands-on experiments
Visually appealing science tools and easy to follow science activities for beginners
Learn the names of scientific tools and broaden your child's understanding of scientific terms
Winner of 4 awards, ideal for children from 5 years
Children have an innate sense of curiosity that helps them learn about the world around them.
Feed that need for learning with this cool science lab series featuring various visual components that help them to understand science.
The sets come with easy-to-use scientific tools for hands-on experiments, such as test tubes or pipettes.
The sets also come with activity cards that introduce science terms, living and non-living things, and science activities for beginners that are easy and safe for new learners to follow.
View the most current prices here
Best Fantasy Game: Melissa & Doug Wooden Village Playset
Children can play endlessly with this sturdy wooden play set for a fun fantasy game, completely combined with other toys so that the Melissa & Doug wooden cars.
Very nice to get acquainted with everything they can encounter in a village (or city) and should pay attention to.
Features:
32-piece set of wooden streets - cape "blocks" to create a city
Includes 12 buildings, such as police and fire stations, hospital, gas station, recycling center and more
Also includes 8 road signs, XNUMX trees, brick wall, picket fence, and park benches with fountain
Brightly colored pieces of solid wood store neatly in a divided wooden top
For children from 3 years old and best suited for the pretend play of children from 5 years old
This wooden village playset is a fun way to engage young preschoolers in fantasy play, while also learning about things around them.
It comes with 32 blocks so they can develop their motor skills, with buildings, street signs, trees and other elements they are likely to see in their own city.
They can identify important buildings such as the police station, fire station, hospital and other community buildings in the set.
The set comes in its own storage compartment to keep them neatly organized when not in use.
A great addition to this village set is the Melissa & Doug Town Road Rug (sold separately)
View this playset here
What your toddler should learn for school
As parents, we want the best for our children. They are growing up in a fast paced world full of technology and you want to make sure they are adequately prepared.
Toy manufacturers understand this and have developed some of the best educational toys for 4 year olds that make learning fun.
Contemporary toys are designed to encourage children to learn and thrive in school and in life.
A child learns things by doing and by playing. Children who are of pre-school age usually enjoy playing with toys on a daily basis, at home, at daycare or even at the doctor's.
Educational toys offers fun and engaging activities to enhance their playtime into a wonderful learning experience.
Prior to starting kindergarten it is recommended that preschoolers have some knowledge in important areas of development and learning and you can keep them developing this permanently with the right toys.
Development experts and educators suggest broad familiarity and knowledge in the following areas for a successful kindergarten and elementary school experience.
The alphabet
It is strongly encouraged that children have a knowledge of the alphabet by the time they reach their 4th birthday.
While most preschoolers can recite all or most of the letters in the alphabet, others may need more time in different areas.
In particular, children need to distinguish letters of the alphabet, their sounds, and capital letters from lowercase.
Numbers
Along with letters, number recognition is another valuable concept to learn for preschoolers.
By age 4, children should be able to correctly add from 0 to 10 or higher and count objects.
Learning activities and games that incorporate numbers can help create an understanding of quantities.
Pattern recognition
Preschool-age children must be able to identify and copy patterns.
Learning with toys or activities with shapes and colors can help identify pattern sequences.
In addition to patterns, they must be able to correctly identify up to ten colors, arrange objects by size (from large to small), and use equations such as bigger, smaller, longer, shorter, etc.
Language and creative arts
Activities and toys with language and creative art can be of great value to a child's development.
At the age of 4, children must fine motor skills practiced enough and have the knack of grasping objects such as a pencil or pen.
The use of different colors and the ability to draw lines are encouraged.
They should be able to master simple one-step and two-step directions.
Exposure to descriptive language is also a valuable asset to their language development.
Reading skills
A 4 year old is not expected to be able to read, but they must show an interest in looking at books and photos.
Identifying objects and pictures in a book format is the first step to reading and understanding.
Children this age must be able to recognize rhyming words and have the ability to mix sounds into words.
Music
This has been proven to be very beneficial for a child's development. It is very common among young children to learn through songs and especially nursery rhymes because they have easy words and often rhyming (here's some fun exercises).
Most educational toys have some type of music or sounds that appeal to children and make learning fun.
It is also believed that children exposed to music and various instruments (here are some ideas for children) be better able to perform better academically.
Not all preschoolers will get to know all of these areas by the time they start kindergarten.
Some learn at different speeds and other factors, such as disorders that can affect development, can cause children to delay in learning.
Toys that further develop these areas of learning are a great component to a growing mind and can be very helpful.
Vtech, for example, is a widely recognized brand which specializes in some of the best educational toys for 4 year olds and school aged children.
Conclusion
Preschoolers need guidance in learning the social skills adults take for granted.
This comprehensive list of great educational toys for four-year-olds, including those for a little older and younger, is sure to have something everyone can enjoy, from table-top food games to brain teasers and everything in between.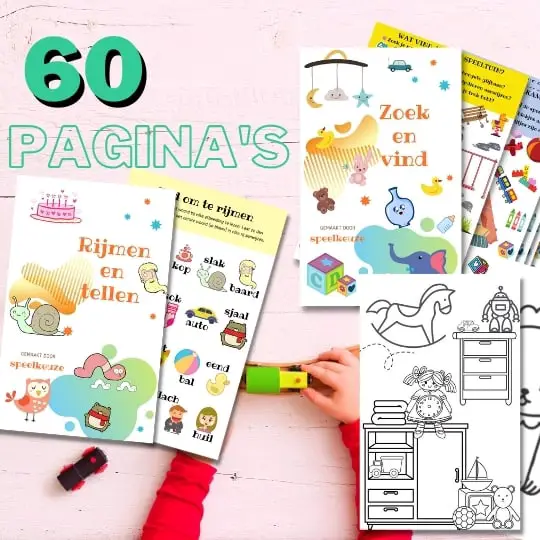 Always something to do for the holidays or rainy day?
Play Choice now has the ultimate activity book collection, with over 60 pages of fun coloring pages and educational puzzles.
Joost Nusselder, the founder of Speelkeuze.nl is a content marketer, father and loves trying out new toys. As a child he came into contact with everything related to games when his mother started the Tinnen Soldaat in Ede. Now he and his team create helpful blog articles to help loyal readers with fun play ideas.