Plain children's clothing | 5 ways to combine with examples
I enjoy writing these articles for my readers, you guys. I don't accept payment for writing reviews, my opinion on products is my own, but if you find my recommendations helpful and you end up buying something through one of the links I may be able to receive a commission on that.
Further information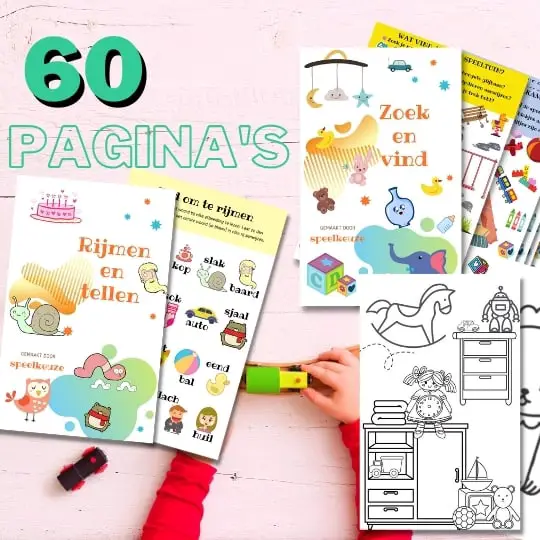 Always something to do for the holidays or rainy day?
Play Choice now has the ultimate activity book collection, with over 60 pages of fun coloring pages and educational puzzles.
Today, the fashion industry also pays a lot of attention to children's and baby clothes.
Today's parents want to look good themselves, but also want their little one to look nice. We like to dress our sons and daughters in cheerful outfits.
But not everyone is always in the mood for printed shirts, or those busy clothes with all kinds of colors. It's time for the "good old basics" again: plain children's clothing!
In this article I want to reflect on how you can make the best color combinations with simple plain children's clothing.
You can easily combine with plain garments, so I would like to show you some nice combinations here.
Each time with examples for girls, boys and babies.
If you know how to combine these basics, you can of course also apply this to clothes with patterns, but I will first get you started with plain clothes.
There are not many brands that carry plain children's clothing, so I would like to help you on your way with a few basics.
Less is more!
But where do you actually buy it?
First, here are some plain items for babies and older kids you can buy.
After that I'll come up with some tips on how to combine colors so read on :)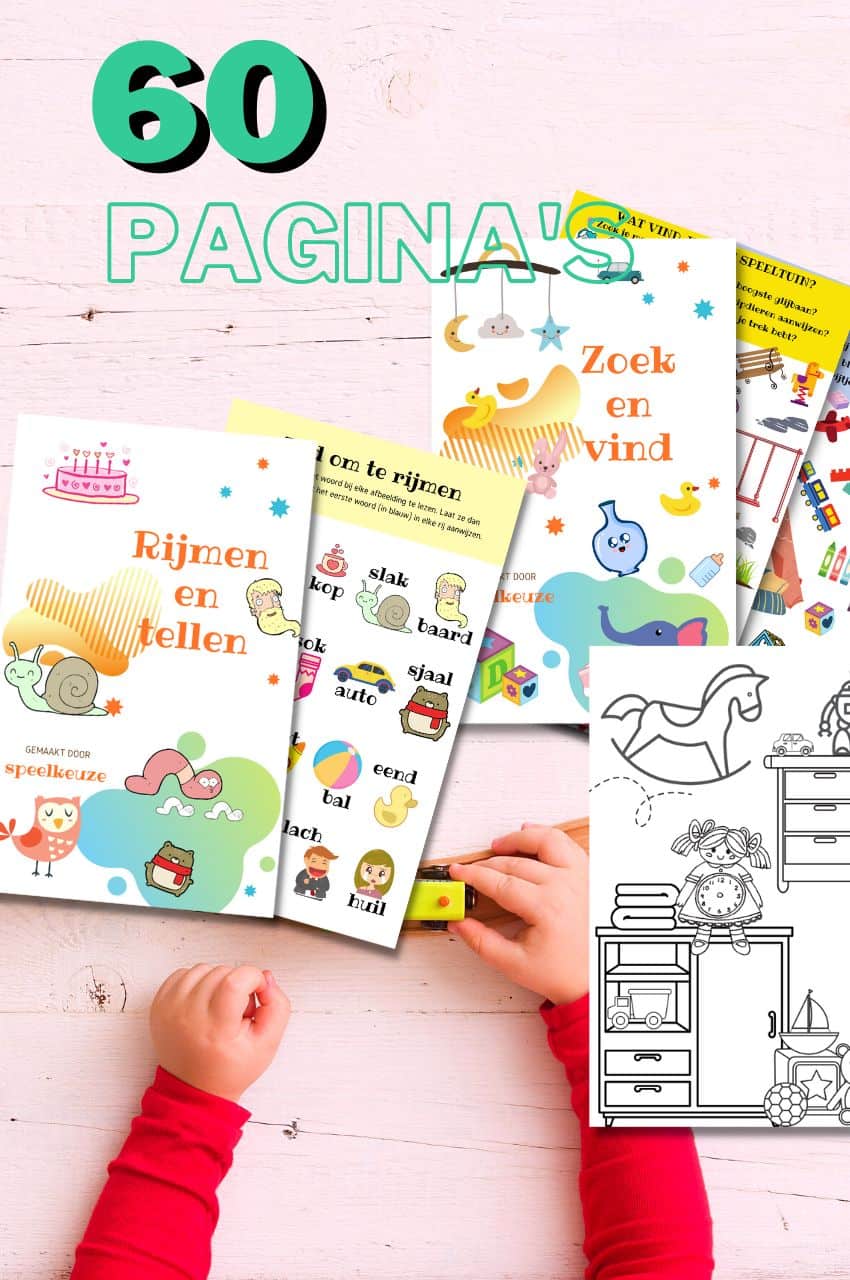 A play theme in your mailbox every month?
Fun play tips, activity books and more, with the first email being our free mini-guide "educational toys"
We will only use your email address for this newsletter and respect your privacy
Plain rompers and baby clothes
Plain boys' jumpers and more
Girls tops and much more
We have incorporated some of the tips in our youtube video, but read on for all the tips and examples.
5 ways to combine plain children's clothes
It's so much easier than you think. Look at the little one's wardrobe and you think: "Wow, I only have clothes with print"?!?
Well, you are not alone. Many people are drawn to all those busy and cheerful prints and cute expressions, because they buy every piece of clothing as a separate item.
But an outfit consists of several items.
Follow these steps to master the art of combining colors.
Because, the trick is to match different shades and patterns in an outfit - and to create your own vibrant new look.
Go monochrome
If you don't like the concept of mixing completely different colors, start combining with one color and you'll see the same results. I mean, use that color, and really just that color in every piece of your kid's outfit.
The easiest way to get started is to buy an entire outfit, some brands offer this.
And when you're ready to do more yourself, start mixing in variations of color tone, like this outfit with different shades of blue: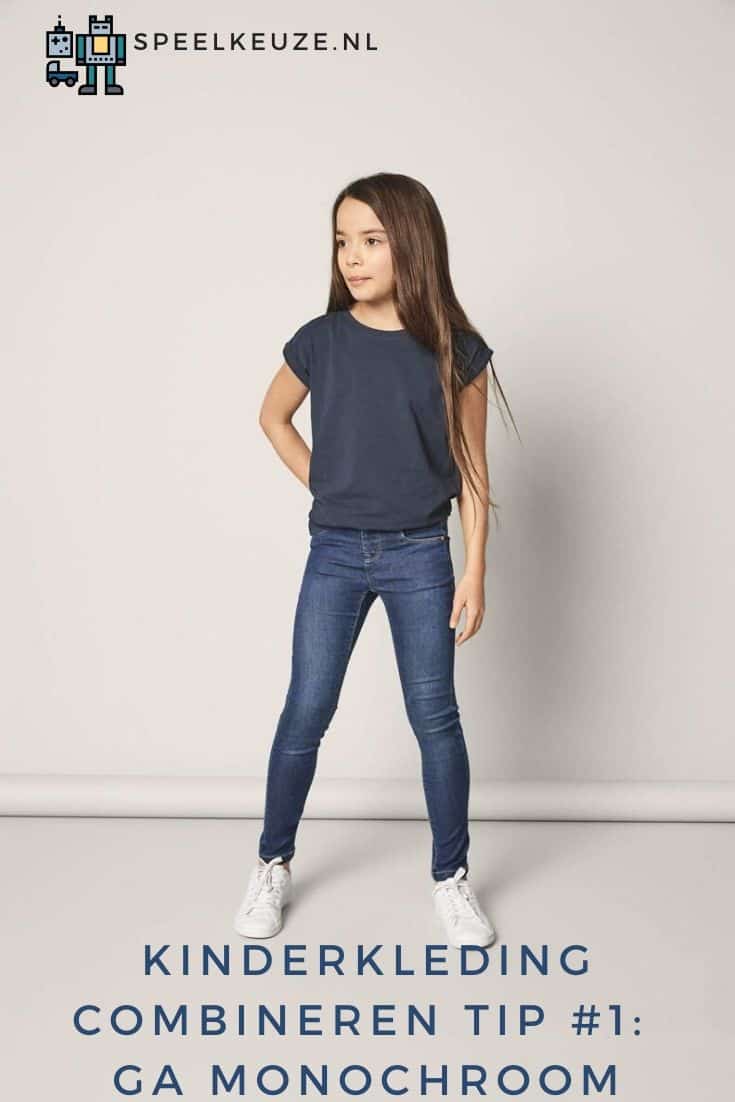 This is of course also possible with all kinds of color shades of the same color group.
Use not-so-basic base colors
Most people consider only beige, brown, navy, black, gray, and olive green to be neutrals, but many other colors fall into this category as well, including metallics.
Wearing gold or silver instead of traditional neutrals makes for an outfit that stands out right away.
Once you've chosen a shiny dress or top, you need to match it with a matching color that pops out, then you'll make a real statement like in this outfit: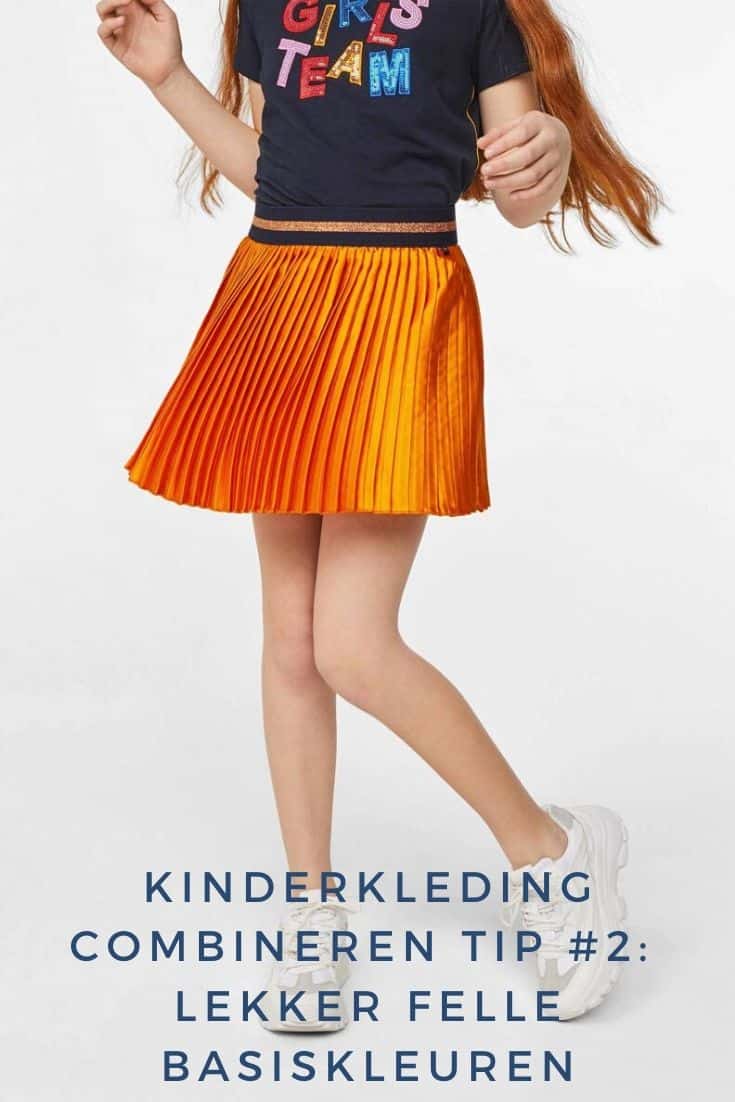 Use primary colors
When you're really ready to mix it up, start with the primary colors: blue, red, and yellow.
In case you don't remember from elementary school, these three shades let you make any other color together. (Red plus blue makes purple, yellow and blue green, and so on.)
These tones look wonderfully cheerful and colored together but don't over do it!
For example, choose one color for the pants and another for the shirt or combine shoes with the jacket again.
Not all fabrics here are solid, but you can get a good sense of the combination of primary colors: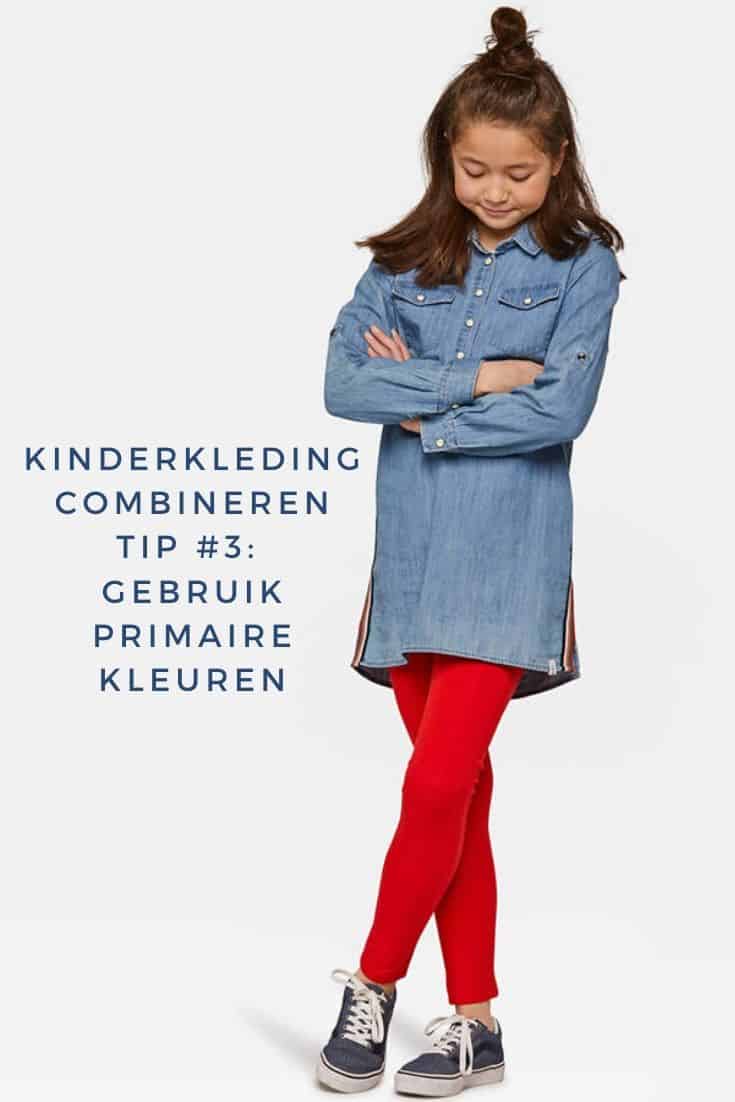 Think analog tones
Okay, I'm going to share another elementary school idea: the color wheel. Do you remember them? It's the whole rainbow in a circle. The colors that are next to each other here become analog colors mentioned. Shades that oppose each other become contrasting colors .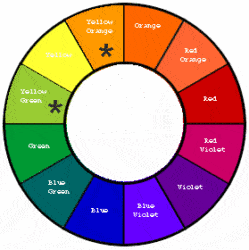 (image: realmenrealstyle.com)
Now that we have covered that in general, we are ready to apply it in the outfits of our eyeballs.
Colors that are side by side on the wheel look great when styled together. Great combinations are for example:
A yellow and green look
Green and blue
Pink and red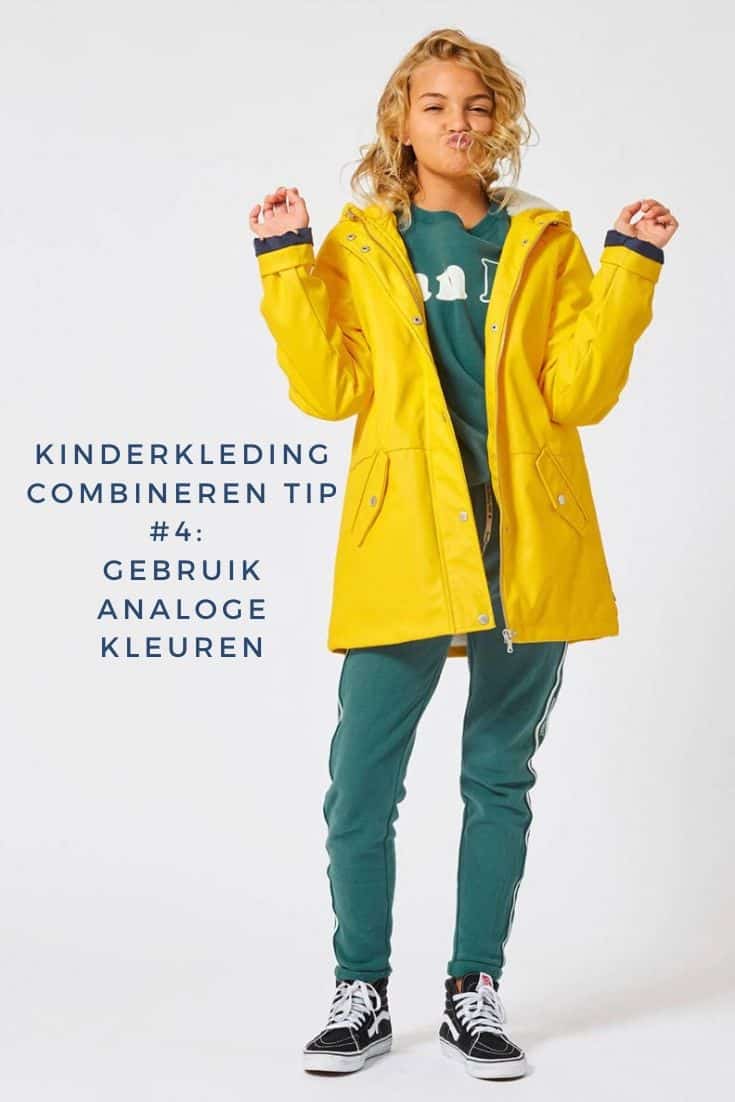 Mix contrasting shades
Then of course the following immediately comes into play.
Let's take a look at the opposites on the color wheel to use contrasting color tones in the outfits.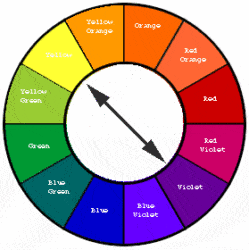 Just because they are on different sides doesn't mean they don't go together in an ensemble.
For example, you can combine bright yellow tops with a purple dress.
If you want to take your color mix up a notch, try a style that uses contrasting colors.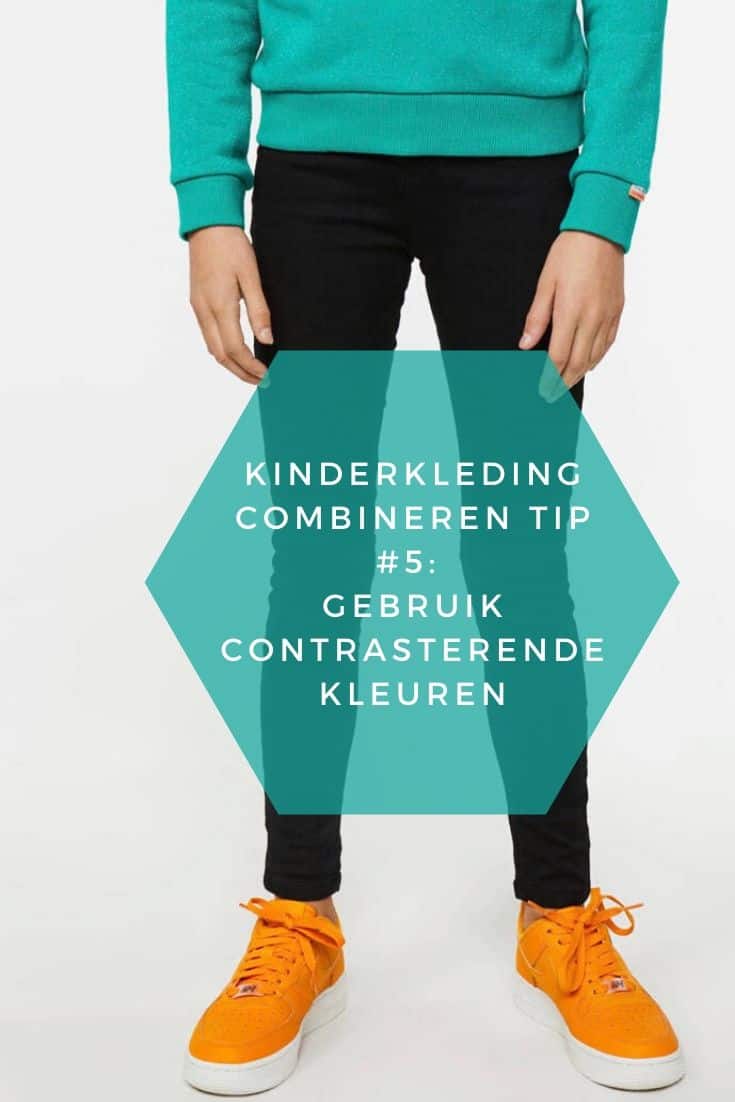 We have also put it here in a handy infographic:
Now that you've mastered the five most important basics of combining colors for a plain kidswear outfit, here are some more classic color combinations.
10 perfect clothing color combinations for kids outfits
Matching the right colors can make or break your son or daughter's outfit. It is therefore quite normal that you do not know where to start.
But that doesn't mean sticking to plain black on black, or overprinted clothes just to make a statement.
Here we take a look at a variety of color-coordinated looks that will perfect your style.
From bold green and yellow outfits to chic pink and gray ensembles, these stylish ideas will teach you how to match bold colors in your child's outfit without clashing.
Ready to embrace the rainbow? These are the clothing color combinations you should try this year.
Green and yellow
There's nothing more pungent than the scent of freshly cut grass on a hot summer day, and this color combination exudes just that.
Fresh and clean, greens and yellows look great on most skin tones. If you have a warm tone, focus on mustard, khaki and dark green.
If you have a cool tone, sharpen an outfit by adding bright yellows and iridescent greens.
Choose one of the two colors as the base color and add the other to a smaller extent, like in this outfit:
You can add a little more yellow to make your combination. Here the boy is also standing by yellow chairs :)
Then add a crisp white shirt and maybe yellow or white shoes to complete this new everyday look.
Color blocking is an easy way to add vibrancy and take your winter wardrobe into the warmer months.
Just add some solid colors to your outfit and watch the transformation. But don't forget, keep it simple and don't be afraid to go fierce.
Blue and pink
Nothing says spring more than pastel colors. Soft pinks and blues can sound subtle, but when properly styled they can be just as striking as a bright color.
This color combination is reminiscent of the soft scent of jasmine and a warm spring breeze.
For girls he can:
But also great for boys:
Try a soft blue shirt with a pink jacket for a day look that has a Sunday feel.
This color combination works well with a statement shoe to even out the color palette.
Red and blue
The red and blue color combination is one of our all-time favorite looks.
We love how you can completely transform jeans with a red jacket that pops out.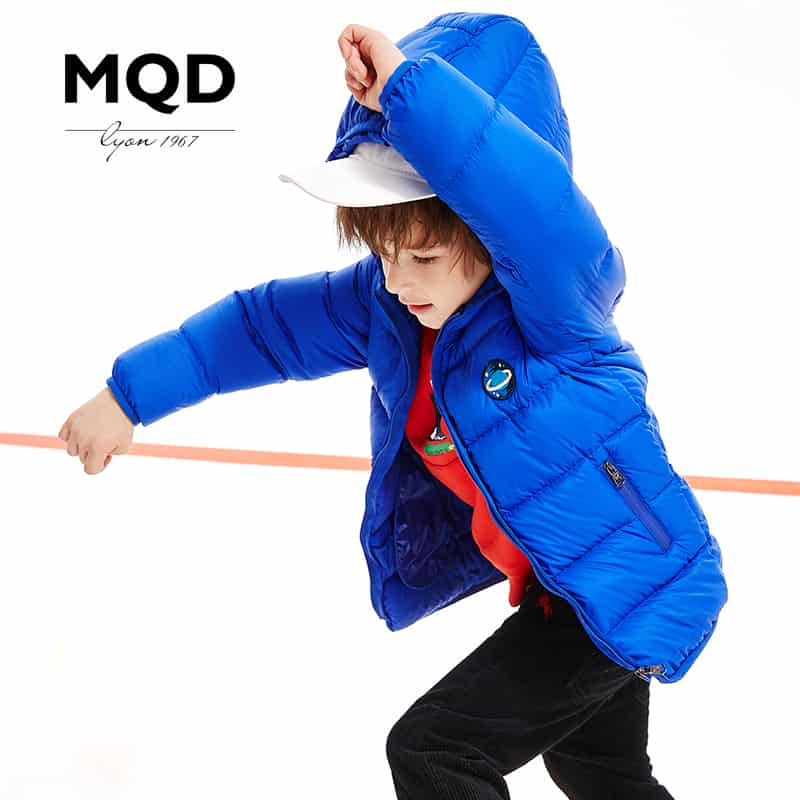 You don't really need a print with bright, solid colors. As above with bright red and bright blue combined with dark blue jeans.
Cobalt blue and turquoise
Combine cobalt blue with turquoise and you have a color match that is bold and bright.
Think 'Breakfast at Tiffany's' and your child will wear this color combination with elegance and class.
You don't necessarily have to split it up with a neutral color like white or cream, and it's one of those combinations that looks great with both silver and gold accessories, giving a variety of styling options.
Only your imagination limits you.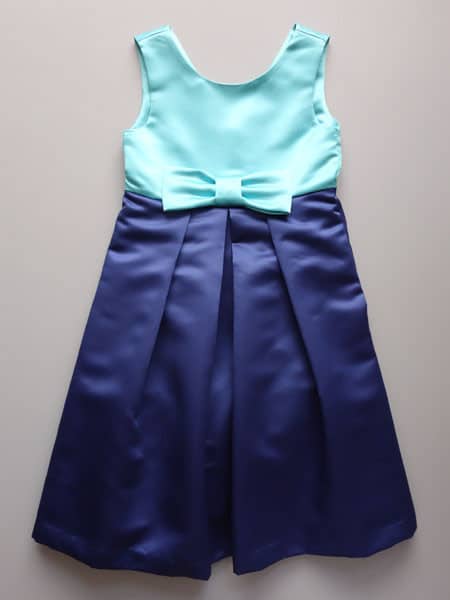 A royal blue dress, paired with a casual turquoise flat shoe, makes her look perfect no matter what the occasion.
Orange and blue
Orange and blue is the perfect color scheme to use for a color blocking technique. Choose blue pants and add an orange top or vice versa.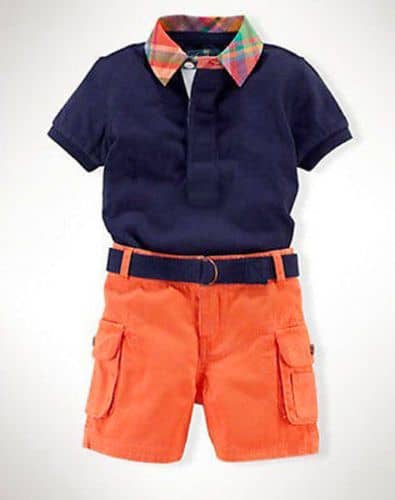 Try an orange shade with a darker navy blue. Whichever way you choose to combine these shades, blue and orange always work well together.
Tan and Maroon
Brown and light neutrals can be difficult to style and they look dull and neglected at times, but if you style them up with a deep rich color like maroon (maroon) you have a perfect combination.
The key to keeping it suitable for all skin tones is to make sure you mix texture and tone, so try a corduroy skirt with a satin camisole.
Or as below with nice tan (sand colored) shoes: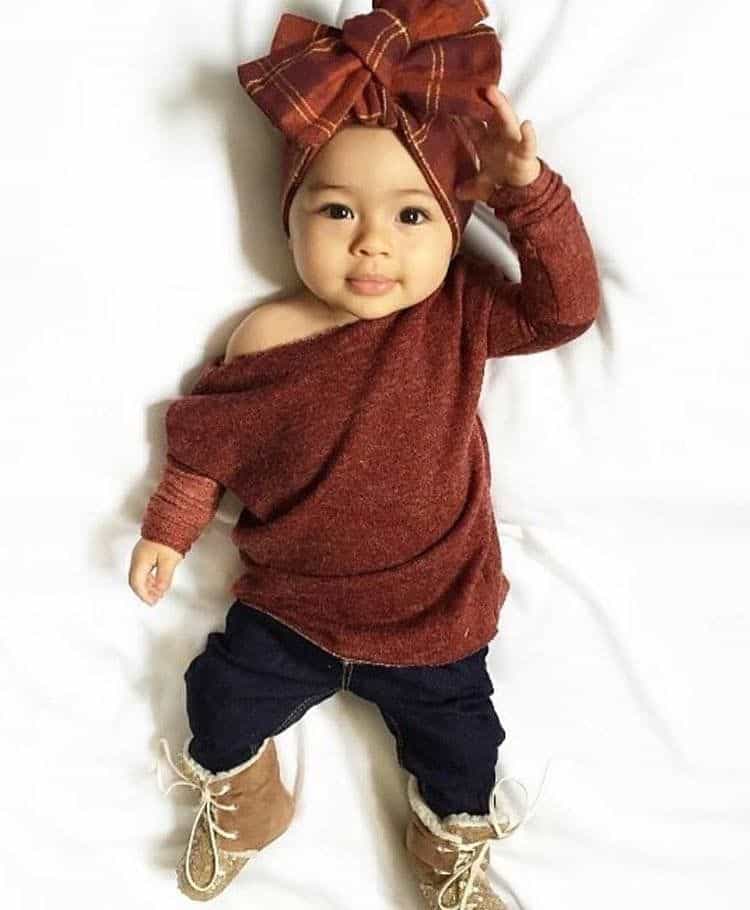 Orange and black
Whether it concerns a dress or skirt with this beautiful color combination in one, or individual items with the colors orange and black.
This always combines perfectly! Nothing lifts a black outfit more than a bright, bold color and orange certainly does.
Then try a loosely tucked in oversized sweater. Whatever you want to combine with, don't forget to add some humor to your kids outfit :)
Pink and gray
Pink and gray is a great look that you can wear all year round with a number of versatile garments.
There are no restrictions on how you can use this clothing color combination.
Dark gray pants with a soft pink top can look just as complementary.
Extend the color theme to your accessories and don't forget to bring this piece of the seasons: the wide fit.
Purple and coral
Coral (or coral) was once reserved for your grandma's lipstick, but this color has now taken its place as one of the most versatile shades.
Dressing up your daughter in purple and coral could be the perfect outfit.
Coral is flattering on all skin tones, and the deep rich tones of purple give it just the right amount of contrast to ensure it isn't too flashy.
Also try a coral top that goes with bright purple tights.
Purple and white
Then we have already arrived at the 10th and final color combination.
Purple with quickly has a high Disney princess content, just because it looks so neat, it is common in formal clothing, such as dresses.
But of course that is not always necessary.
While white goes with everything, nothing looks more fantastic than when paired with purple.
Have you gained solid inspiration?
I really enjoyed putting this post together. Nice inspiration and I will also apply a number of them in my next purchases.
Hope it also helped you to create fun combinations.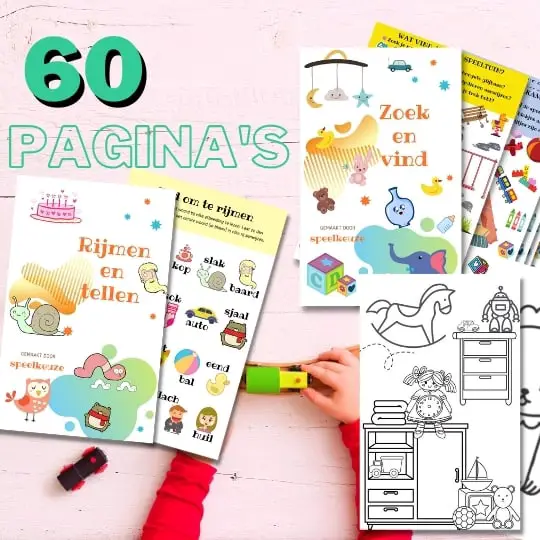 Always something to do for the holidays or rainy day?
Play Choice now has the ultimate activity book collection, with over 60 pages of fun coloring pages and educational puzzles.
Joost Nusselder, the founder of Speelkeuze.nl is a content marketer, father and loves trying out new toys. As a child he came into contact with everything related to games when his mother started the Tinnen Soldaat in Ede. Now he and his team create helpful blog articles to help loyal readers with fun play ideas.