From what age is an Apple Watch suitable for a child?
I enjoy writing these articles for my readers, you guys. I don't accept payment for writing reviews, my opinion on products is my own, but if you find my recommendations helpful and you end up buying something through one of the links I may be able to receive a commission on that.
More information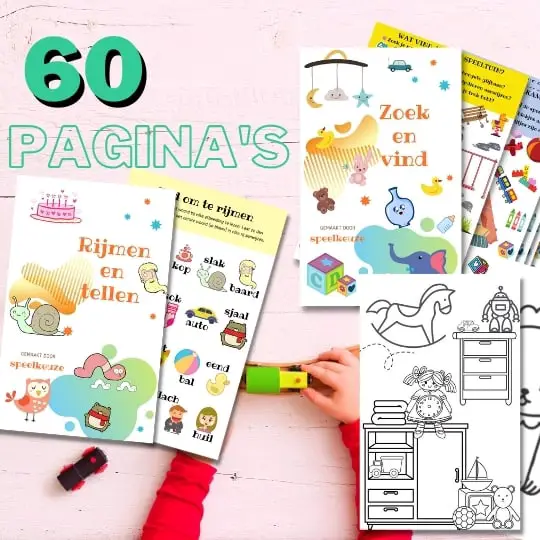 Always something to do for the holidays or rainy day?
Play Choice now has the ultimate activity book collection, with over 60 pages of fun coloring pages and educational puzzles.
Small children grow up. It almost seems like yesterday they were playing with their blocks and all of a sudden they're asking for an Apple Watch? With all those useful features, it's not such a crazy consideration at all. But at what age do you start?
A Apple Watch may be suitable for children over 10 years old. It can encourage a healthier lifestyle and with the Family Setup function, parents can also pair their iPhone with their children's Apple Watch. This way you can always communicate and you can keep an eye on things.
In this article you can read everything about the Apple Watch and from what age it could be suitable.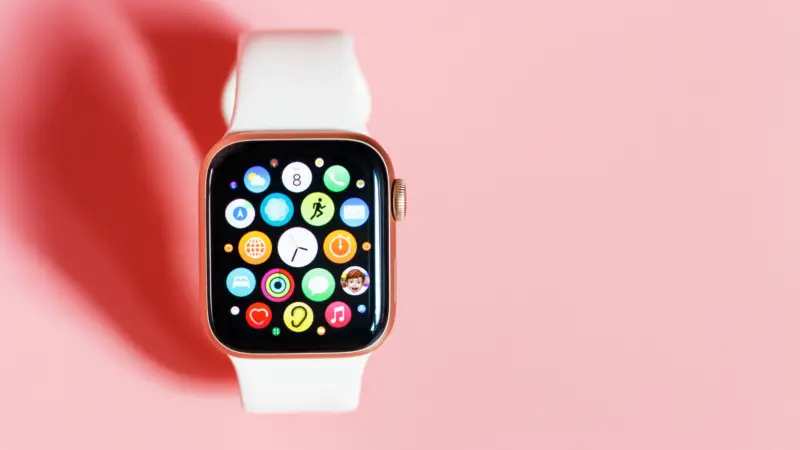 When it comes to choosing a SmartWatch for your kids, you might be wondering if an Apple Watch is really the right choice.
And if so, which one should you go for and which functions can you use exactly?
Why should you consider an Apple Watch for your child, and which Apple Watch would be a good choice? What exactly is Family Setup and how do you set it up?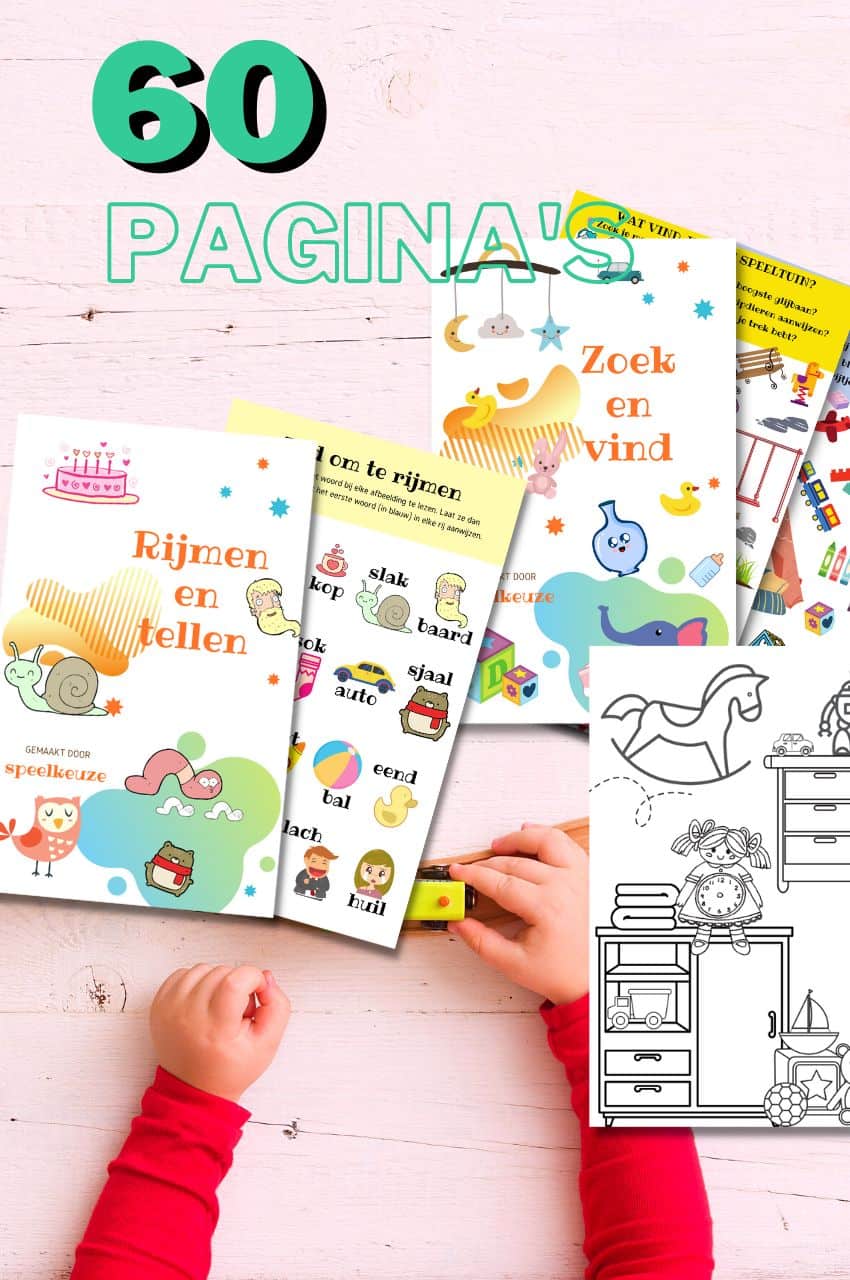 A play theme in your mailbox every month?
Fun play tips, activity books and more, with the first email being our free mini-guide "educational toys"
We will only use your email address for this newsletter and respect your privacy
Why should I buy an Apple Watch for my child?
There are several reasons why you might want to consider investing in an Apple Watch for your son or daughter.
An Apple Watch encourages your child to live a healthy life† For example, an Apple Watch will send reminders to get up and exercise for at least half an hour every day, encouraging a healthy lifestyle. Movement goals are determined by the parent or the child themselves.
An Apple Watch useful for security reasons† For example, you can make an emergency call, you can set up geotracking and they can contact you at all times.
No phone but contact. Maybe you don't want your kids to start using a mobile phone yet. With an Apple watch you can reach them, without all the extras that come with owning a mobile phone.
It is also great fun for children themselves to participate in training challenges; in this way a game is made of being active and burning calories.
Here you will find 4 fun games and activities that you can do with a walkie talkie
From what age is an Apple Watch suitable for children?
Best for
2,5 times brighter Retina screen

family setup (manage your young children's watch, even without an iPhone)

fall detection
Less good
battery life 'only' 18 hours

pricey
Most kids under 10 probably shouldn't have access to a smartphone, nor an Apple Watch.
Some children are careless, clumsy and can break or lose things. Apple watches are pricey, so you don't want to pay for repairs or replacements on a regular basis.
For a baby, toddler or preschooler, rather go ahead a nice toy phone, or maybe a specific smartwatch for kids.
If you do choose an Apple smartwatch for a teenager, then consider an older version Apple Watch.
It probably isn't worth buying one of the latest models or a brand new device for your son or daughter because of the cost.
What is the best affordable Apple Watch for kids?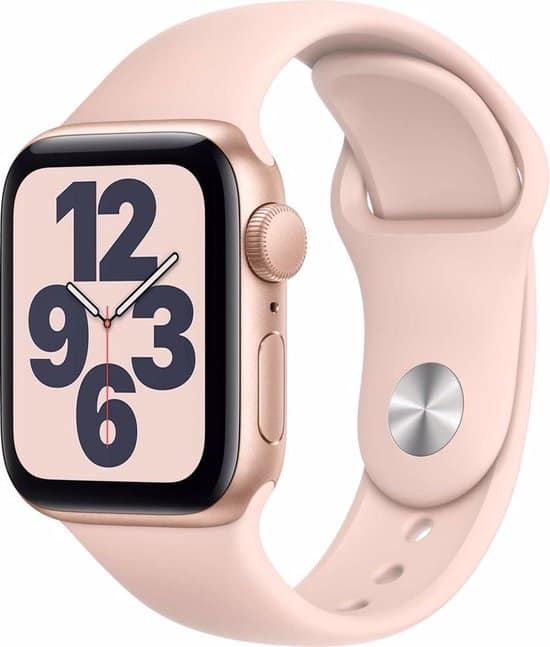 Best for
Optical Heart Rate Sensor

fall detection

Thinner than previous SE models
Less good
Battery life 18 hours

No charging adapter included
The Apple Watch SE is a lightweight version of the Apple Watch 6.
Some call this watch the successor to the Series 3. The Apple Watch SE is cheaper than a Galaxy Watch 3 and comparable to a Fitbit Versa 3.
The Apple Watch SE is designed to offer consumers an Apple Watch for less. This also makes it a great choice for kids.
The Apple Watch SE has an improved design seen on all Apple Watches from Series 4 and up. You can choose the watch in 40mm and 44mm depending on the age and size of the child you're considering this smartwatch for.
It shares the same dimensions as the new Apple Watch 6. Since it is a new watch, it comes with the latest software version (7).
The Apple Watch SE is of interest to parents who want to use the new Family Setup feature. More on this right away.
How do families stay connected with the Apple Watch?
Apple recently announced a brand new feature that allows families to stay connected even if they don't all have iPhones or an Apple Watch.
That is quite unusual for the brand!
This new feature allows a parent to pair an iPhone with a child's Apple Watch so they can always stay connected.
This new feature is called Family Setup and is available on watchOS 7. It allows parents to pair their iPhone with their child's Apple Watch.
This way they can receive location notifications, keep in touch, parental controls and use limits.
Thanks to the handy features of the Apple Watch, family members without an iPhone can still stay in touch, go out safely and move more.
This will lead to a healthier lifestyle and more independence.
Also read: Manage multiple iPads | Tips for your family
Who is Family Setup especially suitable for?
Users suggest that this feature is useful not only for children, but also for those with aging relatives who may have medical conditions and therefore need to be monitored more than average.
Family Setup is primarily for families with young children who are not ready for their own phone, or for families who have pre-teen children with their own Apple Watch, or even aging relatives.
To use the Family Setup feature, you need a mobile model of at least the Apple Watch 4, or a mobile model of the Apple Watch SE with watchOS 7 or later.
You also need an iPhone 6s or a newer model with iOS 14 or later.
Contact your carrier for more information or check out Apple for information about participating providers and the terms and conditions that apply.
Family Setup is a somewhat competitive feature to existing apps that provide tracking. If necessary, the watch can even be used to contact emergency services using the SOS function.
For parents, it is probably a comforting thought that they can always reach their child and know where they are.
Also read: When can a child play outside alone? 4 tips
How do you set up Family Setup?
The Apple Watch has always needed an iPhone to work. It still does, but now you can set up a family member's Apple Watch so they don't need their own iPhone.
But it only works with a mobile version of the Apple Watch, Series 4 or higher.
Since Apple no longer sells the Series 4 or Series 5, the Apple Watch SE is currently the cheapest of the Family Setup watches. The only other Apple Watch officially sold by Apple is the latest Series 6.
To set up Family Setup, proceed as follows:
Add a family member with watch via Family Sharing in iCloud settings
To add a new family watch to the iPhone Watch app, the family member must already be added to your account via Family Sharing in iCloud settings — you'll need to set that up if you haven't already.
Add a new phone number for the watch
After that, a new phone number is added for the watch, but that also means extra costs for your mobile subscription.
Create a sub profile on the Health app
This creates a brand new subprofile on the Health app, with exercise and activity stats plus heart rate data and watchOS 7's new mobility data.
Apple's remote health monitoring opens up the possibility of giving someone a watch as an emergency device.
Keep in mind that the person wearing the watch still needs to know how to use it, as well as charge it daily.
What else can you do with the Family Setup?
Children and family members who use Family Setup each have a separate telephone subscription with their own telephone number.
But what can a family do with a Family Setup?
With their own Apple ID, kids can view their own tasks and family activities through Calendar.
Through 'Memories' they can handle tasks.
View photo albums that a family member has downloaded from iPhone.
Use the Apple Cash Family feature.
Sharing a location via the 'Find people' app on the Watch.
Use the school time function.
A parent can set which contacts the child can send messages to.
Set boundaries so you know if your child has passed a certain area.
Parents can even send money to their children securely via the new Apple Cash Family feature. Kids can spend that money on their Watch via Apple Pay.
Parents can set them to receive a warning when the children pay, and check what the children have bought in the 'Wallet' on their own iPhone.
The School Time feature is designed to help kids focus by blocking everything but a standard watch face.
When the child turns the digital crown, the watch is reactivated, and the parent is also notified that the mode has been turned off.
You could also choose to have a mobile to buy the model of the Apple Watch, where the device has its own mobile internet connection.
Keep in mind that the initial investment is higher, but on the other hand, it does mean that you can use some functions of the watch without always needing an iPhone.
This improves the usefulness of certain features, including the Walkie-Talkie app.
Read also my complete decision aid & buying tips for the 12 best children's tablets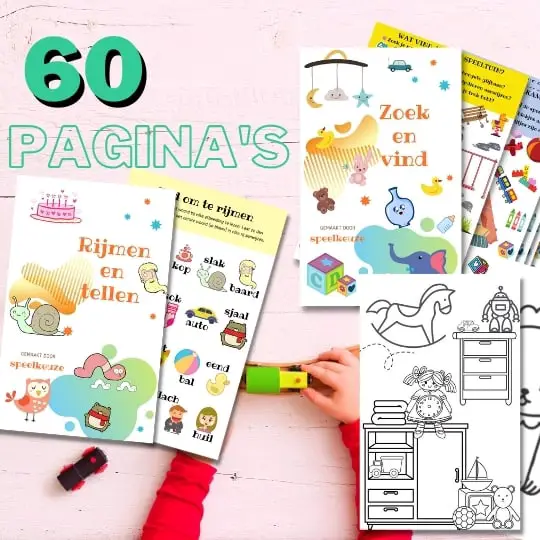 Always something to do for the holidays or rainy day?
Play Choice now has the ultimate activity book collection, with over 60 pages of fun coloring pages and educational puzzles.
Joost Nusselder, the founder of Speelkeuze.nl is a content marketer, father and loves trying out new toys. As a child he came into contact with everything related to games when his mother started the Tinnen Soldaat in Ede. Now he and his team create helpful blog articles to help loyal readers with fun play ideas.