Fun treasure hunt assignments: 8 exciting themes
I enjoy writing these articles for my readers, you guys. I don't accept payment for writing reviews, my opinion on products is my own, but if you find my recommendations helpful and you end up buying something through one of the links I may be able to receive a commission on that.
More information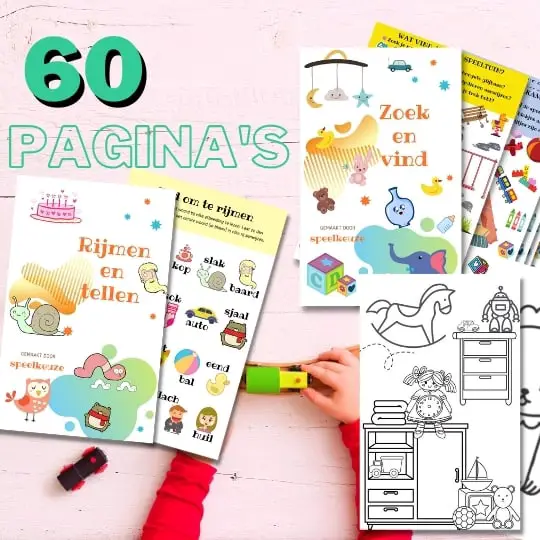 Always something to do for the holidays or rainy day?
Play Choice now has the ultimate activity book collection, with over 60 pages of fun coloring pages and educational puzzles.
Is your little one's birthday soon and do you want to organize something fun? Then why not set up a fun scavenger hunt!
With a scavenger hunt, kids can lose their energy while enjoying the outdoors. Children often find a scavenger hunt very exciting.
But it is not always easy to come up with a scavenger hunt with fun questions and assignments. Which route do you let the kids walk? What kind of theme do you like?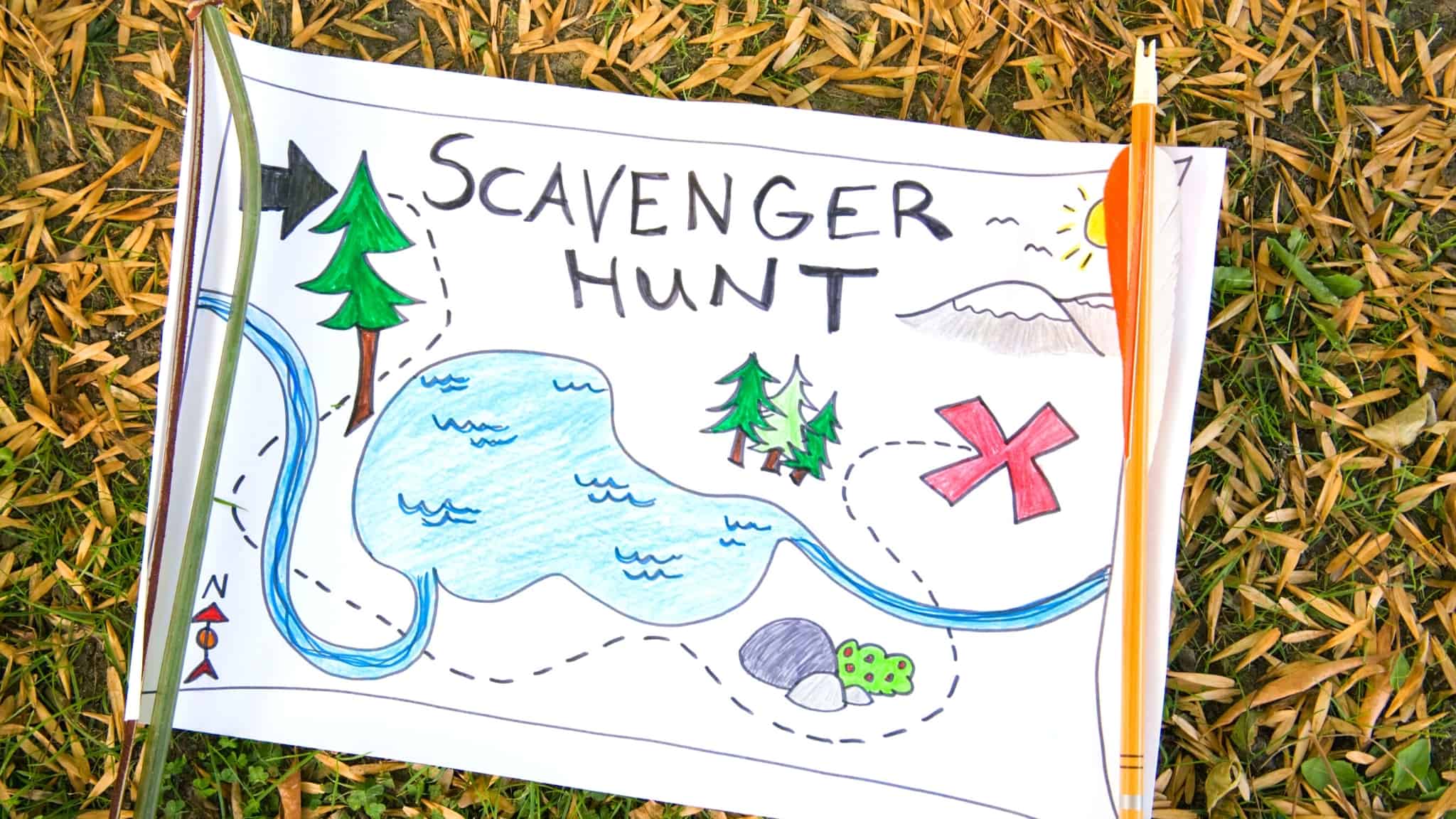 If your answer to this is "Help!" then you've come to the right place!
We all know that a well-organized scavenger hunt can really be a lot of fun. But here and there draw some arrows on the sidewalk and at the end a candy bag as a treat; that is also a bit boring.
To make a scavenger hunt successful, you need to make the right preparations. What location do you use, what purpose, and what is fun for what age?
You have to think about a lot of things to organize the perfect scavenger hunt for your son or daughter.
If you would like to use a theme, such as unicorns or football, you must of course adjust it to the age and interests of the group. And how about a Whatsapp treasure hunt or one with a secret code for the older children?
In this article you can read all about organizing the perfect scavenger hunt.
I will also give you some nice examples of the types of questions you can ask and the assignments that you can have the children carry out (broken down by age group).
At the end of this article you will know exactly what to do and the children will have a fantastic day!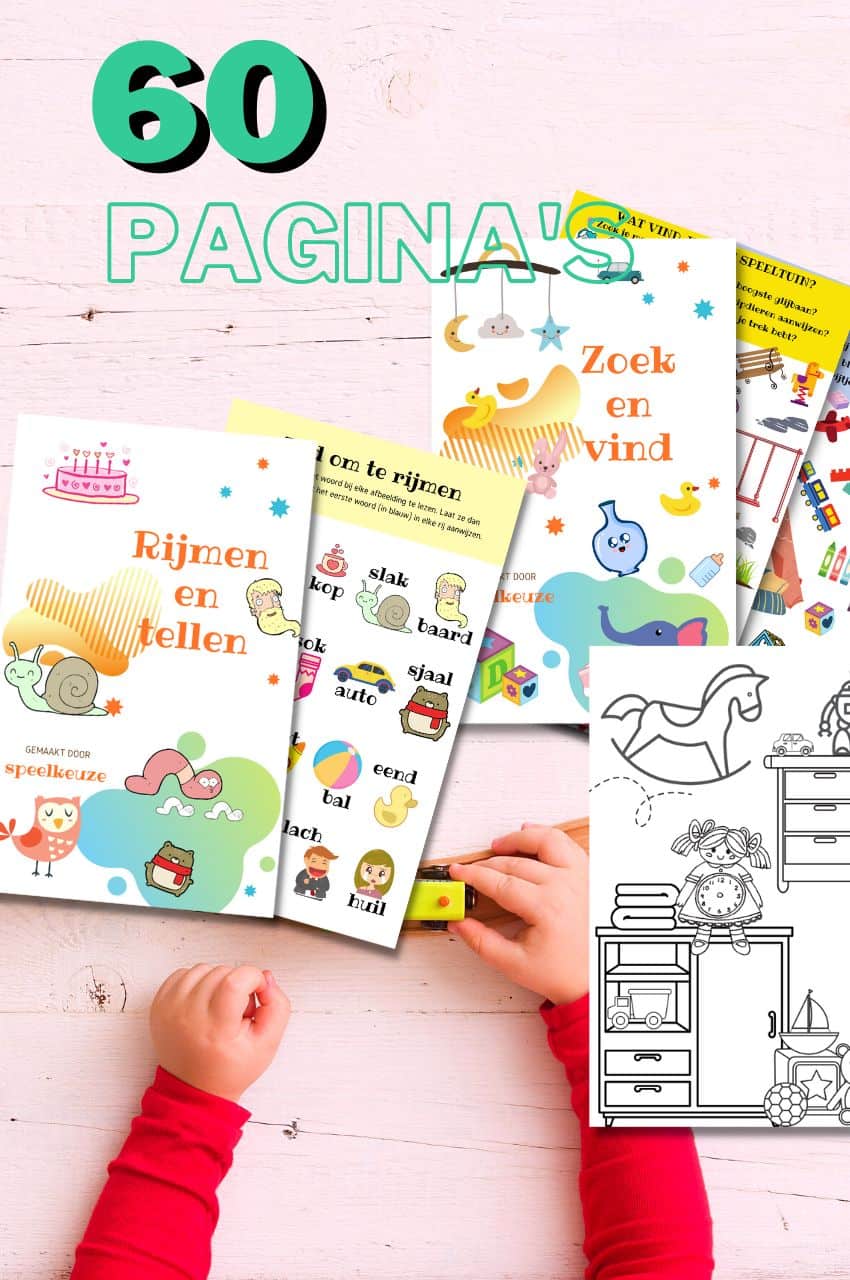 A play theme in your mailbox every month?
Fun play tips, activity books and more, with the first email being our free mini-guide "educational toys"
We will only use your email address for this newsletter and respect your privacy
How do you make a scavenger hunt a success?
In order for a scavenger hunt to run smoothly, a number of things must be arranged in advance.
If you stick to the following step-by-step plan, almost nothing can go wrong!
First come up with a goal
Are the children going to find a treasure, solve a riddle, or form a word? The idea is that every clue the children come across during their quest will bring them closer and closer to their goal.
Do not forget to use humor here and there when coming up with the questions and assignments!
Which theme?
For the theme you can think of a ghost tour, pirates, unicorns, princesses, animals, football and you name it.
Choose a theme that suits the age and interests of the children.
Which location?
Are you organizing the scavenger hunt for young children? Then it is best to do this in your own neighborhood.
If there is guidance from other parents, you could also organize a treasure hunt in the forest or on the beach. The route must provide space for (safe) playing of games along the way.
So do not let the children walk on and near a road! A lawn is perfect for a game or solving a riddle.
End the scavenger hunt at a fun location, such as a playground.
When you agree that those who find clues earn points, you keep the kids focused.
The children can then exchange the points for something tasty or a grab bag gift.
Mark the route
When marking the route you should think of balloons, ribbons, strings, etc.
You can also take pictures of the route and let the children search for a certain tree or specific object, where there will be a clue.
Be careful when using sidewalk chalk; when it rains, chances are that the kids will soon be lost!
Directions via Whatsapp?
If the children are old enough to do so, you can send them directions via their phone calls (Whatsapp).
Handy, because this way you can also keep an eye on the kids from a distance and give them a hand with extra clues or hints.
Do agree that the kids will not use the internet to solve the riddles. That would be a shame.
Extra tip: order a ready-made scavenger hunt
Last but not least: if you really don't have time to make your own scavenger hunt, it is always possible to buy a ready-made scavenger hunt online!
From what age can you start a scavenger hunt?
It is important to consider the age of the children to determine the duration of the scavenger hunt.
You can start from the age of 4, but children with the age of 6 years or younger can only concentrate for about 40 minutes. Children who are 8 years old or older can focus on it for an hour.
In addition to the duration, you also have to adapt the riddles and games to the age: do not make it too difficult, but not too simple either.
Children 4-6 years old
Children in this age group find scavenger hunts fun and exciting!
Do you have a large group of children? Then divide these into small groups so that they can concentrate better.
This is the perfect age to give a fun theme to the scavenger hunt and let the kids dress up.
Reading will still be a problem and so will math, so keep that in mind!
Children 7-8 years old
Children in this age group have just started reading, so now you can add an extra dimension to the scavenger hunt!
Children can read and solve the riddles and clues themselves. The kids will love solving the riddles without the help of adults.
A detective theme is probably more appropriate here than, for example, a pink princess theme.
Children from 8 years old
Now you can make the games and challenges a bit more difficult. Children of this age can already do a lot!
They can think logically, calculate, they understand language and they can also carry out practical assignments.
It can sometimes be a challenge to find the optimal level of difficulty.
A simple scavenger hunt is often enough for young kids. For the older kids you add puzzles and riddles.
Examples of scavenger hunt assignments for children between the ages of 4 and 6
In a scavenger hunt for younger children (between the ages of 4 and 6) it is wise to stick to simple direction indicators and easy, fun assignments.
Below I give a few nice examples:
The children stand with their feet apart behind each other. The last child crawls forward through the legs and joins the front. When each child has had their turn, the kids can look for the next arrow and follow it.
Assignment "Make your craziest face". The child who wins gets points.
The kids get 1 minute to stand in order from large to small.
The children are lined up one behind the other. Now they have to pass a ball over the heads from back to front. The kids are not allowed to look back. If the ball has arrived in front, the ball must be passed back through the legs. Is the ball falling? Then we start again! When the assignment is completed, the children will look for the next arrow that indicates the route.
Do not make it too difficult for children in this age group, and use a lot of humor!
Examples of scavenger hunt assignments for children between the ages of 7-8
For the older kids (7-8 years or older) you can better hide the clues that the players have to look for in the area. Or let them take pictures of certain objects.
Points are scored for every correct assignment. You can have them film the 'do' assignments and have the videos forwarded to you!
You give the following instruction upon receipt (and approval). Examples of fun assignments for this age group are the following:
The kids get 1 minute to stand in order from old to young (for more of a challenge: they are not allowed to talk!)
Let the kids walk a trail with an egg on a spoon. The eggs must not fall!
Find a hidden treasure chest or other object (hidden in a tree, buried somewhere). You can hide something tasty in it or a subsequent assignment.
Take photos of specific objects.
You can also add knowledge questions and puzzles. The check can be done at the moment, by phone, or afterwards.
You can also choose to give any assignment at the moment, over the phone. This way you will also receive the solution immediately and give the kids real-time feedback and the following instruction.
This interaction makes it extra exciting and even more real!
Examples of treasure hunt assignments for children over 8 years old
The older the participants, the more difficult or more challenging you can make the scavenger hunt.
Assignments for this age group can be, for example:
Tie the left leg of one child to the right leg of the other child. Let the kids complete a course like this.
Show the children a music fragment and then the question: "What is the name of the artist of this song? If the number of letters of this artist's first name is odd, you go to the right, otherwise to the left. "
"Find a number of hidden cards with letters within a radius of 10 meters and make a word of these letters."
Take two photos of various objects or buildings: one of the whole and one of a detail. Now let the kids find the building or object and then figure out where the detail comes from.
Again, it is important to always consider the age of the children.
If you have a mixed group (so kids of different ages) make sure that suitable assignments are added for each age group.
You want everyone to have a good time and stay focused!
What kind of scavenger hunt questions?
In addition to having them carry out assignments, you can of course also have children answer a number of questions very simply.
What kind of questions you ask again depends on the age category of the little participants and also, of course, a bit based on their interests.
Knowledge questions (with or without multiple choice), for example:
What kind of house / building is this (with photo)?
How many girls is K3 made up of?
What colors does the Dutch flag have?
What did Cinderella lose on the grand staircase?
What sound makes ……. (A dog, an alarm clock, a broken down car…). The sounds are adapted to the age of the children and must be imitated correctly.
Questions with clue answers
For example: Give the children a question with two answer options (A and B). "If you chose answer A, turn left. If you have chosen answer B, go to the right. "
Questions related to the environment in which the kids are (and where they will also find the answers):
"How many windows does the house have by number (name a number)?"
"What color is the letterbox of the house by number (name a number)?"
"At which house should you watch out for the big dog? Name the house number "
Do you have a group of girls who are all fans of a certain girl group? Then ask a number of questions about it, for example.
You want the kids to stay focused and actually do their best to answer the questions!
So know what kind of group you have in front of you and adjust the content of the questions accordingly.
Fun scavenger hunt themes
Scavenger hunt via Whatsapp
For a scavenger hunt for children who are a little older, you can think of a Whatsapp scavenger hunt where they have to use their own phone calls.
We are talking about children with an age between 9 and 13 years (or older, of course).
You can set up a scavenger hunt yourself and choose to send the assignments or directions via Whatsapp. Or you buy a ready-made Whatsapp scavenger hunt.
You can send the kids questions on the spot and / or have the answers to the questions forwarded to you. You can also ask them to make videos of the assignments they have to carry out.
You must of course make sure that you are always available!
This kind of scavenger hunt will probably take a little less time to prepare, and it might be a nice idea to keep an eye on the kids this way.
Do agree in advance that the children will only use their phone for communication and forwarding answers and videos, and, again, not for looking up answers to the questions!
Treasure hunt in the forest
A well-known place for treasure hunts is of course the forest.
In principle, it is a safe place, because there are no cars. In addition, the children are wonderful in nature and you can also involve nature well in the assignments or questions.
With a treasure hunt in the forest you can teach children everything about nature, including the trees, soil, animals and insects.
In the forest you will also easily be able to put up clues than just on the street. Always make sure that you tidy up everything neatly after the treasure hunt, polluting nature is of course the last thing we want!
Unicorn scavenger hunt
As I have mentioned a number of times before, a themed scavenger hunt is also a super fun idea.
Especially if your child (and his or her boyfriends and / or girlfriends) are fond of a certain girl group, boy band, a specific TV show, hero, or (fictional) animal.
There are children who are fascinated by the unicorn. In such a case, a scavenger hunt with the unicorn theme is of course in order! Below I give you some tips for a 'unicorn' treasure hunt.
Give the kids a pair of unicorn wings each and let them follow the colors of the rainbow to reach the assignments and the treasure.
Have them collect colors and letters along the way to find out where the treasure is hidden. The treasure can be: a unicorn piñata full of treats or rare 'unicorn poo'!
A fun assignment could be biscuits with a pink donut, or 'find the unicorn'. You can also let the kids do a unicorn race.
The unicorn theme is all about bright colors and glitter. As long as everything is colored and sweet, it is always good!
With a little creativity you can easily give the unicorn theme to the different assignments and questions of the quest!
Detective scavenger hunt
Children are thrilled to take on the role of detectives and investigate! A scavenger hunt with this theme is therefore very popular, especially among the older kids.
Choose the starting point of the scavenger hunt, such as a theft, murder or kidnapping. Then you can come up with a list of suspects, for example 10.
Now you have to come up with 9 riddles or assignments that always indicate the innocence of one of the suspects. Solving the final riddle leaves the culprit!
Again, adjust the difficulty of the riddles or questions to the age of the children. You can hide the riddles, questions, rebuses etc. during the scavenger hunt.
A scavenger hunt with the detective theme is a great idea for children from 8 years old. It is guaranteed to be a great success!
Scavenger hunt with animal theme
Children just love animals. A scavenger hunt with an animal theme is therefore a very good (and simple) idea.
Examples of assignments for this scavenger hunt are the following:
Which animal am I? One child 'is' a certain animal and the other children have to guess which animal by asking questions to which 'yes' or 'no' can be answered. For example, "Are you green?" or "Are you dangerous?"
Have the children complete a course like an animal would. For example on all fours, jumping, or creeping.
Or let children look for the escaped lion, for example. They can then arrive at the solution by answering various questions and carrying out assignments.
An animal quiz.
You can make the instructions or assignments with pictures of paw prints. An animal scavenger hunt is especially fun for children between 4 and 6 years old.
Scavenger hunt with dino theme
How many children are fascinated by dinosaurs? Yes, a lot!
No wonder that therefore also quests are done with the dino theme.
Below some ideas:
Make a trail of dinosaur paws with chalk spray (or in good weather with sidewalk chalk). The trail then leads to the various assignments.
Make piles of dirt where the children have to dig up fossils and bones with a shovel. Take, for example, clean, nibbled chicken legs.
One of the assignments could be a dinosaur race: who can cross the finish line fastest with an egg on a spoon, without losing the egg.
Find the right dinosaur by the paw print!
dinosaur quiz.
The ultimate goal, for example, is to find the dino nest with (empty) eggs, in which you can put an errand.
The preparations may take a little time, but with a little imagination and creativity, you can give the kids an unforgettable afternoon! E
That's what we do it for… A group of very happy children!
Scavenger hunt with football theme
You can of course also 'just' have a scavenger hunt with the theme 'football'.
Not only fun for boys, nowadays there are so many girls who practice this sport (and are good too!).
As an assignment you can let the kids hold up with a ball or balloon. The one who can keep up the most often has won and scores points.
Another fun assignment is that two children have to clamp a ball between them, for example between the chest. They must then try to run to the finish as fast as possible, without dropping the ball of course.
Furthermore, the football quiz should of course not be missed!
As you can see, organizing a scavenger hunt doesn't have to be that difficult at all!
With a football scavenger hunt you can also think of a story in which the kids have to help a football trainer to find the match ball.
You indicate the route with threads of wool or possibly sidewalk chalk. At the end of the quest, the children will of course find the missing football!
Scavenger hunt with secret code
To give the scavenger hunt an extra mysterious touch, you could also write all assignments and questions in secret code.
This is of course only interesting for older children, for young kids it is still too difficult.
An example is the following: "Read one letter of the word at a time and skip the next. The answer reveals where to find the next hint. " Word: ALUHTYO (AUTO).
You can also write down directions with candle wax; to read it, children have to scratch the wax with a pencil.
You can also use the AB code, for example, where the letters move one place (so A = B, B = C, C = D, etc.).
Another idea for deciphering commands: Flip all the words in the sentence: (Go to the right) sthcer raan aG.
There are even pens for sale whose text will only become visible when it is shone with a lamp. Believe me, kids will love it!
Also read: Fun games for children's party | For every age + fun themes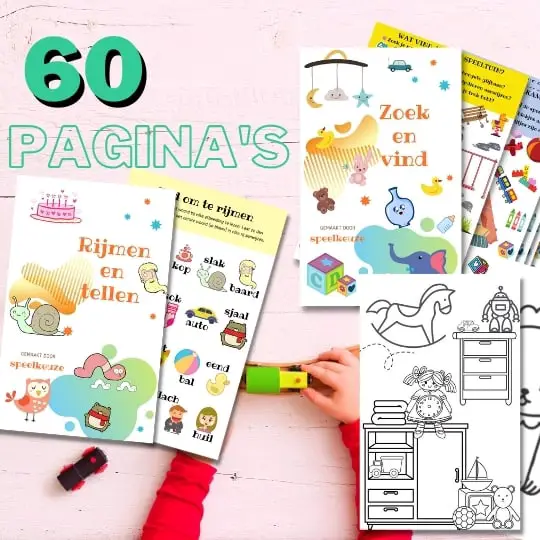 Always something to do for the holidays or rainy day?
Play Choice now has the ultimate activity book collection, with over 60 pages of fun coloring pages and educational puzzles.
Joost Nusselder, the founder of Speelkeuze.nl is a content marketer, father and loves trying out new toys. As a child he came into contact with everything related to games when his mother started the Tinnen Soldaat in Ede. Now he and his team create helpful blog articles to help loyal readers with fun play ideas.