10 best games to calm them down before going to sleep
I enjoy writing these articles for my readers, you guys. I don't accept payment for writing reviews, my opinion on products is my own, but if you find my recommendations helpful and you end up buying something through one of the links I may be able to receive a commission on that.
More information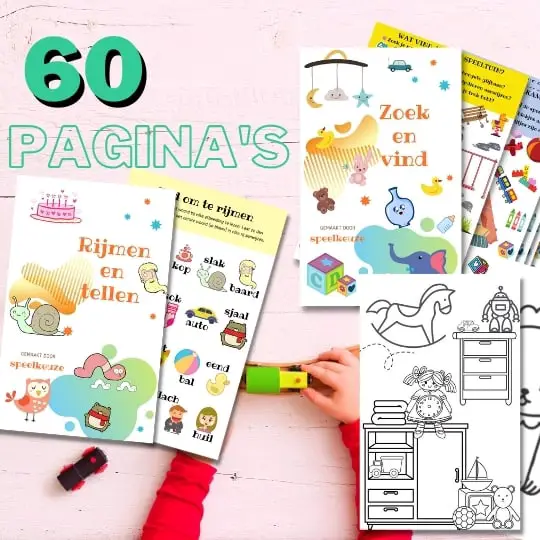 Always something to do for the holidays or rainy day?
Play Choice now has the ultimate activity book collection, with over 60 pages of fun coloring pages and educational puzzles.
When it comes to kids and their legendary energy supply, forget that they want to sleep peacefully.
Temper that energy a bit with nice active games to make going to bed easier.
Your little Duracel rabbit will drift off to dreamland in no time. Sleep tight!
In this article I will discuss some nice and useful ones games before going to sleep to get rid of that energy.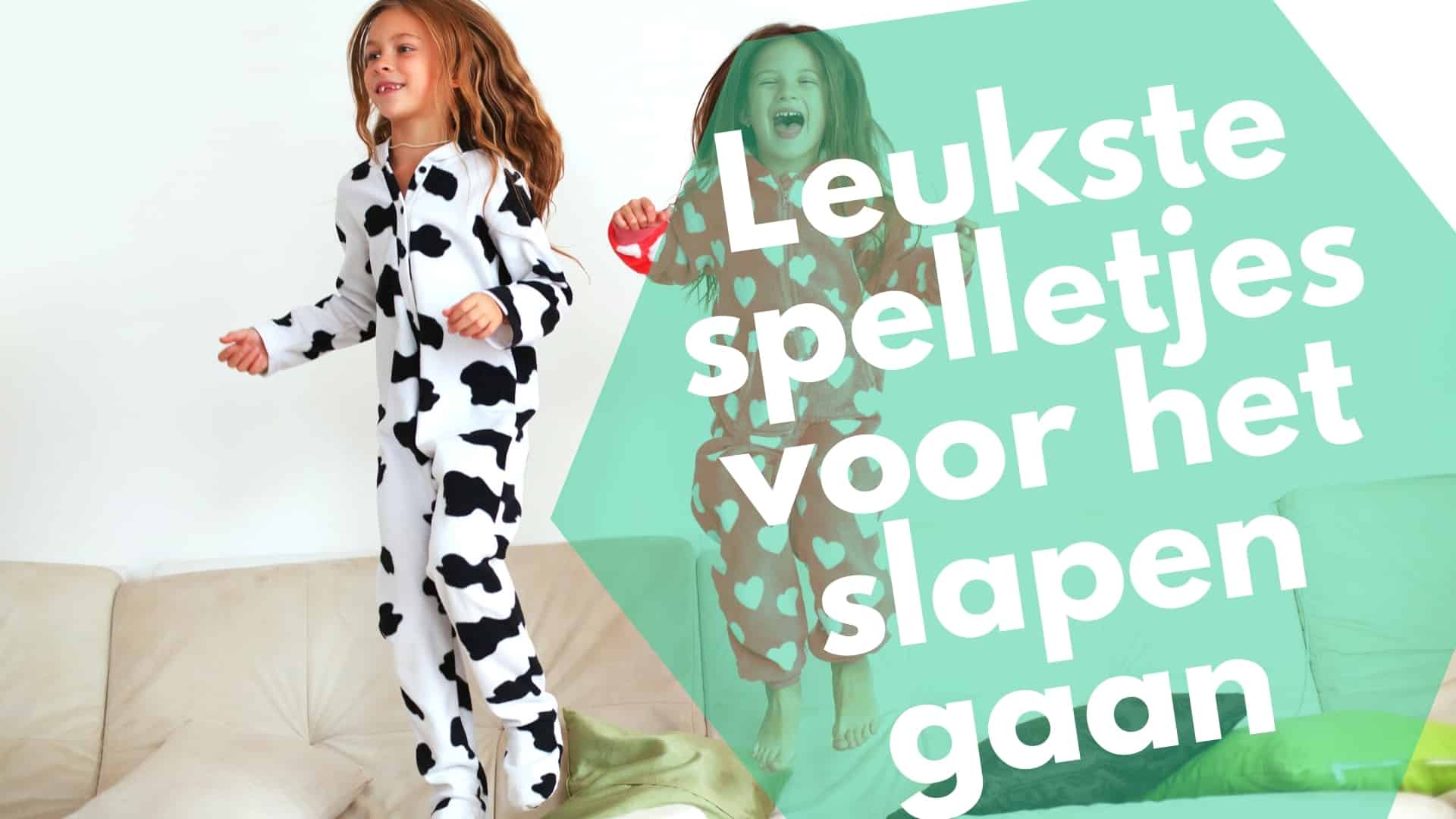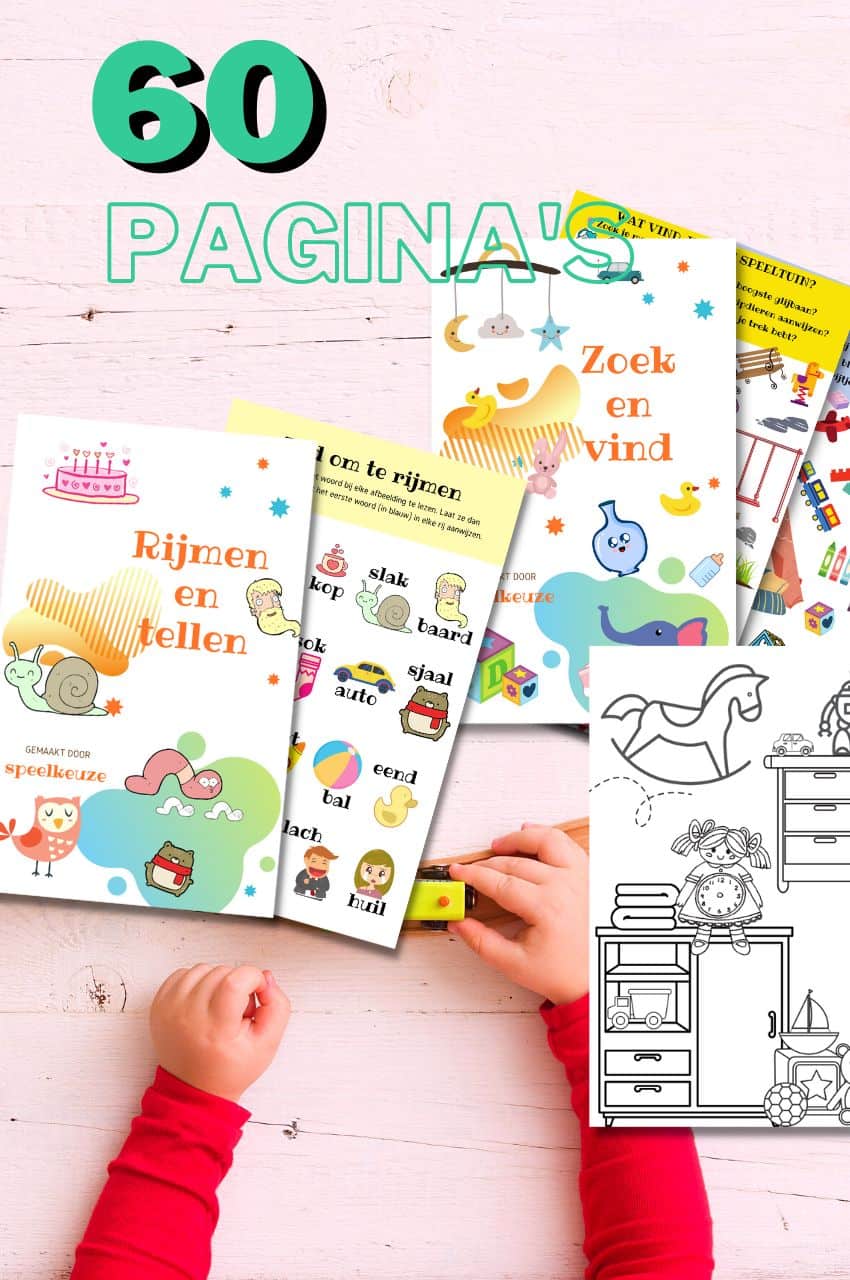 From toddler to toddler activity book collection
Educational games and coloring pages for 3 to 6 years
Your toddler and preschooler will love this e-book, along with the accompanying printables. He or she can play with it at every stage of development, together with mom and dad.
Buy at Bol.com
What we discuss in this comprehensive post:
Bedtime games
When it comes to energetic little people, there is nothing more effective in tapping that endless supply of energy than the outdoors.
Give them some more play time in combination with fresh air and watch them crash.
These are our favorite ways to (literally) get them running around the backyard or in a local park before Klaas often comes by.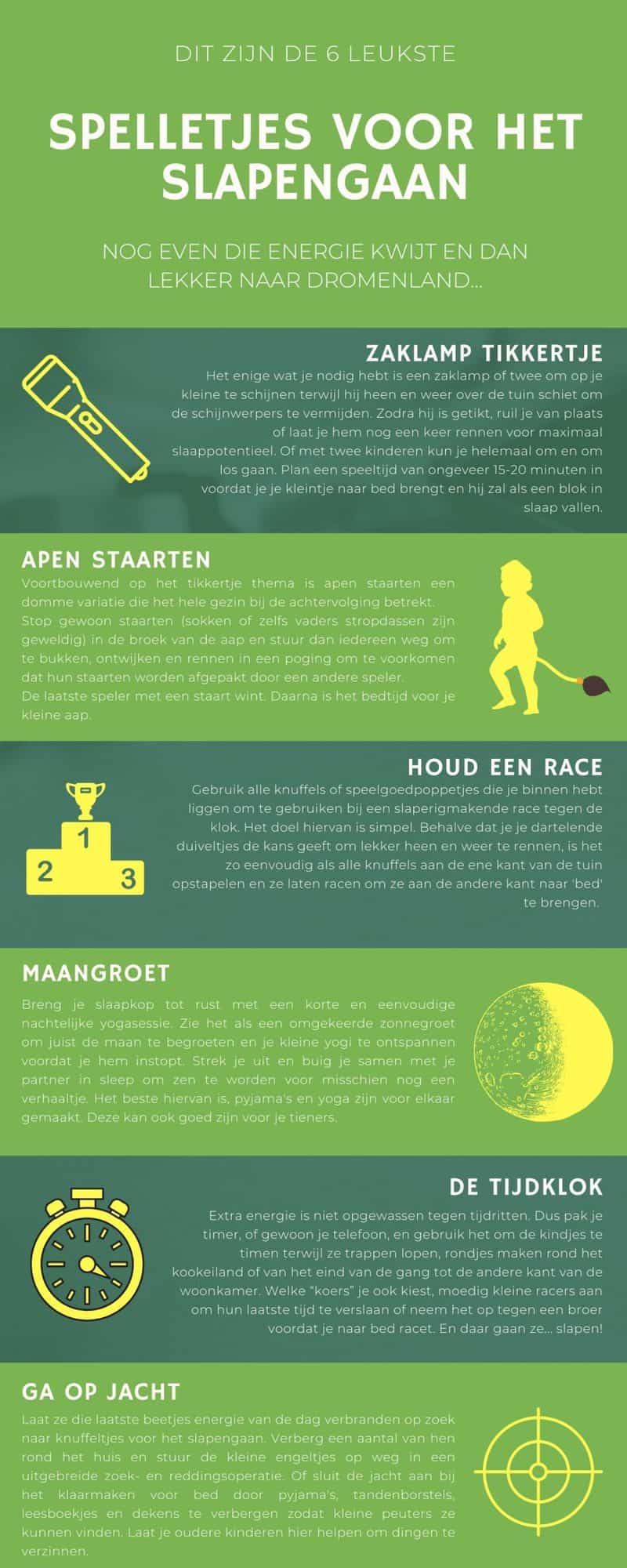 Flashlight tag
The shorter nights turn a few rounds of flashlight tag into an enlightening game before bed.
All you need is a flashlight or two to shine on your little one as he darts back and forth across the yard avoiding the floodlights (more fun garden games and toys here).
Once he's tapped, swap places or let him run one more time for maximum sleep potential. Or with two children you can go all the way.
Schedule a playtime of about 15-20 minutes before putting your little one to bed and he'll fall asleep like a log.
Monkey tails
Building on the tag theme, Monkey Tails is a silly variation that involves the whole family in the chase.
Just tuck tails (socks or even daddy's ties are great) in the monkey's pants, then send everyone away to duck, dodge, and run in an effort to keep their tails from being taken by another player.
The last player with a tail wins. Then it's bedtime for your little monkey.
Have a race
Use any cuddly toys or toy dolls you have inside to use in a sleepy race against time (hey, when can they actually tell time?).
The purpose of this is simple.
Besides giving your frolicking devils a chance to run back and forth, it's as easy as piling up all the stuffed animals on one side of the yard and racing them to 'bed' on the other side.
If you make a kind of bed from a beanbag (very nice things by the way, I have some recently written about this) or just even a cardboard box, putting to bed is still more real.
When the race ends, send your little sleepyhead away to snuggle with all those hugs.
Play father son teams or have siblings race each other in this exhausting pre-pajama game.
This one is also fun to just play indoors.
For cold or rainy nights when outdoor playtime isn't an option, or for kids who like to live quietly, consider having an indoor game (or two) before hitting the bed.
Moon greetings
Soothe your sleepyhead with a short and easy nighttime yoga session.
Think of it as an inverted sun salutation to just greet the moon and relax your little yogi before tucking it in.
Stretch out and bend in tow with your partner to get zen for maybe another story. The best part of it is, pajamas and yoga are made for each other.
Be surprised
Reserve front row seats for a spectacular toddler bedtime show!
Invite your sidekick to show you his best dance moves, tricks and gymnastic stunts on the "stage" before going to bed.
They will tumble tired to dreamland after setting up this production.
follow the leader
By playing multiple rounds of Follow the Leader, you as parents are put in charge of the pace of the exhaustion session.
Wind them up with lots of jumps and twists and hands to your toes to expend that daily dose of excited energy (more tips to lose energy here).
Then settle things down with stretching to heaven, yawning, and a final hug in bed. The leader says the tide is in for bed.
Throwing toys
This simple cleanup game is an easy two birds with one stone.
Does it focus the energy of excited toddlers getting ready to board the train to dreamland? Yes!
Does it encourage playful cuties to tidy up their bedroom or your living room? Sure.
Place "baskets" around the room and then let children shoot toys for points from different angles.
Keep score or count the total of the toys afterwards. Perfect, just pick out the fragile things in advance, that's just a tip.
Where are my toys?
This simple game will help your little thinkers put their brains to bed before their bodies settle in at night.
By using brain power you can get them nice and tired.
Place a collection of different toys on the floor and prepare a blanket.
Have everyone close their eyes while Mom or Dad hides one of the toys under the blanket.
Then everyone can open their eyes and your little detective (s) must try to find out which toy is missing.
You can make it as difficult as you want with more or less toys and reduce it slowly by agreeing in advance how many rounds you will do.
The timer
Extra energy cannot cope with time trials.
So grab your timer, or just your phone, and use it to time the kids while they are
walking stairs
making circles around the kitchen island
or from the end of the hall to the other side of the living room.
Whichever "course" you choose, encourage little racers to beat their last time or take on a brother before racing to bed. And there they go… to sleep!
Go hunting
Let them burn off those last bits of energy for the day looking for bedtime cuddly toys.
Hide some of them around the house and send the little angels on their way in an extensive search and rescue operation.
Or join the hunt in getting ready for bed by hiding pajamas, toothbrushes, reading books and blankets for little toddlers to find.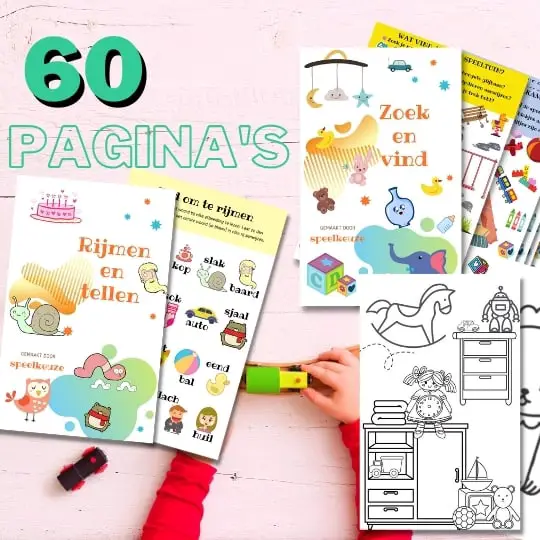 Always something to do for the holidays or rainy day?
Play Choice now has the ultimate activity book collection, with over 60 pages of fun coloring pages and educational puzzles.
Joost Nusselder, the founder of Speelkeuze.nl is a content marketer, father and loves trying out new toys. As a child he came into contact with everything related to games when his mother started the Tinnen Soldaat in Ede. Now he and his team create helpful blog articles to help loyal readers with fun play ideas.