Garmin Vivofit Jr 3 Review: Best Kids Activity Tracker
I enjoy writing these articles for my readers, you guys. I don't accept payment for writing reviews, my opinion on products is my own, but if you find my recommendations helpful and you end up buying something through one of the links I may be able to receive a commission on that.
More information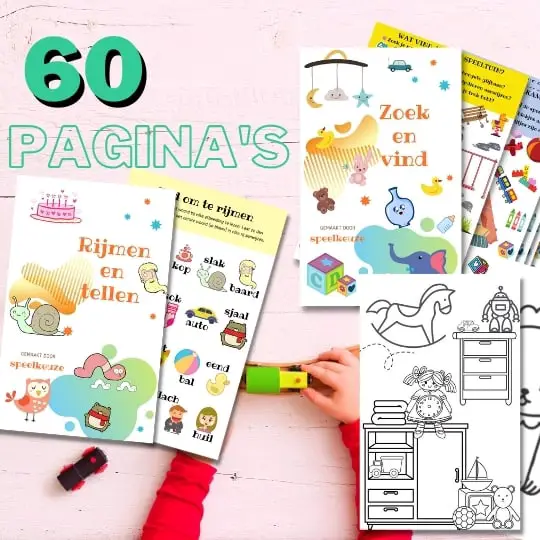 Always something to do for the holidays or rainy day?
Play Choice now has the ultimate activity book collection, with over 60 pages of fun coloring pages and educational puzzles.
The Garmin-jr is built to add a little bit of adventure to your life every day. Sometimes kids need some gamification to get their butts out to do active things.
If you don't know what gamification is, here's a simple summary:
By taking a certain action you earn something; a reward. It's the way games keep your kids coming back again and again.
Best overall kids smartwatch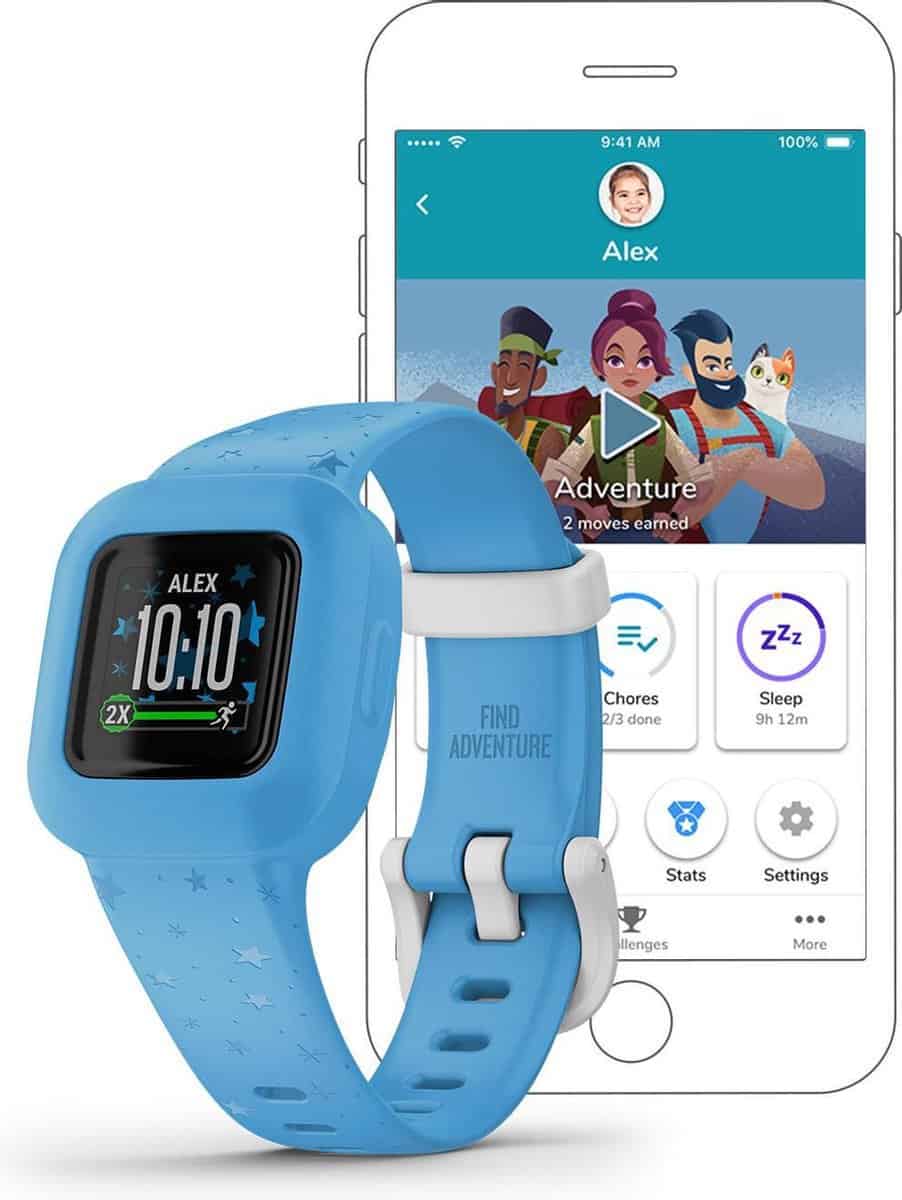 Best for
Check their activities on your own mobile

Best system to promote ACTIVE GAME

Gives responsibility for chores around the house or exercise
Less good
Not a full-fledged children's smartwatch, rather an activity tracker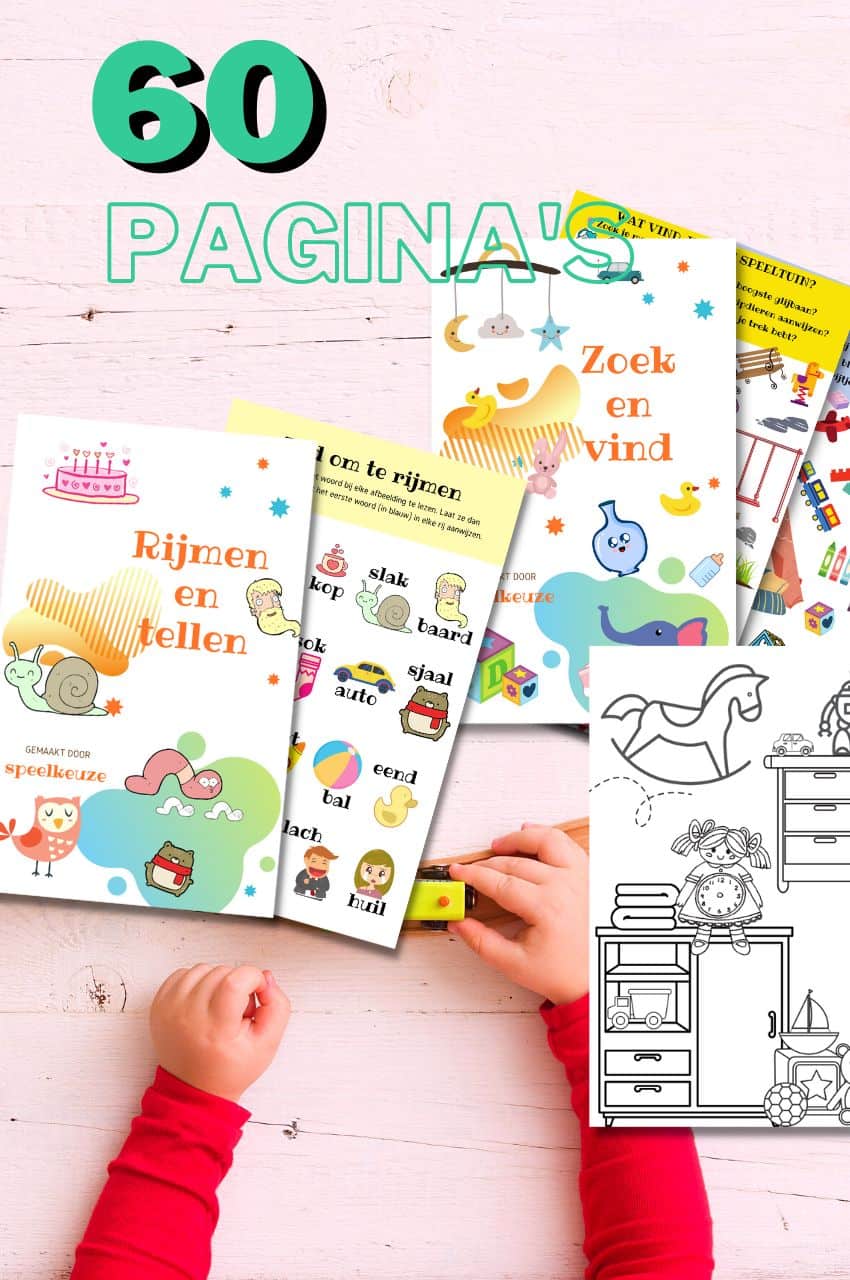 A play theme in your mailbox every month?
Fun play tips, activity books and more, with the first email being our free mini-guide "educational toys"
We will only use your email address for this newsletter and respect your privacy
Technical Specifications
Housing material: Silicone
Waterproof up to: 50 meters
Splashproof: Yes, 5 ATM
Product weight: 25 g
Operating System: Android 5.0
Suitable for operating system: Android | iOS
Parental control/supervision via app: Yes
Display: sunlight-readable, transflective memory-in-pixel (MIP))
Touchscreen: No.
Notifications from your smartphone: No notifications
Includes navigation function: No
Full call function
Activities: Steps | Lap times
Apps: No Apps
Sensors: Distance measurement | Motion sensor | Insight into amount of sleep (hours) | Insight into different sleep phases | Speedometer | Pedometer | pedometer
GPS type: No GPS
Continuous heart rate measurement: No
WIFI: No WiFi
Bluetooth version: Bluetooth 4.0
ANT+: No
Includes NFC: No
Battery: 8670h
Mobile data connection possible: No
Introduction year: 2020
Wrist circumference: 13cm to 17.5cm
Moving = fun with the Garmin
It is not a full-fledged smartwatch but rather an activity tracker for children, completely made to allow your child to carry out their activities and tasks with enthusiasm.
Upon reaching the set objectives, new adventures of their favorite hero will be unlocked in the application.
First move for 60 minutes, then new play elements will become available from Spider Man, Minnie Mouse and Star Wars, among others.
Because this pedometer is really meant for kids, it is destined for any adventure! From a game of football in the schoolyard to a dip in the pool.
Each band's theme (like Marvel's you see below) includes associated games that the kids can play via the mobile app (**and you know they'll have to get their moves neatly first**).
The more often a child achieves a goal, the more they can use the games. That of course motivates!
If you choose one of the themes now, don't worry, if your child suddenly has a new hero, it's no problem! The straps are available separately, so you can easily switch themes.
Oh, and the straps are stretchable or adjustable with a buckle closure so that also matches the active look they want to achieve with them and your child can easily grow with them.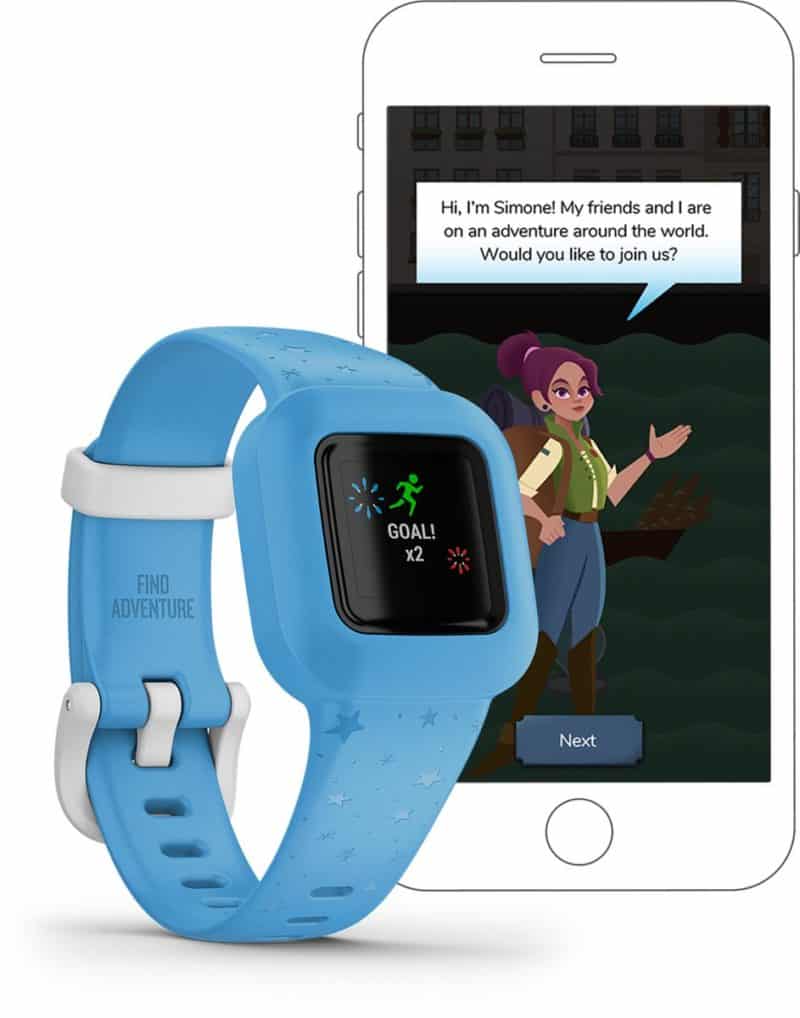 This also makes it easier for the watches to grow with their age stages, because you can choose Minnie Mouse first and Captain America a few years later.
The pedometer is much more than just that, because in addition to steps, it also tracks their sleep patterns and offers challenging games and badges (** ah, that gamification **).
This is one of those watches that can give your child more responsibility over their movement, and can also show that even doing household chores doesn't have to be boring.
You can award points for daily tasks and chores!
The idea is that these points can then be exchanged for treats, giving your kids an incentive to brush their teeth or play with their siblings.
As a parent you can read everything in the app. How much they move, but also at what time your child goes to sleep, whether he or she is awake a lot during the night and at what time they get up.
If you notice that your child is not getting much sleep and is not talking about it, it is important to start a conversation.
Perhaps something is bothering the child and does not dare to discuss this with you.
Also read: 10 best games to calm them down before going to sleep.
But something lighter, because they also come in a number of nice designs.
The Garmin Vivofit app: also useful for YOU
Fortunately, the mobile app also helps you a lot. You can monitor your child very precisely.
All those points of net, such as activities they have to do, setting responsibilities and chores you want to encourage…that you can manage and view them all.
Rewards can be given in the form of virtual coins or you can agree on something else, such as the amount of screen time you give them, plus you can also set family goals for them to achieve together (or just have fun competing).
Related: 9 ways to make setting & limiting screen time 10x easier.
If you download the Toe-to-Toe Connect IQ app, children can compete against each other and break personal records.
Oh, and if you already have other apps you can connect them too, such as MyFitnessPal and RunKeeper.
Time for homework!
It is not just there for entertainment and exercise. You can also set reminders and use the task timers.
This way your child can take the first steps to better organize and plan his own life, such as homework, tutoring and brushing their teeth!
The reminders can be repeated as often as needed, for example daily or weekly.
Thanks to this smartwatch, children will learn to live a structured and meaningful life which is extremely important for their general development and future!
Perhaps the only downside to this pedometer is that it lacks the heart rate monitor. A bit strange actually, because it contains many other health functions.
On the other hand, a heart rate monitor is killing a battery, so that's why it lasts so long without having to replace it.
If you want a more active child and at the same time give them more responsibility for their own lives and their tasks, the Garmin is perfect.
Judgment
Best for: boisterous kids, this is the most durable on the list and can take a beating
GPS: no, this one is not to follow your child
Waterproof: yes, up to 50 meters!
Battery life: the built-in battery lasts for a year (says the manufacturer, but if you use it properly it is about 7 months). Interim charging is not necessary.
Features
This smartwatch for kids is all about

active

game, if you want to get your kid moving this is the perfect watch.
Garmin Vivofit Jr 3 vs 2
It wasn't even that long ago that the Jr 2 came out and that model is still for sale. That's why we briefly discuss the most important improvements, to show you what you get for the extra money.
The main difference is the look, where version 3 looks more like a smartwatch for the first time.
The design also makes it feel sturdier, and you'll have a larger display to see important notifications and tracking activity, plus you get a bit more screen resolution (112x112 instead of 88x88).
Version 3 is a bit more expensive, a bit heavier, but you get a lot more functions in return because you can also track more at the same time.
Garmin Vivofit Jr 3 Alternatives
Best Waterproof Activity Tracker for Kids
Fitbit
Ace 3
Designed to track daily steps and make it fun by giving rewards and badges and as link family unit for rivalry and track their progress.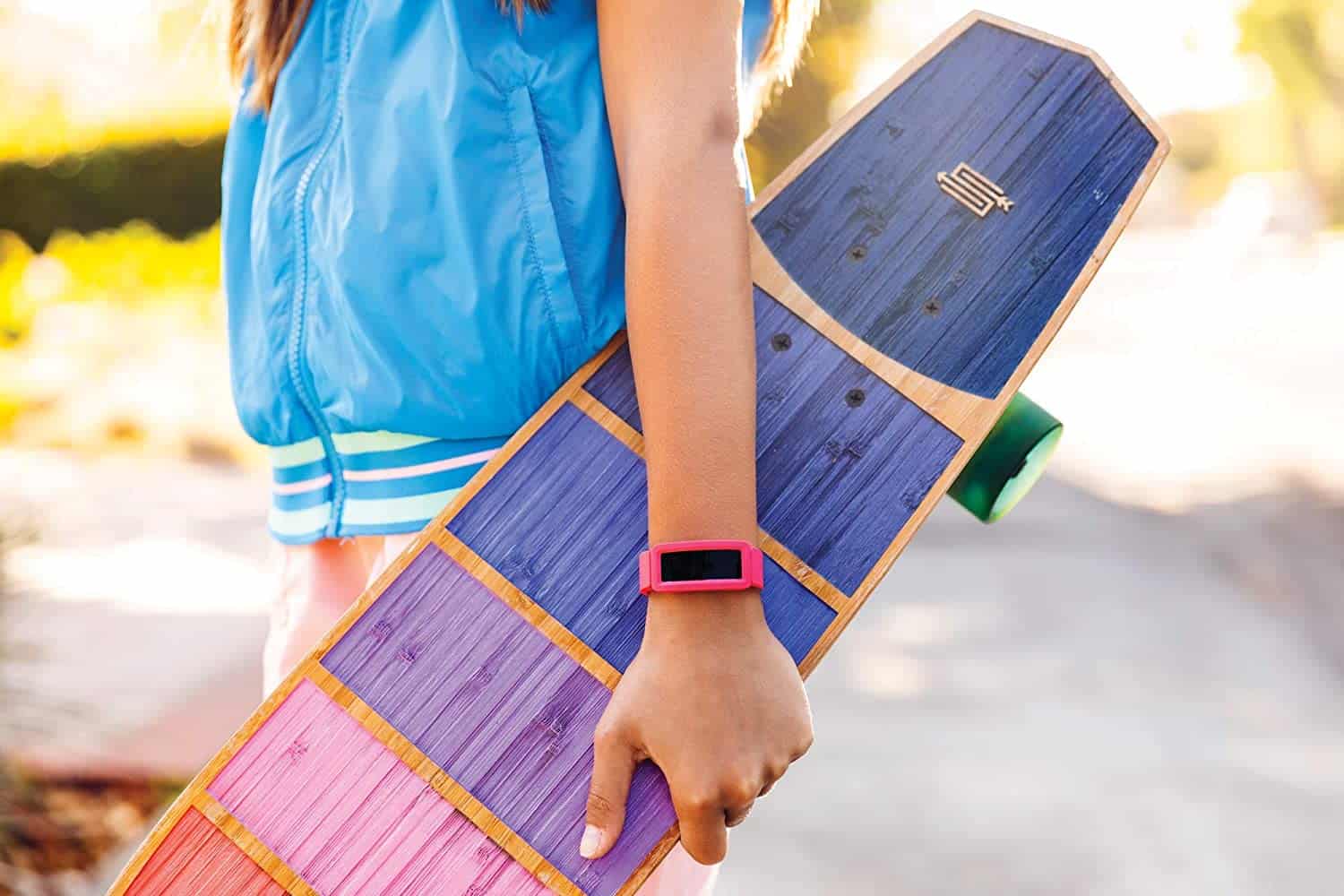 In essence, the Fitbit Ace 3 a Fitbit Alta with a simplified app that enables parental controls, so if you're already familiar with Fitbit yourself and want a pedometer for your kid, this is a logical choice.

However, it has no GPS and cannot make calls, just like the Garmin Vivofit.
Ace 3 automatically sets fitness goals for your child and you will get notifications when they reach their goal for the day, as long as the device is within range of your phone so it can sync the data.
It can only set goals for sports and not for everyday tasks, and is therefore aimed at an older child.
Conclusion
De Garmin Vivofit Jr 3 is a great watch for kids who want to be sporty, or parents who want their child to be sporty and want to reward them for it.
Also read: we tested 30 smartwatches for kids and these 7 are the best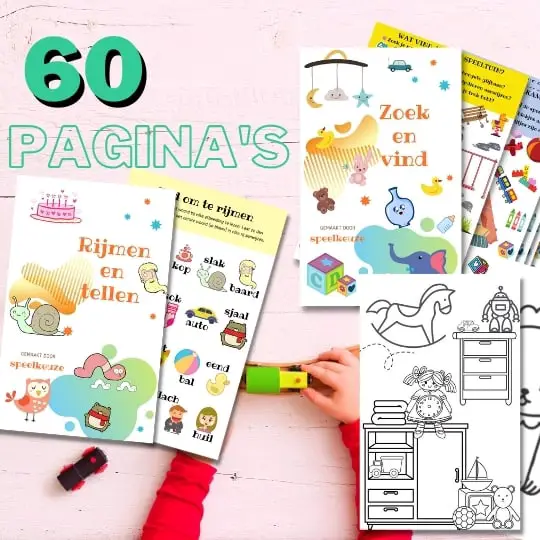 Always something to do for the holidays or rainy day?
Play Choice now has the ultimate activity book collection, with over 60 pages of fun coloring pages and educational puzzles.
Joost Nusselder, the founder of Speelkeuze.nl is a content marketer, father and loves trying out new toys. As a child he came into contact with everything related to games when his mother started the Tinnen Soldaat in Ede. Now he and his team create helpful blog articles to help loyal readers with fun play ideas.