Handcart or buggy: Which do you choose? [Pros and cons at a glance]
I enjoy writing these articles for my readers, you guys. I don't accept payment for writing reviews, my opinion on products is my own, but if you find my recommendations helpful and you end up buying something through one of the links I may be able to receive a commission on that.
More information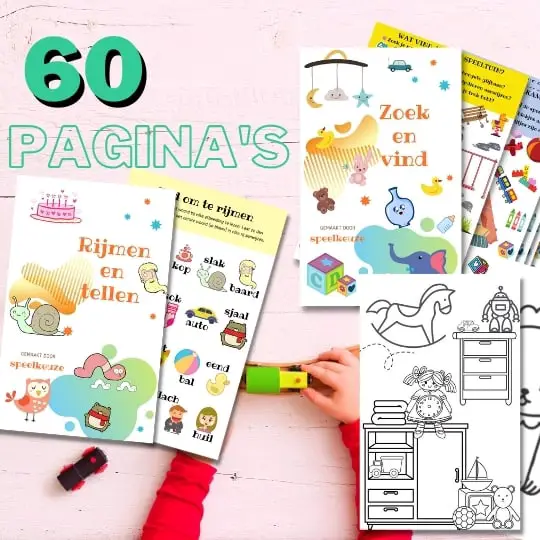 Always something to do for the holidays or rainy day?
Play Choice now has the ultimate activity book collection, with over 60 pages of fun coloring pages and educational puzzles.
Are you looking for a new mode of transport for your kids? Then you have several choices. For example, think of a wagon, or a buggy.
If you go out with your kids for a day, you naturally want to do it as pleasantly as possible.
That also means you don't have to lift your child when it gets tired or constantly run after the kids when they get rebellious.
That is why a means of transport such as a handcart or buggy is indispensable in a household with children.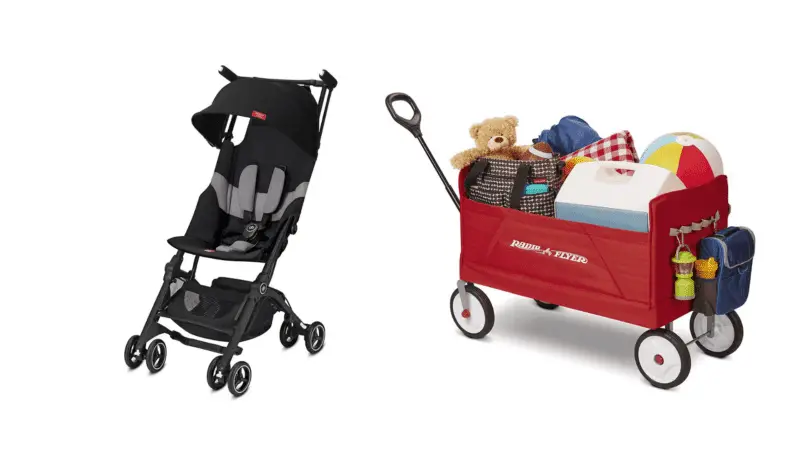 The handcart is best if you want to be able to transport children and heavy items, while it is better to take a buggy if you have no more than one child and/or you are looking for a means of transport for your child for short trips.
In this article I will discuss both options in detail and list the advantages and disadvantages of both the handcart and the buggy.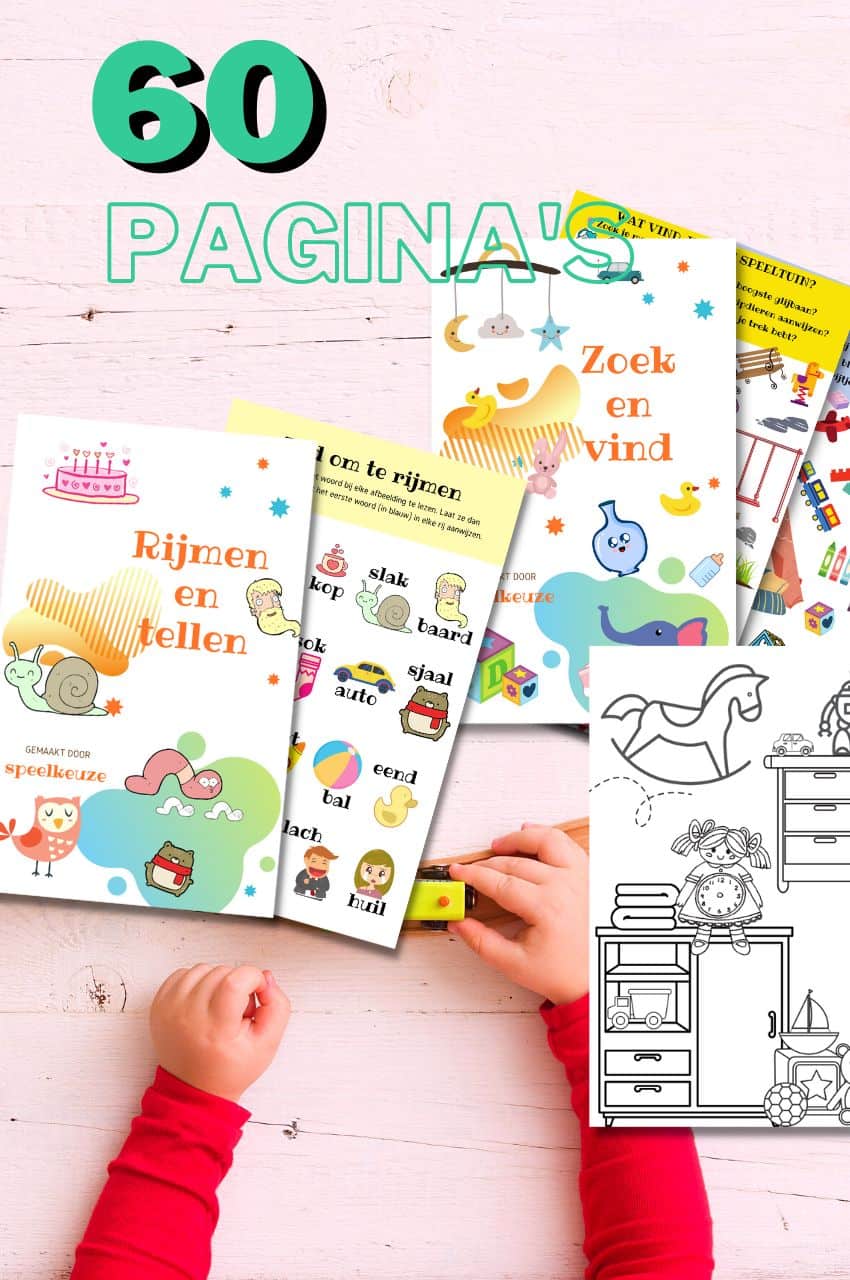 A play theme in your mailbox every month?
Fun play tips, activity books and more, with the first email being our free mini-guide "educational toys"
We will only use your email address for this newsletter and respect your privacy
The handcart: advantages and disadvantages
The handcart is really years old. I remember well when I was a kid, he already existed and was popular.
My mom certainly enjoyed using it!
Handcarts may have been 'out of fashion' for a while, but rest assured; they are making a comeback!
I the best modern handcarts listed here for you.
I'm not surprised by the fact that the handcart is back again; they are just ideal for transporting everything.
Your children, for example, but also your groceries.
Where we used to only have heavy wooden carts, the handcart has undergone a transformation over the years.
Nowadays you even have electric carts!
Advantages of the handcart
Why would you want to take a handcart at all? Below are a number of benefits.
You relieve your body
Perfect for transporting too heavy items
Perfect for days out
Handy if you have more children
One of the great advantages of a handcart is that it can relieve your muscles and joints. If you often lift heavy, it can cause long-term complaints.
The handcart is therefore ideal for transporting heavy items or luggage.
A handcart is very useful for a day out. You can not only store your kids in it, but also cool boxes, jackets, your bag and other things.
In amusement parks you see many families walking around with large or smaller carts. They are very easy to use and fit a lot in them.
Disadvantages of the handcart
On busy days at the amusement park, taking a cart can sometimes be a bit annoying because they take up a little extra space.
On busy days at the amusement park, a handcart is not always useful
You can't lock your child
Can be a bit uncomfortable at times
A handcart was originally designed for transporting goods. A handcart is therefore (generally) not equipped with seat belts.
This can be problematic with young children, as they may suddenly stand or lean too much on the ledge which could cause the stroller to tip over.
It is therefore important to teach your children to sit.
Also take into account the carrying weight of the pushchair, especially if you are going to transport more than one child in the pushchair.
A hood can sometimes be useful; it is a roof that protects the contents of the handcart against rain and UV radiation.
Also useful if your little one wants to take a nap and you want to rest on a terrace. A handcart is also often somewhat hard, so you may want to put some cushions in it.
Don't feel like pulling the handcart? Then the electric cargo bike may be ideal for you!
What do you pay attention to when purchasing a handcart?
You see, a handcart has a lot of advantages and is handy to have at home if you have children!
If you want to buy the best handcart for you, there are a number of things you should take into account.
You can get hand carts on the market now in various shapes and sizes. The price can also vary quite a bit.
If you take the time in advance to think about what your ideal handcart should meet, making the right choice suddenly becomes much easier.
What are you going to use a handcart for?
Does the handcart have to be collapsible?
Wishes for the handle?
The tires
In the next section, I'll go into more detail about each of these things.
What am I going to use a handcart for?
Are you planning to use it on vacation, for example during a beach day?
Then I assume that the wagon should have space for things like towels, toys, a cool box perhaps, but also an umbrella and beach chairs.
Or do you mainly want to use the handcart to transport your children or perhaps your daily shopping?
In these cases, so for taking with you on holiday, for shopping, or for transporting children, a metal or wooden handcart is the best choice.
This is because these materials have a relatively high load-bearing capacity, so you don't have to worry about the handcarts sagging.
Also read: This is the best beach toy (durable and original)
Does the handcart have to be collapsible?
Especially if you are considering taking the handcart with you on holiday, it is just so handy that you can fold it and transport it easily.
The collapsible versions generally have a metal or plastic construction and a fabric tray.
You guessed it: these types of carts therefore have less carrying capacity.
The carrying weight of a handcart can be 70 kg, but also 120 kg. So definitely something to keep in mind.
A collapsible or collapsible handcart is useful for on holiday and if you plan to take the car with you often. The disadvantage is that such a cart can bear less weight.
Go for a non-foldable handcart if you plan to transport heavy groceries or your children. It does take up a bit more space, but is more robust.
Wishes for the handle?
Also don't forget to look at the handle of the carts you have in mind. You can pull or push a handcart.
The handle must therefore not only be robust, but also feel comfortable.
The best choice is a handle made of plastic.
You want to prevent your hands from hurting when using the cart. So look for one with a handle that fits comfortably in your hand.
If you are going out with the family for a day, you will probably go for a walk. Comfort is therefore a must.
What kind of tires?
Also not unimportant: what kind of tires does your ideal handcart have?
Nowadays you can find carts with pneumatic tires, but also with solid tires.
Pneumatic tires are resilient and make the cart suitable for all kinds of surfaces.
Pneumatic tires are best if you take a cart that can carry more than 100 kg.
Solid tires are sturdy and hard inside and out. They are just less resilient than pneumatic tires.
The buggy: advantages and disadvantages
A buggy is a small version of the pushchair that is often foldable. It is also lightweight.
Buggies are cheaper compared to pushchairs, but the seat is simpler.
You can only use a buggy if your child can already sit up properly.
That is why buggies are recommended mainly for children from the age of 12 months.
But if you take a buggy that can be put in different positions, so that your child can also stretch out, you may be able to start using the buggy sooner.
Benefits of a buggy
A buggy has several advantages. Below you can read which ones they are.
Compact folding
Light weight
Take up little space
Can on the plane
Or by bike
Buggies can generally be used until your son or daughter is about 4 years old.
It takes up little space in the car and transporting a buggy in the plane should not be a problem, because it happens a lot.
Some buggies can be completely folded, so you can even transport them in the luggage compartment of the plane.
That saves a lot of lugging with a child in one arm and your bags on the other arm!
Many buggies are even made in such a way that you can take them with you on a bicycle.
Sometimes you have to purchase a special buggy carrier, to which you then hang the buggy.
If your buggy is collapsible, you could also transport it in the bicycle crate.
If you are in doubt between taking a buggy or stroller on holiday, a buggy may be more convenient.
A buggy is easier to carry and faster to fold.
In addition, a buggy is generally sturdier (and cheaper!) than a pram.
Read here everything you need to know about going on holiday with your baby well prepared
Disadvantages of a buggy
In addition to the advantages, a buggy also has a number of disadvantages.
A buggy does not always offer enough support
Not intended for long rides
Sometimes difficult to maneuver
Not so stable
A buggy offers little support, especially compared to a pushchair, which can put a strain on your baby's body.
Since the seat of a buggy is close to the ground, there is not much suspension. This makes a buggy not so suitable for long journeys.
Due to the small wheels, a buggy is also more difficult to change direction and therefore not so suitable for irregular surfaces.
Finally, a buggy is not that stable.
What do you look for when buying a buggy?
Is a buggy the best option for you?
Just like with the handcart, there are a number of things you should take into account when buying a buggy.
Below you can read what you should pay attention to.
Three or four wheels?
With or without different sitting and lying positions?
Weight and compactness
Wheels
Accessories such as sun visor and travel basket
Below I will discuss each of these features so that you better understand how to choose your ideal buggy.
Buggy with three or four wheels
Most buggies have four wheels, but you also see them with only three wheels.
A three-wheel buggy seems to be more stable on uneven ground.
A three-wheeled buggy therefore seems more suitable if you like to take the buggy with you on forest walks or on other irregular terrains.
Different sitting and lying positions?
A buggy that you can put in different lying and sitting positions is great if you want to give your child the opportunity to also take a nap in the buggy.
When it's time for a power nap, you can easily adjust the backrest backwards.
This makes a buggy a lot more comfortable for your little one.
Weight and compactness?
You probably like to know how much the buggy weighs and how much you can fold it.
Most people find it important that the buggy does not take up too much space when storing and transporting.
Do you already know the umbrella buggy? You can easily take these with you anywhere, because they are made to fold and unfold quickly.
What kind of wheels?
Most buggies have castor wheels at the front and fixed wheels at the back.
Swivel wheels are important if you have to maneuver a lot with the buggy. In addition, you can choose from pneumatic tires or foam tires.
Ideally, you should use pneumatic tires on uneven surfaces, such as the beach or the woods.
What makes foam tires so attractive, however, is that they cannot puncture.
What matters is that your child is comfortable and that you walk comfortably behind the buggy.
Accessories
It may also be useful to take into account the accessories that come with the buggy.
Think of a rain cover, parasol cover and a luggage basket under the buggy.
A lens hood is actually a must to protect your little one from harmful UV radiation. I think a luggage basket is very important.
Handcart or buggy? The judgement
A handcart and buggy are both convenient means of transport. But would you rather go for a handcart or buggy?
Go for a handcart if you:
would like to be able to transport heavy items and also want to take your children with you.
Take a buggy if:
you do not have more than one child, otherwise you will have to purchase more buggies.
you are looking for a means of transport for your child for short trips.
Depending on the situation, on the one hand a buggy or on the other hand a handcart is a better choice.
Children can walk quite a distance, but if they get tired you want to give them the opportunity to have a nice nap.
Whether you choose a buggy or a handcart, always take the time to look at some of them, and choose one of good quality.
And of course, a household with children might as well go for both.
Then you have the flexibility and you can bring out the right vehicle depending on the situation.
Who says you have to choose!
On to the next dilemma: Nintendo Switch or children's tablet? 3 tips to help choose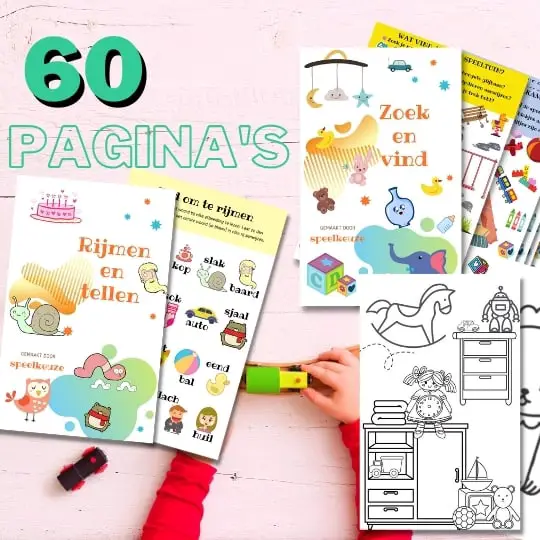 Always something to do for the holidays or rainy day?
Play Choice now has the ultimate activity book collection, with over 60 pages of fun coloring pages and educational puzzles.
Joost Nusselder, the founder of Speelkeuze.nl is a content marketer, father and loves trying out new toys. As a child he came into contact with everything related to games when his mother started the Tinnen Soldaat in Ede. Now he and his team create helpful blog articles to help loyal readers with fun play ideas.