Wooden toys: Why it's so good for your child
I enjoy writing these articles for my readers, you guys. I don't accept payment for writing reviews, my opinion on products is my own, but if you find my recommendations helpful and you end up buying something through one of the links I may be able to receive a commission on that.
Further information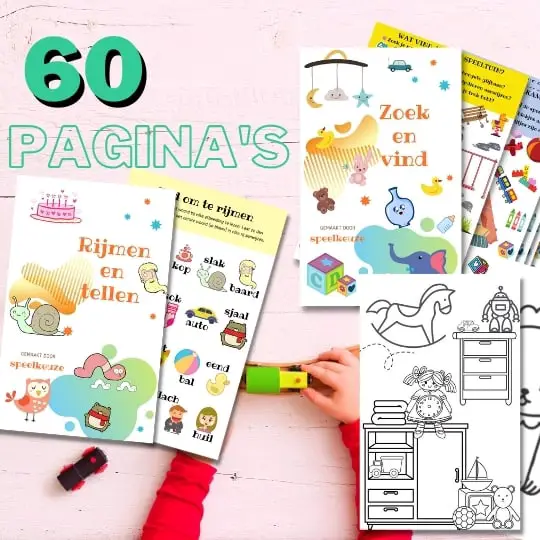 Always something to do for the holidays or rainy day?
Play Choice now has the ultimate activity book collection, with over 60 pages of fun coloring pages and educational puzzles.
Wood is a great material for making toys because it is durable and safe. There are many different types of wood, so it is important to choose the right one for your child.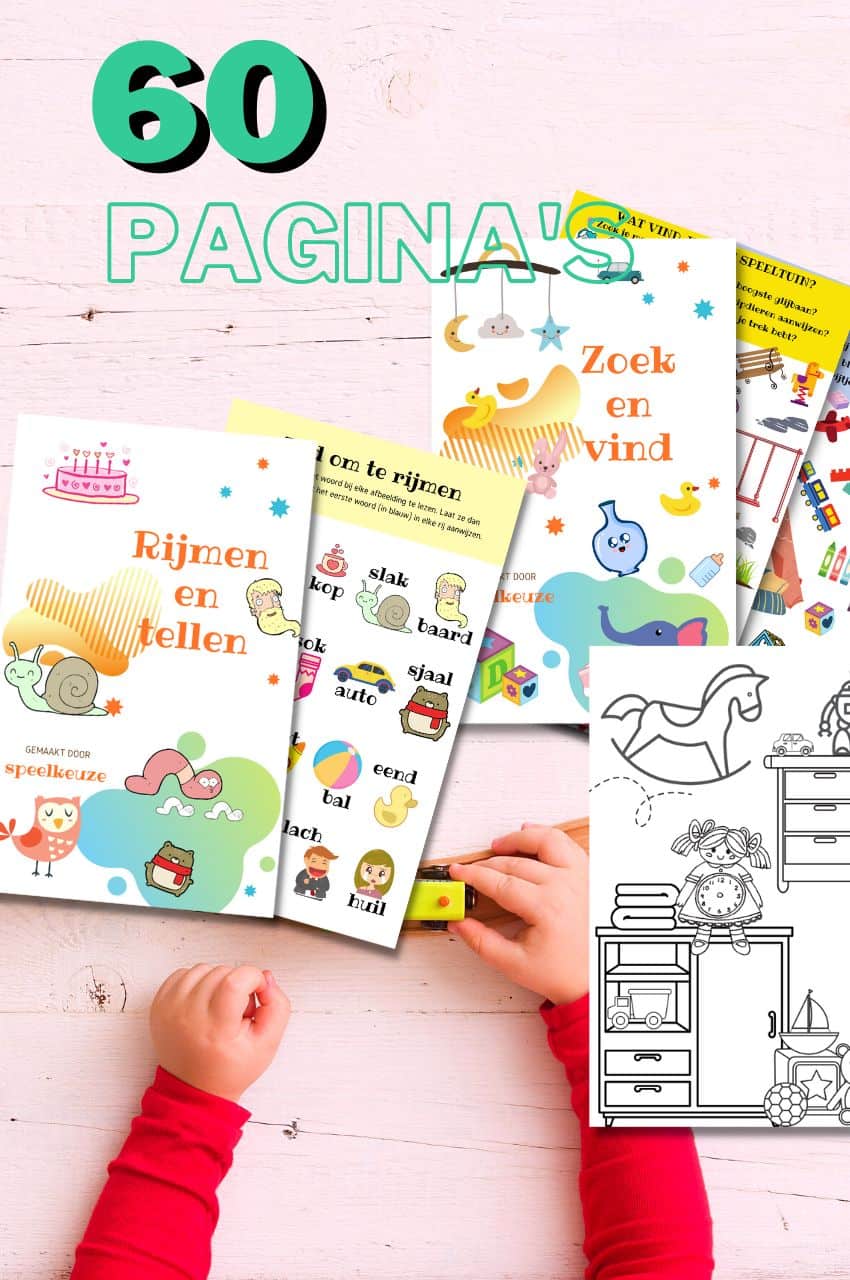 A play theme in your mailbox every month?
Fun play tips, activity books and more, with the first email being our free mini-guide "educational toys"
We will only use your email address for this newsletter and respect your privacy
What is the best wood for making toys?
There are many different types of wood, but the best woods for toy making are hardwoods.
Hardwood is strong and durable, so it lasts longer. They are also less likely to splinter or break, which is important for safety.
Hardwood generally refers to the wood of deciduous trees (deciduous wood), as opposed to that of conifers (coniferous wood).
The term hardwood comes from the English term 'hardwood', which means hardwood. In addition, the conifer wood is called 'softwood'.
This name can be confusing, because it does not always say something about the hardness of the wood.
In general, deciduous trees grow more slowly and therefore give harder wood than conifers; however, this is not always the case.
The wood of deciduous trees can sometimes be softer than coniferous wood. Balsa wood, for example, is a hardwood species, but it is one of the softest and lightest woods, and also not very durable.
In contrast, yew is an example of hard, durable coniferous wood.
The term hardwood therefore does not automatically say anything about the hardness or durability of the wood, but in practice the term is used for the harder and more durable types of wood.
That is why people will not soon see balsa wood for sale as hardwood. Although incorrect and somewhat confusing, many understand hardwood to mean wood with above-average hardness and durability, which in practice is often tropical hardwood.
Some good hardwoods for making toys include:
Berk
Beech
Oak
Maple
Cherries
What is the best softwood for making toys?
Softwood is not as strong or durable as hardwood, but can still be used to make toys. Softwoods are usually cheaper than hardwoods, so a good choice if you're on a budget.
Some good softwoods for toy making are:
What is the best wood for making outdoor toys?
Outdoor toys should be made of durable wood that can withstand the elements. Some good woods for outdoor toys are:
Redwood
Teak
Eucalyptus
Elm
What is the best wood for making puzzle toys?
Puzzle toys should be made of sturdy wood that is not too hard or soft. The wood should also be smooth so that the pieces fit together easily.
Some good woods for puzzle toys are:
Berk
Beech
Maple
Cherry
Ferry
Why wooden toys?
Wooden toys never go out of style
There is seldom any major commercial hype surrounding the latest wooden toys, but they have been used well in many open ended play for generations and still last.
Unlike plastic digital fads that are buried in new technology every year, wooden toys are as healthy as they are timeless.
There are many reasons why wooden toys are better not only for your child, but also for the environment.
They are more durable (generate less waste than their plastic counterparts), are biodegradable and can even be made from sustainable wood.
Environmentally friendly, good quality wooden toys also do not contain PVC, phthalates or similar chemicals used in many plastics.
However, keep in mind cheap, low-quality wood. Some are made of plywood that is full of toxic glues and formaldehyde leaching, as we noted above.
Lack of quality control on these cheaper materials means there is a high probability that paint contaminated with lead has also been used.
More and more people are choosing wooden toys for their children, such as that of Jouéco, and that is of course a very positive development.
Perhaps the only downside to wooden and fancy toys is that they are a bit more expensive than a plastic toy.
But there are a lot of advantages to it, and I will mention a few below.
Those vintage wooden blocks and toy wooden train from the eighties are actually just as fun in our time, don't you think!?
You probably used to play with these kinds of toys, and now your son or daughter can enjoy them too.
Wooden toys are timeless and will always be appreciated. It can be passed down from generation to generation. How beautiful is that?
There's nothing more fun than grabbing a toy and pretending to cook in your play kitchen, where your little chef will prepare the most delicious dishes.
Or push your doll (or wooden blocks!) forward in a sturdy and timeless wooden doll carriage.
By the way, wooden blocks are something that teaches young children how to balance things and it greatly improves their fine motor skills while having hours of fun.
And once they are ready, they can learn music on a wooden guitar, woodblock or piano.
Wooden toys are biodegradable
Wooden toys are, for the most part, biodegradable.
Of course, screws or other materials are always needed to finish the toy, but the idea is that the products are ultimately mainly made of wood.
Wooden toys also have fewer disadvantages than plastic toys when it comes to health.
It will last a long time
Wooden toys are generally extremely durable. Wooden toys can also break, but compared to plastic toys the difference in durability is very large.
Wood can withstand a lot better and wooden toys hardly wear out. This prevents destruction and disappointment.
Wooden toys will last for generations and can therefore be enjoyed for a very long time!
Wooden toys give way to more imagination
Most wooden toys are often a bit simpler than 'normal' or plastic toys. By 'simpler' I mean: no (unnecessary) frills.
This ensures that your child has more room to let his or her imagination run wild and to be creative while playing, also called anthroposophical toys.
Safe
Wooden toys also do not contain any toxic substances because they are made from natural materials.
Low costs, high quality
With solid wood toys, you can opt for eco-friendly, even if you're on a tight budget.
There are plenty of high quality wooden toys on the market that won't leave a hole in your wallet, and are actually more educational than you might think.
In 2015, the annual TIMPANI toy study that a simple wooden cash register scored well in the creativity category and was equally loved by boys and girls of every socio-economic background.
Wood is more educational than most plastic toys
When young children play with toys, they are not only entertaining themselves, they are also learning seriously.
Research shows that unstructured playtime, for example simple open-ended wooden toys, is both valuable and loved in the classrooms.
Kids' imaginations soar when they play with things that are not obvious, for just a single use (pushing a button and something happens).
Imagine a toddler playing with wooden blocks: they can be stacked in different shapes like a house, building, zoo or anything else he or she can come up with.
Flashy can tire the brain
Often times, the most popular toy, or the one that most attracts the attention of children, is not a good addition to the toy box.
These types of toys are the flashy, plastic items packed with an electronic element that offers little creative play and can even hinder development despite a manufacturer's claims.
Ultimately, basic is better.
A toy doesn't need all the bells and whistles.
In addition, overstimulation can lead to a negative neural impact, making it more difficult for the brain to think critically.
Conclusion
Good toys made from quality hardwood can last for years if made with love and in the right way.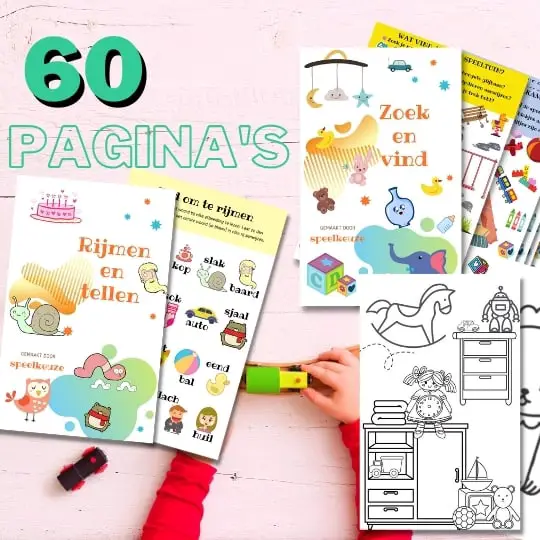 Always something to do for the holidays or rainy day?
Play Choice now has the ultimate activity book collection, with over 60 pages of fun coloring pages and educational puzzles.
Joost Nusselder, the founder of Speelkeuze.nl is a content marketer, father and loves trying out new toys. As a child he came into contact with everything related to games when his mother started the Tinnen Soldaat in Ede. Now he and his team create helpful blog articles to help loyal readers with fun play ideas.