I enjoy writing these articles for my readers, you guys. I don't accept payment for writing reviews, my opinion on products is my own, but if you find my recommendations helpful and you end up buying something through one of the links I may be able to receive a commission on that.
More information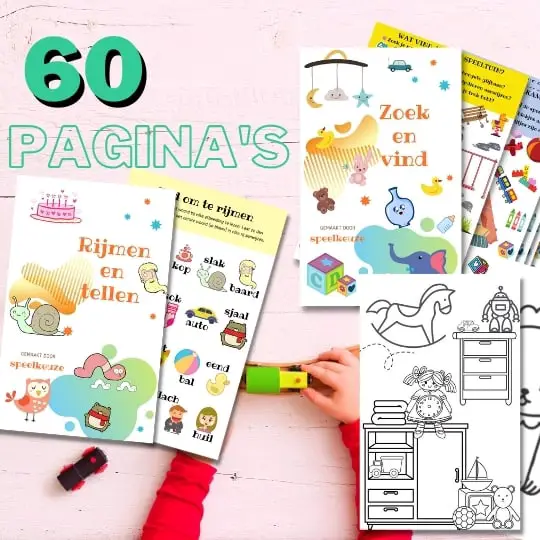 Always something to do for the holidays or rainy day?
Play Choice now has the ultimate activity book collection, with over 60 pages of fun coloring pages and educational puzzles.
There are plenty of reasons to invest in a good pair of headphones for your child, and depending on their age and what they want to use them for, there are some MISBUITS, and some good buys.
But which one should you choose? And are headphones always safe? I hear SO MUCH about hearing damage ...
In this article, I'll take a look at the best and safest headphones for kids (** yes honey, mom and dad also check out the COOLEST for you **).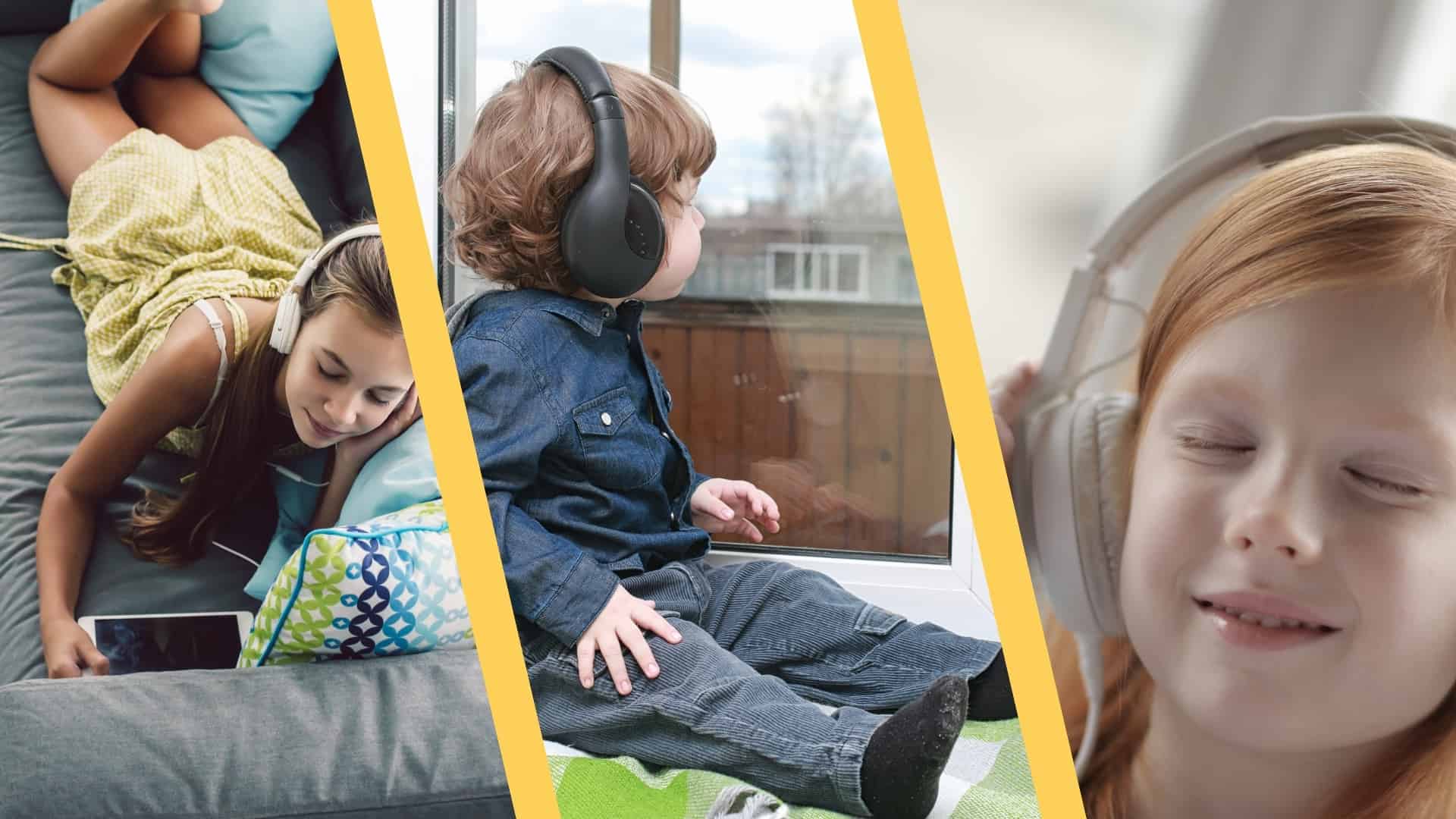 I have 4 great options on this list so well worth checking out, but if I were to recommend just one it would be this JBL JR310BT which comes in fun colors and can take a lot, plus suitable for most ages so it can grow for a while.
After reading a bit more about noise levels and hearing damage, I started looking for headphones that were especially safe, then I looked at which ones are fun for children and easy to use.
The JBL has the best volume limiting I've seen so at least you don't have to worry about that, and kids like it too.
Nice design, not too many frills that can break and can have a lot of falling and getting caught on things.
And it is not that expensive at all. Not the cheapest, but I have therefore also reviewed some budget options below.
Safe volume and durability are very important and it can be a jungle to find both.
That's why I tested 30 and only recommend 4 pairs.
I have listed the top 4 choices in this handy visual choice guide so that you can easily explore the differences and choose the perfect headphones for your child's age.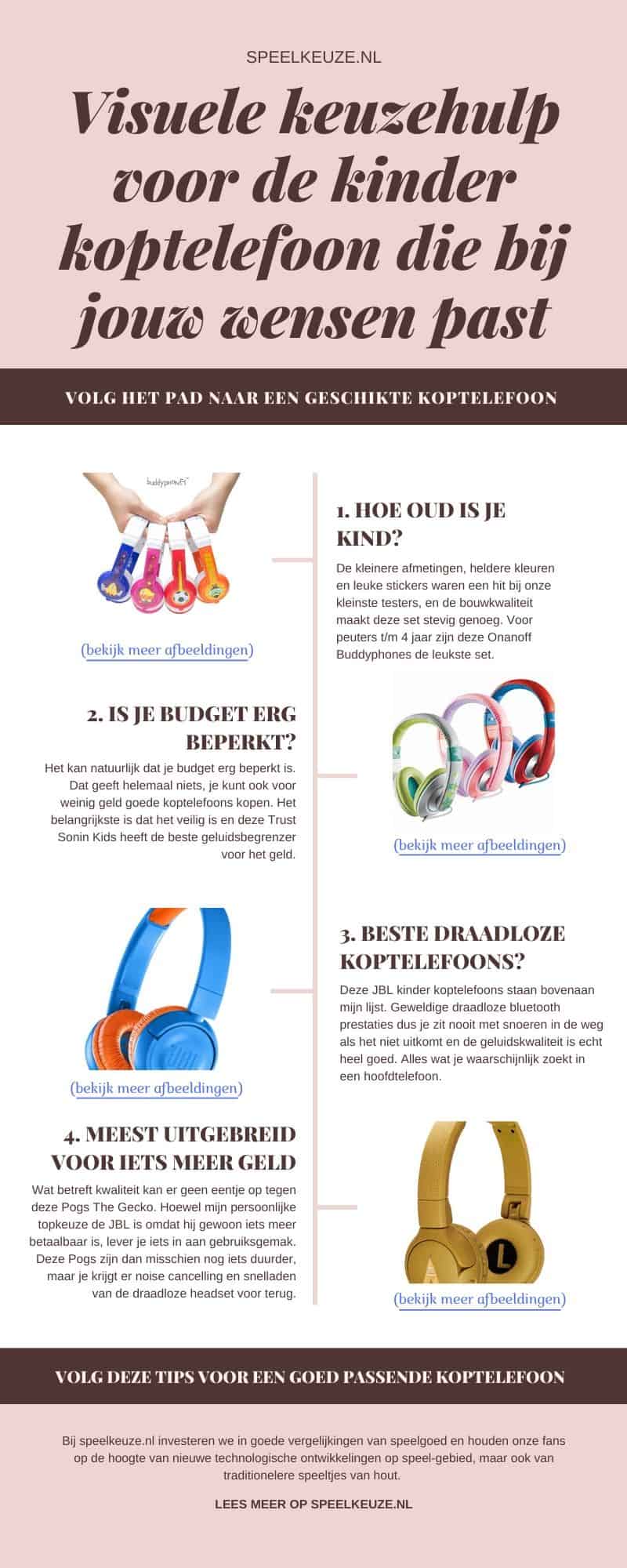 What do you pay attention to when buying headphones for your child?
Not every family is the same, but in general there are a number of reasons for buying a pair of headphones for children:
For nice at home (or on vacation) to not be disturbed yourself, for example if you leave them on the iPad
For school for children with concentration problems
For the Chromebook to be able to do homework or take video lessons at home
When your child gets older and likes to listen to music or want to play games with it
Most of these differences are also related to the age of your child, so I will also take a closer look at what age these recommendations are suitable for.
But for each of the choices, the overriding factor has been ... that they can safely limit the volume.
And that is surprisingly rare in headphones aimed at children.
Why volume limitation and a safe volume level?

According to the World Health Organization 85 decibels is a "safe" volume level for your child.

Many headphones aimed at children say they fall short of this, but did you know that ONLY TWO OUT OF THREE of the headphones I tested fell below that level? And that's just the ones who made these claims.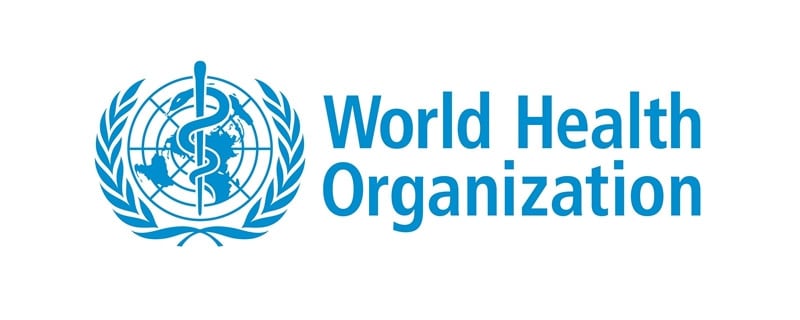 This is because with 85 decibels they look at the sound of the audio, so the music or the movie, while the noise below ensures that higher volumes were possible, sometimes much higher.
This is really a point of attention if you want to put your children SAFE with their favorite music or video.
After more testing, it turned out that almost half of these unsafe headphones could even just set the sound above 85 dB when measured with real music.
Plus, many of the headphones we tested had design flaws that made it easy for a child to bypass their volume reduction features (and apparently, they could figure this out too).
You can read in detail about all our testing methods at the bottom of this article.
There are a few headphone models that I can confidently recommend for children after the tests.
Best headphones for kids reviewed
These are the 4 that passed the tests well.
Best Toddler Headphones for Videos and iPad: Onanoff BuddyPhones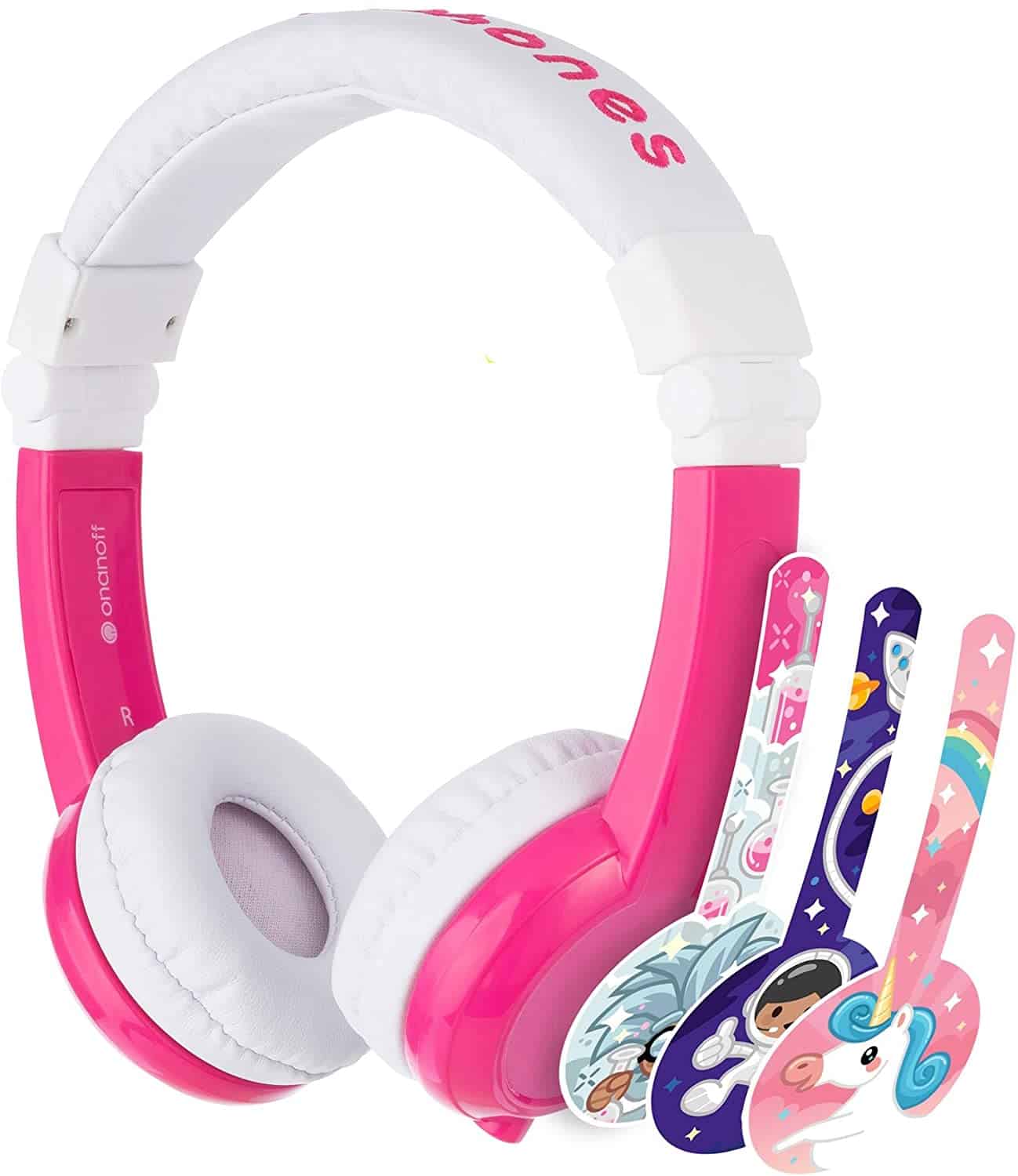 Affordable, no built-in volume control (but limitation!), But detachable wire for extra safety and suitable for younger children.
That's what best describes the Buddyphones.
They are completely made for the younger, rambunctious children because the thread comes loose when you pull it (or hook it behind something while you run away with the thing still on their heads!).
The ADVANTAGE of wireless with the convenience of a wire, the headphones that do not get tangled without having to recharge the battery every time.
Oh, and why is it called BUDDYPHONES?
This is a TRUE and great for families with siblings ...
... you can easily share a device with multiple headphones that can be connected together thanks to the great click system of the wire: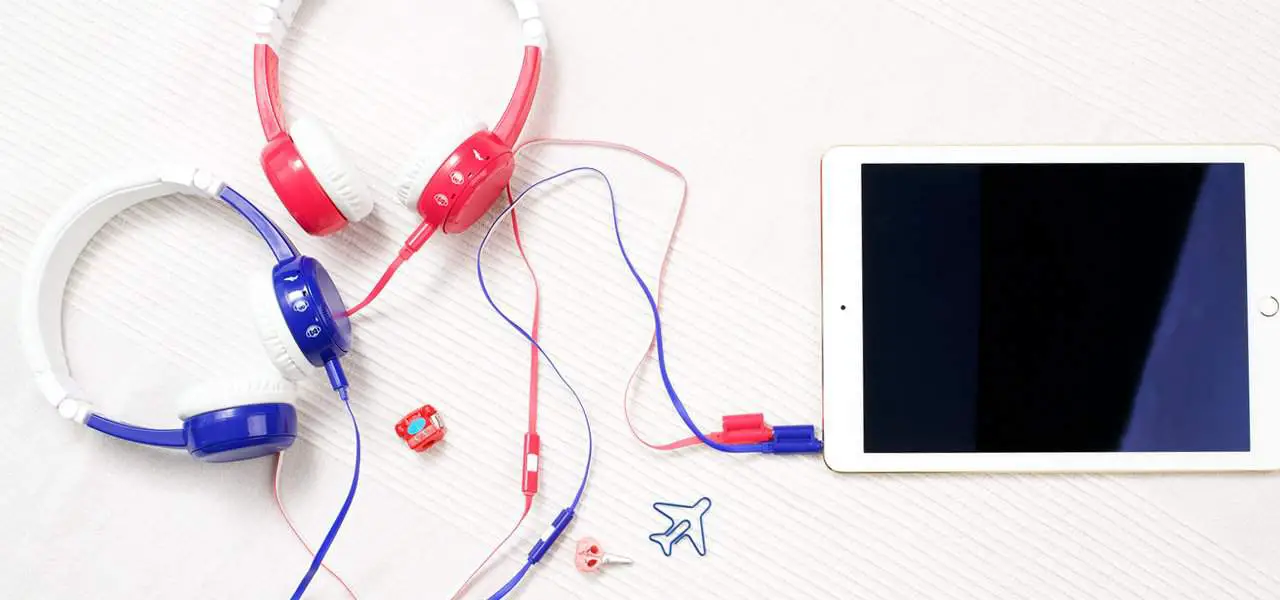 Really, really, really a great invention to keep everyone happy.
Your children can each use their own Buddyphones on their own device because they probably have different interests.
But if they want to watch something together, then you don't have to turn on the volume of the iPad again, so that you are still stuck with their children's tunes.
The smaller size, bright colors, and fun stickers were a hit with our smallest testers, and the build quality makes this set sturdy enough.
For toddlers up to 4 years old, these Onanoff Buddyphones are the nicest set, also fun for toddlers and the youngest school-going children.
This way your kids in a few different age groups can share them.
If you need a cord but still want to give your toddler a safer pair of headphones, the Onanoff BuddyPhones are a great budget option.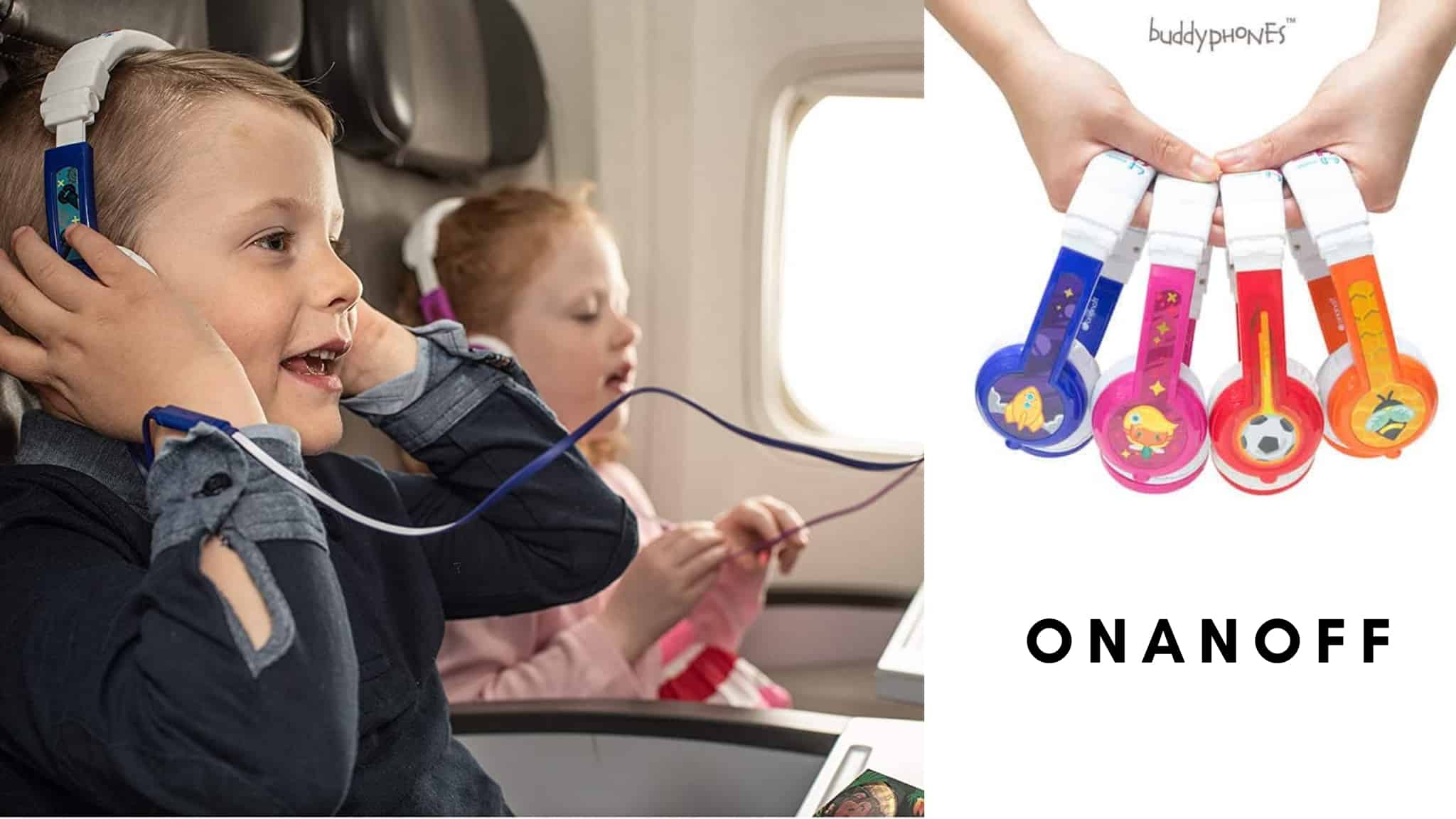 Detachable cord
The cord is detachable, reducing the risk of a toddler snagging (or getting caught behind something else).
The headphones can be folded and come with a carrying case for extra portability, and the included fun decals let kids personalize their headphones, making them fun for families with several children.
The flat, detachable 80 cm cable. is safe and minimizes the risk of suffocation.
Besides that, your child can share one device with up to four friends with the Buddy Cable.
If you purchase the BuddyPhones inflight version, you will receive a nice travel bag and an inflight adapter, this version is slightly more expensive.
Sound quality a bit less
In our tests, however, the sound quality was nowhere near as good as that of the top pick (the JBL) or even the cheaper Trust Sonin, and the small size means that older kids' BuddyPhones are best suited for toddlers of all on the list. , but less so for older children.
First, the sound quality in our tests was nowhere near as good as that of the JBL. Although not bad, the BuddyPhones sounded a bit dull in comparison (although the youngest child tester doesn't judge sound quality).
This isn't to say it's ugly, but you can actually hear where the extra bucks have gone in the JBL model's sound design.
In addition, the volume reduction of wired headphones (passive volume limiting) like this one isn't that predictable: if you're using a device with a powerful amplifier, they can play louder than advertised and that's something to be aware of.
I would therefore not connect this to your hi-fi set at home, nothing with a large amplifier, and keep it iPads, phones, Chromebooks, and other laptops.
Second, the Onanoff set is far too small for most kids over the age of 6. The bigger kids immediately dismissed this pair as being too tight on their heads.
The BuddyPhone Explore is not a design that grows with your child.
Another reason they are particularly suitable for smaller children.
The BuddyPhones have a built-in microphone. Kids can talk to their friends with the answer button and use learning apps.
The built-in microphone is ideal to use when calling your grandmother and grandfather, or perhaps your classmates. The microphone is also suitable for use during interactive games.
Best choice for toddlers
It is my top choice for small children aged 2 to 4 years. Smaller kids will love the Onanoff pair's fun colors and light, comfortable fit.
The cable is detachable, so if your child hits it while tearing through the house, it will come loose instead of breaking or flying off its head.
Although made of plastic, the BuddyPhones are quite durable: we put these headphones through a number of pairing and step tests, and they survived.
Plus, the folding version collapses small enough that it can be easily packed into a day bag or a toddler's backpack.
And of course, the Buddy Phones Explore fell within safer volume limits according to our tests (82,1 dBA pink noise / 88,6 dBA music Leq).
Overall, if you just want a wired pair for your child, or if you want to go a little more budget-friendly and don't mind the headphones only last a year or two before your child grows out, the Onanoff Buddy Phones Explore a great choice.
Plus the new edition BuddyPhones has been significantly improved, compared to its previous brother.
Fortunately, there is now a volume limitation of a maximum of 85 decibels, and that is what we missed earlier, so that they have now conquered a place in my list of child-safe headphones.
The best part is perhaps that it is so affordable. Do your little one - and yourself - a favor and give it as a present. You will not regret it.
Check prices and availability here
Best cheap toddler headphones with sound limiter: Trust Sonin Kids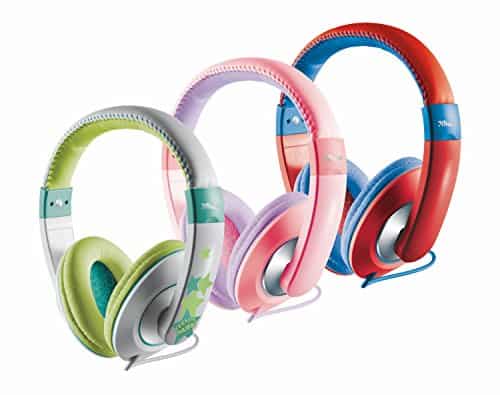 Affordable, built-in volume control and in-wire volume limiter for instant control over safe listening levels for your kids.
That's the Trust Sonin.
They are the cheapest headphones that still offer SAFE volume levels, so PERFECT for parents on a budget, with children between the ages of 4 and about 8.
It is somewhat less portable than, for example, the JBL,
plus I think the design is more aimed at slightly younger children in particular,
plus it's also wired (another reason for the HUGE affordable price!).
That makes him for me less suitable for school children to take to school, but more of a good budget option for toddlers and for older children for home use.
Here you can see how they fall on the ears of an older child (** hey! Why does that sister have to watch this stock photo from Trust without headphones?!? SO SILLY! **):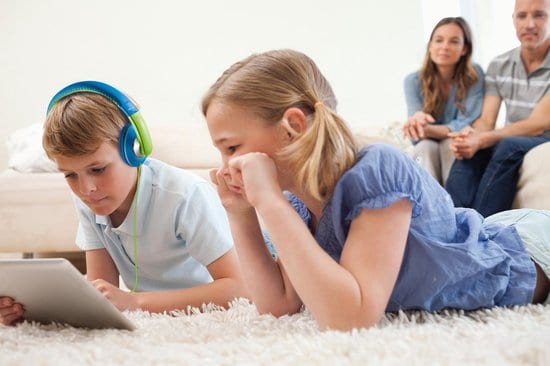 Affordable quality
Safe products for your kids seem to be at a high price point, and it's certainly a challenge to find headphones that are safe and affordable for your kids.
Trust, with an INCREDIBLE credibility as a brand that has been making headphones for thirty years, understands this and created the Sonin Kids Safe Headphones.
One of the most striking features of the Trust Sonin Kids Safe Headphones are the following advantages over other brands:
Integrated volume limiter and in-line volume control (in the wire!)
Adorable color scheme and design (which will especially appeal to preschoolers and younger school children)
Adjustable in size for a secure and convenient fit to older children
Low price
High safety standards and company credibility
The BEST volume limiter in this price category
Extensive volume limitation
The ability to limit the volume coming out of your child's headphones is the most prominent and important feature for many people, because fun is fun but it must be done safely.
It's easy to see why, as audio playing too loud can cause temporary and long-term hearing damage.
An excellent aspect of the Sonin Kids Safe Headphones is that this functionality is designed to work automatically, limiting the decibel output to a level guaranteed by the European safety standard EN71 to be completely safe for children.
This is what you want for your child because different audio sources such as
Tablets,
iPhones,
Chromebooks
and other devices
each have their own volume setting, and then switching can suddenly be much too loud for the safety of your child.
You never have to worry about this as the Sonin Kids Safe Headphones are compatible with all of these devices and the volume limiter is built into the hardware and provides reliable protection.
The long cord is handy, and it has in-line volume controls so you can easily change the volume just by adjusting the dial.
More importantly, Trust has come a long way in designing these headphones to sit comfortably on your kids' heads.
For starters, the ear cups feature large ear cushions with a soft outer shell and enough padding to keep them firmly on your child's head, reducing the risk of falling and making it more comfortable for extended use.
This is a valuable performance element, as the drivers can only produce a certain amount of noise and comply with safety standards, but without a proper fit, the sound can escape too easily and it is difficult to hear.
You can also adjust the length of the headband to fit their head properly, which is important as they can be shared between siblings and provide added value by still being useful as your child grows.
In terms of appearance, these headphones have a lot to offer to be attractive and fun to use for kids, including a sheet of colorful and different stickers that your kids can peel off and creatively decorate and personalize their headphones.
They are not built to be water resistant, but their structural integrity is evident, with a strong connection cable and a flexible yet secure headband for consistent performance over a long service life.
The Trust Sonin is available in several colors and even in soft pink headphones. For example, your son can get a different color than your daughter.
Price is an important consideration for any parent, even on a budget you want to make sure the products you give your child are safe.
And even if you're on a bigger budget, these Trust headphones are a serious competitor to the other more expensive models on the list, based on the value they offer.
Especially if you want to choose wired headphones for convenience, because I know that some parents prefer that over Bluetooth, the Trust Sonin kids are the headphones for your child.
Since these headphones are designed as a safe and affordable option for kids, there are no advanced features like a built-in microphone, just plug them in, adjust the volume and they're ready to go.
Since they are wired headphones, you won't be bothered by batteries needing to be recharged, and because the audio output level is limited, they can be used for hours on end during long car trips or at home without unnecessary inconvenience.
One of the few wired headphones with the correct built-in volume limiter!
View the most current prices here
Best wireless bluetooth headphones for school kids: JBL JR310BT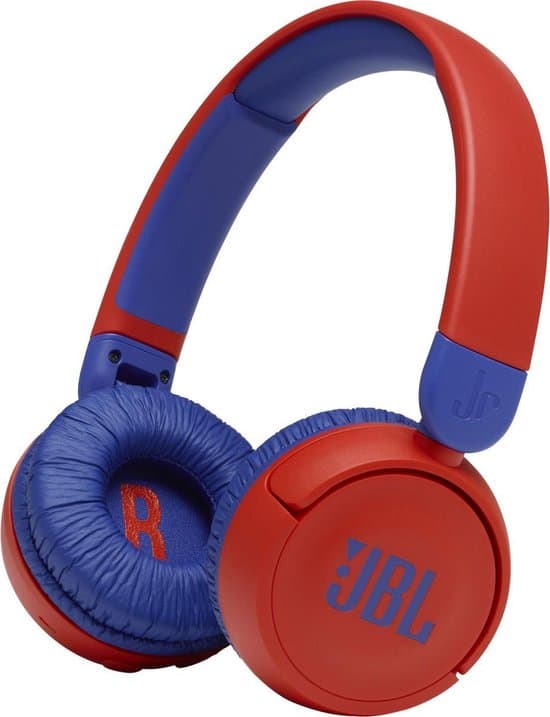 Foldable, Bluetooth and the safest in terms of volume limitation with a very good quality sound. Suitable for younger and older children and will appeal to most children from the age of 6.
These JBL kids headphones are definitely at the top of my list. I know if you have younger kids you might want to go for one of the others or even buy the cheaper Trust Sonin first.
For your toddler or toddler, the ear cups can be a bit large, for example, here you see them on an older child, which is the main target group: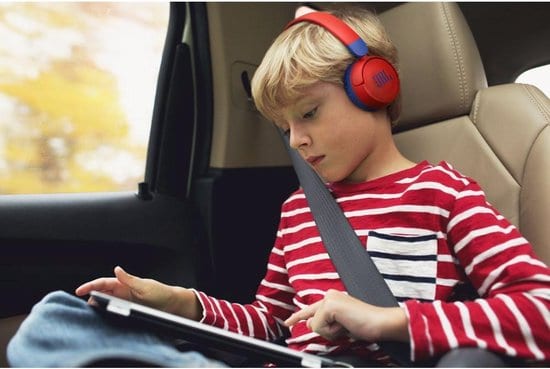 Great wireless bluetooth performance so you never get in the way with cables if it doesn't work out (plus Bluetooth also has its own volume level limiter!) And the sound quality is really good. Everything you are probably looking for in headphones.
The highlights:
It is SUPER foldable so that it can easily be carried in a school bag or children's suitcase
It is a Bluetooth headset with microphone so you can connect it to any Bluetooth device and slightly older children can also make phone calls or participate in an online lesson
Great for school as the battery is the BEST I've seen with 30 hours of playtime!
Children's sensitive ears are protected by a volume limitation of max. 85 dB according to the EN 71-1 standard
Perfect size and adjustable straps make it suitable for ages 6-14 (although it may not appeal to teenagers who are more likely to choose the tougher Pogs
It comes with 4 stickers so your younger children can personalize it, which is especially nice if you give brothers and sisters one each.
The design is geared towards the age of your school-age children and with the handy foldability, these are THE headphones of this year for school:
The soft ear flaps close well and even without music they are good at noise reduction from the outside, very useful also for children with concentration problems.
But what makes this JBL MY TOP CHOICE is the active volume limiter.
Later in this article I will tell you a little more about the advantages of active volume limiting over passive ones for preventing hearing damage.
And of course, you can watch how hard your child turns the volumes. But constantly paying attention is easier said than done.
This JBL has been specially developed with children in mind and I recommend using active headphones like this JBL.
The most important things to promote this to the others:
The best built-in volume limiter
Nice design which also remains nice when they get older
Bluetooth without wires with which they can get in trouble with themselves or knock things over (such as drinking over your beautiful tablet, or your expensive vase with flowers)
Comfort for every age
Of the 30 headphones we tested, the JBL JR310BT was the only model to suit all of our kids' testers, small and large.
A headphone model for children should be adaptable for different ages and head sizes.
It is essential if you want to have headphones that grow with your child, or if they are shared with siblings and quickly switch between each one. school laptops.
The slightly tall kids loved the comfy fit, the great sound, the soft earcups and the color, but thought Bluetooth was the most important thing to have as a feature.
Some stated that they never wanted anything more than Bluetooth headphones :)
"The Pokémon soundtrack sounds really good on this"
Both the headband and earmold size sat comfortably on our toddler panelists' heads, although the Onanoff Buddyphones were more successful at this age.
While the younger panelists needed assistance to get started with the Bluetooth connection, once the music was playing, they quickly got used to it.
In our tests, the sound was well balanced. Even with ambient noise, you did not have to set the headphones to maximum volume to still be able to hear properly.
To test the design in a real environment, I cleaned our house while wearing the JBL and listening to an audio book.
I didn't even have to get the most out of the volume to hear the words perfectly.
So, provided that it sits correctly on your child's ears (the fit is always critical with headphones), in your home situation, your child should not have to exceed safe limits to hear his or her media.
What features does the JBL JR310BT have?
JBL Safe Sound, safe for children's ears, goes up to 85 dB
10 meter range with Bluetooth 5.0
maximum battery life 30 hours (the predecessor JBL300BT only had 12!), after 10 minutes of charging you have enough battery for 1 hour of listening
portable and lightweight, wears fine
very good price for a premium kids headphones
The disadvantage is that it is not waterproof, so you have to watch out on a rainy day on the street.
Nice for your child to be undisturbed watching his YouTube videos and listen. Without his parents complaining about the volume every time.
Or if he is on the PC, to chat and laugh with classmates, then you do not always have to enjoy it.
Even if your child walks upstairs, his friends can still hear him fine.
The buttons are easy to operate for children. In terms of size, the headphones are suitable for children from 4 years up to and including adults. So it grows with your child, plus even you can borrow it once if it's really necessary :)
Definitely my top pick in most age categories and for the price you DEFINITELY don't have to pass up.
Click here for the most current price
Best Noise Canceling Headphones for Gaming and Chromebook: Pogs The Gecko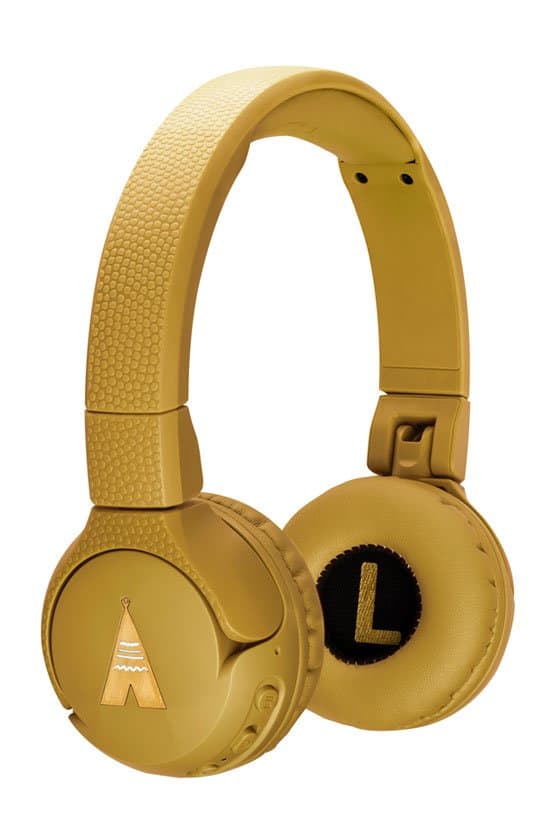 The ultimate wireless kids' headphones, safe, strong and packed with fun and comfortable features. These are the headphones your tweens and teens will love the most.
That's why we added it to the list. Many parents have seen this or heard about it from friends and everyone is curious if this is a good buy.
In terms of quality, none can beat this Pogs The Gecko. Although my personal top pick is the JBL because it's just a little more affordable, you do sacrifice something in terms of ease of use.
These Pogs may be slightly more expensive, but you get noise canceling and fast charging of the wireless headset in return.
Pogs has named this headset "The Gecko" because the wireless Bluetooth connection allows your kids to climb around like a gecko, even with the headphones on.
Plus, like a gecko, these headphones have the flaky texture of gecko skin and very long life. You can listen to music wirelessly for 12 hours with only 2 hours of charging.
The best thing is that even with 10 minutes of charging you can already use the headset for an hour, but this is according to the company itself, I have not tested that.
Perfect for children who have forgotten to recharge and you have to drive to grandpa and grandma in Drenthe by car.
However, if you really forget to charge, you can always use the included QuickSafe cable instead.
The noise level is limited to a safe 85dB to protect children's hearing.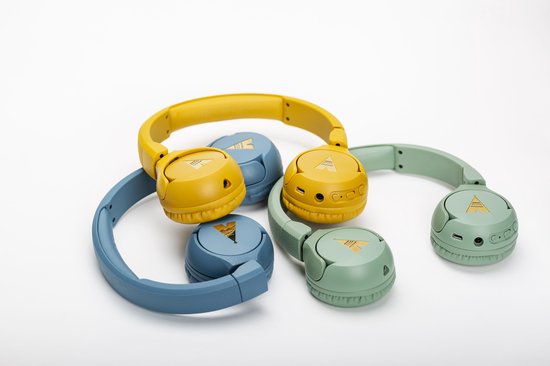 It feels very durable and is made with super strong materials to survive the toughest use of non-toxic materials and BPA free, BFR free and RoHS compliant.
Another nice feature is the special cable that Pog has designed to enjoy music together by connecting multiple headphones together.
They also have noise-isolating and hypo-allergenic ear cushions to keep outside noise to a minimum with the help of noise canceling, so you can keep the volume low.
Finally, they are still foldable and very lightweight.
Many customers who have bought them indicate that it is nice and quiet because you hear little of the music, but also that the children are less bothered by parents and may have visitors when they are talking or have music on themselves.
Sometimes it turns out to be a search for how to pair (press for 5 seconds until another light starts flashing) but once set it will already pair itself with your device.
Check prices and availability here
Why is limiting the volume important?
According to the Journal of the American Medical Association in 2010, the rate of hearing loss in children ages 12 to 19 increased from 14,9 percent in 1988-1994 to 19,5 percent in 2005-2006.
That means that nearly one in five teens is faced with noise-induced hearing loss. That's a lot of kids!
While not all of these cases can be specifically linked to headphone use, experts such as Dr. James E. Foy and Dr. David A. Schessel agrees that headphones are a contributing factor.
That is of course a study in America, but the same will apply to our Dutch youth.
Hearing loss is due to prolonged exposure
And the hearing loss doesn't just happen because a child suddenly turns their volume too loud. Most hearing loss in a civil environment is caused by regular noise exposure.
The effects of noise are cumulative, so the OSHA standard that the WHO recommends adhering to is a limit for total exposure to 85 decibels in eight hours.
But even listening to that "safer" volume level of 85 dB doesn't mean your child's hearing is fully protected, especially if they are exposed to additional ambient noise during the day.
A 2010 study by the Kaiser Family Foundation found that children ages 8 to 18 spend an average of seven plus hours daily using entertainment media.
That's the same as the time you spent on a full-time job. And if they exceed the recommended levels and they experience more noise during the day, it can lead to problems.
Volume + duration = damage
Even a few decibels above 85 dB can cause the hearing-related cells of the ear to become overloaded and die after hours of exposure.
Sound waves enter the ear and vibrate the eardrum, which in turn moves the middle ear bones (malleus, incus, and stapes) and causes the fluid and tiny hairs in the cochlea (inner ear) to move.
Those hairs stimulate nerve cells that send a signal to your brain, which interprets it as sound.
When you first heard about hearing damage caused by noise, you probably imagined a loud bang of sound physically damaging the eardrum or breaking the link of the tiny hairs that convey information to the nerve cells.
And yes, that is one way to get hearing loss, for example in an explosion.
However, that's not how most people lose their hearing.
Most people experience hearing loss due to the cumulative effects of overexposure to noise, and listen to moderately loud sound for an extended period of time.
Human ears are not made for it
This is why: Human ears were not made to handle volumes above 70 dBA for long periods of time. Our ancestors had to listen to tiny sounds.
For example, the breaking of a twig in the forest, or a bird sound, indicators of prey they could catch or predators willing to eat them.
Sound exposure is a lot like exposure to the sun: long enough and bright enough, and you will notice.
For most of human history, anything loud enough to damage the ears - say, 109 dBA or more - would likely kill us.
A burst of lighting or a volcanic eruption up close would permanently damage your ears, but you probably died anyway.
Anything else that could get somewhat loud, like a screaming voice from a fellow human being, would never take so long to cause harm.
But in this post-industrial society, people are regularly exposed to those kinds of sounds, from motorcycles, chainsaws, concerts and yes, headphones.
And to that comes the modern problem.
Waste of hearing
When the tiny hairs of the inner ear activate the nerve cells to fire, those cells create a waste product.
It is somewhat similar to the fact that your leg muscles build up lactic acid after a long period of time.
When the sound is quiet, not much waste is produced. If the loud sound is short, the cells will have a chance to rest and clean up the waste.
But if you listen loud enough and long enough, the cells cannot clean up the waste quickly enough.
Ultimately, the waste then kills the cell. Therefore the duration is just as important as the volume.
Your genes also play a role
How much damage occurs is partly genetic. To continue the analogy of sun exposure, some people get sunburnt, others tan.
Some burn quickly, others only after long exposure.
The same goes for noise damage.
Some people can metabolize faster and will not suffer as much damage from the same loud exposure as someone else.
But there are no tests for this trend and therefore no one can predict if your child will be susceptible.
Worse, even if you're not showing any signs of damage now, exposure to noise can catch up with you later in life. A study published in 2017 by the CDC states that:
"Hearing loss is the third most common chronic physical condition in the United States and is twice as common as diabetes or cancer"
One in five people between the ages of 20 and 29 had audiometric cuts, or parts of their hearing frequency range that were damaged or disappeared.
In addition, damage to hearing accumulates over time so exposure to hazardous substances that begins earlier in life is potentially more harmful as individuals age.
Even more frightening is the fact that you may already have damage and don't even know it, as the study states that people with hearing damage caused by noise often fail to recognize it.
Hearing protection is important
Okay, so now we know we need to protect our hearing. But how? What's Safe?
Well, that's a tricky topic too. Nobody knows for sure. We only know what is considered safer.
Keep in mind that some people are more prone to hearing loss than others, and there is no good measure of whether your child is one of those people.
So the World Health Organization recommends acting as if you or your loved ones are predisposed to harm, just in case.
In general, you can listen to music at 70 dBA for as long as you want.
But the problem is, when you turn the volume down that low, you lose clarity and the louder and softer parts of a song seem about the same.
That's why you see a lot of headphones for children with a volume limit of 85 dBA.
This is the trap: Limiting levels to 85 dBA does not in itself mean the listener is safe. Returning to our sunscreen analogy, just as with damage to your skin, damage to your hearing is usually due to prolonged and continuous exposure.
Continuous exposure to noise in excess of 70 dBA, not just an instantaneous loud event, is what causes the damage. So enough time, even the recommended limit of 85 dBA can be problematic.
What are safe volumes for children?
The WHO recommends that you listen no more than 85 dbA (or about 60 percent of the volume of mobile devices) for no more than 60 minutes at a time.
The 85 dB recommendation is based on old studies (conducted from the 50s to the 70s) showing that "of people exposed to 8 dBA for 85 hours, 92% did not know hearing loss leading to true disabilities.
That's not the case to say they had no hearing loss or no damage, just that they weren't handicapped by it. Hardly reassuring.
Given medical ethics, researchers really don't have a good way to study exactly how much noise harms humans. (After all, would you like to let scientists try to damage your ears?)
So we're left with a few key facts:
Daily noise exposure involves more than just media consumption. Think of the traffic noise on your commute to work, the noise in your workplace, construction at your house, aircraft engines, and so on: everything you hear all day long. This exposure to environmental noise can add up quickly.
Exposure to environmental noise + exposure to media> 70 dBA = your daily intake of potentially harmful noise.
According to a 2010 study by the Kaiser Family Foundation, children between the ages of 8 and 18 spend an average of 7-plus hours a day on entertainment media (more than 53 hours a week).
And experts like Brian Fligor warn that listening to music through headphones can contribute to hearing loss, just as listening to powerful sound systems can.
If your child is exposed to environmental noise in excess of 70 dbA during the day, the amount of safe listening time they still have is significantly reduced.
Higher volume means shorter listening time
As the volume increases, the time it takes to damage your hearing decreases drastically.
You can listen to a conversation from about 60dB all day long and even listen to traffic noise of 80dB for about eight hours, but it only takes a few minutes of exposure to a rock concert at 115dB (yes, some headphones tested were so high) to potentially permanently damage your hearing.
This applies to both children and adults.
Since parents can't chase their kids with a dB meter all day long, nor can they constantly check the volume settings on every device the kids are using, the best bet is to find headphones that turn the volume down .
It's not a perfect solution, but like the foam bumpers on the corners of the coffee table and the "child resistant" latches on your drawers and pill jars, a volume limiting feature provides an extra level of protection that can reduce the risk of injury to a child.
Can volume-limiting headphones still allow harmful noise exposure? Yes. And can non-restrictive headphones that are used carefully be relatively safe? Certainly.
But just as you would not knowingly allow a child access to the medicine cabinet, you can minimize the risk of permanent hearing damage.
How we tested the volume limits
The human ear and brain cannot accurately judge the volume of the sound. If so, there may be no need for volume-limiting headphones.
So to test how loud the child's headphones could play, we ran a series of formal sound measurements using audio testing equipment.
We immediately found a problem: almost all of these headphones can produce a dangerously high volume if you use them with certain items.
And not just specialized equipment: Headphones with relatively powerful headphones, such as those built into many AV receivers, or the stand-alone amplifiers popular among enthusiasts (and for most traditional lab measurements) would take most headphones far above 85dB.
This problem occurs because most of these headphones don't really limit the volume, they just reduce it.
Passive headphones (that is, unpowered headphones, as you're probably most familiar with) reduce volume using resistors, a cheap electrical component that reduces electrical current.
The technique is similar to splicing a narrow piece of water pipe on the end of a thicker pipe, reducing the amount of water passing through the pipe.
However, you can return the total water flow to its original level by increasing the pressure going through the pipe.
In the case of headphones, apply this extra pressure by increasing the volume of the source device.
Sure, the headphones will lower the volume as if you had the dial set to 5 instead of 8, but if you turn the volume to 11, it still sounds like it's set to 8.
Active headphones (in other words internally powered), such as the Thomson or the Trust, can use a digital limiter that prevents the sound from going above a certain volume level.
But few of the headphones we tested for this guide have internal amplifiers or digital processors, so they're not precise.
In our tests, some of the passive models produced little or no reduction or limitation in volume.
Of course, a child will almost certainly have a telephone, children's tablet or use portable music player for the most part or for all the listening they will do, so the fact that most of these headphones can play much louder with a headphone amplifier is largely irrelevant in everyday use.
We also used an iPhone as our source device in the tests, as iPhones are the loudest source most people will encounter. The iPhone's internal amplifiers are more powerful than those on most Android phones.
We ended up using an iPod touch (sixth-generation model), which is slightly louder (+0,38 dB) than our iPhone 6s and could play significantly louder (+4,4 dB) than our Samsung Galaxy S6.
The iPod touch is popular as a starter device for young children, so it seemed like a good choice.
However, we haven't extensively tested the output of all possible sources such as video game consoles and home theater receivers, so we're not sure how these headphones would perform under those conditions.
In any case, such devices would likely be used by older kids with gaming headsets, which have no volume limiting claims and are somewhat beyond the scope of this guide (although parents and caregivers should be aware of this).
Note that headphone measurements have an inherent inconsistency. Slight differences in the fit of the headphones on the ear / cheek simulator can affect the result, just as moving headphones a little bit from your ear changes the sound.
The results
The multi-objective test gave us a lot of useful data to work with. Our main goal, as you might expect, was to find the headphones that limit the volume to our stated "safe" range.
While we took 85 dBA as our default, we wouldn't say a moderate 85 dBA overrun on the pink noise or the Leq test was a failure.
These headphones are generally advertised as delivering a maximum of 85dBA with pink noise, and if they hit those or come within a few decibels (to account for possible measurement inconsistency) we could say they "to pass.
There were very big differences with our results and those of the manufacturers themselves, with sometimes even a difference of 32 dB between the lowest and the loudest max volumes on headphones.
That is huge.
Even taking into account the margin of error in headphone measurements, a difference of 32 dB? Obviously, some of these manufacturers are doing something wrong in their tests.
This problem is magnified in the case of Bluetooth headphones.
As we indicated in the analogy of running water through a pipe, cordless headphones reduce volume by putting a resistor in the cable.
It is possible to override the volume limits of a wired headphone: just plug the headphones into a powerful enough amplifier.
Most kids headphones are designed to handle the output level of a mobile device.
However, home theater receivers, PCs, and gaming systems with more power can often be much louder than an iPhone.
So while the cordless headphones we tested stayed in the 85 dB range when used with an iPhone or iPad, any model with a cord attached to the headphones could be pushed into dangerous ranges if used with a more powerful device.
Bluetooth has its own limiter
Bluetooth doesn't work like that, though.
Since the power from the amplifier itself goes into the headphones, you can't override the maximum volume setting when using these headphones wirelessly: as soon as you reach the top volume of the headphones, you reach a wall.
That is why we recommend the Thomson Bluetooth headphones: you cannot use headphones via Bluetooth louder than the internal circuits allow. The volume limits are set by the manufacturer.
Still, some of these bluetooth headphones apparently have design flaws that make it very easy for children to disable or bypass their volume reduction features.
If all it takes to remove the limits is to push a button or remove a dongle, you can guarantee it will.
Anyone who has spent more than a few minutes with a toddler can tell you that kids love to push buttons and take things apart.
When we had headphones that could easily be misused to exceed our 88/90 dBA thresholds, the number of models that failed our tests, exceeding test levels, jumped from a fifth to a third.
Guide your child's listening
As with anything to do with raising a child, the bottom line is the following:
Supervision contributes to safety
So here are a few extra steps you can take to protect your kids when you're not sitting right next to them.
Set volume limits on their devices
While you can't control every device your child comes into contact with (which is why volume-limiting headphones are useful), you can reduce the output on their most used devices.
How to limit the volume on an Apple device:
Go to Settings. Scroll down and tap Music
Then tap Volume Limit
You will see a slider. As we mentioned earlier, WHO recommends 60 percent volume for 60 minutes as a guideline for media consumption with headphones
If your child is using standard headphones that don't turn the volume down, pull this slider down to about 60 percent
Tap the left arrow (top left) to go back to the Settings menu
Now that you're back in the Settings menu, make sure that your tech-savvy child can't change the limits anymore.
So you need to password protect your settings menu:
Still in the Settings menu, tap General, scroll halfway to Restrictions and tap it
Tap Enable Restrictions and choose a four digit password. (Don't forget this number! Maybe save it in a password manager)
Now scroll all the way down to almost the bottom where it contains Volume Limit and tap on it
Select Don't allow changes, then tap links in the top left
You're done!
Android devices and Kindles are a bit trickier. You can buy some third-party apps, but the reviews are ridiculous and we don't currently have a specific recommendation that can best help you.
Check usage
As we discussed earlier, not only the volume but also the duration of the noise exposure is important. Even at safer volume levels, that time can pass quickly.
Remember, music isn't the only thing kids have on their devices.
Movies, TV shows, YouTube - if the volume turns even 5dB over the recommended 85dB limit to 90dB, the suggested total daily listening time drops to 2 hours 30 minutes.
That's just one movie plus a TV show.
Fortunately, you have lots of parental controls with which you can keep track of how much time your child spends on a device.
Whether you're using built-in controls like those on the Kindle Fire Kids Edition or a surveillance app or a service like Circle or Kidslox, a time limit is a great way to give your child's ears a break.
Of course, for the little ones at home, you can go old-school and just set an egg timer.
Whichever method you choose, with a one-two-way volume restriction and time limits for using headphones, you'll be one step ahead of hearing damage!
General conclusion
Comfortable, great sounding, durable and with a grown-up appearance these JBL Bluetooth headphones undoubtedly a hit in your home.
Protecting your kids is tough - you have to consider so much.
But while nothing is absolutely foolproof, we believe this one is a model your kids will love to wear and serve as an added safety measure.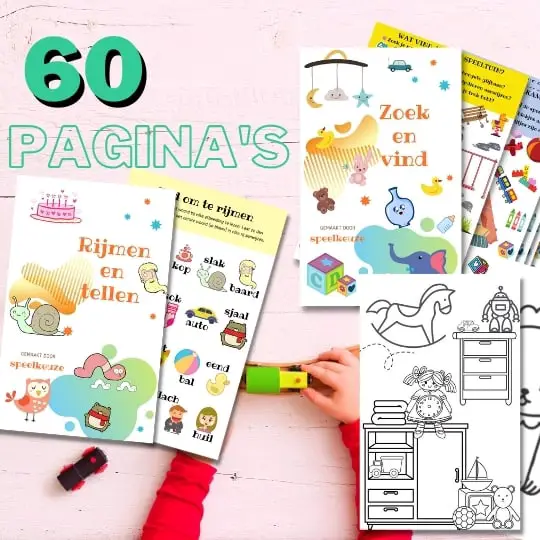 Always something to do for the holidays or rainy day?
Play Choice now has the ultimate activity book collection, with over 60 pages of fun coloring pages and educational puzzles.
Joost Nusselder, the founder of Speelkeuze.nl is a content marketer, father and loves trying out new toys. As a child, he came into contact with everything around games when his mother started the Tin Soldier in Ede. Since 2016, he and his team have been creating helpful blog articles to help loyal readers with fun play ideas.