Hello Kitty toys reviewed: these are the cutest sets
I enjoy writing these articles for my readers, you guys. I don't accept payment for writing reviews, my opinion on products is my own, but if you find my recommendations helpful and you end up buying something through one of the links I may be able to receive a commission on that.
More information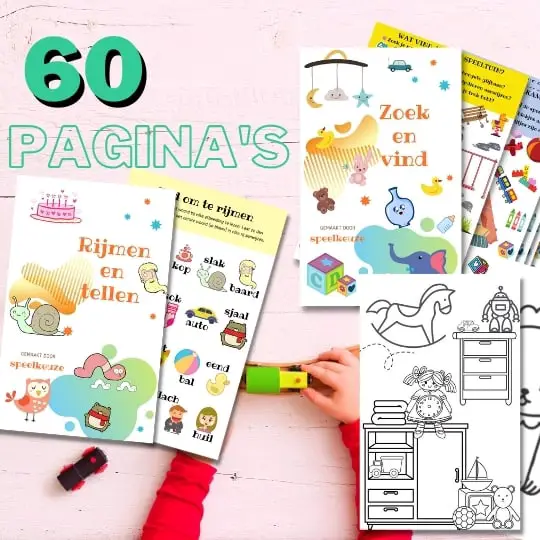 Always something to do for the holidays or rainy day?
Play Choice now has the ultimate activity book collection, with over 60 pages of fun coloring pages and educational puzzles.
Hello Kitty is the sweet-looking character that has been admired by many children for decades.
She experiences all kinds of adventures and these adventures she does not experience alone, but often together with her friends.
These characters are an important part of the Hello Kitty series and are frequently featured.
Unico, toys that use building blocks, has launched a whole range of Hello Kitty products.
Unico blocks are very similar to DUPLO, but they are not officially.
DUPLO is owned by LEGO and Unico is not.
Nevertheless, the Unico blocks do fit on the DUPLO blocks, so you can also fit a Hello Kitty package into your current DUPLO collection.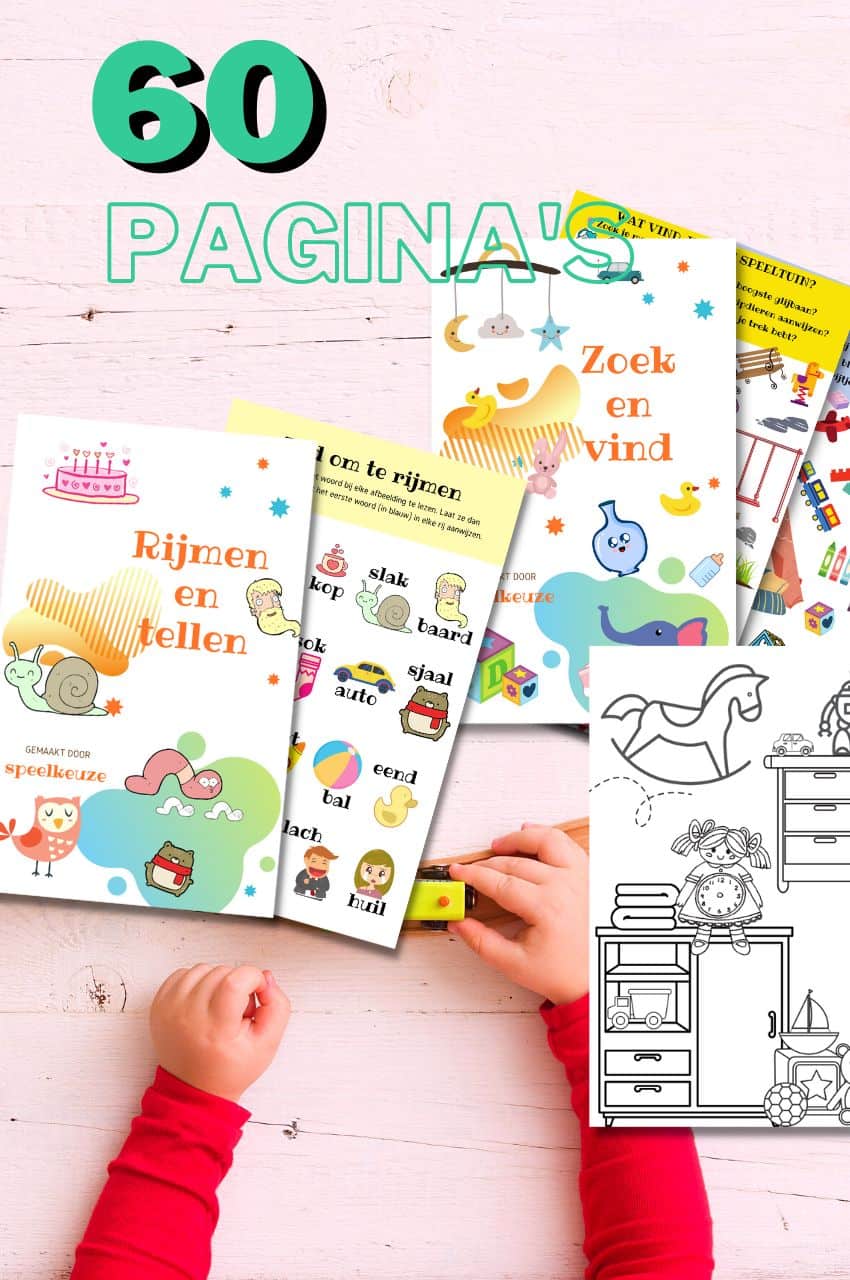 A play theme in your mailbox every month?
Fun play tips, activity books and more, with the first email being our free mini-guide "educational toys"
We will only use your email address for this newsletter and respect your privacy
What are nice Hello Kitty Unico ("DUPLO") packs?
De Hello Kitty House Playset comes first for us. The pack is versatile, with many building blocks, four characters, including Kitty herself, and a car.
With this package you can get started right away and you do not necessarily have to buy other packages.
You can purchase it via bol.com, even if it is sold by a bol.com partner.
Androni Unico Plus Hello Kitty amusement park takes a close second place.
The amusement park you can build yourself with the building blocks from the package and has four characters, including Kitty, a Ferris wheel, a slide and two towers.
This is also a perfect package to start with and easy to purchase via bol.com.
Hello Kitty house playset
The first package, the Hello Kitty House Playset, with 140 parts immediately gives the opportunity to get creative.
Children enjoy being creative in their play and with so many parts they can go in any direction.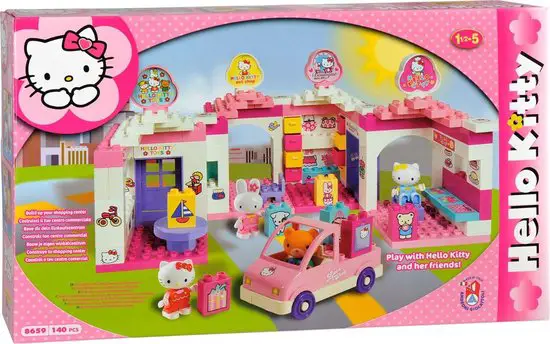 The house is completely open on one side so even the smallest children can easily place the minifigures in the house in this way.
There is also the possibility to give the house different rooms, such as a kitchen, a bedroom with a closet where you can open and close the drawers (in the form of small containers) and a playroom with a table.
The minifigures can go shopping by car and your child quickly enters a creative role-play.
This set is very nice to combine with the 14-piece Hello Kitty picnic set that you can put in the garden of the house, for example.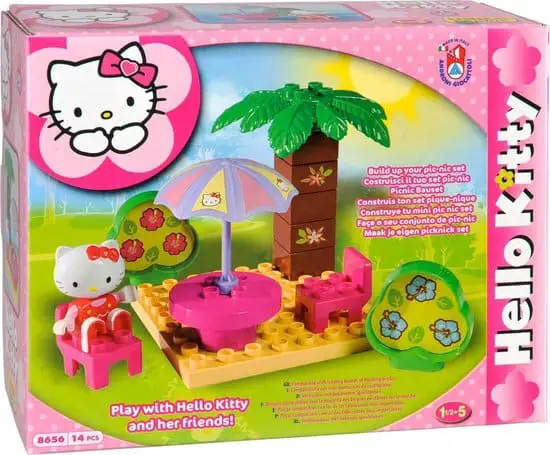 The picnic set contains a table, two chairs, a parasol, a tree and Kitty herself and costs less than € 20.
It is an ideal addition to a larger package and thus a perfect match for the playset with the house.
You can also take a different approach and immediately build an entire neighborhood of Hello Kitty buildings.
A nice addition to the package with the house is perhaps the Hello Kitty Boutique, which you purchase via bol.com.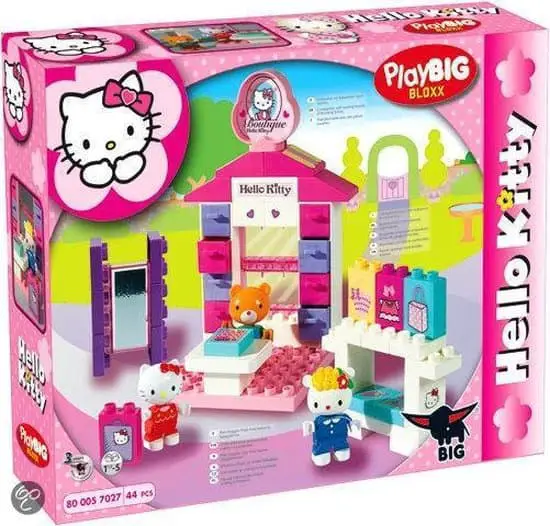 The boutique has 44 pieces, including an eight-drawer cabinet wall (same kind as the house), counter with cash register, dressing room and three minifigures.
And while you're at it, the car wash also a very nice addition to the new Hello Kitty neighborhood at your home.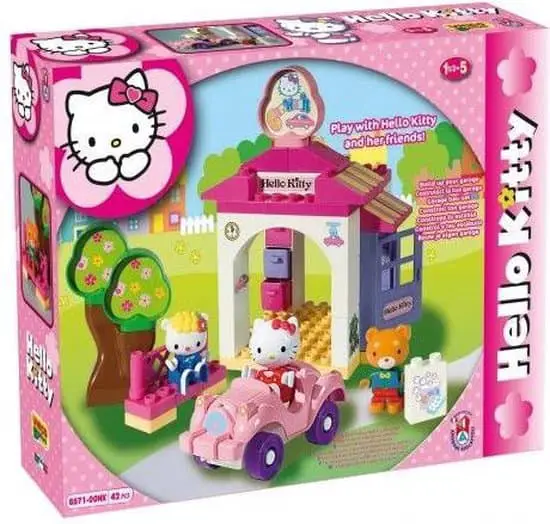 For € 24,50 you get a package via bol.com containing a car, three minifigures and 42 parts to assemble the car wash.
Hello Kitty Amusement Park
The second package on the list is the Hello Kitty amusement park. 114 parts to build yourself, four characters, a Ferris wheel and a slide.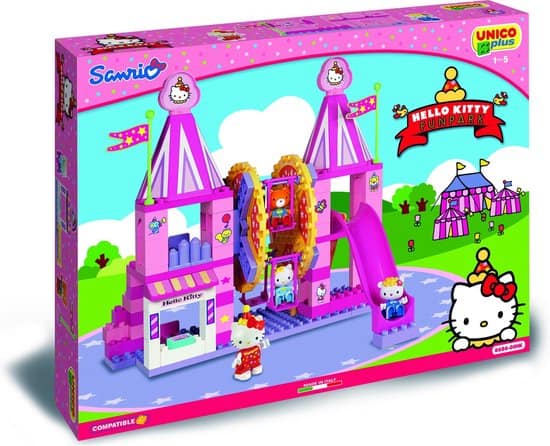 With this pack you build high towers where the flags on the tops flutter in the wind.
From the tower, the minifigures whiz down the slide to line up for the Ferris wheel.
There is also a cash register and one of the figures can sit on a chair behind the cash register.
You really get the feeling of being in an amusement park!
The spinning of the Ferris wheel gives this package an extra dimension and it is nice for the change with the otherwise static figures.
The amusement park is for sale here at bol.com
Hello Kitty Duplo Castle small
It is a nice combination for the amusement park Hello Kitty Castle Small. 80 parts. Castle with a slide, horse and three characters.
That there is often a castle in an amusement park for the fairytale characters is one thing for sure. This package therefore fits seamlessly with the amusement park theme.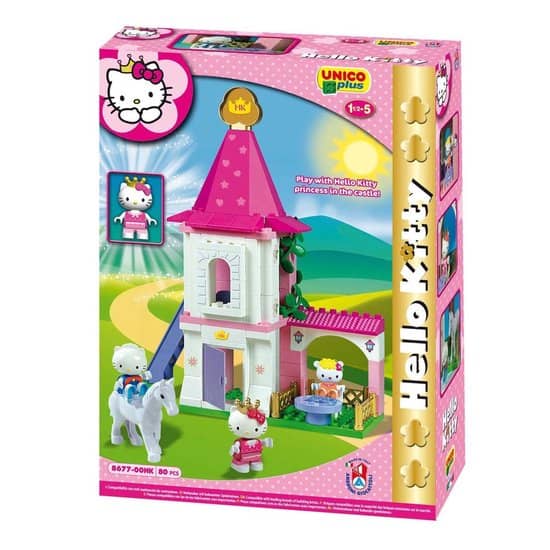 You expand the number of characters and immediately have a horse that can walk through the amusement park. Make sure that your child will enjoy hours of fun here!
Another good combination that has to do with the amusement park is Belle's Tea Party.
Please note: this is a € 16,95 DUPLO package containing Belle, Mevrouw Tuit, Crack and Pendule.
The set also includes a fireplace with a door and a table with two chairs. And of course this set also fits seamlessly with the Hello Kitty Castle package.
Make the combination with DUPLO
Since Unico's bricks fit on DUPLO bricks anyway, you can also purchase DUPLO packs in addition to a Hello Kitty pack.
There are nice starter sets for sale, such as My First Building Block set from DUPLO, which you can purchase for € 16,99.
This package gives the child the opportunity to be even more creative in the game and offers opportunities to, for example, expand an amusement park with all kinds of nice buildings around it, which the child makes up and assembles himself (with the help of the parents occasionally probably ).
Hello Kitty is (generally) seen as a real girl's toy.
The fact that there is now DUPLO that makes it all the more fun for girls to play with it is a bonus.
Besides Unico, which has a collaboration with Hello Kitty, there are also 'girl' packages DUPLO for sale.
Some examples:
the package described above with Belle's Tea Party.
Minnie's Birthday Party is also a very nice package that you can purchase from bol.com for € 16,95. The pack includes Minnie Mouse and a Figaro the cat figure, party area with opening window, table, chair, buildable birthday cake and a car. Accessories: a Minnie Mouse portrait tile for the wall and two bricks decorated as a birthday present. This is a nice combination with the Hello Kitty school, because who doesn't like to treat it when it is your birthday ?!
the town square of DUPLO is not necessarily a 'girls' package, but really a fantastic addition if your child has a number of Hello Kitty buildings, such as the school and the house, the car wash and the boutique for example. You can buy this package for € 57,95 and offers numerous fantastic building options. The pack features XNUMX minifigures and a host of other items, including a garage with a car on a rotating gear-operated platform, greengrocer's, doctor's office, bakery with opening oven and a roof with opening attic windows. There are countless accessories and with this package, especially in combination with one of the aforementioned Hello Kitty packages, you are guaranteed success.
Why are DUPLO toys (and Unico) toys so good for kids?
The building blocks of DUPLO. LEGO and Unico also invite children to play creatively. It is not a one-dimensional toy that has only one function.
Thanks to the many colors it is attractive for children to play with it and by stacking blocks they increase their spatial awareness, develop their fine motor skills and learn to persevere.
Because especially for small children, under 2 years old, it is really not that easy to get the bricks together properly.
By teaching them to look carefully and not to give up, children are stimulated to persevere.
And if they do succeed, they get a huge boost in their self-confidence.
Start with small steps that are feasible and so you as a parent can make a very positive contribution to the development of your child.
And small children who cannot build yet also gain a lot of self-confidence from the correct overturning of the towers. Learn more about this on the LEGO site.
But once your child has mastered building bricks, there is often nothing more fun than coming up with new variations every time.
Learning to play creatively with LEGO and DUPLO is perfect.
There is no wrong way to play with these bricks (unless you throw them around the room of course) so your child can experiment safely.
Learning to play together is also important. Even if in the beginning the playing will mainly take place 'next to each other', this is still important for the development of the child.
The basis for relationships is also laid during playing 'side by side'. And when they get a little older, then playing together will come naturally.
And that then evolves into role plays. And if you have all kinds of characters, like Kitty, to talk to, role-playing is even more fun.
De fine motor skills are developed by playing with the blocks and it improves hand-eye coordination and it also ensures that your child learns to deal with adversity.
It will not always be easy to get the blocks together properly.
All these skills are skills that you, as a parent, would like to teach your child, because they are all skills that your child can use well later on.
It is logical that you do not always have the same amount of time to get creative with DUPLO yourself.
Many parents have extremely busy schedules or are simply not that creative.
On the site of LEGO and DUPLO Fortunately, you will come across countless tips that can help you to challenge your child in a good way and to teach all kinds of skills in a playful way. Then you still feel good after such a busy day!
And now the manufacturers of this fantastic toy, which is good for your child in so many ways, have decided to collaborate with popular figures.
LEGO DUPLO has a collaboration with Cars for example and has a whole series Lego cars en DUPLO Cars brought on the market. Unico works together with Hello Kitty.
Who is "Hello Kitty" again?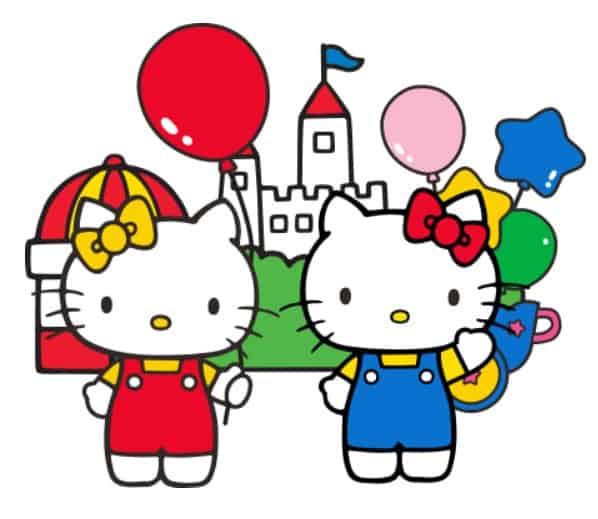 Hello Kitty has been around since 1974 and, as people often think, is not a cat, but a girl. A girl with a colored bow in her hair.
Yes, we know, those ears, those whiskers ... and that name ... but no, it really isn't a cat.
The creator of Hello Kitty, the Japanese company Sanrio, has clearly stated that there is no doubt that Kitty White, as her real name, is a girl.
She has never walked on all four legs and therefore cannot be an animal. She has parents and according to the inventors is a school-going British child.
She was born in a London borough and has a twin sister named Mimmy. Originally, Kitty has a red bow and Mimmy has a yellow bow in her hair.
Kitty's slogan is "you can never have too many boyfriends" and with the many characters that come with Hello Kitty, you can see that.
On the Hello Kitty site you can travel a timeline which shows exactly which character came to life at what time.
There is an awful lot of Hello Kitty merchandise to be found and that is probably one of the reasons that it has been so popular for over 40 years.
Even though children do not know the background of Hello Kitty, the appealing figure, which remarkably enough has no mouth, you see continuously in the street scene.
And what you often see, you would like to have.
With Unico Hello Kitty toys, you know as a parent that you are getting good and educational toys that your child will happily play with for a long time, while they playfully develop all kinds of important skills.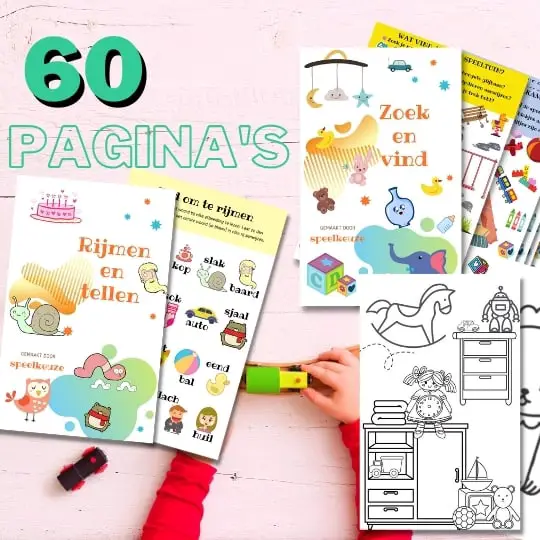 Always something to do for the holidays or rainy day?
Play Choice now has the ultimate activity book collection, with over 60 pages of fun coloring pages and educational puzzles.
Joost Nusselder, the founder of Speelkeuze.nl is a content marketer, father and loves trying out new toys. As a child he came into contact with everything related to games when his mother started the Tinnen Soldaat in Ede. Now he and his team create helpful blog articles to help loyal readers with fun play ideas.