On holiday with your baby: with this checklist you have arranged everything
I enjoy writing these articles for my readers, you guys. I don't accept payment for writing reviews, my opinion on products is my own, but if you find my recommendations helpful and you end up buying something through one of the links I may be able to receive a commission on that.
More information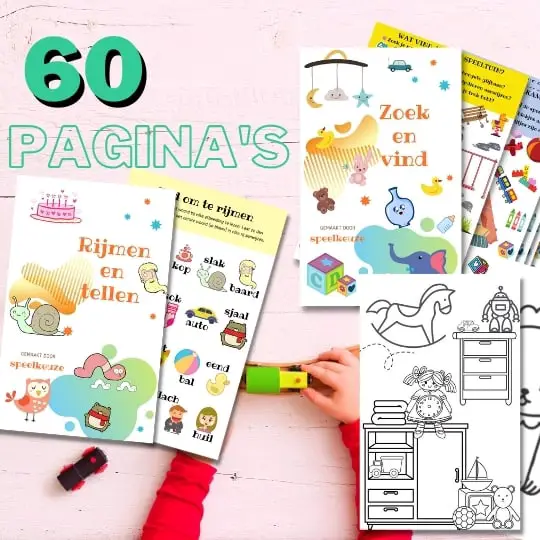 Always something to do for the holidays or rainy day?
Play Choice now has the ultimate activity book collection, with over 60 pages of fun coloring pages and educational puzzles.
Finally holidays! How wonderful it is to go out and relax with the whole family, as far as possible, of course, with a baby.
How do you make your holiday with a little one as easy as possible?
Of course you have to make sure that you bring the right things for your darling, but it also matters where you are travel going, whether it will be a flight or car trip and whether you opt for a house, tent or hotel.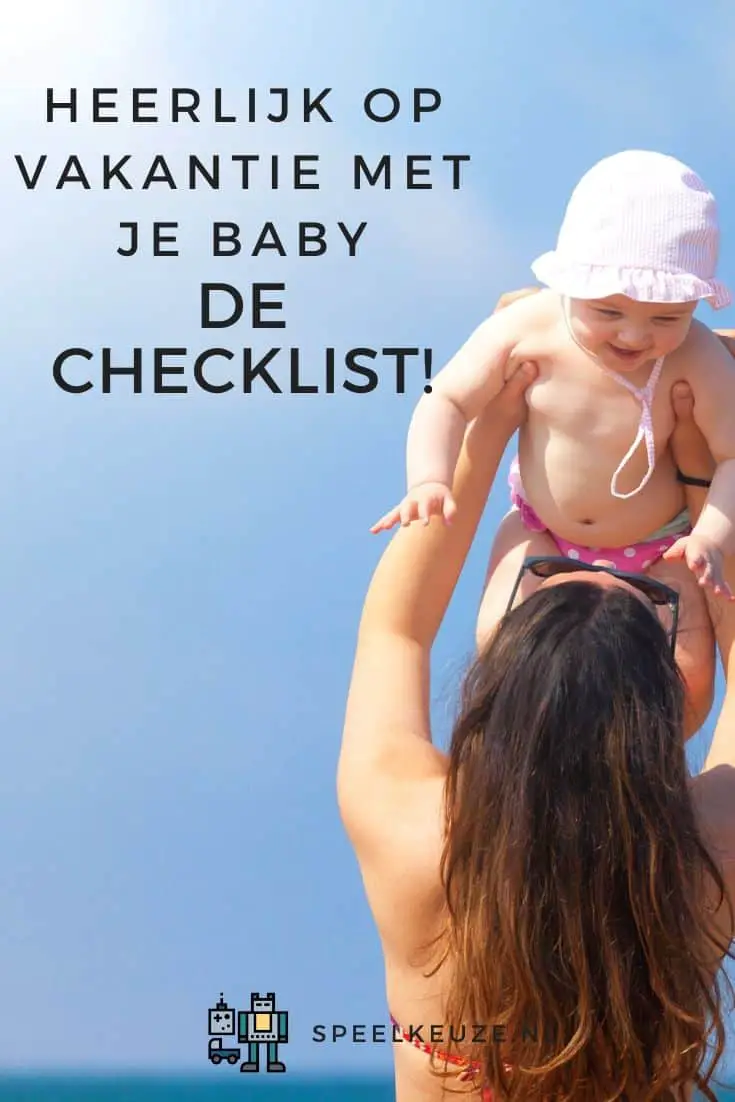 If you want families with little ones to be taken into account as much as possible, then a family hotel is great.
It then says
a crib,
a bath
and sometimes also a box
and baby monitor
All at your disposal so that you don't have to bring it all with you. It is also nice if your accommodation has a swimming pool with a shallow end.
There are quite a few campsites that also take babies into account.
For example, you can rent a mobile home in many places where the necessary things for your baby are already present, such as a bath, cot and high chair.
Make sure you always have a supply of baby things with you for the first few days, which is useful until you have found a suitable store at the holiday address.
Such a holiday, perhaps the first holiday together, is quite exciting, as vloggers like Marlieke Koks also indicate: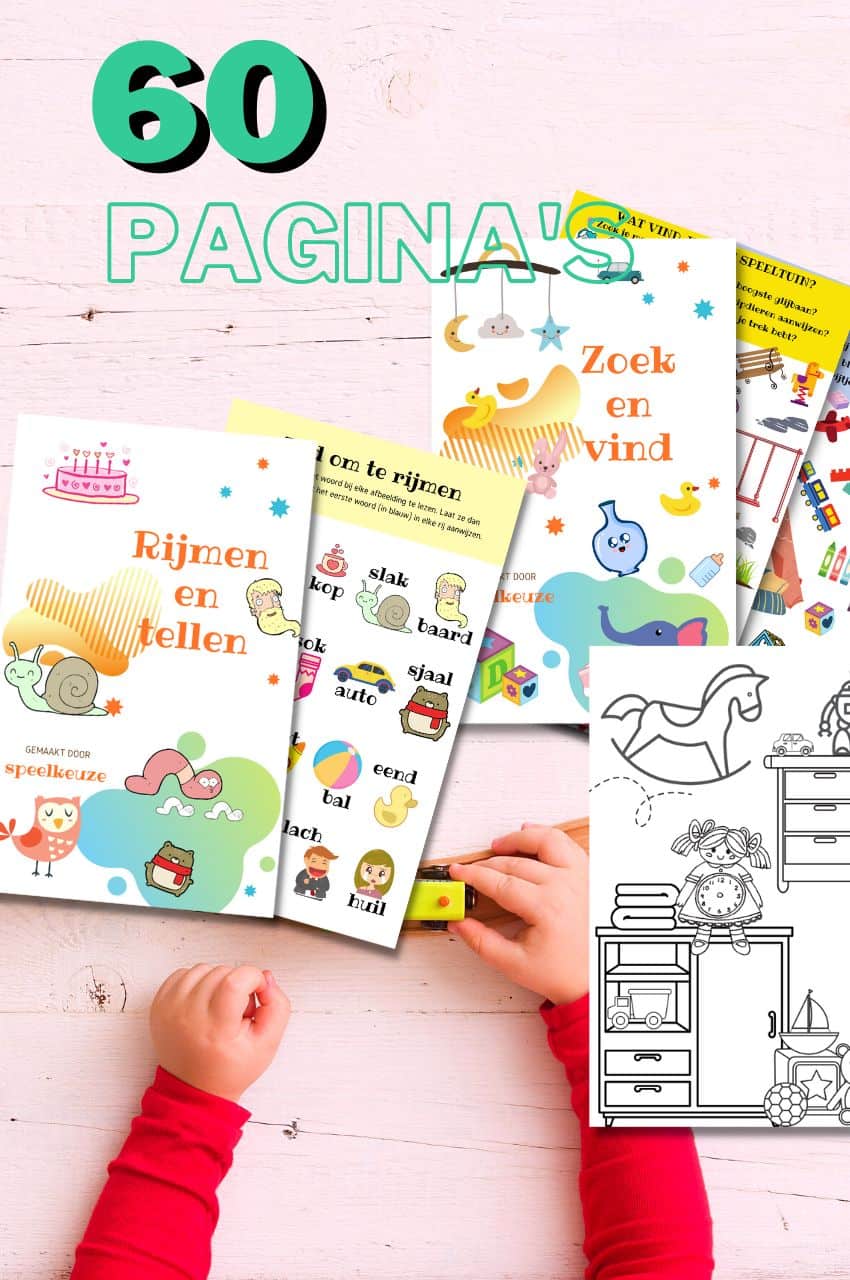 A play theme in your mailbox every month?
Fun play tips, activity books and more, with the first email being our free mini-guide "educational toys"
We will only use your email address for this newsletter and respect your privacy
What do you check before you book the holiday?
Before booking an accommodation, check whether it is baby-friendly.
Is there also a supermarket nearby, and what about medical assistance? It is also useful to know if there is a washing machine or launderette, if you do not want to bring too many clothes.
For example, also check whether there is a kettle available if you are bottle feeding.
When you go on holiday with little ones, it is very nice to have a number of basic facilities nearby, so that you do not always have to go by car or bus.
Think of a supermarket, restaurants, beach or swimming pool and medical assistance.
For example, if you choose a camping holiday, do you delve into the pitch, is it safe or are you too close to the swimming pool, without a fence?
Check your spot in advance, so that you don't have to worry all the time that something will happen to your child, then you can relax a bit yourself!
If you choose a hotel or apartment, pay attention to child-friendliness there too. If possible, read the reviews of other parents with little ones!
Are you making a checklist?
To be able to travel with your baby in an organized way, it is advisable to make a checklist. You can start collecting all the baby items well in advance and tick everything off your checklist.
An organized person counts for two. And has a lot more fun on vacation!
Make sure you have a checklist, so you don't get stressed right away on holiday because the baby products you need, but forgot to bring, are not available.
Always complete the list when something comes to mind.
Below is an example list of things that you should definitely not forget:
Diapers
Sufficient onesies
Swimming trunks or swimming diaper
Pool float
Baby wipes
Baby food jars
Milk powder
Your baby sometimes also needs its own passport, apply for this in time.
Forty sunscreen or sunblock
Baby-friendly anti-mosquito spray
Thermos bottle
What do you pay attention to when you rent a holiday home?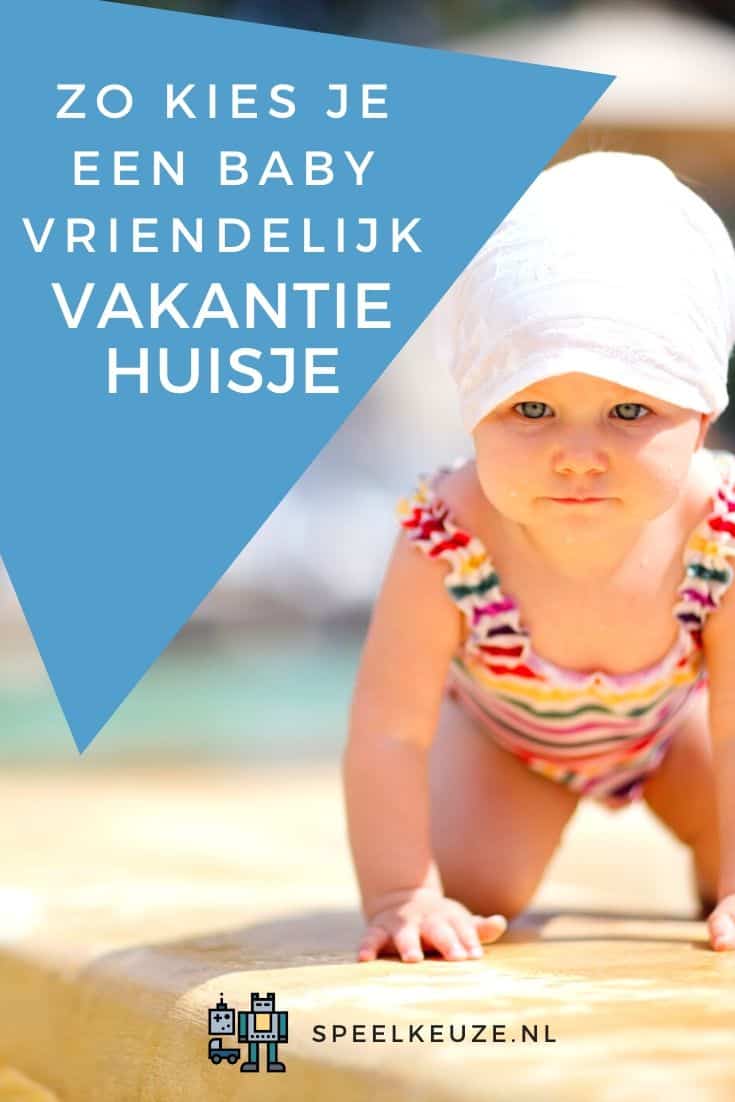 Pay attention to where the house is! Is the house child-friendly and does it have all the amenities you need to have a great holiday?
Of course you pay attention to the child-friendliness of the house itself, but also to the environment.
Can you easily walk to the pool with your baby?
Is there a supermarket nearby?
Is your house not next to a steep cliff?
Is the house equipped with, for example a stair gate, a baby bath, high chair and or cot?
Does it have a microwave, kettle?
You know what is most important to your family; write your requirements on paper and start looking for the perfect accommodation!
What are suitable holidays with a baby?
Especially when it is your first holiday with your baby, it can be quite exciting. How do you know which places are suitable to go with a baby and which accommodations are baby-proof?
In any case, it is good to always take hygiene, safety and the climate into account. Is there a hospital nearby? Are you staying in the Netherlands or are you planning a long trip with your baby?
Then check carefully about the vaccinations!
A baby needs rest, cleanliness and regularity. And of course good nutrition and attention! Choose a destination that takes your baby's needs into account.
Because your baby may not yet have the vaccinations recommended for adults, it is best to choose a destination where your child runs the least risk.
A place where you can expect safety and good hygienic conditions is of course the most suitable. There are accommodations that call themselves child-friendly, but that is a rather broad concept.
What is the target group of, for example, the campsite that you have in mind? If it is mainly families with teenagers, it will not be the ideal place for parents with a little one in terms of amenities.
Suppose you plan to spend a lot of time on the beach with your baby, but there are only rocky beaches and no sand, it can be a big disappointment.
So take the time to read reviews; What others liked or disliked about this accommodation and the place. This may prevent unpleasant surprises.
Do you want to fly with your baby?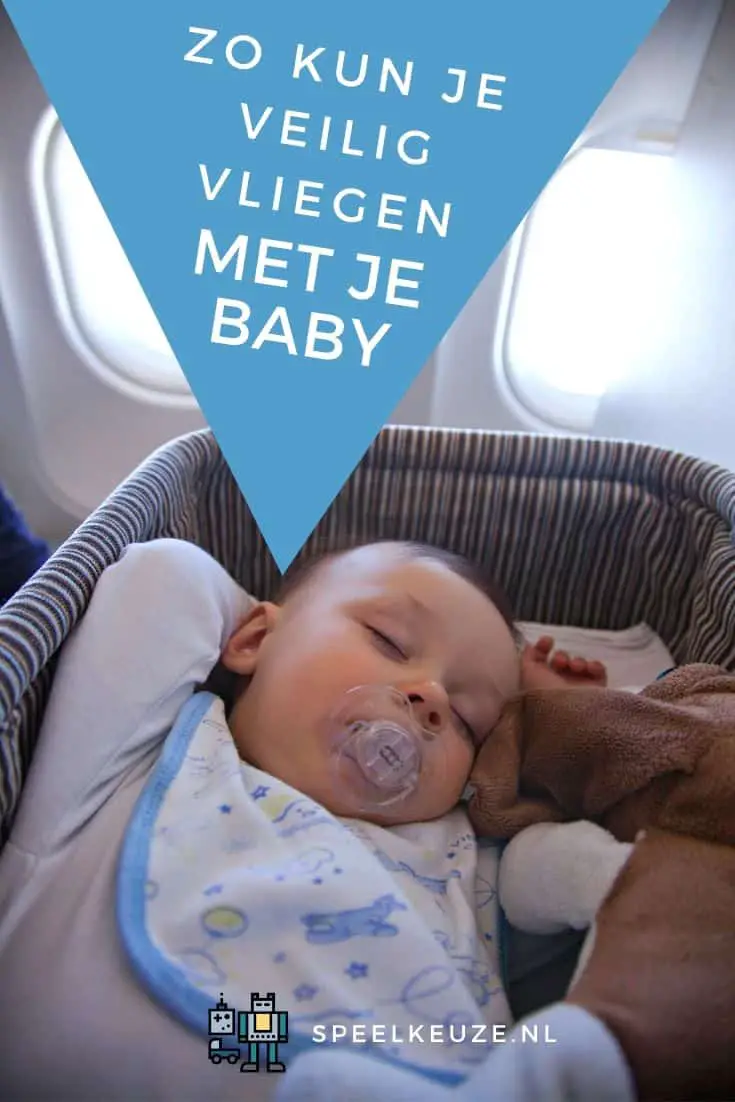 A healthy baby can already fly at six weeks! There are several options on board an airplane to make the journey as comfortable as possible for you and your little one.
Ask the relevant airline company what they can do for you.
Babies are allowed to fly from six weeks after birth if they are healthy. Children up to two years old often fly for free, because they can sit on your lap.
If you want to take your child with you in its own seat, you will pay a percentage.
On long flights it is often possible to use a baby cot, reserve this cot well in advance and inquire up to what age the cot is suitable.
The number of places where these beds can be attached is limited. If your baby is traveling on your lap, the baby seat belt will be attached to your belt.
Before ascending and descending, the belts and therefore the baby belt must be fastened.
Does your little one have a dirty diaper? There is a special baby table on the toilet on the plane where you can change your child.
If your child has ear problems, give him or her a pacifier or a bottle that can be comfortably sucked on. During an intercontinental flight you often pass multiple time zones.
It is best to stick to the times of the country of departure and try to build up a different rhythm in the holiday country. Check the hand luggage policy in advance!
One airline allows you to take ten kilograms of hand luggage with you and another airline may not allow you to take it with you. What about the pram: Can this be taken as extra hand luggage?
Can it be handed over at the entrance of the aircraft or does the pushchair have to be checked in?
There have been strict rules regarding the taking of liquids on board for years, but an exception is made for baby food:
You may take liquid baby food with you in your hand luggage if you are traveling with a baby.
Boiled water to be mixed with powdered baby milk is again not allowed in hand luggage. Check with the airline to see if they can boil water for you on board.
Read here about fun toys to keep your baby occupied during a flight
How far can you drive a day with a baby?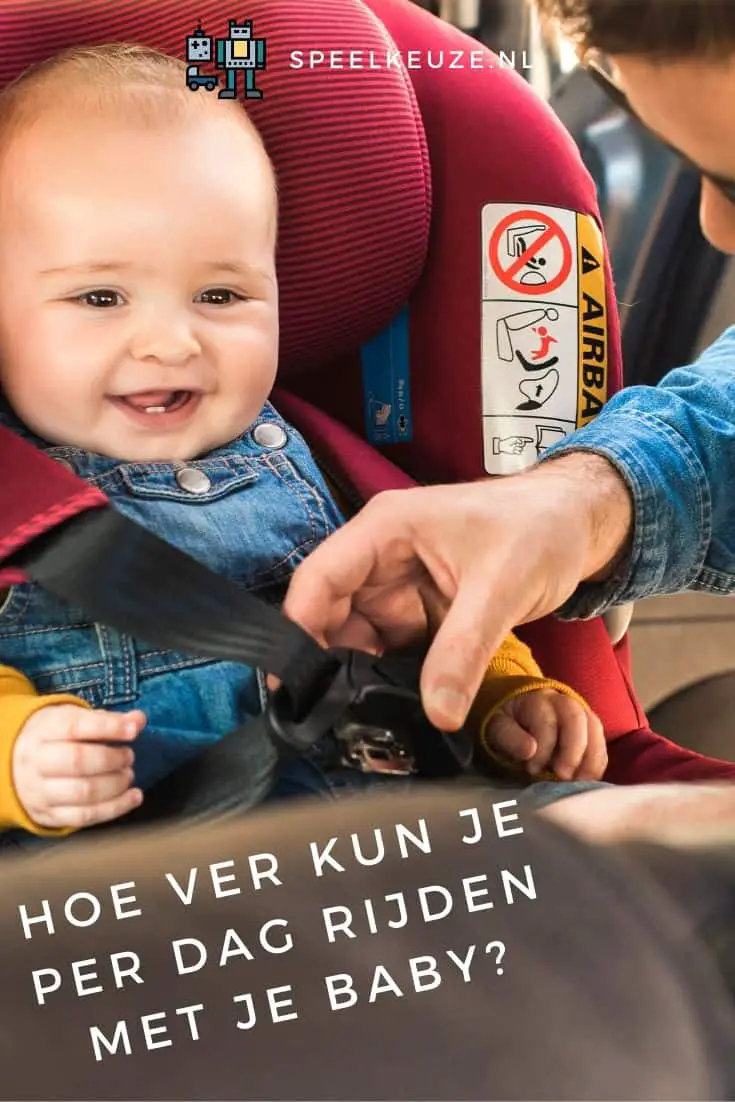 You can of course also go on holiday by car. Your baby can travel by car, but make sure to stop every two hours!
Try to match your travel time in the car as much as possible to your baby's naps,
so leave when your little one needs to go to sleep.
Stop if he or she is awake.
You can then eat something quietly yourself and your baby can play on a blanket or towel in the meantime.
You can immediately take a newborn baby with you in the car, but it is good to stop every two hours. However, if your little one sleeps a little longer, you can also drive a little longer!
When you stop, you can feed your baby at your leisure, change the diaper, let it move and stretch its legs yourself.
Make sure the baby has really had some distraction and is completely ready for the next car trip. With a towel in front of the window you prevent your child from sitting in the bright sun.
Also make sure that there is not too much draft in the car. When you turn on the air conditioning, make sure the temperature is a few degrees lower than the outside temperature.
Do you take pre-prepared bottles with you? Then make sure you have a good cool box. A bottle warmer especially for the car is also very practical!
Don't forget to take your thermo bottle with you, so you always have hot water on the go.
Which items are indispensable for traveling?
Finally, we would like to recommend a few useful items that can make your holiday a lot easier.
Do you want your baby to always have a nice place to sleep, wherever? Then is this Deryan Infant BabyBox Camping Cot suitable for your child from zero to two years:
This compact pop-up travel bed / tent weighs only 800 grams! Very easy to take with you and it also protects your baby against insects. The opening can be covered with the mosquito net.
The Infant Baby from Deryan is not only ideal at the campsite or on the beach, but also when you visit family or friends and you want to let the baby sleep peacefully.
If you are going on a plane trip is the Airplane Bed recommended!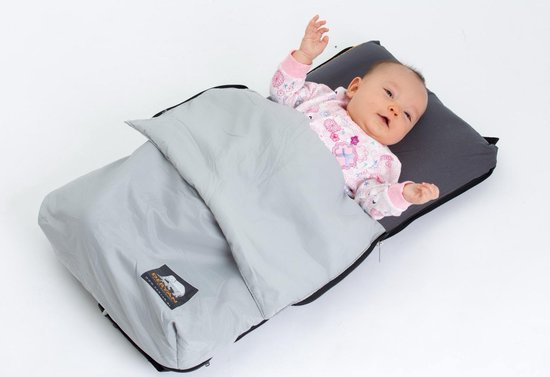 This 'pillow' is suitable as an airplane bed for babies and children. The travel pillow can be used in all aircraft.
Your little one can sleep so comfortably and not even notice that much of the journey!
For in the pool this washable Swim Diaper from HappyBear a must!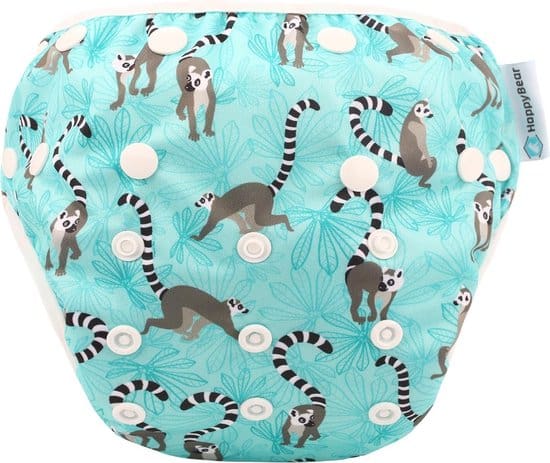 It is the perfect replacement for the disposable swim diaper. Light weight and adjustable in size, perfect for on holiday! You really only need one swim diaper!
You can use the same swimming diaper from birth until your child is about three years old. Make sure that the swimming diaper fits well around the legs and trunk, so that any faeces cannot run out.
A thermos is always very handy on the road and on vacation, the Baby Thermos from Jucago is a very good one!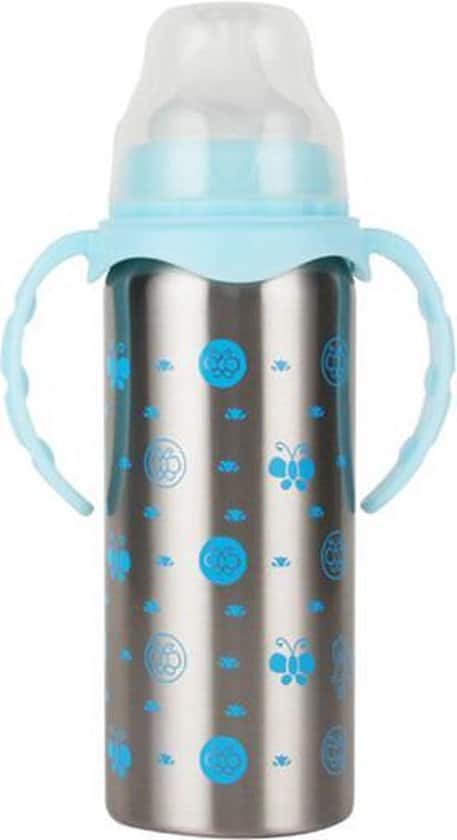 Do you want to take your formula with you on the go? This thermos can be kept warm or cold for up to ten hours. The bottle is free of toxins, lightweight, leak proof and even 100% recyclable.
The detachable handle is ergonomic and suitable for baby's little hands.
Very important to have with you: A. safe baby life jacket!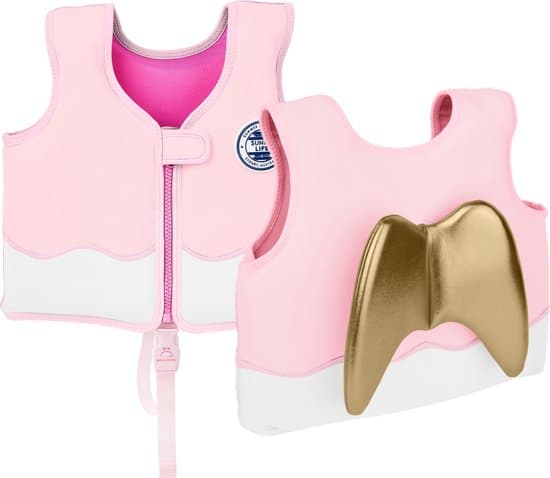 This swimming pool (view more here) is a safe, inflatable pool for babies from three months. Your baby will be introduced to swimming in a very pleasant way.
Thanks to the swimming harness and the safety belt with clip closure, your baby cannot sink down. Your little one has a lot of freedom of movement in the pool and does not have to be able to sit on his own.
You don't have to hold your baby all the time.
Conclusion
Hopefully our tips have helped you and you will be able to organize your family holiday with your baby well!
If you take the time and do some research into the destination and your accommodation in advance, you will certainly not be faced with any major surprises.
If your child is having a good time, so will you! We wish you a wonderful, carefree holiday, have fun!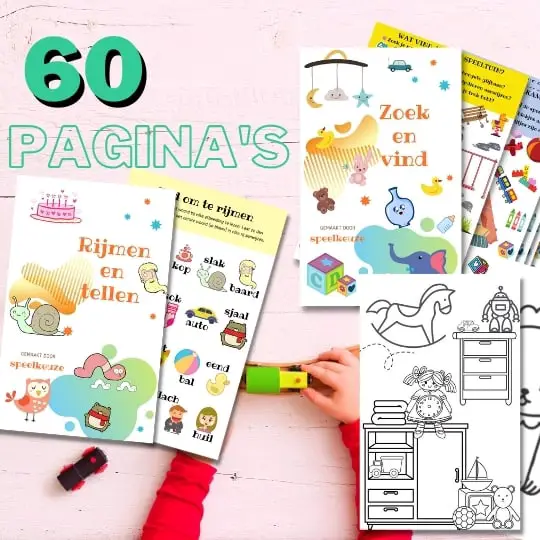 Always something to do for the holidays or rainy day?
Play Choice now has the ultimate activity book collection, with over 60 pages of fun coloring pages and educational puzzles.
Joost Nusselder, the founder of Speelkeuze.nl is a content marketer, father and loves trying out new toys. As a child he came into contact with everything related to games when his mother started the Tinnen Soldaat in Ede. Now he and his team create helpful blog articles to help loyal readers with fun play ideas.