How can you play indoors with kinetic sand?
I enjoy writing these articles for my readers, you guys. I don't accept payment for writing reviews, my opinion on products is my own, but if you find my recommendations helpful and you end up buying something through one of the links I may be able to receive a commission on that.
More information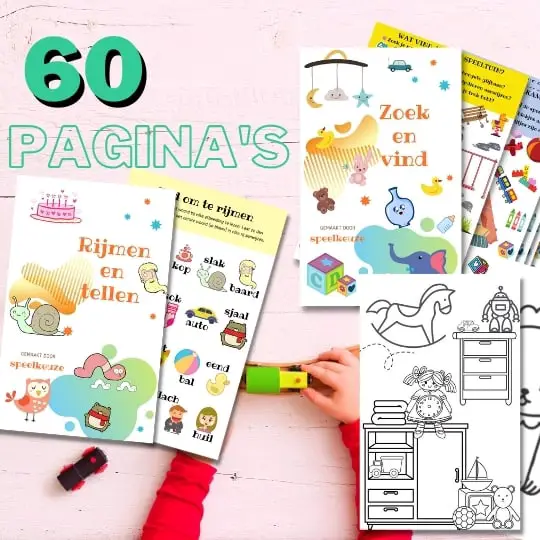 Always something to do for the holidays or rainy day?
Play Choice now has the ultimate activity book collection, with over 60 pages of fun coloring pages and educational puzzles.
Even though it's nothing new, it's something we're seeing more and more: indoor play sand, aka 'kinetic sand' called.
So you can play indoors with kinetic sand. You cannot do this with ordinary sand, because the grains of sand will then remain everywhere.
But what is the best way to play indoors with kinetic sand?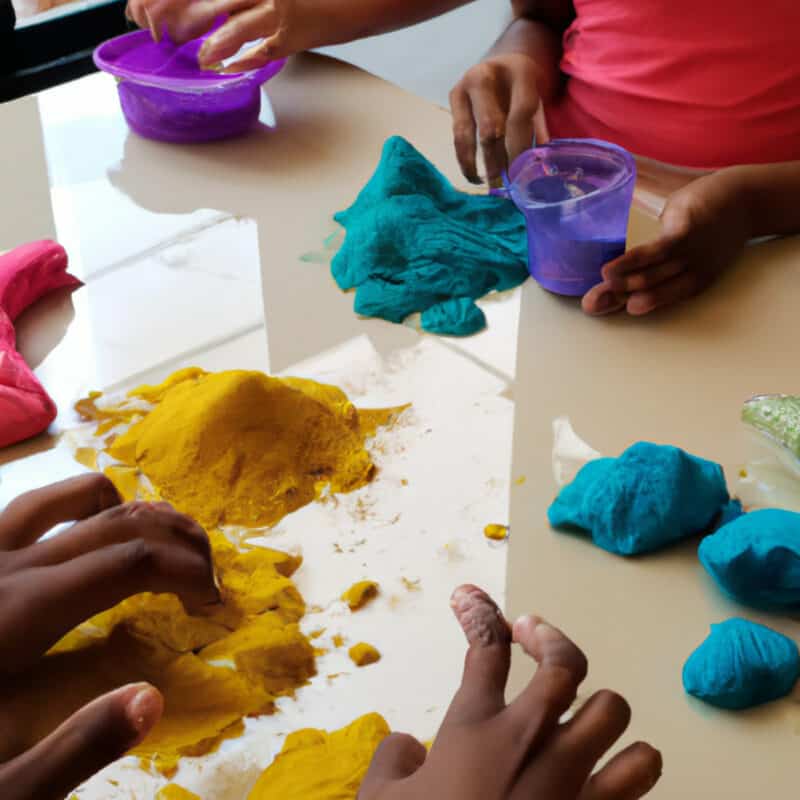 This special sand has the unique ability to stick together, making it ideal for creative projects and imaginative play. Whether you want to build something, knead shapes or create detailed designs with a toothpick, there are endless possibilities with this special sand.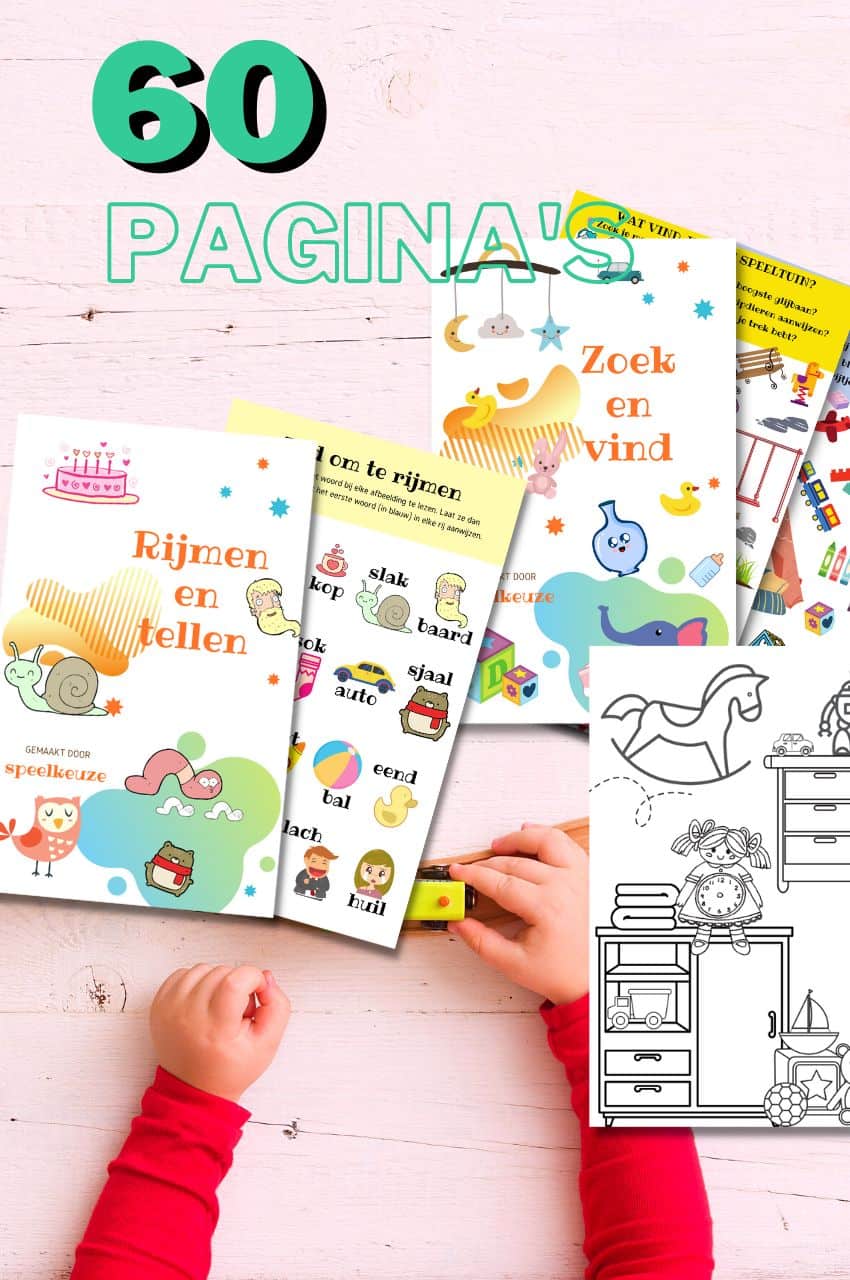 A play theme in your mailbox every month?
Fun play tips, activity books and more, with the first email being our free mini-guide "educational toys"
We will only use your email address for this newsletter and respect your privacy
What is Kinetic Sand?
Kinetic sand is the ideal toy if you don't have a garden, so that your child can also play with sand indoors.
Kinetic sand consists of 98% 'ordinary' sand and 2% binder material that is non-toxic.
It has a coarse grain, does not dry out, is anti-bacterial and even gluten-free.
The sand consists of a kind of loose threads that make it stick together. When it comes into contact with water, it will dissolve.
So if your child accidentally puts the sand in his/her mouth, it's not a big problem.
And because the sand only sticks to itself, your hands and clothes won't get dirty easily.
Clean up and store again is therefore done.
Also read: Kinetic Sand Cleaning | Can you vacuum it up with the vacuum cleaner?
Ideas for playing with kinetic sand
Kinetic sand is an amazing and captivating material for children.
Kids of all ages will love the many ways kinetic sand can provide hours of fun.
Not only is kinetic sand incredibly fun, but it also offers learning opportunities that can help your child develop their problem-solving skills, fine motor skills, and creativity
The best thing about kinetic sand is that it comes in a variety of colors so you can mix and match to create beautiful works of art.
Create shapes and structures
To get started with your own kinetic sand masterpiece, simply take some in your hands and feel the texture – it doesn't stick to your hands like other sands!
From here you can start forming shapes such as castles or cakes - perfect for those inspired by culinary arts or architecture.
The soft texture allows you to sculpt intricate details with a toothpick or knife, so no matter how big or small the project, you can get the most out of kinetic sand.
Creativity is key here as there are no limits to what you can create - be it animals, faces or messages in a bottle.
Bring in other toys
The sand is available in various colours. You can build, knead and make shapes with it.
For example, you can build a (colored) sandcastle or other shapes with it.
Because the sand sticks together well, you will have made a beautiful castle in no time! You can of course also think of 'baking' a cake or cupcakes.
You can also make animals, dolls or faces with it and draw the details of, for example, the face in the sand with a skewer or knife.
Be creative!
You can also buy additional accessories, such as molds and scoops. That's nice, but not necessarily necessary to be able to play with kinetic sand.
You can also play with natural materials, such as shells found on the beach or acorns.
What car enthusiasts also often enjoy is making a race track out of sand, and using a fork or something else to make lines in the track.
Then you race over it with your toy cars!
Finally, another idea is to hide small items in the sand for your child to find. Let the scavenger hunt begin!
Educational exercises
For those who want to take the learning experience to the next level, kinetic sand is also an educational tool.
You can use cut-out letters and numbers as templates while your child imitates these shapes in the material - this way they practice recognizing letters and have fun at the same time.
Another idea is to imitate numbers or letters with the sand, so that your child learns about them while playing.
Kinetic sand is also great for the development of fine motor skills.
Kids also learn how much pressure to apply when forming shapes – giving them valuable insights into physics concepts like force and gravity.
Ideas to keep it clutter free
Kinetic sand has the property that it only sticks to itself. When your child is done playing, you can also clean up the sand in no time.
Good thing, too! Always store it in a bin or bucket, airtight.
To keep the 'mess' to a minimum, you can use an oilcloth or a container, for example.
Or use a tray: you often get one if you buy kinetic sand.
If you have a somewhat larger tray, you can add extra game materials, such as shapes, skewers, straws, etc.
Preferably let your children play at a table. After playing you collect all the sand again, and you 'stamp' the leftovers that have ended up on the floor with some sand.
This way you not only tidy up everything neatly, but you also ensure that you can use your stock for a long time to come.
You can also let your kids play with the sand in a small box or tupperware on the table.
Choose a room with a hard or even floor, so that - if some sand does fall on the floor - you can pick it up more easily.
Is kinetic sand messy?
So kinetic sand only sticks to itself – and not to your child's hands or clothes, or anything else. Kinetic sand guarantees hours of fun.
Parents are also a big fan of it because it is not messy at all. The sand will not fall apart, so you will not have grains of sand all over your house.
Kinetic sand is perfect if you want to encourage your child's "messy activities" but don't like the actual mess!
Kinetic sand will not spread like regular sand. Also, it won't stick to clothes like Play-Doh.
Of course, if your child drops the sand everywhere, then of course you have to clean it up.
But it's much easier to handle than regular sand, and it's also easy to keep the playing surface clean.
In general, kinetic sand is not messy - provided your child handles it responsibly, of course.
If your children sit neatly at the table and play with them above the table, then cleaning up will not be a problem.
However, if they start throwing it, then it is of course a different story… Therefore, make sure that your children handle the kinetic sand properly.
Since the sand is non-sticky, you can easily clean it up by swiping it off the table with your hand and into a container for storage.
If the sand has fallen on a flat, hard floor (so not on a carpet), you can also easily sweep it up.
Did it fall on a carpet, then just use the vacuum cleaner.
Only then will you have lost part of your sand. Kinetic sand will not stick to the carpet, so that makes a difference.
Has your child got kinetic sand in their hair? No problem either!
Let him/her shake his/her head, preferably outside, so that the sand can fall out.
After that, it is best to let your child take a shower to make sure that all the sand is out.
Also read: 7 best toy vacuum cleaners to "help" in the household
How can you play with kinetic sand without making a mess?
As mentioned above, there are several ways to let your child play with kinetic sand without making a mess.
Try the following:
Let your child play with it in a transparent container. Bonus: It will also teach your child about spatial awareness!
Of course, this article is mainly about playing with kinetic sand indoors, but if you want to make sure your child doesn't make a mess, encourage him/her to play with the sand outside, even just in the sandbox.
It is also an idea to always give your child a small amount of sand to play with. Then they can make shapes with it. Think of animals, dolls, or cakes. If they want more, they can ask you and you can decide whether to give them a little more.
Playing with kinetic sand is great fun, but it's important to do it in a way that minimizes the mess.
Below are some additional tips:
Play with the sand on a surface that is easy to clean.
It might also be useful to put something over your children's clothes, for example a plastic sheet. Even if your clothes don't get dirty, it can sometimes remain in corduroys, for example.
Furthermore, I recommend that you clean up the kinetic sand immediately after playing.
Conclusion
With so many benefits and uses of kinetic sand, it's easy to see why this material has become such a hit with kids all over the world!
With the right materials, imagination and guidance from parents, young minds can explore their creativity like never before.
Also read: Why does my kinetic sand still stick to my hands?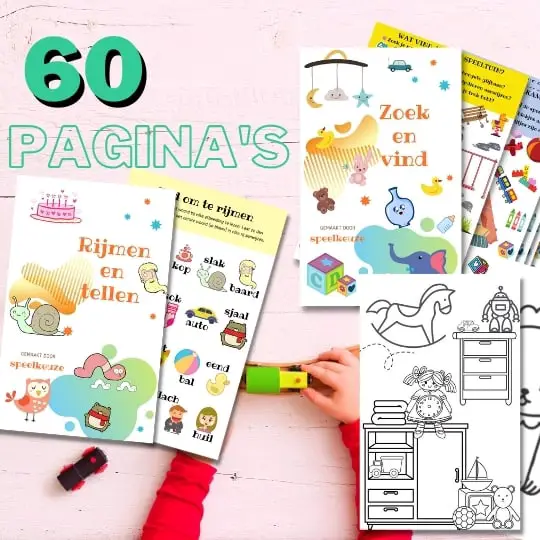 Always something to do for the holidays or rainy day?
Play Choice now has the ultimate activity book collection, with over 60 pages of fun coloring pages and educational puzzles.
Joost Nusselder, the founder of Speelkeuze.nl is a content marketer, father and loves trying out new toys. As a child he came into contact with everything related to games when his mother started the Tinnen Soldaat in Ede. Now he and his team create helpful blog articles to help loyal readers with fun play ideas.