This is how children's clothing sizes work & 3 tips to measure your child
I enjoy writing these articles for my readers, you guys. I don't accept payment for writing reviews, my opinion on products is my own, but if you find my recommendations helpful and you end up buying something through one of the links I may be able to receive a commission on that.
Further information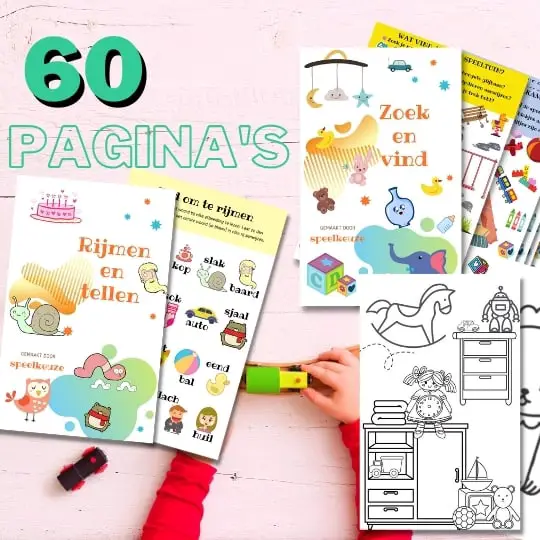 Always something to do for the holidays or rainy day?
Play Choice now has the ultimate activity book collection, with over 60 pages of fun coloring pages and educational puzzles.
Buying the right size clothing for your kids can be difficult. Each size is slightly different.
Moreover, children grow so quickly, especially when they are very young, and new clothes can be too small after a month.
Because your child has grown too tall or gained weight a little.
In this article I want to take a look at children's clothing sizes with you.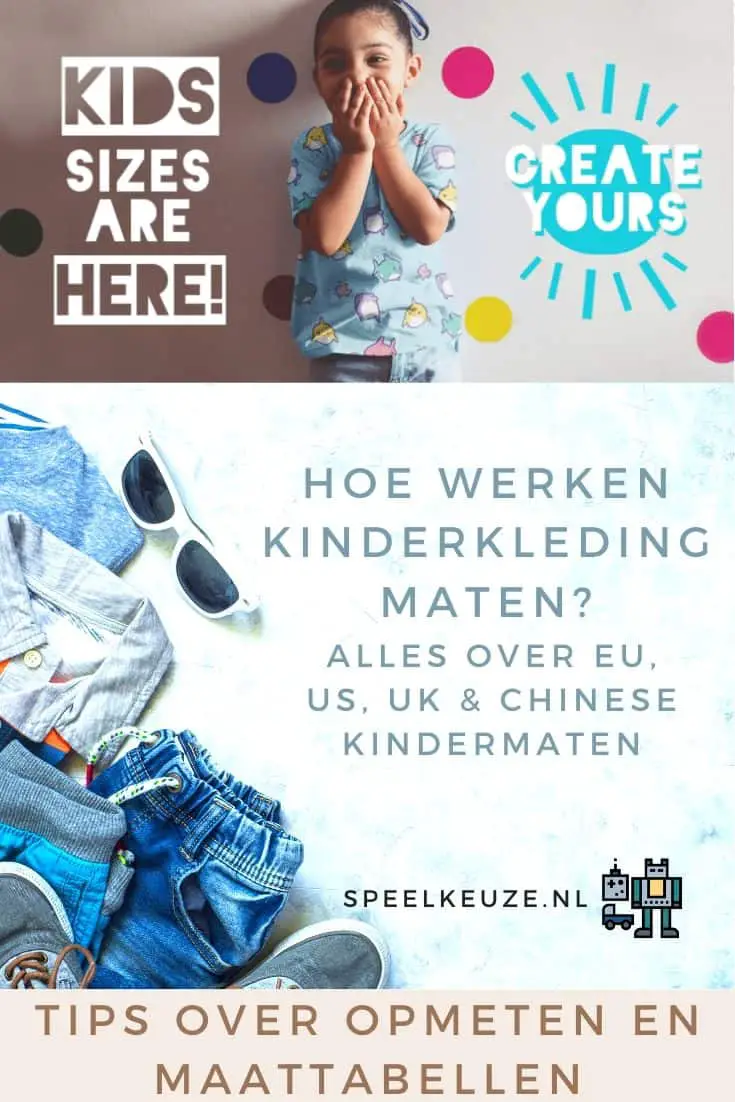 Sometimes it is better to buy clothes without your children, especially if your children are very young or already at school, or of course if you have found nice clothes online that you would like to order.
How can you buy clothes in the right size for your child without having to try them on first?
And are the sizes for boys and girls actually the same? And what about imported clothing from America, for example?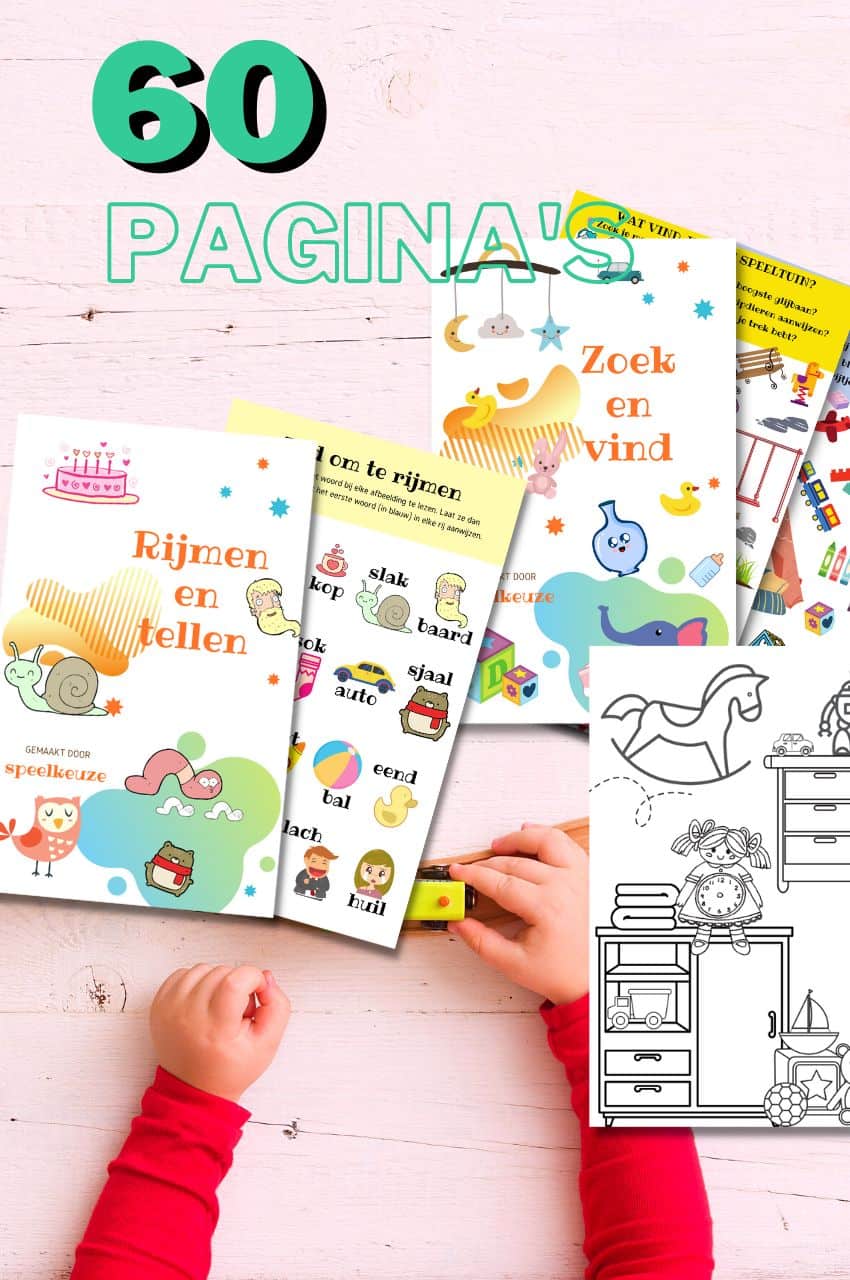 A play theme in your mailbox every month?
Fun play tips, activity books and more, with the first email being our free mini-guide "educational toys"
We will only use your email address for this newsletter and respect your privacy
Children's clothing size chart
Sizes indicate the maximum length.
Sizes are ascending.
For babies and toddlers, the sizes are not adapted to gender, as soon as the children grow slightly, the sizes are no longer completely the same.
This is a very handy website with extensive size charts, if you measure your child well you can find exactly the right size here.
Some sites have size charts based on age, but that is of course not correct at all, every child has a different height and stature.
This site does it well, and shows for each size what the measurements are in terms of body length, chest width, waist, and leg length.
They are only Dutch (European) size charts, but we will discuss further below how our sizes compare to American and Australian sizes, because you also sometimes encounter them here.
And of course to order nice clothes online from abroad. In principle, the same sizes are used everywhere in Europe.
Sometimes, however, different sizes are used. Instead of length, the English terms small, medium and large are used.
These sizes are roughly comparable to regular sizes in this way:
How do I measure my child?
Measure not only the height of your child, but also the girth: chest and hip circumference and waist.
You have seen nice pants online, and you would like to buy them for your child. But what size should you buy?
You have also opened the size chart, but you still have to measure your child properly.
How do you proceed?
Without shoes or slippers, place your child in an upright position against a straight surface, such as a wall or a door.
Also make sure you have a measuring tape at home, because a ruler is a hopeless task. A tape measure that is at least as long as your child is essential.
If you don't have a tape measure, you can also use a piece of string. Measure how tall your child is, then hold the string against a ruler.
Length
First, measure your son or daughter's height by measuring from the bottom of the foot to the top of the head.
Make sure your child maintains an upright position and does not collapse.
Sizes of children's clothing reflect the maximum length that your child must have to properly fit the garment.
For example, size 140 is suitable for a length of up to 1 meter 40.
Is your child 1 meter 41 tall, size 140 is too small and size 146 will be more suitable.
If you want to buy pants, you also measure the total leg length. Measure the outside of the leg from the hip to the ankle. Of course also with a straight leg.
Size
After this you only have to measure size.
You measure the chest and hip measurements where they are widest, and the waist is measured just above the navel, where the waist is narrowest.
Make sure that the ribbon remains horizontal, otherwise you will not get exactly the right size.
If your child is just in between sizes, it is wise to choose the larger size.
After all, your child will only grow, if the smaller size does fit now, it will quickly be too small.
How do I convert children's clothing sizes from US sizes?
US children's clothing sizes reflect the age at which the garment would fit, not the length.
In America, completely different sizes are used for children's clothing, just as with clothing for adults.
Where we base children's clothing sizes on the height of the child, in America it is based on age.
Baby clothing is based on the number of months (indicated with an M for months), then toddler clothing (indicated with a T, from the English word Toddler), and children's clothing is also based on the number of years.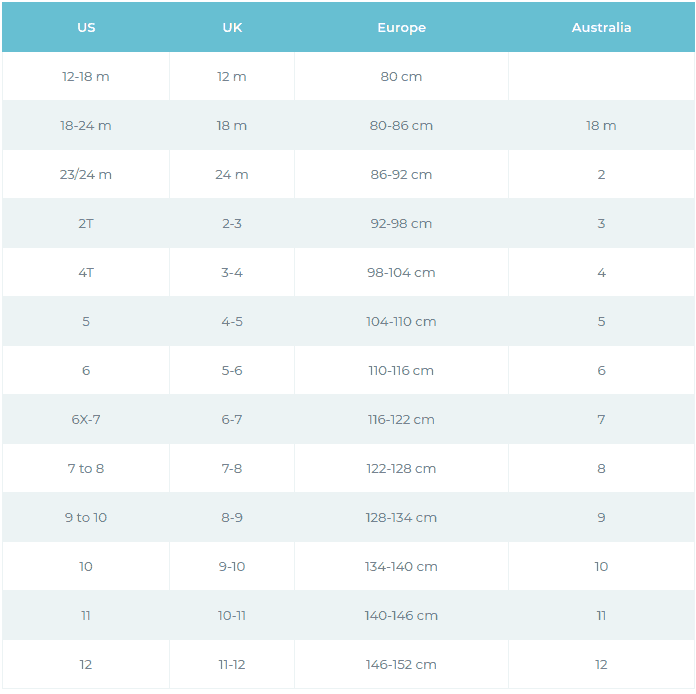 Don't take these sizes too seriously, as not every child grows at the same rate.
The height of everyone is different from birth, so American sizes are not really useful.
It is therefore best to convert American sizes to European sizes.
If you know what European size your child is, you can here see which US size will fit your child well.
How do I determine a children's clothing size for items on AliExpress?
Usually American sizes are used, sometimes Chinese sizes, which, like European sizes, are based on the height of the child, although they are not exactly the same sizes.
AliExpress is a Chinese company that is very reliable, and therefore very popular.
Fortunately, Chinese clothes are no longer known for their poor quality, so you can order your clothes with confidence via AliExpress (view the offer here).
The company has adapted to its popularity, displaying children's clothing sizes mostly in the American style.
With the letter M, the measure stands for the number of months, rising to 24M.
With the letter T, the measure for the age of your toddler (Toddler), although it often goes up to 10T.
Sometimes the size is also shown without a letter, this is the age of your child.
See the section above for how best to determine the correct US size for your child.
Chinese size charts
Sometimes you come across a garment with a Chinese size chart. It works in the same way as the European size chart, based on length.
Sometimes the abbreviation CM is behind the number, this of course stands for centimeter. European sizes always differ by 6 centimeters, and Chinese sizes always differ by 7 centimeters.
The numbers are therefore not quite the same. It does mean that your child can do a little longer with the size.
Often a double size is shown for outerwear, for example 66/44. 66 indicates the length measurement, and 44 the width.
If your child is a bit chubby, you can choose a slightly wider size. This is different for every brand and size, so there is not always a choice here.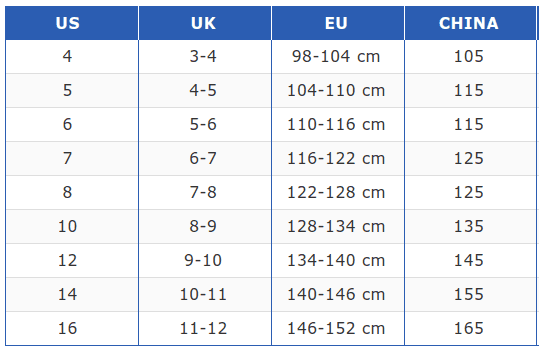 Chinese sizes for children (from 1 year) always differ by 10 centimeters.
For older children, the difference is often smaller, only 5 centimeters, although not every manufacturer does this.
Also with children's clothing sizes you can sometimes choose from different widths, although this is always different. Look here for clear tables with Chinese children's clothing sizes.
What about Australian sizes?
Australian baby clothing sizes are indicated with zeros, children's clothing with the maximum age up to which the garment can be worn.
Baby clothes
A different system was chosen in Australia than ours. Especially the sizes of baby clothes are special, because they are indicated with zeros.
The largest size of baby clothes is indicated with 0, which is comparable to our size 74.
The more zeros and numbers, the smaller the size. This goes up to clothing for premature babies, the smallest size is 0000000, which is comparable to our size 40.
So you cannot immediately see what the right size is for your baby, you will have to count zeros. Although it is useful to remember that more zeros represent a smaller size.
Children's clothing
Australian sizes of children's clothing are also confusing. These are shown with the maximum age at which the garment can be worn.
For example size 10, can be worn until your child is 10 years old.
This can be quite confusing, so some clothing brands use a double size, for example 8/10, which indicates that the size is for children aged 8-10.
This is again very confusing, because sizes are not shown in height but in age, and children can have very different heights.
Click here to see how the sizes compare to our sizes.
And how do English sizes for children's clothing work?
English children's clothing is also shown by age, except for premature babies.
For premature babies, imperial measurements are given by weight, in pounds (LB) to be exact.
For newborn babies, sizes are listed in terms, namely Small Newborn, or First Size, and the next size is Newborn, or Up to 1 Month.
The measures then run over by age, expressed in the number of months.
Children's clothing
The size is also indicated in age (in years) for children. Sometimes in a single size, for example 3, sometimes in a double size, 2-3.
Both sizes are for children up to 3 years old.
The largest sizes, sizes 15 and 16, are not the same for boys and girls.
The size for girls then only goes up 3 centimeters, that for boys' clothes remains 6 centimeters.
Click here to see which European sizes the UK sizes are comparable to.
Do shoes have the same sizes everywhere?
No. Shoes also have different size charts in each country.
Although the fit of shoes is always different, and it is therefore better to try on shoes in a store before purchase, you can also order shoes online or get them if you do not have your child with you.
Foot length is measured from the heel to the end of the big toe. It is best to measure the foot with a ruler.
Place it on the floor next to your child's foot while your child is standing still.
Each size goes up by 0,6 or 0,7 centimeters. Look here to see which length of the foot corresponds to which shoe size.
Foreign shoe sizes
As with clothing, shoe sizes are also completely different in England and America. Here you will find a handy tool for converting shoe sizes.
You can enter here how big your child's foot is in centimeters, and then see which European, English or American size is needed.
This is a very useful website, as it can also convert clothing sizes, also for adults.
Children's clothing size chart
Children grow up quickly and clothing must be replaced regularly.
Of course you keep in mind that when purchasing new clothes, the different sizes are taken into account.
It is important that the clothing is always comfortable and comfortable. The children must of course be able to move freely and happily. The correct size plays a major role in this.
From baby to teenage years you will therefore have to take the right size into account.
Until about age 5, the sizes for boys and girls will not differ that much.
Since the physique between boys and girls will change, the sizes for boys and girls will also differ.
The difference will mainly be in hip development, especially in girls.
For some clothes you can often buy a size bigger. For example with long pants.
So it can last a little longer as long as the hip fits well, but the legs are a bit long, which you can easily take in and detach again as the child grows a little longer.
Children's clothing sizes girls
Children's clothing sizes boys
Include children's clothing sizes
When taking the measure, this happens directly on the body. That way you always have the right size.
Chest width: is measured at chest height around the body.
Waist width: is measured at the height of the navel around the body where the waist is narrowest.
Hip width: is measured at the hip around the body where the hip is widest.
For long pants, measure from the inside leg length vertically down to the ankle. From the outside, start at the hip vertically down to the ankle.
Keep in mind that every child is different and can therefore always deviate slightly from the established sizes.
Clothing sizes differ in measured values ​​with other countries
The Dutch clothing sizes differ from the American clothing sizes.
In the Netherlands the sizes are based on the height of the child (in cm), but in America the sizes are based on the age of the child.
American clothing sizes
With American clothing sizes, especially for babies, the size is indicated in months.
You will then see on the label: a number with an M (short for 'Months') behind it.
An exception to this are sizes P ('Preemie'), for premature babies and NB ('Newborn'), for newborn babies.
The US baby clothing sizes (for babies 0-24 months) are as follows:
The US Toddler sizes are as follows:
Children's clothing sizes for girls
Children's clothing sizes for boys
Hopefully we have been able to help you a lot to choose the right size for your child.
When it comes to our European size or the American size. In this way, your child is always well dressed and nothing is too big or too small.
Conclusion
Before you buy clothes for your child, first measure your child carefully. View a clear table to discover the correct (Dutch) size. Only then buy the clothes.
If your child is in between sizes, choose the larger size. If the smaller size still fits, your child will soon have grown out of this.
Almost every country uses different sizes for children's clothing.
Many countries use age as a measure, while of course not every child grows at the same speed.
It is therefore important to know which European size fits your child well, and then convert this size to the foreign size.
Never just rely on the size that the clothing brand says should fit for every child your age, because the garment may just be too big or too small.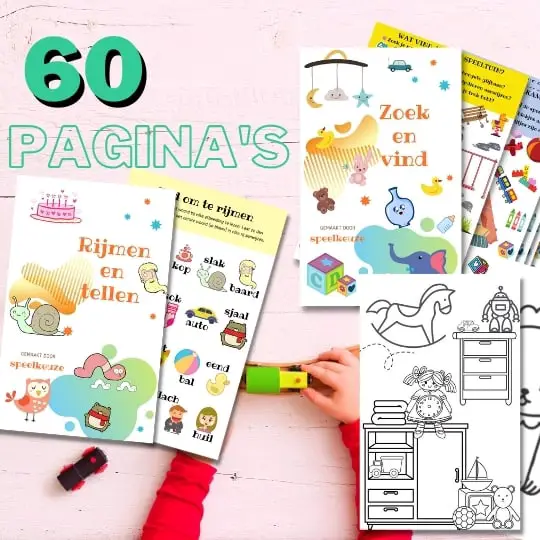 Always something to do for the holidays or rainy day?
Play Choice now has the ultimate activity book collection, with over 60 pages of fun coloring pages and educational puzzles.
Joost Nusselder, the founder of Speelkeuze.nl is a content marketer, father and loves trying out new toys. As a child he came into contact with everything related to games when his mother started the Tinnen Soldaat in Ede. Now he and his team create helpful blog articles to help loyal readers with fun play ideas.