How can you teach and edit stop motion to children on the computer?
I enjoy writing these articles for my readers, you guys. I don't accept payment for writing reviews, my opinion on products is my own, but if you find my recommendations helpful and you end up buying something through one of the links I may be able to receive a commission on that.
More information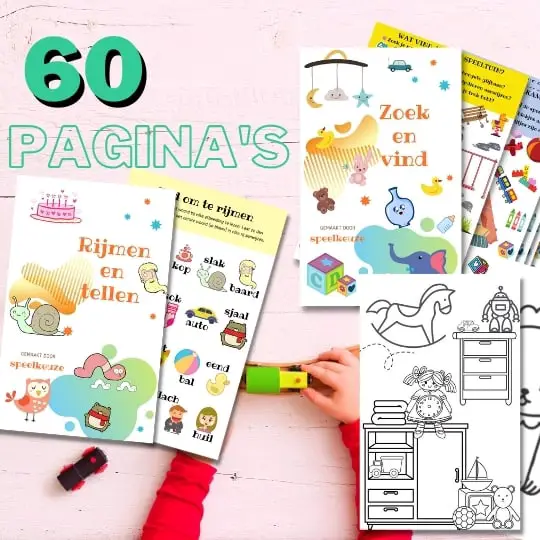 Always something to do for the holidays or rainy day?
Play Choice now has the ultimate activity book collection, with over 60 pages of fun coloring pages and educational puzzles.
How nice is it to combine creativity with digital skills? A great way to do that is to make a stop motion video.
Stop motion is a technique that allows you to make objects 'come to life' through a video.
Difficult for children? No, it is not!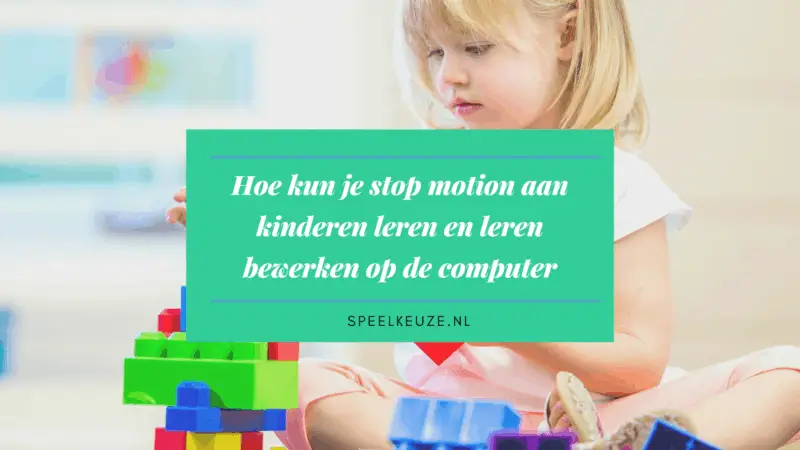 Have a child think of what kind of story they want to tell. It then finds the relevant toys and material together and the fun can begin.
Thanks to my step-by-step plan, the apple becomes a piece of cake. Besides on the computer, you can also very simply use an app that creates the video for you!
Is your child bored or are you looking for a new, interesting challenge for him or her? Or are you a teacher and do you want to teach your students new skills in a creative way?
Perhaps making a stop motion video is a great idea.
In this article you can read what stop motion is exactly and how you can put together a stop motion movie with your child.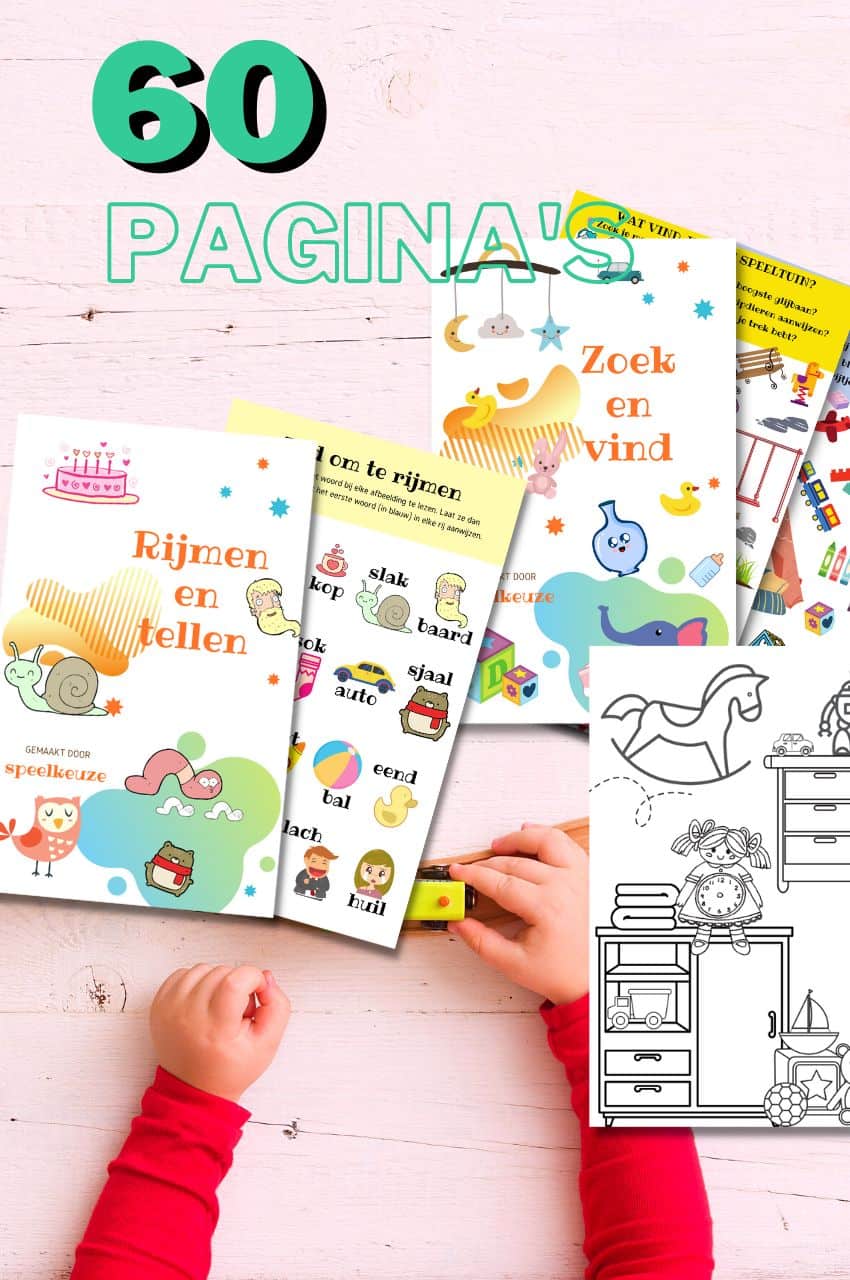 A play theme in your mailbox every month?
Fun play tips, activity books and more, with the first email being our free mini-guide "educational toys"
We will only use your email address for this newsletter and respect your privacy
What is stop motion?
Sounds nice, that stop motion. But.. do you actually know what it means exactly?
A stop motion video is really nothing less than a bunch of photos that are played back in quick succession.
Stop motion is a technique in which a film is made frame by frame. Essentially, you're just pasting a bunch of photos in a row.
When the subject of the movie is always a little different, the idea of ​​​​movement arises when those photos are played back in quick succession.
The YouTube kids app is full of fun stop motion movies, like this (fairly professional) from LEGO:
It is an age-old technique. Because stop motion is actually very time consuming, it has been widely replaced by digital animation.
However, because you only need a small amount to put together a simple stop motion yourself, it might be fun to try it with your child!
What do you need for stop motion?
You really don't need much to make a stop motion movie. In addition to a good dose of imagination and creativity, you will need:
A camera or phone for the photos
A phone, tablet or computer to edit the videos
A dedicated app on your phone or video editor on your computer
Children can learn to deal with stop motion at a young age. They love to bring their favorite toys to life through a movie!
I will explain later in the article how to put together your video using an editor.
What else is important in stop motion?
In order for the film to be a success, it is important to take a number of things into account:
It is useful to think in advance what kind of story you want to tell with the video and which toys you need for that
Make sure the iPad, camera, or whatever device you use for the video, is in a fixed place. Do not move it.
Only take pictures of the mini-figures, not each other.
Move the minifigures a little bit at a time
For example, do you want to record a scene from the circus? Then find the toys together that fits within that theme.
Think about what the animals and dolls can do.
The device you use to take the photos should be firmly in place, and it shouldn't move after the first photo. Otherwise the effect of stop motion is gone, and that would be a shame.
In addition, the objects that are moved only have to be moved a little bit at a time. If there are too large differences between the images, it will give a jerky effect.
Your child will gradually learn how to best handle this.
It might be useful as a parent or teacher to first make such a film yourself. That will show you as an example.
Stop motion with LEGO?
Essentially, you can make stop motion movies with all kinds of materials.
LEGO is ideal because it allows your child to build their own scene and use the minifigures as main characters.
In addition, it is with LEGO handy that you can interrupt the filming every now and then without any problems, and that you can pick it up again later.
That is perhaps an important point, because a stop motion video can take quite some time.
Of course you can also simply combine your LEGO dolls or toys with other materials or stuff!
Also read: Playmobil vs LEGO: 3 unknown differences to help you choose
Stop motion step-by-step plan
Know that for a stop motion video of about 33 seconds, you need 200 photos. So time to get started!
Do you have a tripod? Then use it! It will provide a more stable image.
Step 1: Create the story
You choose which figures, materials or ingredients you want to bring to life.
Think of toys, but also of fruit, cookies, clay, pens, etc.
Convince with your imagination! Use the craziest materials. Clay always works well, you can knead anything with it.
Read for inspiration Writing children's stories | Fun for or together with your child
Step 2: Take the Pictures
There's nothing in the first photo you take. A story starts at 0, and not in the middle of an action.
In the second photo, let your main character or another character slowly appear in the picture. For example, show only part of the character, or for example the nose if it is an animal or doll.
In the next photo, this character is a small step further, and in the one after it a bit further. After the first ten or fifteen pictures, take a look at your camera to see how it looks.
Now you start telling your story. Take pictures again of each step taken by the characters.
It's nice to use credits to announce the end of your story. If you want to do that, write the letters line by line and photograph each step.
Step 3: Edit video on computer
Done with your story? Then you should have a lot of photos, but no video yet.
That's why you have your computer, tablets or smartphone with a special stop motion app on it. More about this right away!
To create and edit your stop motion, you can use a computer. I will immediately explain to you how you can best approach this.
When you have finally collected all the photos, first copy all these photos to your computer. Keep them in a place where you can find them again. For example, create a separate folder for your project.
Now you choose a program. For example, for a Microsoft computer you choose Windows Moviemaker, for Mac you choose Quicktime.
Then change the length of your images. Every program deals with this slightly differently.
Play with the other functions if you want. For example, add music, special effects, etc.
Save your work regularly.
For example, in Moviemaker you create a 'new project'. Here you open your photos, select them all and adjust the display duration (length of your images) to 0.2 seconds.
Save your video as MPEG4 and give it a title.
Alternative: Edit video via app on phone
What might be even more convenient is to create your stop motion video via an app on your phone.
Various free apps are available in the Google Play Store, Windows Store or Apple store with which you can make stop motion videos.
The one most used is the Stop Motion Studio app. It's free, with in-app purchases for those interested. You can download Stop Motion studio in all three app stores.
In addition, there are the iMotion app and the iStopmotion app, which you can again download for free from the Apple store.
The apps are generally very handy and after uploading your photos they do the rest of the work for you!
What else can my child benefit from learning stop motion?
Assembling stop motion movies is an excellent way to teach important skills.
It stimulates the cooperation between children.
With stop motion, children learn to use images, music, language and movement in order to subsequently express and communicate experiences and feelings.
Stop motion is therefore not just a fun pastime: it can also be used to enrich education.
With stop motion, a child works on several skills at the same time, saving you a lot of valuable time as a teacher.
Also great: Coding for children | from toddlers to preschoolers, all the way up to age 14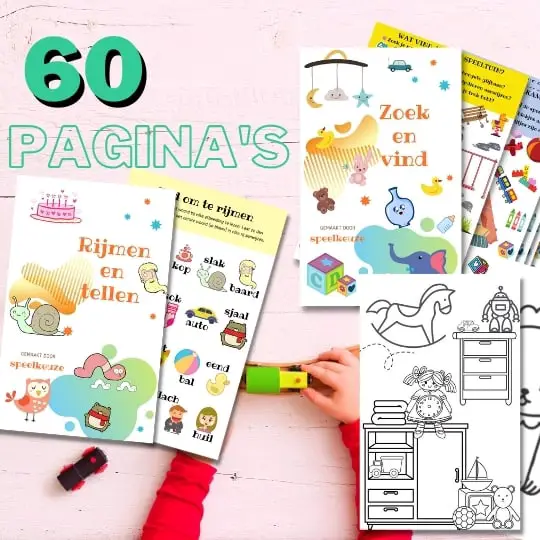 Always something to do for the holidays or rainy day?
Play Choice now has the ultimate activity book collection, with over 60 pages of fun coloring pages and educational puzzles.
Joost Nusselder, the founder of Speelkeuze.nl is a content marketer, father and loves trying out new toys. As a child he came into contact with everything related to games when his mother started the Tinnen Soldaat in Ede. Now he and his team create helpful blog articles to help loyal readers with fun play ideas.