Wedding with children: 9 children's clothing tips & play tips
I enjoy writing these articles for my readers, you guys. I don't accept payment for writing reviews, my opinion on products is my own, but if you find my recommendations helpful and you end up buying something through one of the links I may be able to receive a commission on that.
More information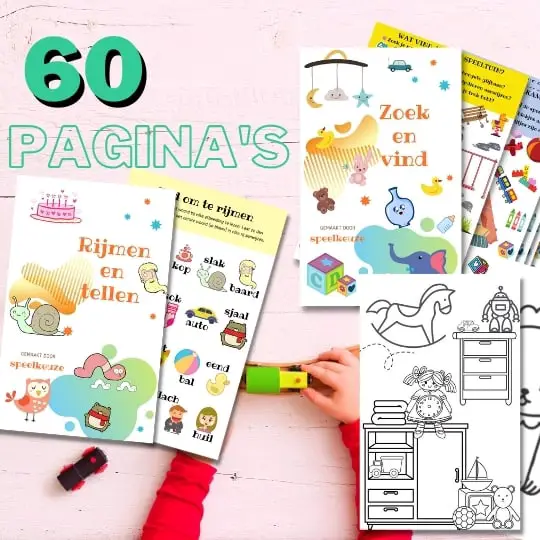 Always something to do for the holidays or rainy day?
Play Choice now has the ultimate activity book collection, with over 60 pages of fun coloring pages and educational puzzles.
Ok, you've been invited to a wedding and kids are welcome.
Or: you give a wedding and of course your kids can come too :)
Then you face the following dilemma. What kind of children's clothes are you looking for for the wedding? And how do you keep them entertained?
In this post I have the best tips for you around children and a wedding party so that you too can make it a resounding success.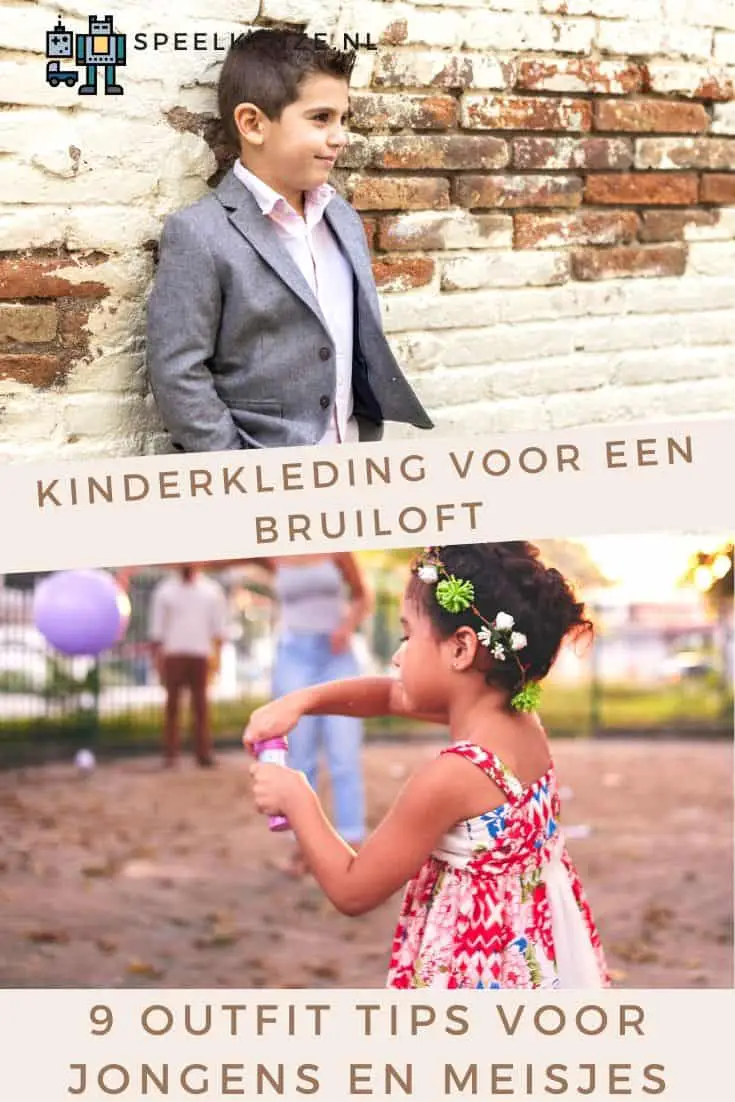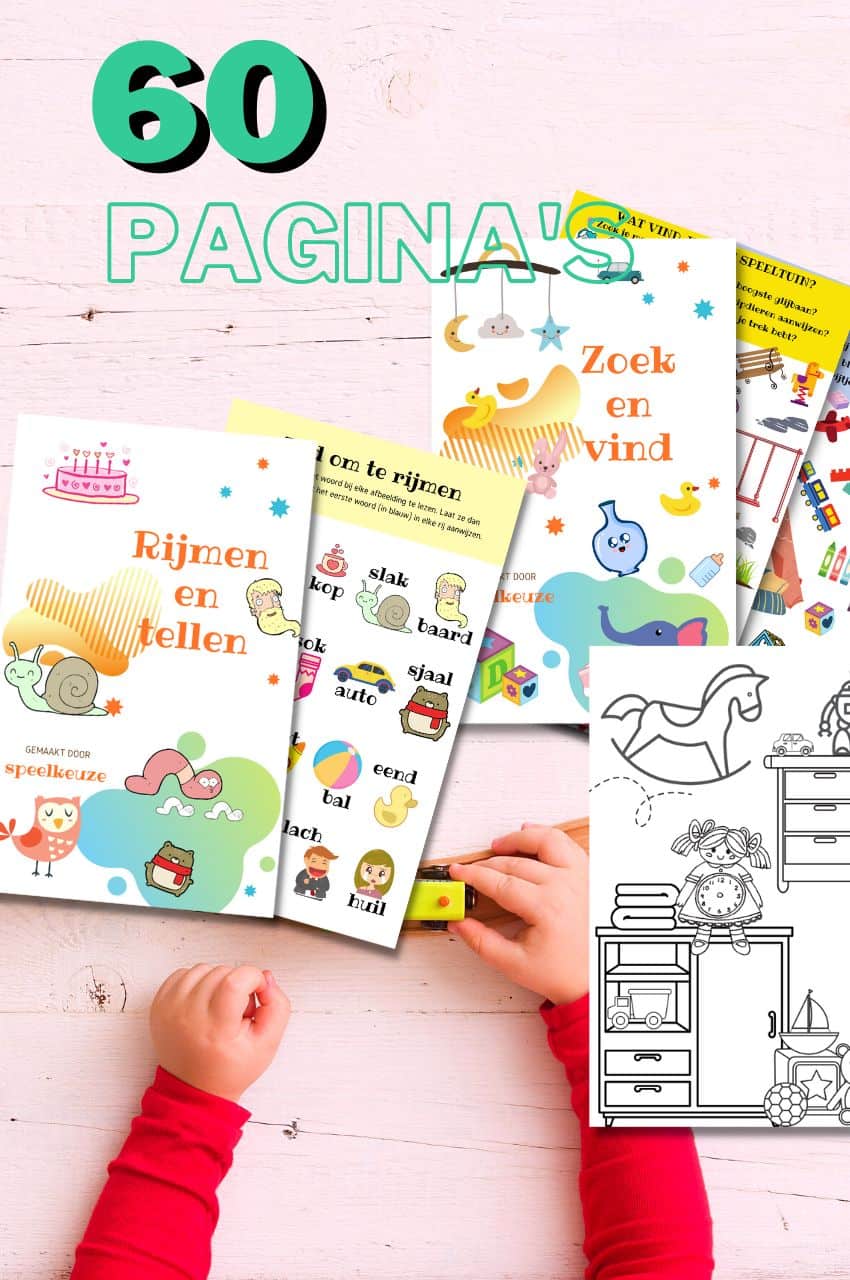 From toddler to toddler activity book collection
Educational games and coloring pages for 3 to 6 years
Your toddler and preschooler will love this e-book, along with the accompanying printables. He or she can play with it at every stage of development, together with mom and dad.
Buy at Bol.com
What children's clothes do you put them on for a wedding?
Weddings are fun. They make us look our best again with a variety of outfits, matching accessories, new looks and different dresses that we can combine for different occasions.
But while you look your best, you certainly wouldn't want your kids to show up in neutral dresses or simple pants for an occasion as vibrant and festive as a wedding.
Your little "fashionistas" should also wear nice clothes. Clothes that add to the feel of the occasion and make them look all the more cuddly and cuter.
Here we have a few ideas for dressing your kids for the wedding season:
Just let the children be children
You will probably already be a little worried about how your little angel runs, jumps up and down and slips on its knees on the dance floor.
And that is quite right. Like it or not, that's what kids do at a wedding.
So dress your kids in comfortable outfits, instead of opting for expensive designer or designer clothes.
For a wedding, it's best to dress kids in something that couldn't be easily ruined if they run around and play in it, but at the same time choose something that fits the theme of the party.
Children's clothing for a traditional and neat wedding
Often this theme will still be traditional and neat, although you also see more and more different types of wedding parties.
If the dress code is neat, dress them nicely too. But still let them be a child.
A girl can add one easy to put on a sitting dress, something she can also play in.
And a little boy can do one just put on shirt with a bow tie or tie. Then keep the bottom a bit lighter and choose shoes in which they can also walk and jump normally.
Go for a bright "pop" of colors
Shades of pink, peach, pastels, coral and parrot green look good on kids during the day.
If you attend a night function, carefully choose shades of turquoise, yellow and red for your little ones.
Girls' dresses are neat even though they are colored.
For a boy it is usually best to stick with black, but I always like a little color, like the bow or maybe those socks :)
There is nothing more festive than a little color in the brewery!
Accessories for that extra cuteness factor
A nice satin bow for girls or a bow tie for boys are cool, but add the extra "oohh!" factor by giving them a little extra accessories.
Young girls look so cute when they wear fairytale shoes or sparkly jewelry or big bows attached to their headbands.
A flower or a cute brooch attached to their outfit will add a lot to even a simple design.
Guys, on the other hand, look so charming when they wear a bow or tie to match their belt, or when they wear cute cufflinks with their favorite cartoon character on them.
Or how about a set of suspenders instead of a belt. Perfectly matched to the colors of the theme. That's so cute!
Nice to see him neatly with accessories that are normally only worn by dad on special occasions.
Children's dresses that you could put on
Of course a nice children's dress is great as a wedding outfit for your daughter. What kind of dress should you buy exactly?
Of course it varies a lot per theme. But here are some fun choices that always get it right.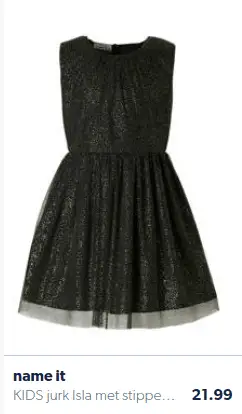 Of course it should be a bit festive.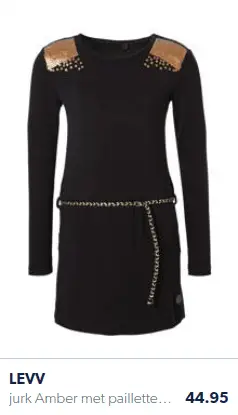 Or for a nice check and retro look.
And many more dresses you can buy here.
Neat shoes for the wedding
Of course you need shoes for your little girl or for your little boy. Here are a few shoes you can't resist for an occasion like this one:
For the boys I would go for black sneakers.
New shoes make it a lot neater than worn out old shoes, but a good pair of black sneakers can look perfect.
You don't have to get rid of those expensive patent leather shoes for this one occasion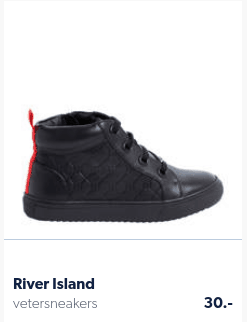 Check out all boys' shoes here.
Girls' shoes can be cute and have a fun girlish color.
It doesn't have to be super neat, but it must of course match the wedding theme and the chosen dress.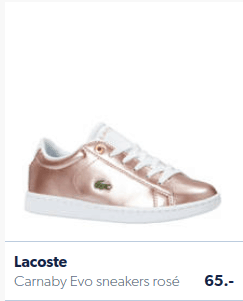 Check out all girls shoes for a wedding here.
Children's suits or costumes that you could put on
What could be nicer with a kid than a neat suit? Or a jacket with dark jeans is also possible. Quite the gentleman!
You can of course have expensive suits made, perhaps if it is your own wedding and you want to go all out with the decoration.
But there are also a number of good budget options: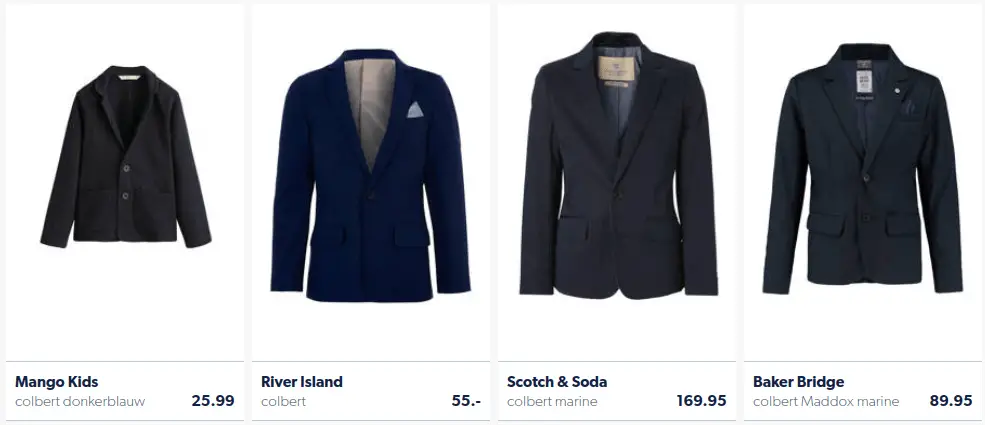 Nice shirt for boys
A smart shirt doesn't have to be that expensive. You have great articles for under € 15, -.
Furthermore, you can make it as crazy as you want, but reasonably affordable and nice-fitting shirts are those of Antony Morato.
Not very expensive at all, but real quality.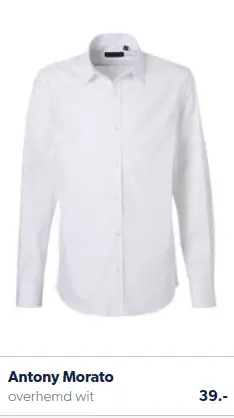 Nice children's hair accessories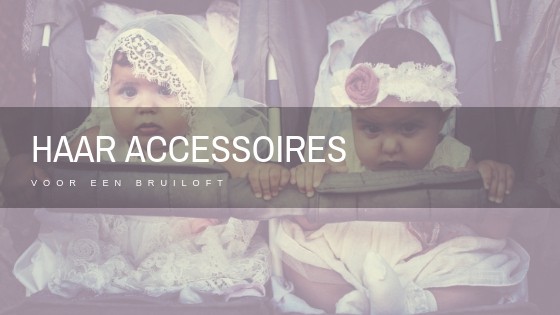 Sure you can do this for a boy as well, but as a rule these accessories will mainly be for girls.
Here are a few fun items that can complete an outfit. For example, crack a nice hair band that can complete the outfit: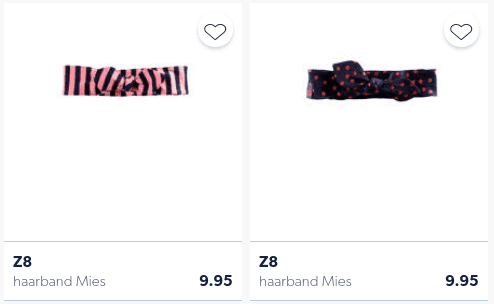 (View all hair accessories here)
Children's bag, that cute accessory to complete the outfit
A nice children's bag is always cute to complete the outfit.
Again it will mainly be for the girls among the little guests, but well matched it can be the accessory to get all the best at the wedding party.
A few more children's outfit photos for the wedding
What do you think of this neat boys outfit: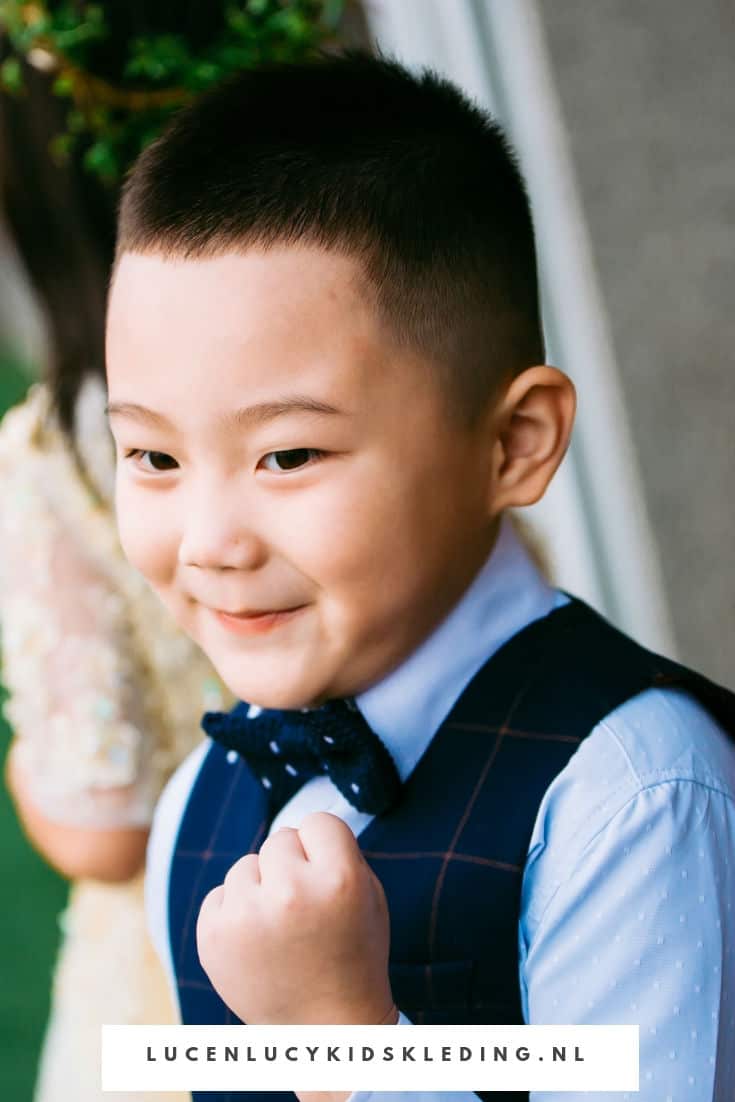 And this one for boys and girls for a wedding party: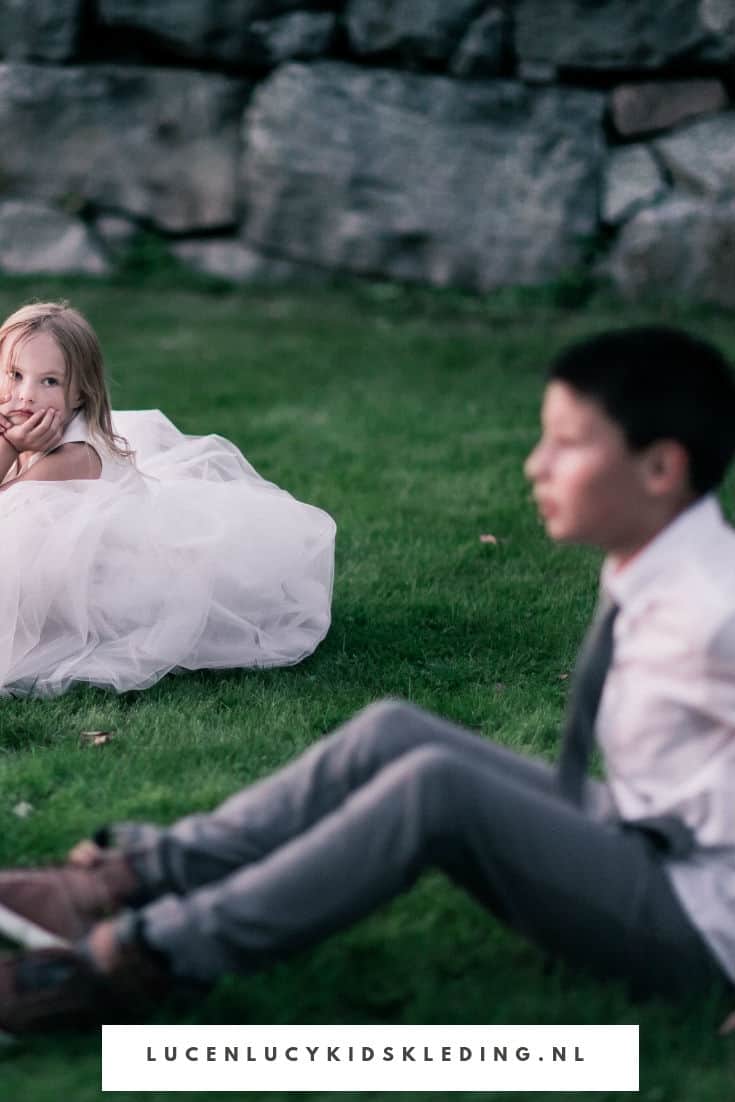 What kind of hairstyle is fun for the wedding?
Now that you've put together the outfit, you might also want to know exactly how you're going to do their hair.
Did I know, that's why the next part of this article is devoted to your kids' haircut.
While we all hope to be thoroughly organized for the big day, it's always a good idea to have a backup plan and as much as possible ahead of time, especially when it comes to kids' hair!
If it's your own big day, you may want to make sure it won't work for you that day.
Then there's this simple, yet extra special style that even daddy can do ...
Girls hairstyle for the big day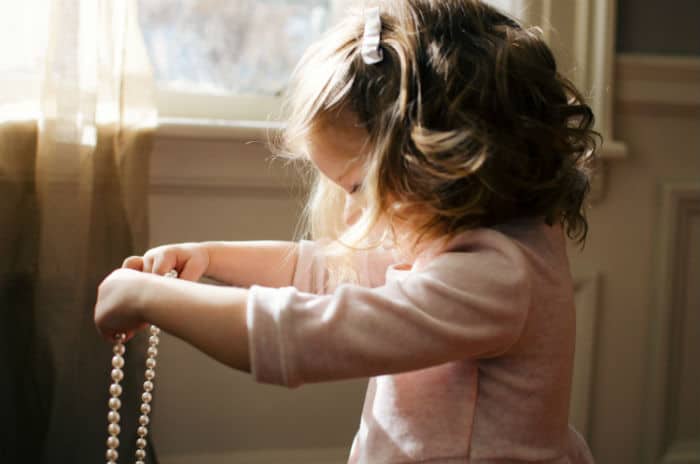 What do you do to make the hairdresser's visit easier
The dreaded visit to the hairdresser, some children find that annoying anyway, let alone all the fuss and stress surrounding a big day.
Talk to your kids about their upcoming haircut in the days leading up to the event.
Describing a new hairstyle in terms of something fun, an adult treat that they can now experience, can help children to get excited about the experience.
A small snack often works wonders to keep the little ones in the salon chair, and small rewards like a lollipop or a show in the park on the way home can help make their experience a positive.
If your child finds the salon environment particularly stressful, it may be worth looking into a home hairdresser as your child is likely to be more comfortable in a familiar environment.
The evening before
Washing hair the night before can take the pressure off the wedding day, and give you at least one less thing to worry about!
Wipe all tangles before going to bed and wash and dry their hair before going to bed.
Using a 2 in 1 shampoo can also help reduce the stressful process by minimizing hair wash time and reducing any tangles.
To reduce tangle, try to squeeze as much water out of their hair as possible after shampooing.
Do not try to rub it with the towel as this can make tangles worse.
A little conditioning spray can help, so try doing this when combing through wet and dry hair using a wide-toothed comb, always starting at the ends.
If your child has longer hair, it may be helpful to braid it back or tie it in a loose ponytail while sleeping.
Then on the morning of this memorable event a little less was left to fate.
Children's entertainment for the wedding
When children are welcome at a wedding, it is always good to think about how you are going to entertain them.
Some entertainment for distraction is therefore a must.
You will see that most of these ideas mean that the kids can isolate themselves in a separate space :)
Interactive entertainment
It is always a good idea to have a separate area for receiving children.
Bring in the professionals who keep them busy with activities such as crafts, storytelling, and fun games.
Movie room
When the evening party starts, but it's still too early for the little ones to go to bed, set up a movie room with a 'midnight party' (just not at midnight!).
If it really gets later, pick up the kids in their pajamas and create a cozy space with lots of pillows and you will be sure not to hear a squeak from them until bedtime.
Painting crazy faces
A face painter is a great way to keep the kids entertained.
They can be placed discreetly in the corner and you can give the kids a number to avoid waiting in line.
This is a fun activity suitable for any wedding venue from country houses to party tents.
minidisco
Kids love to dance, so how about a mini disco set up with an entertainer playing fun dance games?
You can get props and prizes and even judge a dance competition. Maybe the winner can dance with the bride?
Little helpers
Your youngest guests look super sweet as mini ushers, welcome the other guests and issue service orders.
Or maybe you can give them the responsibility of scattering the confetti?
Crafting table
Opt for craft plans that take a while, such as decorating T-shirts or making jewelry.
Make sure you have responsible adults to supervise the activities, especially if scissors are involved!
For example, make a children's cloth booklet with the bridal theme to entertain them in style.
Nice day
Do you remember those extra fun days at school?
Of those days where you all have your board game was allowed to take home, did all kinds of crafts and had a lot of fun
Create that atmosphere at the wedding too. For example, let the children bring their favorite games, or provide enough material on the tables yourself.
Blow bubbles
Blowing bubbles is always a good option.
It's cheap, easy to use, and will get kids trying to blow the best, biggest, or * mega-super * bubbles.
This will keep them entertained and busy playing together, so that the parents can enjoy a little break during the wedding breakfast.
If you have some older kids, the appeal of bubbles may have waned a bit, so you'll probably want an extra idea to keep these teenage guests happy too.
Miniature Photographers
Have you considered having a photo booth? Whether you rent one or make your own, they are guaranteed to keep kids busy.
You can turn yours into a whole playground by adding loads of props, be prepared for some hilarious wedding photos that will entertain the kids and other guests!
Take it a step further and enlist the children as the director of the day.
Whether you give them a clapboard prop for the photo booth or a photo checklist to click on cameras during the day, the roll will make them feel special and keep them busy.
Sweet tooth
How many kids do you know who don't have a sweet tooth?
Not much.
Go big and create a candy bar that doubles as a decoration for your reception, makes your cake table pop and even plays a part in your dessert!
For example, children can take small candies from a large candy bar.
They will love to pick and mix, so have plenty of serving scoops and color-coordinated paper bags ready.
Once they've had enough, will they be so full of energy that they will dance until late!
And if you don't want a big candy bar for decoration, why not opt ​​for small jars of candy as wedding favors?
These could be reserved for the kids while adult guests receive miniature liqueurs, for example, or it could just be candy for everyone.
Don't forget that you can choose old-fashioned candies such as licorice root or even a syrup soldier to match the mood of the party.
Children's activity booklet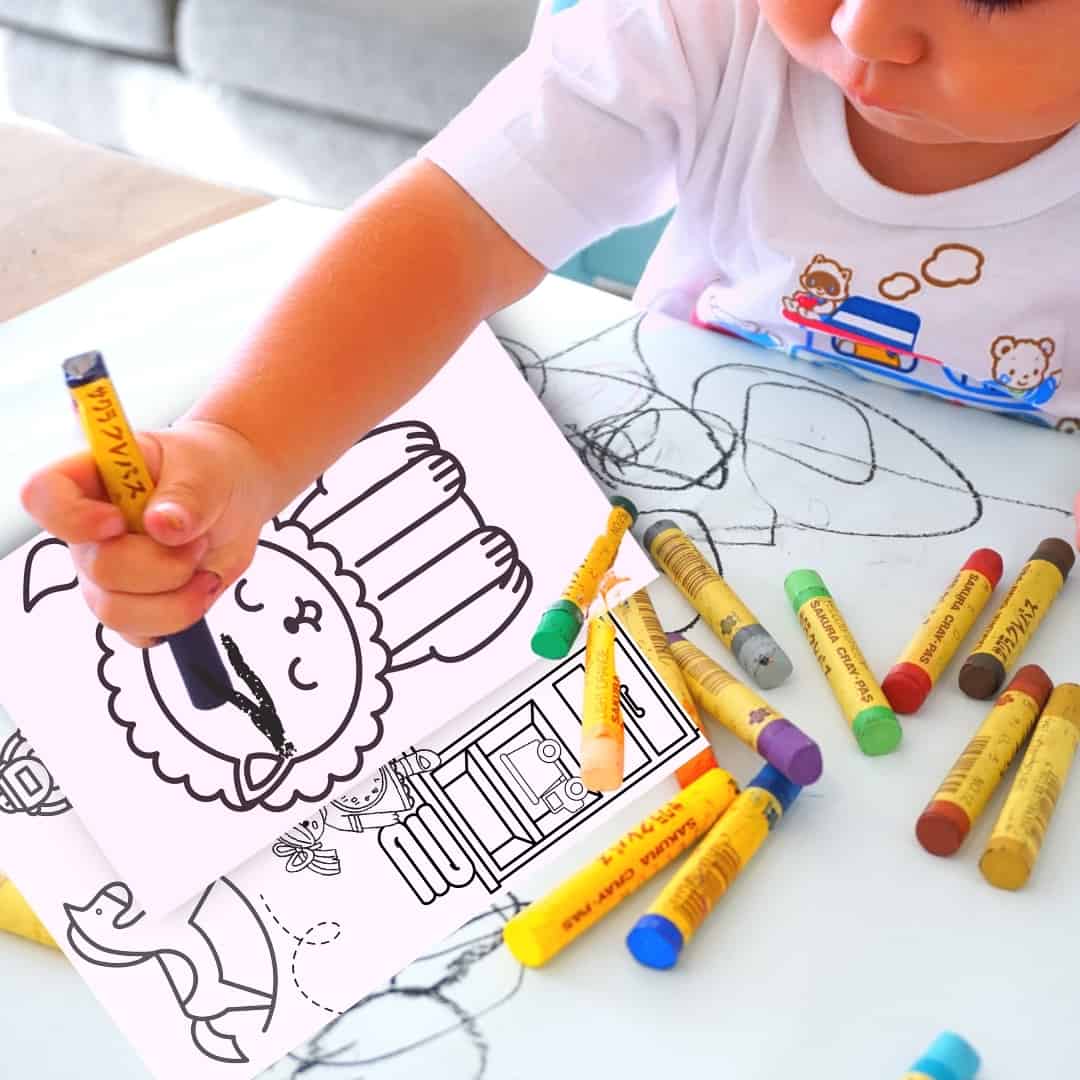 Coloring pictures
The coloring pages are always fun to do. I've made a few for the little ones, with big shapes and big pictures, plus a whole bunch with more coloring like the nursery, all in our free activity book collection.
A fun way to keep the kids busy is always a children's activity book. A collection of activities and coloring pages that can keep any child busy.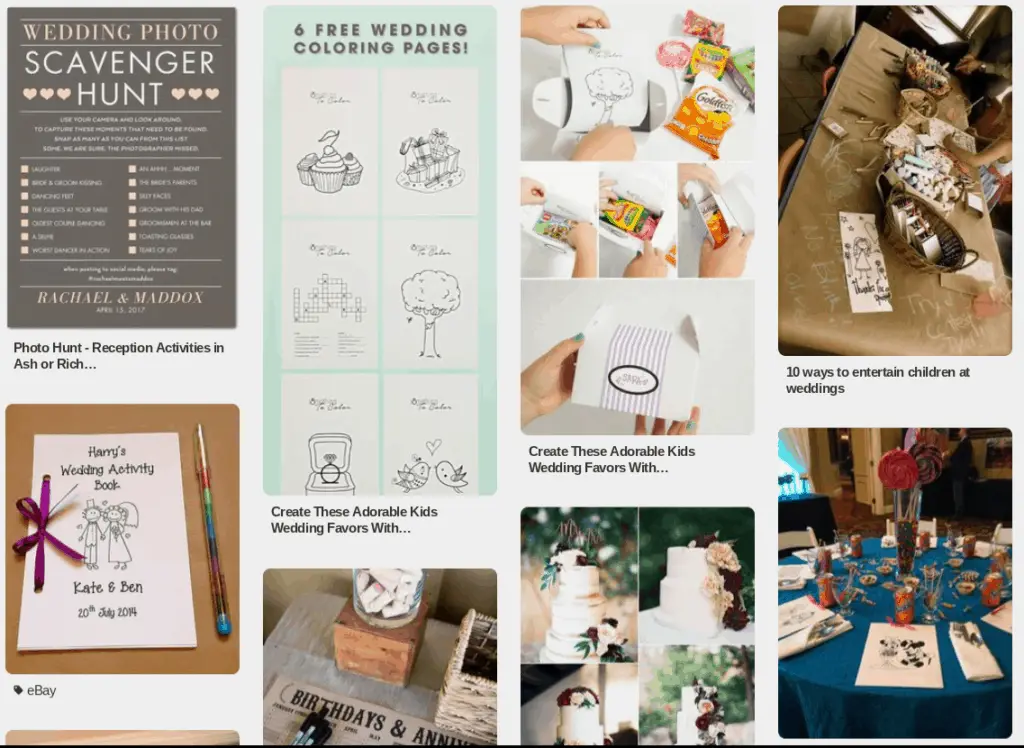 So there you have it, all the ways to entertain kids at your wedding so that everyone has a day as brilliant as you.
The bonus? They often keep your adult guests busy too and make them feel like a kid again for a super fun wedding party!
There are tons of great ways to keep kids entertained on your big day, these are just some of our favorites, and so easy to organize at any location!
Children's thank you goodie bag to hand out at the wedding
We had just covered one in the entertainment ideas of course, but there are many more to come up with.
What do you give the kids who have really made a substantial contribution?
You definitely want to give a present to your bridesmaids and groomsmen on your wedding day, to say thank you for being such an important part of the wedding celebration.
There may be other kids at your wedding that you want to give something to too. Maybe there is a new baby in the family and you want to present a present.
We have put together a selection of fun ideas for you, both for boys and girls of all ages.
Precious jewelry
A great addition to your young bridesmaid's jewelry collection with one of these cute little kittens and bunnies Alexis Dove pendants from Alexis Dove.
You can choose from silver, rose gold or gold vermeil and you can personalize the piece by writing the recipient's initials on the base station.
Prices start at € 75.
Pearl bracelets are a classic gift that will make any little girl feel very grown up. It is a piece of jewelry she will be able to wear forever.
I think this one is a steal at € 16,96 from The Handpicked Collection.
Cupcakes, anyone?
With the popularity of Heel Holland Bakt baking has never been more popular. Why not give your bridesmaids and the Junkers a cooking day to make cupcakes?
We have found numerous locations around where day courses are offered (children must be 12 years and older) and prices start at just € 35.
One for the boys
Lots of little boys like cars and building many different things.
How about combining the two and having them make a Lego Technic car?
Lego is always popular and it comes at a good price.
This Mini off roader comes with all the parts they need and they can sit still while the wedding talks are in progress.
We think it's a bargain at € 7,99 from the Lego Shop.
Of course you can also put a smaller version in a complete children's goodie bag.
Conclusion
Hopefully these ideas have inspired you! Good luck decorating your kids and keeping them entertained during the party, and most of all, have fun!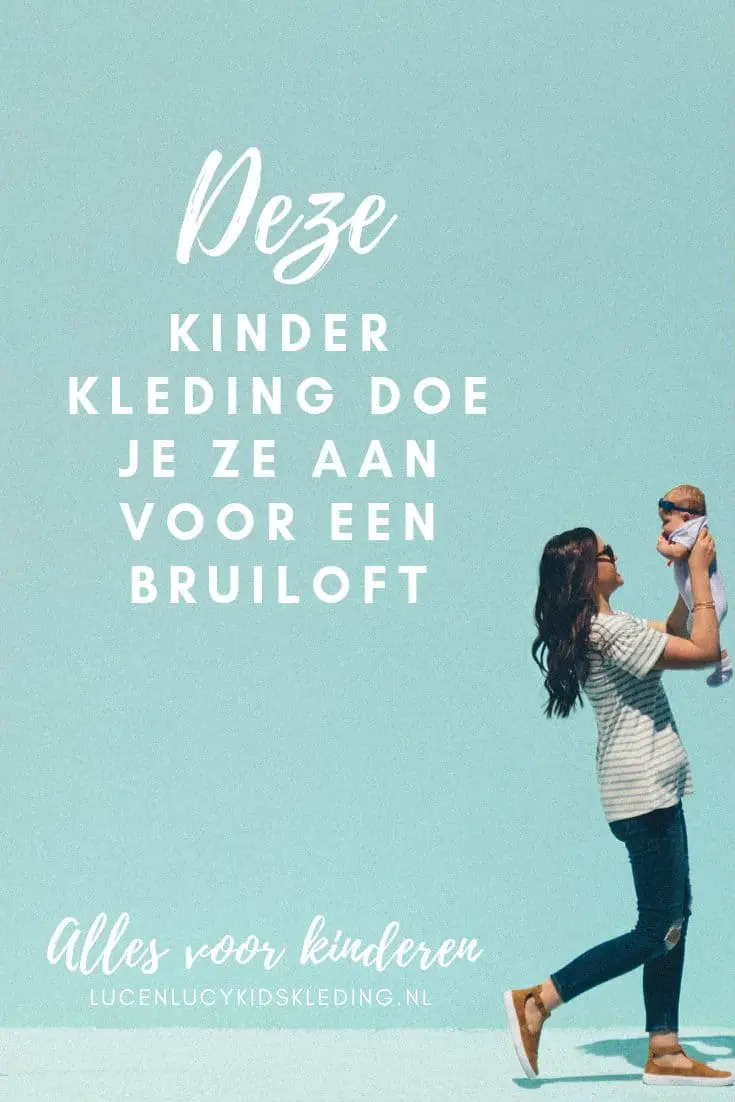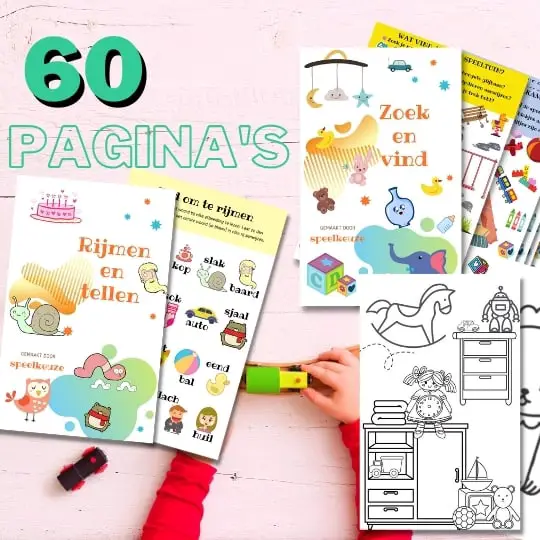 Always something to do for the holidays or rainy day?
Play Choice now has the ultimate activity book collection, with over 60 pages of fun coloring pages and educational puzzles.
Joost Nusselder, the founder of Speelkeuze.nl is a content marketer, father and loves trying out new toys. As a child he came into contact with everything related to games when his mother started the Tinnen Soldaat in Ede. Now he and his team create helpful blog articles to help loyal readers with fun play ideas.