Buy one of these 2 best kids tablets with a Black Friday discount
I enjoy writing these articles for my readers, you guys. I don't accept payment for writing reviews, my opinion on products is my own, but if you find my recommendations helpful and you end up buying something through one of the links I may be able to receive a commission on that.
More information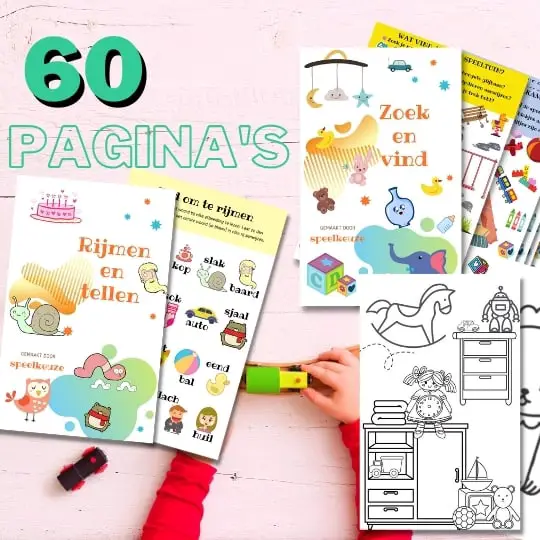 Always something to do for the holidays or rainy day?
Play Choice now has the ultimate activity book collection, with over 60 pages of fun coloring pages and educational puzzles.
More and more often you see children using tablets and other digital devices from an early age.
Digital toys have become increasingly popular over the years and replace many of the "old-fashioned" toys that we are used to.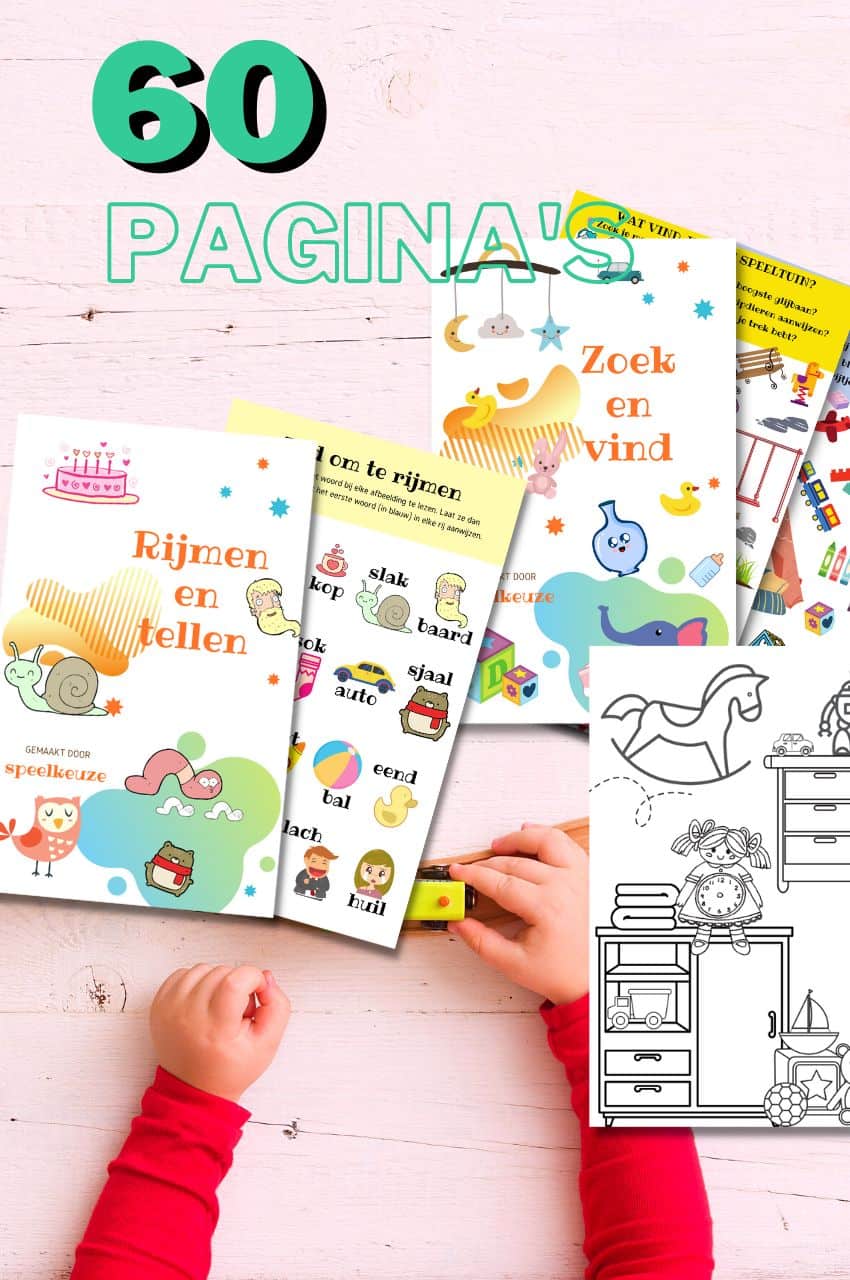 A play theme in your mailbox every month?
Fun play tips, activity books and more, with the first email being our free mini-guide "educational toys"
We will only use your email address for this newsletter and respect your privacy
Benefits of a tablet for children
As a parent you can choose to purchase a tablet for your child to let them play (educational) games or watch movies on it.
It is quite handy, because you can immediately store a lot of games and educational videos for your child on one such digital device.
No more toys scattered on the floor and no more tears because parts of toys have disappeared.
In addition, a tablet can be used to do homework.
A tablet is also often an interesting object for children themselves, because they can explore themselves and a whole world opens up for them.
With a children's tablet, your kids are guaranteed to be safely amused for hours and learn a lot of new things in a playful way.
Not only are tablets useful from a pedagogical point of view and for the numerous fun games that children can play at home.
A children's tablet is also ideal when, for example, a long car or flight is waiting, where you still have to keep the kids busy for a long time.
You can take a tablet everywhere you go, so no more bored kids in the back seat when another one er long winter sports trip by car is on the schedule!
Which tablet is most suitable for your child?
Nowadays there are already various children's tablets on the market, in different price ranges and with various functions.
But which of all these kids tablets are the best and most suitable for children's hands?
Especially with a view to Black Friday, we want to ensure that you are well-informed on the road for a new children's tablet.
Two specific kids tablets have at least caught our attention, namely the Denver and the Kurio Tab Connect.
Denver TAQ-90072K kids tablet
De Denver TAQ-90072K kids tablet has an excellent price / quality ratio and is suitable for downloading dozens of games for children.
It is a tablet that is easy to use with a clear menu.
A child is therefore perfectly able to navigate on the tablet by himself and does not need help from the parents.
In addition, the parent can rest assured that the child is protected from content that is not suitable for children.
The tablet has a special software, KIDO'Z software, which is intended to educate children in a playful way where access to harmful content is blocked.
Kurio Tab Connect Children's Tablet
A second tablet that deserves attention is the Kurio Tab Connect Children's Tablet. This tablet is the "best overall" tablet for children.
This tablet also has a filter system whereby children cannot just access certain (harmful) web content.
This tab is the safest tablet for kids and also the best tested.
A tablet that is easy to set up and offers a variety of educational games for children.
Also useful with this tablet is that as a parent you can watch your child from a distance via an app.
In addition, as a parent you can set a time limit so that your child never sits on the tablet for too long and occasionally goes outside to get some fresh air.
The best children's tablets in an overview
Why do these correct ones come out the best in the test?
With the Denver as the best tested for price / quality and the Kurio as the best overall, you both have very good options for a tablet for your child.
What makes these tablets so good?
Best value for money: Denver TAQ-90072K kids tablet
This tablet has an Android 8.1GO operating system. It also has KIDO'Z software, for a safe internet environment for your child.
The tablet has 8GB of memory and can be expanded with a MicroSD card. You get a sturdy pink and blue cover with this tablet.
The tablet has a front camera and WiFi connection.
De Denver TAQ-90072K kids tablet we find interesting because of the competitive price and the quality that you get in return.
In addition to the features already mentioned in the table above, this tablet has a 9 inch screen and the memory can be expanded to 32 GB by means of a MicroSD.
The battery has a capacity of 3500 mAh.
Games, videos and e-books
This is a perfect tablet for a great price to develop children through games and videos digitally.
The tablet is very easy to use and there is the possibility to download e-books so that you can read digital books with your son or daughter.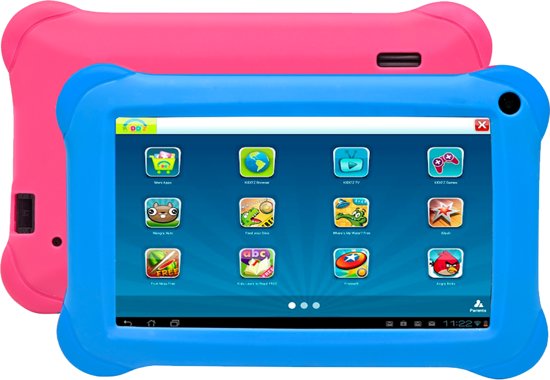 The Google Play Store is designed in such a way that endless child-friendly apps are available for download.
For example, apps with which the child can practice verbs or solve mathematical tasks.
Enjoy the tablet together or alone
With help from a headphones your child can withdraw into his own world for a while and play and discover undisturbed.
In this way, you as a parent also create some peace in the house, and you can also make some time for yourself every now and then, for example, to read a book in a relaxed manner.
Of course it is nice and important if you occasionally take the time to play on the tablet with your child.
The nice thing about this tablet is that you get two covers, namely a pink and a blue one.
Your child can then choose which color they prefer and of course they can also change color at any time.
The covers are made of sturdy material so that the tablet is always well protected against scratches and bumps.
Denver is a brand that has been importing electronic products since 1990.
The brand is concerned with the latest trends in electronics, to enrich and make your life easier. Denver is a brand you can count on!
Best overall: Kurio Tab Connect Children's Tablet
This tablet has various pre-programmed child-friendly games. With the app you as a parent can keep an eye on what the child is playing with on the tablet.
The tablet also has Blue Light Protection, for the safety of the eyes. The tablet can withstand water splashes and has 16 GB of memory.
The software is Android 6.0 Marshmallow, with WiFi connection and a front and back camera. Furthermore, the tablet comes with a protective cover.
Our favorite kids tablet in terms of overall experience, the Kurio Tab Connect Children's Tablet, is described as a tablet suitable for children from 3 years old.
In contrast to the Denver, this tablet has a slightly smaller screen, namely 7 inches, and the memory with an SD card has a total capacity of 32 GB.
The battery capacity is a bit lower than that of the Denver, namely 2580 mAh.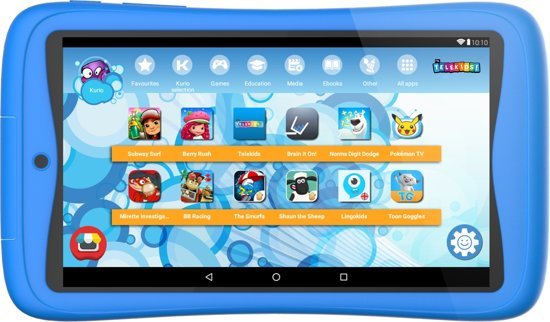 Safe surfing with good support
Handy when purchasing this tablet is that After Sales support is included for all Kurio customers.
Kurio has a genius internet filtering system that ensures that you can determine exactly what your child can and cannot see.
The internet is full of harmful content and of course you do not want your child to deal with it while he is playing on the tablet.
Parents can easily adjust all settingsappropriate to the age and development of a child.
That makes this tablet one that will last for years. Parents also have the option to block apps with undesirable content.
Endless fun
The great thing about this tablet is that when you buy it, it has more than 30 apps installed with which popular games can be played.
Here endless entertainment is guaranteed, video-on-demand can be used, e-books can be downloaded, and educational content is self-evident.
The tablet also has YoutubeKids and new games can be downloaded via Google Play.
Furthermore, this tablet has the KIDO'Z Store, a fully curated store with child-friendly content. Parents really have everything under control with this tablet.
You can send messages (including fun emojis) to your child when they are playing on the tablet.
From your phone you have control over the activities of your child on the tablet. The tablet downloads content very quickly and surfing is also fast.
Large memory and nice protective cover
Unlike the Denver, the Kurio Tab Connect includes a 32GB MicroSD card.
The Kurio Tab Connect comes with a blue soft bumper that provides excellent protection for the tablet against bumps and drops.
You can also get this bumper in pink if desired. In summary, an excellent tablet, which deserves the label "best overall" par excellence.
Both good options - the choice is yours
In short, both tablets just discussed are suitable for a safe playing and learning environment for children.
Depending on your budget and preferences, one option is more desirable than the other.
The Denver is a somewhat simpler tablet than the Kurio Tab, but offers enough fun for a child in a safe internet environment for a good price.
Are you looking for a somewhat advanced tablet for your son or daughter, which contains specific (protective) functions and which children can still play with over the years, then the Kurio Tab might be a better investment.
Wait until Black Friday!
Are you looking for a good children's tablet, but does the budget play an important role?
Then we advise you to wait until the infamous Black Friday. This day always falls on the last Friday of the month of November.
In America, Black Friday is the start of the Christmas season, with high discounts offered in all stores.
The Christmas season is of course the season of spending and that is why we naturally want to do this as efficiently as possible.
In the Netherlands we have also been participating in the Black Friday phenomenon for a while. We would like to give you some tips for your next purchase on Black Friday.
Targeted shopping
We always recommend that you keep in mind exactly what you are looking for, so that you do not come home with unnecessary 'bargains'.
Because in the end you will still lose more money than you actually intended. B.
and so you are looking for a good kids tablet for your child, focus mainly on electronic stores.
In addition, it is useful if you have already done some research before Black Friday.
Compare in advance the prices of children's tablets that you find interesting, read yourself well about the subject and see which stores have the best offers for this product.
If you want to increase the chance of success, make sure you get to the store on time. Everyone knows how things are going with Black Friday sales: gone = gone.
Despite the good preparations, are you still late and your favorite products are sold out?
Then we recommend that you take the trouble to look in other stores and to inquire, because Black Friday usually continues for a number of days.
In addition, it is useful to know that stores such as Amazon and others give big discounts the Monday after Black Friday, which now also has its own name: Cyber ​​Monday.

Also read: a nice kids drone for your budget
Take advantage of the Black Friday madness
How you want to participate in Black Friday is entirely up to you.
You can visit the physical stores, or if you prefer to participate in the bargains from your computer at home, that is of course also possible.
If you first want to see what the tablet looks like and how it works in the store, you can do that a few days before Black Friday so that you can buy the tablet online on the day itself and you do not have to walk around in that crowd .
So it is just what you find useful yourself!
If you already know exactly on which webshop you are going to order your product (s), check whether you need an account to place an order.
If so, it might be a good idea to create it before Black Friday.
Then on Black Friday you just have to place the products in your shopping cart and send the order.
From experience we can say that the best preparation will ensure the least disappointment!
In recent years, the bargain madness has already started a few days before Black Friday.
In the past, discounts were really only on Fridays, but nowadays the bargains start the Wednesday before.
So keep a close eye on this if you want to purchase a children's tablet at a great price.
Also read: this year's best kids' tablets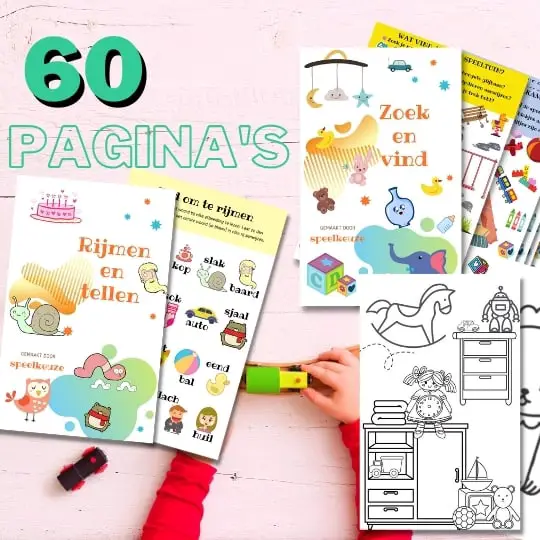 Always something to do for the holidays or rainy day?
Play Choice now has the ultimate activity book collection, with over 60 pages of fun coloring pages and educational puzzles.
Joost Nusselder, the founder of Speelkeuze.nl is a content marketer, father and loves trying out new toys. As a child he came into contact with everything related to games when his mother started the Tinnen Soldaat in Ede. Now he and his team create helpful blog articles to help loyal readers with fun play ideas.