I enjoy writing these articles for my readers, you guys. I don't accept payment for writing reviews, my opinion on products is my own, but if you find my recommendations helpful and you end up buying something through one of the links I may be able to receive a commission on that.
More information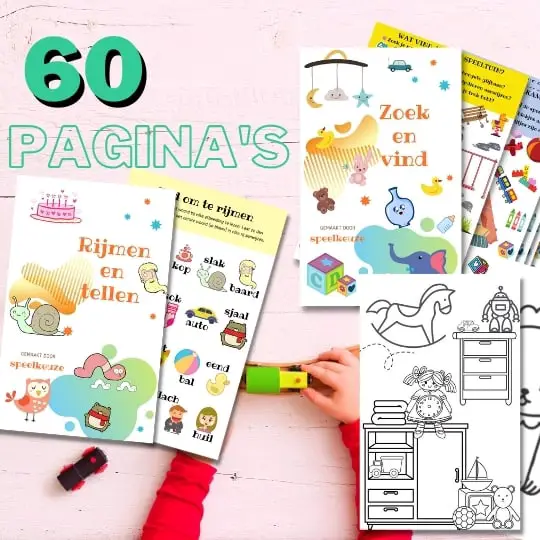 Always something to do for the holidays or rainy day?
Play Choice now has the ultimate activity book collection, with over 60 pages of fun coloring pages and educational puzzles.
You can find the best children's clothing stores in Amersfoort here at Speelkeuze.nl.
We start with the map of Amersfoort:
children's clothing stores on the map of Amersfoort:
25 best children's clothing stores in Amersfoort
De Dwerg - Oude Schans 64 (Bunschoten-Spakenburg)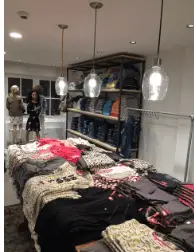 The De Dwerg collection consists of top brands for boys and girls from 1 to 14 years old. "De Dwerg" has been a household name in exclusive children's fashion for over 30 years.
Located in the heart of Spakenburg (a stone's throw from Amersfoort), on the harbor, next to the museum and opposite the VVV.
The children's clothing collection consists of top brands in girls and boys clothing for 1-14 years.
We have brands such as: VINGINO boys and girls, BENGH, BOR * Z, Scotch Rebelle (girls), Scotch Scunk (boys), FLO, AIRFORCE, SUPERTRASH and fun jewelry, scarves and cardigans.
Just drop by and make your child happy with a set that you can feel and fit. The Dwerg is located at the Oude Schans 64,3752 AH Bunschoten-Spakenburg.
Just4dance - Arnhemsestraat 20
Just 4 Dance! The dance specialist in Amersfoort for all your clothing, footwear and accessories! The address for all your leotards, pants and skirts.
There are jazz dance shoes, dance sneakers and ballet shoes.
In addition, Just4dance has beautiful accessories, ballet books, reading books, dolls, everything to do with dance and ballet.
In addition to the regular store, the site also has a web store, if you can't wait or if you already know what you want. Just 4 Dance is located at Arnhemsestraat 20,3811 LH Amersfoort.
Terre des Hommes - Camp
At Terre des Hommes there are all kinds of great bargains to be found and you can help a good cause.
Are you looking for a bargain in the field of (children's) clothing, household goods, books, DVDs or toys, then you have come to the right place at Terre des Hommes Amersfoort.
You will not only find great bargains here, you can also contribute to a good cause: combating child exploitation in all kinds of countries in the world.
If you have things that you would like to donate for a good cause, you can do that at Terres des Hommes. This shop is located at Kamp, 3811 AP Amersfoort.
Capito - Leusderweg 99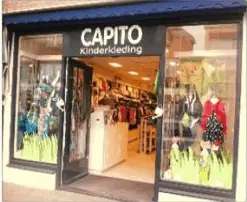 CAPITO Children's Clothing has fun and affordable children's clothing from size 56 to size 176.
CAPITO's brands are: VINGINO, DOERAK, KnotSoBad, RUMBL, BleuSystem, PETROL, RoyalRebel, Beebies, WoodenButtens and many more.
You can park for free at Capito Kinderkleding at the Leusderweg, Amersfoort. Capito does not have a website but is very active on it Facebook.
Capito is located at 99,3818, XNUMX AB Amersfoort Leusderweg.
Maatjes Kids & Teenwear - Van Weedestraat 129 (Soest)
For cool, neat and affordable clothing, Maatjes in Soest is the right place!
Maatjes sells children's and teen clothing in sizes 92 to 176 for both boys and girls.
The brands that can be found in the store vary from classic to sporty and casual.
The following brands are currently on sale in the store: Bampidano, Blue Fish, Blue Seven, CKS, LCKR, O'Chill, Porto Azul, S. Oliver, Tumble 'N Dry, Oxxy (belts), Zaccini Underwear and Bonnie Doon (socks & tights).
Walk into the cozy shop in Soest! Maatjes Kids & Teenwear is located at Van Weedestraat 129,3761, XNUMX CD Soest.
Beauty-Kids Fashion - Zuidpromenade 13 (Soest)
In this children's clothing store in Soest you can find nice children's clothing for boys and girls.
Beauty-Kids Fashion sells trendy clothes for boys and girls. The range includes the brands Geisha, Name-It, Vingino and Z8.
The baby brands Feetje, Lief! and Petit-Bateau are for sale for the little ones.
In addition to children's clothing, you can also buy beautiful premature clothing from size 40/44 at Beauty-Kids Fashion. Beauty-Kids Fashion is located at Zuidpromenade 13,3768, XNUMX EM Soest.
Jens & Co Children's Clothing - Utrechtseweg 40
Cool children's clothing for cool kids, but they also have nice items for mothers.
Jens & Co in Amersfoort is a cool, contemporary store for children from 0 to 14 years old. You can go for comfortable and trendy children's clothing.
They have Vingino, Cowboysbelt, Hot Lava, Returns, Kunstboer and many more brands.
In addition to the wide collection of designer clothes, there are also shoes, accessories and gifts.
The older children also like to shop here and for the little ones there is a play corner.
And also for the mothers there is always something nice: tunics, shirts, slippers, cowboy bag and much more.
Jens & Co is located at Utrechtseweg 40,3818, XNUMX EM Amersfoort.
Party Worlds - Camp 62
Party Worlds is a store full of party supplies; from masks to hats and carnival outfits. The Party Worlds shop is located in the old city center of Amersfoort.
The store is located on the Kamp. In this store you can find everything related to all party activities.
A few examples are; birth, birthdays, weddings, Valentine's Day, Sint & Piet, Halloween and of course Carnival.
The range consists of streamers, balloons, masks, wigs, make-up (grimace), hats, everything for birthday parties, noses and children's clothing.
Party Worlds is located at Camp 62,3811 AT Amersfoort.
Klamotte - Arnhemseweg 177A
Klamotte sells second-hand children's clothing and shoes, including sports and dress-up clothes.
At the "Klamotte" you have been able to buy very good second-hand children's clothing for more than 25 years.
There are clothes in sizes 50 to 176 for both boys and girls.
There is a lot of designer clothing at Klamotte in Amersfoort, but also just good clothing from the average children's clothing brands. So you can find everything in every price range.
In addition to clothing, the "Klamotte" also has shoes, boots and dressing-up clothes. You can also bring in clothes for sale:
Baby clothes: size 50 to 86,
Children's clothing: size 92 to 176,
Sportswear: hockey clothing, judo suits, etc.
Klamotte is located at Arnhemseweg 177A, 3817 CE Amersfoort.
Pure4Kids - Exit 7 (Nijkerk)
Pure4Kids clothing is sporty classic in combination with cool and trendy.
The clothing for the little ones consists of a wide range of jeans, cool sweaters, but also beautiful blouses and cardigans.
The outfits for the older children are ideal for playing. In addition, the collection has super trendy designs with, for example, large prints and cool labels.
Pure4Kids also sells nice modern accessories, including nice jewelry.
And there is a very extensive range of children's clothing for weddings, parties and communion, of course with accompanying accessories.
Pure4Kids is located at Verlaat 7,3861, XNUMX AA Nijkerk.
Chance - Old Schans (Bunschoten-Spakenburg)
Welcome to Chance, the trendy children's clothing store of Bunschoten Spakenburg. Chance stands for originality, quality in children's clothing.
You can also go there for gifts, accessories and toys. At Chance you will find everything for the stubborn and hip boys, girls and babies of our time.
Not to mention, there are toys that you can enjoy while your parents are shopping. Chance is located at Oude Schans 26,3752 AG Bunschoten-Spakenburg.
Shoeby - De Beurs 36
Shoeby Amersfoort has its own labels 'Jill' and 'Jill en Mitch' in the children's clothing line. Personal attention, delicious cup of coffee!
This is also possible in the Emiclaer and Vathorst shopping center, come and go shopping at Shoeby Amersfoort!
Shoeby has developed its own labels Jilly, Jill and Mitch for children's clothing.
Shoeby has 3 branches in Amersfoort and Shoeby can also be found in Leusden, Nijkerk and Soest. Shoeby is located at De Beurs 36,3823 GA Amersfoort.
Simply Red - Emiclaerhof 140
Simply Red is a baby and children's specialty store with a fun and especially portable children's collection.
Simply Red is a baby and children's specialty store in Amersfoort Noord that is already a well-known address for many families with children.
Simply Red propagates its own vision and presents a fun and especially wearable children's collection.
You can go there for: nice clothes for babies, comfortable clothes for toddlers and pre-schoolers, cool boys outfits, trendy fashion for girls, underwear from Vingino & Ten Cate and clothing advice.
Simply Red is located at Emiclaerhof 140,3823 ER Amersfoort.
Beauty-Kids clothing store - Smeenge 21B
Beauty-Kids has the largest collection of baby and children's clothing in Amersfoort Noord and the region. Who wouldn't want your baby to look their best?
Beauty-Kids has beautiful shirts, hats, rompers and socks for premature babies from mt. 44 t / mt. 68.
Come and see for yourself! Beauty-Kids has the most beautiful baby brands in our store such as Z8, Sweet / Tough, noppies, Petit Bateau and Feetje.
Of course we also have the best accessories from Souza and BamBam.
Does cheerful, colorful dresses make your daughter completely happy or does she prefer to wear cool jeans and a hip shirt?
It is of course a cliché, but Beauty-Kids Vathorst knows that every child is different and that clothes must suit your child.
That is why Beauty-Kids Vathorst offers a wide range of girls' clothing from Vingino, No Tomatoes, Retour, sevenoneseven, Name-iT, Z8 and soon our new brand Salty Dog.
Whether you opt for cool, hip, sporty or a combination of different styles. Beauty-Kids Vathorst has the boys' clothing that suits your son completely.
Are you looking for nice jeans? Or just that nice jacket? Beauty-Kids has a wide range to find a complete outfit.
In our cozy shop you will find the brands Vingino, No Tomatoes, Retour, Name-iT and Z8 and sevenoneseven.
Beauty-Kids is located at Smeenge 21B, 3825 MA Amersfoort.
Name it - Langestraat 2
Name it is trendy and cool clothing for children with their own opinion about style, from 0 to 12 years. Name it has fun, hip and affordable children's clothing!
For the little ones up to and including 12 years, from size 50/56 to size 152.
Name it meets high demands for children's clothing, both functional and quality, it is comfortable and durable.
NEWBORN 0 to 12 months: PURITY CARE SAFETY. Name it newborn is soft, comfortable clothing for the little ones. With Name it newborn you can dress your baby in style. Not only Amersfoort has one but also other places like Zwolle
MINI 1 to 3 YEARS: JOY FANTASY EXPLORE. Toddlers like to imitate their parents - especially it mini, you dress your toddler according to the latest trends. It is playful clothing with fun details, for little ones who are ready to discover the world themselves. Name it mini offers comfort, functionality and durability for every occasion.
KIDS 4 to 12 YEARS: FREEDOM · ENERGY · STYLE. Name it kids has cool clothes for children with an endless energy and a clear opinion about style - children who need to be able to move freely but also want to decide for themselves what they wear. They are great outfits that meet their strict requirements for comfort and special details. Name it is located at Langestraat 2,3811 AG Amersfoort.
Klompe Dompe - Krankeledenstraat 8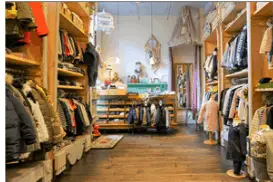 Klompe Dompe offers hip and cheerful children's clothing in sizes 56 to 164.
At Klompe Dompe in Amersfoort you can find trendy, cheerful children's clothing in sizes 56 to 164. It is quality clothing that makes your child look good.
Klompe Dompe has brands of: Scotch & Soda: Shrunk and R'Belle, IKKS, Claesen's, Petit Bateau, Z8, noppies, Wild Girls, Wild Boys, Indian Blue, Flo mini and many more!
There are also cute baby shoes available from the Boumy brand and super soft cuddly toys from Jellycat.
In the shop, children can play with the beautiful homemade 'houses', which are nicely decorated.
The hoist makes it interesting for boys too! Klompe Dompe is located at Krankeledenstraat 8,3811 BN Amersfoort.
Capiche Mode - Turfwal 2 (Bunschoten-Spakenburg)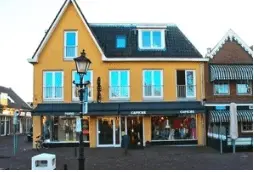 At Capiche in Spakenburg you can shop relaxed for trendy boys and girls clothing.
Capiche is a trendy store with well-known and attractively priced brands for women and kids from size 140.
The clothing range consists of many brands with new items in trendy colors and prints.
So there is something new every time. There are also varying promotions throughout the year. Capiche is located at the Turfwal 2,3751 AP Bunschoten-Spakenburg.
Owner 8 - Viandenstraat 21A
You will find nice vintage children's furniture and trendy Scandinavian children's clothing at Owner8.
Owner8 in Amersfoort is run by Maurice and Maartje, who have been fond of vintage design for years and more from the 60s & 70s.
Owner8 is a web store and shop with a combination of vintage furniture, new retro furniture, RetroRakkers just kids, and the trendy Scandinavian clothing brand for kids: Smafolk.
The clothing is for children from about 1 to 9 years old.
They sell beautiful home accessories such as cushions made of vintage fabrics, articles from Club Geluk, pottery, original vintage wallpaper, lamps and more from the sixties and seventies!
Owner8 is located at Hendrik van Viandenstraat 21A, 3817 AA Amersfoort.
Vingino boys girls - Riddergang 15-17
Vingino is the jeans label for children; fashionable, cool and quirky, and with striking details.
The Vingino store in Amersfoort is the 3rd original Vingino store in the Netherlands; a whole store full of Vingino!
Undoubtedly the largest Vingino collection in and around Amersfoort! Vingino is the jeans label for kids. Fashionable, cool and quirky.
With striking details, elaborate models and innovative washes, the brand comes up with a surprising collection of jeans every season.
In addition to denim, Vingino also has an extensive collection of tops and jackets.
Supplemented with underwear, swimwear, footwear, eyewear and accessories. Vingino boys girls is located at Riddergang 15-17,3811, XNUMX DB Amersfoort.
Shoeby - Brede Beek 16-20 (Nijkerk)
Look good in an outfit shopped at Shoeby Nijkerk! Shoeby is packed with the latest trends in children's clothing!
In Nijkerk at Shoeby you will find many well-known brands such as' Jill ',' Mitch 'and' Tumble 'N Dry!' Hip, cool and affordable!
So for the latest fashion, a visit to Shoeby is definitely worth it!
Shoeby is located at Brede Beek 16-20,3861 BD Nijkerk, but is for example can also be found in Rotterdam
Kanjers Children's Boutique - Oude Schans 9 (Bunschoten-Spakenburg)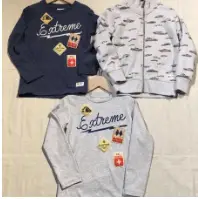 Kanjers Children's Clothing is located at the Oude Schans in Bunschoten-Spakenburg. Here you will find nice children's clothing!
Kanjers Kinderboetiek is a cozy children's clothing store with clothes for babies, girls and boys. You will be served as a valued customer.
Children's clothing is a passion of Kanjers Kinderboetiek and making children's eyes shine is something that always makes them happy!
Kanjers Kinderboetiek is located at Oude Schans 9,3752 AG Bunschoten-Spakenburg.
Pebble - Ferdinand Huycklaan 20B (Soest)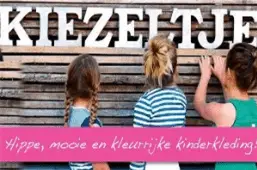 Kiezeltje has trendy children's clothing with a fresh and special look for girls.
Children's clothing from Kiezel-tje gives each garment its own identity through the use of various materials that can be distinguished in color, design and structure.
The clothing is available in sizes 68 to 152. Come and visit the store in Soest to see for yourself! Pebble-tje is located at Ferdinand Huycklaan 20b, 3768 HX Soest.
Recycling center Amersfoort - Zwaaikom 21
In the shops of the Kringloopcentrum you can buy really everything for a small price.
In the shops of the Kringloopcentrum Amersfoort-Leusden you can really buy anything.
No perishable goods or livestock; no cars or houses, but otherwise basically everything: furniture, children's clothing, household goods, musical instruments, toys, books.
The appearance of the Recycling Center in Amersfoort has changed quite a bit over the past year. To begin with, the facade has been given a nice coat of paint.
In addition, a new checkout point has been built and a coffee corner has been created at the back of the building.
Recycling center Amersfoort is located at Zwaaikom 21,3812 PS Amersfoort.
Tumble 'N Dry concept store - Sint Jorisstraat 3
Tumble 'N Dry's 1st shop! A concept store full of 'fresh goodies', fun kids items' N lots of styling tips. Due to the roots of Tumble 'N Dry, the store has been opened in Amersfoort.
Our clothing always follows the most important fashion trends with an idiosyncratic wink, while at the same time being comfortable and wearable.
Because we want to make as many mothers and children happy with our collections every day, we make sure that the price of our quality designs and comfortable, durable materials always remains affordable.
The T'ND collections are divided into the segments boys and girls.
For both segments we have: ZERO collection, available in sizes 50-68; Lo. collection, available in sizes 62-92; Mid .. collection, available in size 92-140, Hi… collection, available in size 116-176.
Each season, we develop an appealing collection of our own for each age segment that fully matches the needs, fit and style preference of the children in the relevant age group.
Tumble 'N Dry concept store is located at Sint Jorisstraat 3,3811 DG Amersfoort.
They have their entire collection can also be found online at tumble n dry.
Cool Cat children's clothing - Sint Jorisstraat 63
Cool Cat has cool and quirky children's clothing for older children, from 6 years old. Coolcat sells cool, sexy and quirky fashion at a low price.
The collection that hangs on the shelves at Coolcat Amersfoort is largely of our own design.
This is designed by a professional, young purchasing team at the head office in Amsterdam and produced across the border.
The designers of Coolcat draw inspiration from the world cities: New York, LA and Tokyo, from sports culture, television series and film industry and from music channels such as TMF and MTV.
Cool Cat children's clothing is located at Sint Jorisstraat 63,3811, XNUMX DH Amersfoort.
How do you get to amersfoort?
Public transport in Amersfoort consists of train connections from the Dutch Railways and Connexxion, city and regional buses from Syntus and regional buses from Qbuzz and OV Regio IJsselmond.
Amersfoort has three stations: Amersfoort, Amersfoort Schothorst and Amersfoort Vathorst station.
Ready to go and go shopping for a day? If you go to Amersfoort, it is important to be aware of the options regarding transport in and to Amersfoort.
Two things that are important when you go to Amersfoort by car.
Firstly, a place where you can park easily (and inexpensively), and secondly, how to get there.
By public transport: 9292OV
9292's mission is to unburden all people involved in public transport.
This means that we want to give you as a traveler the information you need to travel by public transport.
In addition, we also want to support public transport companies, governments and the business community in carrying out their tasks within public transport.
When you travel to shopping center Eemplein Amersfoort you can use Moovit's Live Directions feature to know how far to walk, how long to wait for the next line and how many stops are left.
Moovit will notify you when you need to get off - so you don't have to constantly check to see if you've already arrived at your stop.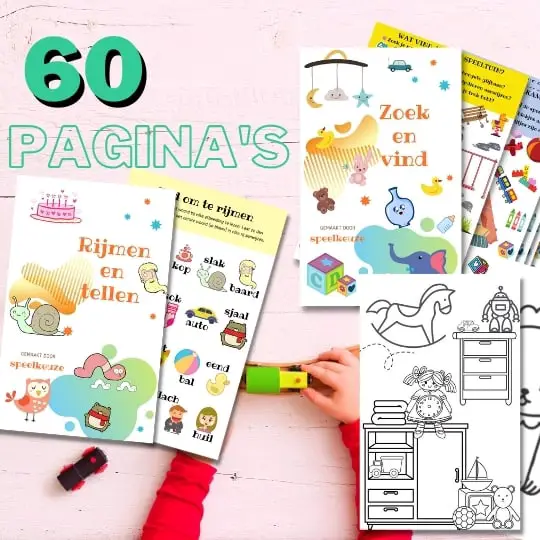 Always something to do for the holidays or rainy day?
Play Choice now has the ultimate activity book collection, with over 60 pages of fun coloring pages and educational puzzles.
Joost Nusselder, the founder of Speelkeuze.nl is a content marketer, father and loves trying out new toys. As a child he came into contact with everything related to games when his mother started the Tinnen Soldaat in Ede. Now he and his team create helpful blog articles to help loyal readers with fun play ideas.