I enjoy writing these articles for my readers, you guys. I don't accept payment for writing reviews, my opinion on products is my own, but if you find my recommendations helpful and you end up buying something through one of the links I may be able to receive a commission on that.
More information
LEGO is known for its beautiful toys and now consists of dozens of crazy series.
A striking series of LEGO is the Architecture series, which aims to celebrate the past, present and future of architecture through the medium of the LEGO brick.
In this series, LEGO has sets designed by the artistic architect Adam Reed Tucker.
All sets include parts and instructions to recreate a model of a famous architectural building or an impressive city on a microscale.
Due to the complexity and details of these LEGO sets, they are intended for anyone from the age of about 12 years.
Our favorites from the LEGO Architecture series
We took a close look at the sets of this LEGO Architecture series and finally listed our five favorite sets for you.
Obviously this was not an easy task, every single package of this series is beautiful, unique and detailed.
Are we going to build the German capital Berlin, or rather the grand New York? For the romantic Eiffel Tower, or for The Great Wall?
Meet this impressive LEGO series!
The set that we ultimately placed on number one is it LEGO Architecture Statue of Liberty.
With this pack, as the name implies, you can recreate one of the most famous national monuments on earth, the Statue of Liberty.
A large and extensive package consisting of 1685 building blocks, to be creative and constructive in your spare time and to completely change your thoughts.
Here you can see how it is put together in quick succession and how extensive it actually is:
We put on a good number two LEGO Architecture London. With this package you can recreate the magical city of London.
This package is smaller than the first mentioned package and has 468 bricks. This also makes it a bit cheaper.
Nevertheless, a wonderful package to get acquainted with this fantastic series from LEGO.
In any case, we are sure that after purchasing one of the versions of this series, more will follow!
Best LEGO Architecture projects
LEGO Architecture Statue of Liberty
Build a LEGO model of one of the world's most famous national monuments, the Statue of Liberty. The package consists of 1685 parts.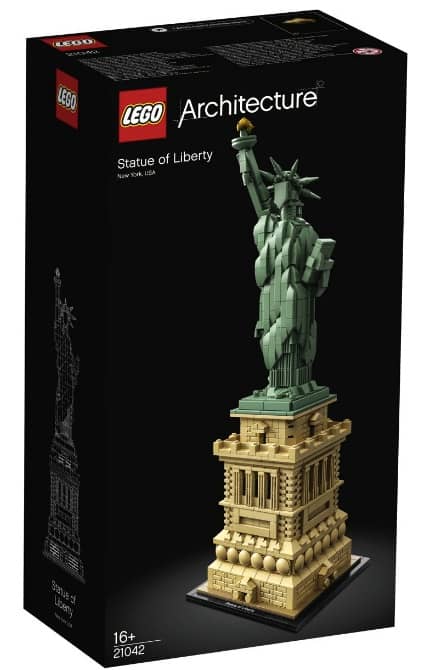 The LEGO Architecture Statue of Liberty is the package that, if we have to choose, we find most attractive of the LEGO Architecture series.
Everyone knows the Statue of Liberty.
Flaunting the harbor of cosmopolitan New York City with her more than 90 meters tall stature, she greets sailors from all over the world.
The Statue of Liberty is the ultimate symbol of freedom and was a gift from France to America.
With this detailed model, LEGO has ensured that both the architectural aspect and the artistic side of this image are emphasized.
The beauty of this model is that it gives a realistic representation of the monument, also in terms of color: the well-known gray-green with beige.
The package comes with a booklet full of information about this monument for the enthusiast.
The statue can be built with more than 1685 LEGO bricks, and offers a nice challenge for every (young) adult.
Since it is a fairly complicated package to build, the minimum age is 16 years.
This is truly a perfect and unique (birthday) gift for someone who loves New York or has fond memories of this city.
Building this package provides a moment of peace and full concentration, which is very welcome for most people in today's busy and hurried life.
The end product can be used as an eye-catcher at home. So in addition to a number of hours of building fun, you also have a new and striking item for your home.
Combine with LEGO Architecture of Las Vegas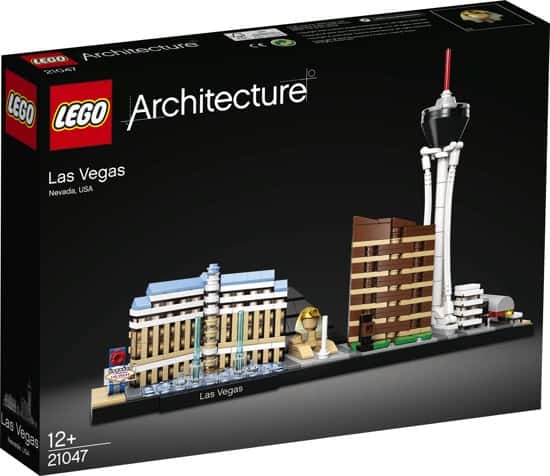 A package that fits nicely with this as an extension is the LEGO Architecture Vegas.
This pack allows you to recreate the vibrant city of Las Vegas using 501 LEGO bricks.

This package is suitable for anyone aged 12 or older. This package is too complicated for younger children.
You can recreate highlights and famous buildings of this city with this package, such as the Bellagio Hotel, the Luxor Hotel, the Encore Hotel, the Stratosphere Tower and the Fremont Street Experience.

Again a unique package that stimulates your senses and results in a fantastic end product.
A somewhat less complicated kit to build than the LEGO Architecture Statue of Liberty, but nevertheless a nice package to have.
The combination of these two packages gives a worldly touch to your living room and will make you long for another beautiful trip!
Las Vegas can be purchased here at bol.com
Even more building fun with Paris
Experience the grandeur of Paris with this magnificent set, which combines the famous Arc de Triomphe, the Champs-Elysées, the Tour Montparnasse, the Grand Palais, the Eiffel Tower and the Louvre into an inspiring skyline.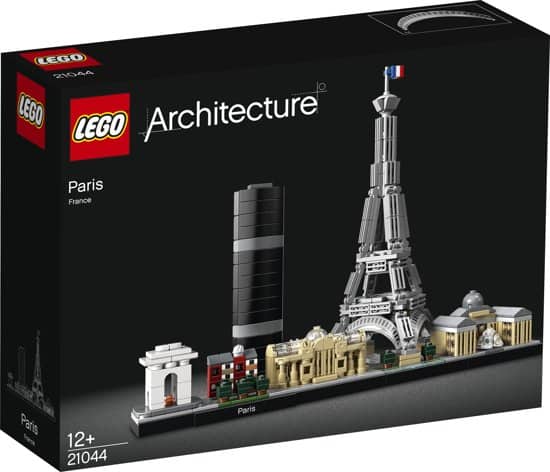 Another package that also fits perfectly with our number one is the LEGO Architecture Paris (the number three from the table above).
A package consisting of about 649 parts, with an interpretation of monuments from another metropolis: Paris.
This set combines the famous Arc de Triomphe, the Champs-Elysées, the Tour Montparnasse, the Grand Palais, the Eiffel Tower and the Louvre into an inspiring skyline.
In essence, all LEGO Architecture packages can be combined with each other, as each package can recreate a spectacular city or famous monument.
Choose your favorite sets from this unique LEGO series and continue to expand your collection!
View the most current prices here
Our second favorite - the LEGO Architecture London
Build a LEGO model as a tribute to the beautiful city of London. The package contains 468 parts.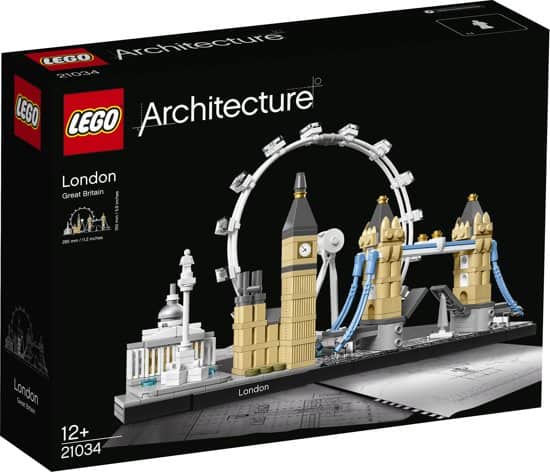 Another great option, the number two on our list, is the LEGO Architecture London.
This package is a bit cheaper than the Statue of Liberty, contains fewer stones and is therefore a little less complicated to assemble.
With this package you can recreate the highlights of the city of London, including the National Gallery, Nelson's Column, London Eye, Big Ben (the Elizabeth Tower) and Tower Bridge (which opens and closes!).
This set also has a realistic color pattern and it also displays the proportions accurately and to scale.
A fantastic package for the lover of this city, or for someone who is looking for a new item for the home and wants to put it together all by themselves.
The set includes an informative booklet about the designer of the pack, the history and architecture of the buildings and much more about London.
Read also: LEGO racers building kits for young and old
Everything can be put together with about 460 LEGO bricks.
A package that is wonderful to give to children from the age of 12, but is also just as beautiful a gift for an adult with a certain affinity for London.
It is also nice to purchase such a package as a family, it offers a nice afternoon of building fun with the whole family, and you can proudly display the end result in the living room.
You have all worked on that!
Guggenheim Museum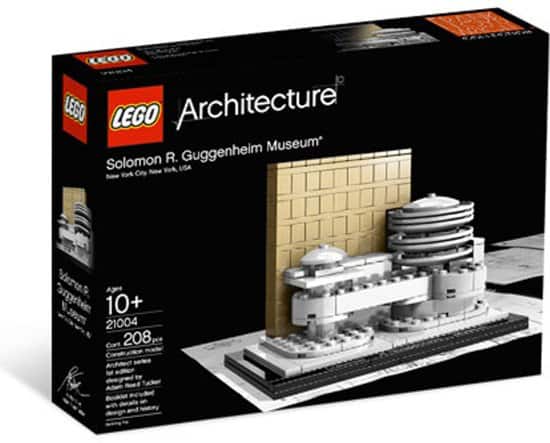 This detailed LEGO model is a realistic representation of one of the most prestigious architectural buildings of the last century, the Solomon R. Guggenheim Museum. Contains 744 parts.
Buckingham Palace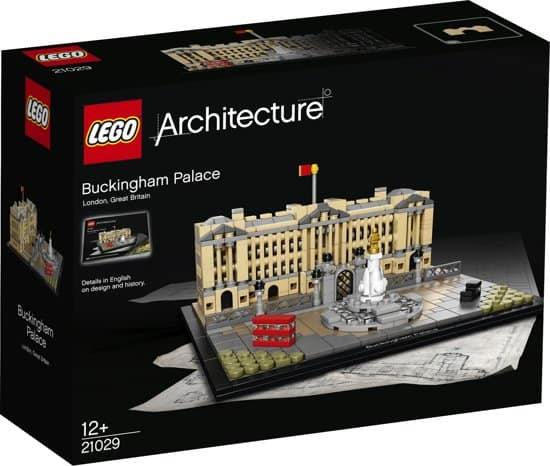 Build your own Buckingham Palace in miniature! The set contains 780 parts.
Check the most current prices and availability here
Another city from the LEGO Architecture series
Have you already purchased and assembled this package, and are you looking for another matching LEGO package?
A new beautiful building challenge, or an extra item to display at home? Then go for the LEGO Architecture San Francisco.

This pack is from the same LEGO series, and with approximately 565 building blocks you can recreate San Francisco.
You will encounter everything typical of this city while building: the painted ladies' houses, 555 California Street, the Transamerica Pyramid, the Salesforce Tower, the Coit Tower, Fort Point, the Golden Gate Bridge and Alcatraz.

This package is also intended for anyone aged 12 or older.
More from LEGO Architecture
Have you become totally addicted to building these beautiful cities and monuments?
Then take a look at the LEGO Architecture series, there you can choose, in addition to the aforementioned building kits, various other building sets that complete your collection.

Perhaps your favorite city or monument is among them! LEGO Architecture is a very special series that we just can't get enough of.
A series that you can expand endlessly, and that gives you a lot of satisfaction when viewing each end result.
LEGO Architecture | how it started
Mr. Adam Reed Tucker received his degree in architecture from Kansas State University in the year 1996.
While studying there, he searched for ways to unite his two passions of art and architecture and came up with the idea of ​​using Lego bricks.

From this idea he founded Brickstructures, Inc. and began designing and building models of famous landmarks.
His work was noticed by the LEGO Group, and together they formed a partnership to release some of his models as available LEGO sets under the LEGO Architecture brand.
Around the world with LEGO
LEGO Architecture allows you to build memories and iconic landmarks you love yourself.
Or, for example, get to know buildings and sights that are on your bucket list well in detail.
Build and discover destinations that have added something beautiful to your life, for example in the form of an unforgettable vacation you had, a dream destination, or a city that was once your 'home'.
In addition to fun building moments, the LEGO Architecture sets are also a new accessory for your tasteful interior.
Even more beautiful and 'real' than a photo or painting!
Do you want to do something completely different than work, television, or the computer and relive those nostalgic playing times as a child?
With LEGO Architecture you can lose yourself for hours building a true work of art.
The series has been specially designed for people who love travel, architecture and history.
Let yourself be carried away by this fantastic LEGO series and build true works of art to display.
Building with LEGO - great fun for young and old
It is not the first time that LEGO and architecture intersect. LEGO knows that most fans are naturally interested in form and function.
Professionals such as Owen Luder Partnership (from England) and Canadian-Israeli architect Moshe Safdie have previously used the acclaimed LEGO bricks to present ideas.
In the XNUMXs, the scale model line was launched to help the growing number of people designing their own homes.
LEGO is for children and adults of all ages and ensures that you can focus on a task without worrying about work, study or other daily stressors.
Research has shown that if you put something together yourself, such as an IKEA product, or in this case a LEGO construction kit, you will find the end result even more beautiful.
Everything we do ourselves feels good.
The more difficult the task, the more proud we are of ourselves when we see the end result.
This effect is actually called the IKEA effect. In the case of LEGO, this happens all the time.
Building gives us a positive feeling, we find it impressive what we have built ourselves and therefore feel satisfied and pleasant.
Playing and building with LEGO therefore brings so much more than just putting bricks together!
Reproducing or imitating the world around us also starts at a young age, with all toys such as LEGO shops and things around cooking and playing a house that we wanted to build.
We can hardly ignore it anymore: we all need a little bit of LEGO in our lives, whether you are young or a little older.
And if you're someone who doesn't think LEGO is for you, get ready because the LEGO Architecture collection is going to prove you the opposite!
The LEGO Architecture sets are designed with astonishing precision and realism.
In terms of color, structure and proportions, they look exactly like the cities and monuments as they really look.
One of these sets could be a perfect gift, we are sure the recipient will enjoy it enough.
In addition, the LEGO Architecture sets can also fulfill a great function at work to brighten up your desk, or as already mentioned it can also be a new addition to the interior at home.
Read also: the best construction toys from toddlers up to 7 years old
[Wl_faceted_search]
Joost Nusselder, the founder of Speelkeuze.nl is a content marketer, father and loves trying out new toys. As a child, he came into contact with everything around games when his mother started the Tin Soldier in Ede. Since 2016, he and his team have been creating helpful blog articles to help loyal readers with fun play ideas.