I enjoy writing these articles for my readers, you guys. I don't accept payment for writing reviews, my opinion on products is my own, but if you find my recommendations helpful and you end up buying something through one of the links I may be able to receive a commission on that.
More information
The circus is always a party for children! Children are fascinated to watch animals such as lions, horses and seals all perform tricky tricks.
Most kids are also fans of the funny clowns that make a circus show even more fun.
LEGO knows how exciting the circus can be and has therefore developed various packages with the circus as a theme.
These packs will appeal to every child, because the packs are richly filled with colored items, surprising accessories and of course lots of circus animals to collect!
Would you like to save time and know which LEGO DUPLO Circus packages have reached our top 5?
Below we have listed the best LEGO DUPLO Circus products for you, including specifications and details.
Afterwards, we would also like to put our two favorite building kits in the spotlights with detailed information.
Our favorite circus sets
Our number one is the LEGO Duplo Circus Show. Mainly because you have a simple kit consisting of 25 parts for a nice price.
Here you can see what's in it:
With the help of the mini figures in the shape of a circus girl and two large sea lions, you can play out exciting circus shows.
The accessories to reward the sea lions for the clever tricks they do make playing with this set extra fun!
The package that we put number two, the LEGO DUPLO Circus transport, falls in the same price range as our number one, but it consists of nine somewhat larger parts.
With this package you build a circus wagon with trailer, so that you can transport the circus animals.
This package also comes with two mini figures, namely a clown and a giraffe. A simple construction package that can nevertheless offer a lot of fun.
These are our five favorite LEGO Duplo circus packages for you:
Best Duplo circus packages
Our number one - the LEGO DUPLO Circus Show
Build your own circus show with this fun package. The set consists of 25 parts and 1 mini figure in the shape of a circus girl and 2 sea lions.
The package offers additional accessories such as a fish, a basin and stands for the sea lion shows.
De LEGO DUPLO Circus Show is our absolute favorite, because for a very good price a nice package can be purchased for children who love the circus.
With the 25 parts you are able to set up the scenery for a spectacular show.
Play with the circus girl and help her train the two giant sea lions for the big show of the night!
Let the sea lions balance LEGO blocks on their noses and give them a fish as a reward for the tricks.
The construction set includes LEGO bricks with star print, transparent blocks and different colored blocks for a cheerful whole.
The package is suitable for children aged 2 to 5 years.
For a friendly price you have a super cute and simple package for every child who loves the circus and building challenges.
Fantastic combinations possible!
Another similarly themed pack that extends the above pack with great fun and allows for even more creative play is the LEGO DUPLO Grand Circus (see number four in the table above).
This LEGO DUPLO Big Circus set consists of no less than 62 parts!
It contains three figures: a ringmaster, a tightrope walker, and a funny clown, as well as a circus tent entrance and a ticket sales window.
It also contains a nice trio of circus animals, namely a lion, an elephant and a horse.
Children can play out their own circus scenes with this set with the fire elements for the lion show, the flags, the umbrellas, the fence, the pillars and various DUPLO blocks in cheerful colors.
A combination of these two packages gives twice as much fun and the experience of various circus adventures.!
(view more images)
Optionally, you can also choose to combine the number one with the LEGO DUPLO Circus Surprise, our number three from the table above.
This product is a bag with various mini figures known from the circus.
This product contains a bag of figures with the circus theme. Each package consists of 3 parts and a minifigure.
PAY ATTENTION! It is a surprise bag, so it is not possible to determine in advance which bag you will receive.
Each package consists of 3 parts and a minifigure. PAY ATTENTION! It is a surprise bag, so it cannot be determined in advance which bag you will receive.
This makes it exciting on the other hand, you never know what you will find in the bag!
This bag has a small price and can immediately offer new play options for your son or daughter. Collect them all!
Our second LEGO DUPLO Circus favorite: Circus transport
With this package consisting of 9 parts, you get a wagon with a trailer to transport circus animals.
Includes a minifigure clown and a giraffe. Accessories in this pack include a pitchfork and two yellow DUPLO bricks.
Our second favorite circus-themed LEGO pack is the LEGO DUPLO Circus transport. Prepare the Circus Transport for the big journey!
Help the clown to put the giraffe in the colored circus trailer and prepare yourself for departure.
With this package you will receive a car with a circus trailer. With the mini figures, in this case the clown and the giraffe, you can make fun rides.
With the pitchfork you can feed the circus animals.
A simple package that consists of only 9 parts, but because of the accessories and details it is a nice package at a great price.
The set is designed for children between 2 and 5 years old.
Of course they can also participate one of the Duplo train sets we reviewed.
Which packages can you buy to complement this set? Fortunately, all DUPLO sets fit together, so the combination possibilities are truly endless.
In addition to the additional packages mentioned with our number one, another example of package that you can include is the LEGO DUPLO Pets package.
This fun package contains a dog, a cat, a bird and a rabbit, all nice animals that also fit perfectly into circus life.
Expand your little one's collection of animal circus performers with these finely recognizable and cuddly critters for even more adventures in the circus ring!
Duplo big circus
Build your own circus with this package, including a tent entrance and a ticket office.
The pack comes with 3 mini figures, namely a ringmaster, a tightrope walker, and a clown.
Accessories included are two flames, flags, umbrella, fence and pillars. As animal mini figures, the pack contains an elephant, horse and a lion.
Duplo pet package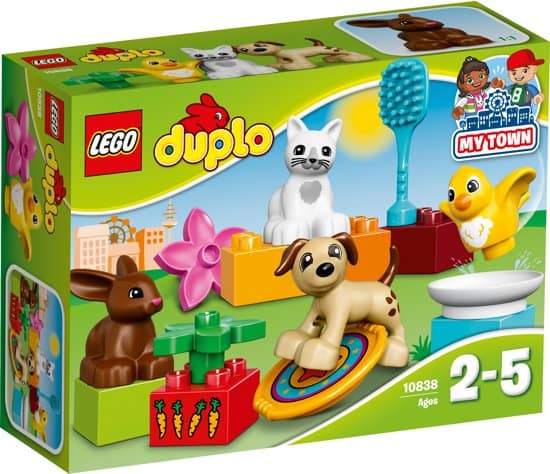 The more animals the better!
This cute package with 15 parts and figures of a dog, a cat, a bird and a rabbit with which you can recognisably expand the collection of circus animals of your child.
Check out the wildlife with these nice Duplo Safari packages
LEGO - fun for everyone
LEGO is the toy that everyone knows and has played with as a child.
It is now the largest and best-known brand of toys that every child likes to play with.
Not only are children happy for a while assembling LEGO packages, LEGO is also intended to develop children's motor skills.
In addition, LEGO encourages role play with its building kits and mini figures, which is an essential part of the development of every child.
LEGO DUPLO - for the little ones
LEGO offers many different building kits with different themes and for various ages.
They also have a series for the little ones among us and that is the LEGO DUPLO series.
This series originated in 1969 and has been developed for children from the age of about 1,5 to about 5 years old.
(view more images)
DUPLO building blocks are specially designed for little hands and are about twice the length, height, and width of a regular LEGO brick.
They are therefore easier to use by small children, and due to the larger size, children will not easily put the building blocks in their mouths.
This makes LEGO DUPLO toys 100% safe and reliable, so you can let your kids play with these toys.
Even though the LEGO DUPLO bricks are different in size, they are still compatible with traditional LEGO bricks.
LEGO DUPLO helps kids reach those fun childhood developmental milestones like learning colors, shapes and numbers.
LEGO Architecture - for architecture afficionados
Are you looking for a theme within LEGO that is intended for older children and (young) adults?
Then take a look at the striking LEGO Architecture theme. With LEGO Architecture you are able to lose yourself completely in building a true work of art.
For example, build the magical city of New York or classic Paris.
The series has been specially developed for travelers, people who love architecture and history.
It is great to see how LEGO has been an important concept within the toy industry for decades, and how it has continued to expand and develop into very innovative toys.
Will the circus also visit the countryside? View the best tractor sets from Duplo
Joost Nusselder, the founder of Speelkeuze.nl is a content marketer, father and loves trying out new toys. As a child, he came into contact with everything around games when his mother started the Tin Soldier in Ede. Since 2016, he and his team have been creating helpful blog articles to help loyal readers with fun play ideas.