I enjoy writing these articles for my readers, you guys. I don't accept payment for writing reviews, my opinion on products is my own, but if you find my recommendations helpful and you end up buying something through one of the links I may be able to receive a commission on that.
More information
Ready for take-off!
With the LEGO planes you will experience the most exciting adventures high in the sky.
LEGO has developed various construction planes, which are not only very popular among small children, but also among the older boys and girls.
Children can play for hours with LEGO products. Good for parents, but also good for children because LEGO is not just a toy.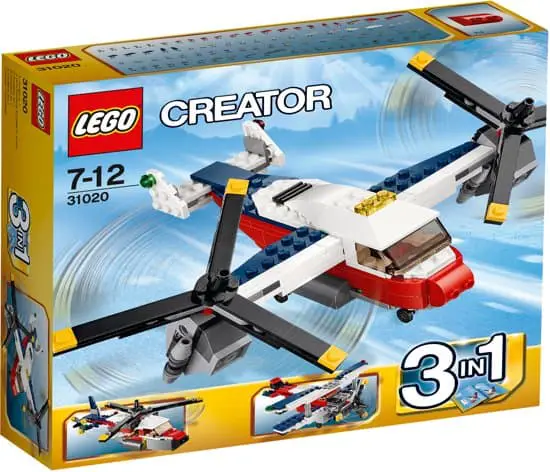 LEGO toys are aimed at the development of small children. Development in areas such as motor skills or to develop role plays.
And if you have slightly younger children, you will also find the best Duplo planes later in this article.
Also, building LEGO planes or other LEGO products teaches a child to focus on a task that requires a certain sequence of steps.
Logical thinking and perseverance are taught in a playful way.
Sometimes a little effort has to be put into a task, but then you really have something great!
Which LEGO plane do we love the most and is our ultimate number one?
That is LEGO City Airport Cargo Plane and we have our reasons for this.
This set consists of no less than 157 building blocks and is very affordable in terms of price. The pack also includes XNUMX minifigures and an airport service car.
A very complete package that can be enjoyed for a long time!
Here's a quick-play video of how it's put together:
The wonderful item that we place on number two is LEGO Creator Twinblade Adventures.
This set consists of 216 (!) LEGO pieces and is almost half cheaper than the number one.
A somewhat more complicated kit than the number one and does not include characters or other accessories.
Nevertheless, a nice package to build together and experience flying adventures.
Great to combine with these beautiful LEGO airports which I previously reviewed for additional fantasy play.
LEGO offers various aircraft or airplane packages.
Depending on what you are looking for exactly, the price range and the age of the child, there are several good options available.
LEGO likes to take different budgets into account, so that these types of toys are available to everyone.
I have divided the packages into planes from LEGO for the slightly older children and planes from DULPO for the slightly younger.
We have put the LEGO planes next to each other and put together these top 5 for you:
Best LEGO airplane packages reviewed
Best Lego City plane: Airport Cargo Plane 60101
Best to combine with LEGO City: The plane has an opening rear hatch for loading and delivery, large engines and accessible cockpit, plus a car with airport services.
Includes a pilot and an airport worker as minifigures.
As mentioned above, we prefer the LEGO City Airport Cargo Plane.
Why this product in particular? The package contains no less than 157 building blocks, so you will be busy for a while building the aircraft.
The toy is intended for children between 5 and 12 years old and is therefore not suitable for younger children. This package is too complicated and detailed for that.
The building kit is part of the 'City' series of LEGO (you can read more about the different series / themes of LEGO below), and is compatible with all LEGO building sets.
Various scenarios and role plays can be simulated with this airplane package. The pack includes a pilot and an airport worker as characters.
Use your creativity and help both characters deliver important packages!
You can use the service vehicle to transport the packages, and the hand truck is useful for loading the packages onto the vehicle.
In this way, the packages can be transported to the plane, and then travel to the correct destination. Another satisfied customer!
Check prices and availability of the cargo plane here
Cutest realistic plane: LEGO Creator Twinblade Adventures 31020
Aircraft with spinning engines, large spinning rotor blades, double tail fin, engine exhaust, cargo area and ramp.
Our number two is the LEGO Creator Twinblade Adventures. This package contains a lot more parts than our number one, namely 216 building blocks.
This Twinblade plane is revolutionary!
The engine is large and detailed with pipes and cylinders, a large propeller and landing gear.
Shoot through the air with this mega fast Twinblade! If you turn the rotor blades you can move vertically upwards just like a helicopter.
Then turn the engines 90 degrees and fly straight ahead like an airplane, while the dual tail fin ensures stable flight.
Because this aircraft has striking colors, namely red, white, blue and yellow, the Twinblade is easy to recognize in the air.
The great thing about this product is that it can be converted into three different items.
Besides the Twinblade, the building blocks can also be used to build a jet plane or a powerful helicopter!
So you only buy one package but get three buildable products in return.
Ideal as a birthday present for a child who loves construction and creativity.
Check the latest prices here
Best LEGO Star Wars plane: X-wing starfighter 75218
For kids (or parents) who love Star Wars: Rebel X-Wing Starfighter to be built with lever-activated wings and retractable landing gear.
Includes Luke Skywalker and Biggs Darklighter pilot miniature figures, plus R2-D2 and r2-q2 Droids. Contains 731 building blocks.
Check prices and availability here
Cutest superhero plane: LEGO Batman Movie the Batwing 70916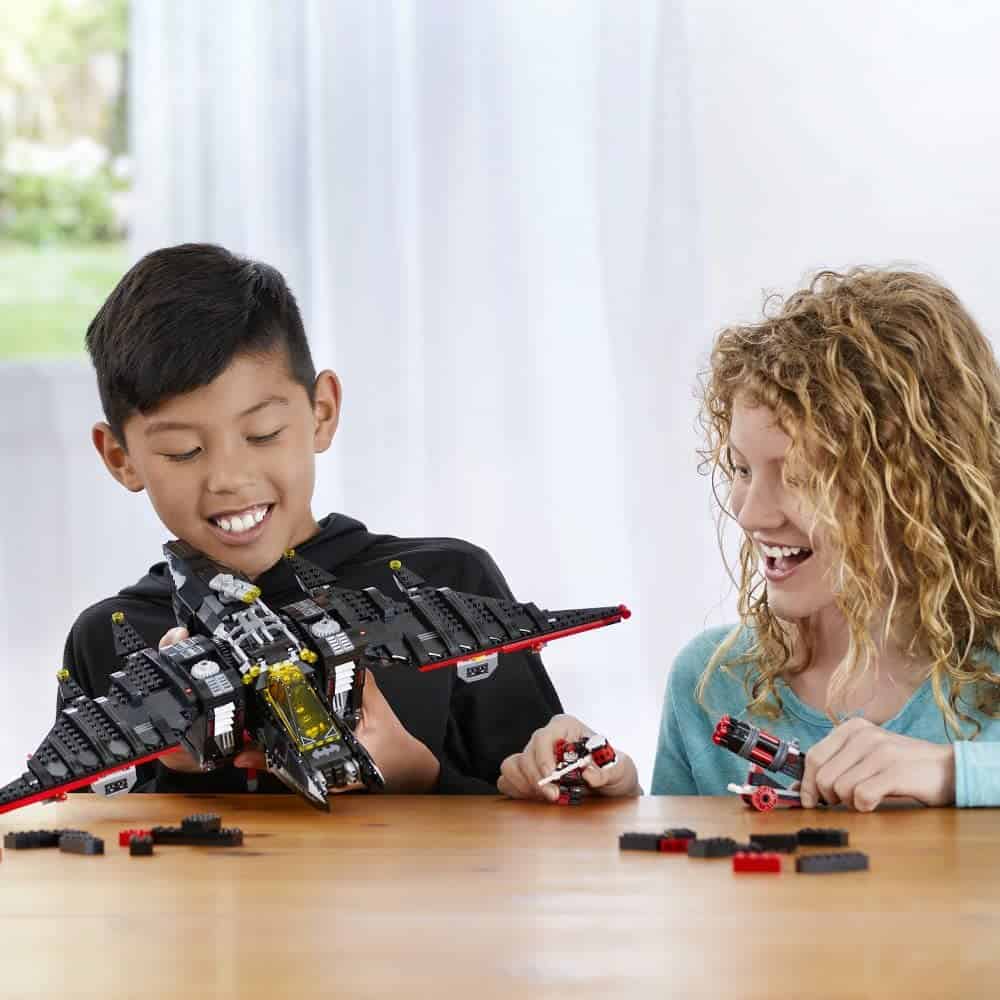 For superhero fanatics: With this pack you can build Batman's jet with multi-mode wings, a secret mini car and disc shooters.
Features Batman, Robin and Harley Quinn minifigures with buildable rapid-fire cannon and a hammer.
This set, LEGO Batman Movie the Batwing, consists of 1053 building blocks, and is intended for children between 9 and 14 years old.
With the Batwing you can send Batman and Robin to fight against Harley Quinn.
The Batwing has some nice details, such as adjustable wings, disc shooters, on-board weapons and the set also comes with Batman's car and other accessories recognizable from the Batman movie.
Check the latest prices here
Best cheap LEGO plane: LEGO City Sky Police plane patrol 60206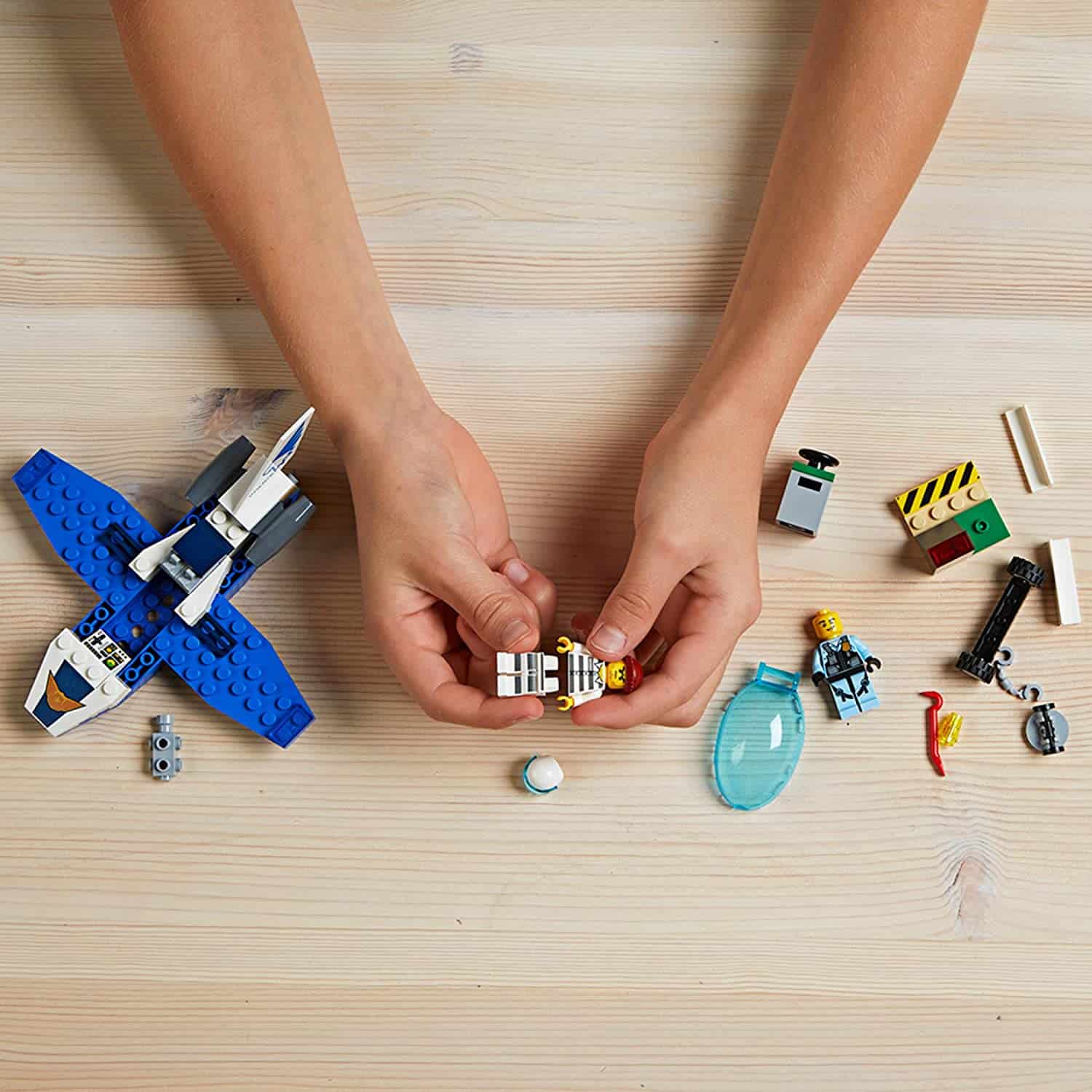 Best for a Fantasy Story: Build a Sky Police jet plane with open cockpit.
The plane has a rotating searchlight and a special 'Starter Brick' base to quickly build and play your child in a world of everyday heroes.
Includes 2 minifigures: a crook and a Sky Police officer.
Both products are from the 'City' series from LEGO and therefore fit perfectly with the LEGO City Airport Cargo Plane package.
The LEGO City Sky Police plane patrol package is a simple yet fun building kit for children from the age of four.
The package functions as a kind of starter package for children, and contains 54 LEGO blocks to build with.
With the pilot and the plane and the crook and the safe, exciting stories can be played out.
Check the latest prices here
Best air race: LEGO City Racing Plane 60144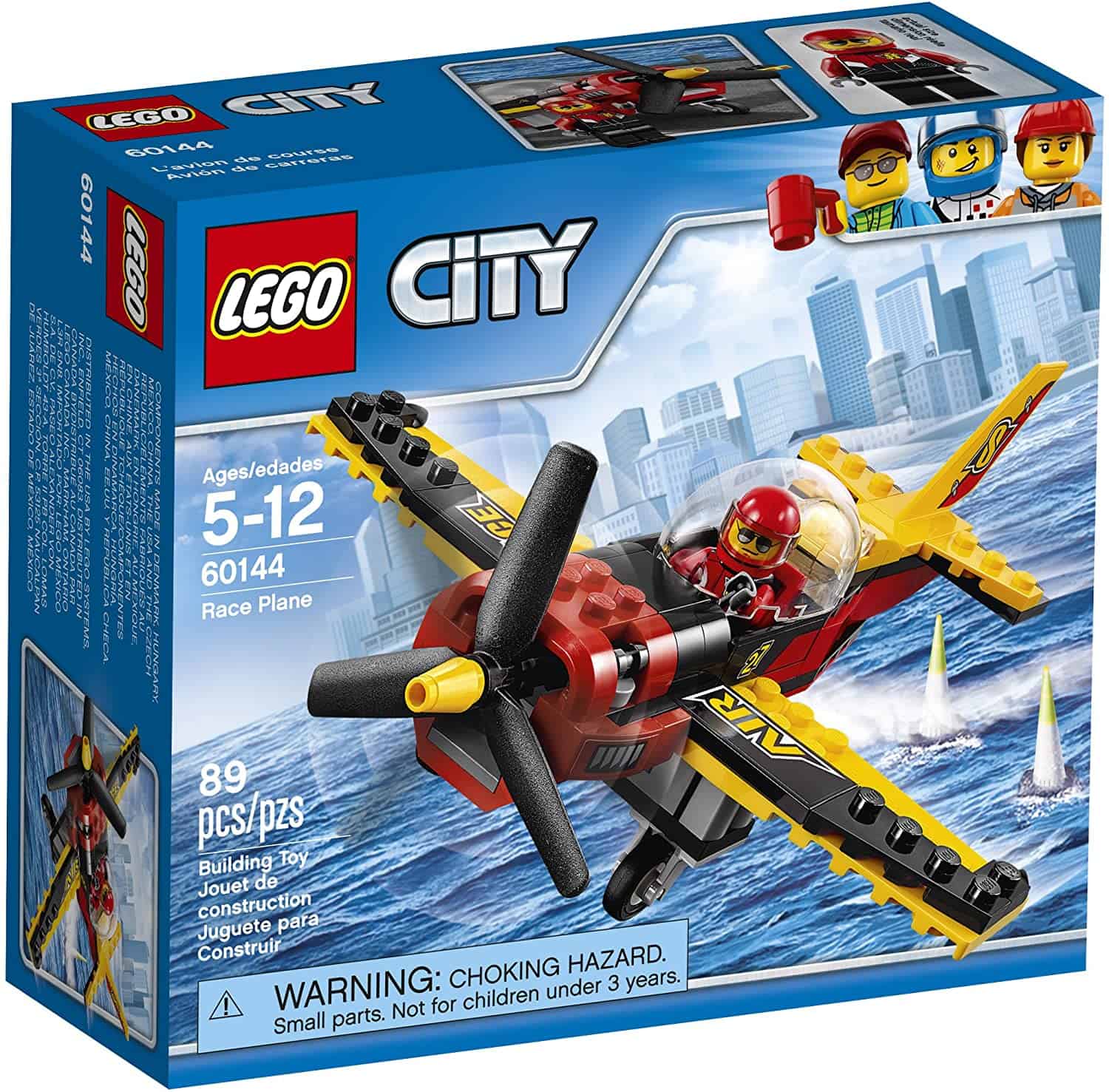 This is a very nice package that every child will be happy with. Are you looking for a construction set that combines perfectly with this LEGO airport?
In that case, matching articles are available such as:
the LEGO City Sky Police Airplane Patrol (number five in the table above)
and this LEGO City Racing Plane
The LEGO Racing Plane, the second pack that can really function to expand the Cargo Plane, costs only € 21, consists of 89 parts and includes one minifigure.
If you have a real aircraft enthusiast child, a combination of these two or three packages is ideal, where you of course can start with one and gradually expand the collection.
Check prices and availability here
It also once featured in LEGO Life Magazine, a free magazine you can sign up for and we have written about this before.
Best flying show: LEGO City Aviation Show 60103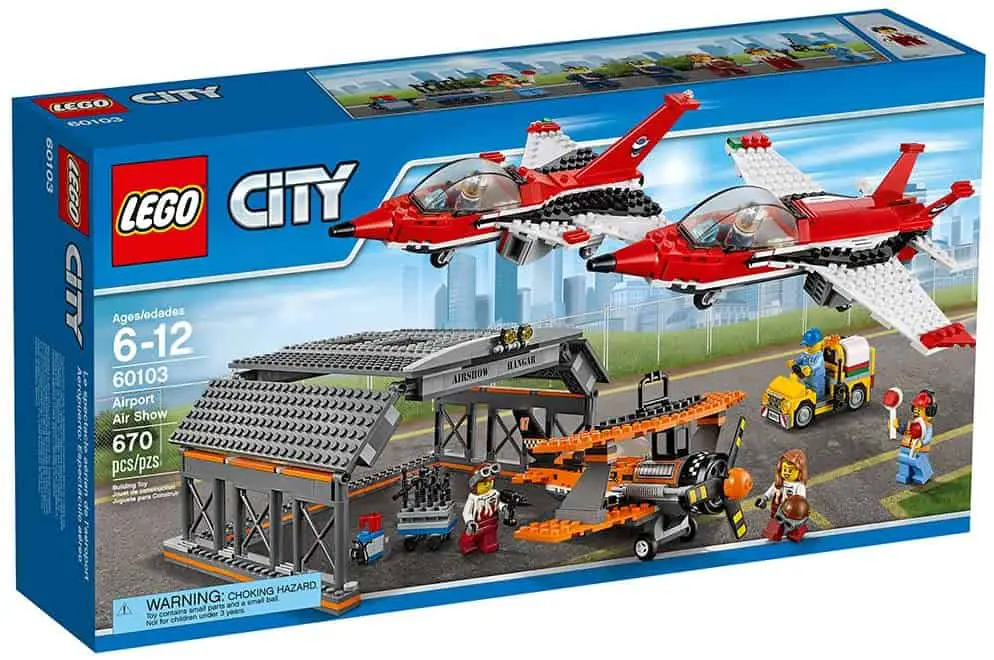 The package that has received many positive reviews from satisfied customers is the LEGO City Airplane Show.
With no less than 694 parts and 6 minifigures you can build your own passenger terminal and plane with this beautiful package.
Here's a video showing it being built up in rapid succession:
The package is incredibly detailed, from baggage belt to security check, from check-in desk to the stairs to the plane, everything is included.
This makes it all extra realistic and guarantees endless fun.
Have the best adventures with the six different mini figures included in this pack: the pilot, three airport employees and two passengers.
Build an airplane and airport terminal with a repair and gas station.
The pack includes a pilot, 3 airport workers and male and female passengers as mini figures. The construction set contains 670 building parts.
With this set you are able to build an airport terminal and a large plane.
The set consists of no less than 694 building parts, which makes this package quite large.
The great thing about this LEGO set is the many realistic details that you can also find at a real airport, such as a control tower and a conveyor belt for luggage.
LEGO always ensures that the building sets come across as realistic, so that children actually learn about everyday situations.
Of course you want to make sure that your passengers will have a great holiday without any worries!
Therefore, we will cover many more airport parts in this post.
Pass the passengers through security and show them the way to the gate where the large plane will be waiting for departure.
The airport employees have already prepared the stairs so that all passengers can climb into the plane.
Anyone on board? Then the stairs can be driven away and the pilot will indicate that the belts must be fastened and we are ready to take off!
The various mini figures ensure that every child can think up and act out fun stories about airports and holidays.
They will be creative and let their imaginations run wild. With this package, a child can act out everyday situations that occur at an airport.
Despite the many building blocks, the package is easy to assemble by anyone between 6 and 12 years old.
Children will find it very exciting to be in control with the preparations for the flights!
Check the latest prices here
Best airport addition: LEGO City Airport Starter Set 60100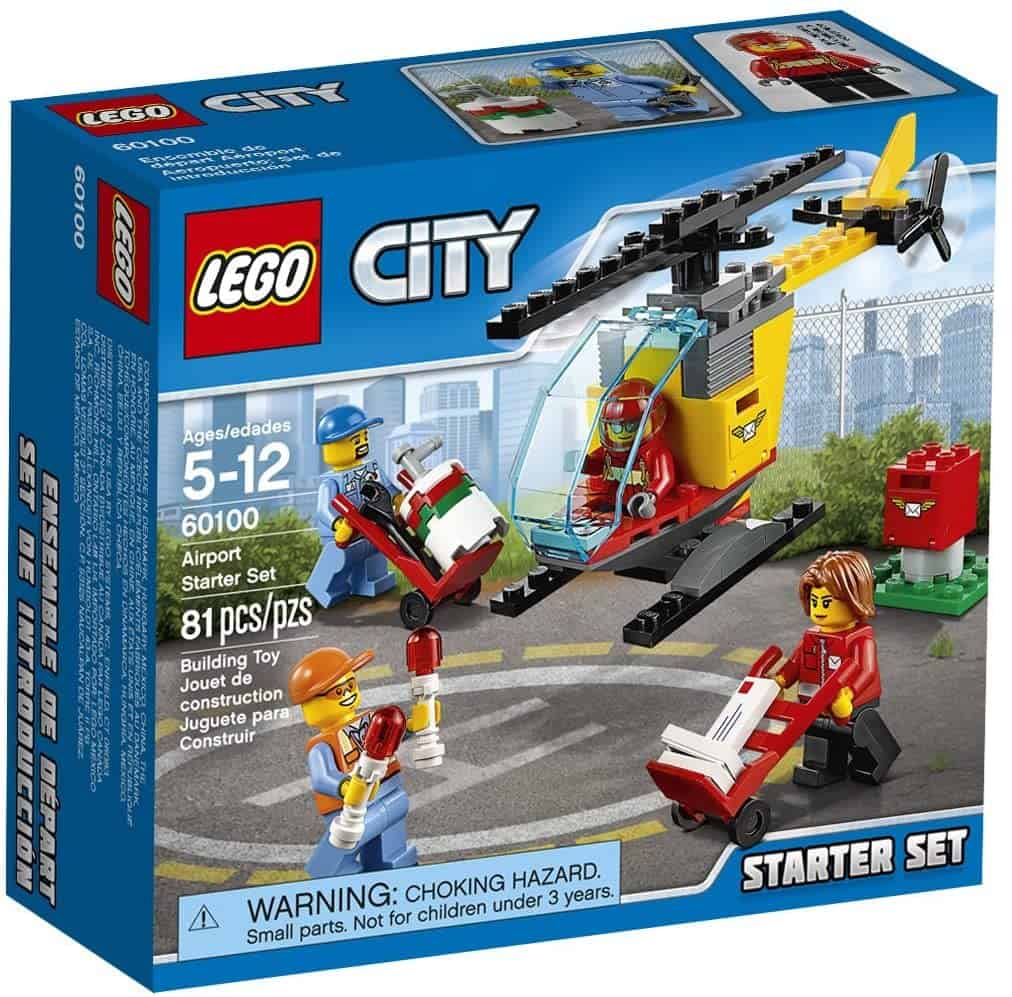 The second most popular package is the LEGO City Airport Starter Set.
A package that falls in a completely different price range than package number one, in this case much cheaper, and which is intended for the same age category in terms of target group.
This building set could perfectly function as a starter set for children who are introduced to the airport theme of LEGO for the first time, hence the name "Starter Set".
The package is much less complex than the LEGO City Airplane Show and consists of only 81 parts.
Nevertheless, the package contains nice accessories and is ideal for low budgets.
Build your own helicopter and use the four mini figures to create and act out stories.
A package that has been developed as a starter package and therefore also fairly simple in terms of details and easy to assemble.
In addition, this is a construction set that is suitable for every budget, because the package comes with a friendly price tag.
This set includes a helicopter with spinning rotors, with space for a minifigure and opening storage boxes.
Accessory elements include a fuel barrel, 2 hand trucks, a letterbox, key, 3 items of mail and 2 lights.
Includes 4 minifigures: a female postman, male postman, pilot and airport service employee
This LEGO set consists of 81 parts with which you can build a helicopter and you get four mini figures.
The mini figures are designed in the form of a male and female postman and two airplane employees who ensure that all flights run smoothly.
LEGO ensures that even with the most simple packages a child can still play creatively and get lost in the various self-created scenes.
For example: help the postman to empty the mailboxes and bring the important mail to the helicopter.
You can put the mail in the crates that are specially made for this on board the helicopter.
The pilot can board the ship to transport the mail. Is the helicopter running out of gas? Then you can fill the tank with fuel from the ton that is included in this package. Help the pilot deliver the mail to LEGO City on time!
Check availability here
Best LEGO Airport: LEGO City Grand Airport 7894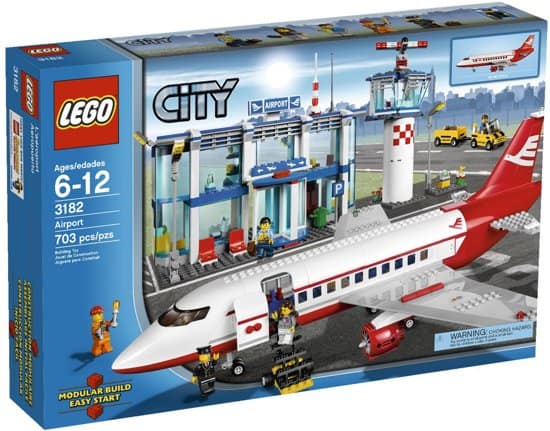 Many holidays and beautiful journeys start at the airport. Build your own airport with LEGO blocks and experience beautiful adventures!
Are you flying your passengers to the south of Europe, or are you getting ready for a long trip to Brazil?
Have the bags checked in, is the family complete and can we board?
LEGO has developed various building kits with which children can build an airport and everything that goes with it all by themselves.
Packages with this theme are available for kids who love technology, the world around the airplane, for boys and girls who love to travel and go on vacation!
A package that fits perfectly with the package just described is the LEGO City Grand Airport. This package falls in the same age range as our number one and is therefore also developed for children between 6 and 12 years old.
This deluxe set includes a large passenger plane, arrival and departure lounge, air traffic control tower and a truck with trailer for luggage transport. This LEGO City large airport is a collector's item released in 2006 and consists of 700 pieces.
The package is also a lot more expensive than the first package and therefore not suitable for all budgets.
However, you get a lot of nice details in return for the price. The pack consists of 703 pieces to play and build with and includes five mini figures.
You can build an airplane with this set and simulate a landing, for example, because it comes with a luggage trolley and luggage staff.
The package also contains the indispensable control tower. Role play is stimulated by means of the fun mini figures and your son or daughter will play creatively.
It is an extensive package with interesting details and accessories that fits well with the LEGO City Airport Passenger Terminal in terms of theme if you are looking for an expanding package.
Check the most current prices and availability here
Best celebrity package: LEGO City Airport VIP Service 60102
A package that is a good addition to this package is the LEGO City Airport VIP Service. With this great package you are able to build a luxury airport experience with a private plane with accessible interior and a limousine.
Build the ultimate luxury airport experience, using a private jet with accessible interior, limo and ice cream! Includes a businesswoman, pilot, limousine driver and an airport service representative as mini figures.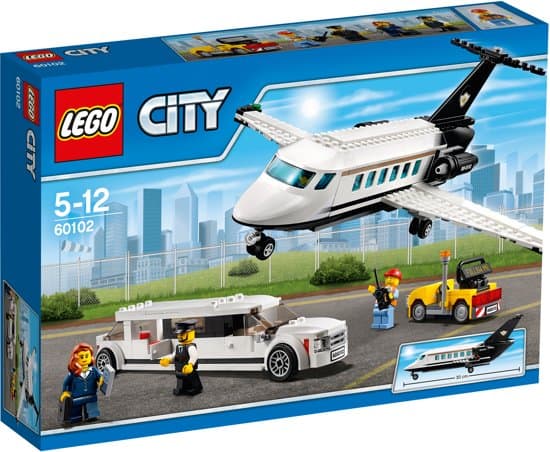 As mini figures, it includes a businesswoman, pilot, limousine driver and airport service agent.
A building set that, according to satisfied customers, is easy to assemble for a child between 5 and 12 years old.
The pack consists of 364 parts and four mini figures. Children learn with this set that there are also special services for wealthy people or celebrities, which include a private plane and private transport.
These people pay a lot for the special service and expect to be treated in a certain way!
Check prices and availability here
Best for older kids: LEGO Technic Airport Fire Vehicle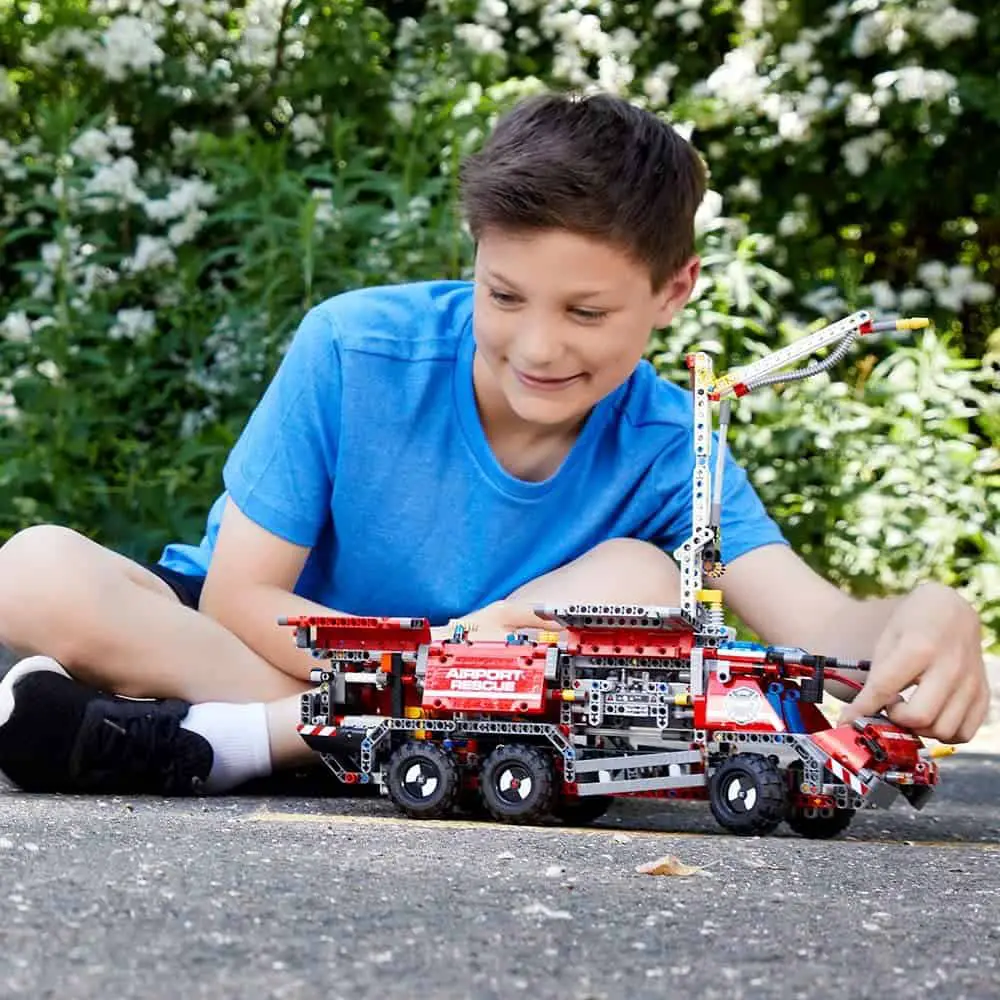 Another package that fits perfectly with our number two is the LEGO Technic Airport fire vehicle, intended for children from 10 to 16 years old.
A package developed for older children who are able to build more complex items.
With this package, an airport rescue vehicle can be built, using 1094 parts. As this is a 2-in-1 pack, a fire rescue vehicle can also be built with this pack.
The package consists of 1094 parts, of which you can build a high-tech airport rescue vehicle.
The model is very detailed and looks very cool with its red, black and gray tones.
It comes with all kinds of interesting details such as a large dashboard, side mirrors, large engine, fat tires, flashing lights, etc.
With the help of the water cannon you can save lives and extinguish all fires.
Check the latest prices here
You can supplement the vehicle with the LEGO Power Functions Motor Set where the crane is motorized and the flashing lights actually work.
Because two models can be built with this package, namely an ordinary airport rescue vehicle and a fire brigade rescue vehicle, you have a lot of value for your money.
So this is definitely a package you should consider if you have a vehicle fanatic at home between the ages of 10 and 16!
The authentic, detailed model is based on the real rescue vehicles found at airports around the world. A great addition to any LEGO collection.
It is also nice if, for example, the fire brigade has to be called in LEGO CITY.
LEGO creativity and development
LEGO makes it possible that children can play at home or with friends and build sets with great pleasure.
If children can assemble their own toys and then start playing with those toys, they will enjoy those toys even more.
Playing with LEGO blocks is not only a pleasant activity, but also stimulates the development of young children.
LEGO is the toy that everyone, young or old, likes to play and build with.
Flying with LEGO
LEGO has several packages on offer with the airport theme. To make the choice a bit easier, we have researched the various packages and selected our five favorite airport sets from LEGO for you.
That was not easy, because we would prefer to collect them all!
What makes LEGO so special?
Everyone knows LEGO toys and each of us has played with these toys.
For example, back in the day when you were a toddler yourself, or maybe you helped your nephew or niece to assemble a LEGO set.
As explained above, there are quite a few building sets where an airport or items related to it can be built.
We have selected our favorite sets for you, but of course there are many more options available.
The LEGO airports are a lot of fun to build and children have various options for role play through the many mini figures. After all, everything can take place at an airport.
LEGO Airport for young and old
For the younger children there are the LEGO Duplo versions with cute mini figures such as a pilot and passengers and for the older children there are other, more complicated and larger sets, such as the LEGO Technic Airport rescue vehicle discussed above.
So LEGO actually offers building fun for every age and for every theme!
Young children also learn what is going on around an airport by building these sets. Checking in, going through customs, airline tickets, suitcases and boarding.
In this way, children learn about situations from daily life through play.
For example, if you are planning a first flying holiday with your little one soon, these packages are a fantastic way to prepare him or her for the trip.
LEGO always ensures that the sets are provided with realistic details. Once you start playing with LEGO toys, we're sure you won't get enough!
Fortunately, LEGO has loads of fun sets that uniquely challenge children to learn and play.
If a child is 'finished' with a certain package at some point, there are always plenty of other sets that will offer new play possibilities, or that perfectly complement a previously purchased package.
LEGO offers toys that make children happy, keep them occupied for hours and also educate and stimulate the correct development. LEGO is the ideal gift for any child who is eager to learn and loves to build.
Also read: flying on broomsticks instead of planes with LEGO Harry Potter building sets
Top 5 DUPLO planes
Little boys or girls will be entertained for hours on end with the LEGO DUPLO planes.
The planes are easy to build, which makes it attract and hold children's attention.
The LEGO DUPLO bricks are specially designed for little hands, and at the same time are big and safe enough so that children cannot put them in their mouths.
Through role play, these types of LEGO toys stimulate children's development as well as their creativity and imagination.
There are several possibilities of LEGO DUPLO if you would like to purchase an airplane or something related to airplanes.
We will list you, in our opinion, excellent options for this type of product, naturally taking into account different budgets.
Best Duplo airport: Town Airport 10871
Baggage belt and suitcase, boarding gate, air traffic control tower, pilot, father and son. Consists of 29 pieces, suitable for 2-5 years.
The number one we have chosen for you, the LEGO DUPLO Airport, is a great package for the small, real airplane enthusiasts.
The package comes with many cheerful accessories and contains all the things that are indispensable at an airport.
With the construction kit, real-life scenarios can be reenacted, and the package offers a recognizable world.
With the dolls and pilot your little toddler can simulate a real flight.
Help the pilot get all the passengers on board the plane, then fly high into the sky and take them to their destination!
In this way, a toddler learns what is going on at an airport.
This is a fantastic package if, for example, you have your first flying holiday with a little one ahead and you want to prepare him or her a bit for a perhaps somewhat exciting first real flight.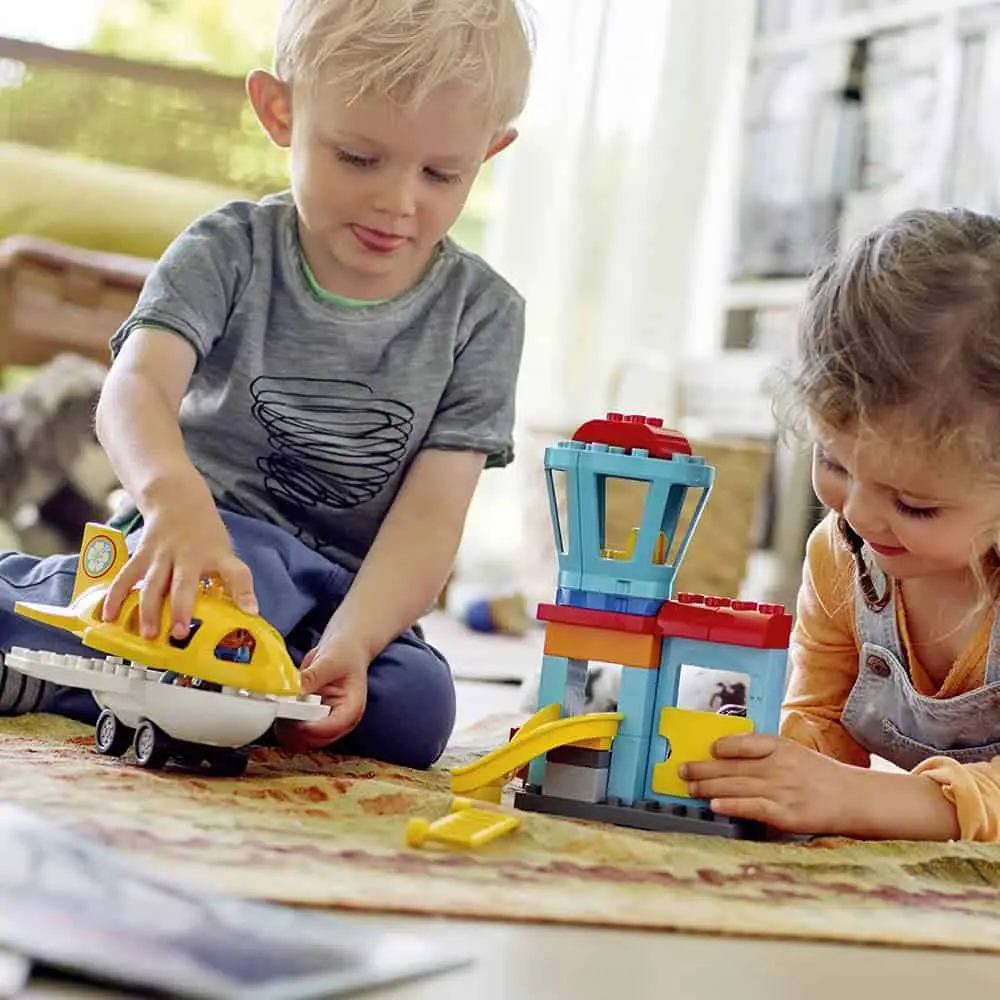 The package is intended for children from about two to five years old and contains about 29 LEGO building blocks. Children will enjoy this for years to come.
Why do we put this package at number one?
With the LEGO DUPLO Airport building set you can build an entire airport and the package comes with all the details that you will also find on a real airport.
Just think of a baggage belt, a suitcase, a boarding gate and even a rotating air traffic control tower. You can also assemble the plane yourself.
In this video you can see exactly what is included:
The LEGO blocks have very cheerful colors, as we are used to from DUPLO and by means of the characters (a pilot, a father and a son) funny stories can be played out.
Take father and son to the boarding gate and make sure that they both unload their suitcases after the flight. Every vacation starts and ends at the airport!
Check the latest prices here
Best for the little ones: LEGO Duplo My first plane 10849
Airplane to be built with spinning propeller, a double-sided LEGO brick decorated with characters such as a story starter.
Set can also be converted into a boat or helicopter. Contains 10 pieces and suitable for 18 months to 3 years.
Check availability here
Cutest Duplo plane mechanic: Town Propeller Plane 10908
A cute red airplane with propeller and pilot.
The pilot can use the wrench and oil can to tinker and repair the aircraft in his workshop.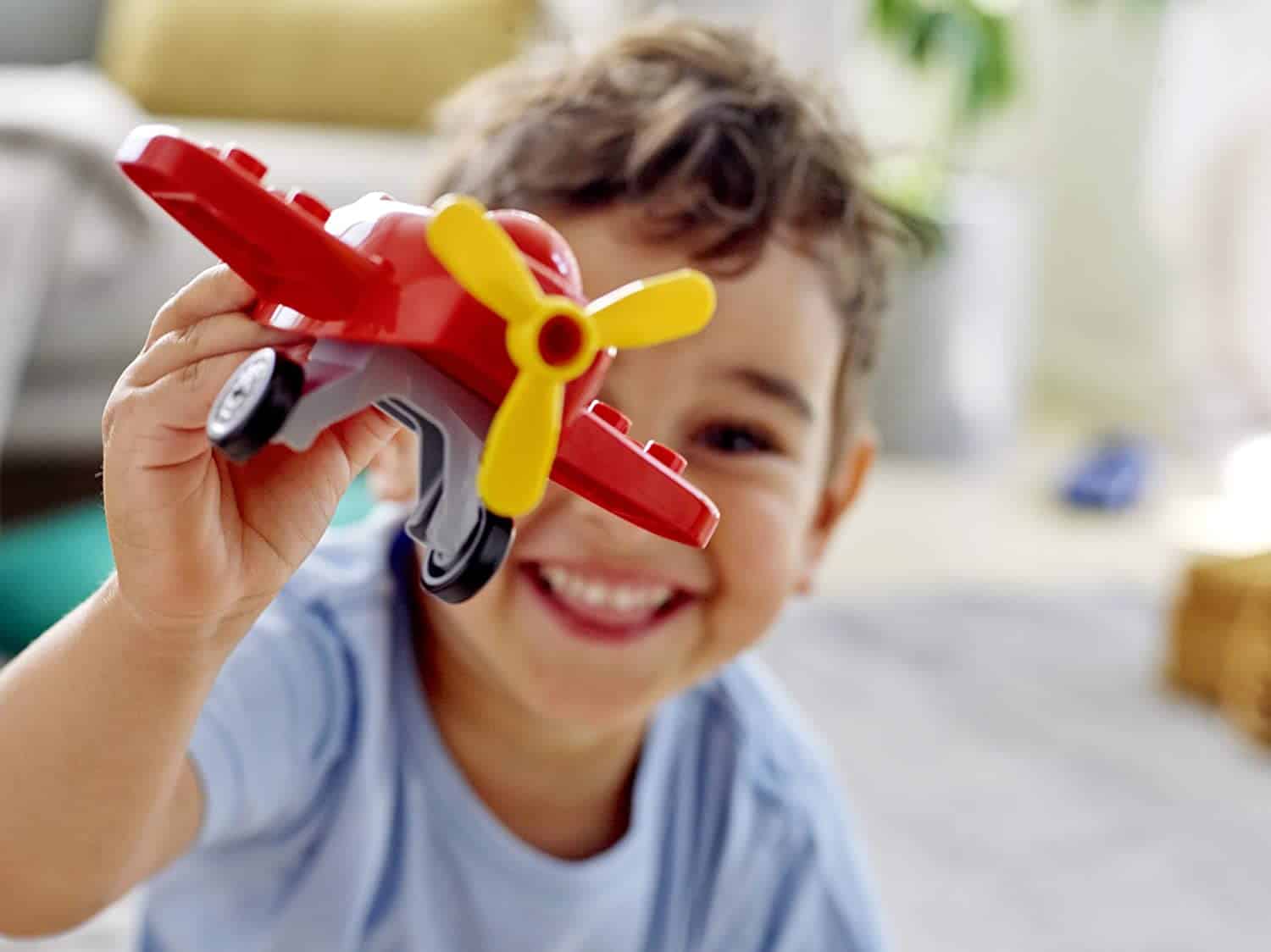 Consists of 12 parts and suitable for 2-5 years. Very nice as a small gift!
Check prices and availability here
LEGO contributes to the development
Unfortunately, in this digital age, it is sometimes no longer self-evident that children are involved with non-digital toys.
Children sit up from an early age computers and tablets and less often, children are encouraged to romp outside or play with toys such as those from LEGO DUPLO.
A pity, because LEGO offers so many play and development possibilities for a child!
In addition, in our opinion it is not healthy to constantly place a child behind a screen and let it play digital games.
Real-life games are also important, so that you can play together with figures, boats and planes.
Mom and dad, or brother or sister can also act out stories with the toddler, so a child learns to play interactively and develop in the best way into a happy, healthy and eager to learn child.
Looking for something to transport with the planes? Maybe a few of these fun Safari animals
Role-playing stimulates children's imaginations and creativity
LEGO DUPLO simulates the imagination and creativity of small children.
In addition to the fact that the children enjoy the LEGO DUPLO products and packages, playing with these products is also an important part of the development of children.
Just think of role-playing and coming up with stories or scenes, putting together an airplane in this case, while also promoting motor skills.
LEGO DUPLO will keep kids entertained and amused for hours. A very welcome gift for any toddler.
Playing with real world vehicles is always a favorite among almost all kids, from airplanes like these, to cars and all also Duplo trains.
Looking for something more constructive? Look at the best LEGO airports
Disney Plans
Disney's Planes is a 3 American 2013D computer-animated comedy film published by Walt Disney Pictures. Dusty Crophopper, the main character from the movie Planes, is an airplane working in a corn field.
In his spare time he likes to perform acrobatic maneuvers and his big dream is to become a racer.
However, his boss, Leadbottom, and his friend Dottie don't believe in his dream. But luckily he gets all the support from his other friend Chug.
Dusty trains with him for an upcoming race.
Dusty also asks help from a veteran plane named Skipper Riley (see package in our top 5 above: LEGO DUPLO Skippers Flying School), to teach him to fly, but unfortunately Skipper refuses.
However, Dusty is a go-getter and will not let his dream be shattered by the characters around him, so he decides to participate in the qualifiers.
He amazes the audience with his beautiful maneuvers.
The story has some thrilling twists and turns that make it seem like he will never make it to the race.
In the end Dusty manages to win the race, a big victory!
LEGO DUPLO and Disney
LEGO DUPLO has been smart about partnering with Disney.
Disney is of course the term for children when it comes to toys, fairytales, (cartoon) films and so on.
And of course Disney has a lot of characters that children can identify with, or that they would like to collect.
Several princess collections from LEGO DUPLO Disney are available for the girls, such as Cinderella's castle, Rapunzel's tower, or Snow White's cottage.
There are also LEGO building kits for sale of Mickey or Minnie, the characters from Cars and other special Disney characters.
So children have an enormous choice and can continue to supplement their LEGO collections with the various Disney characters and building kits.
The best thing about LEGO is of course that all pieces always fit together.
Planes is a fun Disney story with a nice message: wherever you come from, whatever you look like: never give up on your dreams because if you keep going for it you will achieve what you want!
Not finished learning to build yet? also watch the best construction toys
LEGO: development-oriented and attractive toys
LEGO is known for its beautiful toys, which promote the development of all children and offer unlimited play options.
As you can see, when it comes to toy airplanes, there are so many options for children.
Airplanes that are easy to assemble with fun minifigures or more complicated planes that take some time and attention to be built.
For younger or slightly older children: LEGO offers options for many ages and for both boys and girls.
In addition, all LEGO products are provided with particularly fun and realistic details and accessories, so that a link with reality is established, and children can act out various stories or scenes.
Children are creatively challenged and will not get tired of LEGO toys.
Should children be ready for something new at some point, which is also normal, there are always packages that you can buy that are a nice combination with previously purchased LEGO toys.
LEGO series
City
LEGO has developed dozens of series or themes, each with its own characteristics.
For example, there is the LEGO City series, which we have already discussed above, in which city life is central.
With the products from LEGO City you can create realistic buildings, assemble trains, build a hospital, build an airport (see above) and so on.
With this series your son or daughter can get acquainted with the busy life of a city and what amenities a city does not need to satisfy its inhabitants.
Or they can of course combine it with their Disney favorites from LEGO Cars.
Another example from this series is the LEGO City Police Station.
This is a very large package, and consists of no less than 894 parts and seven minifigures!
The police station consists of three floors, a cell with exploding walls and a watchtower.
In addition, the package also offers a helicopter, police car, police motorcycle and a truck that transports thieves.
Very realistically designed and recognizable for children.
LEGO DC - Batman
Another example of an exciting and recognizable LEGO theme is the Batman series.
This theme belongs to the LEGO DC series and is for the kids who love superheroes like Batman.
LEGO DC is a series that includes a universe of characters including Wonder Woman, Superman, the Joker, and of course Batman.
The superheroes of LEGO DC are a collection of the most wonderful stories on earth.
The sets come complete, so including heroes and villains and all kinds of super powers, incredible vehicles and amazing gadgets that come with each character.
Superheroes are just as common as all of us, only they have that little bit extra. If you want to be a real superhero, you have to have certain qualities.
Just think of bravery, being able to think quickly, resourcefulness and of course you shouldn't be easily scared.
It requires strength and courage and the ability to give hope to others. Learn to become a superhero with DC series from LEGO!
Starwars
LEGO has another interesting theme, namely the Star Wars series.
Also a very familiar theme among most children, and of course adults too. Star Wars is for all ages!
The products in this series offer a universe of rich stories that, in addition to creative building, also stimulates interesting role play.
The Star Wars theme has been specially developed for children who love adventure and martial arts.
Find all your favorite characters from this series, such as Darthvader, Luke Skywalker, or maybe Han Solo, and let the mighty Luke Skywalker fight against the Empire!
Creator 3-in-1
The LEGO Creator 3-in-1 sets offer, as the name suggests, sets where three different items can be built.
The products from this series consist of detailed vehicles (such as planes and cars) or colored buildings and special creatures.
These types of packs are fun for children of all ages, allowing them to immerse themselves in a world of creativity and keep them amused for hours.
Even for mum and dad it is nice to help with this kind of construction kits, because they require some thinking and time.
It also stimulates real teamwork and can offer a pleasant afternoon of building with the whole family.
In the case of the Twinblade that was highlighted above, in addition to the Twinblade plane, the package can also be transformed into two other products, namely a jet plane or helicopter.
Another example from this series is the LEGO Creator Adventures in the Wild.
The car, in this case an off-roader, can be converted into a wilderness camping site with a boat or a hoist helicopter.
So again a lot of and diverse fun with the purchase of just one LEGO package. 3-in-1 packages ensure that children will enjoy playing for a long time and will never get bored with these toys.
Conclusion
With these packages you create endless fun, for a boy who loves challenges and loves planes and cars.
A better combination of packages is really not possible for the real LEGO enthusiast!
Joost Nusselder, the founder of Speelkeuze.nl is a content marketer, father and loves trying out new toys. As a child, he came into contact with everything around games when his mother started the Tin Soldier in Ede. Since 2016, he and his team have been creating helpful blog articles to help loyal readers with fun play ideas.