Cutest dollhouse furniture & accessories: 16 best sets
I enjoy writing these articles for my readers, you guys. I don't accept payment for writing reviews, my opinion on products is my own, but if you find my recommendations helpful and you end up buying something through one of the links I may be able to receive a commission on that.
More information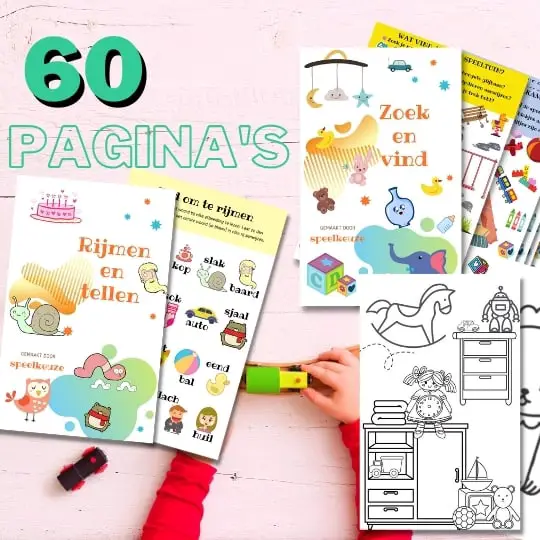 Always something to do for the holidays or rainy day?
Play Choice now has the ultimate activity book collection, with over 60 pages of fun coloring pages and educational puzzles.
It's a fact: Dollhouses are so much fun! Every child is fascinated by a dollhouse. Everything is in miniature and to scale and oh so cute!
There are truly wonderful items available for one dollhouse to set up, pimp, or supplement. Modern or antique, rural or trendy: Everything is possible!
Are you not yet in possession of a dollhouse? Perhaps a family member still has one from the past in the attic!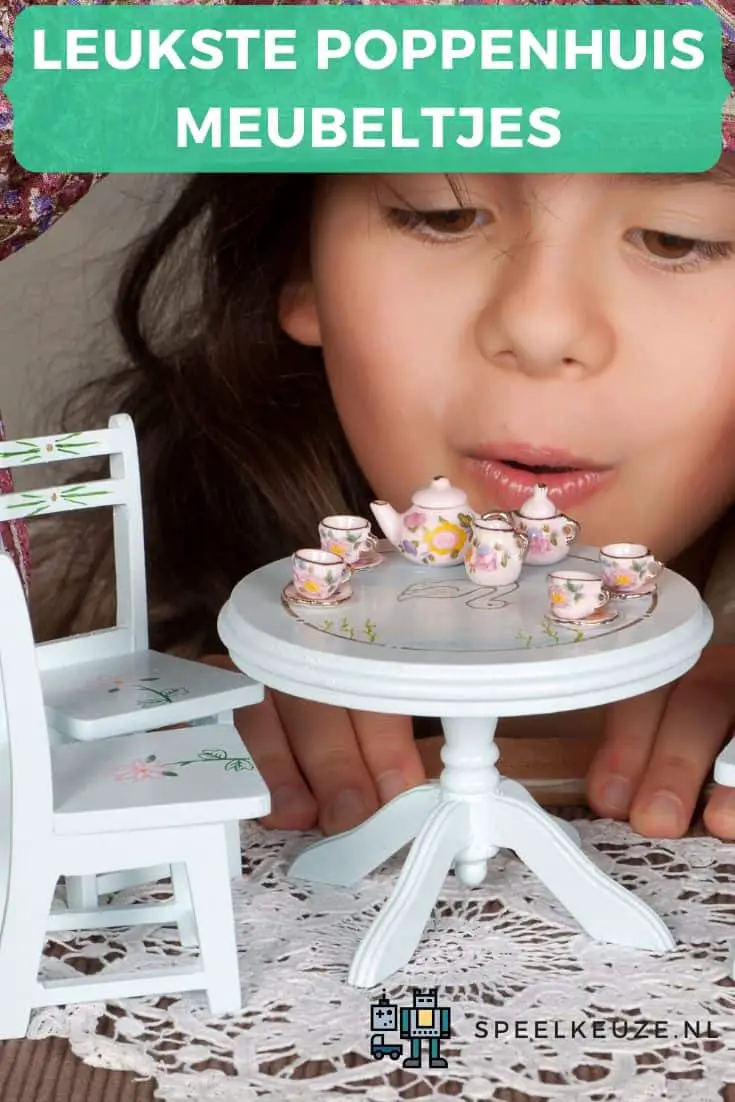 You can of course also buy an old or second-hand dollhouse and fix it up. Very nice to get started with your child.
You will really take credit for your work afterward!
There are a lot of possibilities, but if you want a very nice wooden set with everything on it in one go, then I recommend this Pinolino 20-piece set .
With a full bedroom, living room and bathroom, your entire tiny house will probably immediately have a nice interior.
But of course there are more options.
If you want your dollhouse to be beautifully and warmly decorated, look at the various trendy furniture and accessories that we have selected for you!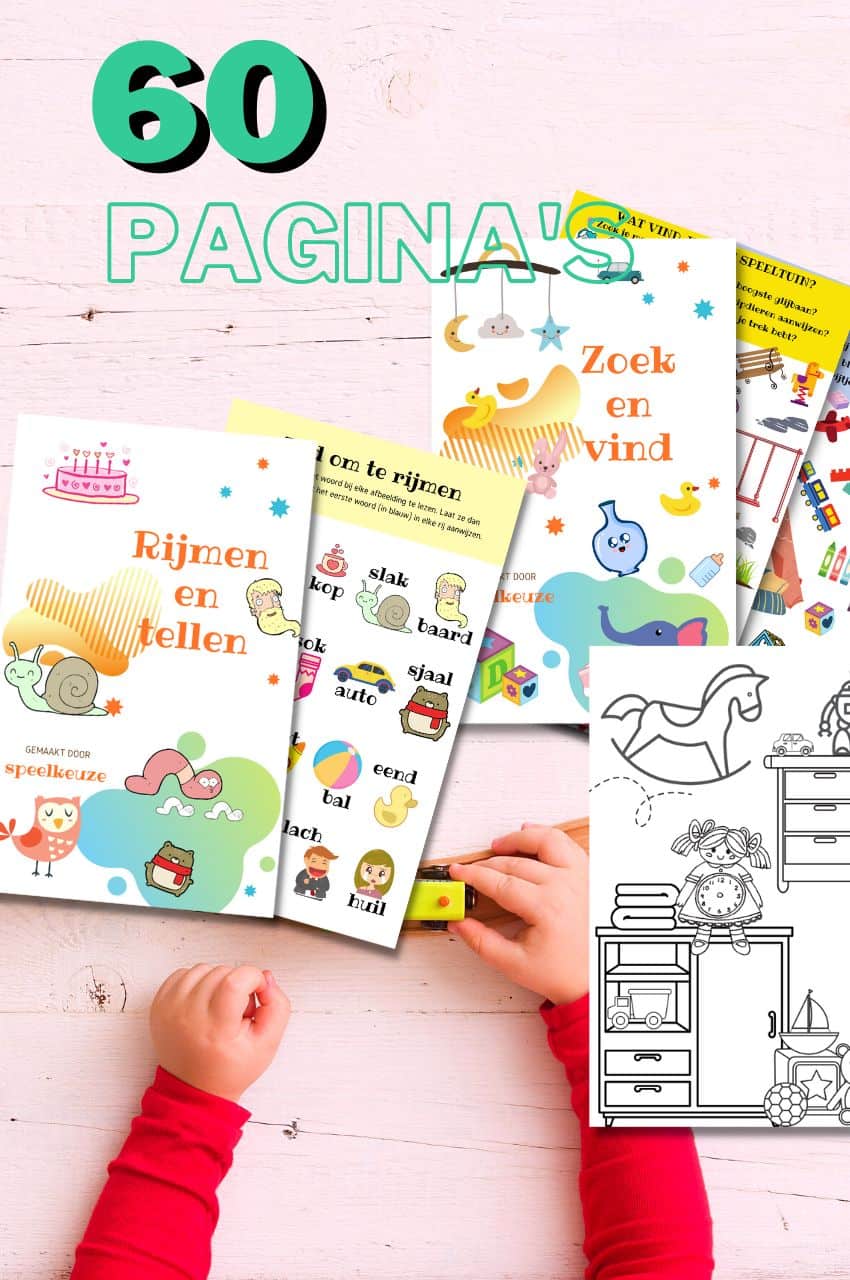 From toddler to toddler activity book collection
Educational games and coloring pages for 3 to 6 years
Your toddler and preschooler will love this e-book, along with the accompanying printables. He or she can play with it at every stage of development, together with mom and dad.
Buy at Bol.com
Cutest dollhouse furniture and accessories rated
Best dollhouse furniture set: Pinolino 20-piece

With this complete Dollhouse furniture for bedroom, living room and bathroom 20 pieces set you can completely decorate your dollhouse! It is a great basis to start with.
All items are made of natural wood and can be painted in your favorite color if desired!
Cutest dollhouse accessories: PlanToys accessories for the kitchen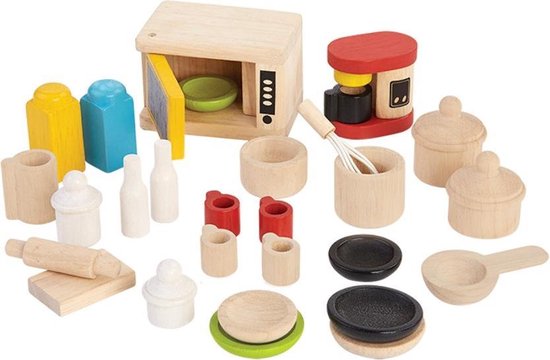 You can cook and bake a lot in your dollhouse, with the PlanToys Dollhouse accessories for the kitchen!
The set includes plates, a mixer, a coffee maker, a microwave and also cups! All details are beautifully made!
Check the latest prices here
Melissa & Doug

Dollhouse Family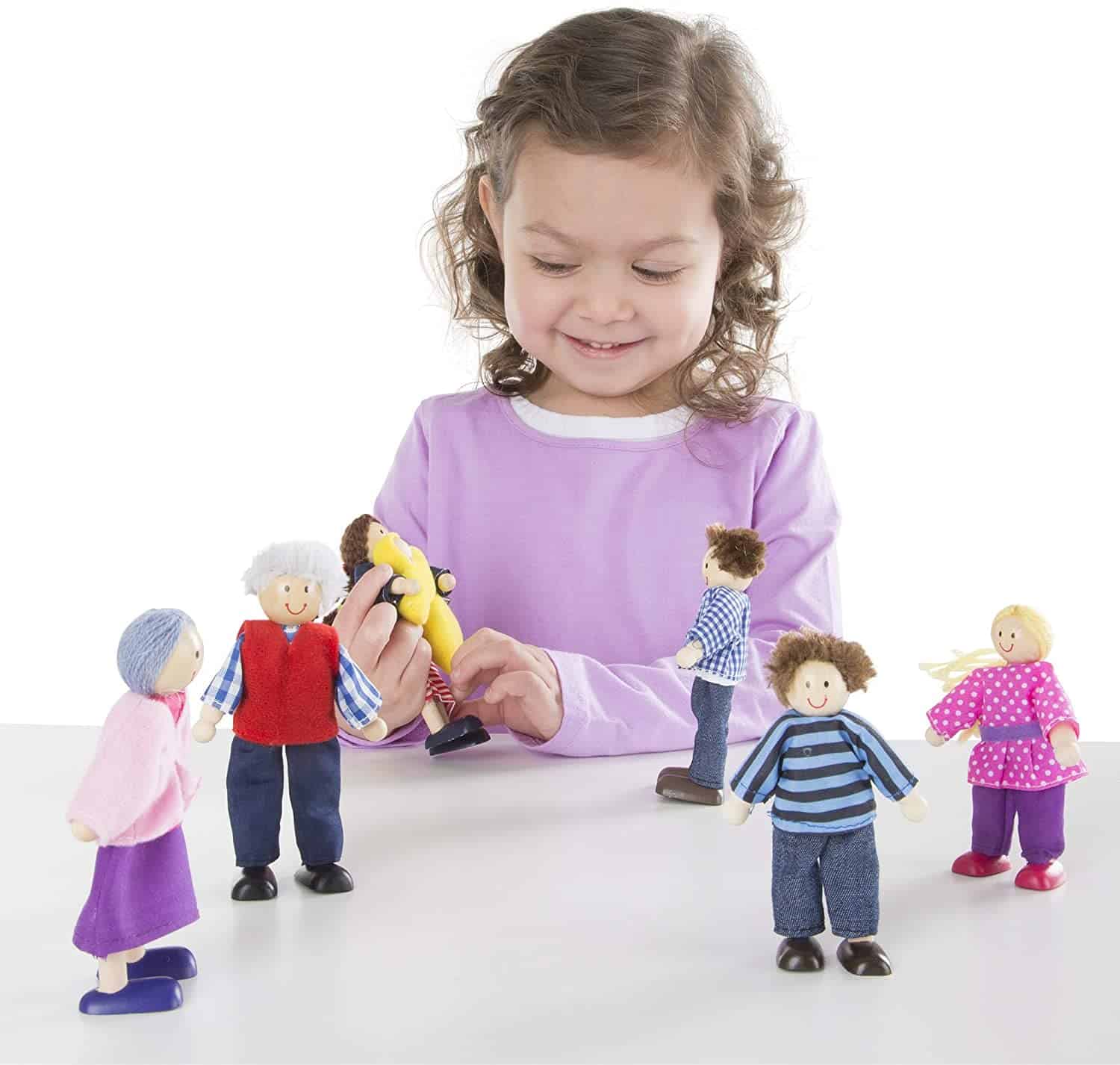 Best for
Great open-ended set where the child can go in all directions

Durable materials
Less good
Most children grow out of it quickly
The Melissa & Doug wooden bending dolls set consists of 7 dolls: a boy, a baby and a girl. The dolls can be bent and are a very nice addition to your dollhouse.
And there are even parents, a grandfather and mother for endless fantasy play.
Cutest dollhouse dining room decor: Hape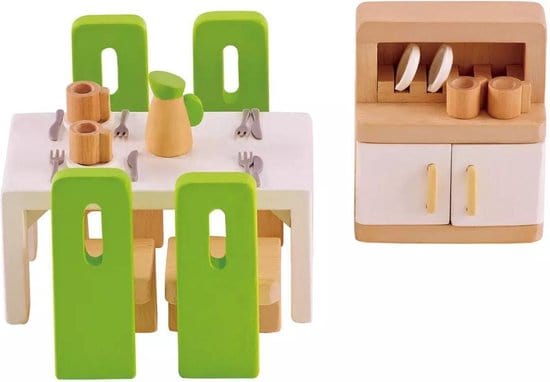 This modern and colorful Hape Dollhouse Dining room set is ideal to decorate your dollhouse!
This set comes with a small crockery and cutlery, so that the table in the dining room can be comfortably set. There is even a thermos! This set is child-friendly.
The wood has been treated with water-based paint. The dollhouse is suitable for children from three years old.
Check availability here
Dollhouse miniatures: Gerdes Miniature dollhouse with LED light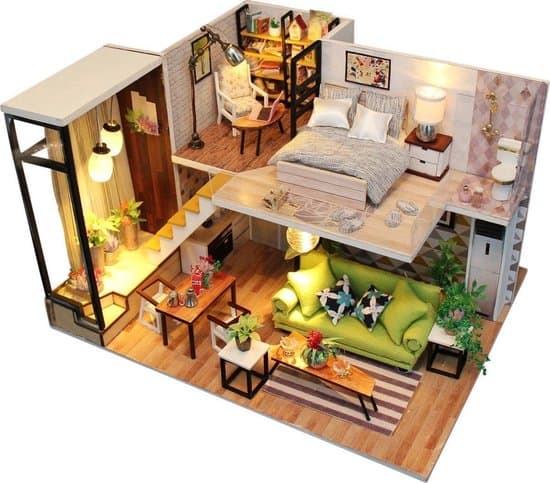 So trendy and crazy this DIY Dollhouse - Miniature dollhouse with LED light!
Do you love to tinker, cut, paste and decorate? It's all possible with this miniature dollhouse! You can assemble it all by yourself, all necessary things are present.
It is certainly a challenge and it takes some patience, but you will see that it is definitely worth it!
There is also beautiful lighting, a bed with bedside table, a sofa, even the cushions on the sofa and the paintings on the wall. A great set!
Keep in mind that children under the age of fourteen definitely need help from an adult.
The instructions for use are in English. Colorful images explain step-by-step how to build the dollhouse.
All materials are safe and of high quality. The furniture is precisely cut to size and the other accessories, such as lamps and plants, are indistinguishable from the real thing.
The house is a perfect gift for anyone who likes a crafting challenge! The dollhouse looks great, especially at night in the dark, with the lights on!
Dollhouse wallpaper: Haba Little Friends adhesive decorative accessories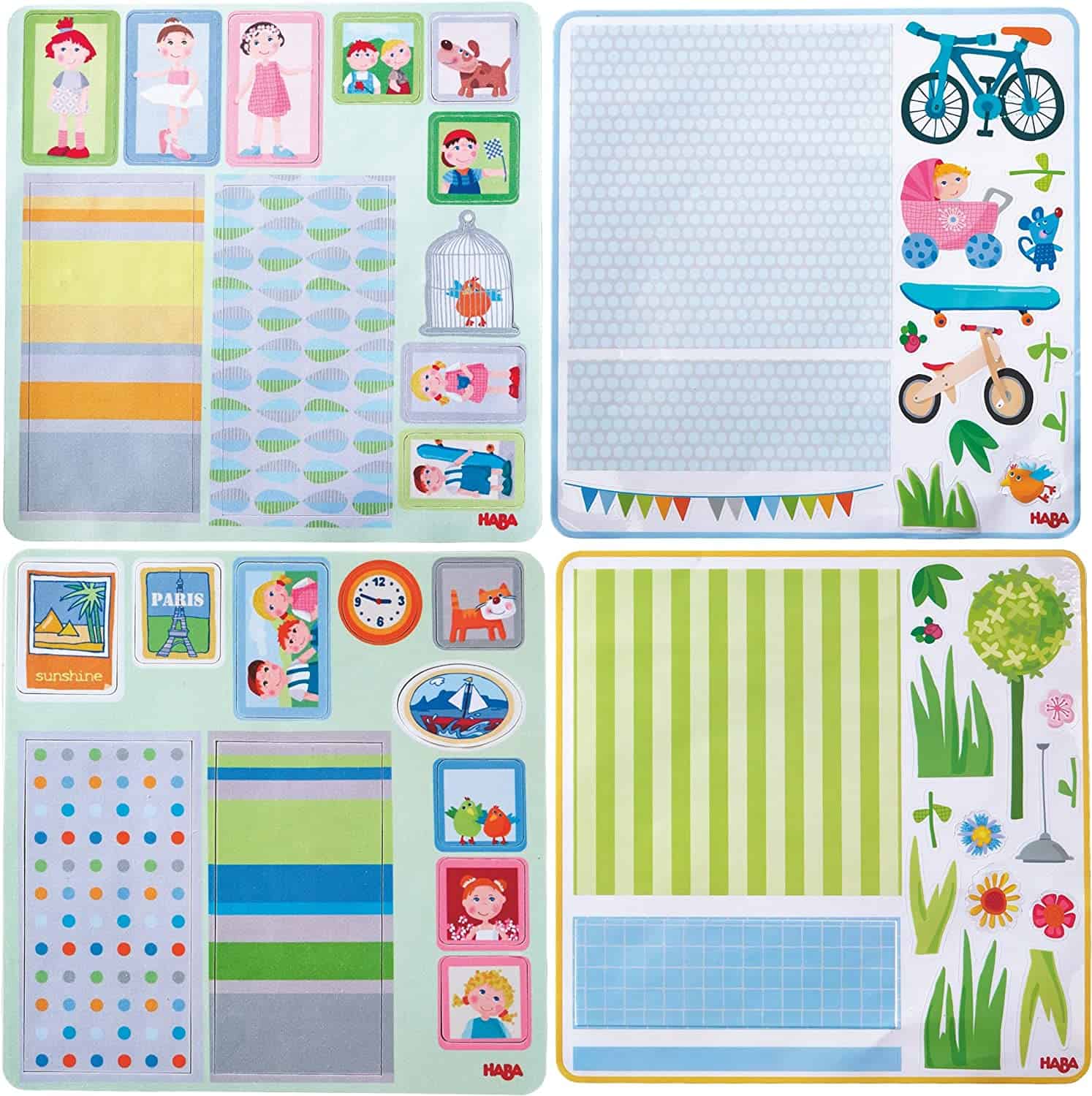 Did you know that there is wallpaper for your dollhouse? With this sticker wallpaper and adhesive accessory set you can decorate many rooms! These cutting sheets all have nice prints.
You can choose a suitable print for every room.
Check prices and availability here
Cutest modern dollhouse furniture: Le Toy Van Daisylane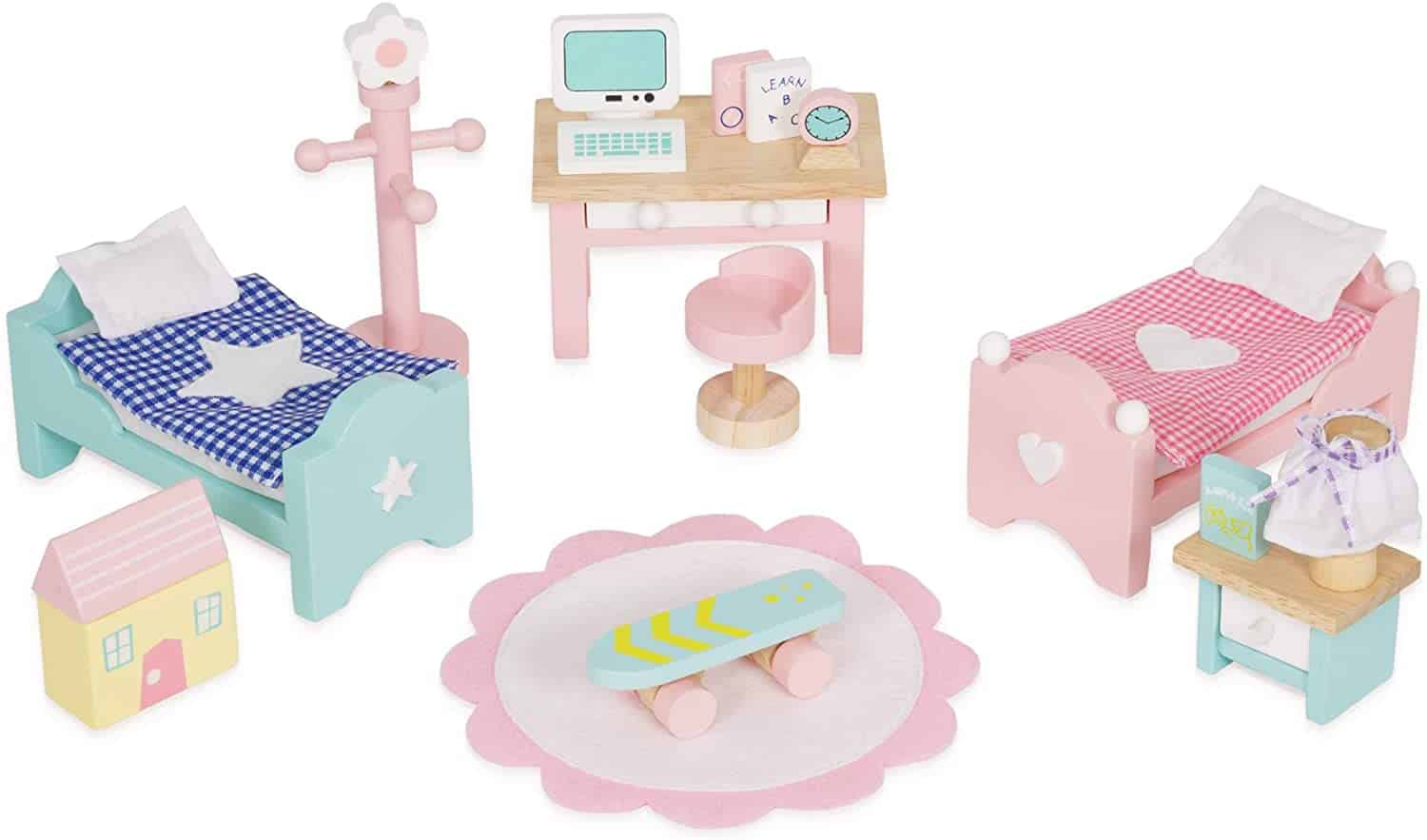 Every self-respecting modern dollhouse nowadays must have a computer of course.
Add a cool skateboard and all in cute, soft colors and you have the modern Daisylane bedroom.
This modern dollhouse furniture is made of solid wood. Your child can use the flexible dolls for this.
The furniture is suitable for children from three years and there are many more sets available for other rooms.
Check prices and availability here
Cutest dollhouse bed: Hape bedroom set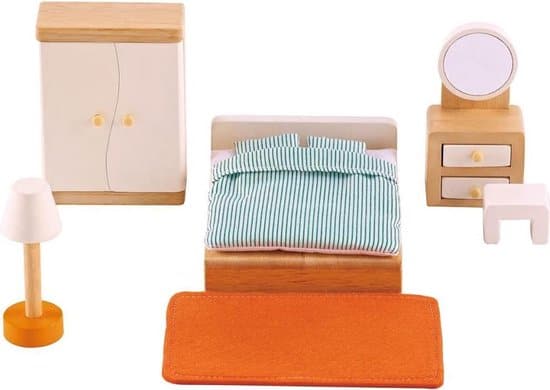 This beautiful miniature bed, for the master bedroom of your child's dollhouse, comes with furniture and a cute blanket.
This set is suitable for the flexible dolls and is made of solid wood.
When your little one plays with the dollhouse, he or she is stimulated to use the imagination and In addition, your child also develops fine motor skills.
Check out the latest prices here
Cutest dollhouse tableware: Lundby Smaland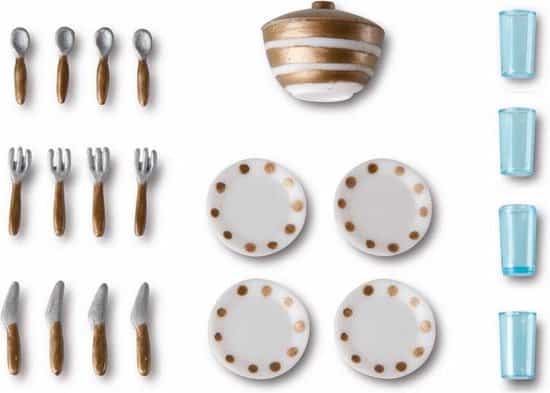 The Lundby Smaland dollhouse dinner service is truly a work of art in itself!
Four beautiful white plates with gold dots, four glasses, a white and gold bowl with a lid and four cute cutlery sets to eat!
If you want to set the table chic in your dollhouse, this set is a must!
Cutest complete dollhouse interior: BigJigs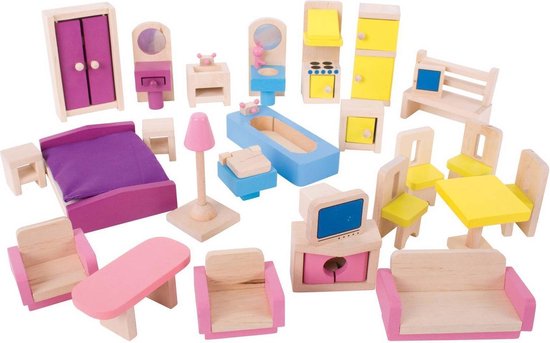 The colorful and modern set of Dollhouse Interior BigJigs is a complete set for your child's dollhouse!
The wooden set has light blue painted bathroom furniture, light pink painted living room furniture, a yellow painted dining area and kitchen and a dark pink painted bedroom.
A beautifully finished set that your child will certainly enjoy!
This set is for sale here
Best dollhouse lighting set: Lundby Smaland lamp set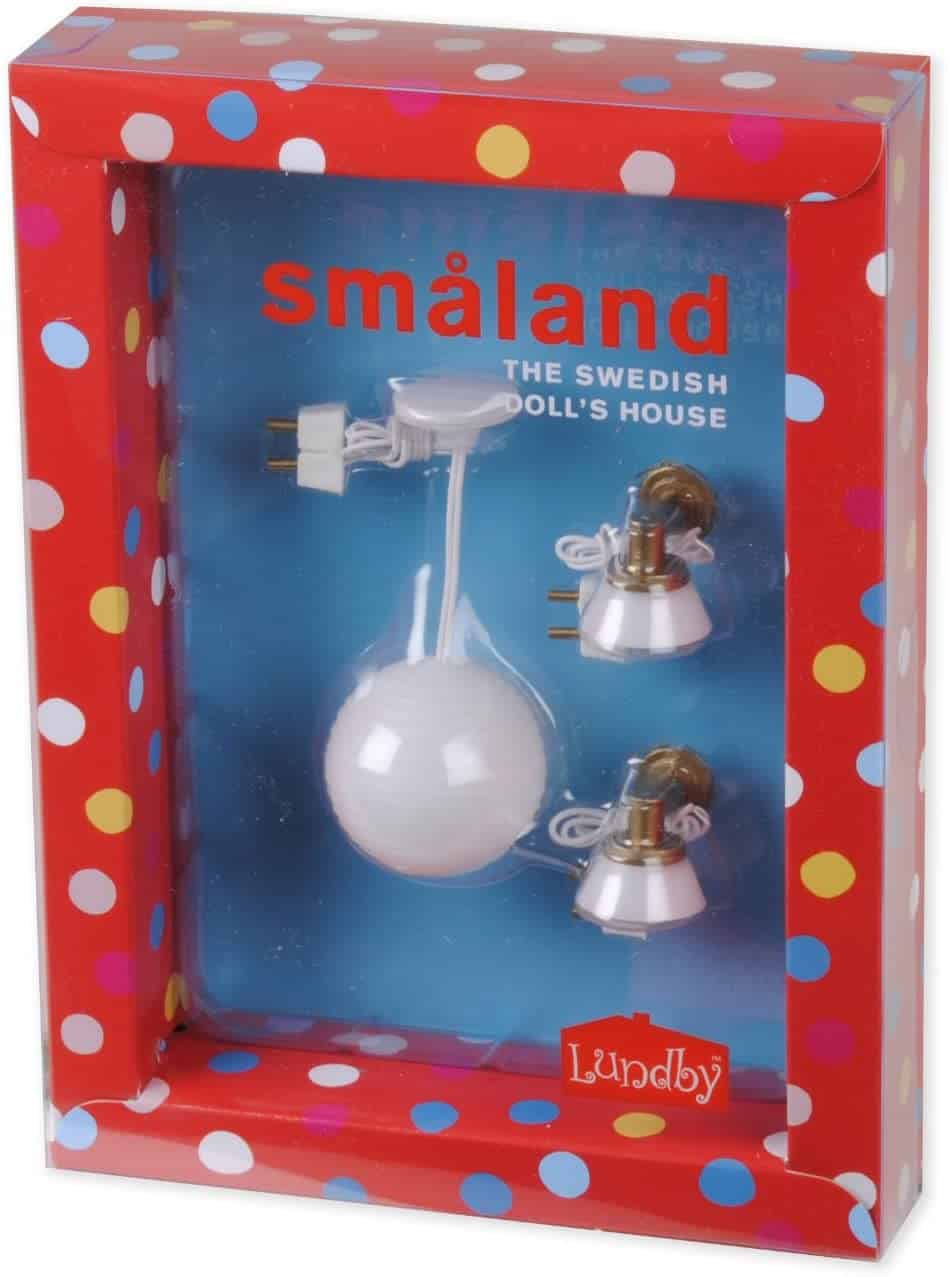 The two beautiful hanging lamps from Lundby Smaland lamp set 2 look as if they can be hung in your own living room!
They are very beautiful and will look great in the Lundby dollhouse, for example above the dining table or in the bedroom.
View them here
Cutest dollhouse decoration: Haba Little Friends Flowers And Plants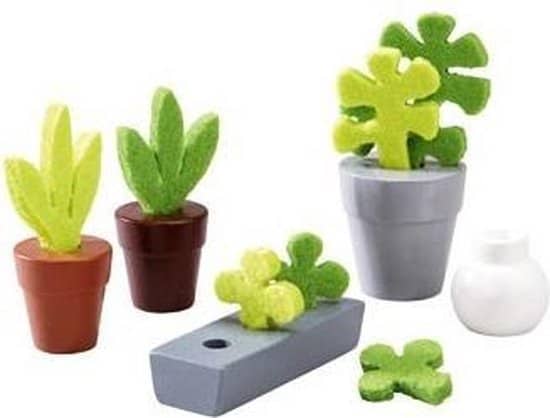 What a great addition to the interior of any dollhouse! The Little Friends - Accessories For Dollhouse Flowers And Plants provides the necessary greenery in the house!
The different plants make the rooms even cozier and more realistic!
Best dollhouse floor covering: Haba Carpet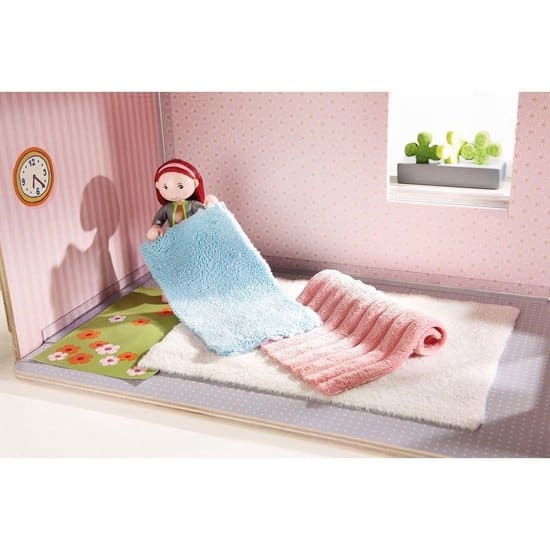 To cover the floors nicely in the dollhouse, the Haba carpet set the perfect solution. You can choose between different colorful motifs.
A beautiful accessory for the dollhouse floor!
Best dollhouse washing machine: Haba laundry day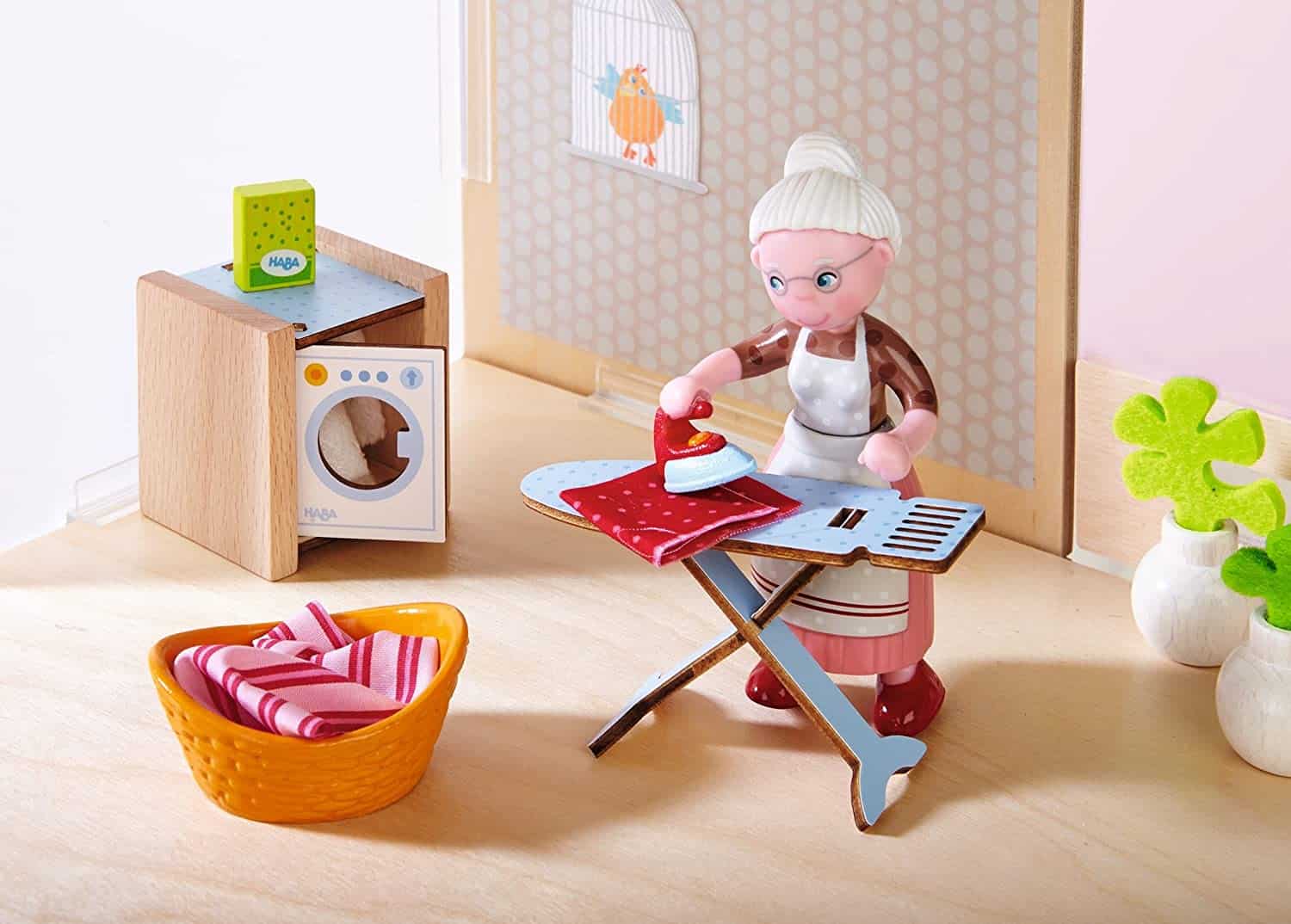 It must of course also be possible to run laundry in the dollhouse. This is possible with the Haba washing day Miniature Washing Machine!
Great for the pantry of your dollhouse, or in the attic if you have such a large dollhouse.
Check prices and availability here
Best dollhouse stove: Djeco kitchen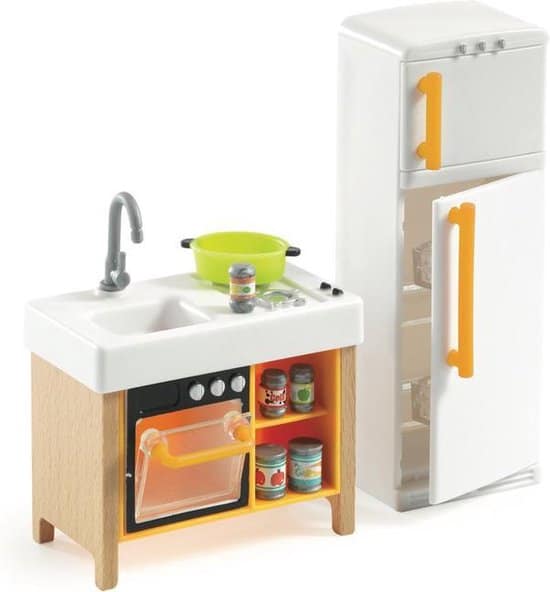 Looking for a nice stove so that your child can decorate the kitchen? The Djeco | dollhouse kitchen | 8 pieces is a nice, detailed set; A separate refrigerator and a kitchen unit with a stove, oven, sink and tap of the Djeco brand.
All equally 'real'! Not suitable for children under the age of four.
How do I make a dollhouse floor?
You can print, cut and glue a 'wooden' or 'tile' floor. You can also cut and glue cork or floor covering to size, but what is very original is to lay a real wooden floor with tongue depressors, for example!
You can go a long way with a good wood glue, a ruler and a pencil for drawing.
First, cut the rounded ends of a number of spatulas straight. You can place them horizontally under each other and draw a line on both sides with a ruler and then cut.
Not all spatulas are straight, so you can't use them all! Glue them to the floor of the dollhouse, press well and work neatly. The result will be great!
How can you renovate an old dollhouse?
If you decide to renovate an old dollhouse, you will first have to clean it out, take it apart if possible, give it a nice towel and then sand it down and paint it nicely.
Are you done with that? Then you can think of laying a floor and you can possibly wallpaper the walls.
Instead of using wallpaper, you can also use mini stickers and make a pattern on the walls.
And then your house is completely ready to furnish, that is always the nicest step! Buy beautiful furniture in your chosen style or make the furniture yourself, you can be as creative as you want!
Use your imagination and you will see that the dollhouse will emerge completely new!
How can you pimp a dollhouse?
If you just want to pimp your dollhouse, you can think of new curtains, cushions and maybe rugs.
Garlands of wire with felt flags also look great on the walls. Do you want new wallpaper for your dollhouse? You can also download wallpaper!
If you often change your taste, stick it with double-sided tape; This way it is always easy to remove and replace for yet another trendy print.
To cut the wallpaper to size you can first use A4 paper, fold it in the dollhouse to the right size and then place it on the wallpaper to cut the right size, without wasting wallpaper.
You can also use wallpaper as a floor, nice for example to lay 'tiles' in the bathroom or, for example, to make a nice rug.
If you have some pieces of wallpaper left, cut them nice garlands or make books for the house, which you can put on a table as decoration.
Can you paint a dollhouse?
If you plan to paint your dollhouse, it is best to sand the wooden parts first and make them grease-free with ammonia.
Mask off the parts that do not need to be painted, this prevents unsightly paint stains or splashes!
You can use color testers, because you only need a little paint. This way you can purchase a few in different colors.
It is useful to use a mini roller and a brush to paint in the corners if necessary. When the paint is dry, you can apply a second coat.
Now put the parts together and ready!
Are you going to start decorating your dollhouse?
Do you already own a beautiful dollhouse or have you renovated one? Then you are now ready to start to purchase new, beautiful furniture for your dollhouse!
As you could see earlier in the article, there are different styles and super trendy items available for a dollhouse.
You can even purchase all the details such as plants, crockery and cutlery!
The design of a kitchen, for example, is simulated down to the last detail with a refrigerator, microwave, hob, sink with tap and sink, everything has been thought of!
The same goes for the bathroom; A shower, a bathtub and a toilet, indistinguishable from the real thing! In the bedrooms we see beautiful single, double or bunk beds and nice bedside tables and wardrobes.
There are paintings for sale on the wall and the only dollhouse lighting creates a cozy and cozy atmosphere in the house.
Have you also thought of the bending dolls? The house must be inhabited of course, and your child must be able to play with the dolls to their heart's content.
We hope you enjoyed reading about dollhouse decor and that you have been given new ideas.
Make it fun, perhaps together with your child, we wish you the best of luck!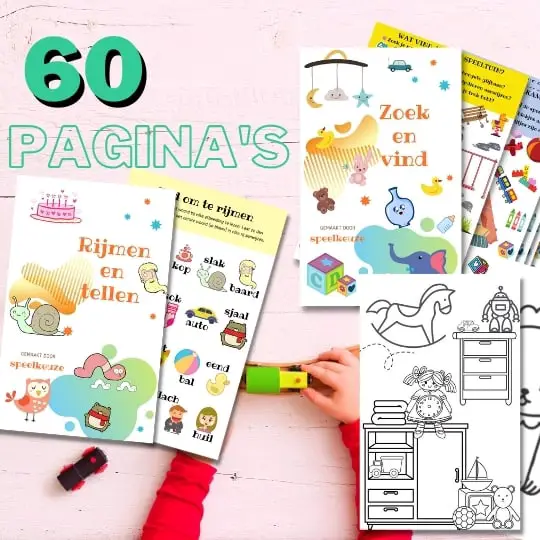 Always something to do for the holidays or rainy day?
Play Choice now has the ultimate activity book collection, with over 60 pages of fun coloring pages and educational puzzles.
Joost Nusselder, the founder of Speelkeuze.nl is a content marketer, father and loves trying out new toys. As a child he came into contact with everything related to games when his mother started the Tinnen Soldaat in Ede. Now he and his team create helpful blog articles to help loyal readers with fun play ideas.