Best toys for the high chair reviewed [Top 6]
I enjoy writing these articles for my readers, you guys. I don't accept payment for writing reviews, my opinion on products is my own, but if you find my recommendations helpful and you end up buying something through one of the links I may be able to receive a commission on that.
More information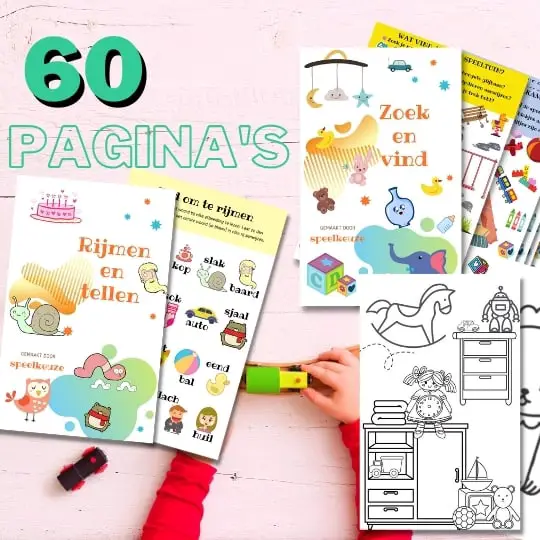 Always something to do for the holidays or rainy day?
Play Choice now has the ultimate activity book collection, with over 60 pages of fun coloring pages and educational puzzles.
Of course you want to keep your little one sweet in the high chair and then it is very nice to have some toys ready that will not quickly fall to the floor.
Think especially of toys with suction cups or possibly with a mounting clip.
It often happens that you let your child eat before you eat, it is relaxed if you do not have to keep an eye on your sprout during your meal. A nice toy works wonders.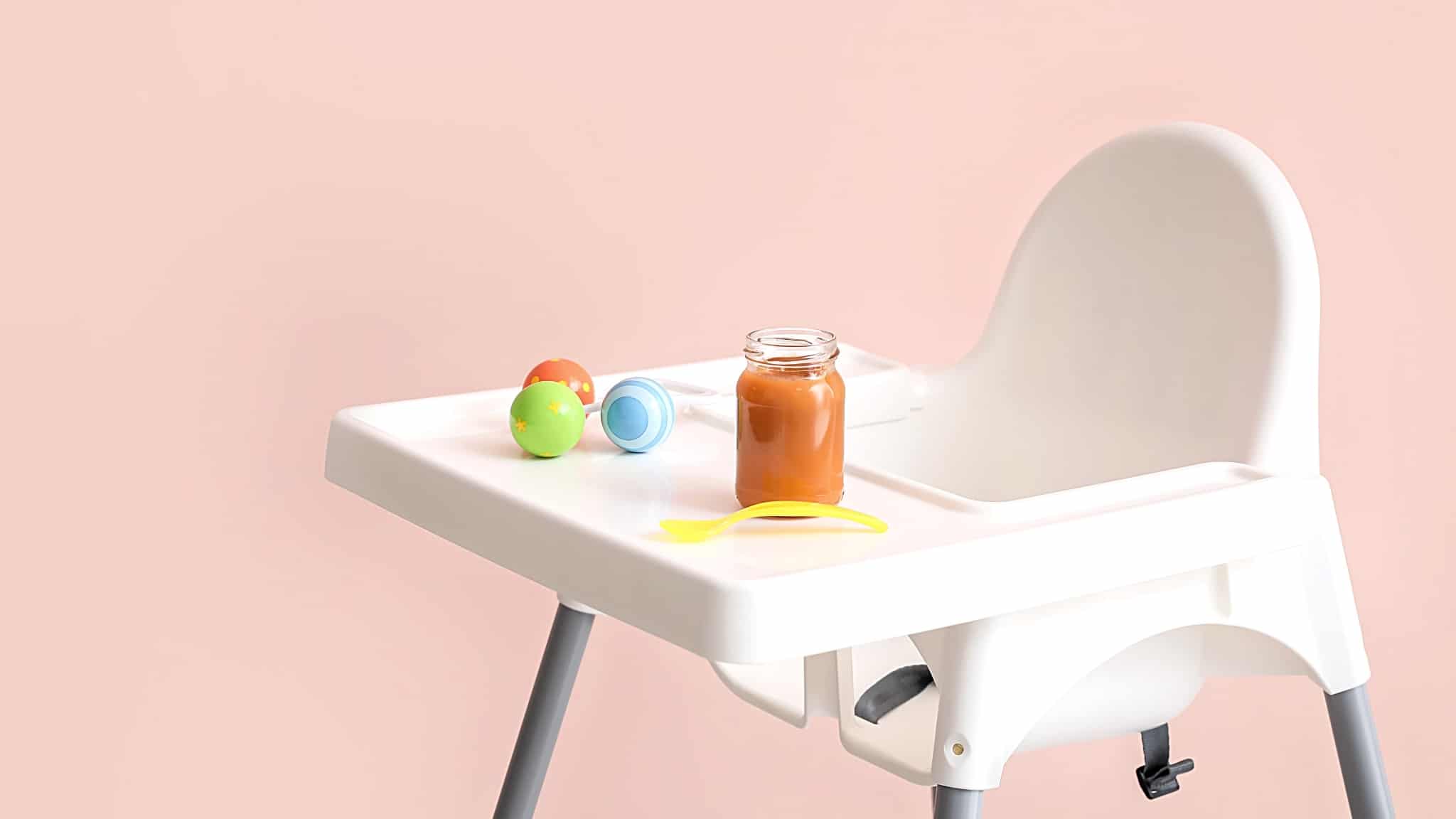 If at some point your child is going to eat with you, you have to decide whether or not to include toys in it.
I chose not to; only when my little ones had finished their plates, as a reward!
But when you are busy yourself, a high chair is ideal to fall back on. You don't have to follow your little one, he is near you.
If your child is also happy with toys - which you do not have to constantly pick up - you can move mountains of work!
That is why I have selected a number of toys for you that are suitable for the high chair and that do not fall to the floor quickly.
The most fun toy for a high chair is overall this TOMY Toomies Octopus Family. Your child can play with this family in several ways. Actually, it's a bath toy - which can fill with water - but since the colorful octopuses are absorbed, they are also great toys for the high chair.
So more about this, but now first to our top 6 best high chair toys!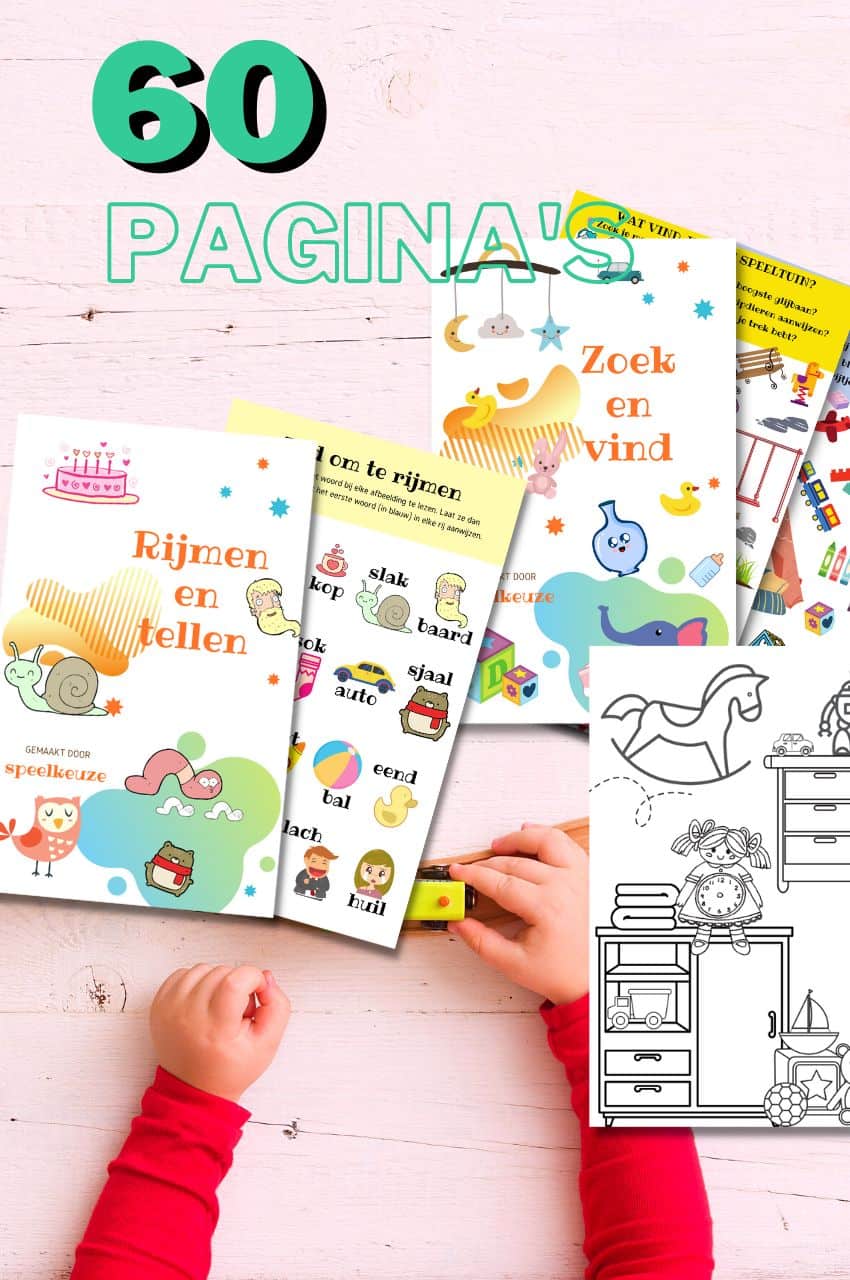 From toddler to toddler activity book collection
Educational games and coloring pages for 3 to 6 years
Your toddler and preschooler will love this e-book, along with the accompanying printables. He or she can play with it at every stage of development, together with mom and dad.
Buy at Bol.com
What do you pay attention to when purchasing high chair toys?
If you want to buy nice toys for the high chair, it is useful to think about a few points:
can the toy be secured?
is the toy fun enough to keep your child sweet for a while?
is the toy educational and responsible?
is it easy to clean?
doesn't the toy make too much noise? You would like to create some rest at the table.
If you take the above points into account, your meals will probably be more pleasant.
Do you give your child a toy or not at the table?
I talked about it before; how do you deal with toys on the table at home during dinner?
Some parents choose to distract their child with toys and try to get a snack in between them, others consciously choose not to do this.
It often happens that if they are not yet a year old, you let your little one eat earlier, then you give them a nice toy and you can eat more slowly, provided the toys do not always fall on the floor ...
Eat as soon as your child is bigger and it is possible, at least together, this is how a child learns from your behavior.
If a child sees that you are always busy with other things while eating, it can hardly be expected that your child will leave his toys behind while eating.
I myself, found it useful to have a fixed, not too long duration for the meals, about 20 minutes is more than enough for a child.
Then our little one was allowed to play again as a reward. It is therefore better to prepare everything before your child sits at the table. This way you reduce the chance of drama at the table.
It may be that your child is not always hungry, but that is normal, if possible just keep those 20 minutes.
If necessary, provide a plate and cutlery that appeals to your little one, but a nice presentation of the food can also help.
Read also what you can do if your toddler keeps playing with the food itself
The best toys for the high chair reviewed
Now let's take a look at what makes my top 6 highchair toys so much fun.
Overall cutest toy: TOMY Toomies Octopus Family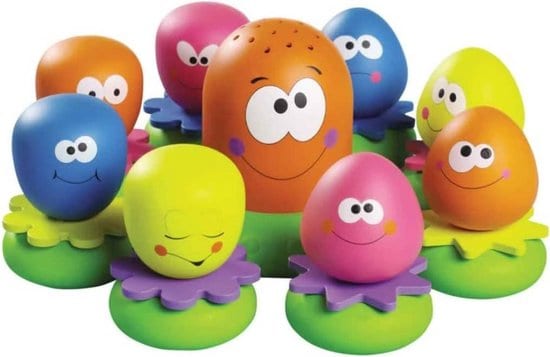 This 10-piece TOMY Octopus Family can be sucked onto the top of the high chair: eight colored little ones with a cute face and in the middle Mum Tala the mother octopus.
In the bath, Mum Tala also serves as a head with a shower function. Each of the Octopals has a funny face that is attractive to babies.
The soft, flexible material fits well in the baby's hands and the Octopals can be glued to smooth surfaces.
Each Octopal baby has a number on its back that corresponds to its spot on the island (which can float in the bath).
I like this toy because it can be used in different ways, they can also practice with numbers and the Octopals have fun colors. They are suitable for little ones from about one year old.
The Octopals are made of durable material and help to develop the motor skills and dexterity of your child.
Check prices and availability here
Best toys to grab easily: Fat Brain Toys Pip Squigs Loops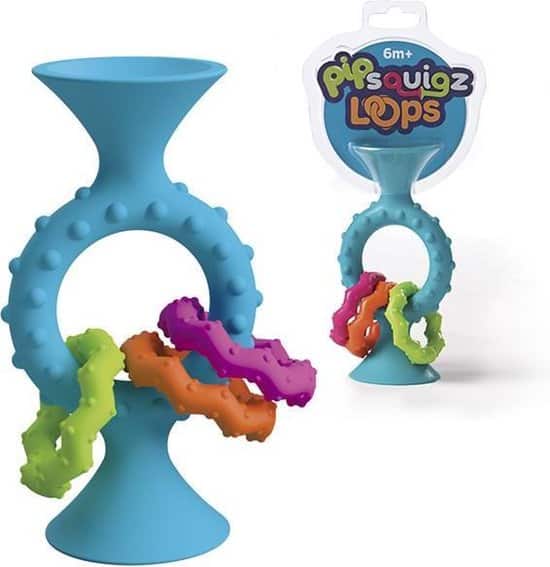 Your child will not get bored easily with the PIP SQUIGS LOOPS. This silicone rattle from Fat Brain Toys is flexible and has a suction cup at the bottom and top.
It is a wonderfully elastic bite toy, great for massaging the gums. Because of the loose rings - which are bright in color - your little one can easily grasp the rattle.
The rings also make a sound and will stimulate your little one's senses. I thought it was a great 'sweetener' for my little one.
This toy is suitable for children from 5-6 months to about 3 years.
Check the latest prices here
Cutest toy with hanging clip: Lamaze Captain Kalamari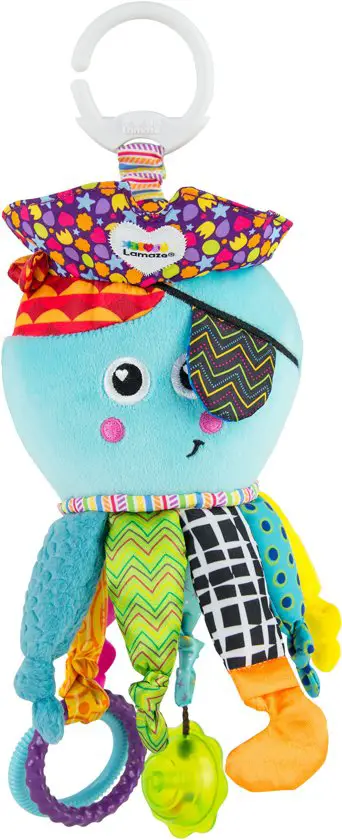 Another octopus in our top 6! But now the Lamaze Captain Kalamari with a handy hanging clip.
Attach it somewhere on the high chair so that Captain Kalamari cannot fall to the ground.
It has eight legs with activities, a creaky hat and a peek-a-boo mirror; this toy engages all of your baby's senses.
Two teething rings hang on one of the legs for when the coming tooth hurts. Suitable from birth to approximately 3 years.
As far as I am concerned, this is a very nice one, because of the many possibilities and because this octopus is wonderful to look at and touch for very small babies - who are not yet playing consciously.
Check prices and availability here
Best toys with light and sound: VTech Baby Animal Friends Ferris wheel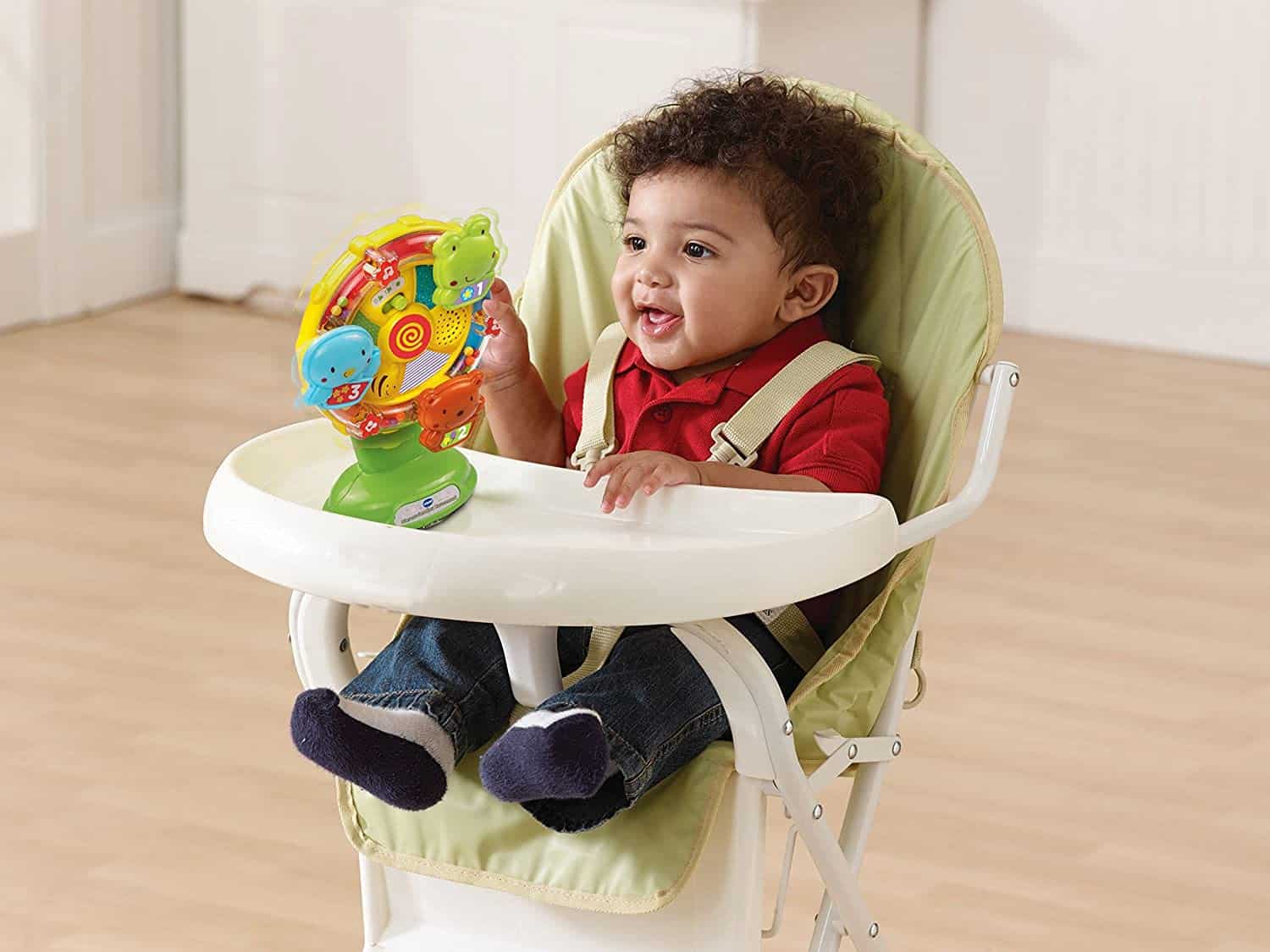 A 'magical' toy with a suction cup, with lots of color and melody. When your little one spins the wheel, the frog, bear and bird will happily spin along!
This movement promotes gross motor skills. The flashing lights and three interactive keys add even more excitement.
Your child will thus become acquainted with colors, animals, numbers, but also with sing-along songs and music. This stimulates your child to say his first words and is therefore good for his speech development.
As soon as the Ferris wheel is activated by the movement of the wheel, it's party time for your little one. It is the only toy with sound and light in my top 6.
Well, it is not a 'quiet' toy, but hey, every now and then it can be a bit louder, right?
The exciting toy is already suitable for babies who can sit in the high chair, so from about 5-6 months.
View the most current prices here
Best wooden toys: Hape Double bubble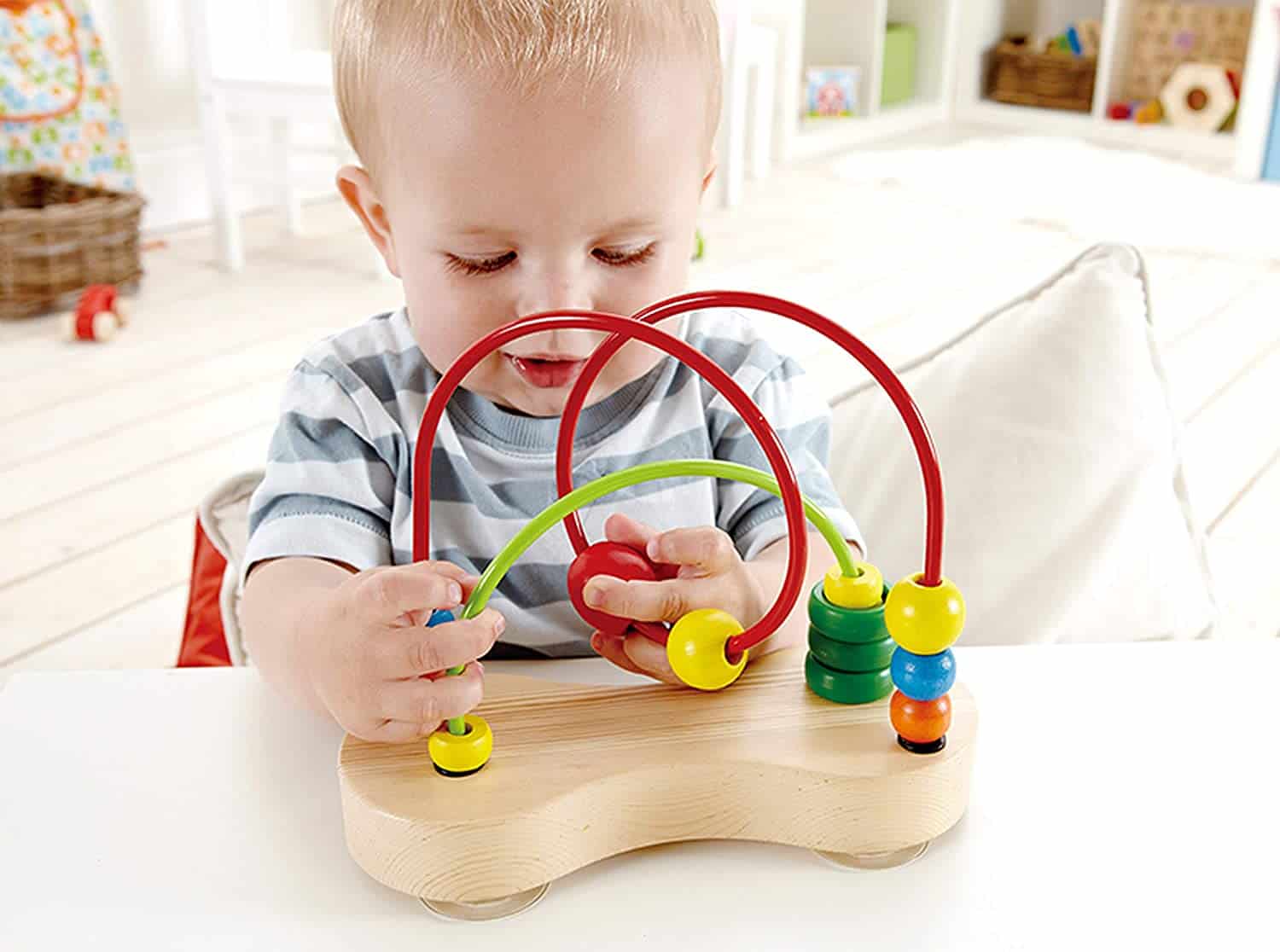 The Bead Structure Double bubble is fun and educational. The Loopings with wooden beads are designed to stimulate the child in fine motor skills.
You can find other various important aspects in this toy: different colors and shapes and learning to count.
There are no right or wrong ways to play here, your child can play with it in whatever way he or she needs at the time.
A beautiful and responsible toy for the development of your little one.
Check prices and availability here
Best toy cup set: Fat Brain Toys Stacking cups
Your child will love the Fat Brain Toys Stacking Cups. These cups offer many possibilities, so many hours of fun.
You can secure the cups at the top and bottom with a suction cup. Your child can not only build high towers with it, but also drink from it, for example!
Stick the brightly colored cups together and pull them apart again to hear them pop.
If Mom allows it, they can also be stuck to walls and windows, or used in the bathtub. You can also roll with it on the floor.
In addition, these cups are 100% food and dishwasher safe.
I chose this stacking cup set mainly because of its versatile playing fun, but also because of it the fine motor development and promote your child's hand-eye coordination.
Check the latest prices here
Conclusion
Of course it is always good to encourage the development of your baby by means of nice and responsible toys.
It is also fine to let your child play around with the right toys for half an hour, safely in the high chair. That is also the perfect time for you to do your own thing.
The toys from my top 6 not only promote the development of your child's imagination and fine - or possibly gross - motor skills, but also expand their social and emotional skills, their sight and hearing.
It's a bonus if your child keeps himself busy for a while and you don't have to pick up toys from the ground all the time; with this in mind I have selected toys that have suction cups or at least can be attached to the high chair.
But that is also versatile enough to keep your child entertained for a while.
Also read: My toddler doesn't just play | 6 tips to encourage playing alone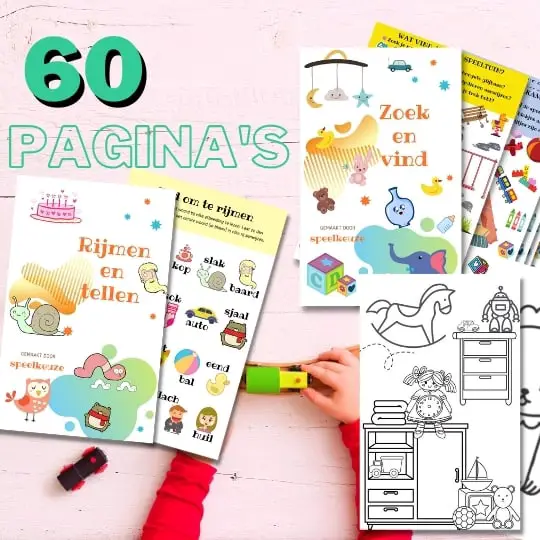 Always something to do for the holidays or rainy day?
Play Choice now has the ultimate activity book collection, with over 60 pages of fun coloring pages and educational puzzles.
Joost Nusselder, the founder of Speelkeuze.nl is a content marketer, father and loves trying out new toys. As a child he came into contact with everything related to games when his mother started the Tinnen Soldaat in Ede. Now he and his team create helpful blog articles to help loyal readers with fun play ideas.