I enjoy writing these articles for my readers, you guys. I don't accept payment for writing reviews, my opinion on products is my own, but if you find my recommendations helpful and you end up buying something through one of the links I may be able to receive a commission on that.
More information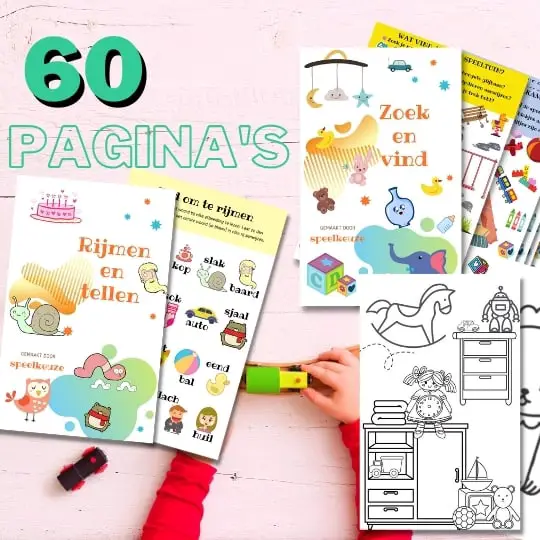 Always something to do for the holidays or rainy day?
Play Choice now has the ultimate activity book collection, with over 60 pages of fun coloring pages and educational puzzles.
Sand is this year's hit among educational toys. Yes-yes, sand! But not the sand you can find in the backyard, but the kind of sand you should buy at the store.
It really is a fantastic thing! Children and adults love it. Today there are different types of sand on the market: kinetic, living, moon and hydrophobic.
Today I want to talk about kinetic sand.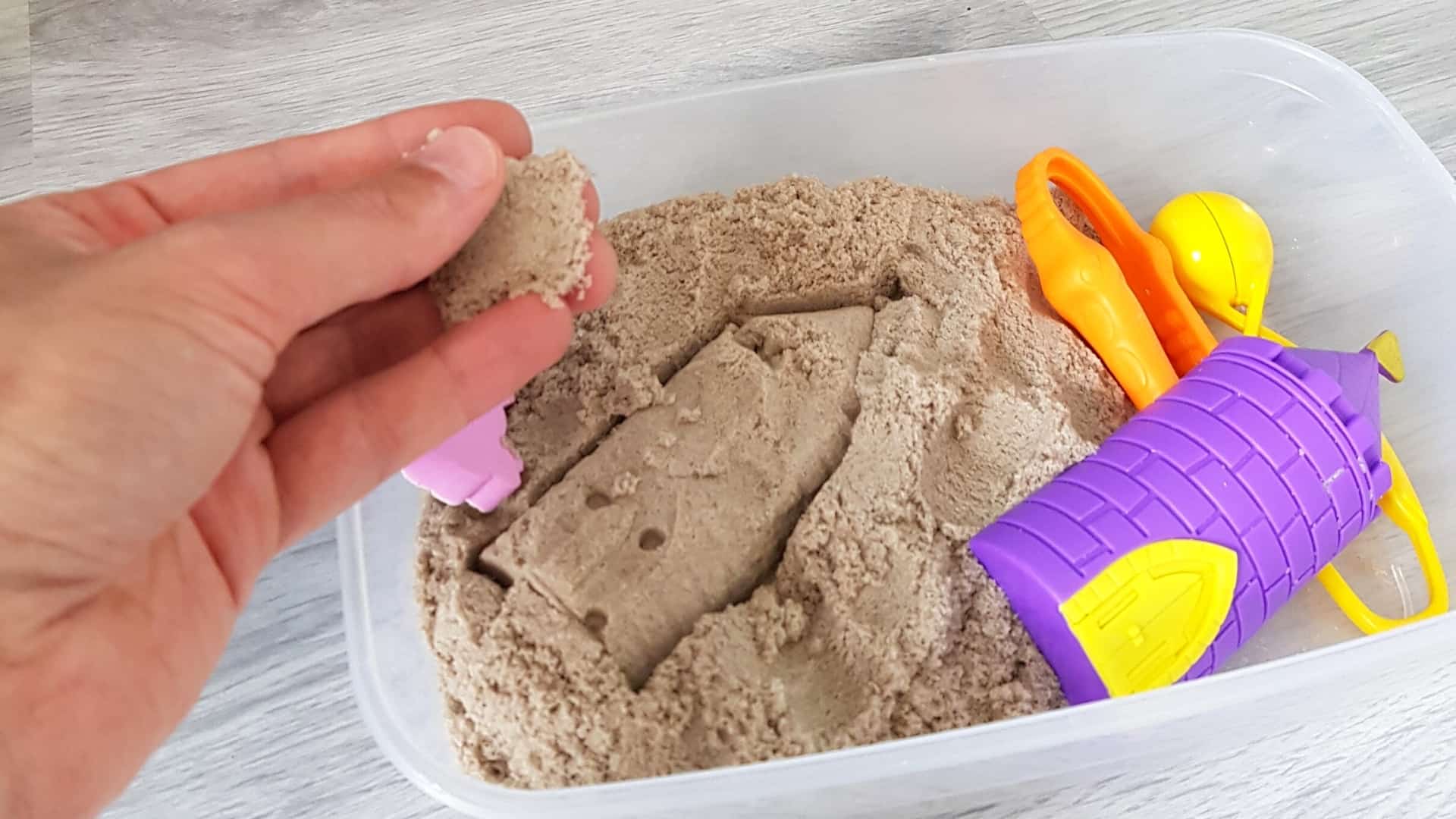 It is a known fact that children can play with sand for hours on end. Now they can do it at home, indoors!
You can make a small sandbox at home that you can easily store. Kinetic sand looks like wet fine sand from the beach, but then it's dry.
It's quite dense and heavy. It can be kept in good shape. The sand does not stick to hands or leave oily stains and it is completely safe.
My favorite basic set to start with is this one from Relevant Play where you get 5 kg of material that your children can use to make fun structures and more.
You can also do with less, the brand also has a 1 kilo pack, but it really saves a lot in bulk and then they can build quite a bit.
I also have a number of packages with bins or figures to make, and although that is really nice, I already got some figures from normal sandbox toys so I thought that was fine.
But yes, you really have everything you can do with it. For example, one of the nicest toy cars we have reviewed these Monster Trucks with Kinetic sand as a race track.
I'll show you my top picks in a quick overview first, then I'll go into each of these top picks in more detail, as well as discuss what makes it "magical," plus some tips for making your own if you like.
These are the top picks:
How does "magic" kinetic sand work?
The secret is a special polymer that helps achieve these functions.
Unlike other types of sand, the kinetic sand is not 'afraid' of the water in the sense that it then becomes a different substance, such as with mud.
If there is contact with moisture, it is enough to dry the sand and it is ready to be used again.
There is no need to keep the sand in a closed container as there is no liquid in it and it simply cannot dry out.
It should not be mixed with ordinary sand, soil and other pollutants as the kinetic sand will lose its "magical" properties.
Top 6 best kinetic sand packs reviewed
Below we will review the most popular kinetic sand kits from different manufacturers:
Best Basic Set: Relevant Play Kinetic Sand
It is high quality kinetic sand from a popular manufacturer. This kit contains 5 kg of kinetic sand.
This amount is enough to build everything your child wants! The kinetic sand is supplied in five separate packages of one kilogram each.
And you can use it with all your usual sand molds and scoops and toys, as I did in the photo.
This kit offers good value for money. You do not have to doubt that the kinetic sand from this manufacturer is a good choice for your child!
It is worth noting that the consistency is standard, resembles ordinary sand, but holds its shape better and does not fall apart.
It is a high-quality set and is great value for money.
Pros:
There is a large amount of sand in the set
Nice consistency, keeps its shape well
Suitable for good contact with water - it is enough to dry it, and the sand will restore its original state
Cons:
Some consumers complain that this sand does stick to their hands
View the most current prices and availability here
Best Kinetic Sand Playset: Kinetic Sand Construction Site
It is good kinetic sand that has a large number of positive feedback from consumers.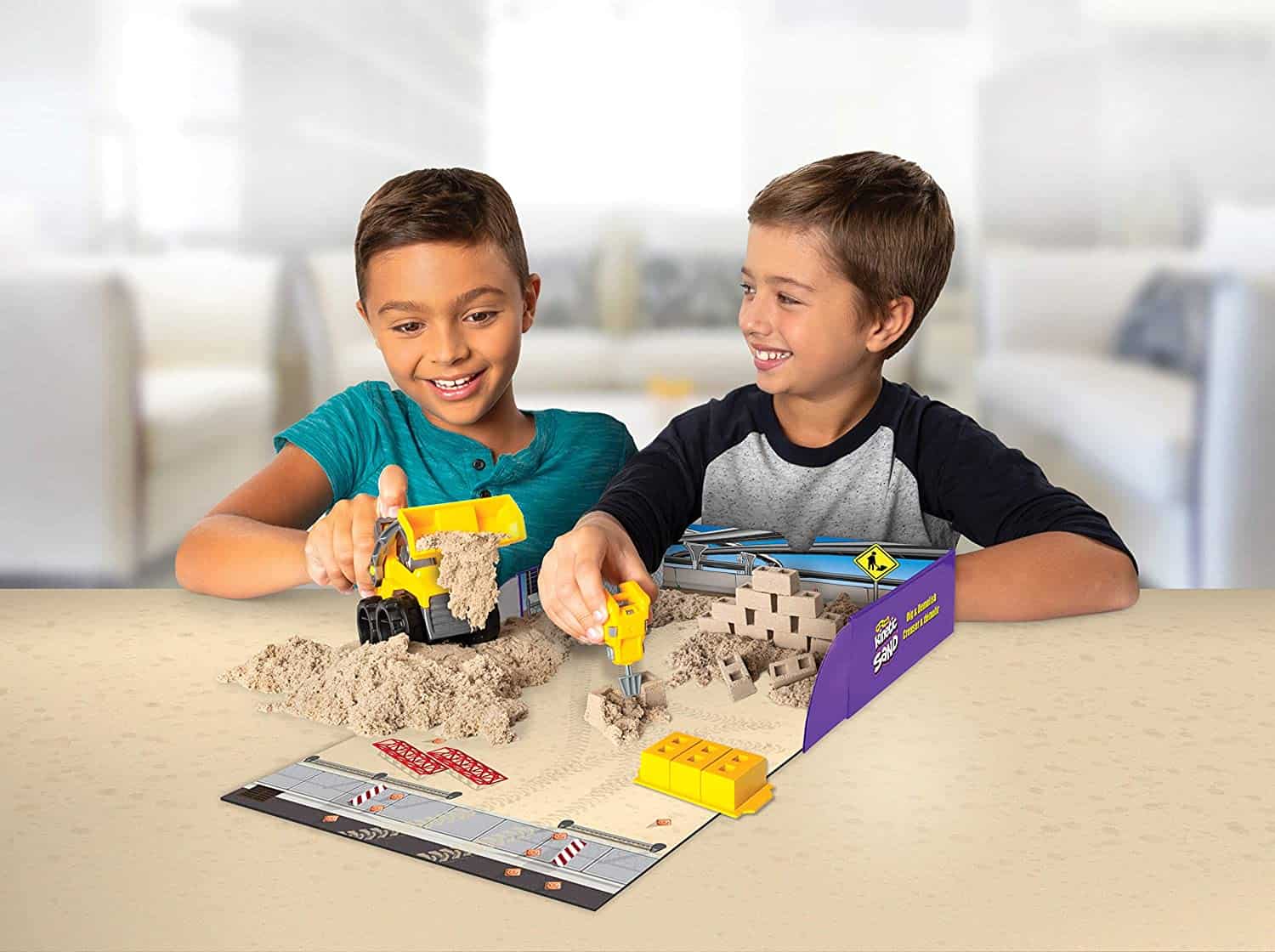 The consistency of this sand differs from the previous one because this sand is "softer" and has a lower viscosity.
Unlike the previous one, this kit contains many more attachments and is a complete set to build the strongest (kinetic) sand blocks and walls and it is enough for your child's best creativity.
The main drawback I want to note is that it has an unpleasant odor when first opened.
However, this smell disappears within an hour or two, but they perhaps should have made that clearer.
Plus you shouldn't mix different brands of kinetic sand, something I would have done because such a playset doesn't always have enough kinetic sand to make it really fun.
Different brands have different composition and then, at least with the one I mixed, it loses its sticky consistency and becomes pretty much just sand.
Most of the consumers notice the durability of this sand as it should last for two to three years.
Unlike the previous ones, this kinetic sand does not resemble regular fine sand, but has more mushy consistency with larger grains.
However, this sand, like the previous one, sticks well and keeps its shape.
Pros:
Sustainability
Good consistency and viscosity
Super package with nice attachments
Cons:
Unpleasant odor (on first opening)
View this set here
Nicest colored Kinetic sand: National geographic play sand
It is a very interesting three color kinetic sand set from National Geographic: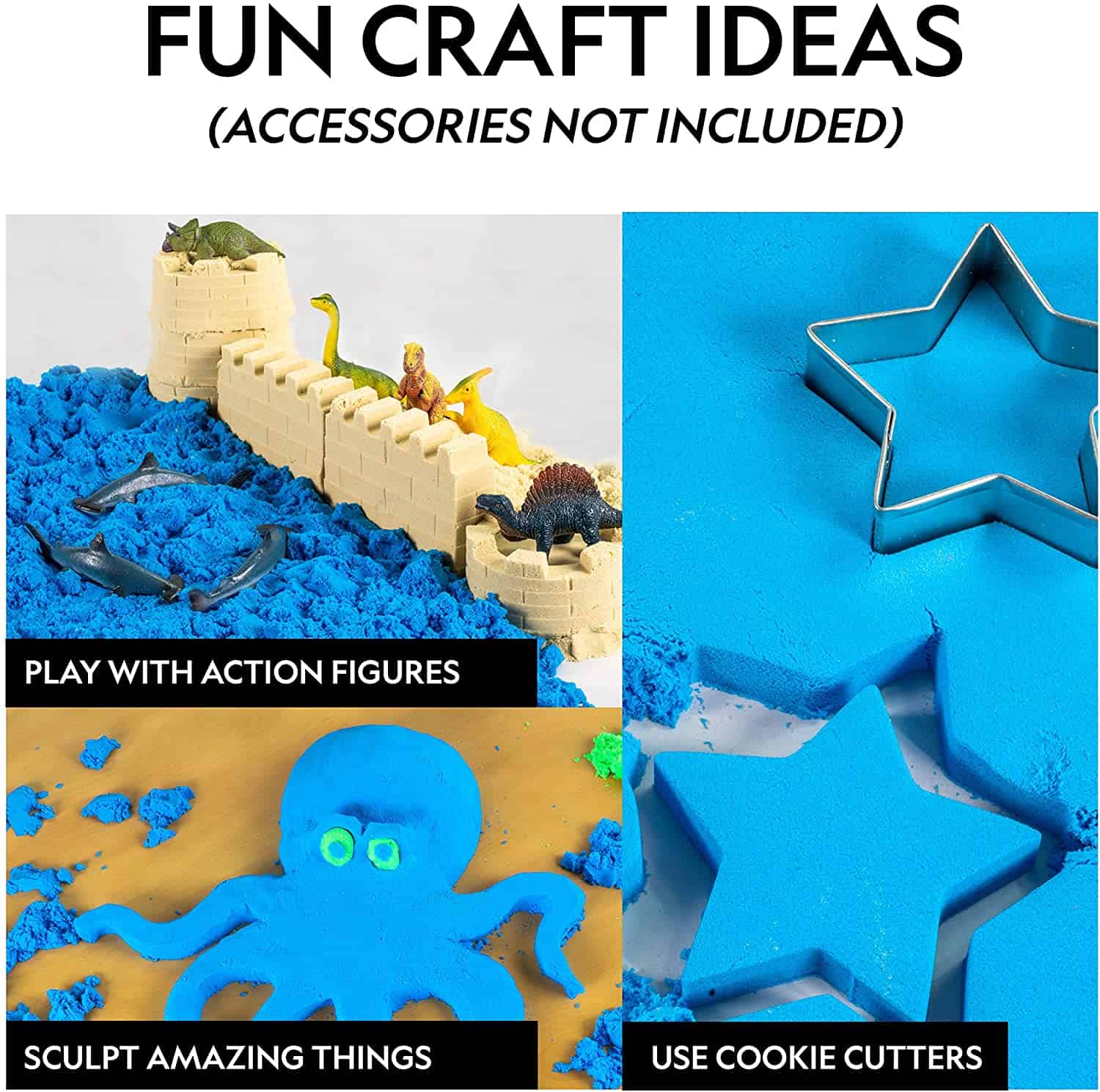 This sand has a fairly dense consistency, it forms and holds its shape well (it hardly falls apart unlike the other models in our review).
It is dyed with pigments and not dyes, so it is absolutely safe for children.
Maybe it is the best kinetic sand set for toddlers! With three sand colors, your child can be more creative compared to regular sand of classic color.
It is a really interesting kinetic sand set and absolutely every child will love to play with it, you can buy colors separately and sometimes a limited edition with all colors in one package is available.
It's great to develop artistic skills and creative thinking!
Pros:
It hardly melts unlike other kits
Tricolor sand makes your child more creative
It is dyed with pigments and therefore it is absolutely safe for children
Cons:
It is difficult to divide into three colors again after mixing
Check availability here
Best kinetic sand car box: Hotwheels Monster Jam Dirt Deluxe Set
"Kinetic" sand from this manufacturer unlike the other products in this review has a larger grain size and prominent grainy texture.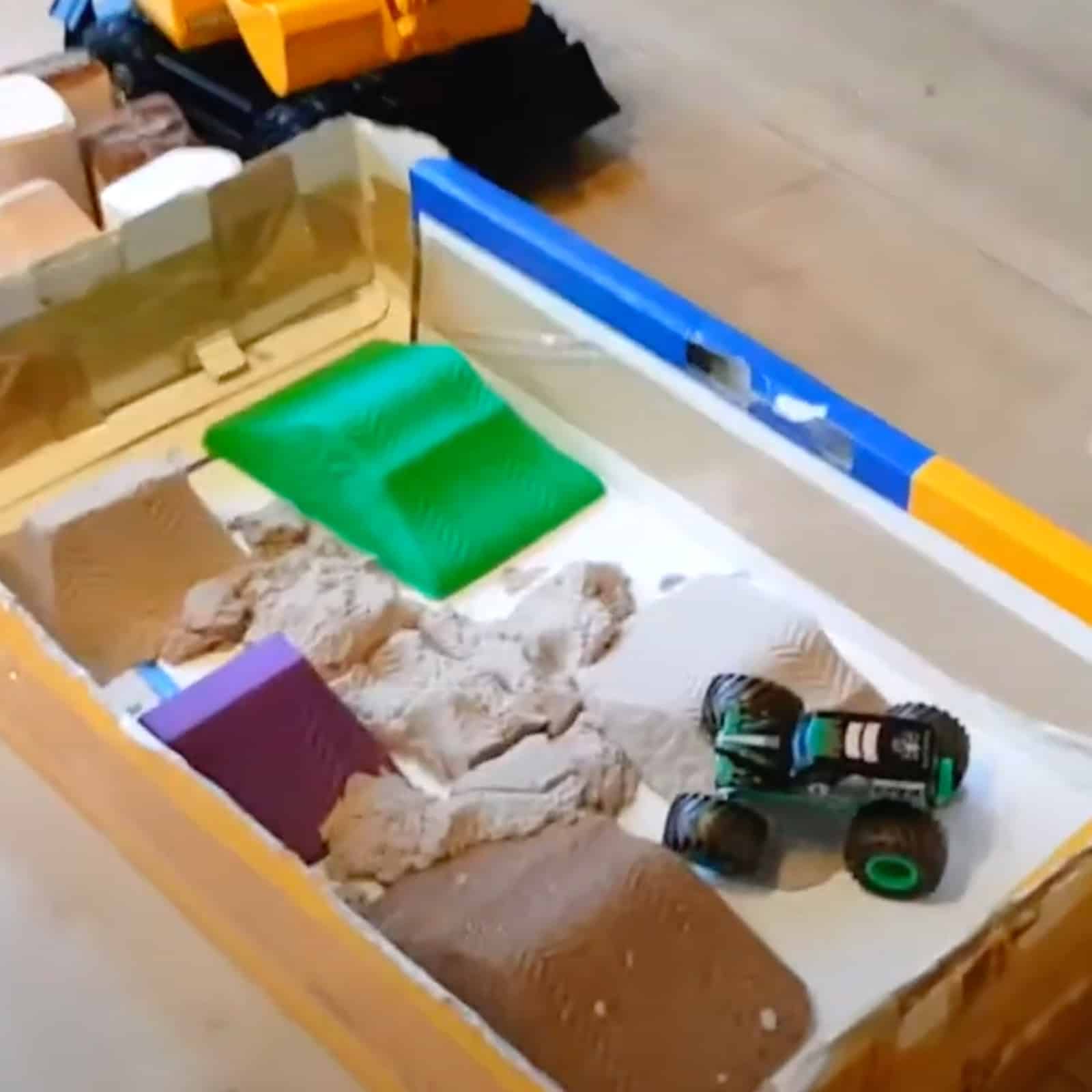 The main drawback that many consumers complain about is a poor viscosity of the sand, but the most important thing about this set is of course the combination with Hot Wheels cars.
It stays in great shape, maybe a little too good, but it's also a big disaster for the Monster Truck to build so it will be necessary if necessary.
This set has a beautiful deep color that you can have incredible fun with.
So it is more like playing on the beach, but you have to like it compared to other kinetic sand which sticks together better but perhaps feels less "real".
The sad thing is that there is little kinetic sand. It's just enough for 1 disaster so I added some myself.
But if you add from another brand, make sure you don't mix it because then you will ruin the adhesive structure and it will no longer work as well.
View this set here
Cutest Kinetic Sand Figures: Spinmaster Kinetic Sand Paw Patrol
It's excellent kinetic sand from Spinmaster! It comes in two different colors and this set is mainly about the fun Paw Patrol figures.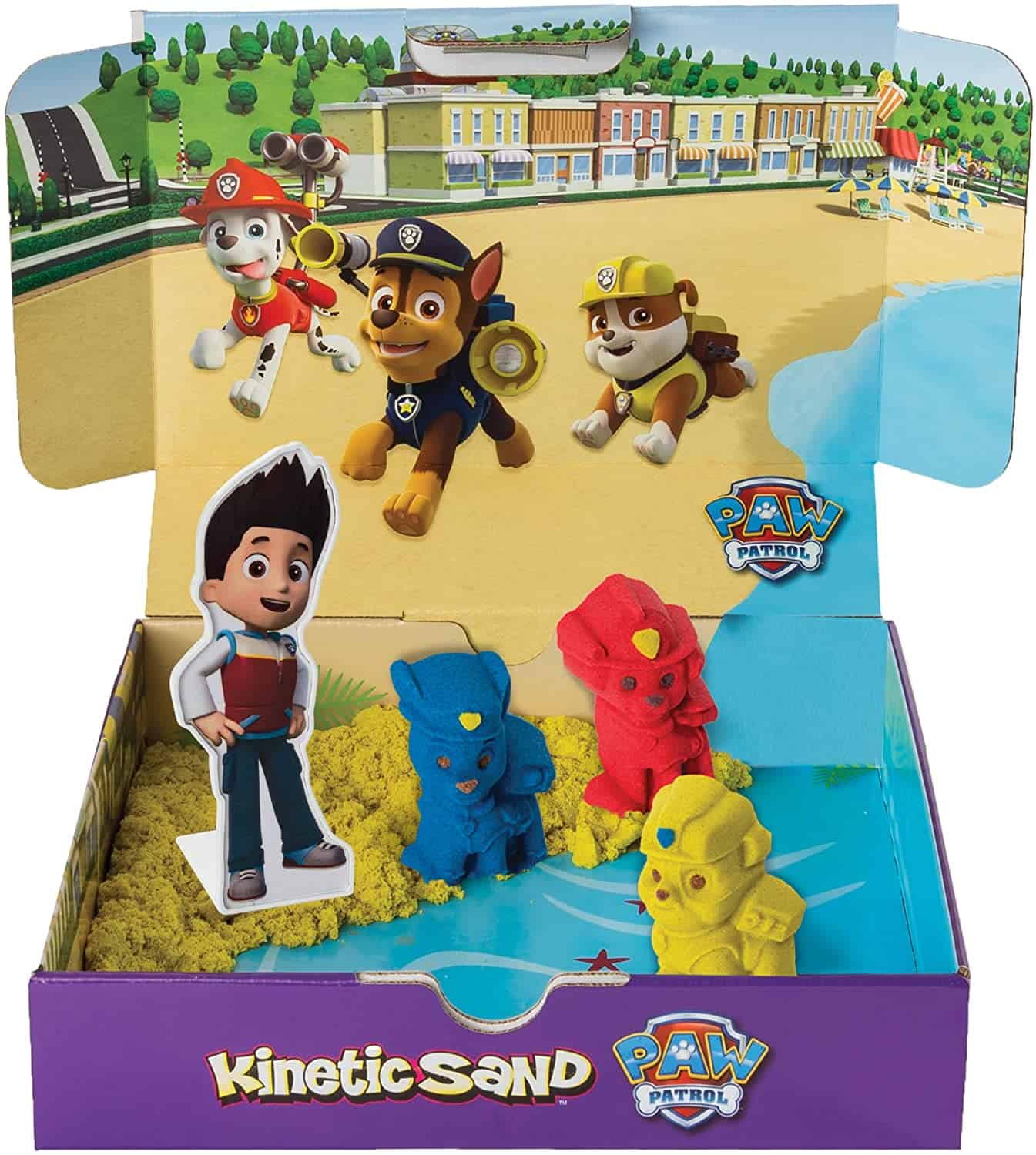 There are 3 sand colors with which your child can form different interesting shapes of sand, for example with the sand molds you already have, but with the shapes of course the favorite Paw Patrol dogs.
The rest of the specifications are the same as the previous set from Kinetic Sand as it is the same material.
View this Paw Patrol set here
Best glitter sand: Shimmering Magic Sand from Kinetic Sand
It is unique sand that, as stated in the title, really shines. I have not yet seen comparable products from competitors of the same quality as this one.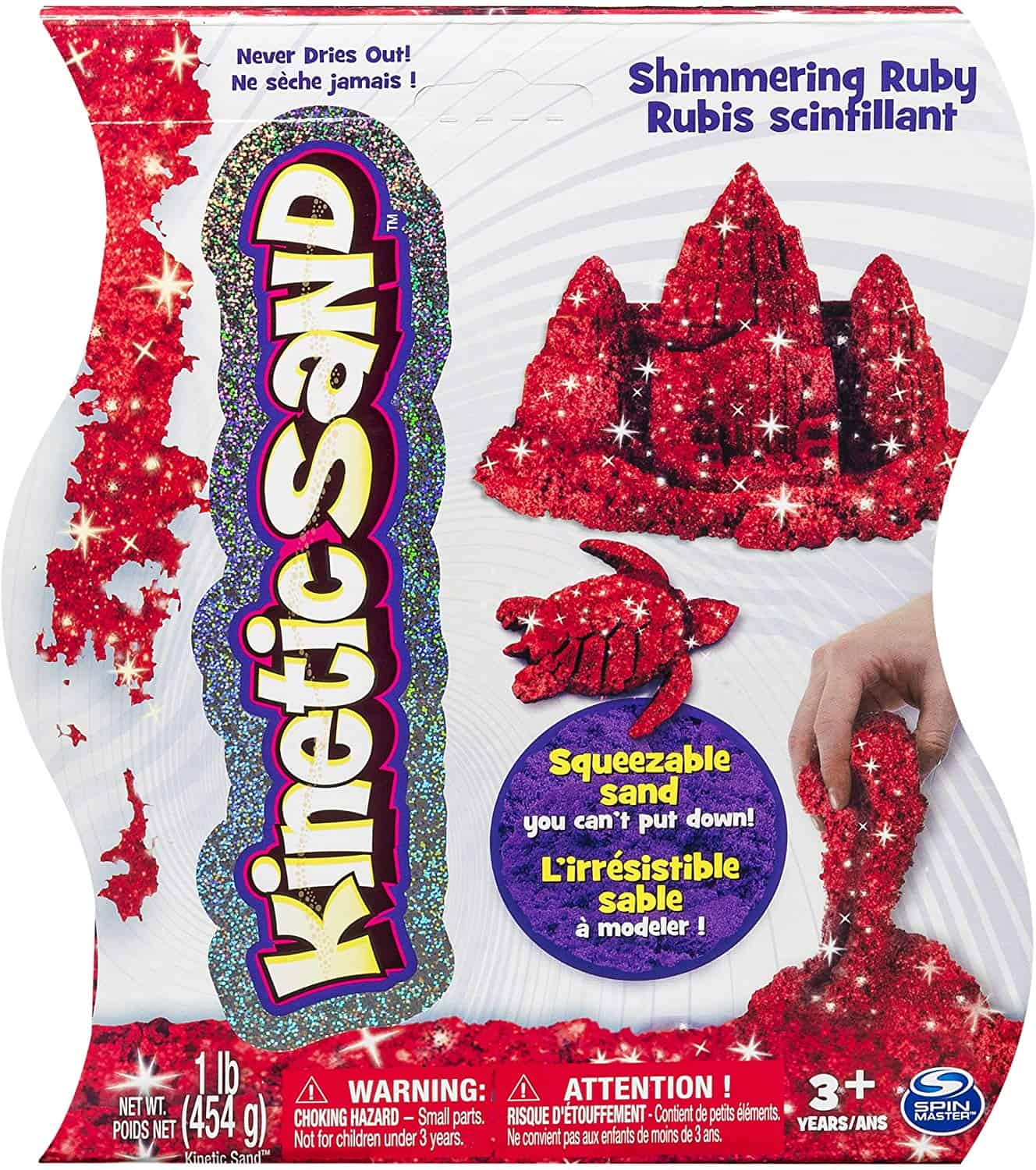 It comes in a number of colors: green, black, blue and purple, but I think this red has the most beautiful deep color.
And given its consistency, Kinetic Sand is the best kinetic sand in this review. It stays in shape for a long time and does not "melt" at all.
The only downside I have to mention is that the sand can stain hands and surfaces where kids play with it (but it cleans easily with water).
This sand is environmentally safe - according to the manufacturer, if children eat some sand, it is absolutely safe for their health - the content is all natural and harmless (as in all products from our review).
Pros:
Unique shimmering sand
Eco Friendly
Good consistency and viscosity
Cons:
Stains on hands and playing surface
View the most current prices here
Kinetic sand play area for indoor use
The kinetic sand holds together quite well, but you still need something to put it in. In the beginning we did it in an old oven dish because it has raised edges, but that is actually too small.
That is why we went looking for a handy indoor play area for sand.
Waba fun kinetic sand play pit
This is one of Waba Fun that is specially made for it: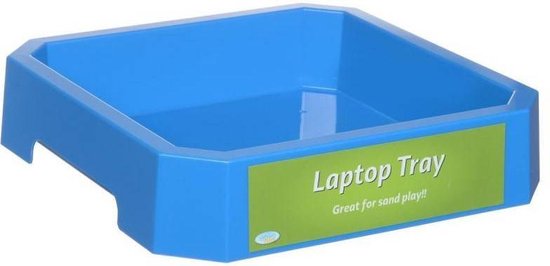 DIY play tray from a box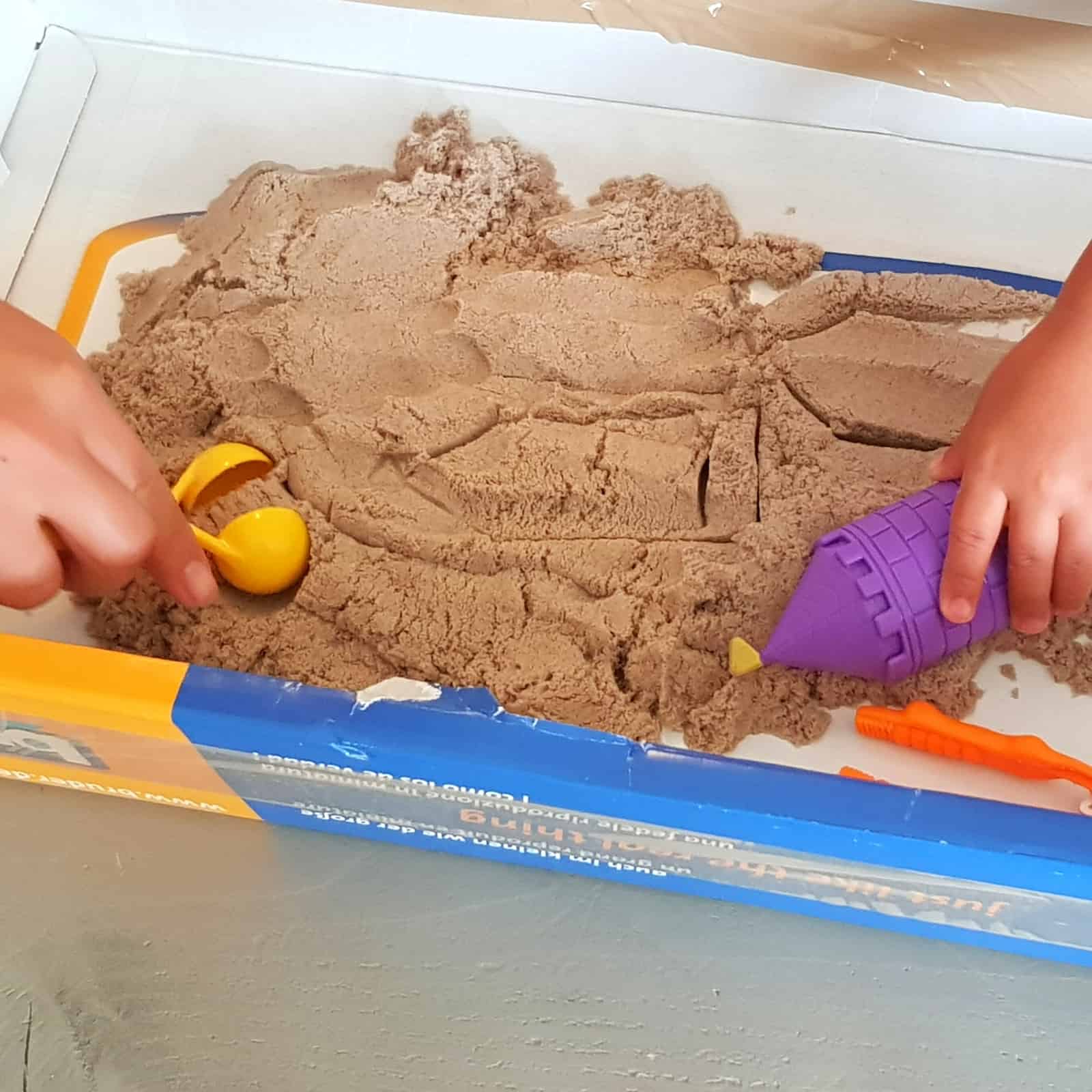 Of course you can always make your own DIY play box for the sand. In this video I show how I made a free play box from a sturdy box of a excavator we bought:
Is Kinetic Sand Dangerous?
This may seem a bit strange to talk about the quality and safety of sand, but in this case the quality may vary across different brands.
It is better to trust verified manufacturers and I have included them in this review.
The point is that when you buy goods from a verified manufacturer,
Firstly, you can be sure that the sand will last a long time, not dry up within a week, or stick to hands.
And secondly, it is also better to trust a verified manufacturer in safety issues. They value their reputation and have all the certificates confirming the origin of their products.
Particular attention should be paid to the problem of accidental ingestion (yes, accidental or less accidental eating of the sand).
Unlike 'living' sand that can dissolve in water, the kinetic sand has the same physical properties as regular sand.
That's why you shouldn't eat it, but it is safe in small amounts. Just like normal sand (without your kids getting worms because that comes from outside sand).
Why is Kinetic Sand Educational Toy?
Playing with sand has always been one of the most popular activities for children.
It has a positive effect on children such as developing small motor skills, imagination and attention tensions.
Probably every mom will come up with something different to continue the list as the sand games are really very interesting and useful activities for a child.
For example, the most important thing for me is the creativity they can have with them, they really make the most wonderful things that you think "how do you get it?"
What age is kinetic sand for?
Kinetic sand is suitable from 3 years old according to manufacturers. All the brands I have reviewed here are safe to eat by accident, but for under 3 years old I wouldn't recommend it. It is probably fun for most children up to the age of 8.
What is the purpose of kinetic sand?
Kneading Kinetic Sand with your palms and fingertips is a relaxing and stress-relieving experience. The structure of the sand is easy to grip and soft, making children of all ages can develop their fine motor skills through fun open play.
How does kinetic sand work?
A fascinating material called 'kinetic sand' that can be shaped like clay but also somehow feels silky soft to the touch is fun for kids and adults alike.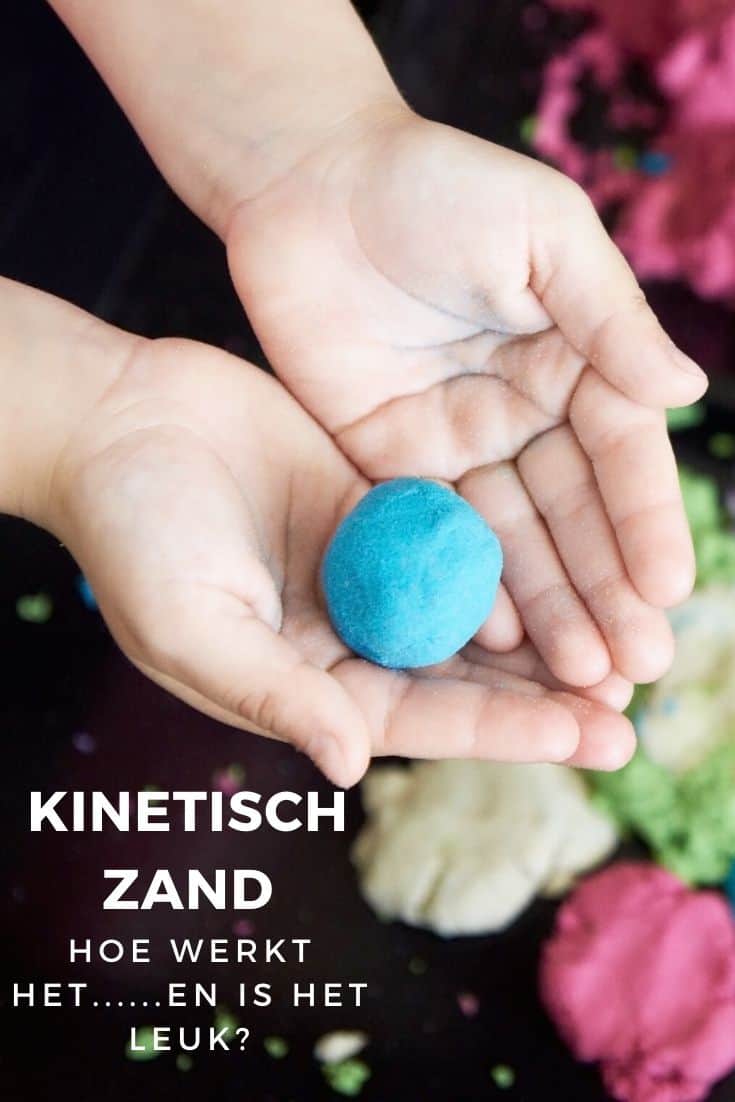 A search on Instagram for #kineticsand, for example, will return thousands of videos of people cutting, smashing and scooping the stuff in what seems like a grand sensory experience.
But what gives kinetic sand its transfixing effects?
What is Kinetic sand made of?
Kinetic sand is ordinary sand covered with silicone oil, research into its composition shows.
Silicone does not refer to one specific material but to a group of materials containing the elements silicon and oxygen.
Silicones are polymers, meaning they are molecules made up of long chains of repeating units.
The compounds are used in all types of products from cosmetics, lotions, shampoos and conditioners to lubricants and sealants.
Silicone oils have unique properties in that they can be liquids that flow freely or semi-solids that flow slowly in the absence of pressure, but behave like rubbery solids under stress.
This characteristic is called "viscoelasticity".
But the degree of viscoelasticity of a substance depends on the length of the polymer chains in the silicone oil.
That's also why different brands can have different viscosity, as we have been able to read in the reviews.
Imagine long (very long) strands of spaghetti. They stick together so they can form a ball together on your plate and hold their shape for some time and over time they slowly disintegrate into a plate full of loose strands.
Longer strands of spaghetti hold their shape better than shorter ones.
Likewise, the polymer chains in the silicone oil cause the sand particles to stick together in kinetic sand, so you can form them into a ball.
However, the ball will slowly disintegrate over time, and some brands will be faster than others.
But the silicone oil-coated sand particles only stick together, not other surfaces. Therefore kinetic sand does not appear "sticky" and is easy to clean.
Can you separate colored kinetic sand after they are mixed?
No, kinetic sands of different colors cannot possibly be separated back into individual colors after you have mixed them. It is therefore wise not to use the colors together, although this is sometimes a bit difficult with smaller children.
Can you wet kinetic sand?
You can get it wet, but playing with it when wet will not give you the same feeling as dry. You also don't have to get it wet to knead with it because it's made for that, but if it does get wet you can just let it dry and it will be as before.
Why does my kinetic sand stick to my hands?
Make sure your hands are dry and not sweaty when playing with kinetic sand. If you have slightly wet or sweaty palms, the kinetic sand may stick to your hands. But, as soon as your hands are dry again, you can wipe the sand off again.
Is kinetic sand better than Play Doh clay?
Kinetic sand and play doh clay are both rated very well, but kinetic sand just a little higher. That's because you have more flexibility to build with (make a whole sandcastle out of play doh) and it's generally a bit easier to rhyme with after play.
Can you vacuum up kinetic sand with the vacuum cleaner?
When you are ready to clean up the kinetic sand, it is best to sweep the large pieces together first. Make a ball and dab the smaller scraps on the ball, it will stick together quite well. You can just suck up all the very small remaining particles with your vacuum cleaner (or let them do it themselves with their toy vacuum cleaner!), it's not fine dust that will break it.
Can you mix kinetic sand with regular sand
I see no reason why you should not mix it with normal sand, it just loses its kinetic sand qualities because you add it to normal play sand. So it is a bit of a waste of money from the expensive kinetic sand that sticks together so nicely.
What colors of kinetic sand do you have?
There are many colors of kinetic sand and sometimes some are added, such as sand with glitter for example, but the colors that are sold the most are brown, blue, green, purple, pink and orange.
Does kinetic sand stain?
Kinetic sand only sticks to itself and is not wet so it will not stain surfaces such as tiles, carpet or wood or your clothes.
How do you make kinetic sand soft and sticky again?
Kinetic sand returns to its normal texture at 60% humidity. If it gets wet, air dry it until it returns to its normal texture. If it is too dry, add a few drops of water with a pipette and mix thoroughly.
Make your own kinetic sand
It's no secret that kids love to play and get messy, but why would a sensible parent want to bring a potentially complete mess into their home?
Well, kids play in all sorts of ways to develop fine motor skills, gross motor skills and develop social skills.
There are activities you can do at home or at school to help children develop these skills.
One of these is to encourage sensory play.
Sensory play can build nerve connections in the pathways of the brain, allowing little ones to complete more complex learning tasks later in life.
It can also help calm an anxious or frustrated child, and it helps children learn sensory traits:
warm
cold
hard
soft
sticky
and dry
Making kinetic sand is a great sensory play activity and one that a child can help create.
Let them be your science assistant and practice measuring, pouring and mixing skills.
There are plenty of other ways to make kinetic sand other than what I'm discussing here, so feel free to try other methods if you'd like.
Gather your materials
Read through all the instructions for this project first. Then collect the following materials to make the sand:
Mixing bowl
Measuring cup
Measuring spoons
Fine white sand
Corn starch
To make the colored soap solution:
1 cup of water
Dishwashing liquid
Food coloring
Pour sand into the mixing bowl
It is important that the sand is kept dry. Make sure your sand is bone dry before continuing with this step.
If your sand is damp, you will need to bake it first to remove the excess water.
Pour the sand into a bowl. Use as much sand as you would like to play with. We used about 3 to 4 cups of sand.
Note: If the sand is damp, spread it on a baking tray and bake in the oven at 30 degrees C for 50 minutes.
Make sure the sand is cool before pouring it into the mixing bowl.
Add cornstarch
Use your spoon gauge to measure 2 tablespoons of cornstarch and add this to your sand.
Help a child get an accurate size by scooping the corn starch with the meter, then use a finger to level the powder in the spoon and remove the excess starch by brushing it over the top.
Perfect for learning about the importance of correct measurements!
Mix cornstarch and sand
Mix the sand and cornstarch until the two are completely mixed.
Tip: You can mix the two with your measuring spoon to save on the dishes. Set the sand and cornstarch mixture aside.
Prepare the colored soap solution
Since kinetic sand is 98 percent sand and 2 percent polymers, you need to make a solution with polymers to add to the sand.
The polymers we need for our kinetic sand are in dish soap.
First, measure out a cup of water. Add 1 teaspoon of dish soap. Mix the soap and water with the measuring spoon until bubbles appear on the surface.
Add color to your soap solution
Add a minimum of 6 drops of food coloring to the soap solution. We used red and blue dye to make purple kinetic sand.
The darker the soap solution, the more colorful your sand will be. More food coloring is needed in the water than you think.
If you later decide to add more food coloring, you can do this when mixing your sand.
Add soap solution to your sand and mix
Slowly pour the solution into your sand. If you pour too quickly, your sand will become liquid. You aim for a really thick milkshake consistency.
It's best to take this step slowly and mix the sand with the solution as you work. You don't have to use all the fix you have created.
To mix, roll up your sleeves and dip in with both hands. Yep, that's the best way!
Play with your kinetic sand
The best part of making kinetic sand is playing with it. Use a plastic knife or fork to cut your sand.
Have fun with cookie cutters and sandcastle shapes. If you plan to reuse your sand, pack it in an airtight container or zip bag.
Note that the sand can dry after a while (the air will evaporate the liquid in the sand).
If this is the case, add some more soap solution to continue playing.
Conclusion
The kinetic sand is an excellent choice as a gift for any child!
No doubt your child will play with it for a long time. And for the first time the whole family will be together castles (always fun to use with toys!) and build different sand shapes.
It's worth noting that kinetic sand is excellent for not only kids, but fun to play with as an adult.
In short, the kinetic sand is a good gift for your kids and will bring a lot of fun!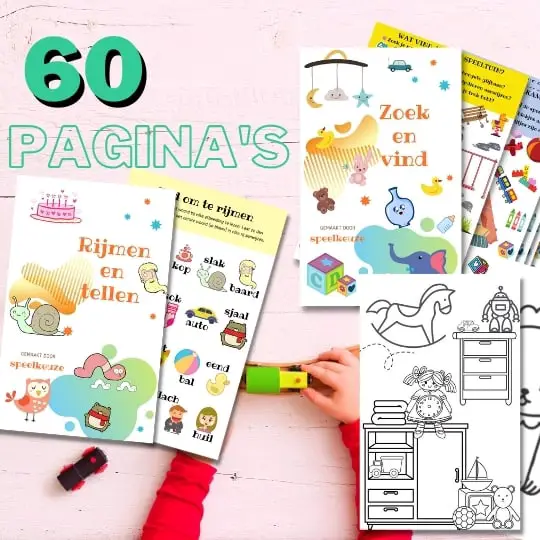 Always something to do for the holidays or rainy day?
Play Choice now has the ultimate activity book collection, with over 60 pages of fun coloring pages and educational puzzles.
Joost Nusselder, the founder of Speelkeuze.nl is a content marketer, father and loves trying out new toys. As a child, he came into contact with everything around games when his mother started the Tin Soldier in Ede. Since 2016, he and his team have been creating helpful blog articles to help loyal readers with fun play ideas.