Making slime: the best (and safe) recipes and games
I enjoy writing these articles for my readers, you guys. I don't accept payment for writing reviews, my opinion on products is my own, but if you find my recommendations helpful and you end up buying something through one of the links I may be able to receive a commission on that.
More information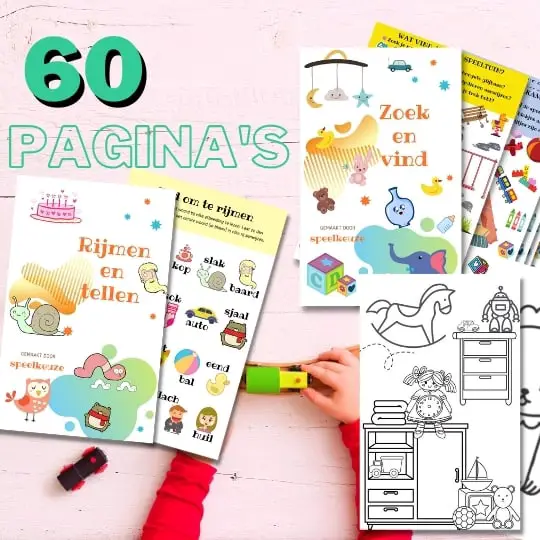 Always something to do for the holidays or rainy day?
Play Choice now has the ultimate activity book collection, with over 60 pages of fun coloring pages and educational puzzles.
Mucus is very sticky, but not only on the fingers; it also has a kind of appeal to children!
They love to knead with it, make figures, or pull the mass apart. Great actually, right?
Toys that require little or no batteries. Furthermore, it is of course very cool that they can also make the toys all by themselves!
Slime has been very popular among kids for years! And what could be more fun than all by yourself slime to make?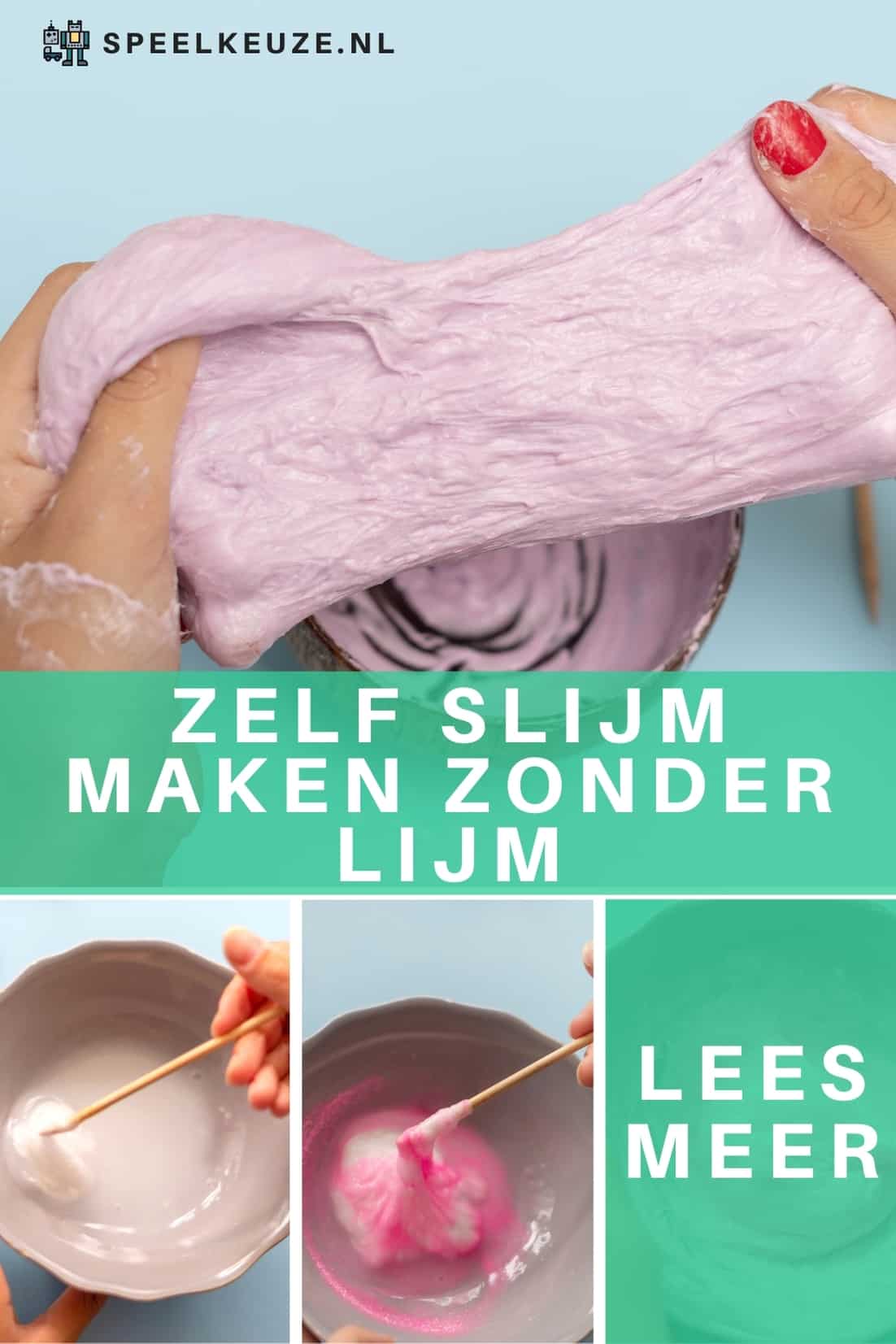 In this article we will answer all your questions about mucus. What is slime and why do children like it so much? How do you make your own slime, and what do you need for it?
Read on to learn all about phlegm. Make fluffy slime with your children or grandchildren!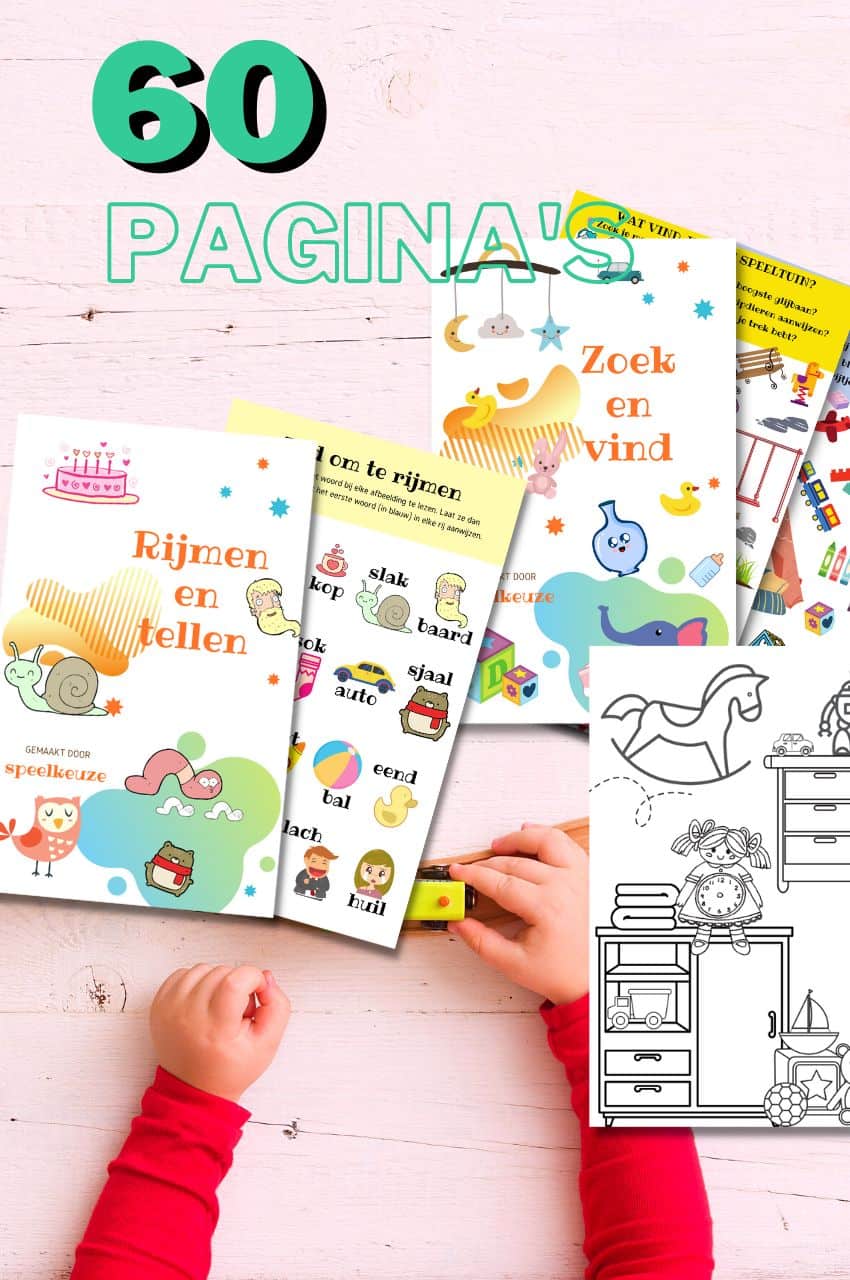 A play theme in your mailbox every month?
Fun play tips, activity books and more, with the first email being our free mini-guide "educational toys"
We will only use your email address for this newsletter and respect your privacy
What is mucus?
Slime, also called putty or slime, is a toy for children.
You can buy it in different types and colors. Toy slime is often a sticky mass that children like to sit in with their hands.
Slime is actually in between toys and crafts. You can squeeze it, make shapes with it, pull it apart and then knead it back together into a ball.
The mass consists mainly of polysaccharide guar gum, which is a sticky substance that comes from the seeds of the guar plant. Sometimes sodium tetraborate is added to thicken the mucus.
In other instances, polymers such as polyvinyl alcohol or polyacrylamide are used. Dyes give the slime a cheerful color.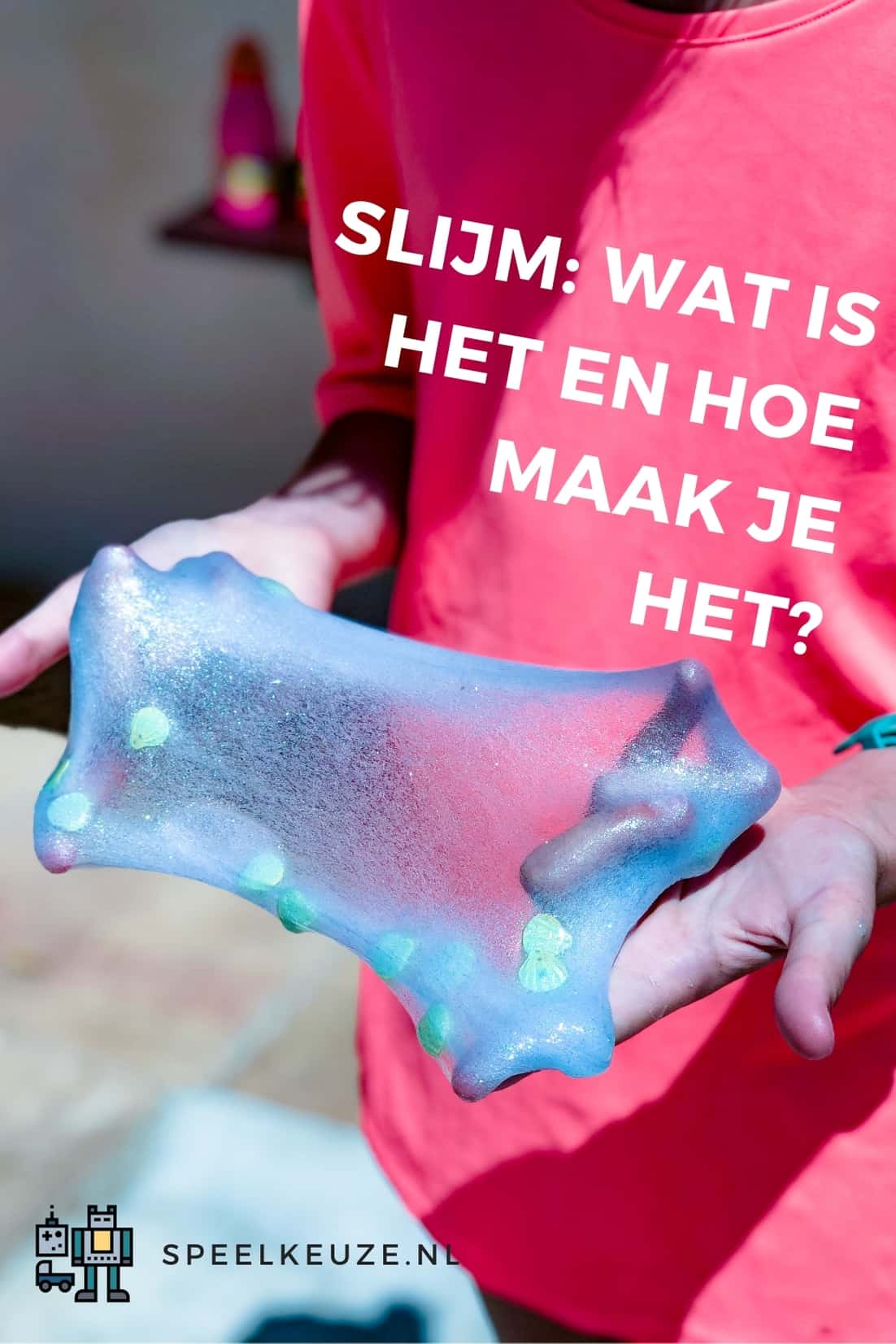 Making slime or buying a kit?
There are several toy brands that sell slime, some more famous than others.
A good example of a well-known and reliable brand is this one from SES, which produces other children's toys in addition to slime.
In addition, there is Poopsie Slime Surprise.
At SES they have everything you need for crafting. Do you want to color, paint or clay? SES has it all.
Poopsie Slime Surprise falls under the brand MGA entertainment, which also includes brands such as Little Tikes and Dojo Battle. Their mission is to entertain kids all over the world and be a memorable part of their childhood.
There are also other toy brands that may sell some slime children's toy products.
Here's Gamerpapa reviewing the SES set:
Nice in itself, but it is also mainly about whether it is worth the money, while you can of course just make it yourself.
What do you need to make your own slime?
There are several recipes online for making slime.
Most of the ingredients are often already available at home. If you don't have that, you can easily get it at the supermarket around the corner (shaving cream and lens solution, or possibly glue and glitter in a craft store).
It costs nothing together, and you have made your own toys!
In general, the following ingredients are often used: glue, shaving cream, eyeglass, and possibly glitter to make the slime even more beautiful.
If you choose to use the above ingredients (ie glue, shaving cream, and eyeglass), start by pouring a bottle of children's glue into a container or bowl. Add food coloring and glitter if necessary.
Then add the shaving cream and stir until it becomes a smooth mixture. Add eyeglass a little at a time to make it less sticky.
Keep stirring and adding more solution if necessary until the slime is nice and malleable.
Later in this article, we'll explain in detail how much of each ingredient it takes to make the perfect slime!
Making slime without glue
Are you specifically looking for a recipe that does not require glue? Then you're in luck, because we even have two! The first recipe for slime without glue that is still nice and pliable and malleable is the following.
This recipe is also completely borax free (we will tell you more about this later in the article).
PREPARATION TIME: 20 min
TOTAL TIME: 20 min
SERVES: 1 dollop
Tools
Ingredients
60 ml Shampoo
40 gr cornflour
2 tsp Oil
Possibly food coloring and / or glitter
Instructions
First, take the cornstarch and put it in a bowl.
Then you add the shampoo (and possibly the coloring agent).
You add two teaspoons of oil to this mixture.
Mix it together, add a little more cornstarch if the mixture still feels a bit wet. If it is too dry, add more shampoo.
You add oil if the mixture is too granular in structure.
Always stir the ingredients well.
The result should not stick to your hands. If it still sticks, you can take a piece out of the mixture and knead the rest. It should be less tacky now.
Play with the crowd until it gets the right structure. The slime feels like a mixture of slime and clay.
What is very unique about this slime recipe is that you can use it to wash your hands or as a shower gel. The slime also gives off a pleasant scent, depending of course on which shampoo you use.
Here Bibi shows 3 tips to make slime without glue:
Slime recipe without glue with gummy bears
Did you know you can even make edible slime?
This of course means that the mucus is completely safe, even for the smallest children.
The slime is therefore without glue and without borax. Not only is it safe to eat, it is also delicious!
With the ingredients, the slime will become thick and stretchy, and give off a nice sweet scent. Making this slime will only take you a few minutes.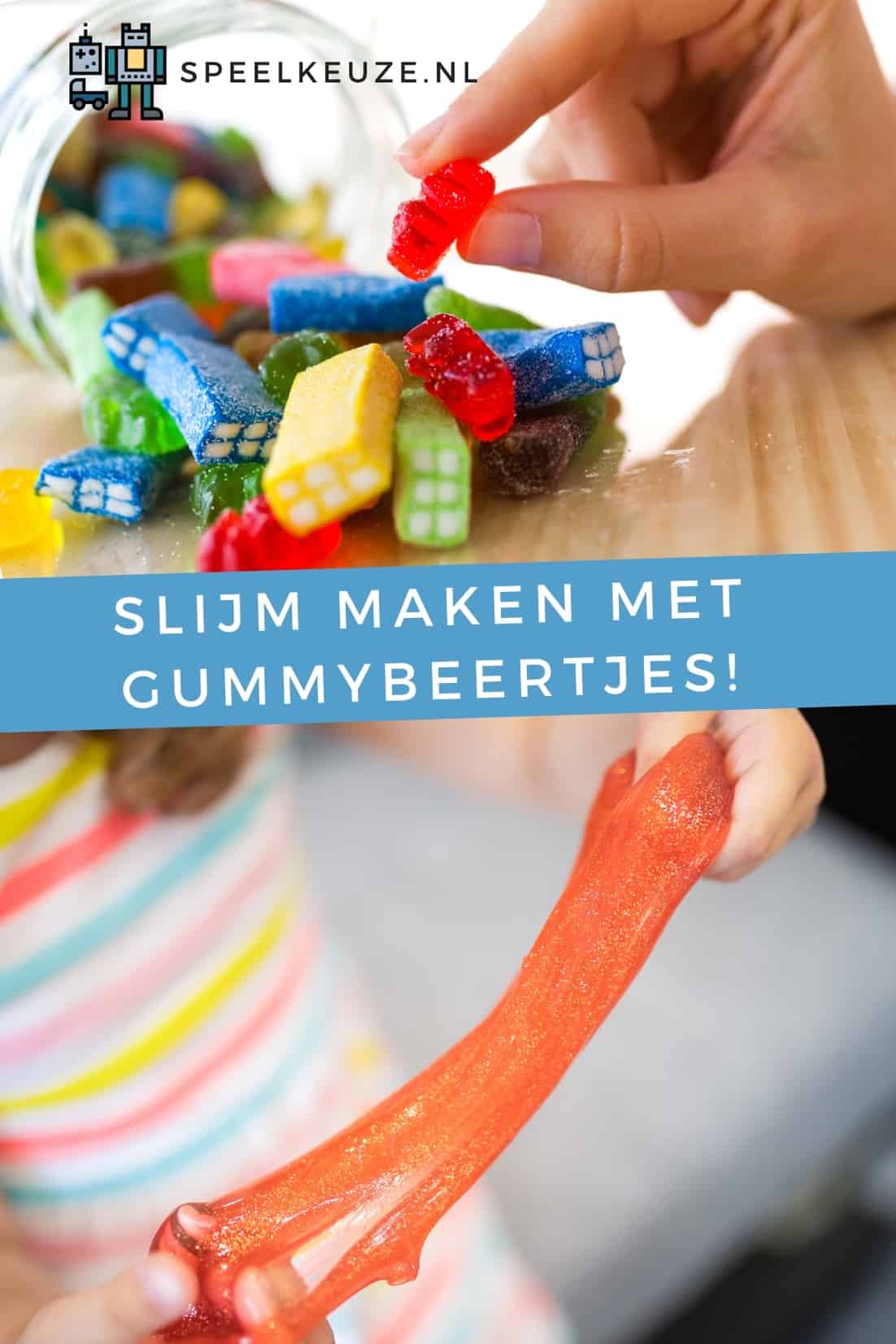 What Do You Need?
Gummy bears (about 250 ml)
Cornstarch
Powdered sugar (2 tbsp)
Oil
Three bowls
Microwave
Spoon or whisk
This is how you proceed:
Put the gummy bears in a bowl and heat it in the microwave for about 20 seconds.
Then you mix them and heat them until the mass is completely melted.
Now put the cornstarch and icing sugar in the other bowl. You put half of this mixture in another bowl.
You now pour the gummy bears on the powder mixture.
Then little by little add the other half of the powder mixture.
If you see that the mixture is getting too dry, it is better not to add all of the powder mixture. It must be stretchy, but also firm. When you start kneading, the slime will be sticky, but it won't be after a while.
Finally, add some oil to increase stretchability. Sometimes a teaspoon is enough.
If the slime is still too sticky, put some cornstarch on your hands while kneading.
Here Jacky also shows the gummy bear slime:
How do you make galaxy slime?
You can't think of it that bad. Galaxy slime is also possible!
Galaxy slime looks really cool and contains all the colors of the galaxy. It is generally easy to make, but it may take you a little more time than 'regular' slime, because you have to make slime several times.
Choose one of the recipes we have mentioned in this article. However, the best galaxy slime you get with ingredients such as borax, detergent or lens solution.
Then proceed as follows:
Make slime three times, in the colors blue, purple and red with glitter.
After kneading the three colors you can feel whether they have become a bit solid.
Then you mix the three colors of slime.
Pull the slime apart and knead it together. For example, you can stretch the three colors of slime into strings and then place them on top of each other.
Keep kneading the mass until you are satisfied with the result. It is important not to knead too hard, otherwise the effect will be less noticeable.
You choose whether you make transparent slime or not. Clear slime appears to give the best effect.
We have chosen the colors blue, purple and red here, because then you really get the colors of the galaxy. But in essence you can use any colors you want!
You can follow the same process if you want to make rainbow slime, for example, or unicorn slime!
How do you make magnetic slime?
Would you rather go one step further? Then go for magnetic slime!
You can then make the slime dance with the help of a magnet. If your slime is big enough, you can put the slime next to a magnet and watch the slime attract and 'eat' the magnet!
Magnetic slime is not only fun to play with, it can also be useful for scientific demonstrations.
You choose, just like with the galaxy slime, again one of the recipes we have mentioned in this article. You get the best result with ingredients such as borax, detergent or lens solution.
You also need iron oxide or iron powder and a number of neodymium magnets.
Follow one of the recipes above.
Then proceed as follows:
When you pour the glue into a container, add a little bit of the iron powder. You choose the amount yourself, you can add more later if necessary.
Then you follow the recipe again.
You can also add the iron powder later if the slime is ready.
If you choose this, first flatten the slime on the table and sprinkle some iron powder over it. Then fold the slime in half, flatten it again and add more powder.
You do this until the slime is as magnetic as you want.
When you're done, grab the neodymium magnets and play with the slime!
How important are the proportions in making slime?
Before you start making slime, you should know roughly what the proportions are.
The most important thing is to feel confident and try until you think you have found the right amounts.
Often you have to combine the ingredients and wait and see what the result is.
If you are using Contact lens solution add this a little at a time (and keep stirring the mixture) until the mixture is less sticky and nice and malleable.
Do you use shampoo and you notice that the mass is still a bit dry, then you add more shampoo.
If you are using olie If the mixture is too granular in texture, add a little more of it. Oil will increase stretchability.
Most importantly, the mixture does not stick to your hands. Some recipes indicate clear quantities, others allow you to feel more confident.
Slime making games for a children's party?
If you like an affordable children's party at home (and the budget might be a bit on the low side), consider making slime with the kids.
You could choose to make the edible slime so that children can also eat their slime after playing.
Did you even know there the Ultimate Slime Book exists?
You may be able to get the right inspiration from that! This contains many types of slime recipes. From gum glue and wiggle glue to fishbowl glue and a glitter bomb.
You will be amazed by the many possibilities!
The book contains more than 100 recipes for making slime. In particular, keep in mind that making slime requires a little patience. You have to keep stirring and kneading for the perfect end result.
Making slime is a lot of fun; you can do it at home, but there are also workshops that give slime 'workshops' for children's parties! Great if you don't like clutter!
Are there ready-made slime making sets?
Making it yourself is of course super fun, but if you don't have the time (or feel like it!), You can also opt for ready-made slime making sets! We will give some examples.
The 'Weird science scented slime kit'helps you make a sweet smelling slime. The package contains everything you need to make your own orange slime. It smells like freshly picked oranges! Once you've made the slime, you can store it in the supplied container and play with it over and over.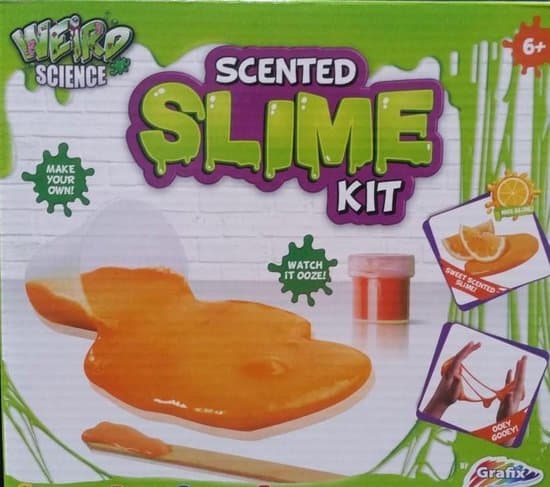 Do you prefer creepy slime? With the 'Make your own creepy slime'set make your slime into a skull! Put the slime powder in the skull and shake things up. When the slime starts to drain from the skull, the slime is ready to use.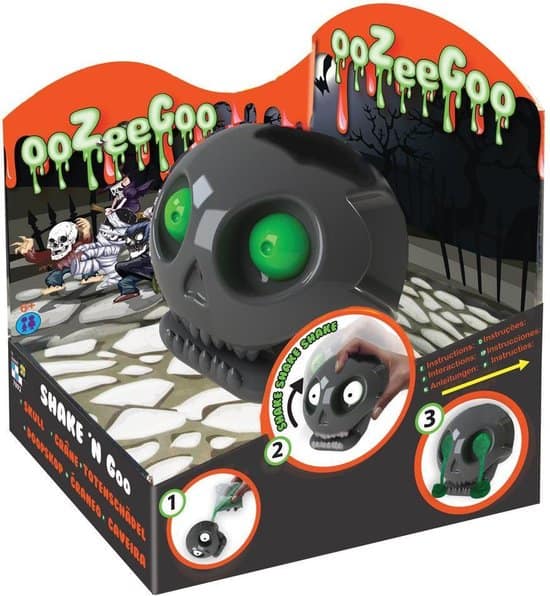 It 'Original Slime package'gives you the right ingredients to make over 300 ml of fluffy slime. You will receive clear instructions that you must follow carefully for the best result. This slime has an extra fluffy effect and a special scent! You can choose the color and glitter yourself.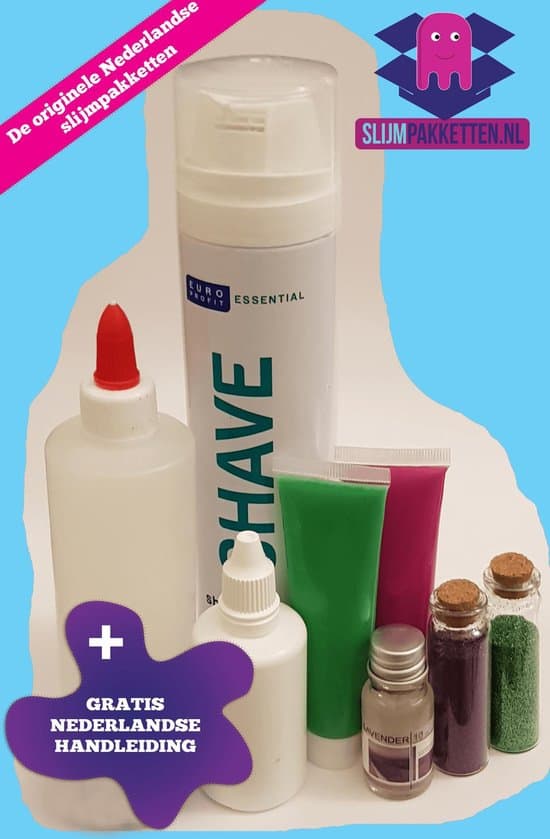 Frequently asked questions about phlegm
Is slime making dangerous?
A consumer association test was conducted that investigated ten different types of slime.
It showed that three out of ten had too high a concentration of borax.
Borax (sodium tetraborate) is a natural mineral that is found in various household applications, such as pesticides and disinfectants. This stuff is allowed to a limited extent as a disinfectant in personal care products.
But because it is also poisonous, you can no longer use it as a gargle.
In the long term, a higher amount of borax can be harmful to fertility and can even damage the unborn child.
It is also dangerous in the short term at high concentrations. It may cause irritation if inhaled, if swallowed, and if it comes into contact with the eyes and skin.
Borax can further cause cramps, diarrhea and vomiting. However, not all contact with borax is dangerous, it depends on the degree of exposure, method and duration. It is advised to avoid the product as much as possible.
The consumer association would like to point out that shaving cream and lens solution are also not products to play with.
So mucus is certainly not always safe, especially for children under six years of age.
To make sure your child plays safely, get a ready-to-use package with tested ingredients and approved for the European market.
It is a choice that you as a parent have to make yourself; do you let your child make their own slime and play with it or not?
Some parents find that as long as the children do not eat it, play with slime under supervision and play with their slime to a limited extent, the health risks will be fine.
What is safe mucus?
What are, according to the Consumers' Association, ingredients that you can use to make safe slime?
It is best to use nutrients that are edible.
To keep slime safe, you can use psyllium fiber, Nutella, marshmallows, or gummy bears like in the recipe we mentioned above.
Just to be clear: not all the slime you make with edible ingredients is also meant to be eaten. Sometimes it is purely for playing with.
The most important thing is that your little one will enjoy playing with slime and keep your child entertained.
Tips for playing with slime
There are a few things to keep in mind when playing with slime.
If you are making slime or you are playing with it, be careful not to get it on your clothes!
In addition, it is always important to keep an eye on your child (especially if it is still small) when they are running off with mucus, because in most cases the mucus is anything but edible.
Slime doesn't get out of your clothes that easily, so wear old clothes if you play with slime. You might also consider giving your child rubber gloves while playing, so that their skin is protected.
How can you get slime out of your hair?
Well, of course it can happen that your little one is happily playing (or yourself) and gets mucus in her hair.
Do not panic, there is no need for a hairdresser.
In addition to peanut butter, you could also remove the mucus that accidentally got into the hair with coca cola.
So you don't have to worry that the hair has to be cut. On the other hand, it is of course best to avoid these kinds of accidents!
If you're going for ready-made slime, which one shouldn't you buy?
According to the Consumers' Association, there are at least three products that contain too much borax.
Those are Putty XXL, Whoopee Putty, and Glow in the dark putty. To ensure the safety of your child, it is therefore better not to go for one of these options.
Mucus that contains too much of the ingredient borax is especially harmful when it enters by mouth.
As we mentioned earlier, high concentrations of borax can lead to short-term complaints such as diarrhea, vomiting, cramps and irritation to the skin and eyes.
If your children have played with slime that contains borax, make sure to wash their hands thoroughly after playing.
In the case of young children, it is better to go for mucus that does not contain borax (as they tend to put things in their mouths). Also watch out with open wounds.
Is it more fun to make or buy slime?
You often pay quite a bit of money for a jar of slime, and if it is no longer usable, you can no longer play with it.
If you make your own slime, you can choose the colors and make new ones if the slime has dried out. The ingredients are also often cheap!
Whether it is better to make or buy slime yourself is very personal.
Safety also plays a major role, of course. What you should know is that ready-to-use slime generally doesn't last that long.
On the other hand, bought slime can look very attractive, with glitter and cheerful colors. So it is not surprising if a child likes that very much.
Another benefit is that when you buy slime you know the ingredients are safe.
If you choose to buy ready-made slime to play with, go for the more well-known brands and do not choose the cheapest variants.
If you are going to make your own slime, think carefully about which recipe you find most suitable for your child.
Is slime making sticky?
Slime is fun to play with.
For children, playing with slime can help stimulate the senses. It can also help older kids to concentrate better.
Many recipes of slime result in a sticky mass. However, not all children like this structure, and not all parents are happy with the mess.
Fortunately, there are also a number of recipes for making slime that is less sticky!
There are at least four recipes that won't make sticky slime. Read on to find out which ones they are.
Can you also make slime that doesn't stick?
You don't make everyone happy with sticky slime. Would your child like to make slime, but one that is not so sticky? There are at least four methods or recipes for making non-sticky slime
Non-Sticky Slime Recipe 1
120 ml white paper glue
2-3 drops of liquid food coloring
360 grams of men's shaving cream
eyeglass solution with boric acid (40 ml - 2,5 tbsp)
First, put the glue and food coloring together and stir well. Then you add the shaving cream, stir well again, and pour in the lens solution. You keep kneading until the mass is no longer sticky.
Non-Sticky Slime Recipe 2
120 ml white paper glue
about 2½ tablespoons (40 ml) of detergent
optionally 2 or 3 drops of liquid dye
mixture of teaspoon of baking soda
1 teaspoon (15 ml) of water
Combine the glue, detergent and colorant if necessary and stir the mixture well. Mix the baking soda and water separately. Now add a little bit of this mixture to the slime until it is no longer sticky. Knead the mass well.
Non-Sticky Slime Recipe 3
120 ml white paper glue
half a tbsp baking soda
2 or 3 drops of liquid food coloring
1 tbsp (15 ml) eyeglass solution (with boric acid)
Combine your glue, baking soda, food coloring, and solution. Mix the ingredients together and then knead the mass well. Add more solution if necessary.
Non-Sticky Slime Recipe 4
150 ml transparent paper glue
1 tsp baking soda
2 tbsp (50 gr) colored sand
1 tbsp solution (with boric acid)
Combine the glue, baking soda, sand, and lens solution. Stir well and knead. If necessary, add more lens solution to make things less sticky.
It is important to keep the created slime in a closed storage box when you are not playing with it.
The mucus will not last forever and will dry out at some point. When that happens, throw the slime out and make new slime in no time.
What makes slime super stretchy?
You can make slime stretchy by adding body lotion, but a less sticky type of slime may work better with baby oil. Cornstarch is often used in slimes because the cornstarch helps keep them in shape and not so messy or easy to spill when you're playing!
How do you make mucus thicker?
The perfect thickener for slime made with dish soap is cornstarch powder. Add a few tablespoons of this to your slime and mix well, then you can knead the mixture until it starts to come together in an interesting way!
How do you make slime fluffy?
Fluffy slime is a fun project you can do with the kids! It's just slime, but this time we added shaving cream to it. The amount of shaving cream changes how it feels and looks when it's done, so if you want fluffy slime, add a lot more than last time (or vice versa).
How do you make slime soft?
There are some easy solutions for mucus that has become hard and rubbery. If you've added too much Borax solution, the first thing to try is soaking it in a bowl of hot tap water!
Why do children like slime so much?
It is not surprising if you think that today's children prefer to spend hours on end to their screen being shackled. Whether it is a television program, a game on the playstation, or on their mobile.
However, slime is extremely popular among children.
We would not be surprised if slime remains completely trendy in the near future!
If you ask a child why they like slime so much, they may answer one of the following: "I don't know" or "It feels so good!"
But there also appears to be a scientific reason behind the fact that children love slime so much.
Mucus helps children relax. It is the complete opposite of what the kids use the most today. If a child is fidgeting with slime, they will not be interested in their phone or the PlayStation at all.
Playing with slime will keep the kids busy with something other than the Internet, and that will keep them from taking in thousands of stimuli per minute. And that is of course very relaxing!
In addition, they are focused on something they (may) have made themselves.
The sensations of mucus can even have a therapeutic effect. Pulling mucus apart, squeezing it, shaping it; these are all things that can help a child get in touch with his or her feelings. This then ensures relaxation.
So actually the perfect toy!
Kids don't just love slime, it also shines playing with it is also very good for fine motor skills. That will make you happy as a parent!
Playing with slime falls under 'sensopatish playing'. It ensures that your child learns to feel, experience and move.
From what age can a child play with slime?
If you buy ready-made slime, the packaging will always state from what age the toy can be used safely. This is often a choking hazard warning.
Also know what your child's skills are and whether it is wise enough to play safely with slime.
If your child is making slime himself, it is wise to do this from about seven years of age. For toys over six years old, it is generally assumed that the chance of it ending up in the mouth is fairly small.
However, it is always advisable to keep an eye on your child when it is playing with slime, especially if it is still small. It is not supposed to take mucus in the mouth and eat it.
Also, always have the child wash their hands after playing with slime.
Why is the mucus too thin?
Can you make your own slime, but the structure is not good?
Of course, it can be frustrating if your homemade slime is too thin and therefore not the right thickness. It is normal that it is not quite successful the first time. You quickly make slime that is either too thick or too runny.
To make the slime less watery (and therefore thicker) you can use thickeners such as borax (material that we have mentioned many times in this article), glue, or cornstarch.
What you use will depend on the type of slime you have made.
By the way, you can also choose other methods, such as draining the excess moisture from the container, kneading the slime longer, or adding baking soda if you made slime with saline solution.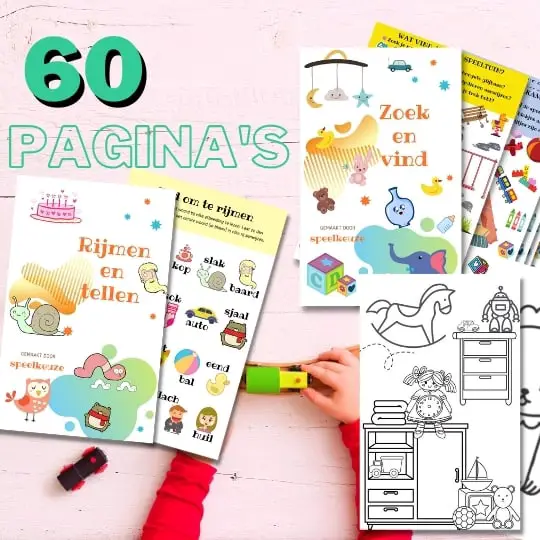 Always something to do for the holidays or rainy day?
Play Choice now has the ultimate activity book collection, with over 60 pages of fun coloring pages and educational puzzles.
Joost Nusselder, the founder of Speelkeuze.nl is a content marketer, father and loves trying out new toys. As a child he came into contact with everything related to games when his mother started the Tinnen Soldaat in Ede. Now he and his team create helpful blog articles to help loyal readers with fun play ideas.